Africa!
Doesn't that name just get you excited for adventure!
Well it certainly does me and having just finished my 4th trip to this continent I'm a sold-up massive fan.
I know planning a trip here can be somewhat of a mind-bending experience… to say the least!
Where to go? What to do? How much time to allow?
There's just so many questions to answer when trying to map your journey.
But don't worry, help is at hand!
From Cape Town to Cairo, Marrakesh to Maputo, I've travelled a fair few countries in this diverse and dazzling land and now am bringing you my ideal itineraries that will have you enjoying an awesome Africa trip no matter whether you have 1 week or 3 months here.
Read on to discover the perfect Africa itinerary for your time frame…
PS. If you want to take a great tour through Sub-Saharan Africa, visiting all the hot spots in this epic part of the continent, then I highly recommend Absolute Africa.
I loved my trip with them so much that I'm currently offering all my readers an exclusive discount on their tours, meaning you can now travel even more in this amazing continent for less!
Simply send Absolute Africa an email on [email protected], quoting the discount code BWSP, and start planning your incredible trip with them today!
---
Related Posts
---
This page contains affiliate links meaning Big World Small Pockets may receive a small commission on any purchases at no extra cost to you.
---
Grab Your Copy of How to Travel Africa for Less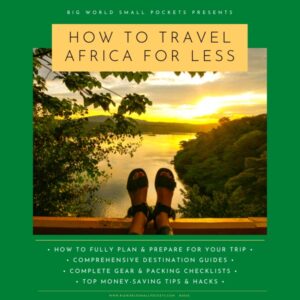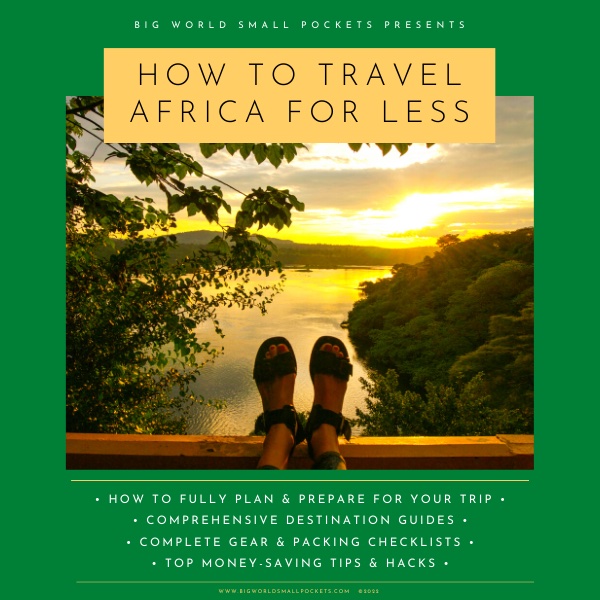 My ultimate guide to travelling Africa on a budget is now available, meaning you can finally get ALL my top tips for adventuring around all, or parts, of this amazing continent in one handy eBook, including…
Full Planning & Preparation Guides
Detailed Destination Info
Complete Packing & Gear Lists
Top Money-Saving Tips & Hacks
1 Week Africa Itinerary – 1 Diverse Country
MOROCCO

Best Place to Stay Morocco: Les Matins Bleus, Essaouira
With just one week up your sleeve for Africa, it's best to concentrate on 1 country that offers a lot.
Close to Europe, with short flights times, I really think Morocco makes the perfect choice for your 1 week Africa itinerary.
From the great cities of Marrakesh and Fez full of their photographic streets and pumping souks, to day trips in the Atlas Mountains, people-watching in the medina of Chefchaouen or exploring the coastline at Essaouira, you can do a lot with just 7 days here!
Morocco also gives travellers a good insight into the diversity of Africa – with Arabic, Bedouin, French and English spoken here and its people bringing a wide range of cultural backgrounds to the fore – this country provides a good introduction to the complex and layered diversity of this fascinating continent.
Plus you can't go wrong with the food, or the mint tea of course!
Check out my top Morocco itinerary suggestions here.
2 Week Africa Itinerary – Safari and Sea
Both Kenya and Tanzania are perfect countries to explore with a 2 week Africa itinerary – although if you're on a budget I'd suggest just picking one country and sticking with it to avoid double visa fees and pricey flight connections.
TANZANIA

Best Place to Stay in Tanzania: New Teddy's Place, Zanzibar
Starting with Tanzania, 2 weeks in this country is ideal for experiencing some of Africa's most scenic and spectacular safaris.
My favourites, and pick of the bunch, were the Ngorongoro Crater and the Serengeti, which I'd suggest allowing at least 3 days for if you really want to soak in their enormity.
Learn more in my post about why Tanzania's Serengeti will blow your mind!
Picking up a tour last minute to these great game reserves can be done cheaply from the town of Arusha and you may want to hang a few days in this place to experience a bit of everyday Tanzanian life at the same time you try and score a bargain.
After you've had your wildlife fix, head to the coast and the country's biggest city, Dar Es Salaam for a night, before hopping on the ferry to Zanzibar.
I'd allow at least 5 days for this stunning island – 2 nights in the capital Stone Town and 3 nights at the beach town of Paje on the east coast to dive, kitesurf or just relax!
And you can discover more about how to spend your time in this country care of my ideal Tanzania itinerary!
KENYA

Best Place to Stay in Kenya: Distant Relative Eco-Lodge, Kilifi
When it comes to a 2 week Africa itinerary, Kenya is really hard to beat.
Like its neighbour Tanzania, Kenya has some incredible safari opportunities and some drop-dead gorgeous coastline too.
If you're on a budget, consider limiting yourself to just one safari in Kenya (none of them come super cheap!) and with this in mind, it really is hard to overlook the mind-blowing magnificence of the Masai Mara.
Winner of the Best Africa Safari award (as voted by me!), the Mara is a paradise for its big 5 spots, stunning landscape shots and rich cultural heritage.
This place really does have it all and Milimani Backpackers in Nairobi provide some great value tours there for backpackers and solo budget nomads.
If you do feel like treating yourself to more than 1 safari, other great options in Kenya include:
Amboseli National Park
Lake Nakuru National Park
Tsavo East National Park
Otherwise, check out my list of the 14 most spellbinding things to do in Kenya for more ideas, or have a look at these fab Kenya tours.
Once you've got your wildlife fix in Kenya, it's time to head to the coast!
Kilifi and Diani Beach and my 2 favourite spots.
The first offers creekside relaxation in the amazing Distant Relatives Backpackers, with day trips to Watamu and Malindi all possible from this local town.
Diani is all about the white sand, turquoise sea and dreamy views.
Diani Backpackers offers a great budget place to stay here among the expensive resorts and you can still access the beach, boat trips and some great diving opps along with everyone else!
Sometimes, with a 2 week Africa itinerary, people like to combine Tanzania and Kenya by visiting the Masai Mara for their safari fix and then heading to Zanzibar for their beach time.
Cheap and short flights between Nairobi / Mombasa and Zanzibar make this more than possible.
Discover more in my ideal Kenya itinerary for a tight schedule!
LOOKING FOR A BUDGET TOUR IN AFRICA?
If you're interested in an unforgettable, well-priced tour in Africa, with guides you can trust, then email me at [email protected] with some ideas about where you want to go and I'll send you my top recommendations – simple!
Otherwise, check out this great range of safari options that cover some of the top wildlife attractions and national parks across the continent.
3 Week Africa Itinerary – Southern Explorer
With 3 weeks up your sleeve for Africa, you can really start exploring more than one country.
I'd advise combining South Africa, Botswana & Vic Falls in Zimbabwe as a great option for this timeframe.
SOUTH AFRICA

Best Place to Stay in South Africa: The B.I.G, Cape Town
Begin in Cape Town, one of the continent's most alluring cities, and after 3 days of exploring its dizzy heights with this perfect itinerary, begin making your way along the South African coast.
Allow plenty of time for the Wild Coast, as well as the wine country and the Drakensberg Mountains if you can – with 10 days you should be able to see most of the best things to do in South Africa.
Reach Joburg and hop up to Kruger National Park for an amazing full day game drive in one of this continent's most famous game reserves before heading onto Botswana – maybe via a short flight if you're pushed for time.
Check out this top-rated private day-long game drive in Kruger (which includes a pick-up) if you're looking for a great option.
Otherwise, if you're hoping to travel South Africa on a budget, then these top hacks for a cheap safari there may help you.
BOTSWANA
In Botswana, the Okavango Delta and Chobe River National Park offer more sublime safari experiences.
Choose between them or hit up both (allow at least 4 days for both) if you have time.
VICTORIA FALLS

Best Place to Stay in Victoria Falls: Shoestrings Backpackers, Zimbabwe
From Chobe River, it's then a "short" drive (in Africa terms) across the border into Zimbabwe where you can see the stunning Victoria Falls.
With all manner of crazy activities on offer here, adrenaline junkies should allow at least 2 nights to get their fix!
Learn more in my list of the 8 things to do in Victoria Falls, which are guaranteed to get your heart racing
TRAVEL INSURANCE FOR AFRICA
World Nomads offers simple and flexible travel insurance. Buy at home or while travelling and claim online from anywhere in the world.
Alternatively, if you're a long-term traveller, digital nomad or frequent remote worker seeking travel health cover, check out Safetywing's Nomad Insurance policies.
1 Month Africa Itinerary – Northern Highlights
From one end of the continent to another, with 1 month for your African adventure, you can definitely explore the best that the northern end of this continent has to offer.
EGYPT

Best Place to Stay in Egypt: Ekadolli Nubian Guesthouse, Aswan
Egypt really is every bit as spectacular as you imagine and with so much to see and do here, I'd suggest allowing 10 days-2 weeks to explore the length and breadth of this fab country.
Begin in Cairo and give yourself 3 nights here to tick the Pyramids and the Sphinx off your bucket list, as well as see the Islamic and Coptic quarters of the city and one of the world's best museums.
Learn more in my list of the 10 best things to do in Cairo
From Cairo, head to the Red Sea to get your beach fix.
The mega-chilled town of Dahab gets my vote for its awesome cafes, cheap prices and super diving opps.
Allow yourself 3-4 nights, although if you're anything like me, you'll be hardpressed to leave!
After the Red Sea, it's time to crack on with the sightseeing.
First up, Luxor for the Valley of Kings, Karnak and Luxor Temple.
The Luxor Museum and other sites of the West Bank are also highly worthwhile.
Allow 2-3 nights in Luxor (here's a handy itinerary to help you) and consider taking a well-priced tour to get the best from your experience.
I highly recommend Emad, a very experienced tour guide with fantastic English and a cracking sense of humour! He can be contacted via Whatsapp on +20 100 151 3578.
From Luxor bag yourself a cheap cruise and sail down the Nile to Aswan, passing Efnu Temple and Kom Ombu Temple on the way.
Once in Aswan, Philae Temple and Abu Simbel cannot be missed!
SUDAN

Best Place to Stay in Sudan: The Nubian Rest House, Karima
Sudan might seem an unlikely choice on an Africa itinerary, but trust me you'll be blown away when you get there just like everyone else.
Full of amazing historical sights, fascinating culture and some of the friendliest people on earth, a week here will give you an experience few travellers are lucky enough to get… yet.
Get to Sudan either by crossing overland from Aswan or flying direct to Khartoum from Cairo.
Allow 3 days for the capital and then split the rest of your time between the Nubian town of Karima and the splendid Meroe Pyramids.
Get more information in my perfect Sudan travel itinerary.
ETHIOPIA

Best Place to Stay in Ethiopia: Mr Martin's Cozy Place, Addis Ababa
After Sudan, you can either fly or cross overland into Ethiopia, my favourite country of ALL time!
Yes don't get me started on how amazing this place is!
With 1-2 weeks you'll have a good amount of time to see all the major attractions including the rock-hewn churches of Lalibela, the mind-blowing landscape of the Danakil Depression, the Camelot of Africa – Gondar – and hike in the UNESCO-listed Simien Mountains.
As well as sample the amazing food, coffee, music and dancing of this utterly unique place!
Learn all about where to visit in this amazing country care of my ideal Ethiopia itinerary
2 Months Africa Itinerary – The Best of South & East
2 months in Africa will give you a great opportunity to see the best of the Southern and Eastern parts of this continent and tick quite a few experiences off your bucket list while you're at it!
SOUTH AFRICA

Best Place to Stay in South Africa: The B.I.G, Cape Town
Fly into Cape Town and enjoy a week exploring the attractions of this dazzling city as well as its many day trips.
There's tons of details and tips available in my list of the best things to do in Cape Town.
NAMIBIA
From Cape Town head north into Namibia and spend a week checking out the Etosha National Park, Sossusvlei, Fish River Canyon and Skeleton Coast.
Namibia is a large and sparsely populated country, which means distances between destinations can be significant, but it's worth the journey because this country is like nowhere else on earth!
Discover more with my list of the 9 best places to visit in Namibia.
BOTSWANA
After Namibia, hop across the border into Botswana to check out Okavango and Chobe River National Parks, allowing yourself 5 days to take in their natural splendour.
VICTORIA FALLS
It's then just a "short" drive from northern Botswana across the Zimbabwe border and onto Victoria Falls, one of the 7 natural wonders of the world, this is absolutely one of the best things to see in Zimbabwe.
From rafting to canyoning, zip-lining to bungee jumping, this is the adventure capital of Southern Africa so it's time to get your adrenaline fix at this iconic spot!
ZAMBIA
Cross the border at Victoria Falls and head onto Zambia's most national park – South Luangwa – for some seriously close encounters with hippos, elephants and more!
Give yourself 2 nights here, unless the animals freak you out so bad on the first night you can't stay longer!
MALAWI

Best Place to Stay in Malawi: Thumbi View Lodge, Cape Maclear
Now it's time to chill a bit, and there's few better places to do it in this part of the world than Lake Malawi.
Pick one spot along its banks, pitch your tent and unwind!
TANZANIA
I'd really suggest 7-10 days in Tanzania to take in as much as you can of this amazing country.
From world-class safaris in the Serengeti and Ngorongoro Crater to the stunning beaches and fascinating Swahili culture of Zanzibar, this is a country of contrasts that shouldn't be overlooked.
I suggest a 3-day safari tour as a good option, followed by plenty of downtime both in Zanzibar's capital Stone Town and its east coast resort of Paje.
RWANDA

Best Place to Stay in Rwanda: Discover Rwanda Youth Hostel, Kigali
And finally, dive into the heartland of East Africa with a trip through Rwanda and then into Uganda.
Compared to the mostly dry and arid Tanzania, the lush, green countryside of these 2 countries can be a welcome surprise, although often the humidity is not!
Best stop in Rwanda is the capital Kigali where the important Genocide Memorial Centre is, but here's 6 other epic things to do in this country too.
UGANDA

Best Place to Stay in Uganda: Fat Cat Backpackers, Kampala
In Uganda it's all about the wildlife, so don't miss out on any of the amazing national parks here including Murchison Falls National Park and Queen Elizabeth National Park.
The town of Jinja, the East Africa adventure capital and start of the Blue Nile falls is another must, as is gorilla trekking in Bwindi Impenetrable Forest of course.
With all this on your plate, you'll need at least a week to explore the best of this beautiful country.
Get more ideas in my list of the 10 best things to do in Uganda.
3 Months+ – Cape Town to Cairo
And with a 3 month+ Africa Itinerary open to you, you'll have to time to do the most legendary of all legendary journeys – Cape Town to Cairo!
If you're a fast mover then, I'd suggest following the 2 month itinerary above and then tagging on Kenya, Ethiopia, Sudan and Egypt onto the end (view my 1 month Africa itinerary above for best details on this northern section).
Otherwise, if you're a slower mover like me, then a South Africa – Swaziland – Mozambique – Tanzania – Kenya – Ethiopia – Somaliland – Sudan – Egypt route takes in less countries, giving you more time in each!
This whole route can be done overland, although you'll have to make provisions and plans for border crossings in advance.
I'd start in Cape Town and then work up the coast to Eswatini before continuing north, but depending on the time of year, you could just as well make this journey in reverse.
Check out the other itineraries in this post for more detailed information about each country in this epic voyage.
PIN IT TO PINTEREST!
So there you have it, my full round-up of the best Africa itinerary for your time frame!
Of course, these are all open to mixing and matching too, but I thought splitting them up may give you the best idea of the possibilities that lie before you in this most wild and wonderful of continents.
So, when and where are you headed first?