I honestly do believe there's few cities in the world that leave more of a striking impression than Cape Town.
Find me one person whose been here and who didn't fall in love with the place… go on I dare you!
Because I bet you'll struggle.
Yup Cape Town captures the imagination like few other destinations on earth, so please don't make the mistake so many travellers do and only give yourself a few days for this city.
From hiking to wildlife, shopping to sightseeing, history to adventure, this city offers something for everyone in one sunshine-drenched, ocean-wild, soaring-mountain, vibrant package.
And to prove this to you, and to convince you that this African beauty deserves at least a week-long stay, here's my complete Cape Town itinerary.
---
Related Posts
---
This page contains affiliate links meaning Big World Small Pockets may receive a small commission on any purchases at no extra cost to you.
My stay in Cape Town was kindly sponsored by Atlantic Point Backpackers, but, as always, all views are my own.
---
Day 1
On your first full day in Cape Town, it's time to get your bearings in this epic city and tick off a few of the central attractions.
Start at the city's CBD, where several free walking tours leave and are a great way to orientate yourself.
Alternatively you can also join a very cost effective Hop On, Hop Off Topless Bus Tour, but with either option, don't miss Greenmarket Square, the Parliament Building or the Company Gardens.
After the CBD area, head to Bo Kaap – one of the most photographed parts of Cape Town and an Instagram favourite!
Learn about this history of this fascinating Malay area, snap the gorgeous houses and savour the wafting favours of delicious cuisine, but try to hold off eating too much!
That's because after Bo Kaap it's time to head for lunch in one of my favourite Cape Town cafes…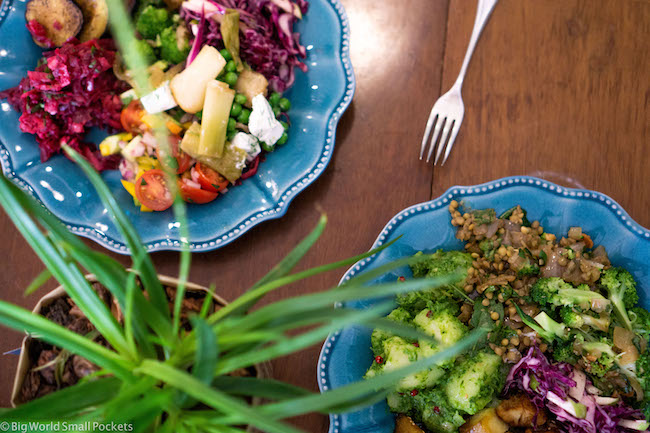 … The Kitchen in Woodstock is a short 15 minute Uber drive from Bo Kaap and is something of a local icon.
Choose from 3-5 delicious and freshly prepared salads, add your toppings of choice and then sit along the communal wooden tables among the kitsch and quirky furniture.
After lunch, you can check out the Woodstock Exchange for some unique gifts and coffee or head to the Old Biscuit Factory – especially if it's a Saturday – when the famous Neighbourgoods Market takes place.
Finish up at the District 6 Museum to start putting some of Cape Town's history in context.
Day 2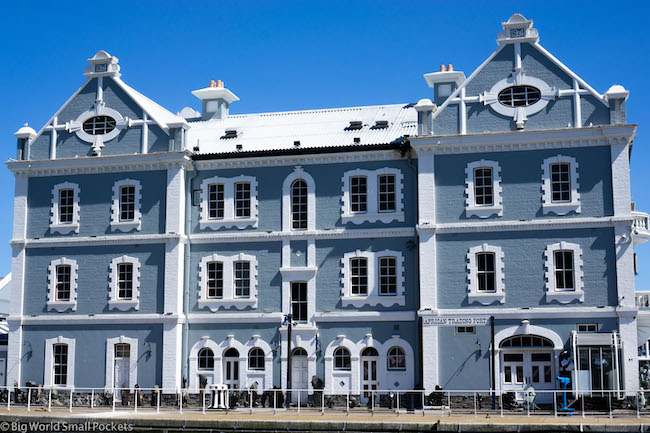 On Day 2 of your Cape Town itinerary, it's time to continue the historical journey with a poignant trip to Robben Island – the penal colony where Nelson Mandela was held for a significant period of his incarceration.
Robben Island tours last 4 hours and are offered as package including return boat, island coach trip and visit to the prison cells guided by a former inmate.
It's a good idea to book your Robben Island tour a week in advance online here as there's only 3 trips daily and tickets often sell out.
Couple this with the fact that boats to the island frequently stop sailing in Cape Town's notoriously windy climate, and you'll learn why booking in advance really is advised.
Robben Island tours leave from the V&A Waterfront and strolling this beautifully regenerated and tourist-friendly area is a great thing to do either before or after your trip.
Highlights include the Cape Wheel, the great Zeitz MOCAA Museum and the many street art pieces, selfie spots, picturesque bridges and lazy seals!
There's also a good food market, some top shopping care of The Watershed and plenty of beautiful, historic structures including the Clock Tower too.
Day 3
On Day 3 of your Cape Town itinerary, it's time to get active and scale the flagship mountain that sits at the heart of this city.
Table Mountain offers tons of different hiking routes and you can choose whether to take a guide or not.
One thing you must check however is the weather – paths and the cable car here often shut due to windy conditions and clouds can quickly sweep in at any time to obscure the summit and the view from the top.
Personally I opted for the route up the back of the mountain that began in Kirstenbosch Botanical Gardens and didn't use a guide.
I loved this walk as it meant I was able to include these beautiful gardens with a hike in one handy day.
Choosing this route also allowed me to walk along the length of the flat top of Table Mountain, before enjoying the cable car back down again the other side.
One great tip is to book the Table Mountain Aerial Cableway online in advance to avoid queuing for ages to get on it!
Finish up day 3 of your Cape Town itinerary with a more leisurely afternoon by exploring the bohemian and student-filled area of Observatory.
I loved this cute suburb with its great vintage stores, charming bookstores, health food shops, quirky record shops and delicious cafes – making it the perfect place for a coffee and a cake after a hike.
My favourite café was Rust!
Day 4
On Day 4 of your Cape Town itinerary, it's time to head out of the city and explore some of the gorgeous landscapes around.
Grab an Uber down to Muizenberg and, after staring at the surfers, walk the lovely coastal track to the cute cove of St James to snap the Victorian Bathing Houses.
From here continue onto the delightful Kalk Bay and refresh yourself in one of the character-filled seaside cafes, before grabbing an Uber onto Boulders Beach.
Just past Simon's Town, Boulders Beach is the place to spot wild African penguins… and lots of them!
Pay your entrance fee and then head to the boardwalk to snap these cute creatures.
Afterwards, don't miss the opportunity to swim and sunbathe with the penguins!
Head out of the main Boulders Beach entrance and continue along the walking path to your left and you'll soon get to a small little cove where you can get super up close and personal with them.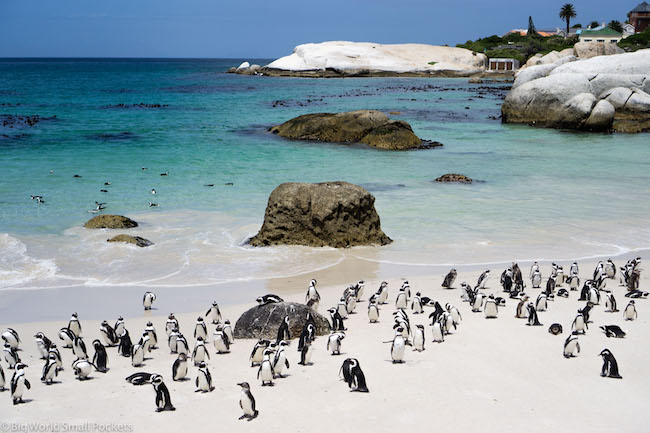 After you've had your flippery fill, grab another Uber, this time all the way down to the Cape of Good Hope where you can enter than National Park and stroll right to the point where the Indian and the Atlantic Ocean meet.
Just don't get blown away as you try to snap the gorgeous views!
Day 5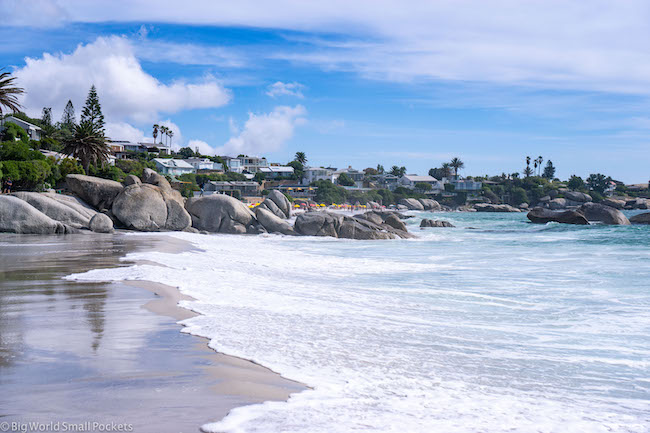 Day 5 of your Cape Town itinerary is all about exploring the Green Point / Sea Point area and the surrounding coastline.
After your busy day yesterday, getting some relax time on some of the city's most beautiful beaches can't be missed.
Camps Bay is one good option, but I prefer the individual and unique vibe of the Clifton Beaches.
Either beforehand or after your beach time, don't miss a stroll or cycle along picturesque Sea Point and a hike up the iconic Lion's Head for one of the best views of the 12 Apostles you can get.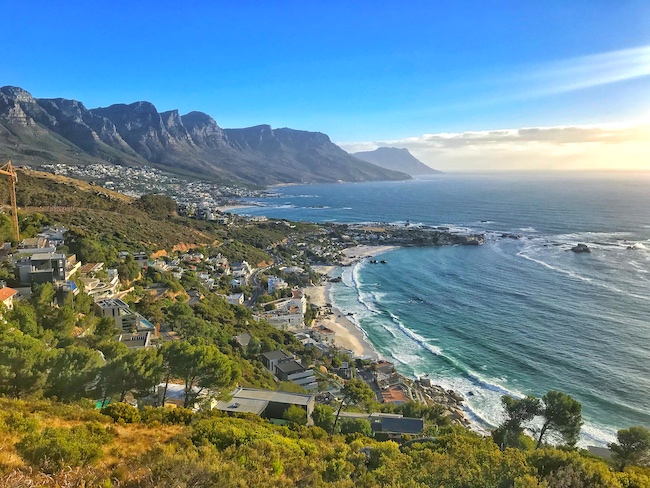 Day 6 & 7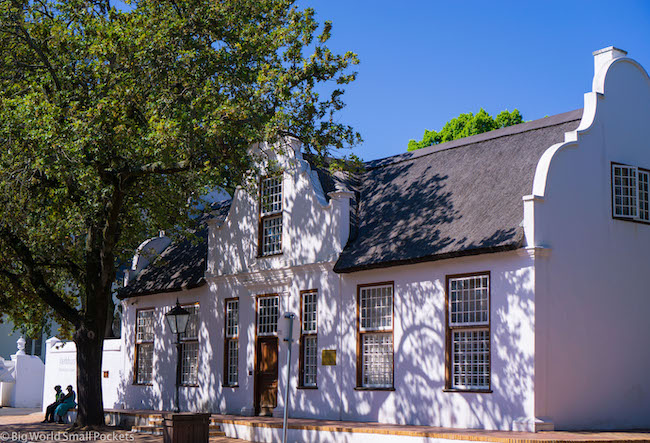 And finally, with just a couple of days remaining on your Cape Town itinerary, it's time to head out of the city again, but this time to enjoy the Western Cape's stunning Winelands.
The 2 most popular destinations for wine tours and tastings are Stellenbosch and Franschhoek, and spending a couple of nights in at least one of these, to soak up the gorgeous scenery, the architecturally quaint streets, the fine wineries and exquisite restaurants, is a must.
Stellenbosch, in particular, is a lot of fun and being a bustling student city, it offers lots of gorgeous shops, cafes and historic buildings.
Check out the Botanical Gardens within the campus grounds here too (entrance 10 Rand) and enjoy the colonial architecture and goodtime feels.
For wine tasting, it's best to take a tour to visit a number of the top surrounding vineyards.
Tours normally last all day (10am-6pm) so don't plan to do too much following this… or the next day!
I paid just $40 USD for a full day wine tour from Stellenbosch including hotel pick up / drop off, visits to 4 wineries, lunch and the tasting of over 20 different wines, as well as cheese and chocolate!
The views around the vineyards are also stunning so take your camera!
PIN IT TO PINTEREST!
And that's it, my complete Cape Town itinerary.
Have I convinced you to stay a week in this amazing city yet?