Looking for a list of the best things to do in Cape Town?
Then you've come to the right place!
After a hiatus of 15 years (I first visited this city at the tender age of 19!), I can unequivocally say that this incredible South African city remains one of my favourite places in the world – not an accolade I throw around lightly I can tell you.
Arriving to blue skies, an epic view of Table Mountain from the airport and a week of exploration stretching ahead of me, the scene was right for me to fall in love with this place all over again.
And I did!
With more things to do in this city than you can shake a stick at, here, fellow shoestring adventurers, are my 18 best things to do in Cape Town on a budget!
---
Related Posts
---
This page contains affiliate links meaning Big World Small Pockets may receive a small commission on any purchases at no extra cost to you.
Bohemian Lofts Backpackers kindly sponsored my stay in Cape Town, but, as always, all views are my own.
---
Grab Your Copy of How to Travel Africa for Less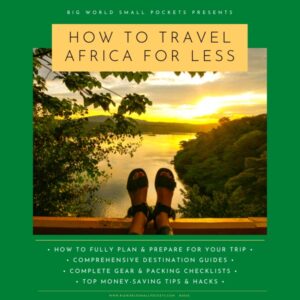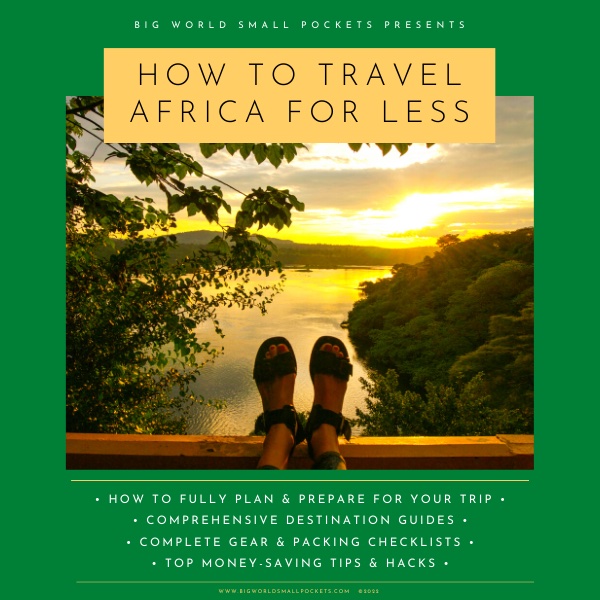 My ultimate guide to travelling Africa on a budget is now available, meaning you can finally get ALL my top tips for adventuring around all, or parts, of this amazing continent in one handy eBook, including…
Full Planning & Preparation Guides
Detailed Destination Info
Complete Packing & Gear Lists
Top Money-Saving Tips & Hacks
#1 Sail to Robben Island
There's no question that visiting Robben Island is one of the best things to do in Cape Town on a budget.
Costing just £20 for a 4 hour tour, which includes a boat ride over to the island, a bus tour around the place and a tour of the prison from a former inmate, this is a deeply profound opportunity to see where Mandela was held captive for a large part of his imprisonment.
Plus the boat ride is brilliant – you get an amazing view of Cape Town from the ocean on the way back and I saw dolphins, seals and whales… although wildlife is not guaranteed!
I advise booking your Robben Tour online in advance, so check out this fantastic Robben Island Ticket and Township tour, which is a great way to pack a lot into your first day in Cape Town.
#2 Stroll the V&A Waterfront
The fancy and most touristy part of Cape Town, there's no doubt the V&A Waterfront is worth a stroll and a snap.
And after your ferry from Robben Island arrives back here, you then have the perfect excuse to explore it!
Free to wander, there's some lovely historic parts to this coastal promenade, including the Clock Tower, a good food market and some top shopping care of The Watershed.
With street art, selfie spots, picturesque bridges and lazy seals too, there's plenty of photo opps at the Waterfront making exploring here one of the best things to do in Cape Town on a budget.
And who could forget the great Zeitz MOCAA Museum situated here too – an epic piece of architecture that you can snap from the outside for free, or wander in for under $250 Rand.
The world's largest museum dedicated to contemporary African art, get your skip the line tickets here.
#3 Walk from Muzienberg to Kalk Bay
If you're looking for a chilled, seaside, free stroll in Cape Town, then look no further than the coastal path that runs from Muizenberg to St James and then onto Kalk Bay.
The perfect activity to enjoy if you're looking to get out of the city centre and take in some stunning views and fresh sea air, you can easily reach Muzienberg care of an Uber ride or a local train journey from Cape Town to False Bay, which takes just under an hour.
Once you arrive, enjoy this coastal stroll, stopping to stare at the beautifully coloured Victorian bathing houses and the expert surfers en route.
Then head into one of the pretty seaside cafes to soak it all up over a drink.
Tigers Milk and Cape to Cuba cafes come highly recommended.
#4 Hang with the Penguins in Simon's Town
Come on, who doesn't love a penguin?
Everyone loves a bl**dy penguin… me included!
And on a great day trip from Cape Town you can see hundreds of the little critters at close proximity for under a tenner (152 Rand) – definitely one of the best things to do in Cape Town on a budget!
Head to Simon's Town via the train or an Uber and hit up Boulders Beach to walk among these amazing birds via a beautifully constructed boardwalk.
Afterwards, don't miss the opp to swim with them too – take the path ahead, instead of turning into the Visitor's Centre, and you can get even more up close and personal with these cuties.
This top-rated tour includes a trip to see the Penguins at Boulder's beach, along with lunch at Simon's Town and wine tasting in Constantia Valley if you're looking to make a day of it.
#5 Hit the Beach at Clifton
And while we're on the subject of beach days, does it get better than Cape Town's Clifton Beach?
No, it does not!
Of course it's free, it's a beach.
And course it's beautiful, it's Cape Town!
Head here on a day when the wind isn't blowing to experience one of the best things to do in Cape Town on a budget… no question!
#6 Stroll the Sea Point Promenade
And just up from Clifton is the stunning spot of Sea Point and its perfect promenade.
Join the locals for an amble along this seafront boulevard, or rent a bike and enjoy the cycle.
Enroute, check out Mojo Market for a drink or lunch in a casual, pop-up kinda way.
Otherwise, the art deco pavilion here has a great seawater pool you can also enjoy with lockers (bring your own padlock) and lifeguards on duty.
#7 Visit the Cape of Good Hope
You can't go to Cape Town and not go to the Cape of Good Hope right?
Situated a few hours' drive from the city centre, the cheapest way to get here is to rent a car if you're part of a group, or take a tour, like this one, if you're travelling solo.
Combining this spot with Simon's Town and Muizenberg or Kalk Bay, is also a great way to get your money's worth.
Once you reach the dramatic "end of the world", pay to enter and then enjoy a stroll to the lighthouse that marks the combining of the Indian and Atlantic Oceans.
The scenery is nothing short of spectacular, so definitely bring your camera to ensure you remember the experience of this great thing to do in Cape Town on a budget.
#8 Take a Wine Tour in Constantia
And after all that activity, you deserve some relax time and what better way to do so than with a drop or 2 or the local glass of wine?!
While you can day trip to Stellenbosch or Franschhoek to experience some wine tasting from Cape Town, if you're in the city already it's cheaper to just head to Constantia, the wine growing region that's basically a part of Cape Town it's so close.
Pick your vineyard and get sampling!
#9 Drive Chapman's Peak
The amazing drive that marks the coastline between Hout Bay and Noordhoek, this toll road does involve a small payment, but it's more than worth it as it's one of the most spectacular stretches of coastline going in South Africa.
If, like me, you love a road trip, this one is ideal, with picnic spots and lookouts completing the picture.
Combine it with a trip to the Cape of Good Hope or Simon's Town to make it as cost-effective as possible.
#10 Take a Free Walking Tour
No surprises here!
Yes for those of you who read this blog a lot, you'll know that I love a free walking tour and was delighted to learn that Cape Town offers a couple of different options when it comes to strolling the city with a guide for only a tip at the end.
Leaving every day, normally from Long Street in the city's CBD, a free walking tour is certainly a must when it comes to the best things to do in Cape Town on a budget.
And you've got a choice too – not just of companies, but also of different routes.
The Historic City Tour and the Bo Kaap Walk seem to be the most popular.
And while you're in the CBD, checking out the Greenmarket Square Souvenir Market and the Parliament Building too, which are just a hop, skip and a jump away, are a must too.
#11 Get Your IG Snaps in Bo Kaap
Come on, if you've ever been on Instagram you'll know about Bo Kaap!
Brightly coloured houses with open doors that waft out the smells of delicious Cape Malay food.
The allure of this area, just north of the city centre, is palpable and heading here, camera in hand, to get snaps of yourself posing on these iconic streets is free and a lot of fun!
Walking here from the city centre, or grabbing an Uber, are the easiest ways to arrive – just remember to watch out for the traffic amidst all that snapping!
#12 Enjoy the Café in Woodstock / Observatory
Cape Town has a really pulsing, vibrant feel to it and the hipster movement has officially landed!
As such, delicious cafes abound, which as you know if you read this blog a lot, I'm all for!
And the top areas for sniffing out the local gems in my opinion, are Woodstock and Observatory, the first of which has undergone more gentrification than the other.
Both however, still possess a gritty charm, an army of young trendies and more delicious caffeine (including vegan milk options – hoorah!) than you can shake a stick at!
#13 Retreat to the Company Gardens
It's free, it's beautiful, it's by the city centre and it makes for the perfect escape for an hour.
There's no doubt retreating to the wonderful Company Gardens is one of the best things to do in Cape Town on a budget.
And while you're there, learn about the history of this place and why it's so closely linked to the founding of Cape Town as the city we now know it to be.
#14 Hit the Botanic Gardens
Kirstenbosch Botanical Gardens are on everyone's hitlist in Cape Town and no zero surprise there, because they're stunning!
Costing just 210 Rand to get in, you can spend a whole afternoon here (if you have the time) strolling and soaking up the picturesque environment.
Indeed the backdrop of Table Mountain makes this one of the most significant botanic gardens in the world, not to mention one of the oldest – they date back to 1903.
Not to be missed if you do visit here is the Tree Canopy Walkway, which is included in the entrance fee and is a lot of fun.
#15 Shop at the Neighbourgoods Market
I originally visited the Neighbourgoods Market in Joburg by complete chance and loved it.
I was therefore delighted to discover that the original sister market can actually be found in Cape Town.
Taking place every Saturday in the Old Biscuit Mill in Woodstock, this is a must for delicious food, cool coffee, great people-watching and an awesome vibe!
#16 Take the Pipe Track
One of the best walks in Cape Town, with some of the most stunning views of the 12 Apostles, Lion's Head and the sweeping coastline here, the Pipe Trail is a must-do.
Simple as that!
At a distance of 6km, it will take you around 2 hours to stroll this route, which leads you along the western slopes of Table Mountain as part of a flat and level path that is easy and accessible.
Up there as one of the best free things to do in Cape Town as far as I'm concerned, you'll finish at Camps Bay – the perfect spot to enjoy some great food and views!
#17 Watch Sunset from Signal Hill
And with gorgeous nature spots a go-go, you'll be spoilt for choice in Cape Town.
That said, you cannot miss a sunset in this city from the top of Signal Hill.
There's some sort of cannon firing display that goes on here at noon, but personally, I think it's all about this spot at the end of the day, when the colours really show off the view at its best.
Get an Uber up here, especially at sunset (as I wouldn't advise walking) and take a picnic and a friend with you.
#18 Hike Table Mountains or Lions Head
And finally, in at number 18 on my list of the best things to do in Cape Town on a budget, it has to be to hike one of this city's amazing mountains.
Choose from Table Mountain or Lions Head, pick your route, take sunscreen, water, a hat and possibly a guide, and set out for an unbelievable experience.
You can go it alone, but this half day, small group hike follows the India Venster trail to the summit of Table Mountain and comes highly recommended.
Otherwise, you can always take the easy option and grab the cable car up to the top of this Cape Town giant instead.
Why not combine it with a hop on hop off city bus tour in Cape Town? Learn more here.
BONUS #19: Take a Safari Tour
Undoubtedly one of the best things to do in South Africa if you're in Cape Town but still want to get some amazing wildlife encounters, then it pays to know you can easily pick up some fantastic tours that start from the city and will take you to some of the country's best nature reserves and parks.
Addo Elephant Park, Karoo National Park and Tsitsikamma National Park are all good, nearby options, and many tours will also take you to Kruger via a domestic flight too.
Check out my pick of the bunch when it comes to safari tours from Cape Town here.
Cape Town Mini Travel Guide
How Long to Spend in Cape Town?
I mean, how long is a piece of string?!
Honestly, I'd suggest at least a week in Cape Town to ensure you have the chance to tick most of the major sights off your list.
Plus you might need a few days to rearrange activities due to the wind.
Given this, and the fact you'll want to make some day trips, you honestly could spend at least 2 busy weeks in Cape Town and not see it all!
Best Hostel in Cape Town
Without a doubt, the best hostel award in Cape Town has to go to Bohemian Loft Backpackers.
Situated in the funky student area of Observatory, I loved the vintage shops, quirky cafes and charming bookstores of this suburb and the very local vibe.
Bohemian Loft is run by the wonderful Jenny and her team – who will go above and beyond to look after you.
Each room is personalised, comfy beyond measure and the place is spotlessly clean – from the streetside balconies to the guest kitchen and cosy communal areas, I loved this place.
5 Packing Essentials for Cape Town
#1 Cape Town Lonely Planet – A great travel aide to this city with tons of historical info, maps and top tips, the Cape Town Lonely Planet will help you get the best from your time here.
#2 Metal Water Bottle – Cape Town tap water is drinkable – hoorah! – so bring your metal water bottle that you can refill from the tap, helping the environment and your small pockets at the same time.
#3 Good Camera – Cape Town is one of those ultimate bucket list destinations and travelling here with a good camera will help you preserve the memories. I highly recommend the mirrorless Sony A6000. Light, compact and robust, it's been perfect for my African travel adventures.
#4 Sun Hat – Cape Town is hot and dry and often, windy as hell! When you're walking the city, taking day trips or hiking some of the mountains, you'll be exposed to the sun for long periods of time, so make sure you pack a sunhat for adequate protection is key. I love this one from Hello Sunshine.
#5 Amazon Audible – Travel to Cape Town from just about anywhere takes a long time – no matter whether it's a plane, bus or boat. Having something to listen to while you enjoy the journey, therefore, is a must! I love Amazon Audible, which is the best audiobook service around in my opinion.
Travel Insurance for South Africa
World Nomads offers simple and flexible travel insurance. Buy at home or while travelling and claim online from anywhere in the world.
Alternatively, if you're a long-term traveller, digital nomad or frequent remote worker seeking travel health cover, check out Safetywing's Nomad Insurance policies.
SAVE THIS ARTICLE TO PINTEREST!
So there you have it, my mammoth list of the best 18 things to do in Cape Town on a budget.
You really can't go wrong with this city shoestring travellers, so get it on your list asap!
Goodness only knows why it took me 15 years to visit again, but I'll be back a lot sooner next time!