They say it's a brave woman who travels in Africa by herself, but these 11 best places for solo female travellers makes it easy!
Personally, I don't think it's necessarily braver to travel in Africa than anywhere else by yourself as a woman, but nevertheless, Africa travel seems to carry with it a certain hushed sense of concern for those yet to venture here alone, so if you're bucking the fear girl good on ya!
Now on my 5th trip to Africa, I can definitely attest to it being safe for solo female travellers (within the limits of common sense of course), in fact I think it's one of the best continents for solo female travellers because there's soooo much to do here that you can't do anywhere else in the world.
I'm probably going to get some stick from this article from those who say the places that are good for solo female travellers are also good for solo male travellers, and there is some truth in that.
But there's also some truth in the fact that some lady travellers, in my experience, tend to prefer some destinations in this continent compared to male travellers because, well, we all like different things right?
And so, from this one solo female traveller to you, intrepid ladies, here's my list of the 11 best destinations in Africa for solo female travellers.
PS. if you want to take a great tour through Sub-Saharan Africa, visiting all the hot spots in this epic part of the continent, then I highly recommend Absolute Africa.
I loved my trip with them as a solo female because I made so many great friends and felt totally safe the whole time.
As such, I'm currently offering all my readers (male and female!) an exclusive discount on all Absolute Africa tours, meaning you can now travel even more in this amazing continent for less!
Simply send this top African overland tour company an email to [email protected], quoting the discount code BWSP, and start planning your incredible trip with them today!
---
Related Posts
---
This page contains affiliate links meaning Big World Small Pockets may receive a small commission on any purchases at no extra cost to you.
---
Grab Your Copy of How to Travel Africa for Less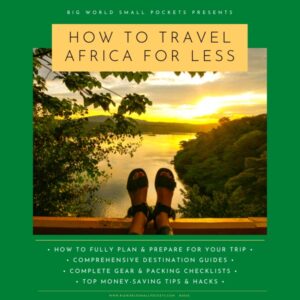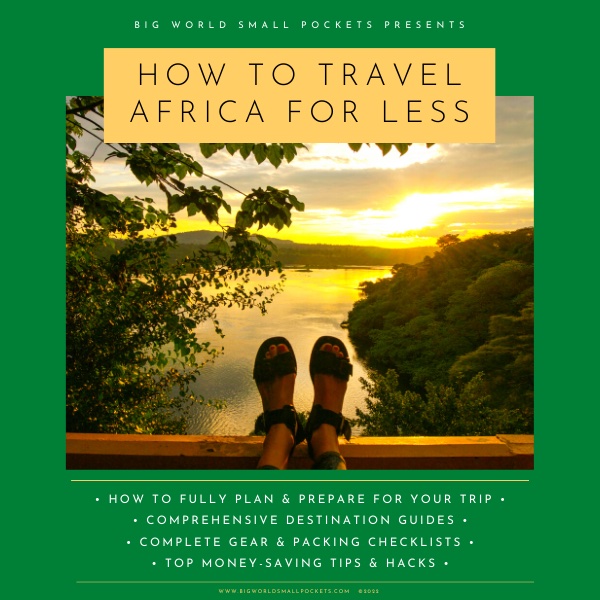 My ultimate guide to travelling Africa on a budget is now available, meaning you can finally get ALL my top tips for adventuring around all, or parts, of this amazing continent in one handy eBook, including…
Full Planning & Preparation Guides
Detailed Destination Info
Complete Packing & Gear Lists
Top Money-Saving Tips & Hacks
#1 Cape Town, South Africa
Coming in at number 1, it's the big, brilliant, burning bright star of South Africa that is Cape Town.
There's no doubt this is the most vibrant and cosmopolitan city in Africa I've had the pleasure of visiting and I can testify, having just revisited the city after a hiatus of 15 years, that this place is just as dazzling and dramatic as ever!
Honestly, if you're not impressed by the stunning setting of Cape Town – green rugged mountains running down to crystal clear waters ladies, then the cool vibe of this sunny city, its great cafes, cultural scene, historical stories, wildlife and wineries should do it!
There's plenty of great hostels where you can easily meet other travellers here too – I love Bohemian Loft Backpackers and Atlantic Point Backpackers – and even a week in Cape Town will only have you begging for more!
And if you want to explore more of the amazing country that is South Africa, with a group, then check out this list of top South African tours perfect for solo travellers.
LEARN MORE: The 11 Best Things to Do in Cape Town
#2 Kilifi, Kenya
When it comes to Kenya, there's 2 places I wanted to include on this list of the best destinations in Africa for solo female travellers.
It was hard to choose between them.
No doubt the Masai Mara is one of the best places to safari in Africa – you can read my thoughts about it here – but pipping this to the post is Kilifi, a coastal town on Kenya's stunning Indian Ocean.
The main reason I suggest heading to Kilifi is for the awesome permaculture, sustainable- inspired backpackers Distant Relatives – read my review here – which really is in a league of its own.
Staying here, will automatically thrust you into contact with a fun crowd and have you making friends in no time.
I also like Kilifi, because it's quite an unassuming Kenyan town. I like the local and real feel to this place, including at the Saturday market, at the creek and along the beach too.
DISCOVER MORE: The 22 Things You Need to Know About Travel in Kenya
#3 Lake Malawi, Malawi
Well, what can you say about Lake Malawi aside from you gotta see it to believe it!
This huge body of water honestly looks like the sea and if you want to dive, chill, swing in a hammock or get lost for a few days in a book, Lake Malawi provides the perfect, peaceful backdrop ladies.
One of the poorest countries in Africa, there's no doubt Malawi needs the economic support of tourists too and the friendliness of the people here make this a top Africa destination in my book.
READ MORE: Why I Never Dived Lake Malawi
#4 Victoria Falls, Zimbabwe & Zambia
And from one extreme to the other!
If you wanna chill girl head to Lake Malawi, if you wanna get wet and wild head to Vic Falls.
The adventure capital of Southern Africa, this place is all about extreme sports, so for those of you who love to get the adrenaline pumping, this is definitely one of the best places in Africa for solo female travellers.
Safety records tend to be good here too, which is comforting, and even if you're not an adrenaline junkie at heart, like me, then coming here to see one of the greatest Natural Wonders in the World has to be on your list right?!
You can definitely explore Victoria Falls independently, but if you want to enjoy the company of others, then one of these great tours might be a good option – especially if you're looking to travel on elsewhere in Southern Africa afterwards.
LEARN MORE: 8 Incredible Things to Do in Victoria Falls Guaranteed to Get Your Heart Racing
#5 Luxor, Egypt
And if history is your thing ladies, which geekily I have to admit it's mine, then you can't really get better in Africa than Luxor.
I had literally wanted to see the temples here since I learnt about them in primary school and finally getting to visit Luxor in Egypt was a dream come true.
I had been warned about the hassle and hustle of travelling in Egypt as a solo female traveller, but honestly did not find this to be a problem.
Once I politely declined any advances, people respectfully got the message.
It's also worth saying that Egypt is amazingly cheap, a brilliant side-note for those of us with small purse-strings and doing a day tour in Luxor to see all the highlights easily, quickly and safely is completely affordable – plus it's a great way to meet other travellers.
DISCOVER MORE: The Best 2 Day Luxor Itinerary
#6 Lalibela, Ethiopia
Carrying on with the history theme, and getting to my favourite country in Africa, Lalibela in Ethiopia is a must-see destination for solo female travellers in Africa.
Go on a Sunday, get up early, see the mass, explore the ancient churches, marvel at people's devotion, stare disbelieving at the lack of tourists and soak it all up.
It ain't gonna stay like this for long and even if you're not religious (like me) I dare you to remain unmoved by this incredible UNESCO World Heritage Site and experience.
LEARN MORE: Everything You Need to Know About Visiting Lalibela in Ethiopia
#7 Zanzibar, Tanzania
Ok, show me a girl that does love a white sand beach, crystal blue water warm weather and fresh coconut juice?
Anyone?
Didn't think so!
So get yourself to Zanzibar girls – whether it's diving, chilling, sunbaking, swimming or kitesurfing you're into – this is the place.
I loved Paje on the east coast a lot, but don't miss the UNESCO capital of the island – Stone Town – if you want a contrasting Zanzibar experience too.
Best of both worlds (like history, culture and the beach), Zanzibar really is one of the best destinations in Africa for solo female travellers.
I felt very safe here, but do remember to pack accordingly – you'll need bikini and sarongs for the coast, as well as, long trousers / skirt, long sleeves and even a headscarf for conservative Stone Town.
DISCOVER MORE: The Ultimate Guide to Paje, Zanzibar
#8 Chobe River National Park, Botswana
Couldn't not put one national park on this list and when it comes to top ones I've experienced (and there's been a lot) no question Chobe River in Botswana is up there!
This is the home of elephants in Southern Africa as far as I can tell and you're also gonna see hippos, giraffes and buffalo FOR SURE!
Botswana is fairly well developed, meaning it's quite safe and offers a little bit more luxury for those who don't like it too rough.
This is a great safari experience for beginners and the park offers the opportunity not only for game drives, but also for sunset river cruises too – double whammy winner!
However, Botswana is remote and it may be best to take a tour if you don't want to hire and drive a vehicle solo out here.
Check out these super Botswana tour options that include a stop in Chobe River NP for more inspo.
READ MORE: Chobe River National Park: A Photo Essay
#9 Chefchaouen, Morocco
I've got to say, Morocco is not on my list of the most friendly countries for solo female travellers (and that's bearing in mind I've travelled through the Middle East and North Africa alone), in fact, it's probably near the bottom, but the exception here is Chefchaouen – the incredible blue city in the country's north.
This tiny town, tucked in the mountains, is a great place to relax for a few days with multiple fresh orange juices to help you soak up the Medina vibes.
You can also hike here out in the Rif Mountains and being nearer to Europe (perhaps that's why?), I found the atmosphere less conservative, pushy and uncomfortable than the rest of the country.
DISCOVER MORE: 13 Fab Things To Do in Chefchaouen, Morocco
#10 Bwindi Impenetrable Forest, Uganda
And when it comes to hiking, if you love a good stride out like me, then it probably doesn't get better than seeing gorillas at the end of it all!
Yup, that's just what you can experience in Uganda's Bwindi Impenetrable Forest!
Definitely worthy of a place on this list of the best destinations in Africa for solo female travellers, this opportunity is epic!
Indeed, there's not many places you can get to see these incredible animals in the wild and there's no doubt their human-like characteristics will amaze you!
Trekking with a guide and a group also makes this experience safe and rewarding for solo females, as sharing an opportunity like this with other travellers will certainly bring you together.
LEARN MORE: The Ultimate Guide to Gorilla Trekking in Uganda
#11 Sossusvlei, Namibia
Namibia is an incredibly safe coutnry to travel to in Africa – not least because of its incredibly low population.
Forget bustling cites here and the risk of pickpockets and traffic accidents, honestly it's more likely wildlife will pose a threat to you in this country… and that's incredibly rare too FYI!
There's also good resources, communication and amenities in the major towns of this country, plus roads and sanitation are decent too.
But perhaps Namibia's biggest selling point is its breathtaking desert scenery, that will easily give you some of the most amazing photos you've ever taken… without you even trying!
And top of my list is the amazing spot of Sossusvlei – if you can capture it in the dawn or golden hour light, then even better!
LEARN MORE: The 9 Best Places to Visit in Namibia
Mini Travel Guide to Solo Female Travel in Africa
Travel Insurance for Africa
World Nomads offers simple and flexible travel insurance. Buy at home or while travelling and claim online from anywhere in the world.
Alternatively, if you're a long-term traveller, digital nomad or frequent remote worker seeking travel health cover, check out Safetywing's Nomad Insurance policies.
Travel Money in Africa
Cash tends to be king in this continent, so bring a lot with you and stash it in various parts of your luggage to avoid losing it all at once.
The best money to bring is USD, as this can easily be exchanged in banks or on the black market across Africa.
Otherwise, in more developed parts of the continent, it's easy to pay on card for hotels, restaurants, bars, tours and in supermarkets.
In these instances, you want to ensure you're not being charged overseas transaction fees or getting poor exchange rates when using your card abroad, which is why I always take my Wise card away with me wherever I travel.
The easy way to spend abroad with real exchange rates, no markups and no sneaky transaction fees, you can use your Wise card just like a debit card… and it links easily with Google and Apple pay – sold! Get yours here.
Best Tours in Africa
If you're interested in an unforgettable, well-priced tour across Africa with guides you can trust, then email me at [email protected] with details of where you want to go and I'll send you my top recommendations – simple!
Otherwise, check out these great options, which cover huge parts of this continent.
6 Packing Essentials for Africa
#1 Hiking Boots: Something with good grip and ankle support is essential for climbing to the mountains, jungles and forest of Africa. Keen Targhee II's are a great choice.
#2 Small Backpack: You'll want something you can put your camera, guidebook, sunscreen and water into when out and about during the day, as well as something secure. The Bobby Anti-Theft Backpack is perfect for this purpose and I always travel with mine.
#3 Headlamp: Great for helping you see when those inevitable powercuts come, I really wouldn't be without my Black Diamond Storm headlamp in Africa!
#4 Good Camera: I love my Sony A6000 Mirrorless camera, which is small, light, compact and robust – perfect for African travels.
#5 Hiking Trousers: With long trousers the order of the day in lots of African countries, you'll want a pair that allows you to go hiking and climbing too. Columbia do a top range for women.
#6 Sarong or Shawl: A great one for covering head / shoulders when entering religious buildings, or protecting your nose and mouth from dust, this travel scarf, also has a great secret storage pocket ideal for keeping small valuables safe too.
PIN IT TO PINTEREST!
So there you have it, my list of the 11 best destinations in Africa for solo female travellers.
When are you heading to Africa and what's your plan when you get there?
Do tell me all in the comments below…