Are you a bucket list traveller or do you balk at the very phrase?
So often the drive to tick things off our list, or not, can define our travel styles… and us as travellers.
Put very crudely, there are those that travel primarily to check world sights and countries off their lists and there's those that travel to engage and immerse, to enjoy spontaneity and serendipity, rather than just plan, visit, tick and move on.
---
Related Posts
---
This page contains affiliate links meaning Big World Small Pockets may receive a small commission on any purchases at no extra cost to you.
---
Grab Your Copy of How to Travel Africa for Less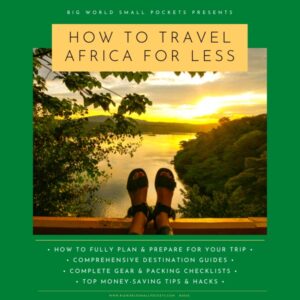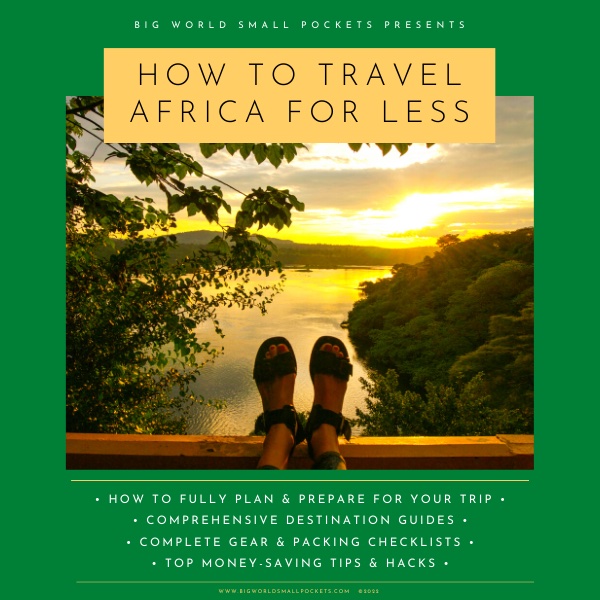 My ultimate guide to travelling Africa on a budget is now available, meaning you can finally get ALL my top tips for adventuring around all, or parts, of this amazing continent in one handy eBook, including…
Full Planning & Preparation Guides
Detailed Destination Info
Complete Packing & Gear Lists
Top Money-Saving Tips & Hacks
When I was younger, I definitely sat in the latter camp.
In fact, I probably would have described myself as the anti-bucket lister.
Literally.
9 times out of 10, if there was an amazing and famous attraction to see in a place, I actively avoided it.
I spent 3 weeks in Cape Town and never went to Robben Island or Table Mountain.
I spent 3 months in New Zealand and never went to Auckland.
I spent 3 years in London and never went to Buckingham Palace.
Yup, anti-bucket lister!
And too cool for school?!
…Probably!
Looking back, I don't think my decision to not do the bucket list things was because I didn't want to see these attractions.
On the contrary, I think it was more to do with not wanting to follow the crowd, with not wanting to join the mainstream, with not wanting to engage in the usual or the predictable.
Which means that I wasn't seeing these famous attractions because I didn't think they were worth it, I wasn't visiting them because of, dare I say it, the image.
LOOKING FOR A BUDGET TOUR IN MALAWI?
If you're interested in an unforgettable, well-priced tour in Malawi with guides you can trust, then email me at [email protected] and I'll send you my top recommendations – simple!
Alternatively, I'm currently offering my readers an exclusive discount on all Absolute Africa tours (who I travelled to Malawi with), meaning you can now travel even more in this amazing continent for even less!
Simply send this top African overland tour company an email to [email protected], quoting the discount code BWSP, and start planning your incredible trip with them today!
Now, I kind of wished I'd climbed Table Mountain!
I wish I'd explored Auckland and seen the changing of the palace guards!
And that's because, in my ripening old age, I have to admit I've become a bigger fan of bucket lists!
Ok, so maybe I'm still not a fan (that's a big word), but I don't cringe about the very thought of it.
I don't squeam or squirm when someone mentions visiting a major tourist attraction.
This summer, I went to the Lourve and the Eiffel Tower in Paris, the Rijksmuseum and the Red Light District in Amsterdam.
Perhaps as the amount of life ahead of you diminishes (although don't get me wrong I know being in your 30's still gives you a heck of a lot of time) the keener you get to travel and see the things you really feel you want to.
*UPDATE 2019: I have now been up Table Mountain on my most recent visit to Cape Town!*
In fact, the whole of this recent trip to Africa has definitely involved me seeing a lot of the things I really want to see.
I've had a plan, I've had a timeframe, I've moved quickly and I've seen a lot of bucket list attractions. I've continued travelling on rather than staying in places – even when I wanted to stay – and I haven't spent longer than 2 weeks in one spot!
For me, that's fast and heralds a new style of travel, let's call it the semi-bucket lister.
Anyway, the reason I'm going on about this bucket list ticking or not ticking is because, perhaps for the first time in my travel life, I've found myself being disappointed when I didn't get to "do" something I wanted to.
And that thing was scuba diving Lake Malawi!
Yep, I actually spent almost a week at the Lake and diving was the only thing I wanted to do… and didn't manage to.
Unlike my usual style of travel, this wasn't to do with me being too relaxed, casual, slow or forgetful – it was to do with factors outside of my control!
Because I really wanted to dive Lake Malawi.
Even though I know it's not the best scuba spot in the world or the fish aren't that amazing, I was really looking forward to getting back underwater with a tank and in freshwater for the first time!
Yes, true to the ultimate bucket list-style of travel, I just wanted to scuba dive Lake Malawi to tick a freshwater dive off my list!
Ha ha, oh have times have changed!
Now there's nothing wrong with that in and of itself, but it's interesting that the bucket list style of travel can actually lead to a greater sense of disappointment rather than accomplishment.
Rather than never setting your hopes on seeing anything in particular, setting your hopes on doing or seeing something particular leaves you wide open to not achieving that, which leads you wide open to feeling disappointed.
A strange irony.
And this is what happened to me with scuba diving Lake Malawi.
At Kande Beach, I was primed to dive from day 1, but unfortunately, the weather had other plans.
The usually flat Lake Malawi had both windy and wild plans when I was there and there was nothing I or the instructors could do about.
We tried again on day 2 and day 3, but no luck!
And I was so disappointed.
Finally, we gave it one last-ditch attempt on day 4!
Due to leave with my overland trip at 9am, I set my alarm for 6am to get up and grab my dive before heading out.
5 PACKING ESSENTIALS FOR MALAWI
#1 Headlamp – Required for those all too often power cuts!
#2 Toilet Paper – Most places don't provide it
#3 Natural Sunscreen – Things get hot here so do be prepared!
#4 Good Camera – An absolute must if you're looking to capture the incredible landscape of Malawi. I love my mirrorless Sony A6000, which is light, compact and robust – ideal for Africa travel
#5 Bikini or Swimsuit – Crucial for enjoying the lake!
#6 Sarong – Whether it's covering your shoulders from the sun, using as a pillow on long bus journeys or making into a beach dress, this is a great multi-purpose travel item
#7 Insect Repellent – Malaria is a huge risk in Malawi, so cover up at night and use at least 30% DEET spray
I awoke to a finally calm and clear lake and, very excited, hopped, skipped and jumped across to the dive school which was attached to the hostel where we were staying at Kande Beach.
All looking good, we kitted up and tanked up and walked down the beach to pile into the speed boat to take us to Kande Island.
All we needed to do was start the engine.
But the engine had different plans.
For 25 minutes, we tried to start her – we tried and we tried – but to no avail.
And although we had drifted almost halfway to the island by this point, there was now not enough time for us to complete a dive before I had to be back for the departing truck!
All we could do was slide out of the boat into the water and swim back to shore, pulling the vessel behind us!
And so it seemed the gods had conspired to ensure scuba diving Lake Malawi would not be ticked off my bucket list!
TRAVEL INSURANCE FOR MALAWI
World Nomads offers simple and flexible travel insurance. Buy at home or while travelling and claim online from anywhere in the world.
Alternatively, if you're a long-term traveller, digital nomad or frequent remote worker seeking travel health cover, check out Safetywing's Nomad Insurance policies.
I can't help but feel they were trying to tell me something!
Now I feel I have to go back to Lake Malawi just to tick freshwater diving off my list.
Which means I feel like I haven't really ticked Lake Malawi off my list either.
Which means I feel like I have to go back to Lake Malawi!
Which means setting goals to tick things off my list has actually meant I didn't tick things off my list.
Which I why I might go back to being an anti-bucket lister.
This ticking things off is just too hard!
LIKE IT? PIN IT!