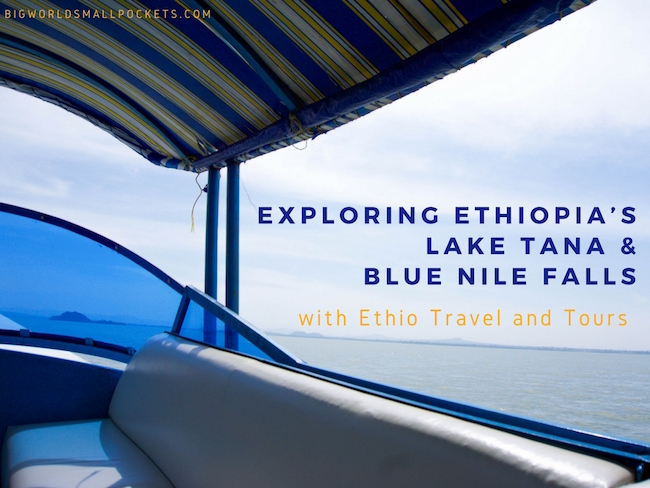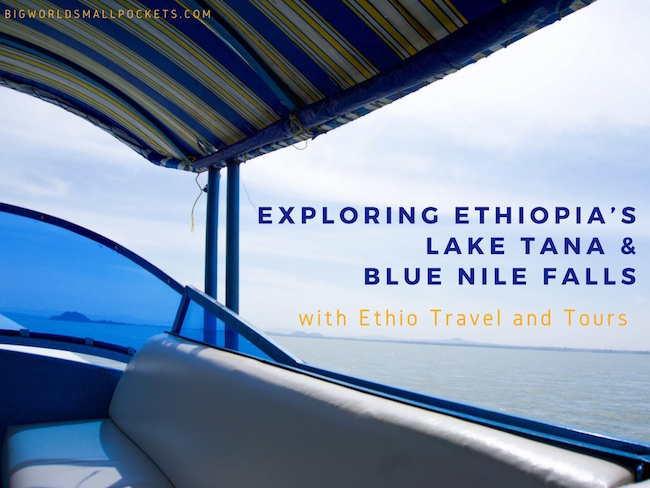 Another must-see destination in Ethiopia (yes another one!) is the city of Bahar Dar or Bahir Dir, depending on how you translate the Amharic alphabet!
Yes confusing at the best of times, Ethiopia can be a puzzle, but I'm so delighted that my time in Bahar Dar was one of the least stressful and most straight-forward parts of my time travelling in this country so far.
And that was almost entirely down to the fact that my whole time in this great city was coordinated by Ethio Travel and Tours or ETT.
And what a delight it was!
Yes sometimes even the most fiercely independent travellers enjoy having things organised for them, and in a country which has a different calendar, a different clock, a different alphabet and a very different culture, I reckon having someone else do the legwork is about as enjoyable as it gets!
---
Related Posts
---
My time in Bahar Dar was very kindly sponsored by Ethio Travel and Tours (ETT), but as always, all views are my own.
This page contains affiliate links meaning Big World Small Pockets may receive a small commission on any purchases at no extra cost to you.
---
Ethio Travel and Tours (ETT)
And so when I say it was nice to have ETT organise things for me in Bahar Dar… I mean EVERYTHING!
Yes, as the largest Ethiopian travel agency, these guys have got it sorted and know exactly what us farajinis (aka foreigners!) want.
Stress-free, all-inclusive and with some seriously excellent customer service, it was a really privilege to experience an ETT tour in Bahar Dar, where I was looked after every step of the way.
And every step of the way is no exaggeration.
Right from the off, I was collected from the bus station in Bahar Dar, after travelling from the city of Gondar and from there chaperoned to my hotel.
Enjoying the best of Bahar Dar was then super easy with restaurants recommended to me, trips organised for me and tons of advice given to me about where things were including banks, pharmacies and the Ethiopian Airline office.
Where is Bahar Dar?
But where is Bahar Dar, I hear you cry!
Ok, well Bahar Dar is the capital of the Ethiopian region of Amhara.
Located in the country's northwest, it's a busy city of around half a million people, but with a definite laidback feel that I found really friendly.
Possibly this has something to do with the fact that the city is set on a lake (us water folk are always more chilled) and sits at a lower altitude than many of the other destinations in Ethiopia I visited.
Yep at roughly 1800m above sea level, Bahar Dar is low-lying in Ethiopian terms and as such the balmy climate and palm tree lined streets certainly impart a holiday feel.
And that holiday feel was made even greater for me by my delightful stay at the Solyana Hotel, which was a real slice of Ethiopian luxury.
Having my excursions beautifully mapped out for me by ETT was also pretty luxurious, I've got to say!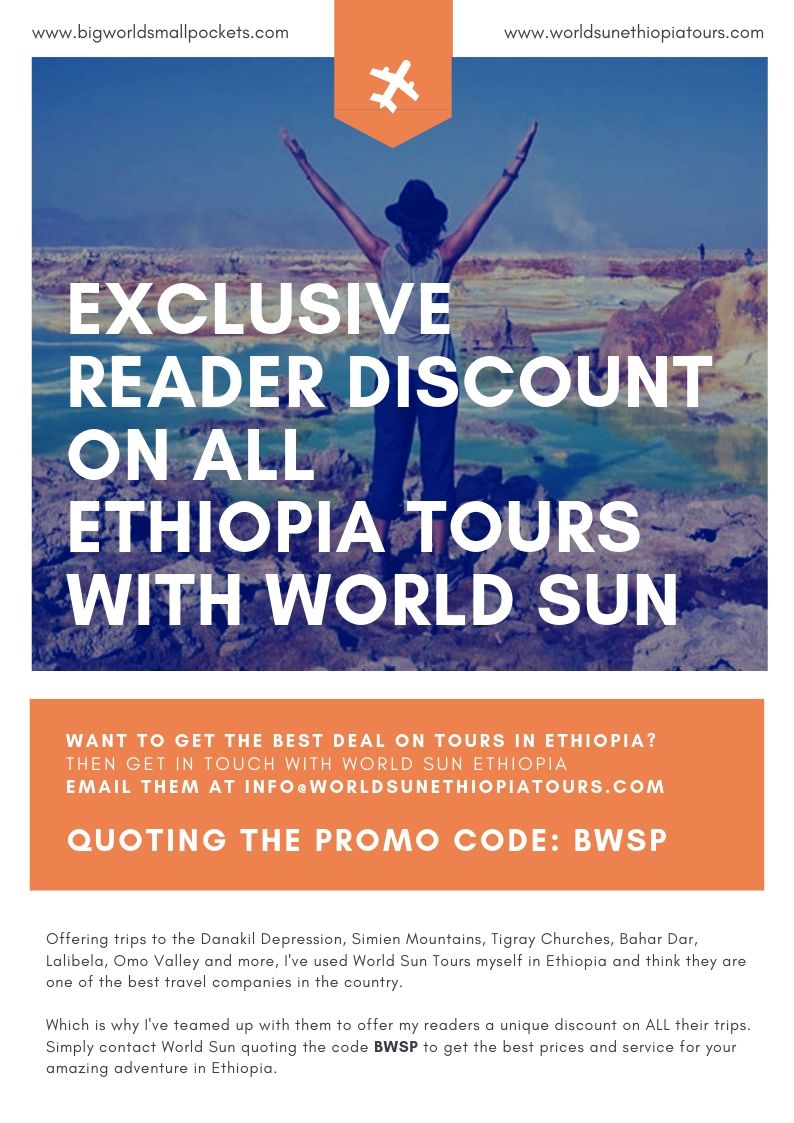 Lake Tana Monasteries
The first excursion I took with ETT in Bahar Dar was to the monasteries of Lake Tana.
Situated across this body of water from the city, our day began with a beautiful 50 minute boat ride accompanied by an excellent captain, who spoke great English and was able to tell us all about the locally made papyrus canoes and their fisherman.
Lake Tana is the biggest body of water in Ethiopia and it was great to spend some time on her as we motored over to the Zege peninsula.
There are tons of different monasteries to go and see around Lake Tana, but I was delighted that ETT had selected the best ones (dictated by the Ethiopia Lonely Planet) for us to view – namely Ura Kidane Meret, which is the largest and Bete Maryam, which is the oldest.
Both situated on Zege Peninsula, as the boat pulled in we were immediately greeted by our friendly and knowledgeable guide, who lead us for a number of hours across the peninsula to see both these famous monasteries.
Both dating from around 14thC, constructed from mud and bamboo, the real delight is in seeing the artwork instead these 2 places of worship and our great guide took a lot of time to explain the paintings' significance to us.
To get to from one Monastery to the other, we then enjoyed a wonderful 20 minute stroll through the natural bush of the peninsula and we lucky enough to see both monkeys and antelope as we walked!
We also stopped at the Monastery museum on the way, which had some fascinating and ancient artefacts.
Top Tip: Make sure you take insect repellent with you, as well as decent walking shoes for the bush track. It's also a good idea to take some water, as well as money to tip your guide and boat driver. Remember to dress conservatively for entrance into the monasteries.
Blue Nile Falls
The 2nd excursion I made with ETT was to the Blue Nile Falls.
To reach this stunning spot we enjoyed a 45 minute 4wd ride through local villages, followed by a 20 minute walk and short boat ride once we'd collected our guide.
Our guide gave us some fascinating information about the local customs and plants as we walked, including about Chat – a stimulating plant that locals chew.
Then suddenly we could hear the sound of a large body of water crashing over the rocks and there, in front of us, was the Blue Nile Falls.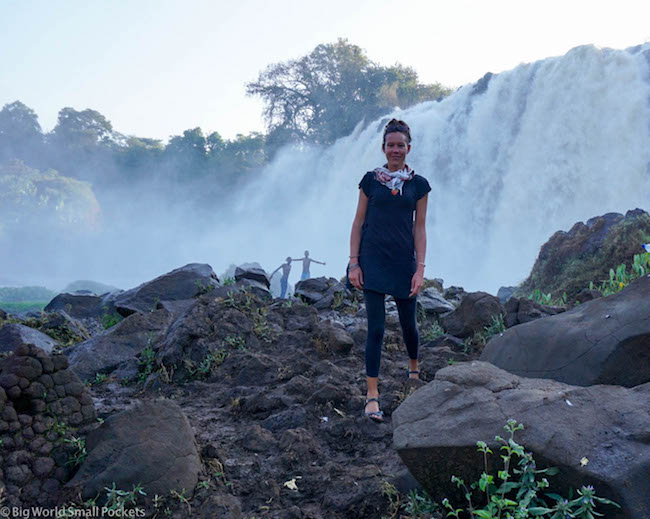 As per usual with Ethiopia, this had been completely undersold, because what we saw was truly spectacular!
Honestly, I visited the town of Jinja in Uganda just a few months ago, where they make a real song and dance about the Source of the White Nile – and rightly so!
Yet in Ethiopia, no one even mentions the source of the Blue Nile at Lake Tana, as well as the freaking huge and beautiful waterfall just down the road!
Yup forget shops, crowds of tourists and over-commercialisation, these falls are set pretty much in the middle of nowhere and you can walk right down next to them without barrier, queue or concern.
Sure there are a few local kids trying to sell you some trinkets, but really nothing like you'd expect.
Plus the falls are set in such a stunning rural area, you're way more likely to be concentrating on the view rather than few local children.
I'm so happy that I've now seen both the Blue Nile and the White Nile on my latest trip to Africa and am excited to head the where they join (to become just the Nile) in Sudan soon!
Top Tip: Make sure you wear either trainers or boots on the Blue Nile Falls trip, as the ground can be wet and muddy. Also remember to take some money to tip your guide. You have been warned, the spray from the Falls can be big, so ensure your camera / phone stays dry!
Visiting Bahar Dar with Ethio Travel and Tours
Both of these trips around Bahar Dar require transport (either boat or car), as well as entrance fees and local guides.
Sorting this out yourself would be possible, but if you're short on time it would be great to just have Ethio Travel and Tours sort everything out for you, like I had.
Their inclusive price system makes it nice and easy – you don't have to pay for anything on the day except voluntary tipping – and they organise guides and drivers for you, which saves a lot of time and hassle.
As I said before, I was super impressed with ETT's organisation, as well as their great customer service, with everyone from our drivers to our liaison contact in Bahar Dar – Gashaw – being really friendly and helpful (and even stopping for sunset pics when we asked!)
Both the car and boat were extremely comfortable with our safety and happiness seeming to be the primary concern.
My group for both excursions consisted of only 3 people, so there was a really personal feel and everything ran so smoothly, I just couldn't fault it.
LIKE IT? PIN IT!
And do let me know if you've visited Bahar Dar too.
Did you prefer the monasteries or the falls?
I still can't decide!