The adventure capital of East Africa, the town of Jinja in Uganda certainly isn't short of adrenaline-pumping things to do!
Set at the Source of the White Nile, river-based activities (unsurprisingly) take the main stage here, but the stunning scenery and great community of Jinja, Uganda also means there's a lot to enjoy out the water too.
I found myself in Jinja as part of my overland trip through Africa – to be honest I'd never even heard of the place before the tour, but was delighted that our itinerary included 3 days there… if only it had been sunny!
But despite the clouds and the occasional out of season downpours (this is Uganda after all!) I had a blast getting to see the best of this small city.
And so, if you're travelling in Uganda, East Africa or even Africa as a whole, make sure you allow at least 2 days for Jinja, Uganda.
For many, it's a highlight.
---
Related Posts
---
This page contains affiliate links meaning Big World Small Pockets may receive a small commission on any purchases at no extra cost to you.
---
Grab Your Copy of How to Travel Africa for Less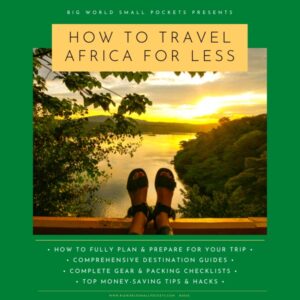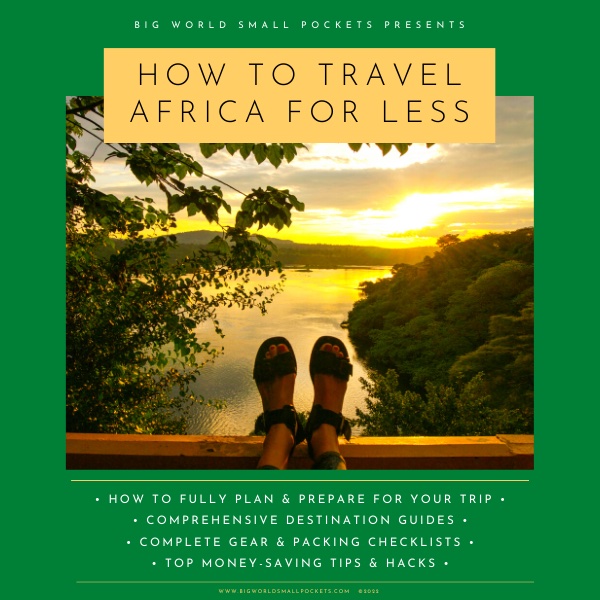 My ultimate guide to travelling Africa on a budget is now available, meaning you can finally get ALL my top tips for adventuring around all, or parts, of this amazing continent in one handy eBook, including…
Full Planning & Preparation Guides
Detailed Destination Info
Complete Packing & Gear Lists
Top Money-Saving Tips & Hacks
Day 1 in Jinja
Morning
Your first day in Jinja, Uganda really should be all about the Nile – in it, on it and around it!
As such I recommend starting your day with a boat trip to see this river's great source.
Actually, when you get there, it's a bit of anti-climax – a small amount of bubbles marked with a random metal sign – but there's something so African, nonchalant and understated about it all, I kind of liked it!
Plus, I'm also recommending a boat trip to the Nile, because it means you get to take in this city's stunning location from the water and to spot some beautiful birds and snap some great photos too.
After all, who doesn't like a boat trip?!
There's a cheap way to do a boat trip to the Source of the Nile, which actually skirts the national park and therefore entrance fee, but means you don't get to see the statue marking the spot where Gandhi's, yes that's right Gandhi's, ashes were scattered.
If you do want to see this, you'll have to cough up a bit more for an official tour.
Otherwise ask around and score yourself a cheap, local deal!
Afternoon
In the afternoon of Day 1, it's time to get a bit active, so choose from either kayaking or white water rafting on the River Nile.
These are the 2 most popular activities to do in Jinja, Uganda and, as such, are offered by numerous companies based in the town.
Almost any accommodation provider, should be able to connect you with a tour and all you'll have to do then is to decide how hardcore you want it!
And, if you're all about the adrenaline activities, then no trip to Africa would be complete without a stop at Victoria Falls on the Zimbabwe / Zambia border.
The adrenaline capital of South Africa, check out these 8 incredible things to do in Victoria Falls guaranteed to get your heart racing!
Evening
What better way to end your Nile day than with a sunset cruise?
There's few more memorable ways to take in the majesty of the world's most famous river than with the colours of the fading sunlight bouncing off the glass-like water… a beer in hand!
Normally, you'll need a set number of people to secure a cruise, so try to get a group together and enjoy en masse. It'll be cheaper this way too!
A sunset cruise really is Jinja to a tee!
And when it comes to accommodation in Jinja, I highly recommend staying at the Nile River Camp.
They have a choice of camping, glamping or bungalows and can organise loads of great activities for you.
Day 2 in Jinja, Uganda
Morning
Hopefully you've had your Nile fix, because Day 2 in Jinja, Uganda is all about exploring other parts of this great town.
Set in the centre of the action are some great cafes.
There's a large NGO crowd in Jinja, which means Mzungas are provided for and you can get some excellent coffee and green smoothies here, which I thoroughly appreciated!
The Source Café is a firm favourite, but I actually preferred The Deli.
After breakfast, it's time to wander the streets of Jinja, investigating the many souvenir and art shops, as well as snapping some of the crumbling colonial buildings – I loved the Post Office in particular.
Afternoon
The 2nd afternoon of your Jinja, Uganda itinerary again involves some active fun, but this time on land.
Choose from either mountain biking or horse riding and you'll get to see the beautiful, lush green, landscape of this part of the world in a way you normally wouldn't.
Again, most accommodation providers in Jinja should be able to arrange the above activities for you.
Otherwise, during your morning in town, do some investigating and bargain yourself a low price for a same-day departure.
Evening
Finish your 2nd day in Jinga, Uganda by getting your hands on one of the country's famous Rolexs.
No I'm not talking about watches here!
I'm talking about a Ugandan delicacy – essentially a chapatti rolled up with cooked egg, meat and vegetables inside.
Available at almost any street snack stall in Jinja, those situated near Lake Bujagali do some of the best I've tried and you can then enjoy your dinner at the side of this beautiful body of water just a short walk away.
Oh, and don't forget your camera for this lake either!
Volunteering in Jinja
If you have any more time to spend or spare in Jinja, then I highly recommend volunteering some of it with the great organization – Esubi Kids.
An orphanage and school project, this superb grassroots operation is always keen for helpers and the kids and staff are amazing!
In fact, I spent a day picking beans with these guys and it still stands as one of my top Uganda experiences.
If you are interested, please email Happy Apio on [email protected] or call / whatsapp her on +256 793 114 881 / +256 705 280 521.
Mini Travel Guide to Uganda
When to Visit Uganda?
There's 2 good times of the year to travel Uganda.
The first is during the months of December, January and February, and the second is between the months of June and August.
These are the driest times of year in the country, with little precipitation, which makes them ideal for gorilla and chimpanzee trekking, as well as other safari and wildlife-spotting experiences.
How to Get to Uganda?
If you're flying to Uganda, then look for flights which arrive at Entebbe International Airport.
As always, I use Skyscanner to find the best prices.
Alternatively, you can cross into Uganda overland from Kenya and Tanzania.
Best Tour & Self-Drive Options in Uganda
If you're interested in an unforgettable, well-priced tour in Uganda with guides you can trust, or a self-drive trip organised by a great company, then email me at [email protected] and I'll send you my top recommendations – simple!
Alternatively, I'm currently offering my readers an exclusive discount on all Absolute Africa tours, meaning you can now travel even more in this amazing continent for even less!
Simply send this top African overland tour company an email to [email protected], quoting the discount code BWSP, and start planning your incredible trip with them today!
Otherwise, it might also be worth checking out these top Uganda safari options from Safari Bookings, who offer a range of tours to suit all budgets, styles, dates and timeframes.
6 Packing Essentials for Uganda
#1 Waterproof Jacket – Something breathable and lightweight preferable as it gets humid fast! Columbia have a good range.
#2 Waterproof Hiking Boots – You'll need a pair with good grip and ankle support as you're likely to encounter a lot of slippery mud underfoot! I highly recommend the Keen Targhee II as a super option.
#3 Thick Hiking Socks – You've got to have protection from those fire ants and ticks, so a pair like this are essential!
#4 Refillable Water Bottle – Choose a metal one, like a good Kleen Kanteen and steer away from all those nasty plastics!
#5 Good Camera – A lightweight, compact camera with a good zoom lens is essential and I love my Sony A6000 with 210mm lens.
#6 Binoculars – They don't have to be expensive, so this lightweight pair of binocs from Eurohike are perfect!
Learn more about what to pack for Uganda in this checklist I compiled.
Travel Insurance for Uganda
World Nomads offers simple and flexible travel insurance. Buy at home or while travelling and claim online from anywhere in the world.
Alternatively, if you're a long-term traveller, digital nomad or frequent remote worker seeking travel health cover, check out Safetywing's Nomad Insurance policies.
Travel Money in Uganda
When it comes to paying for things in Uganda, it's great to know that accommodation and tours can generally be paid for by card.
ATMs are also available in most major towns.
Whether you use ATMs or pay by card however, you'll want to ensure you're not being charged overseas transaction fees or getting poor exchange rates, which is why I always take my Wise card away with me wherever I travel.
The easy way to spend abroad with real exchange rates, no markups and no sneaky transaction fees, you can use your Wise card just like a debit card here, and it links easily with Google and Apple pay. Get yours here.
SAVE THIS TO PINTEREST!
So there you have it, my perfect 2 day itinerary for Jinja, Uganda.
Have you been to this great town?
What was your favourite thing to do there?