The adventure capital of Southern Africa, Victoria Falls is a destination with a lot of adrenaline running through it!
Stopping here on 2 of my Africa trips, there's such a huge range of activities on offer in this borderland between Zimbabwe and Zambia, that I almost felt paralysed with the choice… and fear!
So, if you're into jumping off bridges, paddling down rapids – sometimes upside down – or swinging across gorges, then Victoria Falls is the place for you in Africa!
Here's my rundown of the 8 most incredible things to do in Victoria Falls – giving you the choice over how hard and fast you want to get your heart racing!
---
Related Posts
---
This page contains affiliate links meaning Big World Small Pockets may receive a small commission on any purchases at no extra cost to you.
*Prices given here are correct at the time of publication*
---
Grab Your Copy of How to Travel Africa for Less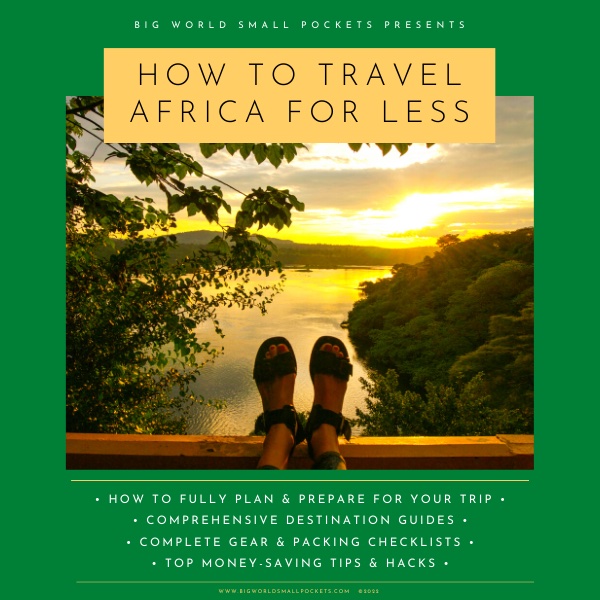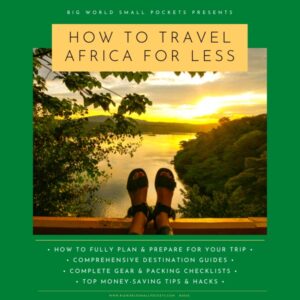 My ultimate guide to travelling Africa on a budget is now available, meaning you can finally get ALL my top tips for adventuring around all, or parts, of this amazing continent in one handy eBook, including…
Full Planning & Preparation Guides
Detailed Destination Info
Complete Packing & Gear Lists
Top Money-Saving Tips & Hacks
#1 Walk the Falls
The least adrenaline-pumping of them all, but still enough for sissies like me to get their heartbeat up, walking the falls is the low cost way to enjoy this incredible natural wonder.
Definitely one of the best things to do in Victoria Falls, hiking along the length of the opposing canyon rim to the falls is a top way to get your snaps of this superb water cascade and I recommend heading to do this even if you go for some more hair-raising activities as well.
Costing $30 USD when I visited, you can easily spend a whole afternoon walking to photograph the different parts of the falls and, of course, peering wearily over the edge to feel your stomach fly!
#2 Bungee Jumping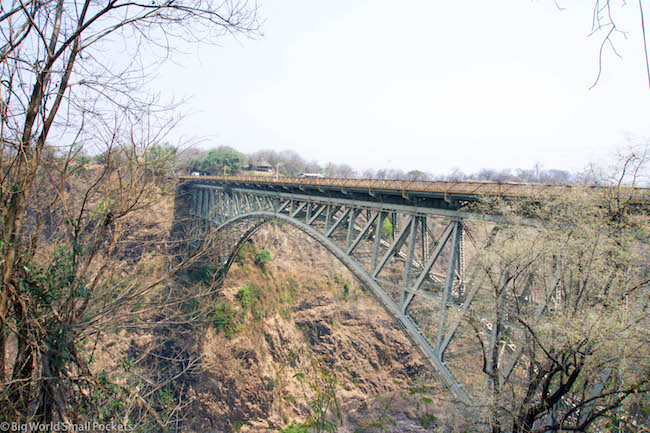 So from the tame to the extreme, for those of you who are brave enough, bungee-jumping is definitely one of the top things to do in Victoria Falls if you want to test the fear factor to the max!
Operated by the Zambezi Adrenaline Company, bungee jumping at Vic Falls involves throwing yourself off the bridge that straddles the Zimbabwe and Zambia border, diving headfirst into the canyon below, then bouncing back up and doing it all again!
Eeekk!
#3 White Water Rafting
This is probably one of the most popular things to do in Victoria Falls, not least because rafting here is renowned to be some of the best in the world!
2 of the people I was travelling with went for the rafting adventure here and they had an absolute ball – although they didn't enjoy the climb back up the canyon afterwards!
Nevertheless battered and bruised (if you ask me they deserve it after requesting multiple flips!) they came back smiling saying they really enjoyed this full day adventure.
#4 Flying Fox
Considered the least scary of all the highwire things to do at Victoria Falls, the Flying Fox still looks adrenaline-inducing to me!
With this one, you're essentially clipped into a harness that extends vertically across the gorge of the Zambezi meaning you can glide horizontally through the air above it!
But this is some 125m above the valley floor you're gliding and, moving by way of a pulley, gives the sensation you're flying!
The Shearwater Victoria Falls operation also run a flying fox-type activity off the Zim-Zam bridge (where the bungee-jumping is) but here they call it a bridge slide!
#5 Zip Lining
It's getting more scary as we go along, with the Zip Lining definitely up there as one of the most wild things to do in Victoria Falls!
This one is run by the company Wild Horizons and after the Flying Fox, it's the next step up!
Also known as the Foofie Slide, Zip Lining works on largely the same premise as the Flying Fox, except the highwire is angled and you speed high across the canyon at around 100km/hr!
#6 Gorge Swing
I personally can't imagine anything I want to do less than freefall down a gorge from a petrifying height, but there you are, it takes all sorts!
And despite my conservative reservations, gorge swinging is definitely another of the most popular things to do in Victoria Falls.
Nuts if you ask me!!
The most hardcore (and the most insane!) of all the highwire activities on offer, in a gorge swing your harness is attached to a rope, which is attached to the middle of a cable that runs across the full width of the gorge.
Once you are all set, you stand on a platform on the edge of a sheer 120m cliff, then jump off and free fall for about 70m straight towards the rocks and river below, before the rope becomes taught, you start to, thankfully, swing away from the rocks.
You can also do a gorge swing off the Zim-Zam Bridge, rather than the gorge and here it's called a Bridge Swing…. Still nuts though!
#7 Falls Flight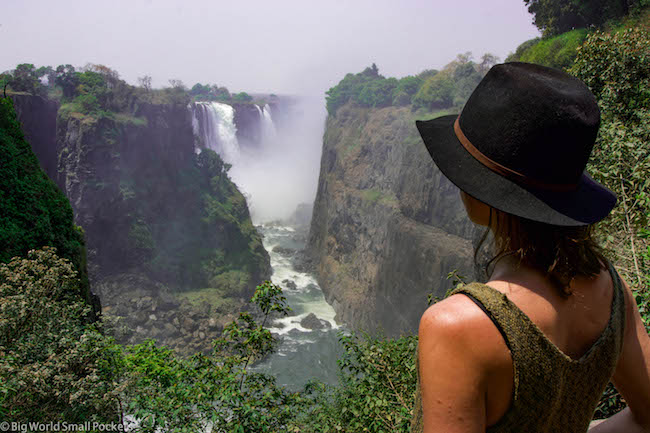 Soaring over the falls in a helicopter or microlight aircraft is surely the best way to really appreciate the magnitude of this incredible natural wonder of the world.
It's also a great way to snap some amazing photographs, which is why it appeals to me.
And I think it's still likely to get your heart rate up, if only from excitement as you see the real force of this vast body of water pouring itself over the edge of the gorge.
Prices vary on length of time, with the cheapest option being the 12-13 minute Flight of the Angels trip in a helicopter and the most expensive being the 30 minute Microlight flight.
#8 Devils Pools
And last but not least, the Devils Pools trip is definitely one of the best things to do in Victoria Falls.
Not as physically demanding as some of the other activities on this list, this excursion still requires nerves of steel as you'll essentially walk to the lip of the falls on the Zambian side and enjoy bathing in a pool that sits on the very edge of the falls before it spills over into the ravine.
Combined with either breakfast, lunch or dinner, I reckon this is one of the most memorable things to do in Victoria Falls… and it ought to be for the price!
That said, it's not every day – or possibly for much longer – that you get to sit on the edge of one of the 7 natural wonders of the world!
Thanks Africa 🙂
Mini Victoria Falls Travel Guide
Best Tours to Vic Falls
If you're interested in an unforgettable, budget tour to Vic Falls with guides you can trust, then email me at [email protected] and I'll send you my top recommendations – simple!
Otherwise for mid-range options, check out these top Vic Falls Tours, which offer a huge range of flexibility and itineraries.
Best Accommodation in Vic Falls
When it comes to budget options,Shoestrings Backpackers is a little hostel well-located in the centre of Victoria Falls town and offering some great prices – especially if you opt for camping over a dorm or room! With a great bar area that gets pretty lively most evenings, you're sure to make friends here as you laze by the pool or enjoy the shady garden area.
Otherwise, for something a little more private, check out Dzimbahwe Guest Lodge, which has a mix of double twin, triple and family rooms and is highly rated.
Travel Insurance for Victoria Falls… and beyond!
World Nomads offers simple and flexible travel insurance. Buy at home or while travelling and claim online from anywhere in the world.
Alternatively, if you're a long-term traveller, digital nomad or frequent remote worker seeking travel health cover, check out Safetywing's Nomad Insurance policies.
5 Packing Items for Your Vic Falls Adventure
#1 Insect Repellent – Malaria is a big risk in the Vic Falls area, so cover up at night and pack at least 30% DEET spray.
#2 Sunscreen & Cap – Things get hot here so do be prepared!
#3 Good Camera – An absolute must if you're looking to capture the incredible landscape of Victoria Falls. I love my mirrorless Sony A6000, which is light, compact and robust – ideal for African travels.
#4 Active Wear Dri-FIT Shorts – These ones from Nike would be ideal for taking part in many of physical activities on this list.
#5 Nerves of Steel – Enough said!
PIN IT FOR LATER!
So that's my list of 8 incredible things to do at Victoria Falls to get your heart racing.
Have you tried any of these more bonkers activities in Southern Africa's adventure capital?
Did you love it?
Tell me all in the comments below…