When you're getting ready to go on safari, there's so many things to think about – from what to wear to the vaccinations, the medical preparations to visas, the transport schedules to accommodation bookings – that the issue of what camera to take can, understandably, get pushed to the back of the line.
This is especially true if you're thinking of buying a new camera for your safari trip – questions around what brand, what capabilities and what spec you'll need can be overwhelming.
So let me make it simple for you!
Based on my own experience, the Sony A6000 Mirrorless Camera is the best camera for your safari… and here's why!
---
Related Posts
---
This page contains affiliate links meaning Big World Small Pockets may receive a small commission on any purchases at no extra cost to you.
---
Grab Your Copy of How to Travel Africa for Less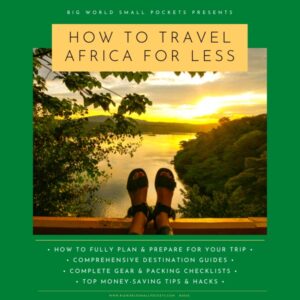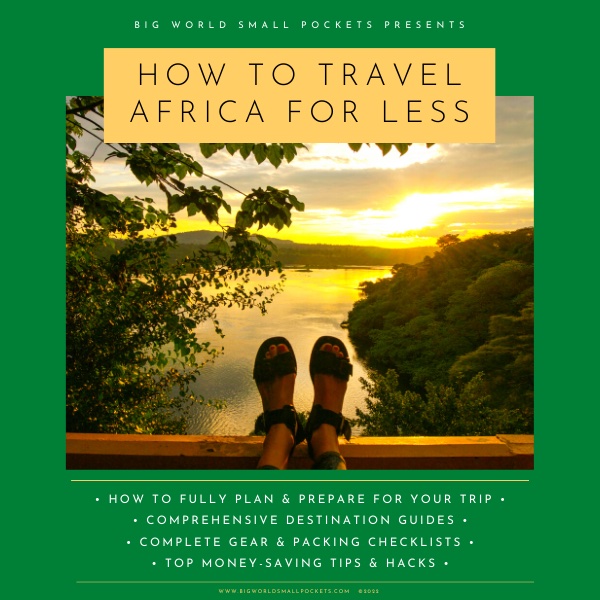 My ultimate guide to travelling Africa on a budget is now available, meaning you can finally get ALL my top tips for adventuring around all, or parts, of this amazing continent in one handy eBook, including…
Full Planning & Preparation Guides
Detailed Destination Info
Complete Packing & Gear Lists
Top Money-Saving Tips & Hacks
Sony A6000
Having bought this camera myself before embarking on my recent safari trips in southern and east Africa, I absolutely think it's a great option.
Especially if you're new to photography like me, I found this camera both easy to use and great to learn and develop my skills with.
This makes it the perfect safari camera for beginners especially.
I'm by no means a professional photographer, in fact I'm just beginning to work more on this side of the blog, so don't expect a full technical review of the camera here.
Instead, this is just an explanation of why I really enjoyed photographing with my Sony A6000 during my African safari trips and why I really do think it's the best camera for wildlife, especially for beginners.
And if you're looking for the best safari experience to try out your camera, why not check out this great range of options that cover some of the best wildlife attractions and national parks across the continent.
Compact Camera for Safari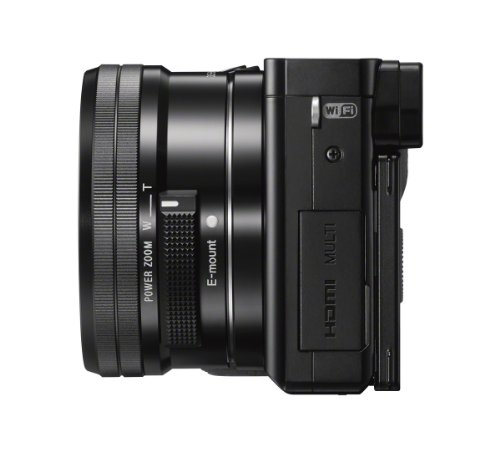 The Sony A6000 is a mirrorless interchangeable lens camera, which has a much smaller body when compared to a traditional DSLR.
Weighing just 468g, it's lightweight, and at just 120 x 67 x 45 mm, it's pretty compact as well.
This makes the Sony A6000 perfect for safari travel, when keeping things small and low in the weight department is a great advantage.
It's just one reason why I also think this is one of the best small cameras, especially for travellers venturing off the beaten track and packing light!
Indeed, the quality of the images you can get, when compared to a Point and Shoot Camera of a similar size, are exponentially better.
Easy to pop into a carry-on bag for air travel or a daypack for safari excursions, I really like the sleek design of the Sony A6000 compared to the bulkiness of many similar DSLR models.
This makes taking photos more conspicuous and more enjoyable in my opinion as well, which is exactly what you want on a safari adventure.
Sturdy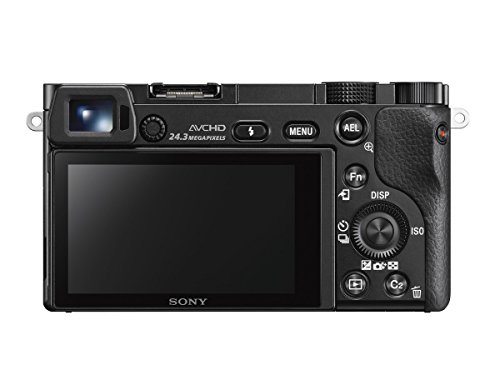 Although not waterproof, the Sony A6000 is durable and feels very solid and sturdy in your hand.
This is a great feature in a safari camera, when dust and bumps are inevitably part of the experience and you'll need a camera with a little bit of resistance to handle the great African wilderness!
The eye-level viewfinder and articulating screen of the Sony A6000 complete this sturdy-feeling camera body and its robustness is great when dealing with harsh environments, bumpy road conditions as well as the knocks and bumps that any camera for safari must endure.
Tip: Buy some $20 UV Filters for your Sony A6000 lenses to protect them – they'll be much cheaper to replace if scratched or damaged on your safari than your actual lens and also help filter out any unwanted glare from those harsh UV rays!
Wifi
One of my favourite things about the Sony A6000 is the inbuilt wifi facility, which is especially handy for us bloggers, any beginners wanting to improve their photography, or any travellers who want to get their best snaps over to their friends and family easily and quickly.
This means, even in the remote wilderness of an African safari destination, I was able to transfer images from my camera to my phone, and edit them with the use of the wonderfully free Snapseed App, there and then.
Via the data connection from my SIM card, I was then able to upload my fantastic images straight away to my social media channels, as well as airdrop them to my MacBook for adding into a blog post!
I also use the wifi feature of the Sony A6000 to take hands-free selfies!
Yup, if you download Sony's Imaging Edge Mobile app onto your phone, you can then use the wifi capacity from your Sony A6000 to connect your camera to your phone no matter where you are.
Setting up your camera using a tripod (I use a small gorilla tripod which is great for travellers FYI), or a friendly fellow safari visitor, you can then use this app so that your phone becomes a remote control for the camera, essentially allowing you to take great safari selfies without then need for an annoying selfie sick or a ridiculously long arm!
These shots then automatically get saved on both your camera and your phone, making uploading them onto any online platforms even easier!
This is such a great feature for a safari camera and one of my favourite things about the Sony A600 in general, especially as a solo traveller!
Best Travel Lens
My Sony A6000 came with a kit 16mm-55mm lens.
While good for landscapes, I obviously wanted a more powerful zoom lens for my safari trip.
However, the size of this had to be balanced against both weight, bulkiness and cost.
As such, I settled on the Sony Powerzoom 55-210mm lens.
I was really happy with this choice and I managed to capture some beautifully detailed wildlife shots as a result, mostly thanks to the inbuilt image stabilisation feature on this lens, which is also very useful for newbie photographers.
This said, when fully extended, I found the lens did capture the best images if I could rest it on something to ensure a still shot, but generally, the light is so good on safari that you can reduce the shutter speed right down in order to obtain a sharper pic.
The Sony Powerzoom 55-210mm lens was also small enough to put in my daypack, light and easy to attach/detach and not expensive as lenses go.
This makes it one of the best travel lenses for the Sony A6000 in my book!
The other travel lens I have for my Sony A6000 is the Sony E 35mm f/1.8 OSS.
This is a prime lens (meaning it's fixed and doesn't zoom in or out) and is especially wonderful for shooting faces in close range, those of animals included!
Again this lens features inbuilt image stabilisation (known as OSS aka Optical SteadyShot), is lightweight, compact and for quality of the images it captures, is a great value addition to your travel lens collection as it produces much better results compared to the kit 16mm-55mm lens in my opinion.
The low f-stop on this fixed lense, also makes it easy to get a great bokeh effect, which I'm a fan of!
Easy to Use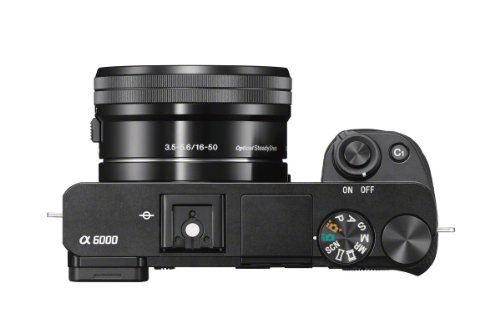 I find the settings very easy to use on the Sony A6000 and loved the simplicity of adjusting the exposure, f-stop and shutter speed quickly between different safari shots.
This really improved my photo skills over the course of my trip, as I got to experiment with the different settings easily.
Generally shooting on Aperture, it was simple to move the dial and shoot on Shutter for fast-moving animals.
I loved the speed of the Continous Shooting mode (11 frames per second) which was great for capturing the running cheetahs and the AF-C setting (continuous focusing) was ideal for tracking wildlife on safaris too.
I also like that the Sony A6000 can be charged via USB – this is an ideal feature in a safari camera , when recharging a camera battery is as easy as plugging it into a portable powerbank or the 12V port of a vehicle charger.
You can also use the provided USB cable with the camera to transfer the photos easily to your laptop and storage harddrive, or you can pop out the memory card and insert that into your laptop if it has a memory card port instead.
Price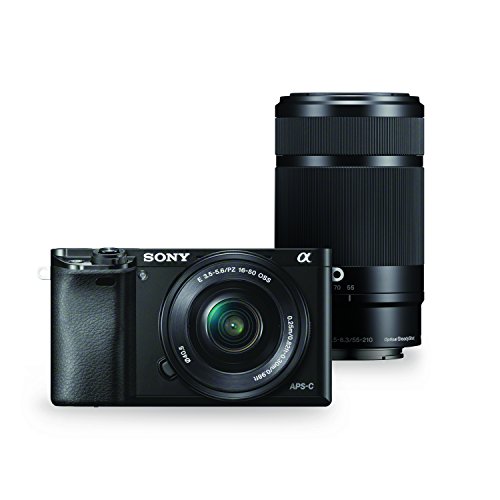 The Sony A600 also isn't a hugely expensive camera either.
For budget travellers and photography beginners, it's a great choice if you want to take some super safari shots without spending the earth.
Which trust me, after booking an African safari trip you're already likely to feel you've done!
As well as the camera body, 3 lens and UV filters I've spoken about, I also bought a spare battery for my Sony A6000, because you don't want to run out of charge will on safari that's for sure!
Otherwise, you can charge the camera via a powerbank (I love this lightweight option from Anker) like I suggest above – although, do remember, when you are in a safari vehicle tracking animals, having your camera plugged in may prove a bit annoying and would be a better option during your journey to or from the park.
I also purchased cleaning cloths for my Sony A600 to help remove dust and debris from the camera lens and body.
However, more recently I bought a lens pen, which I much prefer.
The brush element of this cheap, but incredibly useful cleaning device really is the best way to ensure you don't get dust marks on of your safari images.
I always made sure I had at least 2x 64 GB highspeed processing memory cards and a gorilla tripod for the selfies as I mentioned above!
This really was all the kit I needed in order to get exactly the safari shots I wanted and still be able to backpack as lightly and as cheaply as I wanted.
What a result!
PIN IT TO PINTEREST!
So that's why I think the Sony A6000 is the best camera for safari!
Do you agree?
If not, I'd love to hear what your recommendation for the best safari camera is?