There's no doubt about it, competition is stiff when it comes to the best national parks in Africa.
From South Africa's Kruger to Kenya's Masai Mara, this continent really does contain some bucket list classics and compiling this list was certainly not as easy as I first thought!
But nevertheless, reflecting on my 4 separate trips to Africa across the East, South and North of the continent, and trawling through countless photos and diary entries, I've finally come out with my top list and here they are, the 13 national parks in Africa you need on your bucket list asap!
---
Related Posts
---
This page contains affiliate links meaning Big World Small Pockets may receive a small commission on any purchases at no extra cost to you.
---
Grab Your Copy of How to Travel Africa for Less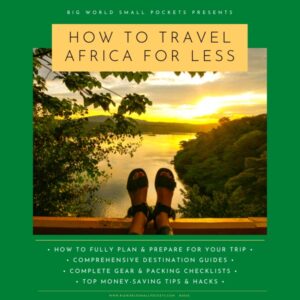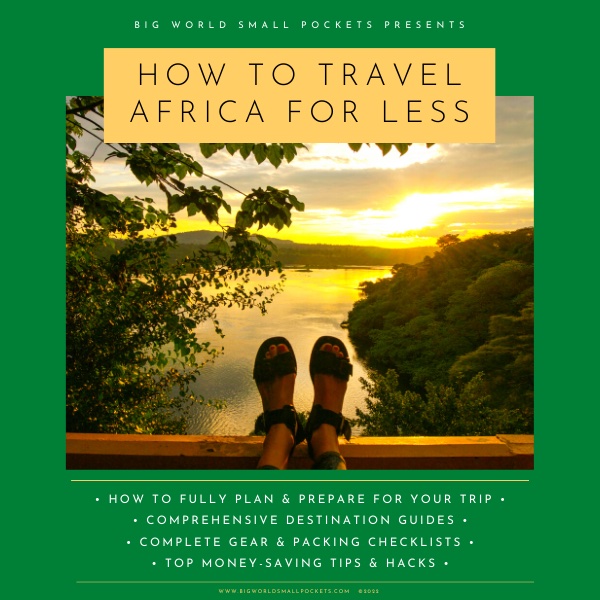 My ultimate guide to travelling Africa on a budget is now available, meaning you can finally get ALL my top tips for adventuring around all, or parts, of this amazing continent in one handy eBook, including…
Full Planning & Preparation Guides
Detailed Destination Info
Complete Packing & Gear Lists
Top Money-Saving Tips & Hacks
#1 Kruger, South Africa
One of the continent's most famous game reserves, it's perhaps no surprise that Kruger is on my list of the best national parks in Africa given the concentration of the Big 5 and the ease and proximity with which you can view them here.
Among the largest game reserves in Africa, Kruger was South Africa's first national park and is also a designated UNESCO site, mostly because it has more species of large mammals than any other African game reserve… enough said!
Here's how to visit Kruger on a budget.
#2 Bwindi Impenetrable Forest, Uganda
One of the world's most endangered and fascinating creatures, the gorillas are found in just a few select national parks in Africa, and Bwindi in Uganda is one of those magical spots where you can undertake gorilla trekking.
Home to over half the world's population of gorillas, this UNESCO-listed forest is probably the place where you have the best chance of spotting these beautiful beasts in the wild and the misty mountain trek to get to them will only heighten your anticipation!
Having the opportunity to watch a family of one of our closest relatives in the wild is an experience that might not be available forever and certainly one you'll never forget, so get Bwindi on your bucket list asap.
#3 Masai Mara, Kenya
Actually, the reserve I've voted the best safari in Africa the Masai Mara in Kenya is undoubtedly one of the most incredible national parks in Africa.
Most famous for the wildebeest migration which moves through here annually, this land of strong cultural pride, dramatic scenery and intense concentration of wildlife really does take some beating.
Seeing a pair of lions stalking a trio of cheetahs was just one highlight from my Masai Mara safari, but honestly, there were almost too many to count… and my camera certainly got the workout of a lifetime!
READ MORE: Ideal Kenya Itinerary for Those on a Budget
#4 Chobe River, Botswana
Next on my list the best national parks in Africa, it has to be the incredible Chobe River National Park in Botswana.
Situated in the north of this country, a sunset cruise on the river here is truly unforgettable as scampering baboons move past yawning hippos, while relaxing buffalo and thirsty giraffe all come down to the water's edge to join the party!
But the real drawcard in Chobe is the elephants, whose numbers are some of the greatest in Africa.
If you're an elephant fan therefore, getting Chobe River National Park on your list is an absolute must!
#5 Simien Mountains, Ethiopia
A beautiful national park situated at high elevation in the north of Ethiopia, Simien Mountains National Park provides some incredible hiking opportunities amidst some truly breathtaking scenery.
From craggy ranges to plummeting waterfalls, floral-covered valleys and even the rare and endemic Gelada Baboons, this place is an absolute feast for the eyes… and the legs!
LEARN MORE: The Ultimate Guide to Ethiopia's Simien Mountains
#6 Victoria Falls, Zimbabwe / Zambia
One of the 7th natural wonders of the world, it's all but impossible not to be bowled over by the thundering giant that is Victoria Falls National Park.
Straddling the border between Zimbabwe and Zambia, this magnificent waterfall is best visited from the Zimbabwe side in my opinion, where the view of thousands of gallons of water tumbling over the edge of this huge ravine really is a full sensory experience (read. bring your waterproof jacket!)
From the Zambian side however, sitting on the top of the falls in Devils Pool is a must and the bungee jumping takes some beating too!
READ MORE: 8 Incredible Things to Do in Vic Falls
#7 Hell's Gate, Kenya
Hell's Gate National Park in Kenya is on this list because of the very different sort of experience it offers visitors.
Yes, without the big cats and elephants here, experiencing a cycling safari through Hell's Gate is both a possibility and a must, when it comes to bucket list experiences in Africa.
Honestly, there is nothing quite like pedalling past giraffe, warthog and zebra, watching them only a metre away as they go about their business undisturbed by noisy engines.
The volcanic and geothermal landscape of Hell's Gate is also wonderfully dramatic and only works to increase the unforgettable time you'll have here.
DISCOVER MORE: Why Hells Gate NP Provides a Totally Unique Safari Experience
#8 South Luangwa, Zambia
A place I'd never even heard of before my trip to the country of Zambia, South Luangwa National Park turned out to be one of my indisputable trip highlights and is most certainly of the most incredible national parks in Africa.
From spotting a leopard in clear view only a few metres away, to watching suckling lion cubs almost too close for comfort, this diverse park provided some of the best photographing opportunities of my whole time in the continent.
But perhaps the most memorable experience actually took place in our campground, when visiting hippos and elephants provided quite the evening entertainment! Eek!
#9 Serengeti, Tanzania
Coming in at number 9, the Serengeti is world famous and rightly so!
This enormous national park in Tanzania takes some getting your head around because it's so vast, but even a short trip there is going to bring you face to face with some incredible wildlife.
From wildebeest migration to tons of large cats, the Serengeti is big enough to host them all!
Top of my list was seeing a female lion devour a decapitated zebra, which had evidently got stuck in the muddy bog of a watering hole.
Being able to view nature like this, so real and so visceral, really was the most memorable experience and definitely worth putting on your bucket list.
READ MORE: Why the Serengeti Will Blow Your Mind!
#10 Ras Mohammed, Egypt
Up in the north of the continent, Egypt's Ras Mohammed is without question one of the best national parks in Africa.
A marine reserve, this is one of THE places in the world to go scuba diving, with the sheer amount and diversity of fish and other underwater life here being hard to beat anywhere else on the planet.
As you can't stay within Ras Mohammed itself, boat trips with organised dive schools are the best way to get here.
These can easily be organised from the nearest resort of Sharm El-Sheikh, or my preferred spot, the delightful backpacker spot of Dahab.
READ MORE:The Ideal Egypt Itinerary
#11 Queen Elizabeth, Uganda
Situated in Uganda, it's unlikely you'll have heard of Queen Elizabeth National Park before you arrive in East Africa.
But that doesn't make this place any less spectacular!
With 612 recorded bird species, as well as over 95 mammal species, this is a hugely diverse national park in Africa which also boasts an amazing range of vegetation from bushy grassland to lakeshore and acacia woodland.
Animals you can spot here include buffalo, waterbuck, hyena, warthog and elephants, but it's surely the leopards which are the biggest drawcard!
READ MORE: 10 Best Things to Do in Uganda
#12 Lake Nakuru, Kenya
When I first entered Lake Nakuru I was greeted with an incredibly unique view.
Namely a white rhino set in front of an urban backdrop!
This immediately kick-started my incredible time in what is certainly one of the most different national parks in Africa!
Yep, not far from civilisation, the entrance to Lake Nakuru, is set against the landscape of a town, which means many of your wildlife snaps will have buildings in the background – crazy!
As you move deeper into the park however, the urbanscape gives way to some beautiful lakeside scenery that provides the most stunning backdrop.
Top of the list to spot here are the flamingos that live by the lake and the rhinos too – with Lake Nakuru being one of the best African national parks for seeing these extremely endangered animals in the whole continent.
READ MORE: 14 Breathtaking Things to Do in Kenya
#13 Hwange, Zimbabwe
And last but not least, the 13th entry of my list of the most incredible African national parks has to go to Hwange in Zimbabwe.
I love this park for how off the beaten track it felt and I highly recommend 2 nights in this reserve so that you can enjoy both morning and evening game drives.
Zimbabwe's largest park, and one of the 10th largest in Africa, a game drive here will almost certainly allow you to spot hippos, elephants, baboons, wildebeest, impala, zebra, kudos, janet cats, African kangaroos, hyenas, bush babies and giraffe.
The Painted Dog Conservation Centre set just before the park is also well worth a visit.
LEARN MORE: The 6 Best Things to Do in Zimbabwe
Top Africa Travel Tips
Travel Insurance for Africa
World Nomads offers simple and flexible travel insurance. Buy at home or while travelling and claim online from anywhere in the world.
Alternatively, if you're a long-term traveller, digital nomad or frequent remote worker seeking travel health cover, check out Safetywing's Nomad Insurance policies.
Best Budget Tours in Africa?
If you're interested in an unforgettable, well-priced tour in Africa, with guides you can trust, then email me at [email protected] with some ideas about where you want to go and I'll send you my top recommendations – simple!
Alternatively, I'm currently offering my readers an exclusive discount on all Absolute Africa tours, meaning you can now travel even more in this amazing continent for even less!
Simply send this top African overland tour company an email to [email protected], quoting the discount code BWSP, and start planning your incredible trip with them today!
Otherwise, it might also be worth checking out these top Africa safari options from Safari Bookings, who offer a range of tours to suit all budgets, styles, dates and timeframes.
5 Best Photography Gear for Africa
#1 Lightweight, Camera – I love my mirrorless Sony A6000. Light, compact, and robust, it's perfect for African travels.
#2 Zoom Lens – Especially important for safari shots, my Sony E 55-210mm did a great job.
#3 Gorilla Tripod – The tripod you can take anywhere, this light, small and hugely versatile piece of travel kit is a must for Africa.
#4 Spare Battery – You never want to run of battery in Africa… ever!
#5 32GB SD Memory Cards – Taking multiple memory cards with you to Africa is a must; the larger and faster, the better! Top notch memory cards will stop you having to delete pics, swap cards, or miss shots as fast-action processing for wildlife in particular is required.
PIN IT TO PINTEREST!
Do you have a favourite African National Park?
Which is next on your adventure list?