Honestly, Egypt is one of the best budget travel destinations you can head to right now.
Chocked full of sensational historical sights, amazing adventures, bustling cities and welcoming locals, it really is hard to believe just how cheap it is to travel in Egypt.
Ending my 10 month African adventure here – having travelled north overland all the way from South Africa – I have to say Egypt certainly ranked as the cheapest destination, along with its neighbour Sudan, of my whole trip in this incredible continent, and offered unparalleled value for money.
From excellent priced accommodation and entrance tickets, to bargain Nile cruises and some of the cheapest scuba diving on the planet, I really can't recommend Egypt enough for backpackers (yes I can attest to the fact it's definitely safe for even solo female backpackers).
So here's my perfect Egypt itinerary to help you get the most from your budget and your timeframe…
---
Related Posts
---
This page contains affiliate links meaning Big World Small Pockets may receive a small commission on any purchases at no extra cost to you.
---
Day 1-3: Aswan
Begin your Egypt itinerary in the southern city of Aswan – a beautifully relaxed metropolis that sits on the bank of the Nile and was definitely one of my favourite spots in the whole country.
Either enter Aswan from Sudan – or grab a cheap and quick flight from Cairo.
Day 1
On your first day in Aswan I'd suggest just getting used to the steamy temperatures here by taking it easy as you relax on a Felucca (boat) and head over to Elephantine Island.
Costing you just 2 LE (Egyptian Pounds) each way from the city centre, the island is a delightful place to stroll around, taking in the quiet, dusty streets and traditional Nubian villages.
Elephantine is also home to an important archaeological site, currently being worked on by a Swiss / German team, as well as the Aswan museum, which is currently undergoing refurbishment.
Entrance to both of these attractions is 70 LE, but it makes for a delightful couple of hours and includes a guide, who will show you around.
Also included is access to the Nilometer, which is situated down some steps that lead to the river.
It makes the perfect place to watch the world go by, dangle your feet in the water and grab some beautiful Instagram shots!
In the evening of day 1 on your Egypt itinerary, head out to the excellent Nubian Museum (which reopens in the evening).
Curated in conjunction with UNESCO, this exhibition will give you a great understanding of the local Nubian culture in Aswan, as well as the effects development in the region has had on their lives and homeland.
READ MORE: 10 Unmissable Things to Do in Aswan
Day 2
Continue the Nile adventure in Aswan by hopping on a boat to Philae Temple on day 2 of your Egypt itinerary.
Allow at least 45 minutes at this site to take in the beautiful watery views.
Entrance for Philae Temple is 100 LE and the boat ride is 120 LE return – do not pay more than this! The boatmen may try to insist it's 120 LE each way, but don't believe them for a minute!
After Philae, why not journey to the Unfinished Obelisk, the High Dam and, if you're feeling super energised, Kitchner Island too.
While most of these activities incur entrance and transport fees, the costs are so minimal it'll be easy to see them all while still sticking to your budget.
This includes finding a great place to stay in Aswan and I always recommend the wonderful Eka Dolli GuestHouse, which has some of the cleanest rooms, friendliest staff and best roof terraces I came across in Egypt.
LEARN MORE: Best 5 Hostels in Aswan, Egypt
Day 3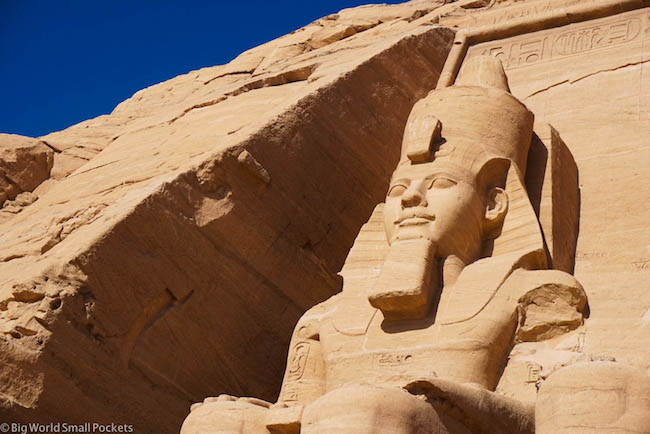 It's an early start on day 3 of your Egypt itinerary, when a trip to Abu Simbel awaits you.
Eka Dolli Guesthouse can organise very reasonably-priced rides for you to Abu Simbel, which is an awe-inspiring temple complex, built by Ramses II, that's actually a 3 hour drive south of Aswan.
Leaving at 4am, shared minivans (250 LE for a return journey) shuttle groups down to Abu Simbel and entrance fees (175 LE) once you get to the site wonderfully include the services of a guide.
Abu Simbel is an absolute must on your Egypt itinerary and you can't failed to be incredibly impressed by it!
The first glance, as you round the corner, actually had me gasping out loud with wonder!
Return to Aswan at lunchtime and then head to the station to buy your Luxor train ticket for the next day.
Day 4-6: Luxor
Day 4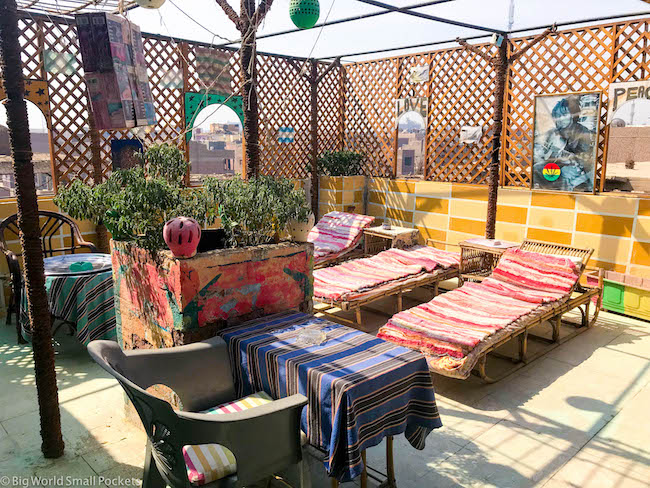 Take an early train to Luxor from Aswan on day 4 of your Egypt itinerary and enjoy the sensational views of the world's most famous river rushing along beside you.
Trains in Egypt are excellent and cheap, so I'd highly recommend hitting up first class, even if you're on a super tight budget as it's just a few LE more, still totally affordable and highly worthwhile!
Arrive in Luxor in the afternoon and head to Bob Marley Peace Hostel – a great budget accommodation option in the heart of the city that will only set you back a few USD for a dorm bed.
Spend the evening relaxing on their roof terrace with a sheesha!
Day 5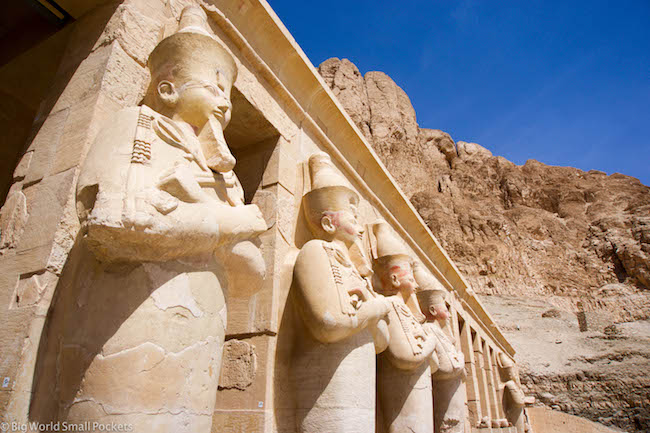 Today's the day to hit up Luxor's famous West bank – home to the Valley of the Kings and some of the city's most iconic temples.
A great place to visit in the morning, before the sun gets too hot, I'd highly recommend one of Bob Marley Peace Hostel's tours, which will set you back less than $8 USD and includes all transport, as well as an experienced guide across the West Bank.
Top sights to visit (and included in the tour) are:
– Colossal of Menmon (free)
– Medinat Habu (40 LE)
– Temple of Hatshepsut (80 LE)
– Valley of the Kings (160 LE)
Rather than battling the poor public transport and lack of signage, this is a really great way to ensure you get the best from your Egypt itinerary on a budget.
DISCOVER MORE: The Ultimate Luxor Itinerary
Day 6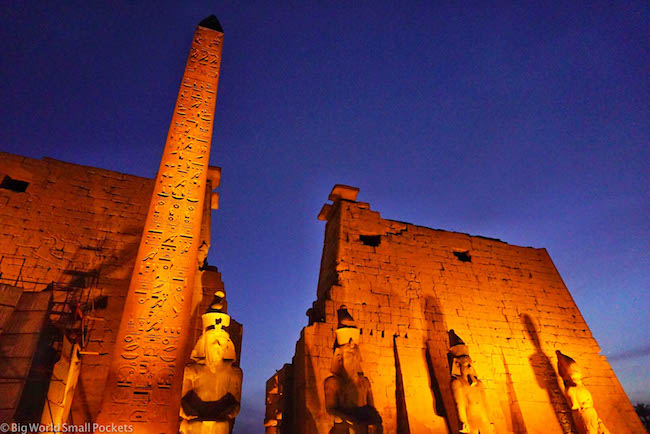 Your final day in Luxor is the perfect opportunity to hit up the city's East Bank – home to its great museum and the largest temple in the country!
I'd highly recommend the East Bank as an afternoon excursion, because once you've seen the Luxor Museum (120 LE) and then Kabak Temple, heading to Luxor Temple (100 LE) is the perfect finale to your time in this city.
Open until 9pm, catching sunset here as the golden rays hit the Avenue of Sphinxes and Pharaoh statues really is something else!
Ticket prices are payable at each attraction, but the few dollars they amount to are well worth it and with your Luxor Temple ticket you can enter and re-enter anytime on the same day.
Day 7-10: Cairo
Day 7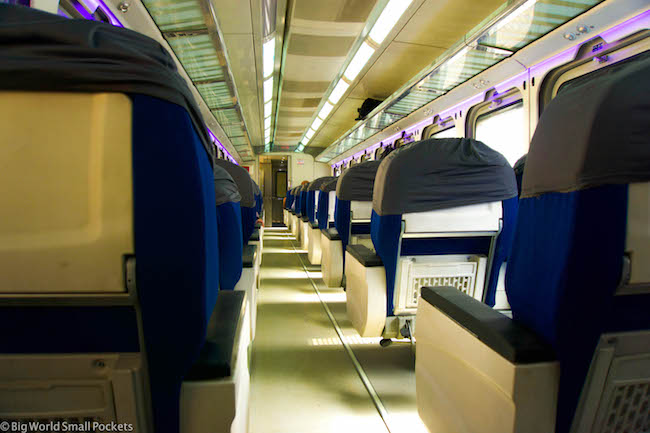 Hop on the train from Luxor to Cairo on day 7 as you start to make your way further north.
Whilst you can get a night train for this 10 hour ride, these sleeper trains are hugely expensive, so I'd strongly recommend getting a first-class morning train instead that will set you back just a fraction of the price.
Seats are allocated on Egyptian trains and it's best to buy tickets the day before as they do fill up.
Taking some snacks and water on board with you will also save you cash and don't forget a sweater and blanket – they crank the aircon something chronic!
LOOKING FOR SOMEWHERE TO STAY IN CAIRO?
Day 8
Today is the day to really hit the WOW pedal on your Egypt itinerary and tick the mighty Pyramids of Giza off your list.
It's best to head to Giza – which sits the other side of the Nile from Cairo – early in the morning to try and avoid the crowds and catching Cairo's excellent Metro here is the cheapest way to do it.
Spend a good few hours, wandering, snapping and heading inside the Pyramids, before checking out the Sphinx and the Cheops Boat Museum – they are just as hard to get your head around!
In the afternoon, head to the spellbinding Egyptian Museum.
Currently located in Central Downtown Cairo – although soon to be moved to a brand new, purpose-built site in Giza – this is the country's flagship exhibition space, chock-full of ancient treasures.
And it's absolutely mind-blowing.
Entrance costs 120 LE for foreign visitors, although do be aware that the Mummy Room costs an extra 150 LE to enter and access to a camera anywhere in the museum will cost you a further 50 LE.
Alternatively, if you want to discover the marvel of Cairo with a local, you can find a list of guided tours (including costs and reviews) here at GetYourGuide.
I love GetYourGuide because they're easy to use and book with, and offer some of the best prices around.
LEARN MORE: Top 10 Things to Do in Cairo
Day 9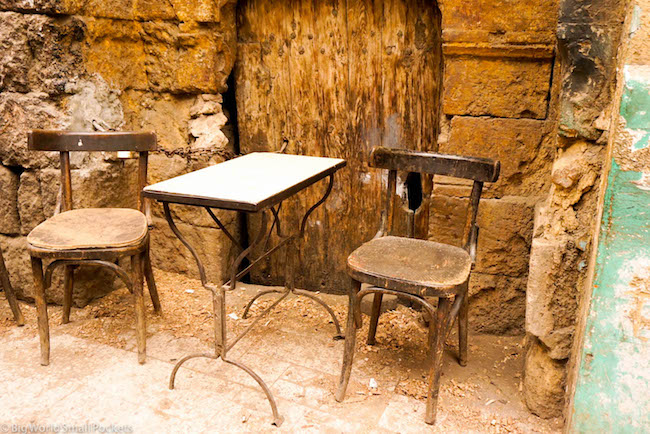 With Giza out of the way, Day 9 of your Egypt itinerary is the perfect time to explore some of Cairo's other suburbs, the most famous and worthwhile being the Coptic and Islamic parts of the city.
A walk through the Coptic area of Cairo is a fascinating half day trip, that will give you a glimpse into the ancient Christian roots of this land and marvel at the modern days churches that still survive.
Top of the list is the Hanging Church, which sits above ancient Roman ruins and is really beautiful.
The Ben Ezra Synagogue, Coptic Museum and Cavern Church (where Mary, Joseph and Baby Jesus are meant to have stayed for 3 months in their bid to escape King Herod) are also worth a look.
Following this, Islamic Cairo is one of the oldest parts of the city, but from its beautiful mosques to its bustling markets and winding old streets, it's definitely a very real and lively part of Cairo even today.
Getting lost in Islamic Cairo really is part of the adventure and don't forget your camera as it feels like almost every corner here has a story to tell.
Top of my list is Muizz Street – rumoured to be the oldest in Cairo – which is littered with "antique" shops, old city walls and mausoleums.
Personally, I thought the famous and nearby Khan-al-Khalili market was overrated, but it's worth a look for the bucket list's sake.
Day 10
And on day 10, it's time to head out of the city for a day trip.
The excellent Dahab Hostel in Cairo can arrange super-priced backpacker tours for you and top of the list is their trip to Saqqara.
Near the site of the ancient city of Memphis – capital of the Old and Middle Kingdom in Egypt – Saqqara is the site of the oldest stone monument in the world.
Known as Step Pyramid of Zoser, deceased pharaohs and their families, as well as important generals and sacred animals were buried and found here.
Delightfully free of crowds compared to the pyramids of Giza, heading here is a must if you have time for just 1 Cairo day trip.
DISCOVER MORE: 27 Things to Know Before You Backpack Egypt
Day 11-14: Dahab
Day 11
On day 11 of your Egypt itinerary, hop on a budget airline flight from Cairo to Sharm El Sheikh to hit up the Red Sea.
But don't stop in Sharm – keep going until you reach the independent traveller hotspot of Dahab!
It's also possible to catch a bus from Cairo to Sharm and then onto Dahab, which is obviously cheaper than a flight, but much longer too.
Day 12-14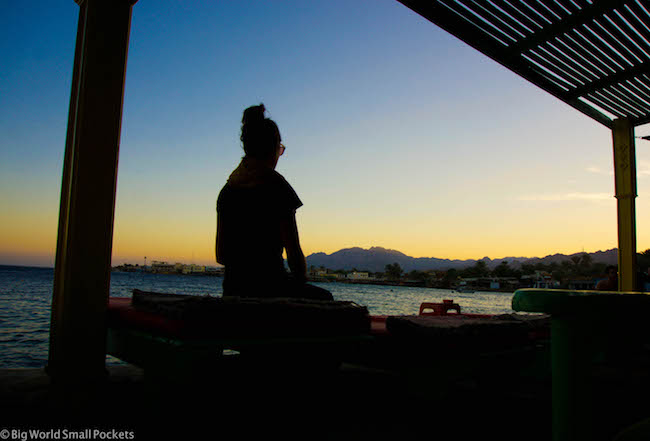 And then, for the last few days of your Egypt itinerary, it's time to simply relax!
And there's no better place to do it than Dahab!
Diving, snorkelling, swimming and mostly chilling, are the main activities here, with tons of friendly cafes, restaurants and bars offering great roof top terraces to relax on and direct access to that gorgeous warm sea.
I stayed at Alaska Camp & Hotel in Dahab and loved its central location.
I also dived with Sea Dancer, which I can highly recommend for their professionalism and safety… not to mention great prices!
PIN IT TO PINTEREST!
So there you have it, my perfect Egypt itinerary for backpackers.
Is this insanely cheap country on your bucket list yet?