So you're in Ethiopia and want to travel north eh?!
Have you looked at the internet and already struggled to find any good info?
Welcome to the club!
Yup, just a few months ago I was in exactly the same boat, desperately searching online for some facts about how I could travel from Ethiopia to Egypt overland.
Because it seems, just about every other traveller has gone the other way!
Yep the Egypt to Ethiopia route is well covered, but from Ethiopia to Sudan and then Sudan to Egypt by road… well there's just not that much out there!
Having successfully completed this journey myself however, I'm delighted to tell you it is possible!
And, to bring you all the latest information you need, here's my complete guide to doing it and doing it right!
---
Related Posts
---
This page contains affiliate links meaning Big World Small Pockets may receive a small commission on any purchases at no extra cost to you.
Please note this post has been written from my perspective as a British citizen, visa and border regulations will of course vary between different passport holders.
Prices and info correct at time of writing – March 2018
---
Grab Your Copy of How to Travel Africa for Less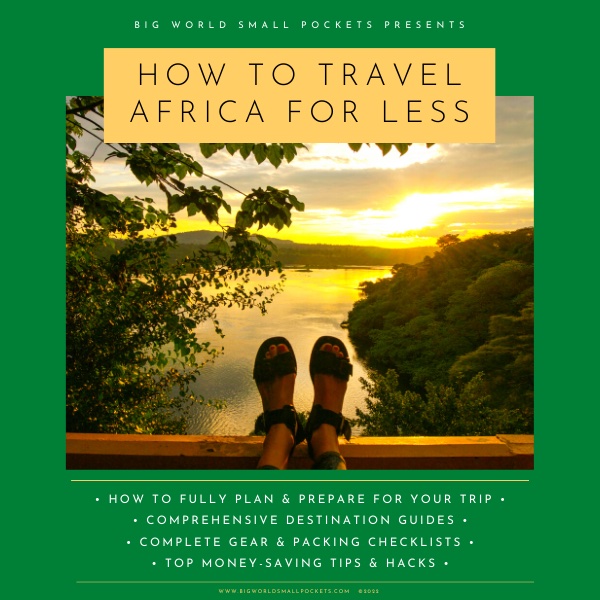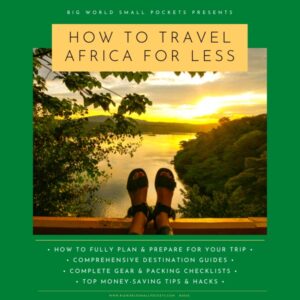 My ultimate guide to travelling Africa on a budget is now available, meaning you can finally get ALL my top tips for adventuring around all, or parts, of this amazing continent in one handy eBook, including…
Full Planning & Preparation Guides
Detailed Destination Info
Complete Packing & Gear Lists
Top Money-Saving Tips & Hacks
Apologies if this turns out to be a mammoth post, but there's a lot to get through!
I'm going to set this post out by dividing it into 3 sections, hopefully, that will prove easier to follow and allow you to access the exact facts you need according to your journey.
First up…
TRAVELLING ETHIOPIA TO SUDAN
#1 Getting the Sudan Visa in Ethiopia
The number one thing you need to do before even thinking about heading to Sudan is get a visa.
As a British Citizen I had 2 options here – either apply from the Sudanese Embassy in the UK (nope, impossible, I was already in Africa) or head to the Sudanese Embassy in Addis Ababa.
READ MORE: 10 Best Things to Do in Addis Ababa
The Sudanese Embassy in Addis Ababa is located just off Ras Lulseged Street, near Mozambique Street in the Kera region of the city.
It is open 6 days a week (Mon-Sat) but shuts for lunch (1pm-3pm) and is only open from 10am-3pm on Saturdays.
It is best to arrive here fully prepared to get your visa at 8:30am when it opens and then be prepared to wait!
The easiest Sudan Visa to get here is a Transit Visa, which will give you 14 days in Sudan.
This is a full page visa so ensure you have enough pages in your passport – there's more to come!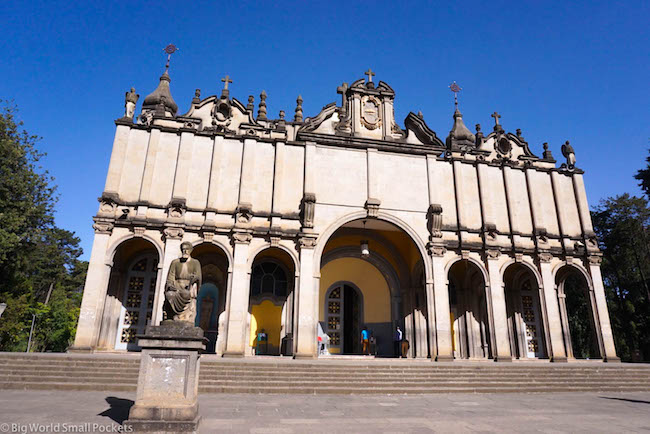 In order to get this visa, you must come prepared to the Embassy with:
Photocopy of your Passport
Photocopy of your Ethiopia Visa
2x Passport Photos
$68 USD
Name of Accommodation in Sudan, plus address and phone number of hotel*
Visa for your next country after Sudan**
* The name of where you will stay in Sudan doesn't have to be an official letter of invitation. I just used the name of a hotel written on a piece of paper. You can easily find a hotel in Khartoum through Google and just use that. It is a good idea to keep this piece of paper and name with you – you'll use it a lot!
** If you can't get the visa for your next country (i.e. I was travelling to Egypt, but unable to get a visa for this country in Addis Ababa) you will need to "book" a flight ticket to a country you don't need a visa for, like your home country. Flights departing Khartoum, Sudan can be "reserved" but not paid for via Turkish Airlines website. Turkish fly almost everywhere in the world, so they are a great option. Printed proof of a flight reservation should suffice.
There are tons of printing and photocopying shops in Addis Ababa you can use to get the documents you need together. If you can't find one, any large hotel in the city should also be able to help you.
BEST ACCOMMODATION IN ADDIS: Mr Martins Cozy Place
#2 Crossing the Border to Sudan from Ethiopia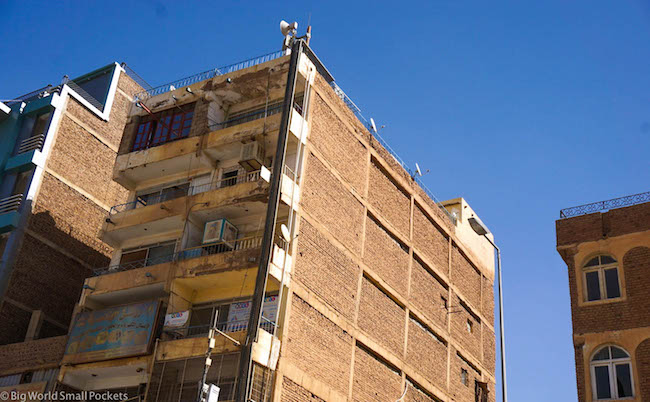 Crossing by Land from Ethiopia to Sudan
You can "easily" cross by land from Ethiopia to Sudan.
Head to the city of Gondar and from here, take an early minivan to the border, which takes around 5 hours and costs 150 Birr.
On the Sudanese side, the town of Qadarif is then another 4 hours from the border.
There are at least 2 hotels / guesthouses in Qadarif where you can spend the night.
The next day, get an early morning bus to Khartoum, where you'll need to complete visa formalities (see next section).
Unfortunately, I couldn't make this crossing because there was no transport running from Gondar when I was there due to civil unrest
READ MORE: The Ultimate Guide to Gondar and the Simien Mountains
Crossing by Air from Ethiopia to Sudan
You can easily get a flight from Addis Ababa to Khartoum with Ethiopian Airlines.
Book online for the cheapest rates.
The flight takes 1.5 hours and costs around $300 USD – ouch!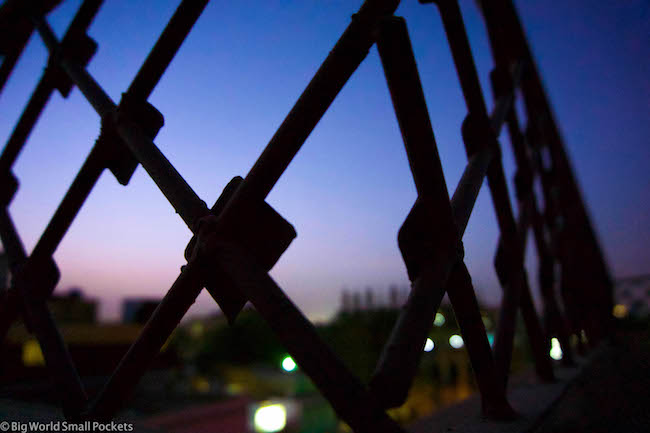 5 ESSENTIAL ITEMS TO PACK FOR SUDAN
#1 Headscarf or Sarong – Female travellers especially may feel they want to wear a headscarf in Sudan to fit in. Although it's not strictly necessary it may make life easier.
#2 Long, Thin Trousers – Legs need to be covered in this strict Islamic culture, but due to the extremely hot climate, having a thin linen or cotton pair is ideal.
#3 Sunglasses – Did I mention Sudan was hot! Like 40 degree hot. Sunglasses are essential here to protect your eyes from the UV rays and the dust!
#4 Long-Sleeved Thin Top – Like legs, arms should be covered in Sudan, so a thin long-sleeved top like this one is going to be necessary.
#5 Arabic Phrasebook – Even in the capital of Sudan, few people speak English, so getting your hands on the Lonely Planet Egyptian Arabic Phrasebook before you leave home will help you in Sudan no end.
VISA FORMALITIES IN SUDAN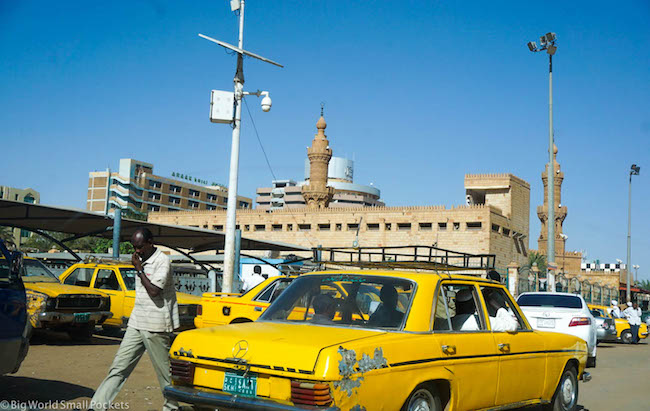 There are 2 separate things you need to do shortly after arriving in Sudan (oh yes the fun is only just beginning!)
Before any of that however, I'd suggest getting some Sudanese money (there are foreign exchange bureaus in the airport arrivals hall, but like most of Sudan they only accept USD, so bring USD cash with you!)
*Foreigners in Sudan cannot use ATM's, so bring enough USD cash to pay for your whole time in Sudan!
** The official exchange rate was 29 Sudanese Pounds (SDP) to 1 USD when I was there. You can get slightly higher on the black market, but as you'll need cash immediately it's better to change some at the airport for now.
I'd also suggest getting a Sudanese SIM card, so you have access to Google Maps as soon as you arrive.
MTN (local network provider) have an office where you can buy a SIM card and data package in the airport arrivals hall – this is an amazing level of organisation and simplicity you should not grow accustomed to in Sudan!
I paid 50 SDP for a SIM and 40 SDP for a 1GB data package and just needed my passport to register.
The MTN employee spoke amazing English (also don't get used to this) and he put the instructions on my phone into English so I could understand!
LEARN MORE: Solo Female Travel in Sudan : Is It Safe?
#1 Register Your Sudanese Visa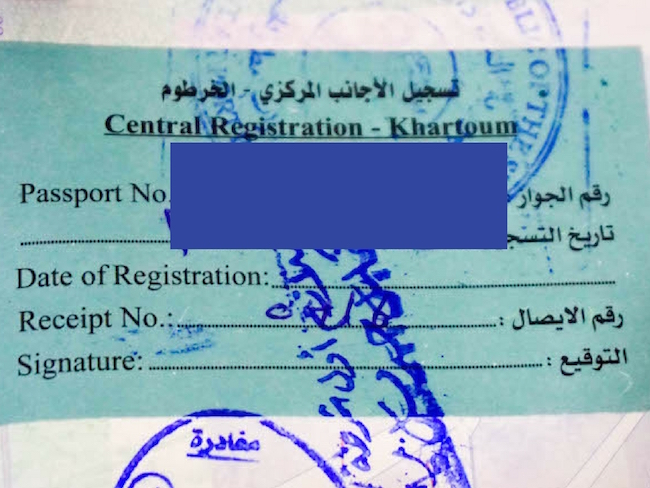 Even if you have a transit visa, you need still need to register it within 3 days of arriving in Sudan.
This can be done at several towns such as Wadi Halfa, but I did it in Khartoum.
Here's my experience…
To put it bluntly, my experience was a nightmare!
Literally no one in Sudan knew how to do this and it took me over 5 hours, several laps of the city and lots of money in taxi fares to achieve it!
Essentially what you are looking for is a green sticker in your passport. It takes up half a page (what did I say about those spare pages!)
The sticker is given by a registered officer, but before getting it you have to complete a form and present him with photocopies of your passport.
If you're flying into Khartoum – this can all be done at the airport – although it took me 3 return trips between laps of the city to get this sorted!
Step 1
Go to the departures side of Khartoum airport and find the blue building (a short walk outside the departure terminal) where a policeman can give you the form to complete and make photocopies of your passport for a tiny fee.
You'll need that name, address and phone number again of your Sudan accommodation!
Step 2
Go into the departures hall with your form and passport.
You'll have to put all your bags through a security scanner.
Proceed into the gate area, which is round the corner to the right.
In front of you is a desk with 3 people behind it. DO NOT STOP HERE!
Keep walking to the right of this desk and through some glass sliding doors.
Through the doors, on the right, you'll find a policeman who has his own office.
This is the guy who can register your visa!
You may get some interesting interview questions, but just tell him you are here to see Sudan's historical sites and he should give you that much-needed signature on the form.
Step 3
You then need to go back out of the Departures Hall to the Blue Building with the signed form to collect that green sticker at last!
The cost at this point is 650 SDP.
#2 Travel & Photo Permit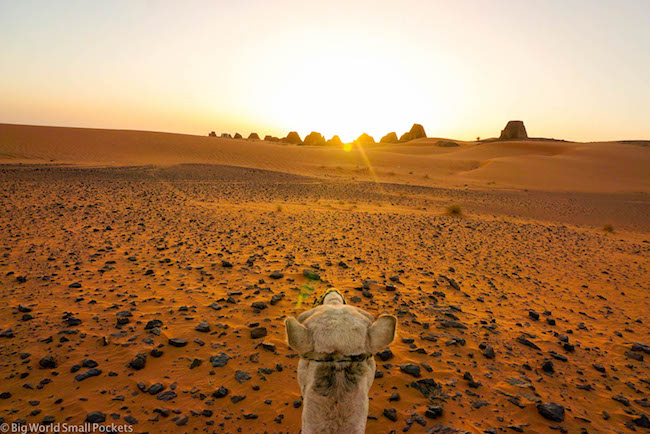 After the visa registration nightmare, the travel and photo permit was relatively straightforward, in that it only took me 2 taxi rides to get to the right office!
You need a Travel and Photo permit if you plan to travel outside Khartoum and it is a good idea to have several copies, as each checkpoint will take a copy from you.
Like my visa registration, I sorted my Travel and Photo Permit in Khartoum.
It can be done here at the Ministry of Tourism and Wildlife.
It is FREE!
Take a taxi from the airport to the Ministry.
Please note the address, as maps.me had it marked in the wrong place when I was in Khartoum.
The Ministry is on the Manshia Bridge Road near Burri Al Lamab Cemetery. I think Google Maps now has it marked correctly!
On arrival, head into the building and up to the 3rd floor
Come out of the lift and turn right
Enter the office door first on your left
Present 1x passport photo
Give that precious name, address and phone number of your Sudan accommodation again!
Read the terms of conditions of the permit
Ask for 10 photocopies
The women here were delightfully well-organised and friendly. They also spoke English and gave me the photocopies for free!
5 PACKING ESSENTIALS FOR EGYPT
#1 Egypt Lonely Planet – An excellent resource when it comes to finding out the history of what you're seeing in Egypt without the need for a guide, the Egypt Lonely Planet is a must.
#2 Head Lamp – Great for taking into tombs to get an even better look at the amazing artwork and inscriptions. I love my Black Diamond Storm, which has served me super well in this country.
#3 Sun Hat – Temple viewing means many hours in the hot sun of Egypt. Do yourself a favour and bring a wide-brimmed hat to protect you. I love this Hello Sunshine design.
#4 Egyptian Arabic Phrasebook – Egypt has its own slant on Arabic, so even if you know some of this language, an Egyptian Arabic Phrasebook will help you out a lot.
#5 Travel Insurance – World Nomads offers simple and flexible travel insurance. Buy at home or while travelling and claim online from anywhere in the world.
SUDAN to EGYPT BY ROAD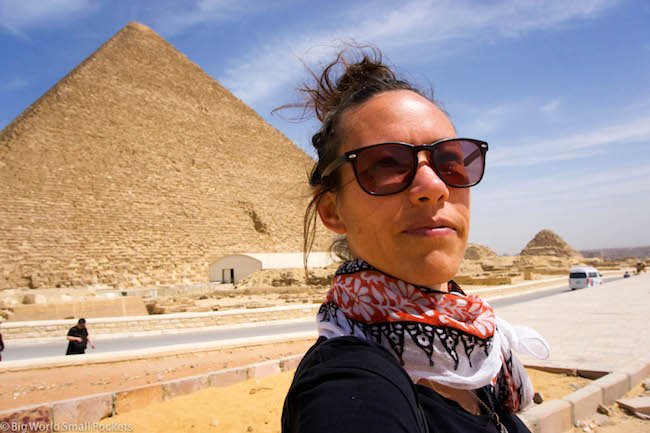 #1 Getting the Egypt Visa in Sudan
As a British citizen, I had been told by the Egyptian Embassy in Addis Ababa that I would be able to get a visa on the Sudan/Egypt land border.
However, the couchsurfer I was staying with in Khartoum, said a British guy he knew had been denied entry to Egypt at this border crossing.
READ MORE: 10 Big Mistakes To Avoid When International Border Crossings
I decided not to take any chances, as I did not want to get all the way to the north of Sudan, only to have to turn around and come back to Khartoum to take a flight to Cairo!
Again getting my Egypt visa in Khartoum was not simple!
It ended up taking me 4 days, simply because no one had the information.
So here's how I did it, so you can do it quicker…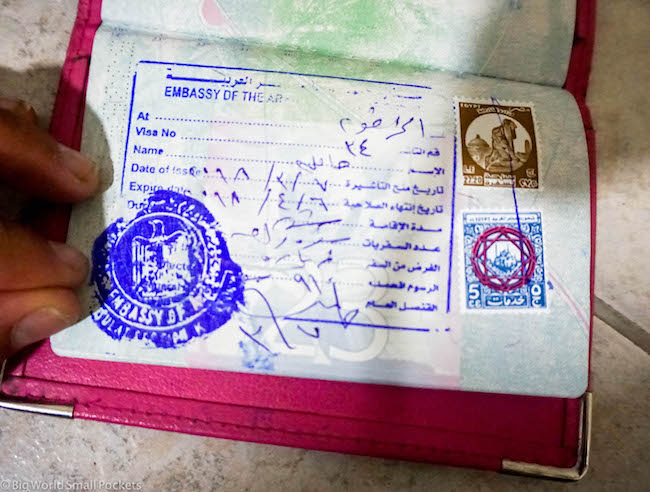 Step 1
Go to the Egyptian Consulate in Khartoum. The Egyptian Embassy do not give out visas (my first mistake!).
The Egyptian Consulate is located on El Gamhuriya Avenue not far from the Al Waha Mall in Central Khartoum.
Step 2
The consulate is only open for visa applications for 1 hour in the morning.
Arrive at 9am, so you are at the head of the queue for when the process begins at 10am.
They only make it through about 10 people in the allocated hour, so if you are not ahead in the line, they will simply shut the doors on you at 11am and you'll have to come back the next day!
Step 3
Go to the window on the right hand side of the embassy façade as you're looking at it and queue in the requisite gender line – women get an easier ride as there's far fewer in this queue!
To obtain the Egypt Visa you will need:
Photocopy of your Passport
Photocopy of your Sudan Visa
Photocopy of your Sudan Visa Registration Sticker
Completed Application Form (take a pen!)
2x Passport Photos
910 SDP (these guys do not accept USD or any other currency. It has to be in SDP. Luckily there are several banks nearby where you can exchange at an emergency rate if required!)
Step 4
Once you've handed everything in, you will need to return to the consulate at 3pm on the same day to collect your visa.
Again get here early so you make it to the head of the queue!
This time, you wait in the requisite gender queue at the left-hand window.
NOTE!
Your Egypt visa will be granted for 1 month, dated from that day, so now each day you remain in Sudan is a day less of time you will have in Egypt.
#2 Exiting Sudan
The border town on the Sudan side is called Wadi Halfa.
Many buses run here from Khartoum and other destinations in Sudan.
I recommend arriving a day early in Wadi Halfa and then staying the night so you are ready for an early bus departure in the morning.
The ElHarm Hotel is a good place to stay in Wadi Halfa.
It is cheap, with free wifi and clean rooms and is very near the bus station and the market. The owner also speaks English.
Use the internet here to book your first night's accommodation in Egypt as you'll likely be arriving at night and needing somewhere to stay.
In Aswan, I recommend Eka Dolli Nubian Guesthouse.

In Cairo, my accommodation of choice is Bella Luna Hostel.
Step 1
You should also book your bus ticket the day before departure.
You can get all the way to Cairo or just to Aswan from Wadi Halfa on 1 bus.
Make sure to stipulate your final destination when you buy the ticket.
This can be done directly at the bus office and tickets paid for then.
The ticket office can also change some Sudanese Pounds (SDP) for you into Egyptian Pounds (LE).
You'll need 90 LE to cross the border from Sudan into Egypt.
This is in addition to the visa fee you've already paid.
Step 2
The bus will leave the next morning around 7am.
Ensure you have some SDP left – you'll need 50 SDP + 82 SDP + 2 SDP to exit the country and enter Egypt.
From Wadi Halfa it's an hour to the border.
When you arrive, get out of the bus and take all your luggage into the immigration building.
Put your luggage in the requisite gender line and take a seat on the requisite gender side!
Step 3
In the Sudanese Immigration building, you need to complete an exit form.
Wait until your name is called (totally confusing as everything is in Arabic) but basically, just join the throng when the first set of other members of your gender start moving.
Collect your luggage and proceed through security with your exit form to the second room.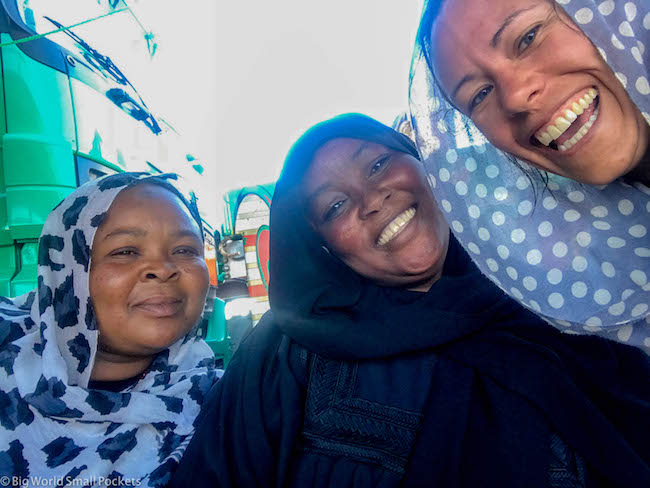 Step 4
In the second room, head to the row of windows on your right.
Present your passport at the 1st window for checking.
2 windows down you then need to pay your 50 SDP and collect a receipt.
2 more windows down you then need to pay your 82 SDP and collect another receipt.
2 more windows down again you need to get the exit stamp and present the official with the form you filled out in the first room.
*Do be aware this whole process takes place in a crowd of chaos and confusion, with lots of other people jostling, pushing, shoving and trying to get the same process done at the same time!
Also, the officials give precisely zero f*cks!
Step 5
Go through the next set of doors at the end of the room with your luggage.
Go to the counter on the right to show your receipts and to have your luggage checked.
You may also have to go for a body search at this point, although thankfully I was spared this!
Step 6
Finally, exit the building, put your luggage back on the bus, take your seat and wait!
Alternatively, there is a café and toilet here.
When we finally left the Sudanese side the border crossing had so far taken 2.5 hours!
#3 Arriving into Egypt
The bus will then drive everyone to the Egyptian border.
At this point you'll have to pay the 90 LE to the bus man (who knows why!)
Make sure you get a receipt.
After this, an Egyptian official will come on the bus take everyone's temperature and you'll have to fill out a health card.
Then you'll get off the bus with your luggage.
Step 1
Pass your bags through Egyptian security.
You have to pay 2 SDP to get through security here! (Why? I have no idea!)
Then proceed to the visa hall, which is round the back of the security building.
Step 2
Queue up in the visa hall with your requisite gender (again women tend to have a shorter queue) and present your visa and passport to the official.
He will likely ask you questions about why you were in Sudan and what you are going to do in Egypt.
Again I told him I wanted to see the historical sites, which seemed to suffice!
Step 3
Wait…
Wait more…
Finally, your name will be called and they'll return your passport with an entry stamp.
You then have to wait for everyone on the bus to get their visas too, so don't be afraid to put your bags back on the bus and hit the café and the toilet.
There's also a bank here offering a decent exchange rate. They can change GBP, USD or EUR into LE.
I'd advise getting some money at this point so you can pay for any food or taxis required at your destination.
All in all, we waited at the Egyptian border for 5 hours until everyone on the bus had their visa!
Step 4
Get back on the bus and head into Egypt!
We finally hit the road here at 4pm after arriving at the border at 8:30am!
You'll drive 30 mins to a boat crossing, at which point you have to get off the bus again, and load onto a boat – the bus follows!
Sail across Lake Nasser for 1 hour and take in the amazing views (great at sunset and 1 benefit of being so long at the border).
Disembark the boat, get back on the bus, which drives onto Abu Simbel, where everyone gets off for fish and chips!
READ MORE: 10 Unmissable Things to Do in Aswan
Step 5
Get back on the bus and finally start the 4 hour drive to Aswan.
If you're getting off at Aswan, beware the bus won't go into the city, but will stop at a gas station on the highway by the Luxor turn off, about 16km south of the city.
Get a taxi from here to your pre-booked hotel using the LE you exchanged at the border!
For those carrying onto Cairo, enjoy the night ride!
READ MORE: 10 Best Things to Do in Cairo
PIN IT TO PINTEREST!
Wow, I knew this post was going to be long, but not that long!
Hopefully I've given you guys all the info you need however to get from Ethiopia to Egypt, including Ethiopia to Sudan and Sudan to Egypt by Road.
Now you just need to strap in for the ride!
Also if anyone has any updated info, please do let me know, so we can help more adventurous African souls on their journey!