This was my 4th time in Addis Ababa and I've got admit, I've done the rounds… in terms of accommodation that is!
Yep each time I've returned to Addis, I've stayed somewhere else looking for that great place that had all the key elements – top location, free wifi, outside space, comfort and, well "cosyness".
Perhaps it's no surprise therefore that I've finally found them all at Mr Martins Cozy Place.
Yes, like the name suggests, this place feels very much like a large home – one where an interesting scattering of international travellers gather as they pass through, in and out of Ethiopia.
It's clean like a home, it feels safe like a home and it's super chilled like a home.
Mr Martin's Cozy Place, I like you.
I like you a lot.
And that's why I'm voting you the top hostel in Addis Ababa…
---
Related Posts
---
My stay at Mr Martin's Cozy Place was kindly sponsored but, as always, all views are my own.
This page contains affiliate links meaning Big World Small Pockets may receive a small commission on any purchases at no extra cost to you.
---
Grab Your Copy of My Real Travel Guide to Ethiopia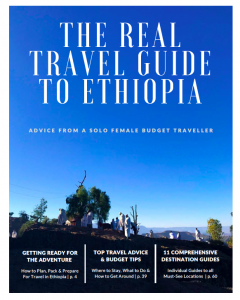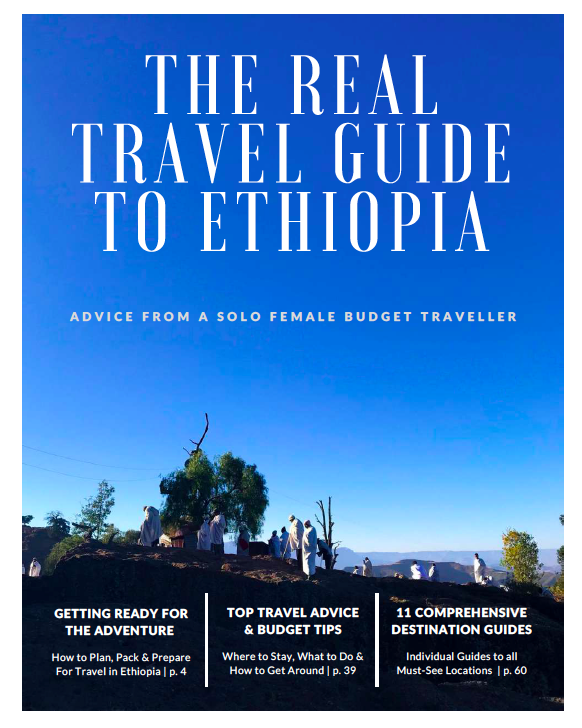 My ultimate guide to travelling in Ethiopia is now available, meaning you can finally get ALL my tips for adventuring in this amazing country in one handy eBook, including
11 Complete Destination Guides to the Best Cities & Attractions
Recommended Places to Stay
Recommended Guides & Tour Companies + Contact Details
Money Saving Tips + Budget Planner
Advice on What to Expect & How to Stay Safe
Packing Checklist
Itinerary Schedule
Friendly Folk
From the cheery welcome I got when I first arrived at Mr Martin's Cozy Place – having just flown overnight from London on a total of 2 hours sleep and looking a little worse for wear! – and every time I saw the staff from then on, I had nothing but cheery faces and helpful smiles greet me.
From answering questions to giving advice, these ladies and gents couldn't do enough and they genuinely seemed to love their job and each other.
Their English was top notch too – always a relief unless you've got a decent amount of Amharic under your belt which, let's be honest most don't!
There really was a great family atmosphere at this place, created mostly by the people who work here, and when you arrive in a big bad city like Addis, this really is magic.
In keeping with typical Ethiopian hospitality, nothing was too much trouble for these guys and that sort of atmosphere goes a long way in my book.
Quiet and Peaceful
Another thing that goes a long way in my book, especially as I get older (cough cough) is a lovely, peaceful and friendly hostel in terms of the guests as well and I'm delighted that Mr Martin's Cozy Place ticked this box too.
I do find that the average backpacker in Ethiopia is generally more up for having an interesting discussion and a beer, rather than noisily coming home wasted in the early hours (thank god) and Mr Martin's Cozy Place tallied perfectly with this vibe.
The feeling throughout the place was very relaxed and despite the hostel's great central location (read on to learn more) I was amazed at how little noise from the surrounding city entered the peaceful grounds.
Yup this little gem felt like a very safe haven, just another reason I'm voting it the best hostel in Addis Ababa.
Great Location
Because when you're in a big city like Addis Ababa, safety is key and Mr Martin's Cozy Place felt very safe.
Ideally in a city like Addis, perhaps especially if you're a solo traveller, you also want somewhere to stay that it is wonderfully situated.
A short drive from the airport (for which you should not pay more than 150 birr), this hostel is ideal for those arriving into and leaving from Bole Airport, which most travellers are.
It's also incredibly well located in the city itself – set in a bustling, but friendly part of town, with many shops, restaurants, other hotels and amenities in close proximity.
You don't want to be getting taxis everywhere when you're in Addis – the traffic is horrendous for one – and you possibly don't really want to be getting minibuses everywhere either.
That's one of the main reasons I loved this hostel and actually felt very safe wandering around the area by myself in the day.
FYI: For those not in the know Addis doesn't really have a centre and this area – known as Bole – and the neighbouring suburb of Kazanchis are about as good as it gets.
7 PACKING ESSENTIALS FOR ETHIOPIA
#1 Headlamp – Required for those all too often power cuts. I wouldn't be without my Black Diamond one.
#2 Toilet Paper – Most places don't provide it, although I'm delighted to say Mr Martin's Cozy Place did.
#3 Long, Thin Trousers – Perfect for those cold Addis evenings. Columbia do a great range for women.
#4 Good Camera – An absolute must if you're looking to capture the incredible landscape and cultural practices of Ethiopia. I love my mirrorless Sony A6000, which is light, compact and robust – ideal for Africa travel.
#5 Hiking Boots – Necessary for dusty roads, walking and cold nights, I always recommend Keen's Targhee II.
#6 Travel Scarf or Sarong – Whether it's covering your shoulders in churches, wrapping round you at night as a shawl or using as a pillow on long bus journeys, a travel scarfis a great multi-purpose travel item.
#7 Ethiopia Lonely Planet – For the maps alone this guidebook is well worth a buy, although I found the history, language and cuisine sections also super useful.
All the Amenities
As a blogger nerd, I was also delighted with Mr Martin's free wifi provision and more than made up with their free breakfast too, which included fruit, cereal, eggs, bread, spreads and that all important coffee.
Having free breakfast is just one less thing to worry about if you're new to Ethiopia and so is the fact these guys sell large bottles of water at decent prices.
Maps on the wall, complete with helpful instructions, point out the best spots in Addis with directions and transport links if required.
There's a kitchen for guest use too, as well as a living and dining area, with good seating and ample space.
That's in addition to the lovely outside patio and garden area, complete with hammock and chairs – the ideal spot for drinking your morning coffee and taking in those crisp, clear, blue sky Addis mornings.
Oh yeah!
LOOKING FOR A BUDGET TOUR IN ETHIOPIA?
If you're interested in an unforgettable, well-priced tour in Ethiopia with guides you can trust, then email me at [email protected] with details of where you want to go and I'll send you my top recommendations – simple!
Beautiful Bedrooms
Finally, I'm pleased to announce I slept like a log throughout my 4 night stay at Mr Martin's Cozy Place.
The beds were so comfy, the rooms were big and mega clean.
I had a shared bathroom, which was always spotless, but there are also some rooms available here with ensuite and balconies too.
There's no doubt that Mr Martin's Cozy Place is a top choice for me and I'll certainly be returning to my new favourite hostel in Addis Ababa, hopefully for many trips to come.
Grab the Cheapest Rates for Mr Martin's Cozy Place here.
TRAVEL INSURANCE FOR ETHIOPIA
World Nomads offers simple and flexible travel insurance. Buy at home or while travelling and claim online from anywhere in the world.
Alternatively, if you're a long-term traveller, digital nomad or frequent remote worker seeking travel health cover, check out Safetywing's Nomad Insurance policies.
PIN IT TO PINTEREST!