Africa's 4th largest city, the sprawling capital of Ethiopia – Addis Ababa – can certainly be an intimidating entry to the country.
For this reason, on my first visit to Ethiopia, I was barely there for a night or 2, preferring to spend my time (like most visitors) in the churches of Lalibela and the natural awe of the Danakil Depression.
But now, on my second visit to the country, I decided it was time to get to grips with this city – plus it had the only 3G connection in Ethiopia at the time, so I was kind of forced by blogging necessity to stay there!
But stay there I did, for over a week in fact and slowly but surely Addis grew on me, until it became clear I'm rather a fan of this crazy African capital.
For one thing, it's incredibly safe – when compared to most others in the continent – and for the seconds, I really think there's actually some pretty cool things to do in Addis Ababa.
NEW UPDATE Jan 19: Addis seems to have become a lot more dangerous in the last year and multiple travellers I've met have reported being mugged on the street in the day recently. Be Careful! Do not keep phones in your pockets and do not go out alone at night.
So if you're flying into this city, why not allow yourself a day or 2 to soak it all… you might just end up developing a soft spot for it too!
---
Related Posts
---
This page contains affiliate links meaning Big World Small Pockets may receive a small commission on any purchases at no extra cost to you.
---
#1 See Lucy at the National Museum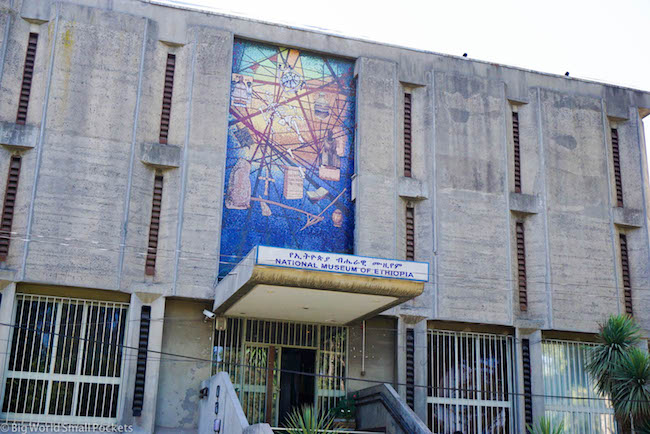 Probably Addis Ababa's most famous resident, Lucy is a lady you simply have to see during your time in the capital.
Located in the National Museum (10 Birr entrance), Lucy is 3.2 million years old and thought to be an Australopithecus afarensid aka an ancient individual from a species we as humans evolved from.
Unearthed in the Afar region of Ethiopia in 1974, a replica of her tiny skeleton is now housed in the lower level of the National Museum, which is by far the best floor here with its interesting exhibition that charts the evolution of us Homosapiens and our African origins.
#2 Drive the Crazy Piassa Area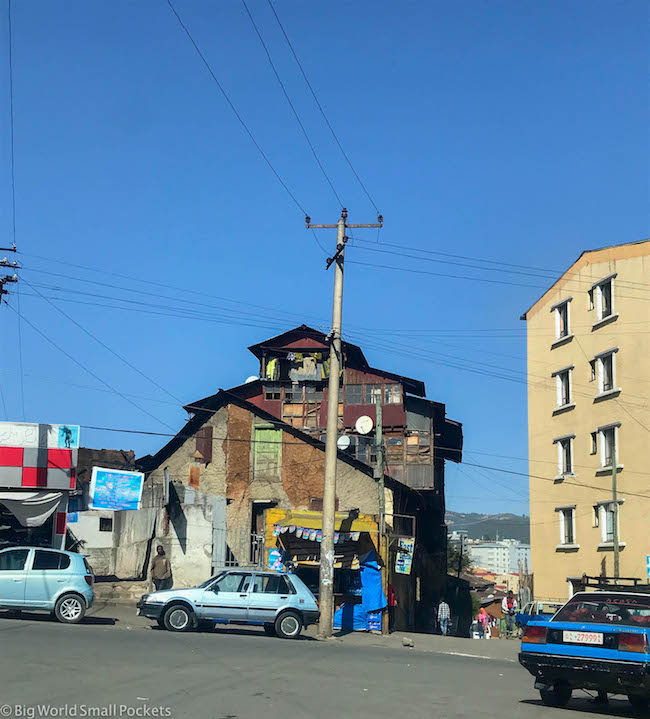 The Piassa area is one of the oldest parts of Addis Ababa… and it shows!
Some of the creaky structures here are highly evocative and other buildings show the clear influence of the Italian invasion of Ethiopia.
You can also see the famous Taitu here, the first modern hotel in Ethiopia and still in use.
If you don't feel up to navigating the local minivans to get to Piassa, alleviate your fear of getting pickpocketed by hiring a taxi to take you around. It should only cost around 250 Birr.
NEW UPDATE JAN 2019: There's now a rideshare app operating in Addis called Ride. Only available on Android, it's a great idea to download it if you can and avoid being ripped off by taxis.
#3 Pay Your Respects at Haile Selassie's Tomb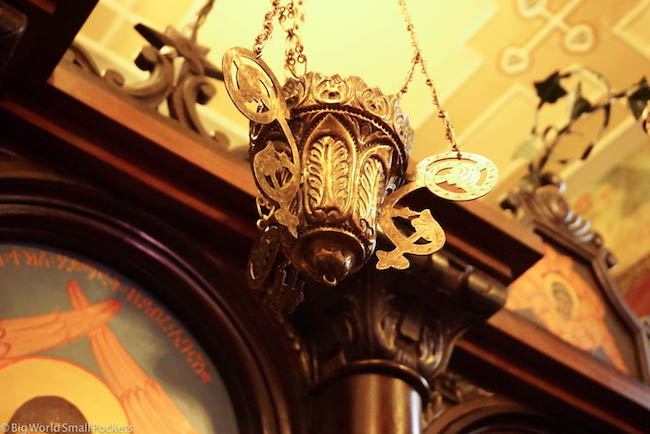 The Trinity Cathedral is one of the major churches in the city and a visit here is definitely one of the best things to do in Addis Ababa, not least because the country's most famous emperor – Haile Selassie is buried here.
Along with his wife, the 2 caskets sit in a surprisingly low-key part of the church, but the rest of the building is beautifully ornate, with some stunning stain glass windows, and well worth a look around (entrance 200 Birr).
The surrounding cemetery is also worth a stroll – with some famous residents, including Sylvia Pankhurst (the iconic British suffragette) who is buried here.
It's also a wonderfully peaceful haven in what can be a chaotic city.
#4 Dance Away at Habesha 2000
For those not in the know, Ethiopians love to dance their own dance to their own music!
It's a crazy combination, given that both elements are fairly bonkers in their own right and there's few places better to give it a go in Addis Ababa, than Habesha 2000.
Located in the Bole region of the city, this is what is known as a traditional restaurant in Ethiopia, where local food is served and nightly live music, song and dance performances are given to an enthusiastic crowd daily at 8pm.
If this sounds a little too much for you, then I highly suggest giving it ago, loved by tourists and locals a like, it really is one of the best things to do in Addis Ababa.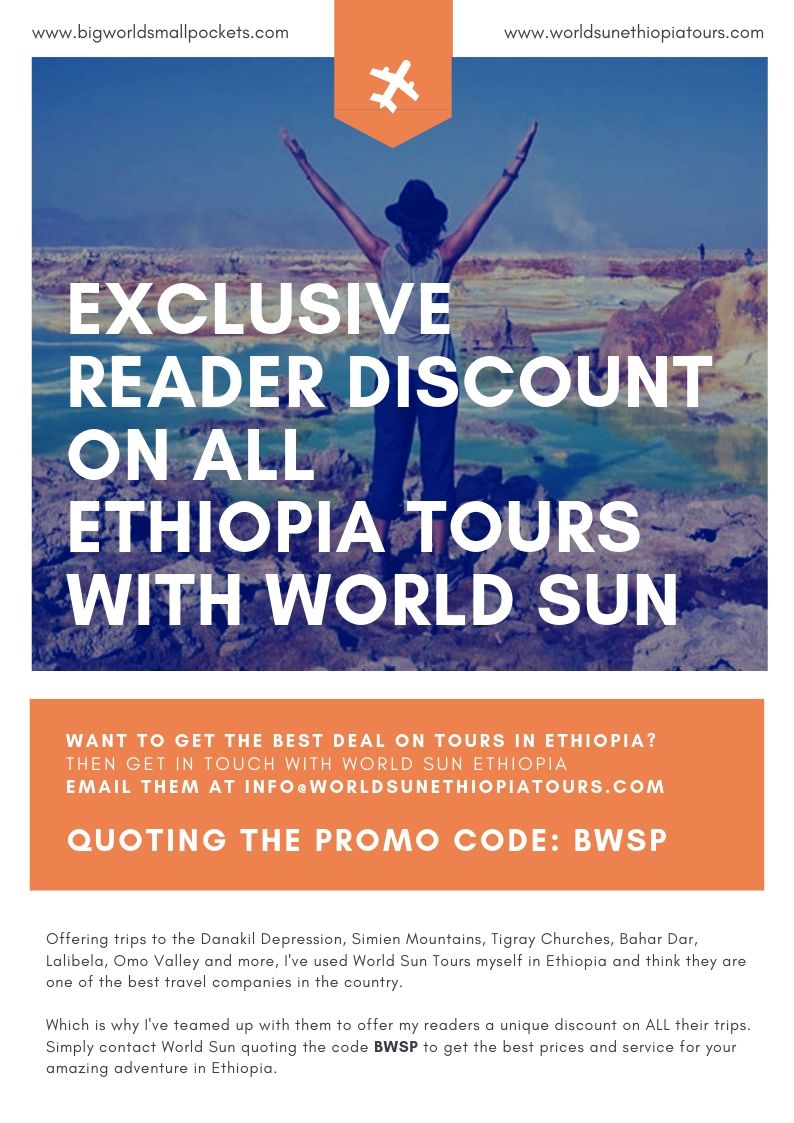 #5 Explore the Excellent Ethnographic Museum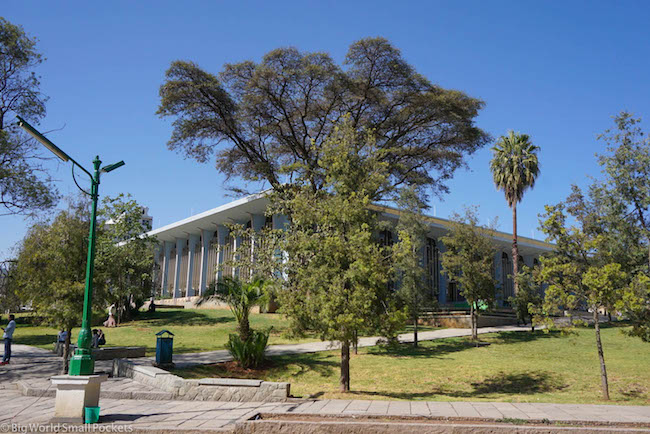 Definitely one of the best museums in Addis Ababa, the Ethnographic Museum is located within the beautiful grounds of the city's main university campus.
Head through the stone archway and follow the path, until you reach a noticeably ornate building, once Haile Selassie's palace and now part of the faculty of Sciences.
Once inside, pay your entrance fee (100 Birr) and head up the stairs to enjoy the 2 floors of great exhibitions.
#6 Go for a Jog in Mezscel
Definitely one of the best things to do in Addis Ababa, if you want to do as the locals do, is head to the famous Mezscel Square for a jog!
With rows of tiered seating embedded into the ground, many locals train here and every afternoon after 4pm, the park is beset by those getting fit!
It's a fascinating site, perhaps only topped in Addis by the Mezscel Celebration, which also takes place in this area every year on September 28th.
A religious procession, observed by the Ethiopian Orthodox community, this is a walking spectacle inspired by the cross of Jesus, or in Amharic, the Mezscel.
Fancy taking a day trip from Addis Ababa? Why not check out Entoto Mountain. Hire a taxi to take you up there and then enjoy the amazing views of the city it gives and the churches that sit at the top.
#7 Witness the Devotees at St George's Church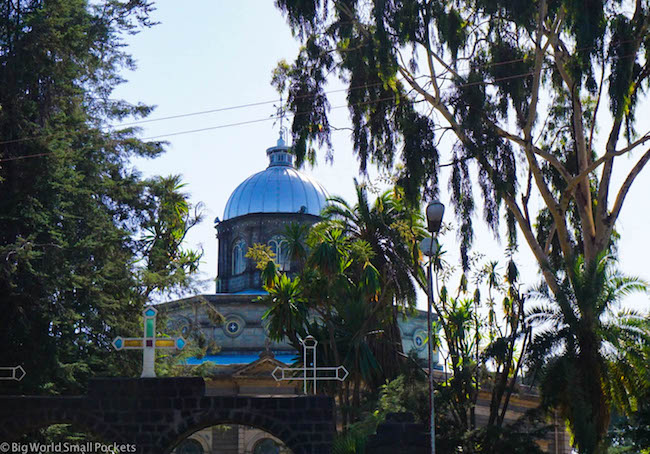 As with most places in Ethiopia, visiting ancient churches and witnessing the unfolding spectacle of the devoutly religious people who flock to them on a daily basis, is part of the course!
In the capital it's no different and a visit to St George's Church – another of the city's main religious edifices – is certainly one of the top things to do in Addis Ababa.
You can either just stand at the gates and watch those praying against on the stone walls of the entrance arches, or venture inside (100 Birr) to tour the church and its attached museum.
Commissioned by Emperor Menelik II to commemorate the defeat of the Italians, Haile Selassie was crowned here, so there's a fair bit of history to explore as well.
#8 Try Not to Get Robbed in the Market
Supposed to be the largest market in Africa (quite a claim) the cacophony and chaos of the capital's market – the Merkato – is a big hit on the list of things to do in Addis Ababa.
Stretching for miles, with each street or section dedicated to specific items, you're sure to find what you're looking for here, or at least to have an eye-boggling time!
Just don't take too many valuables with you – this place is renowned for its pick-pockets too!
If that sounds too hectic for you however, there is an alternative market – Shira – which is a clothes market offering better souvenir shopping.
It is smaller, but you'll need to get a taxi as it's quite far out of the city centre near the foot of Entoto mountain.
Read More: Is Solo Female Travel in Ethiopia Safe?
#9 Have a Night out at Fendika
Run by the incredibly talented and Ethiopian artistic pioneer, Melaku Belay, heading to Fendika is a must while you're in Addis.
Leading Ethiopian cultural and contemporary performance artist, Melaku started this incredible space from scratch and it now hosts almost nightly performances (Friday's are the best night to go) and boasts some permanently occupied gallery spaces too.
A strong force in the creative life of the country, Melaku is working hard to maintain the artistic heritage of his beloved homeland, combining this with a range of international and modern influences.
He's a star and so are the many who perform, so head on down, grab a beer and enjoy the show!
#10 Be Moved at the Red Terror Museum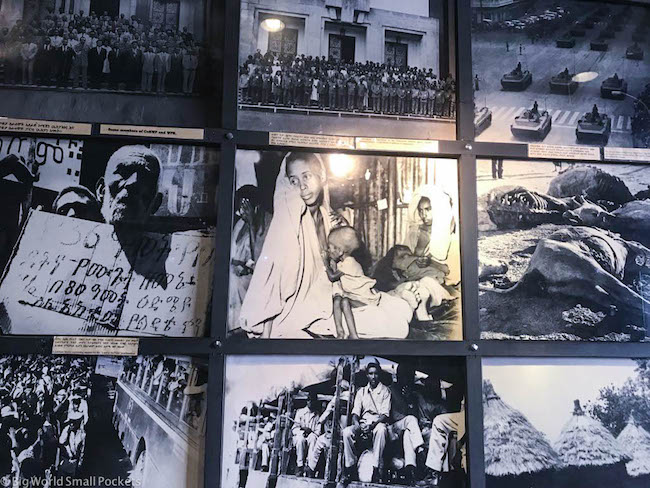 Located right by Mezscel Square, the Red Terror Museum is well worth a visit as it fantastically and shockingly, paints a very real picture of what life was like under the bloody Derg Regime in Ethiopia.
Opened in 2010, it runs on a donation basis and is haunting in parts – you have been warned.
PIN IT FOR LATER!
With a name translated as New Flower, Addis Ababa, typifies a lot of what is so magical about Ethiopia, not least the country's love for bringing a sense of the poetic and magical to everyday life.
I'm certain that if you spend any time here, you'll fall under its spell too.