It's not often I return to a country more than once.
In fact, it's basically never.
There's just too much other stuff to see in the world.
But once, just once, I had to make an exception and that exception was, of course, for my beloved Ethiopia.
Yes here I am, back in the horn of Africa, my second visit in under 3 months!
Can you believe it?!
Well if you were following my journey at the end of last year, probably you can, because you'll know I fell head over heels in love with this country and met so many great people.
Indeed I felt called to return.
So now having spent 2 months here, and explored most of the country, I'm definitely getting to grips with some of the weird and wonderfully workings of it!
And how weird and wonderful it is!
Here is my comprehensive list of everything you need to know about travel in Ethiopia.
---
Related Posts
---
This page contains affiliate links meaning Big World Small Pockets may receive a small commission on any purchases at no extra cost to you.
---
Grab Your Copy of My Real Travel Guide to Ethiopia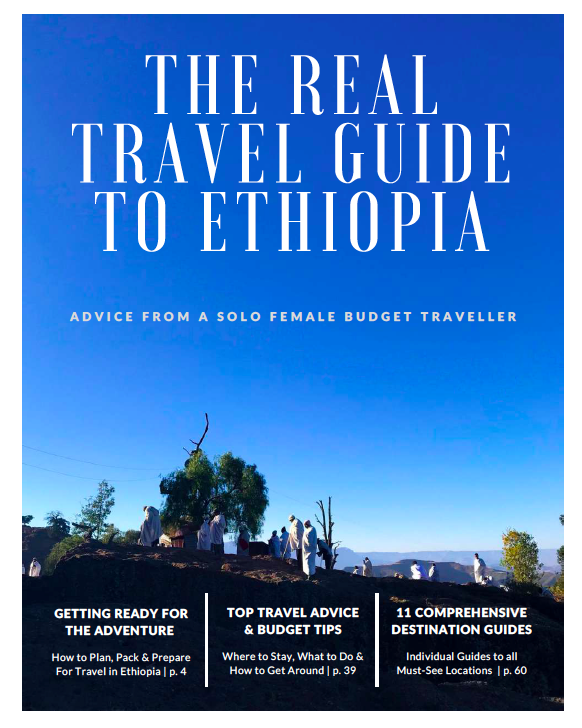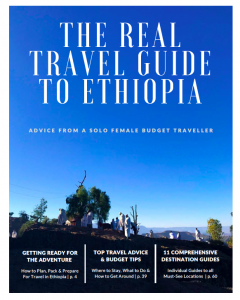 My ultimate guide to travelling in Ethiopia is now available, meaning you can finally get ALL my tips for adventuring in this amazing country in one handy eBook for under £10, including
11 Complete Destination Guides to the Best Cities & Attractions
Recommended Places to Stay
Recommended Guides & Tour Companies + Contact Details
Money Saving Tips + Budget Planner
Advice on What to Expect & How to Stay Safe
Packing Checklist
Itinerary Schedule
General Tips & Tricks for Ethiopia Travel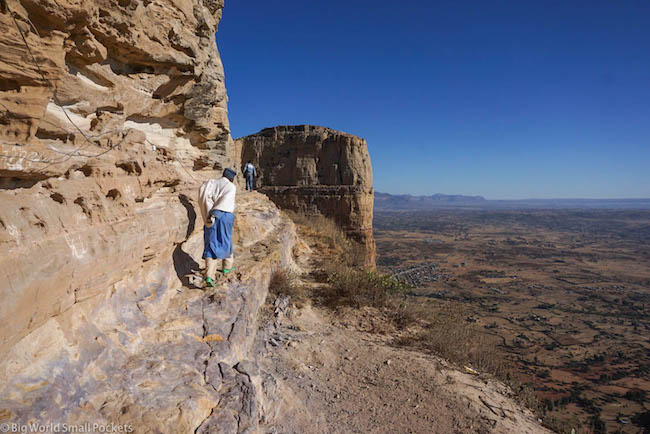 #1 There's 9 UNESCO Sites
The largest number of any African country, Ethiopia has 9 UNESCO World Heritage Sites and all of them are worth visiting!
Perhaps this figure gives you an insight into just how incredible this country's landscape and culture is!
#2 Amharic is the National Language
Related to Arabic and Hebrew, Amharic is a Semitic language, but possesses its own alphabet and sounds.
Trying to get to grips with it can be an interesting experience!
Besides Amharic there are 83 other languages spoken in Ethiopia that are both regional and tribal and most Ethiopians speak 2 or 3 as a result.
Thankfully, English is widely understood, especially amongst young people and those in the tourism industry!
#3 They've Got Their Own Time System
It's a common maxim that Ethiopians like to do things their own way and the fact that they have their own calendar and time system is a good indicator of this!
Using the Julian calendar, Ethiopia's month, dates and years are vastly different from the international model.
Their clock also runs differently – namely 6 hours apart the western clock – because their days begins at 12 o'clock, when the sun rises at our 6am!
It's very important therefore that you qualify all times and dates in Ethiopia by asking constantly asking whether they are referring to Ethiopian or International time!
#4 It's Safe
Despite what you might think, Ethiopia is incredibly safe, even for solo female travellers.
I've never been harassed or had any trouble, even in the capital Addis Ababa.
In fact, I've rarely felt more looked after!
Possibly this is something to do with most Ethiopians being devotedly religious people and a cultural expectation that the highest respect and hospitality be shown to visitors.
World Nomads offers simple and flexible travel insurance. Buy at home or while travelling and claim online from anywhere in the world.
Alternatively, if you're a long-term traveller, digital nomad or frequent remote worker seeking travel health cover, check out Safetywing's Nomad Insurance policies.
#5 Everything Closes for Lunch
Don't try to do any errands between the hours of 12pm and 2pm in Ethiopia, everything shuts down for lunch and you'll end up just wasting time!
This comes from the voice of experience!
#6 Guides Are Great
I'm never one for taking tours or guides, but in Ethiopia it really is a wise decision to do so.
Getting to grips with the history of the country is near impossible without one, and in many towns, learning about the history will be the whole reason you're there!
I took guides in Axum, Harar and Lalibela and found them all fantastic.
In some parts of the country, guides or tours are also required for example, if you're heading the Danakil Depression, Simien Mountains or Omo Valley.
In some other cases, it's almost impossible to get to places without a tour or guide including the Lake Tana Monasteries or the Tigray churches.
Most guides speak excellent English, but do check before paying!
Otherwise, if you're interested in an unforgettable, well-priced tour in Ethiopia with guides you can trust, then email me at [email protected] with details of where you want to go and I'll send you my top recommendations – simple!
Alternatively, check out these top picks.
#7 It's Not As Cheap As You'd Hope
Largely because of the need for guides and tours, Ethiopia is not SUPER cheap (read. it's still pretty cheap) to travel in.
Accommodation costs can mount up, as can the long domestic travel distances and "tourist tax" is common!
Food and drinks however remains crazily cheap and delicious!
#8 You Gotta Go with the Flow
This is Africa, so expect disorganisation, chaos and plans that quickly change when you're in Ethiopia!
Trust me, it's much easier if you're flexible, just accept the current situation and go with the flow.
Getting stressed and angry won't change anything and you'll only end up not enjoying yourself!
Visa Info
#9 Get Your Tourist Visa in Advance
While many nationalities used to be offered visas on arrival at Addis Ababa Bole Airport, this has now changed.
Almost all passport holders must now either get their visa via the official Ethiopian e-visa platform or from their nearest Ethiopian Embassy before travelling.
A valid visa will need to be shown before boarding your flight, as well as at Addis Ababa airport immigration.
It costs $82 USD for a single entry 30 day tourist visa.
Longer visas are also possible for more money.
#10 eVisa Are Handy
Although eVisas might seem like a hassle, in recent years this system has been streamlined and now offers a much smoother and quicker process for tourists than getting your on arrival.
eVisas are accepted at all Ethiopian land, as well as airport, borders.
#11 Multiple Entry Visas No Longer Available
It seems the rules have recently changed on multi-entry visas to Ethiopia… they are no longer being issued.
What to Pack for Ethiopia Travels?
#12 Bring Your European Adapter
The European 2-pin plug is used throughout Ethiopia, so make sure you pack the correct travel adapter.
#13 Prepare for Cold Evenings
Due to the high altitude at which most of the country sits at, Ethiopia can get cold in the evenings, therefore packing several pairs of long trousers, as well as sweaters, scarfs and some thick socks is a great idea.
I love this travel scarf, which would be ideal for Ethiopia.
#14 Grab Gear for Hiking
There's tons of great hiking opportunities in Ethiopia, so make sure you come prepared.
Hiking boots with good grip are a must, especially if you're venturing into Simien Mountains, Bale Mountains or Danakil Depression.
I always recommend Keen Targhee II as some of the best and most affordable hiking boots on the market.
#15 Take Toilet Paper
Places often don't provide toilet paper in Ethiopia, so come stocked with a roll or 2!
#16 Don't Forget a Headlamp
Frequent power cuts, particularly in rural Ethiopia are common, so be prepared with a good headlamp and spare set of batteries for your travels here.
I love my Black Diamond one, which has served me well throughout Africa.
I guarantee you'll make good use of it!
#17 Get Snap Happy
Ethiopia is one of the most photogenic countries in the world, so whatever you do, don't forget to take your camera.
I used my Sony A6000 in Ethiopia and it was absolutely perfect being light, compact and quick to charge.
#18 Moisturiser, Moisturiser and More Moisturiser!
It's super dry in Ethiopia, with most of the country set in an arid landscape at high altitude; as such your skin will get super dry, super fast!
Bringing a good body moisturiser, face moisturiser and lip balm therefore is key.
I love the Burts Bees range which are well priced, not tested on animals and avoid lots of nasty chemical.
A Word on Culture in this Country
#19 You'll Make Many Friends!
It sounds like a cliché, but Ethiopians genuinely are some of the most hospitable people I've ever met.
They have a very social culture and love nothing more than a coffee and a chat!
If you're open to it, you'll make tons of friends as everyone tries to practice their English and wants to learn more about other countries around the world.
Please don't think everyone is trying to rip you off, they're generally not!
Download Whatsapp before you come to Ethiopia – everybody uses this to communicate – otherwise you'll miss one of the great experiences of this country, namely hanging with its people.
#20 No Short Shorts
Generally Ethiopians are very proud people and take great care in their appearance.
The culture however is more conservative in its dress standards than you might be used to and wearing shorts or skirts that expose legs is not common.
I generally wear trousers with a singlet, or leggings covered by a dress when I'm here, which works fine.
Across the country you'll see young and old people wearing a mix of traditional and western clothing – it's a country that really still combines the old and the new.
#21 Hustle and Hassle is a Fact of Life
Although no way near as bad as I expected before I first got to Ethiopia, some hassle and hustle can occur here, although 99.9% of it is harmless.
Deal with it best by ignoring and not engaging in conversation.
This is especially true with the children, who will follow you for miles otherwise!
#22 Faranji Faranji!
White people in Ethiopia are known as faranjis, while Ethiopians are known as Habesha.
Neither term has a discriminatory connotation to it, so don't take offence when people refer to you as a faranji, as they inevitably will!
#23 The Music and Dancing are Crazy
There's few things that demonstrate Ethiopians' unique culture more, even in today's world, than their music and their dancing!
It's all bonkers!
Head to what is known as a Traditional Restaurant in any large town and see it for yourself.
Otherwise any local club is also an amusing cultural experience!
#24 There's Several Ways to Greet
Ethiopians have a complex array of ways to greet each other, from simple handshakes to multiple cheek kisses, or my favourite, the shoulder bump!
Try out as many as you like and get into the spirit of this social society!
#25 It's a Tactile Culture
Ethiopians are very tactile too, so don't freak out if people put their hand on your shoulder, for example, when they are talking to you!
Quite often on the street, you'll see Ethiopians, men included, holding hands as a sign of friendship.
Ethiopian Food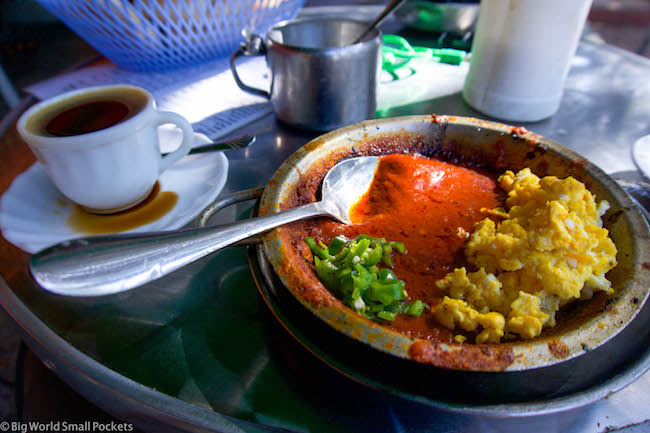 #26 The Food is Amazing
A huge part of Ethiopian culture is food and coffee.
It's all delicious cheap and readily available!
#27 It's Vegetarian Friendly
Christian Orthodox Ethiopians, which make up the biggest religious group, actually fast every Wednesday and Friday, as well as during the lead-up to many religious celebrations.
In fasting, they avoid all rich foods like meat and dairy products.
This makes Ethiopia incredibly vegetarian and vegan friendly as all menus will have fasting options regardless of the time of year.
Shiro is the most common veggie food – a chickpea dahl-type dish – served on top of an injera – yum!
#28 Injera is the Staple
The staple of Ethiopian cuisine is injera, a huge fermented pancake made from a grain called Teff.
Gluten-free and delicious, it's served with almost every meal often in the place of a plate and cutlery!
#29 Salad and Fruits are Big
Ethiopians also tend to eat very healthily and fresh salads are readily available as are some incredible natural fruit juices, including avocado, papaya and pineapple, normally served with fresh lime.
Desserts aren't common – probably why most of the country are so slim!
#30 Forget the Fork
Most Ethiopian cuisine is eaten with your right hand, often using a torn piece of the injera as a scoop.
It's common that you won't even find any cutlery to use!
Most restaurants and cafes have a handwashing station for you to use before and after your meal.
#31 Coffee, Coffee, Coffee
Famous the world over, Ethiopia is meant to be the home of coffee and here it's almost a sacred drink.
Called 'buna' in Amharic, you can grab a shot of this black gold almost anywhere, including on the street for as little as 5 Birr at side stalls.
Traditionally served as part of a ceremony, the coffee beans are roasted and passed around for you to inhale the scent.
The coffee is then served in 3 rounds, the first being the strongest out of a special jug, which is kept hot on an open fire as incense wafts in the air.
It's normally served with sugar, so make sure you stipulate no sugar if you want to avoid the sweetness.
#32 Local Beer and Wines are Great
Who knew Ethiopia was a producer of wine, but they are and it's good.
Local beers are also good and abundant.
My favourite is called Habesha.
Accessing & Spending Money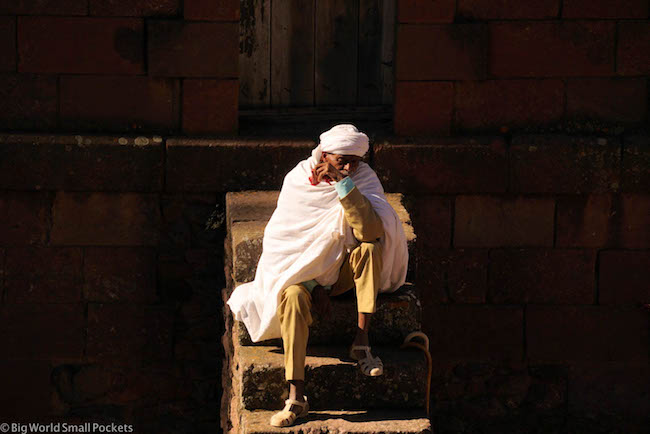 #33 Get Your Birr On!
The local currency in Ethiopia is the Birr (ETB).
It can't be bought outside the country, so must be got either via exchanging USD at local banks or by using ATM machines.
You're also not allowed to take more than 200 Birr out of the country when you leave.
#34 The Notes
Many Birr notes can look a bit scrubby at best!
They come in denominations of 5, 10, 20, 50 and 100. There's also a range of coins.
100 Birr, is actually only worth around 4 USD!
This is largely due to the recent and rapid growth of the Ethiopian economy.
However, it doesn't seem like the national mint has caught up yet by bringing out a higher value note!
This means a spacious wallet is required when you to visit Ethiopia as you'll inevitably be carrying around lots and lots of notes!
#35 Exchange at the Airport
When you arrive at Bole International Airport in Addis, you'll find several Bureau de Change offices and also ATM's both before and after immigration.
The current exchange rate is around 27 Birr to 1 USD at the airport and it's the same offered at banks across the country, so you might as well change money as soon as you arrive.
Just remember to keep any exchange receipts, you're meant to present these when exiting the country.
#36 ATMs are Easy
ATMs are plentiful in Ethiopia and easy to use with instructions in English.
They generally accept both Visa and Mastercard – although Visa is more useful.
Commercial Bank are one of the most trusted providers.
And when it comes to using ATMs, the easy way to spend abroad with real exchange rates, no markups and no sneaky transaction fees, is with a Wise card, which works just like a debit card here. Grab yours here.
#37 Bring Big Bill USD
People only really want to exchange USD in Ethiopia and even Euros and British Pounds are likely to be denied.
Therefore bring lots of USD cash, if you want to avoid ATM withdrawal fees and change these for Birr.
Bigger notes will give you a better exchange rate on the black market, so stock up on $50 and $100 bills if you can.
If you're travelling in other African countries before you arrive into Ethiopia, it's recommended you get the local currency there changed into USD, so you have plenty for Ethiopia when you arrive.
How to Get Around Ethiopia?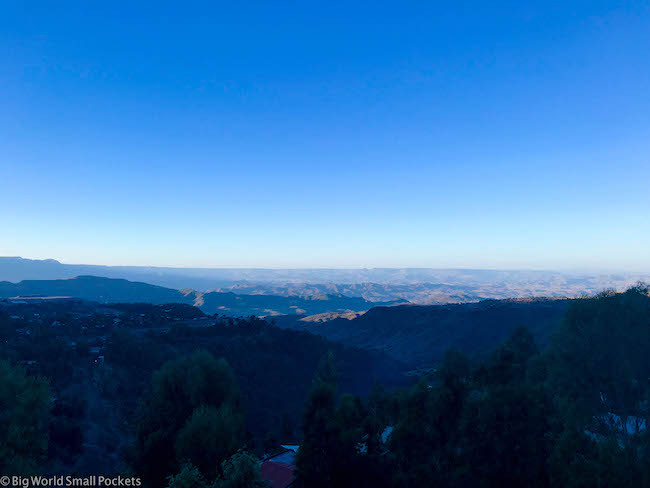 #38 Roads Are Bad
Many roads in Ethiopia are pretty bad and getting between destinations in this huge country can take you forever via land.
In many parts of the country, road travel is restricted at night too, which generally means a long journey can take a few days and often involve an overnight stay somewhere along the way.
As such many tourists opt to fly around the country instead.
Especially if you're short on time, using Ethiopia Airlines' domestic services to hop between destinations quickly and safely is a great idea.
#39 Book Your International Flight with Ethiopia Airlines
Ethiopia Airlines are the national carrier and have a huge range of domestic flights that can jet you around the country in no time.
Prices work on a 2 tier system – loosely indicated as a local and foreign rate.
However as a tourist, you can access the cheaper local rates (which are up to two-thirds cheaper) be buying an international flight into the country with Ethiopia Airlines.
You can then use your international flight code to access the cheaper local rates when booking domestic flights.
Even if the international flight with Ethiopia Airlines costs a few dollars more, you'll quickly reap the rewards if you're flying domestic a lot, trust me!
UPDATE JAN 19: Ethiopian Airlines now have an app and by using it to book flights you can save a further 10% on the ticket price.
#40 Don't Rush to Buy Domestic Flights
You can easily book domestic flights in Ethiopia just a few days before you fly.
3 days in advance should be fine.
Prices don't go up nearer the time and flights rarely sell out more than a couple of days in advance.
If you have a quick itinerary however, you may want to buy domestic flights from outside Ethiopia before you arrive.
This is easy to do online or via local tour operator ETT – who you can email your requirements and then pay in USD cash when you arrive into Addis.
#41 Get to the Airport Early
Even for domestic flights, ensure you allow plenty of time once you get to the airport.
There's rigorous security at all Ethiopian airports and you'll have to go through security first to enter the building and then to enter the gate.
This can take a while!
TOP TIP: When you arrive at Bole International Airport in Addis it's easy to pick up a taxi outside. There's hardly any hassle, which is a major relief, but do ask to see the brochure of official rates (which exists!) so you don't get ripped off on the journey to your hotel.
#42 Get Some Sheba Miles
Ethiopia Airlines are part of the Star Alliance Group.
Check their website for partner carriers to earn points, or easily sign up to their scheme – Sheba Miles – and earn points which can be used in conjunction with Egypt Air among many others.
If you're flying a lot in Ethiopia it soon mounts up and I've already scooped a few free flights as a result!
#43 Sky or Selam Bus are Great
If you don't want to fly around the country, then there are some luxury coaches that travel similar routes.
Sky Bus, Ethio Bus and Selam Bus are the 2 biggest companies and timetables can be viewed online.
Tickets however need to be bought in person at the nearest office and it's a good idea to do this at least a day before.
Most towns have ticket offices.
Due to the distances involved and the fact these buses don't drive after dark, departures are normally around 4 or 5am!
#44 Enjoy the Minivan Madness
In Addis Ababa and other large cities, minivans are used to travel short distances.
Minivans are also used as the cheapest form of transport to travel between some cities.
Costing only a few Birr, they are confusingly called taxis!
#45 Know the Difference Between Taxis
With minivans being known as taxis and taxis being known as taxis, things can get confusing in Ethiopia!
The basic rule of thumb is that public taxis = minivans and contract taxis = taxis!
#46 A Bajaj is a Tuk Tuk
In smaller destinations, tuk-tuks also ply the streets and are generally a cheap and convenient option for getting to attractions or restaurants.
In Ethiopia however, they are known Bajaj so use this word if people are looking at you confusingly when you ask for a tuk-tuk!
Ethiopian Accommodation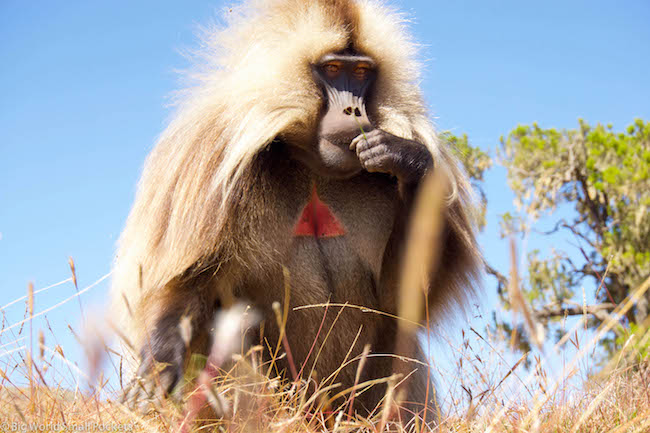 #47 Hostels Aren't a Thing
Hostels don't really exist in Ethiopia, so look for budget guesthouses if you're backpacking.
These can be found almost everywhere and are generally private rooms, normally with ensuite bathrooms and possibly wifi / breakfast included.
Prices start from around 300 birr, which is about $15 USD per night.
You'll be hard pushed to find anything under $10 USD.
#48 Most Guesthouses have Laundry Facilities
Every guesthouse I've stayed at in Ethiopia has offered a laundry service, making it the most convenient place to get your clothes washed.
There generally aren't handwashing facilities at hotels / guesthouses in Ethiopia, meaning you have to get your clothes laundered unless you want to take them in shower with you!
Prices are normally around 6 Birr per piece and hand washed by local women, providing a valuable source of extra income.
Give your washing in at breakfast time and receive it by the evening.
Sometimes they'll ask you to provide your own soap!
#49 Use Booking.com to Find Accommodation
Most Ethiopian accommodation providers use Booking.com to market their rooms.
This gives you free cancellation as generally you just pay on arrival.
Hostelworld is slowly gaining momentum too.
#50 There Aren't Guest Kitchens
The vast majority of guesthouses in Ethiopia don't offer kitchens, but eating out is so cheap anyway it's no biggie.
One exception I found was the excellent Mr Martin's Cozy Place in Addis Ababa.
This great guesthouse has free wifi, free breakfast and a guest kitchen!
It's also excellently located in the Bole area of Addis Ababa.
Read my full review of Mr Martin's Cozy Place here.
#51 Security is Good
All guesthouses generally have 24hr security access as well as lockable front gates.
This makes them very secure and I've felt safe in every place I've stayed.
Internet and Phone Access
#52 There's Only 1 Provider
There's just 1 telecommunication provider in Ethiopia, known as Ethio Telecom, which makes things simple in one way and difficult in others!
#53 Get a Local SIM
Getting a local SIM is cheap (30 Birr) and highly recommended for travel in Ethiopia when you'll likely need to call guesthouses, tour companies etc.
SIM cards can be bought in the morning (Mon-Sat) from any Ethio Telecom shop.
Take your passport and some money to pay for the SIM as well as put credit on your phone via the voucher system.
Make sure to get your SIM registered (required by the government here) and your personal hotspot established.
Check everything is working before you leave the office!
*804# can be dialled to check your balance.
#54 Buy Mobile Packages
Data, call and SMS packages can be bought on a daily, weekend, weekly or monthly basis by dialling *999# on your handset.
This is the most cost-effective way to use your Ethio SIM.
I love the monthly 600 birr package, which gives 4GB of data.
#55 Addis is the Best for Wifi
Unsurprisingly, the capital Addis Ababa has the best internet and 3G connection in the country.
You'll need to hang here a lot if you work online!
Anywhere outside of Addis and connections can be patchy, especially 3G, which the government often shuts off completely. HA!
#56 Airports have Free Wifi
Almost all airports in Ethiopia have free wifi and weirdly I've found it to be some of the fastest in the country.
Most guesthouses now also provide free wifi, although to what extent it works is another matter!
#57 Get a VPN
As well as blocking 3G networks, the Ethiopian government also regularly blocks social media channels.
Maintain access to your Facebook and Instagram therefore by subscribing to a VPN before you get here.
I highly recommend Nord VPN, which I've used in Ethiopia and works brilliantly.
SAVE THIS ARTICLE TO PINTEREST!
Phew!
So there you have it, EVERYTHING you need to know about travel in Ethiopia.
Are you planning to visit this amazing African country?
Have any questions?
Please ask away in the comments box below…