Well well well the safest countries in Africa to travel, I have set myself up for a fall here haven't I?!
Because where do you start?
And come to think of it, where do you end?
And how do you risk not getting a backlash in the process?
Well, I've given it a good go and, as an experienced traveller in Africa, my desire is only to help others make plans and decisions that allow them to have the best time possible in this continent.
This is neither an exhaustive list, nor is it immune from political and climatic changes. It is based on my experience as a solo female adventurer and centres largely around Southern, Eastern and parts of Northern Africa as this is where most travellers tend to go.
So here it is, my list of the 15 safest countries in Africa to travel…
---
Related Posts
---
This article is written in good faith, based on my knowledge as a travel blogger. I am not an expert in African safety, nor can I predict how situations may change in this continent, as they quickly have the tendency to do. I cannot be held responsible for any actions taken in light of this article or advice.
This page contains affiliate links meaning Big World Small Pockets may receive a small commission on any purchases at no extra cost to you.
---
Grab Your Copy of How to Travel Africa for Less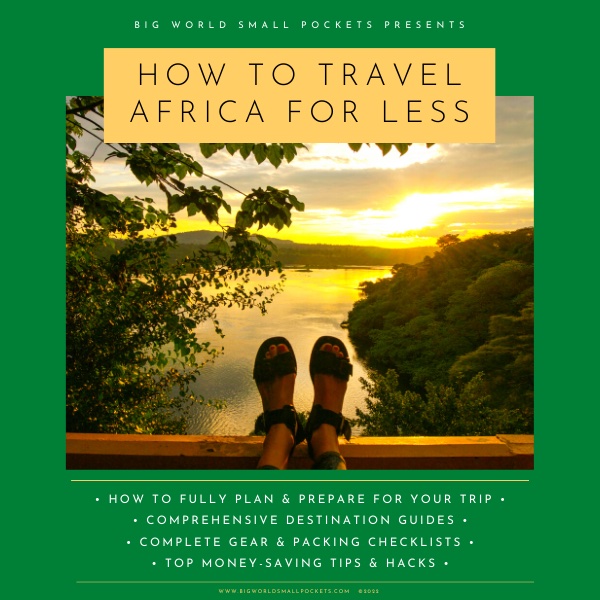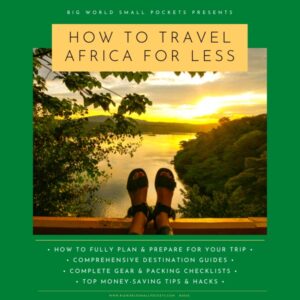 My ultimate guide to travelling Africa on a budget is now available, meaning you can finally get ALL my top tips for adventuring around all, or parts, of this amazing continent in one handy eBook, including…
Full Planning & Preparation Guides
Detailed Destination Info
Complete Packing & Gear Lists
Top Money-Saving Tips & Hacks
A Word About Travel Safety in Africa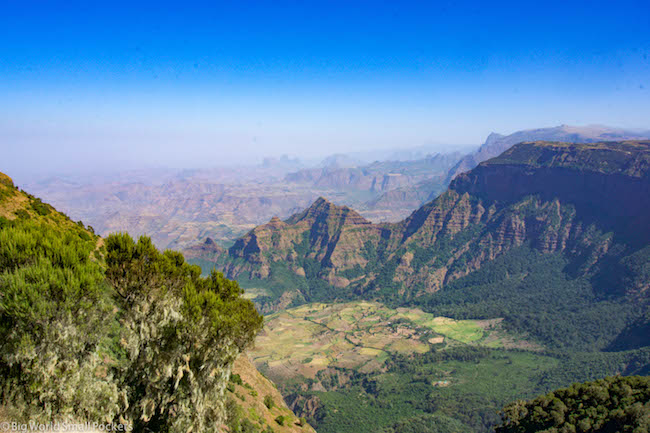 It kind of goes without saying, but kind of needs to be pointed out at the same time, that travelling in Africa always poses some element of risk.
As one of the most economically disadvantaged places on the planet, adventuring in Africa is always just that, an adventure.
When it comes to the safest countries in Africa to travel therefore, there are various factors that always hamper nations in this continent.
For a start medical facilities can be poor and dangerous diseases are sadly a matter of life here. From malaria to dengue, health risks are always an issue in Africa and need to be properly researched and taken into account.
In addition to this, climatic features such as drought, flooding, cyclones and extreme heat all blight this continent and definitely influence this discussion about the safest countries in Africa.
And finally, there's the political elements of danger to consider when it comes to travel in this area, with everything from contested elections, civil unrest, political upheaval and terrorism feeding into the complex situation.
This means things can quickly change across this continent and countries or areas considered safe can quickly alter in a matter of days.
Unfortunately, I can't keep up with the ever-evolving situation in the countries I list here, so it's best to check the foreign advice at gov.uk for the very latest info and then use your best judgement to assess the risks.
My Solo Female Experience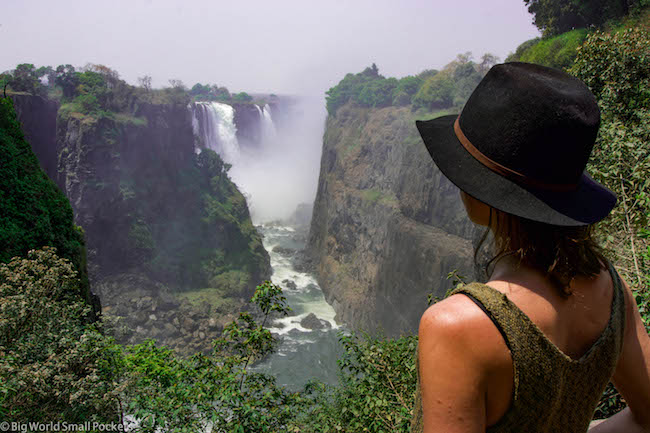 What I now realise is that this list reads like a litany of horrors and that no right person in their mind should think of travelling to Africa!
But, of course, that just isn't true.
As a sold up fan of African travel, I can confirm I've safely visited this continent on 5 occasions and travelled in 21 countries here entirely without any danger and am certainly planning to head back.
Because adventuring in this continent fires up my heart and mind like nothing else.
Quite simply, there isn't anything else like it.
And I say this, of course, as a solo female traveller.
For honestly, if you take sensible precautions and avoid irresponsible risks, you're likely to feel every bit as welcomed and at home across this continent as I have.
From not going out alone at night and avoiding strolling through dodgy areas, to not looking lost and flashing loads of valuables, it's basically all about common sense when it comes to being safe as a solo female nomad in Africa.
And of course, going to see a Travel Health professional before you jet off, and following their advice, is a key part of it too.
Travel Insurance for Africa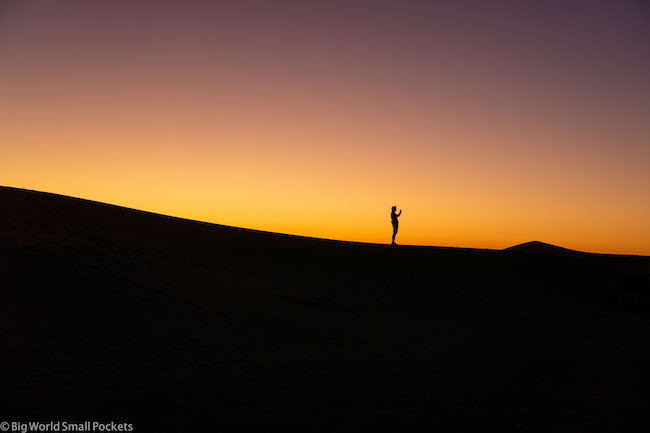 World Nomads offers simple and flexible travel insurance. Buy at home or while travelling and claim online from anywhere in the world.
Alternatively, if you're a long-term traveller, digital nomad or frequent remote worker seeking travel health cover, check out Safetywing's Nomad Insurance policies.
How to Travel Safely in Africa
Another way to feel safer when travelling in Africa is to join up with others.
It must be said I've travelled many countries in this continent both independently and as part of group tours, and there are certainly pros and cons to both.
If it's perhaps your first trip to this part of the world, or your first solo trip abroad, then you certainly may want to book onto a tour in advance so that you can be assured of some company, a designated itinerary and an automatic safety net / source of advice if any difficulties do arise.
There's so many tours across this continent, which vary in length, price, style and destination that it would be impossible to list all my recommendations here.
That said, if you're looking for the cheapest possible option, then budget overland tours are the way to go and Absolute Africa are my favourite company in this department – I've travelled with them in several different African countries.
And the great news is that I'm currently offering my readers an exclusive discount on all Absolute Africa tours, meaning you can now travel even more in this amazing continent for even less!
Simply send this top African overland tour company an email to [email protected], quoting the discount code BWSP, and start planning your incredible trip with them today!
And if you're looking for something with a bit more comfort, or you want to take shorter safari trips, perhaps just in one park, or one country, then I highly recommend checking out the huge array of options at SafariBookings.
Simply filter your choices by date, destination and number of travellers to review all the top tours available to you…
List of Safest Countries to Travel in Africa
Ok, so without further ado, here's my list of the 15 safest countries in Africa to travel… and why!
#1 Namibia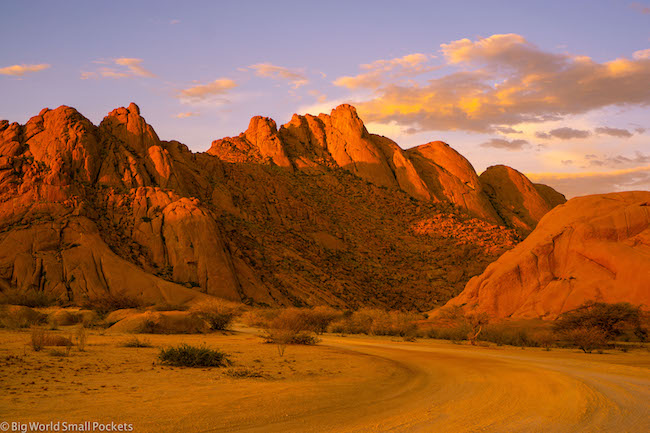 Namibia gets my vote as probably the safest country in Africa to travel.
With a desert climate, tropical diseases are less common here and malaria is generally thought not to be a risk in the south of the country.
In addition, the arid landscape means Namibia has one of the lowest population densities in the world and crime is very low.
The country is politically stable and fairly well developed, meaning the medical services and the roads are generally excellent.
The downsides to safety in Namibia are also due to its size and desert climate however.
Isolated and very rural, you may find yourself quite far from medical services if you fall ill outside major towns and breakdown support if you're in your own vehicle can certainly be an issue.
Dehydration and heat stroke are also major concerns in this dry, hot land where temperatures are known to soar and where fresh water can be a precious resource.
That said, the marvels of this country, from Etosha National Park to the desert magnificence of Sossusvlei far outweigh any risks!
One of my favourite countries on the continent, check out these top-rated Namibia Tours for some great ideas about what you could experience here.
READ MORE: 9 Amazing Places to Visit in Namibia
#2 Botswana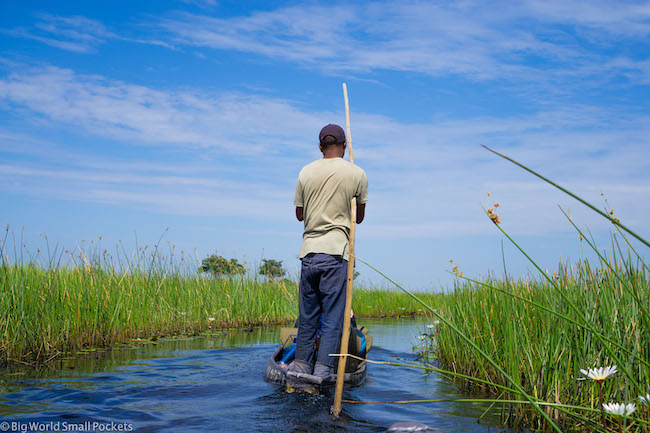 Another Southern African nation on this list, Botswana is certainly one of the safest countries in this continent, with a stable political climate and a strong growing economy thanks to its wealth of natural resources.
Generally thought to have quite low levels of corruption, public services, such as roads and medical infrastructure are good across the country and civil unrest almost unheard of in recent years.
Botswana does have a lot of large, wild animals however, in particular a massive elephant population, and this probably constitutes one of the biggest dangers, particularly when driving or camping!
DISCOVER MORE: What's the Best Time to Visit the Okavango Delta in Botswana?
#3 Eswatini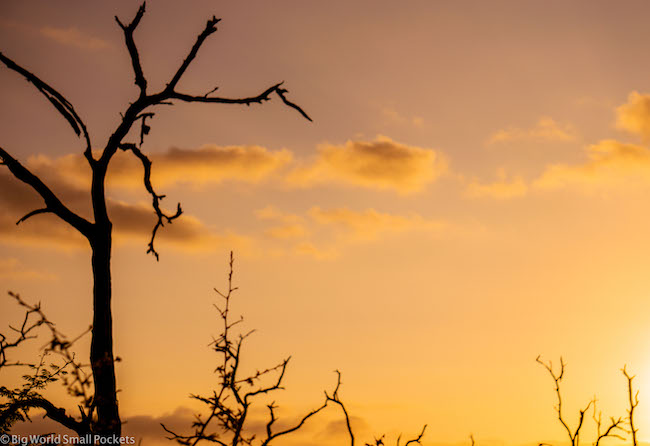 Number 3 on my list of the safest countries in Africa, the tiny nation of Eswatini actually sits within the country of South Africa.
It's a very small country, ruled by an absolute monarch and with a limited population, who are devoted to their king, crime and political upheaval here is very low.
In addition, few dangerous wild animals add to the level of security in Eswatini and the rolling green hills of its landscape mean environmental threats are uncommon.
The main threat to travellers safety-wise is probably the distance from large medical services as Eswatini (formerly known as Swaziland), is a predominantly rural country.
LEARN MORE: 10 Incredible Things to Do in Eswatini
#4 Rwanda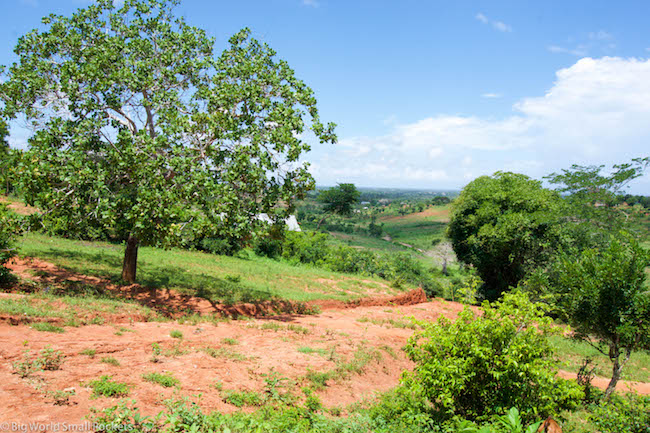 In at number 4 is the East African nation of Rwanda, which is now certainly one of the safest countries in Africa.
Once beset by a horrific genocide, this country has become something of a model for reconciliation, with a civil peace maintained since the tragic events of the nineties.
Having received lots of foreign aid to help it get back on its feet post the genocide, the infrastructure is very good across Rwanda and medical services are also developed.
The capital Kigali also has a good embassy presence.
Being located right in the tropics however, malaria and dengue can be a problem here, as they can across much of this part of the continent.
The risk of general infections developing from cuts and scratches is also a potential, so ensure you pack your antimalarials and anti-septic cream if you're planning on travelling here.
READ MORE: The 7 Best Things to Do in Rwanda
#5 Kenya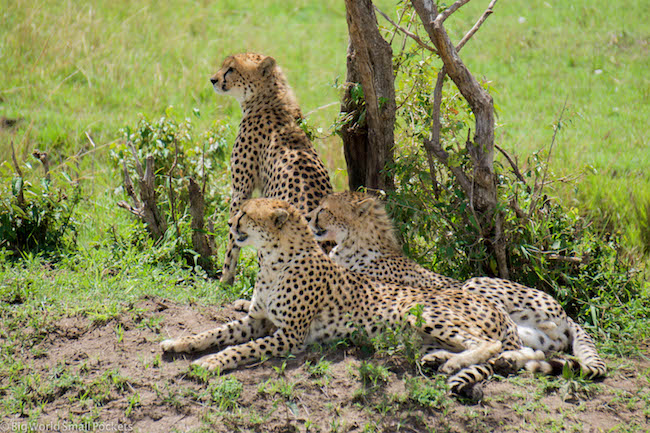 Sticking with the East Africa side of things, I'm also going to name Kenya as one of the 15 safest countries to travel in Africa.
Yes, this large coastal nation has had its fair share of terrorist-related incidents, as well as a notorious serious of disputed election results which lead to some civil unrest, but viewed in perspective, these events are isolated and you'd have to be very unlucky to get caught up in them.
I actually visited Kenya during the contested election re-run in 2017 and, even though I was in Nairobi at the time, felt very safe by avoiding the central areas and using rideshare taxis like Bolt instead of local buses.
Because aside from this, Kenya is one of the most developed countries in East Africa with excellent infrastructure and communication networks.
Medical services are good and the country's large population mean health facilities are fairly easy to access throughout of the country.
In addition, English is widely spoken here, which makes things even simpler.
When it comes to environmental factors, avoiding visiting Kenya during the wet season when flooding, especially along the coast, can occur, is the best method to avoiding such incidents.
Thankfully, being so close to the equator, the threat of cyclones in Kenya is extremely low.
LEARN MORE: The Ideal Kenya Itinerary for a Tight Budget
#6 Senegal
Now moving across to West Africa, we come to Senegal, certainly one of the most politically stable countries on the continent.
In fact, this French-speaking, coastal nation is generally seen as one of Africa's model democracies, with a good level of press freedom and democratic elections since independence in 1960.
Health issues are a risk here however with yellow fever, typhoid, malaria and rabies all present.
Despite these diseases however, which do permeate most of the region, Senegal certainly remains one of the safest countries in West Africa for travellers.
I visited here as a solo female and got next to no hassle, especially in the northern town of Saint Louis.
As always, my advice is to use taxis in major cities such as Dakar to get around, to avoid walking alone through the streets at night, and to avoid beaches entirely after dark.
#7 The Gambia
And hot on the heels of Senegal when it comes to the safest countries in West Africa is The Gambia, a tiny nation actually contained within Senegal.
Occupying a small part of the coast, The Gambia has long been considered a safe zone for travellers and is largely crime-free with good tourist infrastructure.
Petty theft, such as pickpocketing remains a problem of course, but take good care of your belongings and you should be fine.
As with many coastal areas in this part of the world, avoid walking along beaches at night and exercise caution when it comes to travel in big cities or on public transport, however I travelled independently here without any incidents – including crossing the land border from Senegal.
#8 Egypt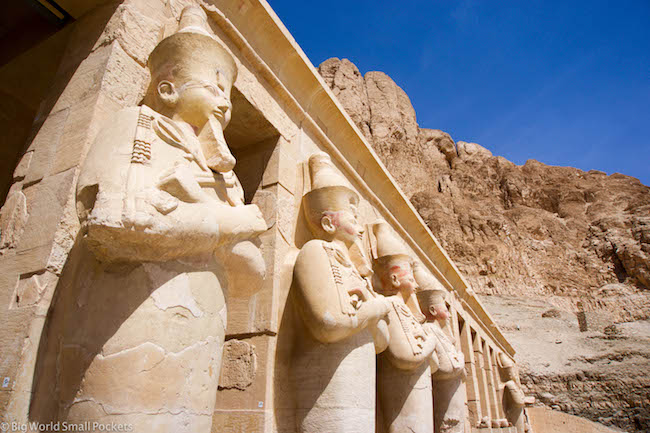 Moving up to the north now, this may prove controversial, but in my opinion, I definitely found Egypt to be one of the safest countries in Africa.
Despite having been blighted by political upheaval in recent years, as well as some terrorist activity, I found Egypt highly developed, easy to travel and stress-free as a solo female traveller.
Hassle to buy things on the street can occur, but politely declining any advances worked every time during my time in the country and I never once felt uneasy or unsafe.
Even using the metro in Cairo was easy – there are designated female carriages if you want – and rideshare apps across the capital, such as Uber, as well as good train and domestic flight networks, made getting around very simple.
It obviously gets very hot in Egypt, but outside of that there are few climatic dangers to deal with and neither is malaria an issue here.
Beyond diving in the Red Sea, you're also unlikely to come into contact with any large wildlife, and taking a once-in-a-lifetime Nile cruise in this country is very safe and shouldn't be missed!
DISCOVER MORE: Plan to Backpack Egypt? 27 Things You Need to Know
#9 Morocco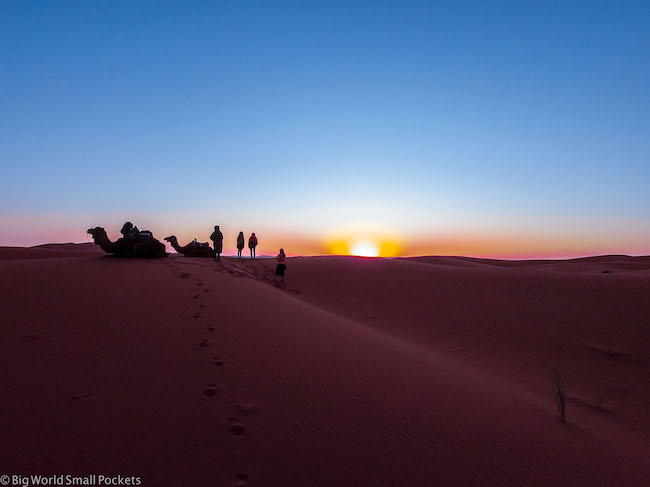 Morocco is another North African travel hot spot that is generally considered to be one of the safest countries in Africa.
Along with Egypt, it's certainly one of the most stable in the north of the continent and has long been a hit with travellers, meaning tourist infrastructure is good.
Hassle can be a factor, as can pollution and many female travellers do experience some level of harassment, but in general, conditions within hotels etc are good.
And if you feel safer, you can easily book tours in advance, such as this award-winning day trip to the Atlas Mountains that includes a camel ride and return transport from Marrakesh.
Easy and quick connections to Spain via boat or via air to a huge range of European destinations mean if anything does go wrong you are not far from western comforts, and a growing economy means services tend to be of an acceptable standard.
You must just remember to dress appropriately in Morocco, which will not only show your respect for the religious modesty of this country, but also help protect you from the strong sun.
LEARN MORE: Top 9 Tips for Female Travellers to Morocco
#10 Tanzania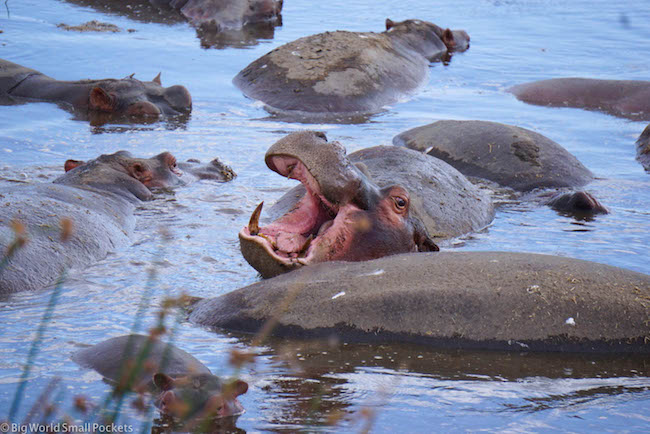 Moving back to East Africa now, we arrive into the country of Tanzania which I'm definitely going to list as one of the safest countries in Africa to travel.
Despite the different cultures and ethnic groups found throughout this nation, the political situation tends to be quite stable and tensions between varying groups is relatively low.
Arusha and the Serengeti are popular destinations very used to accommodating tourists and the island of Zanzibar is another favourite among travellers.
In the latter, just remember to dress conservatively in the capital, Stone Town, and to avoid walking along the beaches of the island at night. Otherwise, I felt very safe there.
Also, be careful if you are heading to Dar Es Salaam – the launching point for ferries to Zanzibar and make sure you only use licensed taxis or transfers here.
One factor you do need to consider if you travel to the coastal areas of Tanzania however is the weather.
Located south of the equator, but right on the Indian Ocean, cyclones, associated tidal waves and severe flooding can occur in these areas and are particularly prevalent during certain times of the year.
As such, checking the season you wish to travel in Tanzania is crucial to staying safe there, especially because infrastructure can be very basic.
READ MORE: Complete Tanzania Packing List
#11 Malawi
And heading north from Mozambique, we get to Malawi.
Another very economically disadvantaged country, Malawi is however known as the Warm Heart of Africa and in general, feels very safe despite the obvious poverty.
Lake Malawi forms the backbone of this country and there's a stable level of tourist infrastructure here, but elsewhere in the country, it's minimal.
Politically quite solid and with fewer large, dangerous animals around, Malawi gets my vote as one of the 15 safest countries in Africa to travel in.
LEARN MORE: 5 Epic Southern Africa Itineraries
#12 Zambia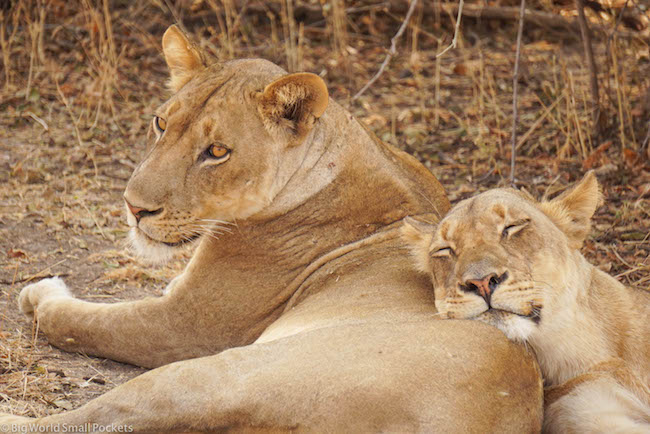 And bordering Malawi is another large, long country I'd consider one of the safest in Africa to travel… and this time it's Zambia.
Although Zambia has a large percentage of wild animals, is very rural and has very basic medical facilities, it is politically safe and not often blighted by environmental disasters.
Medical risks are the biggest concerns when travelling to Zambia as malaria is a big problem here… and watch out for the hippos too.
Take all the necessary precautions however and this can prove a very enjoyable and off the beaten track country to explore.
After all, who can resist the temptation to see Victoria Falls, which sits right on the border with Zimbabwe?
DISCOVER MORE: South Luangwa National Park : A Photo Essay
#13 Uganda
At number 13 on this list, I'm putting Uganda.
A landlocked country in East Africa, Uganda however is a tourist hot spot thanks to its population of gorillas and amazing safari opportunities.
Uganda also boasts the start of the White Nile and as such, there's a good level of tourist infrastructure across the country.
Compared to neighbouring DRC, Uganda is a much safer place to visit the gorillas and compared to Rwanda, it's much cheaper.
They have been recent stories of kidnapping in the north of Uganda, but these are isolated.
That said, you should certainly watch your belongings here and beware of walking anywhere alone at night.
You should also take precautionary measures against malaria, but outside of these common dangers, Uganda is certainly one of the safest and most rewarding countries in Africa to travel.
LEARN MORE: The 5 Uganda Safaris You Can't Miss
#14 South Africa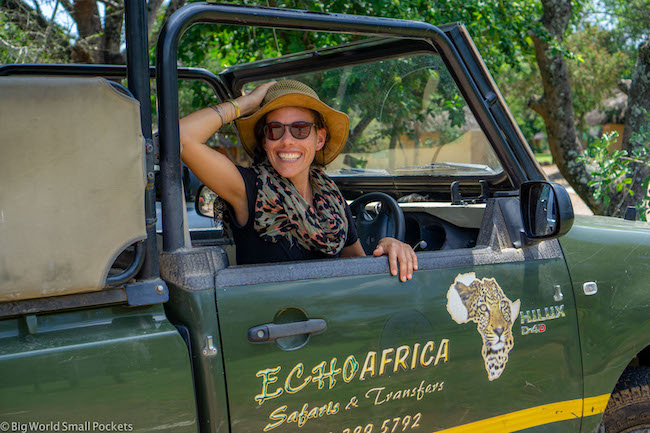 Sadly I've had to make some changes to this article recently and remove one of my favourite countries – Ethiopia – from this list because of the escalating situation there.
In its place, I've opted for another favourite of mine (and many other people's too) and that is South Africa.
When it comes to diversity and accessibility, this country certainly takes some beating in my opinion!
A delight for culture vultures, history fans and nature lovers, I've visited South Africa 3 times now and have always felt very safe and well looked after.
Even my parents have visited (they are in their 60's), so you can rest assured South Africa isn't just for the young!
Let's be real, this country is not without its problems and crime across many of the cities here is very high.
But, that said, the excellent level of tourism infrastructure, as well as the easy-to-use and well-established transport across the country, make it easy to travel in South Africa.
In addition, this country is largely without climatic dangers and dangerous animals and, with lower occurrences of tropical diseases including malaria, it's definitely one of the safest countries in Africa to travel.
DISCOVER MORE: Best Time to Visit Cape Town and Kruger
#15 Sudan
And finally, number 15 on my list of the safest countries in Africa to travel might prove controversial, but in my experience, it's true, or at least it was.
Yes, the Islamic conservative nation of Sudan has recently undergone some big political upheavals, which means the situation there now is very troubled and also heart-breaking.
And I say this because never have I known hospitality like that I was shown in Sudan.
With strict Sharia law in place, when I travelled across this country as a solo female in 2018, I was something of an oddity!
As one of the only tourists here, the way I was invited into people's homes and families was incredible.
I never once felt in danger and instead was looked after in a way that was almost embarrassing, given the differences in our economic situations.
The security situation has now changed in Sudan – due to welcomed political shifts which have sadly resulted in military violence – but once this country stabilises again (and I hope the will of the people will be listened to and that materialises soon) this is an absolutely incredible country I urge you to visit, if only to experience the amazing people who live there.
On a practical note, there's no malaria and the main consideration is the heat, which can get up to a stifling 50 degrees at certain times of the year.
DISCOVER MORE: Is Sudan Safe for Solo Female Travellers?
Mini Travel Guide to Africa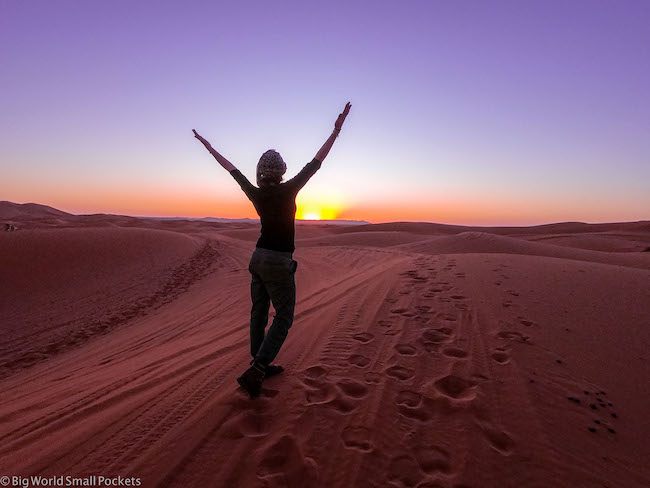 When to Visit?
As a huge continent, it's impossible to give an overall best time to visit Africa, so I've split this question down in sub-regions.
When it comes to North Africa, I highly recommend visiting during the spring and autumn months, ie. April to May and September to October, so that the weather is pleasant enough for sightseeing.
In West Africa, the high season runs from December through February, when the region generally experiences its lowest rainfall and humidity – definitely a good idea to visit at this time!
In East Africa, visiting during the long dry season is a great idea. In general, this runs between the months of July and September and also conveniently aligns with the Great Migration too. The short rainy season in November and December can be another good time to visit this part of the continent.
And finally, we come to Southern Africa.
If you're heading to Cape Town, I'd visit between November and February, but for Namibia and Botswana, the best months are May through October when it's cooler and less humid.
Best Tours in Africa
If you're interested in an unforgettable, well-priced tour across Africa, with guides you can trust, or a self-drive trip organised by a great company, then email me at [email protected] and I'll send you my top recommendations – simple!
Alternatively, I'm currently offering my readers an exclusive discount on all Absolute Africa tours, meaning you can now travel even more in the amazing regions of southern and east Africa for even less! Simply send this top African overland tour company an email to [email protected], quoting the discount code BWSP, and start planning your incredible trip with them today!
Otherwise, if it's strictly safari tours you're looking for, check out these top picks.
6 Packing Essentials for Africa
#1 Swimwear and Sarong – One World Sarongs are always my go to and a must when you hit the beautiful beaches across Africa.
#2 Lonely Planet Guidebook – Their Africa edition is excellent and very helpful when it comes to a broad range of travel tips, maps and recommended itinerary routes.
#3 Insect Repellent and antimalarials – I recommend a 30% DEET repellent for Africa and anti-malarials if you're travelling in at risk countries – although please always consult the advice of a medical professional before any travels to this part of the world.
#4 World Power Adapter – There are at least 3 different types of adapters used across this continent, so make sure you come prepared with a Skross World Adapterat the ready.
#5 Camera and Lens – I love my Sony A6000 mirrorless, and have used it to capture the beauty of this continent and beyond. My GoPro Hero 7 was also amazing for preseving some of the adventure of my Africa travels too!
#6 Good Sandals – You'll live in sandals in most of Africa and I would never travel anywhere now without my trusty pair of Arizona Birkenstocks!
Travel Money in Africa
When it comes to paying for things across this continent, you want to ensure you're not being charged overseas transaction fees or getting poor exchange rates when using your card abroad, which is why I always take my Wise card away with me wherever I travel.
The easy way to spend abroad with real exchange rates, no markups and no sneaky transaction fees, you can use your Wise card just like a debit card… and it links easily with Google and Apple pay – sold! Grab yours here.
PIN IT TO PINTEREST!
And there you have it, my full list of the 15 safest countries in Africa to travel.
Can you tell how much I love adventuring in this continent?
Are you an Africa travel fan too?
Tell me why (and where your fav bits are) in the comments box below…