I think it's fair to say that Sierra Leone is not a popular travel destination, but that doesn't mean there's an amazing wealth of epic things to do here!
From cultural and historic sites, through to idyllic Atlantic beaches and epic wildlife spots, this off-the-beaten-track beauty offers more than enough to keep you entertained for at least 7 days.
In fact, I think that a week is the perfect time to explore this country and at the bottom of this article, I give you a suggested 7 day itinerary too.
And the perfect time to undertake this itinerary is during Sierra Leone's dry season.
Running from December to February, this is the coolest and least humid time of the year to visit this country, not to mention the months with the least rain too.
And no need to worry about the crowds during high season, one of the least travelled countries I've been to, you won't be fighting other tourists when it comes to exploring these top 15 things to do in Sierra Leone…
---
Related Posts
Perfect 2 West Africa Itinerary
---
My trip to Sierra Leone was sponsored by the Sierra Leone National Tourist Board, but as always, all views are my own.
This page contains affiliate links meaning Big World Small Pockets may receive a small commission on any purchases at no extra cost to you.
---
#1 Head to Freetown's Museums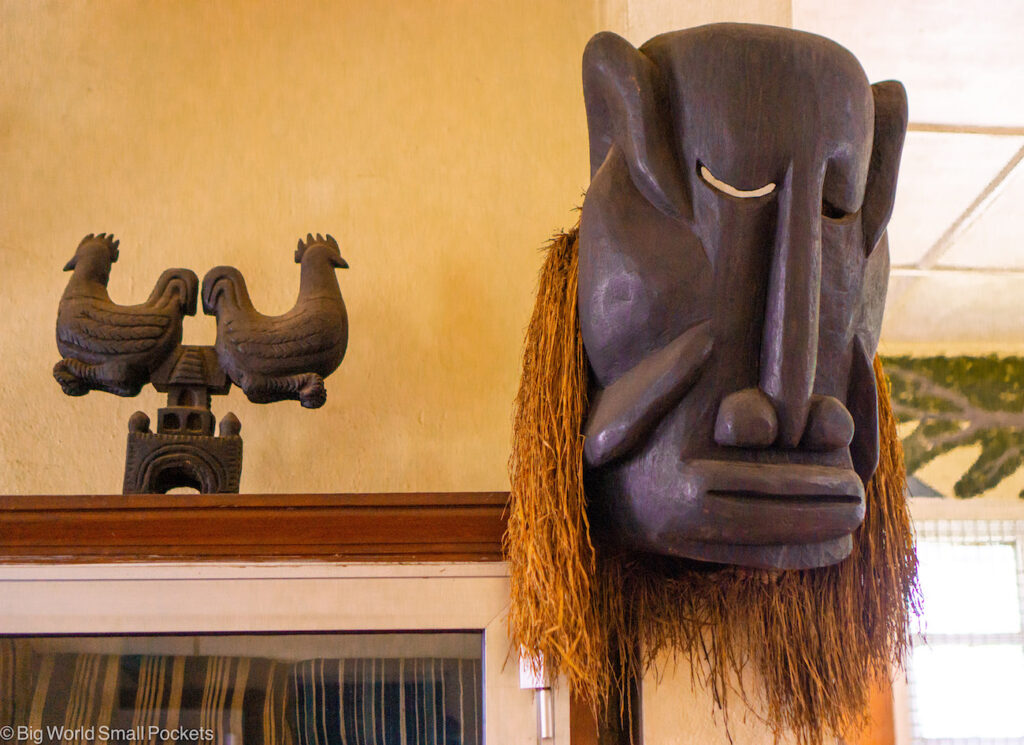 I'm kicking off this list of the best things to do in Sierra Leone in the country's capital – Freetown.
After all, this is where most travellers are likely to begin their journey, given the country's only international airport is located just beyond the city.
After your arrival, I definitely recommend spending a day or 2 in Freetown, not only to get acquainted with this West African country (especially if it's your first visit to the region), but also because there's some great cultural and historical sights to see here.
The famous Cotton Tree and Peace and Cultural Monument are certainly worth a look in, as is St Georges Church, the Central Mosque and the Big Market (great for souvenirs), but top of my list in the capital are the museums.
The National Museum is a good place to start to learn more about the 18 ethnic communities that form the majority of Sierra Leone's population, as well as the country's history and development.
There's 2 main parts to the museum and taking a guide to show you around is a good idea as the signage is pretty scant!
After that, don't miss the National Railway Museum, where enthusiastic staff will share the tale of the railway's peak in Sierra Leone, as well as its sad demise.
See the train carriage designed for Queen Elizabeth II when she visited this Commonwealth nation in 1952.
Learn more about the top 15 things to do in Freetown here.
#2 Savour an Aberdeen Sundowner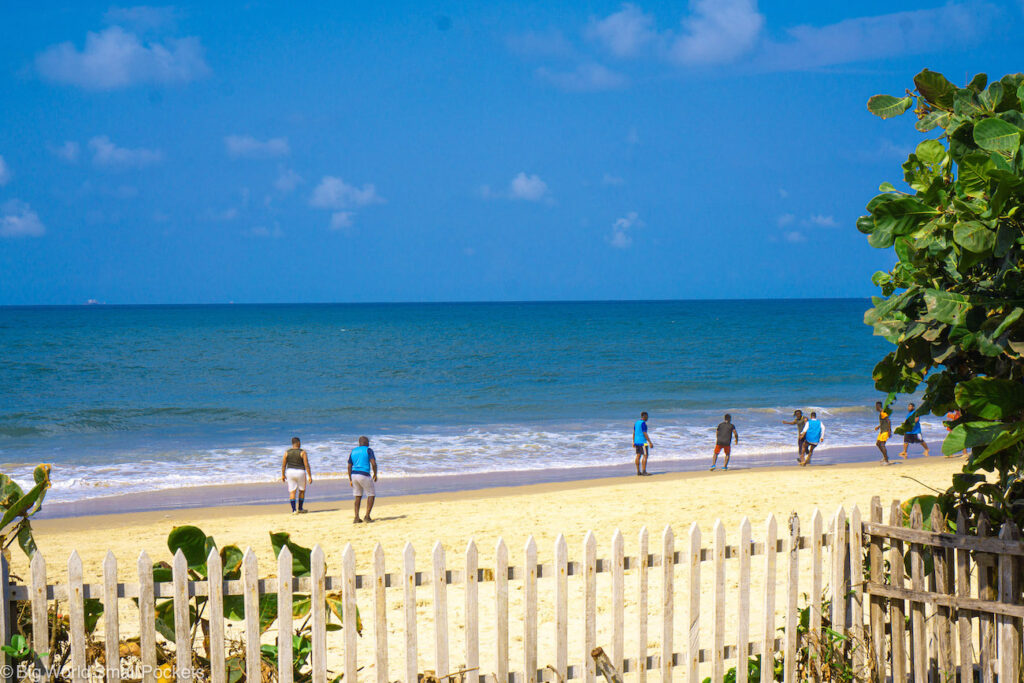 And after all that city sightseeing (which, let's face it, is usually a rather sweaty affair in this part of the world!), it's time to relax with an evening drink.
And there's no better place to do just that in Freetown than along the beachfront promenade in Aberdeen.
One of the most well-heeled districts in the city, and the area where you'll find most hotels and tourist services, Aberdeen is situated right along the Atlantic coastline, which means it offers some gorgeous coastal sunsets.
And the perfect place to take one in is from one of the beachside bars.
There's tons to choose from here, but personally, I'm a huge fan of Roy's. It offers a great mix of tourists, locals and expats in a friendly and safe atmosphere. It's well-priced and has good food too.
What's not to love?!
And if you're looking for somewhere to stay nearby in Aberdeen, then check out this guide I wrote to the best Freetown hotels.
#3 Relax at Tokeh Beach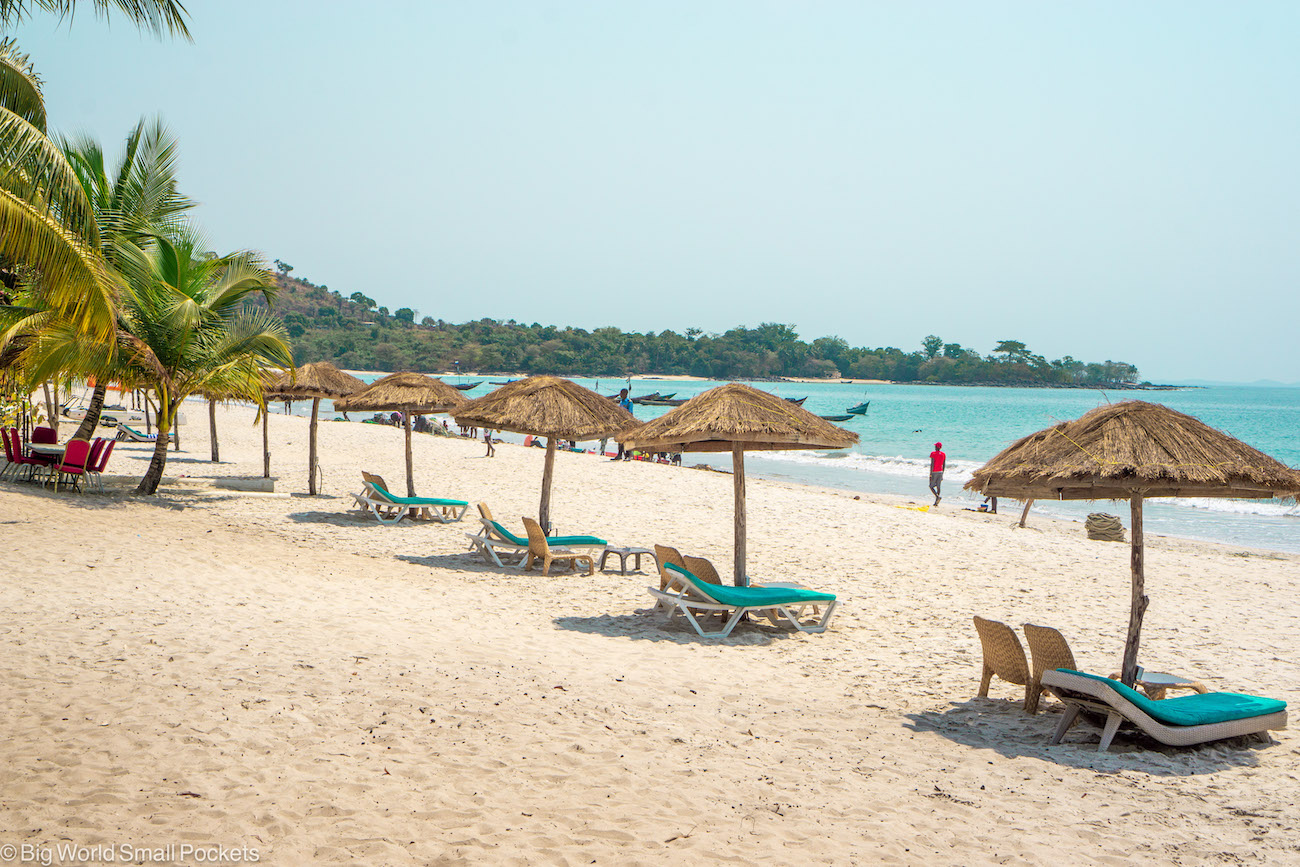 This top thing to do in Sierra Leone actually makes for the perfect end to your trip here, but I've included it in at number 3, because it's situated just down the road from Freetown.
Less than an hour's drive away from the capital and you'll find yourself at the country's most stunning beach in my opinion.
Palm tree-fringed white sandy days, lapped gently by the Atlantic waves, are what life is all about in this peaceful spot and, if you're anything near as much of a beach lover as am I, then this one is a must!
The perfect place to take in all the beauty of this gorgeous sandy strip is Token Beach Resort.
Head for an amazing lunch, or why not treat yourself and spend a night or two?
That way you get to enjoy an amazing sunset from the onsite restaurant and a few delicious cocktails from the bar here too.
If I had to choose a holiday highlight from this list of great things to do in Freetown, this would probably be it!
#4 Eat Amazing Seafood
And another epic holiday treat you can indulge in at the Tokeh Beach Resort, as well as pretty much anywhere along the coast of this country, is eat amazing seafood.
Caught fresh daily and plucked from the nearby Atlantic just hours before ending up on your plate, you'll probably never have such delicious and affordable lobster, crabs, shrimp, snapper or sole in your life!
To be totally transparent, I actually don't eat fish (shout out to my fellow veggies), but my co-travellers in Sierra Leone were mad for it and told me it was some of the best they've ever eaten.
Best to take their word for it!
#5 Stroll to No 2 Beach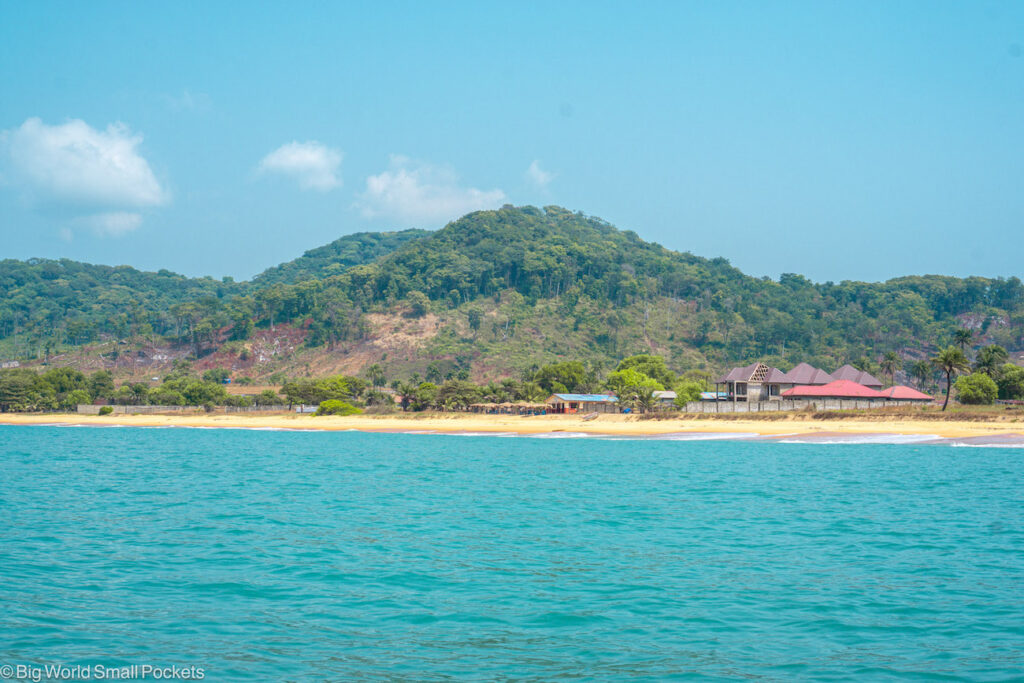 And another place you can enjoy great seafood and relax at the coast – even on a half day trip from Freetown – is No 2 Beach.
It's also possible to reach this lovely enclave on foot from Tokeh Beach.
Just a half an hour walk along the sand and then a quick boat ride across the No 2 River Estuary, and you can reach No 2 Beach for lunch from Tokeh.
Run by the local community here, the cafes, accommodation and markets at No 2 are part of a sustainable tourism development and a trip here is a great way to support this super local initiative.
It's also a gorgeous sandy spot – one which locals flock to at the weekend to enjoy a good time.
#6 Learn About the Significance of Bunce Island
But now it's time to head off the mainland and away to some of the islands that scatter the Freetown peninsula on this list of the best things to do in Sierra Leone.
If you're looking for a historic site that tells an important part of this country's story, Bunce Island makes for a great half day trip from Freetown.
Or you can combine it with nearby Tasso Island for a great full day trip.
A former slave colony, Bunce Island is home to one of the most significant slave fortresses in West Africa.
Now lying in ruins, it's nevertheless still deeply moving and poignant to visit.
An organised tour with a guide is the best way to really get to grips with the history of this place, as well as to understand the role colonialism, as well as slavery, had and has on Sierra Leone.
Learn more in this visitor guide to Bunce Island.
#7 Chill Out on Banana Island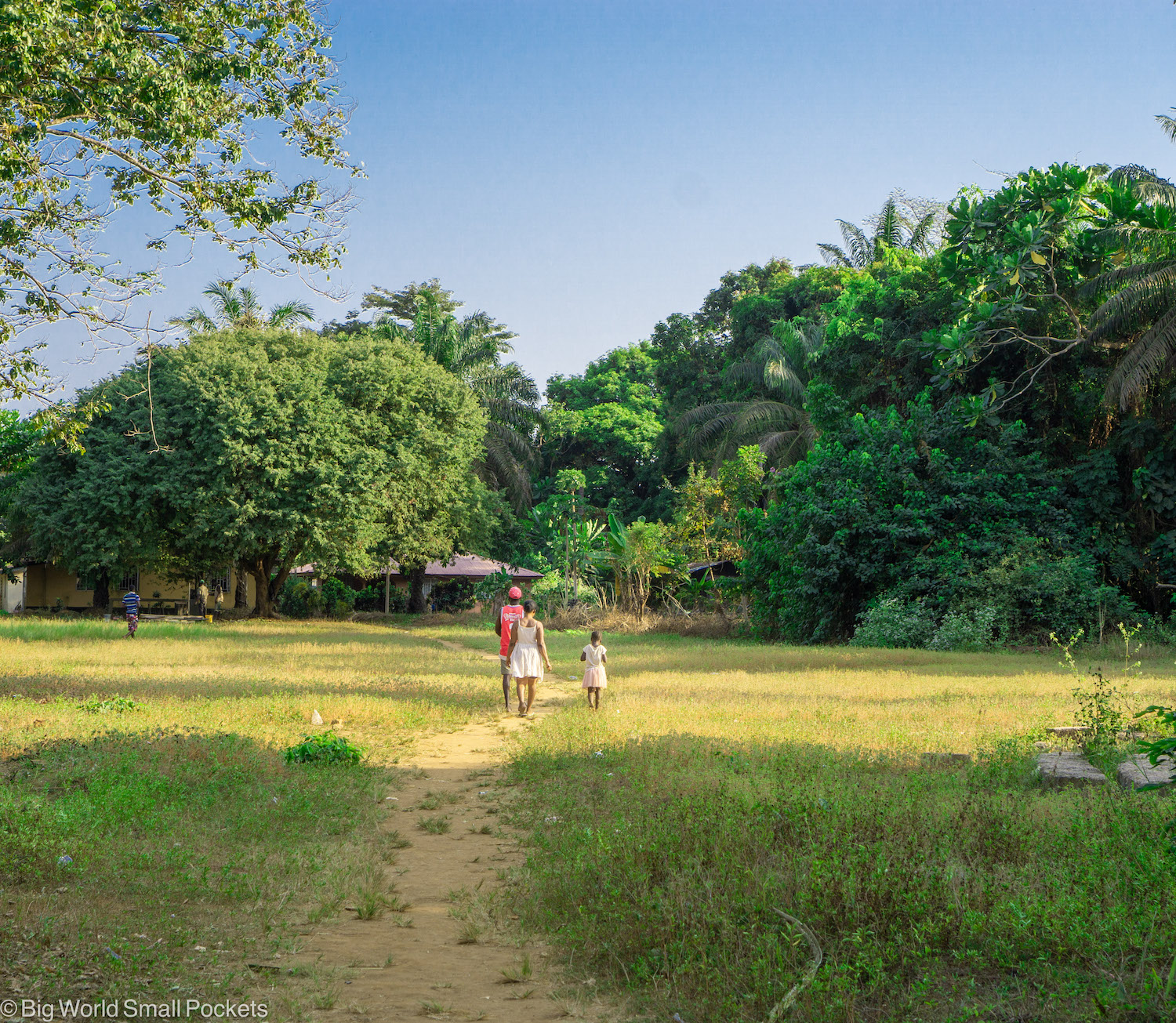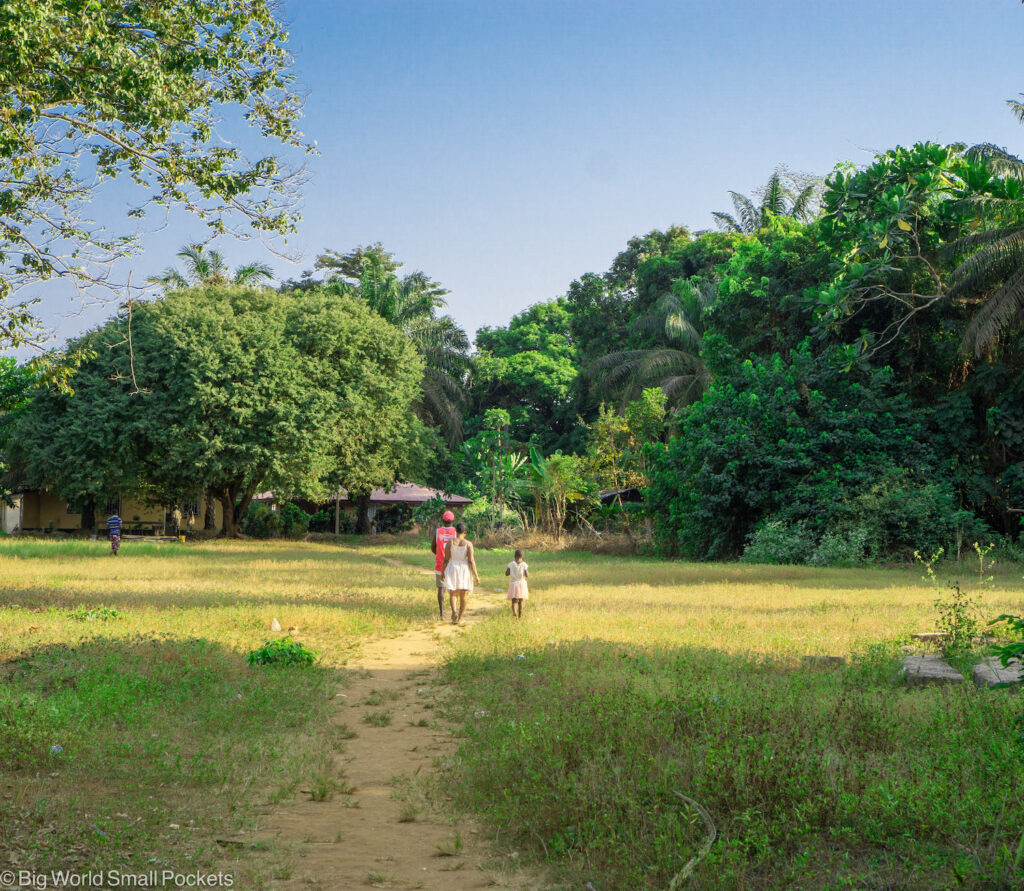 And another great island that lies off the coast of the Freetown Peninsula is Banana Island.
Actually an archipelago of 3 islands, the largest is Dublin, which is where most of the tourist services are.
And by tourist services I mean some simple accommodation options, a tiny village and a beach where simple boats that bring you to the island pull up!
But trust me, this place really is an amazing off-grid spot just waiting to be discovered.
Snorkelling, diving and kayaking are all on offer from some of the coastal accommodation options here and, of course, there's delicious fish to eat and beaches to enjoy!
Learn more in this guide I wrote to visiting Banana Island.
#8 Visit York & the Boma Gardens Project
To get to Banana Island, you usually have to take a boat from a town called Kent.
Yes – there's a lot of hangovers from the British colonial rule here.
And another place close to Kent, in Sierra Leone terms, is York.
York's layout and architecture are reminiscent of those in the southern states of the US States – a testament to the early settlers who began a new life here in the 19th century.
During World War II, Sierra Leone's royal family were stationed in the community and the "King Yard" is still here.
And not far from York is a great community project that's well worth a visit.
Boma Garden run music and dance workshops with local children and visiting this project to see the amazing work being done and support this initiative is sure to be one of the most rewarding this to do in Sierra Leone.
Learn more via Boma Garden's Facebook page here.
#9 Surf at Bureh Beach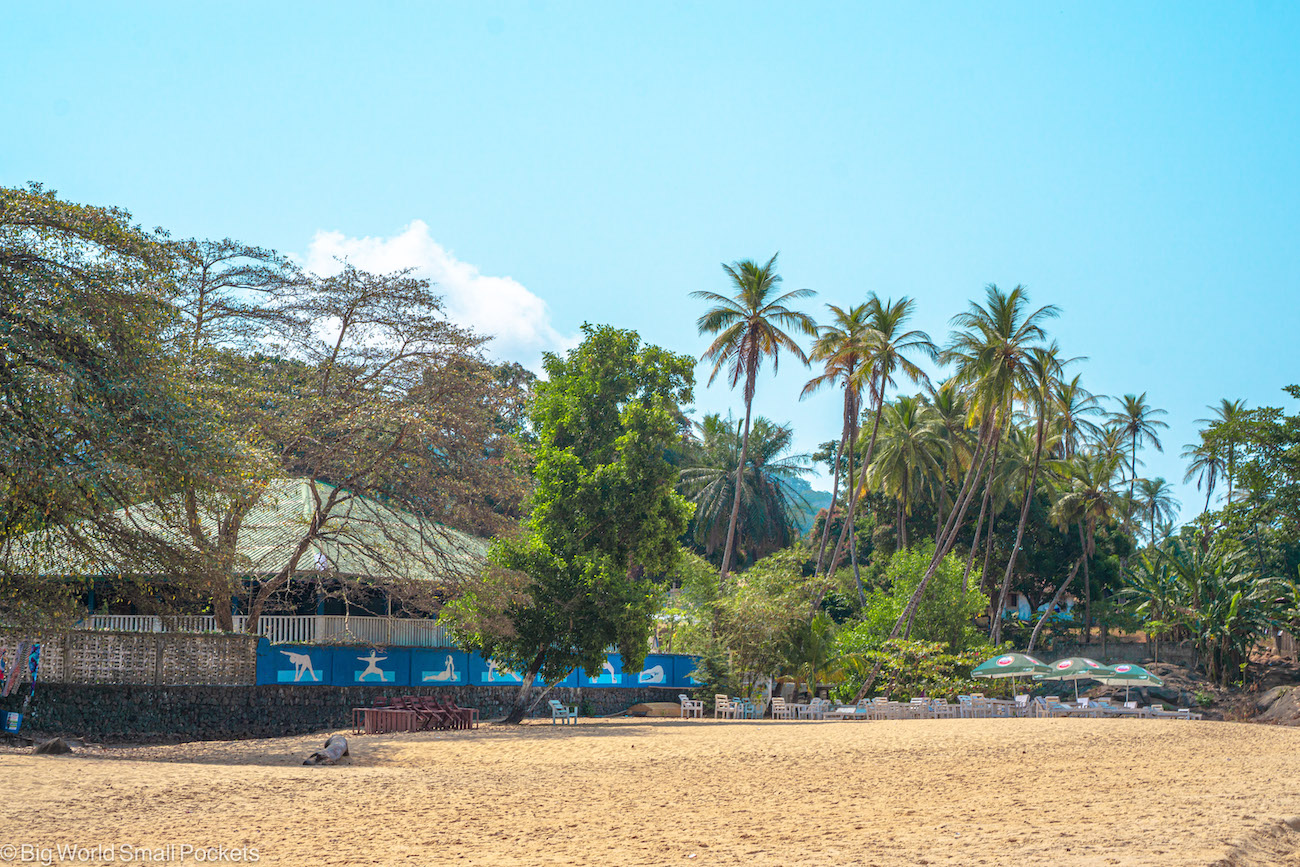 And not far from York and the Boma Garden project is the great backpacker hang-out spot of Bureh Beach.
Another of Sierra Leone's top beaches, this gorgeous sandy spot has some simple lodgings with local beachside restaurants.
Those on long West African overland journeys often stop here and chill out for a few days learning to surf and enjoying yoga classes amidst the beautiful surroundings.
#10 See Pygmy Hippos at Tiwai Island
But if it's wildlife you want to spot in Sierra Leone, then one place you have to head for is Tiwai Island.
It's best to take a tour to get here, as this will include your transport to the islands around the Tiwai Wildlife Sanctuary.
As no one on Tiwai itself, except a small research team, it's in nearby mainland villages that you'll find accommodation (mostly camping) and food options.
You can then take a boat to the island to explore the amazing scenery here and to hopefully spot the unique pygmy hippos that call this place home!
Hiking is also available on the island, with the chance to spot a ton of amazing butterflies, monkeys and birds (including hornbills that sound like helicopters!), as well as to admire the lush tropical landscape.
#11 Explore Gola Rainforest National Park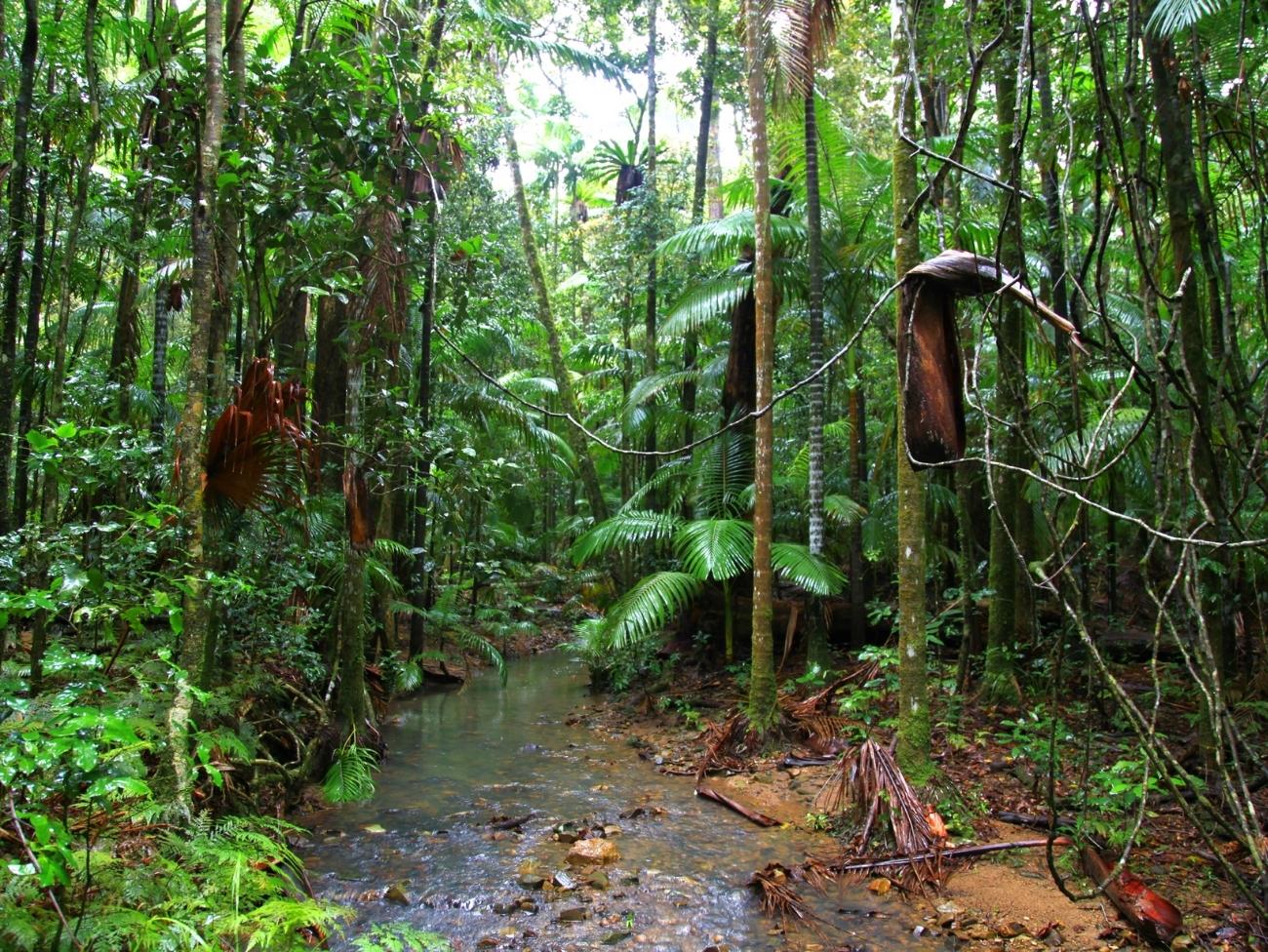 And located close to Tiwai Island is the fantastic Gola Rainforest National Park – another must see place in Sierra Leone.
If you missed the pygmy hippos in Tiwai, Gola provides your second chance to see them, as well as spot Colobus monkeys, birds (including the rare picathartes), reptiles and creepy crawlies.
Staying with locals in simple accommodation within the park is the only option here, but it's a real adventure for those who aren't scared to rough it a little.
You can also enjoy simple local food cooked by the community and enjoy the cultural experiences they showcase too.
#12 Check out Our Closest Relative at the Tacugama Chimpanzee Sanctuary
And if it's more wildlife you're after, or you want to experience a bit more comfort during your time in this country, one of the top things to do in Sierra Leone is to visit the Tacugama Chimpanzee Sanctuary.
Located just outside of Freetown, again this is a perfect half day excursion from the capital.
Time your visit to coincide with one of the daily tours, when you'll be led by an experienced staff member around this rehabilitation project to learn more about the chimps, their lives and behaviours and to get to see them pretty close as well.
An amazing experience, visiting Tacugama is a great way to support this important conservation trust and the work they do to rescue and rehabilitate orphaned and abused chimps.
You can even stay onsite to enjoy hikes and bird watching experiences too if you want to extend your time here.
On the way to Tacugama, don't miss the epic Leicester Peak lookout which gives amazing views over the whole of Freetown.
Learn more about visiting the Tacugama Chimpanzee Sanctuary in this post I wrote all about it.
#13 Spot Elepants in Outamba-Kilimi National Park
And back to the national parks we go on this list of the top things to do in Sierra Leone, because if you're keen to explore further inland in this country, the Outamba-Kilimi National Park shouldn't be missed.
One of the country's top safari spots, and the first national park in Sierra Leone, you can again see monkeys (10 species including chimpanzees), hippos, birds and even potentially elephants in this epic spot.
Sadly the elephant numbers are in decline due to illegal hunting, but there is now an ongoing project to try and eradicate poaching and logging here.
Enjoy a safari along the river here, camp under the stars and relish visiting a place few visitors get to.
#14 Climb a Mountain
And if it's off the beaten track you want (which in a country like Sierra Leone says quite a lot!), then the perfect thing to do is climb one of this country's mountains.
A great option is Pickett Hills, which can be enjoyed as a day trip from Freetown.
A 7 hour return, this hike offers amazing views of the whole peninsula.
Alternatively, the Kangari Hills is another option from Freetown.
An 8 hour drive from the capital, this is an overnight trip, where camping is available on the mountain to help you enjoy it for longer
Another option is the Walla Walla Mountain near the town of Kabala.
This 1.5 hour return hike offers lovely views of the town and the high agricultural landscape of the surrounding altitude area.
And finally, Bintumani Mountain, also known as Loma Mountain, is the highest mountain in West Africa.
This 2 day hike involves an overnight camp on the side of the mountain (where it gets seriously cold btw!) and lots of scrabbling as well as steep inclines, so is not for the faint-hearted!
Only suitable for experienced, fit and healthy hikers, buffalo can sometimes be spotted on the ascent here.
#15 Discover the Turtle Islands
And finally, we come to Sierra Leone's remote paradise – the Turtle Islands.
A 4 hour speedboat from Freetown, you need a longer trip to really justify the trip out here, but take the plunge and you'll be rewarded with amazing tropical islands, largely untouched by tourism.
You can also access these islands from Banana Island, but be aware you'll have to take everything with you, including camping gear, water and food.
There's no electricity and no running water, but brave this gorgeous place and you'll have an amazing time with warm locals and fabulous nights sleeping under the stars.
How to Spend 7 Days in Sierra Leone
Day 1: Explore Freetown including the museums and cultural attractions. Visit Tacugama Chimpanzee Sanctuary.
Day 2: Day trip to Bunce and Tasso Island
Day 3: Head to Banana Islands
Day 4 & 5: Visit Tiwai Island & Gola National Park
Day 6: Visit York and Bureh Beach for surf lessons or hiking adventures
Day 7: Hit up Tokeh and No 2 Beaches
Mini Travel Guide to Sierra Leone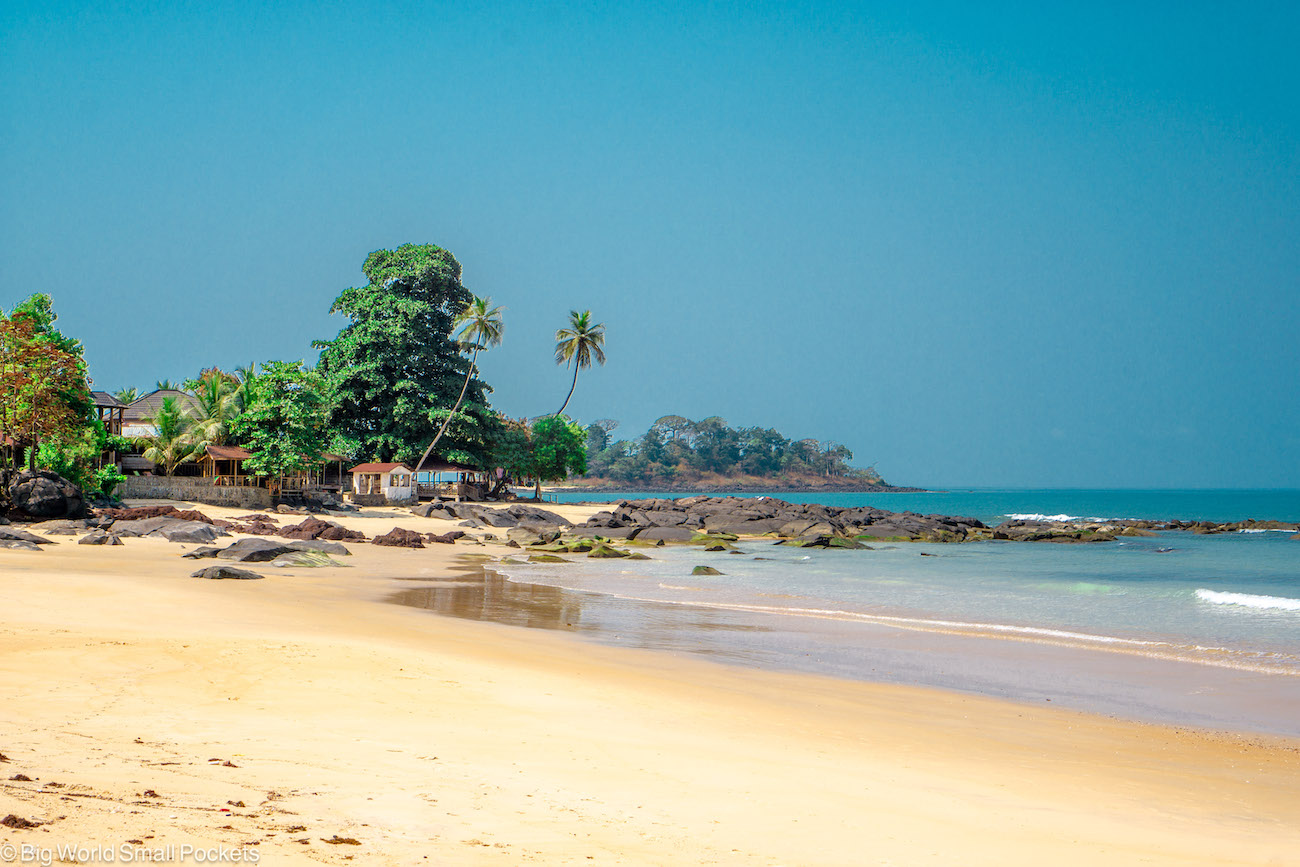 How Long to Visit For?
1 week is a good amount of time to see a lot that Sierra Leone has to offer, including Freetown, the surrounding beaches and islands, plus some of the nearby wildlife destinations too, such as Tiwai Island.
When to Visit?
The best time to visit Sierra Leone is between December and February.
Check out this full guide I wrote to this country's weather and climate.
How to Get There?
Most travellers arrive into Sierra Leone via the capital's international airport.
Flights from Europe are direct with Brussels Airways and Air France, or via Casablanca with Royal Air Maroc.
Kenya Airways and Turkish Airlines also operate flights here from other destinations.
As always I use Skyscanner to find the best prices.
To get from the airport to central Freetown, it's then best to take the ferry service, which is timed to run with arriving flights.
Sea Bird Express are the main operator and tickets cost $45 USD.
The ticket office is located outside the airport, just across the street from the arrivals hall.
Learn more in this post I wrote all about arriving into Sierra Leone's airport.
How to Get Around?
It's best to get around Sierra Leone care of a tour company or an arranged driver.
Visit Sierra Leone can help with both, including visits to explore Freetown and trips to Banana Island.
Travel Insurance for Sierra Leone
World Nomads offers simple and flexible travel insurance. Buy at home or while travelling and claim online from anywhere in the world.
Alternatively, if you're a long-term traveller, digital nomad or frequent remote worker seeking travel health cover, check out Safetywing's Nomad Insurance policies.
Travel Money in Sierra Leone
Cash is king in Sierra Leone, so I advise bringing lots of USD, Euros or Pound Sterling with you, which can then be exchanged in banks or on the street in Freetown.
Don't rely on ATMs, even in the capital, as many don't work and cash withdrawals are limited.
Paying by card in this country is really only available in top-end hotels, restaurants and bars.
On the occasion that you can pay by card (and as a good backup option generally when you travel), I highly recommend a Wise card.
The easy way to spend abroad with real exchange rates and no sneaky transaction fees, I never go anywhere without mine these days. Sign up to get yours here.
Travel Health
You need a Yellow Fever certificate, as well as a Covid-19 vaccination certificate to be granted entry to Sierra Leone.
Bring paper copies of both to show officials at your point of entry.
Always consult a health practitioner before you travel to West Africa. They will advise you about other recommended vaccinations to get ahead of your trip, as well as about any anti-malaria medication you may need.
Where to Travel After Sierra Leone?
After Sierra Leone, I travelled north to Senegal.
Learn more about travelling with fantastic West African country here.
PIN IT TO PINTEREST!
That's my guide to the 15 best things to do in Sierra Leone.
Are you planning to head to this amazing west African country?
Have any more questions about it?
Then don't hesitate to drop them in the comments box below and I'll get back to you…