Before I travelled to Sierra Leone, it suddenly dawned on me that this might just be the first country I've ever visited that not a single other person I know has been to!
Even when I visited Ethiopia and Sudan, I knew people who had gone before me, but Sierra Leone, well it had me pulling a blank!
And it's hardly surprising…
I've read a stat that the country (which is the 6th poorest in the world when measured by Gross National Income) only receives 200 tourists a month.
If this is true, it's crazy – not only because it's so low, but because Sierra Leone should be getting more.
With a glorious coastline that ranks among the best in Africa, friendly locals, a fascinating history and some excellent wildlife spotting areas, travelling Sierra Leone is one heck of a ride.
So if you're going to make the plunge, here are 21 things I think you need to know before you head there…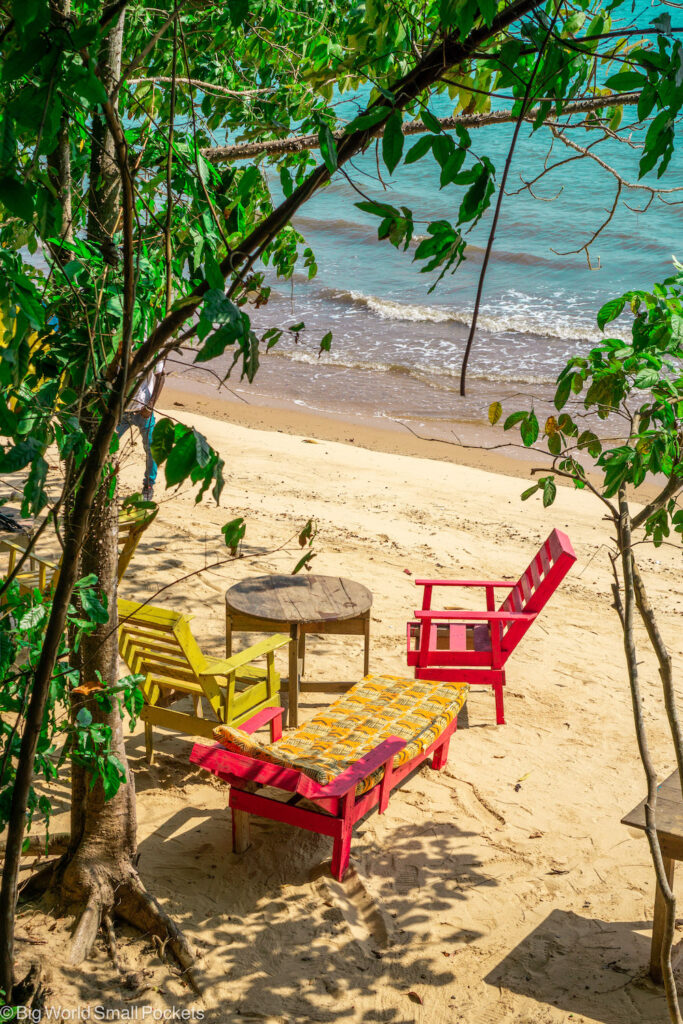 ---
Related Posts
---
My trip to Sierra Leone was sponsored by the Sierra Leone National Tourist Board, but as always, all views are my own.
This page contains affiliate links meaning Big World Small Pockets may receive a small commission on any purchases at no extra cost to you.
---
#1 When to Go?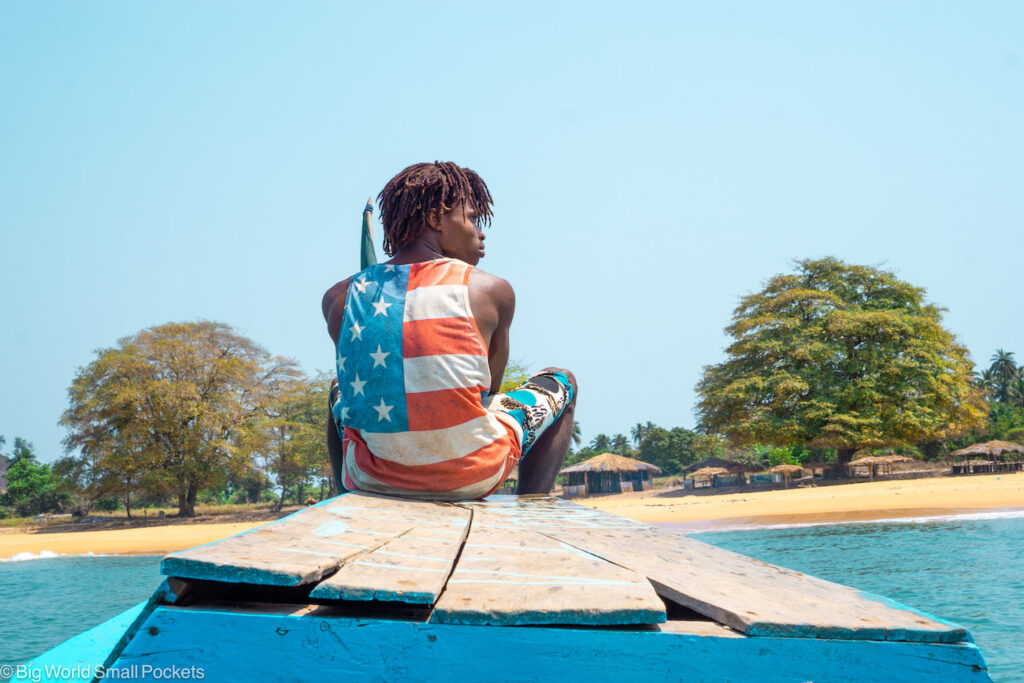 Knowing the best time to travel Sierra Leone is absolutely key in ensuring you have the best time possible in this off-the-beaten-track destination.
Because visit in the wrong season, and you could find yourself constantly facing tropical downpours, flooding, landslides, a barrage of mosquitoes, inaccessible roads and island closures.
Doesn't sound that appealing, right?
So trust me on this one, the time to travel Sierra Leone is during the country's dry winter season, which runs between December and February.
Even though it's winter, temperatures are still in their mid-twenties at this time and the dry, warm, sunny days are perfect for seeing the country's beaches and cities at their best.
Learn more in this full guide I wrote to Sierra Leone's weather and climate.
#2 How to Get There?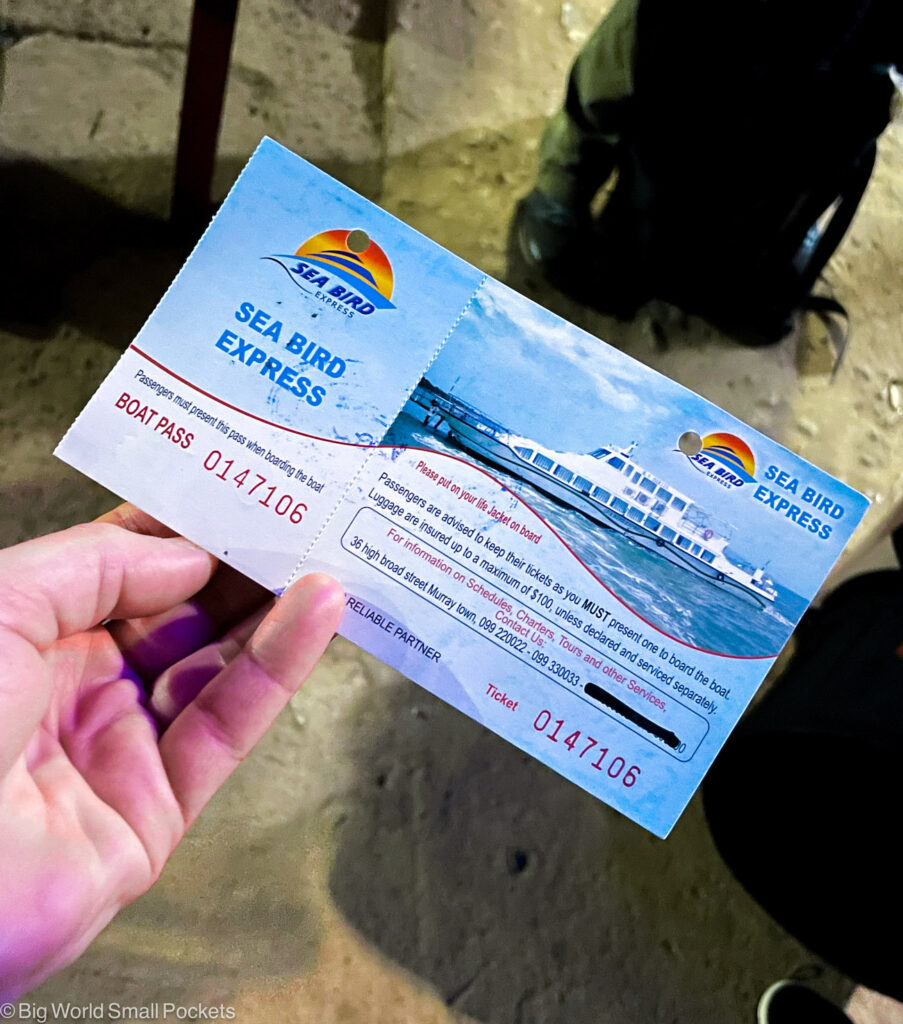 If you're travelling to Sierra Leone from Europe, then you'll be glad to know it's just a 6 hour flight down to this west African country and that, from the UK at least, there's no time difference either… incredible!
Brussels Airlines and Air France fly direct from their relevant capitals, otherwise Royal Air Marco services many of the other European capitals with a stopover in Casablanca.
These are normally night flights, so be prepared for some pretty unsociable flight times if you're heading to Sierra Leone from Europe.
The advantage is that you get a full day both when you arrive and leave the country.
If you have a One World Alliance frequent flyer card (which includes British Airways and Iberia), then it's also good to know you can get points when you fly with Royal Air Maroc and Air France too.
Otherwise, if you're coming from other countries, both Kenya Airways and Turkish Airlines fly to Sierra Leone too and, from elsewhere in west Africa, there are connections to Dakar, Accra and Lagos.
As always, no matter where I'm flying to or from, I use Skyscanner to find the best prices on flight tickets.
For arrivals coming overland from Guinea – it is possible to travel from Conakry to Freetown in a long day.
Freetown to Monrovia in Liberia normally takes 2 days.
As always, check borders are open before you start this journey.
#3 How Long to Stay There?
Next we come to the question about how long to spend travelling Sierra Leone?
There's so many variables involved here, but generally speaking, I think 1 week is a good amount of time to see the country's main highlights.
It's worth bearing in mind that Sierra Leone is not always the most relaxing country to travel in – West Africa isn't for the faint-hearted! – so, after a week, you may be ready for some creature comforts!
See point #14 in this article for the perfect week long itinerary that takes in all the country's top spots.
#4 Visa Requirements
One of the reasons West Africa is one of the least visited regions in the world by tourists, is often because the visa requirements for so many of its countries are anything but straightforward.
Thankfully Sierra Leone has recently made things a little easier, with visas on arrival now being granted to some passport holders, including British ones.
If you're British, visas on arrival cost $80 USD – best paid in cash, of course!
For all other passport holders, please check your relevant foreign office websites to see your visa requirements for Sierra Leone – there's likely to be some, so it's best to get prepared at least a month before your date of arrival, as things don't always move the fastest in this part of the world!
If you're not arriving by air, but travelling to Sierra Leone overland, then again please check if visas can be offered on arrival at land borders, or only at the airport.
#5 Arrival & Departure Security Tax
In addition to a visa, if you're arriving into Sierra Leone's airport, you'll also need to pay a $25 USD airport security tax.
This can be paid online in advance of your arrival – if you're travelling here with a tour group, they'll likely organise it for you, although do check.
Once paid for online, you'll receive a text message confirmation with a transaction number, your passport number and your flight date.
Ensure you have this to hand, as you'll need to show it to the authorities at the airport in order to pass immigration.
The airport security tax can also be paid in USD cash at the airport itself.
Another airport security tax then also needs to be paid, via the same methods, when departing from the airport too.
#6 Registration
And the list goes on…
You also need to register with the government of Sierra Leone for your arrival in the country.
To be fair, this isn't complicated and takes just 5 minutes, but should not be forgotten!
You can complete the registration online here.
#7 Vaccinations & Malaria
And the last thing you need to ensure you have to enter Sierra Leone is both a Yellow Fever vaccination and a Covid-19 vaccination.
You'll need to show official proof of both to enter the country, so do bring printed copies of these certificates.
#8 General Travel Health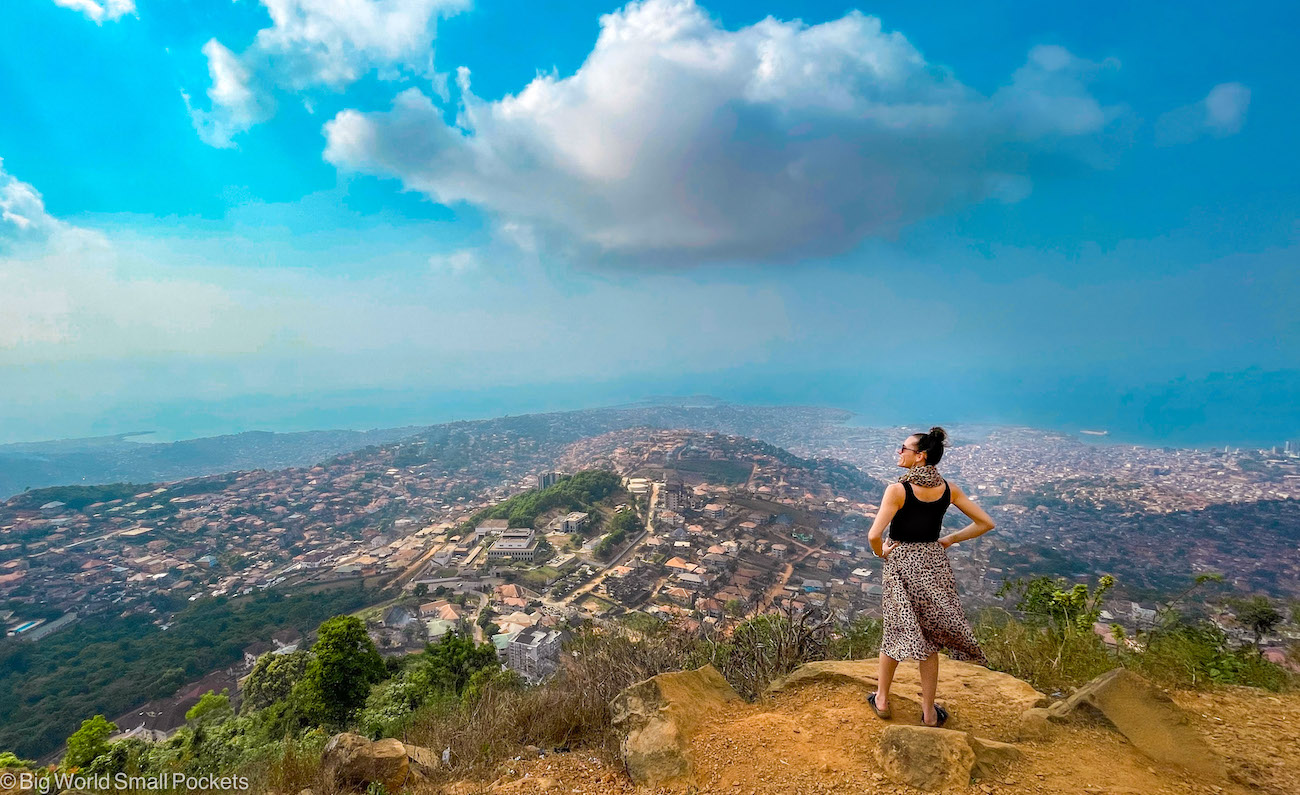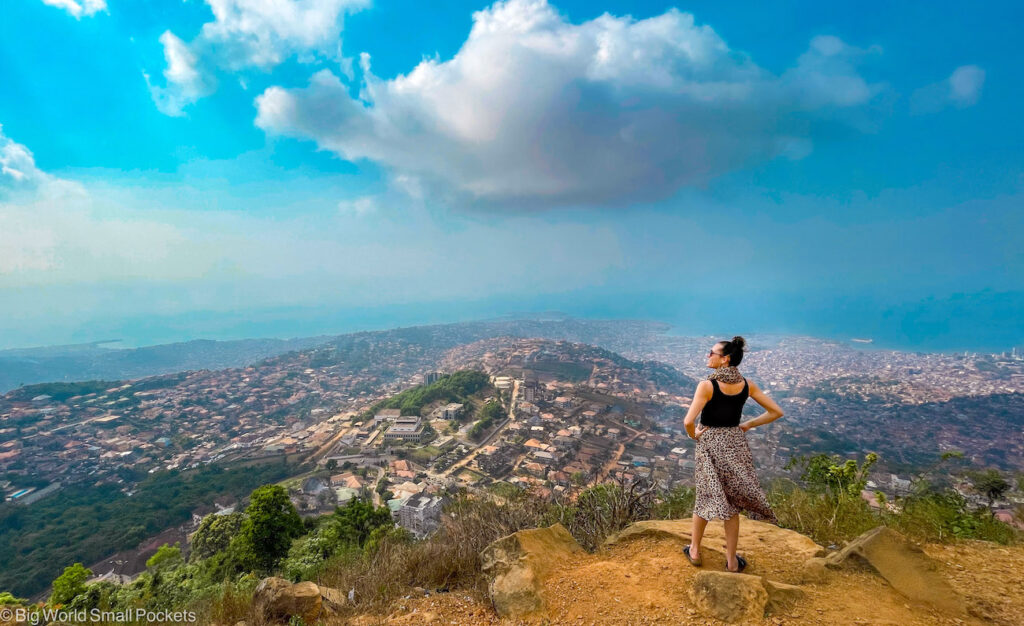 But it's not just Yellow Fever and Covid-19 you need to consider when you travel Sierra Leone, as this country is not without other health risks too.
Always consult a medical practitioner at least 6 weeks before your intended date of arrival and check if you need any vaccinations or boosters (such typhoid), as well as malarial medication.
#9 What to Pack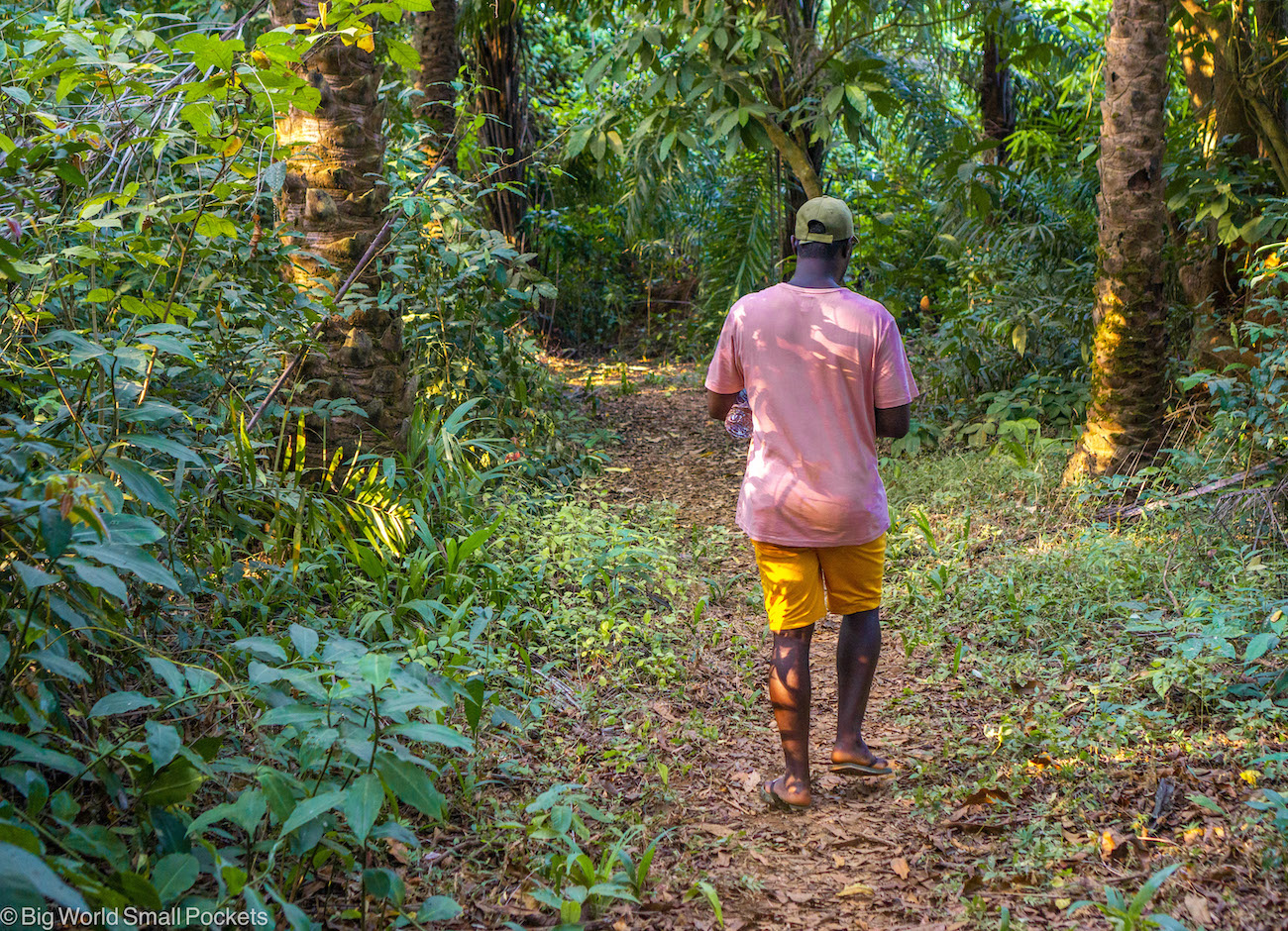 I've written a specific Sierra Leone packing list, which details everything you need to bring for a 7 day trip to this country.
Otherwise, here's the top 5 items you shouldn't forget…
#10 Currency & Money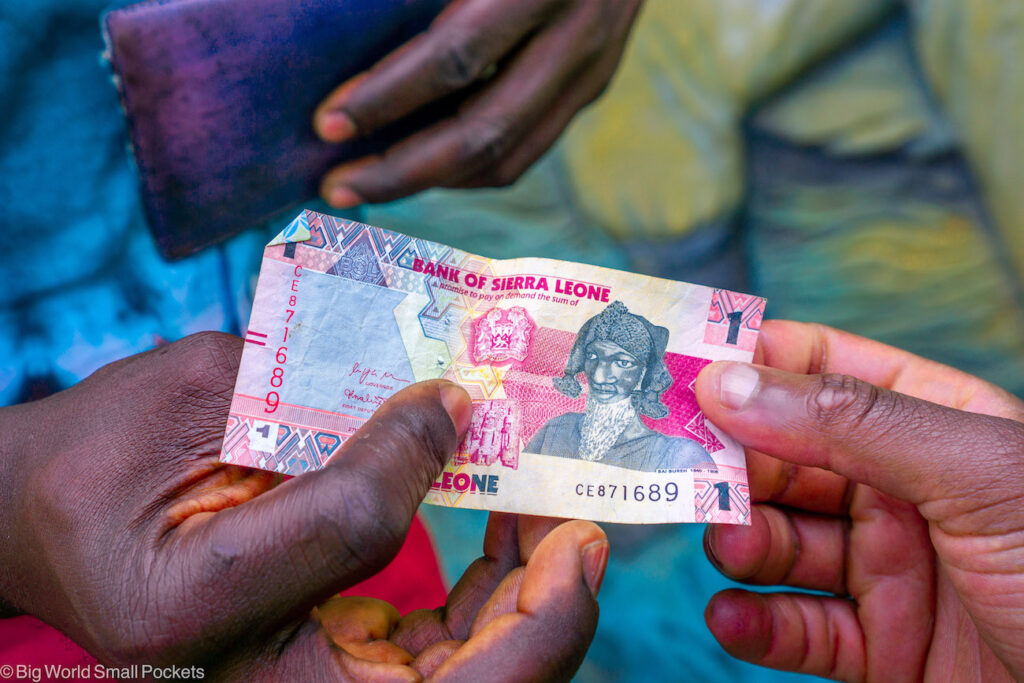 The currency in Sierra Leone is the Leones (Le).
Recently, to try and curb the high rate of inflation in the country, the national bank confusingly knocked 2 zeros off the currency and issued a set of new notes to match.
At the time of writing, both the new and old notes were in circulation in Sierra Leone, which made things very confusing indeed!
When I travelled to Sierra Leone, the following conversion rates were accurate…
1€ = 2000 old Leones / 20 new Leones
£1 = 2200 old Leones / 22 new Leones
$1 USD = 1900 old Leones / 19 new Leones
Notes come in various denominations and various states of disintegration!
For the best rates, change cash on the black market in Freetown, otherwise head to the banks for less palatable rates.
ATMs do exist in Freetown, but are often out of use or have no money left in them.
Even if you do find one that works and has money, you're still very limited as to the amount you can withdraw.
As such, I highly suggest bringing all the cash you think you might need, to Sierra Leone.
USD or Euros tend to get you the best conversion rates.
Paying by card is really only available at western style hotels and restaurants in the city for tour companies and flights – another reason cash is king here.
For a back up however, and for the times you can pay on card, I highly recommend bringing a Wise card with you.
The easy way to spend abroad with real exchange rates, no markups and no sneaky transaction fees, you can use your Wise card just like a debit card in Sierra Leone… and it links easily with Google and Apple pay – sold!
Sign up to get yours here.
#11 Wifi & SIM Card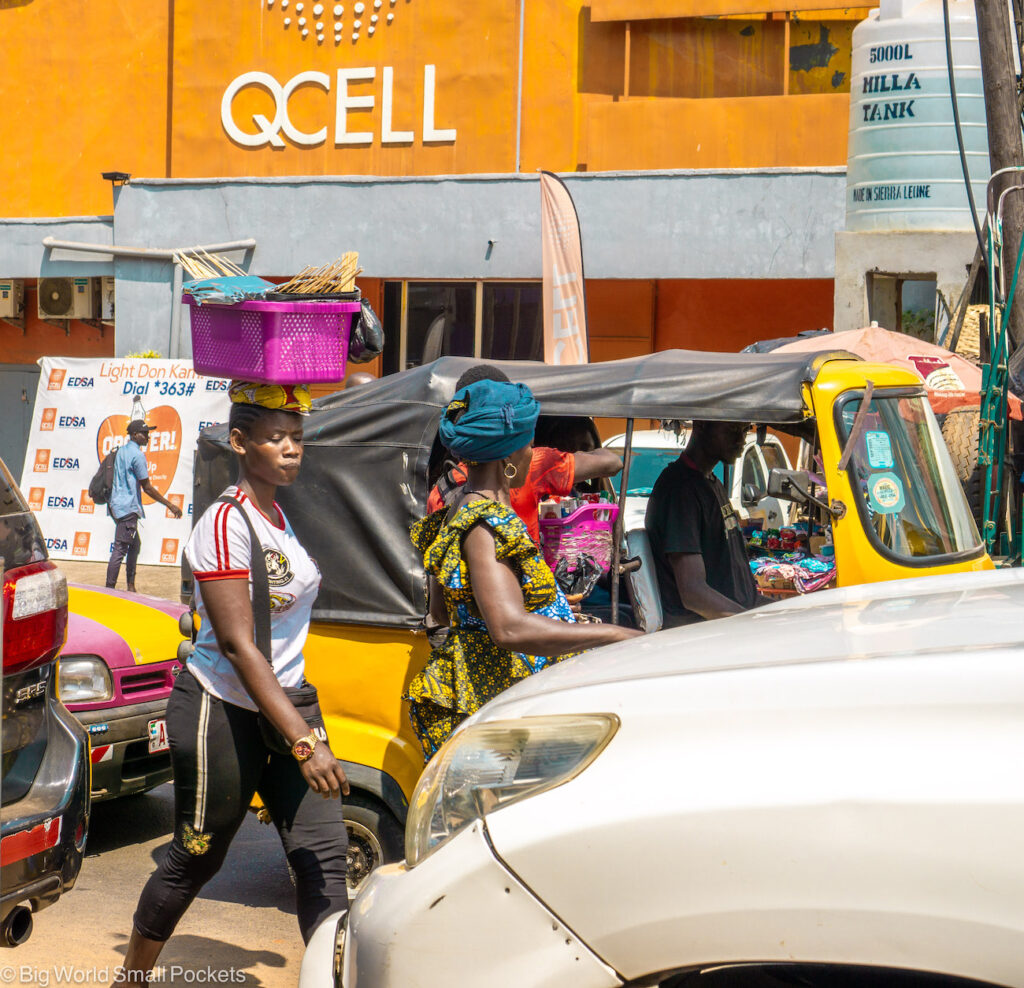 As you may expect, wifi is patchy at best in Sierra Leone, especially when so much of the country doesn't have access to the national grid and therefore relies on power supplied by diesel-fuelled generators – mostly in the night for fan-assisted sleeping and light.
Freetown is going to give you the best chance of wifi connection and most western hotels and restaurants have it, although speeds vary!
Otherwise, it's best to get a SIM card in Sierra Leone. Africell is the predominant provider and offers 4G.
Pick up a SIM card in Freetown – a fixer will be best placed to help you with this and with money exchange on the black market.
#12 Getting Around Sierra Leone?
Local minibuses, known as poda poda, offer thrilling(!) rides around Sierra Leone, as do local pirogue boat rides, which locals rely on to get to their island homes.
However, it's not always easy to get info on these services.
Therefore taking a tour or hiring a driver in Sierra Leone comes highly recommended.
Visit Sierra Leone (VSL) are a great local tour company who operate out of Freetown and offer a range of services.
For short distances, I'd avoid the local motorbike taxis called okada – they are notoriously dangerous, especially when helmets are thin on the ground – and stick to the tuk-tuk services, which are called keke in Sierra Leone.
Most will cost you under a dollar for a short ride around town.
#13 Airport Sea Ferry
The other thing you'll need to know about when it comes to getting around Sierra Leone is how to get from the airport to Freetown because, guess what, this is not as simple as take a taxi!
Instead, the easiest way to get between Freetown and the airport, which is situated in the town of Lungi – on a different peninsula from the capital – is to take a sea ferry.
Learn all you need to know in this article I wrote about arriving in Sierra Leone airport, including where to find the ferry, how much tickets costs, how to buy them and the process of using this service to get to the capital.
#14 Where to Go in Sierra Leone?
Here's a top-line itinerary that I recommend for 7 days in Sierra Leone if you want to see all the highlights in this country…
Day 1: Arrive in Sierra Leone | Explore Bunce Island | Stay Freetown
Day 2: Tour Freetown | Visit the Tacugama Chimpanzee Sanctuary | Stay Freetown
Day 3: Spend a day and night on Banana Island
Day 4-5: Go wildlife spotting at Tiwai Island and stay a night here
Day 6-7: Relax at Bureh / Tokeh / Number 2 Beach | Depart Sierra Leone
#15 Accommodation
There's quite a large range of accommodation available in Sierra Leone, from top-end hotels to camping options.
Bureh Beach is the place to head for the backpacker scene, while Tokeh Beach Resort offers comfortable accommodation for those who want to enjoy the stunning white sands here.
Over on Banana Island, Bafa Resort with its glamping safari tents is my pick of the bunch, while in Freetown, Aberdeen is the place to base yourself.
Check out my recommended list of accommodation in the capital below…
All of these recommended options are situated in the Aberdeen district of Freetown, which is where the sea ferry from the airport arrives into.
This makes getting to your hotel nice and easy.
#16 Food & Drink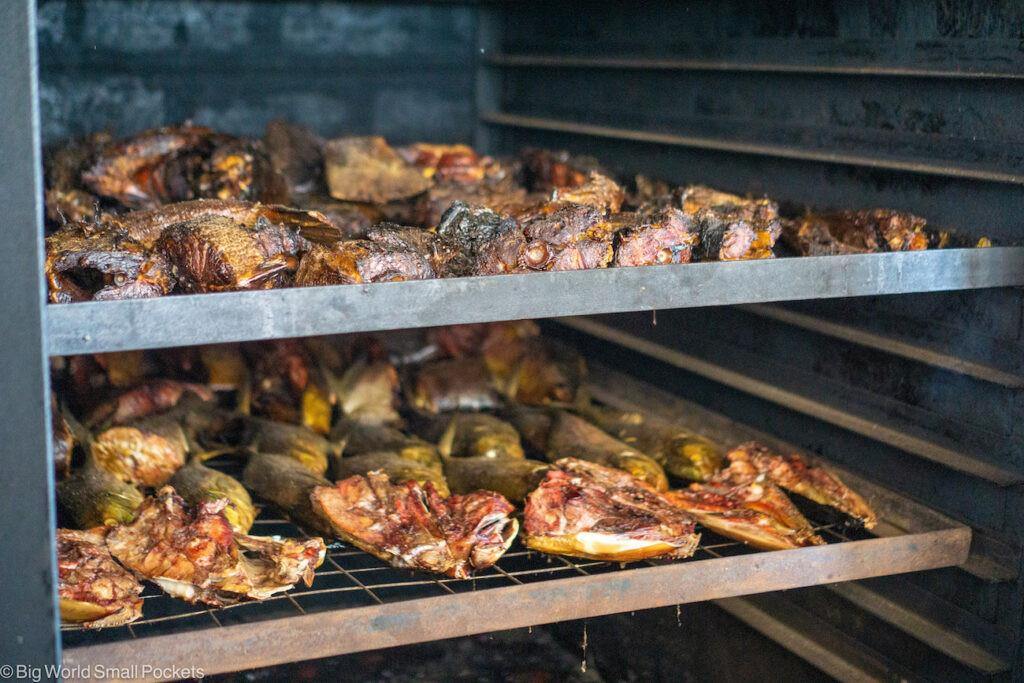 The food of the hour in Sierra Leone has to be fresh fish – from lobster to prawns, crab to barracuda – it's all on offer here and incredibly cheap, fresh and delicious.
Locals supplement this with rice as their main carbohydrate and there's plenty of fresh fruit available, from papaya to bananas, mango, coconuts and oranges too.
Cassava leaf stew is another local delicacy, usually prepared with meat.
For the vegetarians among us, thankfully there's usually a large selection of Lebanese and / or Indian dishes on the menu in more western hotels / bars / cafes thanks to Sierra Leon's 2 main immigrant communities.
As a veggie, I basically lived on hummus and fattoush salad, plus avocadoes in Sierra Leone, which I was very happy about!
#17 Language & Culture
Things in Sierra Leone move at a slow pace!
This is West Africa and the heat and general culture mean practising patience is key when you travel here.
Power cuts will happen, vehicles will break down, things won't run on time and there you'll be a general air of confusion and chaos when viewing life here through a western lens.
The 6th poorest country in the world (as ranked by Gross National Income), the poverty is confronting and visceral, as is the level of corruption and lack of sufficient education and medical services.
Be prepared. It's shocking and saddening. But this is real and raw travel.
The other thing that can be difficult is the lack of water management and the amount of plastic trash you'll see everywhere.
But Sierra Leonians are incredibly vibrant, optimistic and resilient.
A huge swath of the population is young and hopefully, the future looks bright for this fast-developing African nation.
It's filled with abundant resources – from the Atlantic Ocean to the lush tropical rainforest – and the earth is rich with nutrients.
There's 18 recognised ethnic groups across Sierra Leone and 2 dominant religions – Islam and Christianity.
From what I saw, people seem to live harmoniously side by side in a tolerant manner.
Perhaps this is due to the brutal civil war Sierra Leone endured until 2002, when over 50,000 of the population were killed.
#18 History
Learning about the tragic civil war history is a key part of travelling in this country.
As is educating yourself about the horrendous years when deadly Ebola struck this afflicted nation too, starting in 2014.
They were just getting back on their feet and then along came Covid-19.
To say it's been a tough ride for Sierra Leone would be an understatement.
The other dark history chapter that befell this country is that of colonialism and the slave trade – which much of west Africa endured.
UNESCO-listed Bunce Island was a former slave colony and heading there to learn about this horrendous time in Sierra Leone's past, and the role the British played, is a must.
Sierra Leone became independent in 1961, the year that Queen Elizabeth II visited this country for the first and last time.
Sierra Leone remains part of the Commonwealth.
#19 Security & Safety
Sierra Leone is not without its dangers, but don't let these put you off.
Some of these are health-related – malaria is present, HIV is present and tropical diseases such as typhoid and yellow fever can be an issue too.
Get vaccinations and protect yourself when travelling Sierra Leone, always employing common sense and appropriate risk-taking measures.
You'll also want to ensure you stay hydrated in the strong sun and use good sunscreen protection, as well as cover up during the hours of 11am – 3pm when the UV rays are strongest.
Covering up in the evenings and using repellent is also the best way to avoid mosquito bites.
Pickpockets and thefts do occur too of course – there's too great a disparity of wealth for this not to be an issue, so ensure you take a zipped bag where you can keep things safe when walking around.
In your hotel, local up valuables in a cupboard with a key or safety deposit box.
I also used a phone security lanyard when I travelled Sierra Leone and now think it's the best thing since sliced bread and wouldn't be without it!
Get your hands on one here.
Also don't go wandering around anywhere after dark by yourself, especially beaches and unlit or uncrowded streets.
In Freetown be careful of getting lost even during the day and ensure you use a guide or have a decent map to navigate with.
Solo female travellers will likely get a lot of attention, but this can usually be dismissed with a firm but polite, no thank you.
Homosexuality is sadly illegal in Sierra Leone and punishable by law.
Don't display any signs of affection between members of the same sex in public during your time here to avoid any problems.
Take care on the roads – the driving in Sierra Leone can be interesting to say the least! – and when trying to cross any streets.
And when in the sea, never go deep – there are strong currents up and down Sierra Leone's coastline that can be fatal.
World Nomads offers simple and flexible travel insurance. Buy at home or while travelling and claim online from anywhere in the world.
Alternatively, if you're a long-term traveller, digital nomad or frequent remote worker seeking travel health cover, check out Safetywing's Nomad Insurance policies.
#20 Solo Female Travel
Travelling as a solo female westerner in west Africa is not for the faint-hearted, let's put it that way!
However, I've done it, was totally safe and had a great time.
That said, do expect unwanted male attention and some harassment.
Staying firm, calm and polite, as well as not engaging in conversation, is the best way to deal with things.
I wouldn't go out alone after dark as a solo female in Sierra Leone and always take taxis or keke (tuk-tuks) to get around.
Use common sense, don't get drunk, don't accept drugs if offered them and always dress with a respective air.
Generally, long skirts or pants, or 3 quarter length trousers are a good option in towns and cities.
T-Shirts are ok for the top half, but I'd avoid anything too tight or revealing a) because of the heat / humidity and b) because you won't like the attention it draws.
In tourist areas and hotels at the coast, bikinis and shorts are fine to wear, especially if you're with a local guide.
Scarves are also a great option for covering shoulders and chests and can help protect you from the sun too.
#21 Where to Travel After?
After Sierra Leone, there's a huge opportunity for more exciting and adventurous travel across west Africa more broadly.
2 popular options are Senegal and The Gambia because, for many passport holders from Europe, these countries don't require visas for entry and you can fly to both these countries from Sierra Leone airport
Learn more about my travels in Senegal here and my travels in The Gambia here.
PIN IT TO PINTEREST!
So there you have it, the 21 things you need to know before you travel Sierra Leone.
I hope this article has proved helpful in planning your trip to this fantastic west African nation.
If you do have any more questions, then don't hesitate to drop them in the comments box below and I'll get back to you…