Honestly, before I visited Sierra Leone, I didn't have a clue what to pack or wear for this country!
And that's given the fact that I'd already travelled extensively through Southern, Eastern and North Africa before.
But honestly, what do you wear to one of the least travelled and most economically under developed nations on the planet – a region where it's often hot and humid – not to mention windy, and where the predominant religion is Islam.
Add in the fact that you're a white, western woman travelling solo, and you have limited space in your backpack and, if you're anything like me, you've got yourself into a right panic!
But fear not, fellow intrepid travellers, I have now safely and successfully travelled in Sierra Leone and have definitely come out of my time there knowing the best items to pack and wear for this country, including as a solo female traveller.
So if you're heading off to this Sierra Leone soon, here's my tried and tested list of exactly what needs to go in your luggage to ensure you have an incredible time here too.
I'll start the article with some basic top-line advice about what to wear and expect, and then will move on to a complete item-by-item packing list.
So no need to worry, I've got you covered!
---
Related Posts
---
My trip to Sierra Leone was sponsored by the Sierra Leone National Tourist Board, but as always, all views are my own.
This page contains affiliate links meaning Big World Small Pockets may receive a small commission on any purchases at no extra cost to you.
---
Packing for the Sierra Leone Climate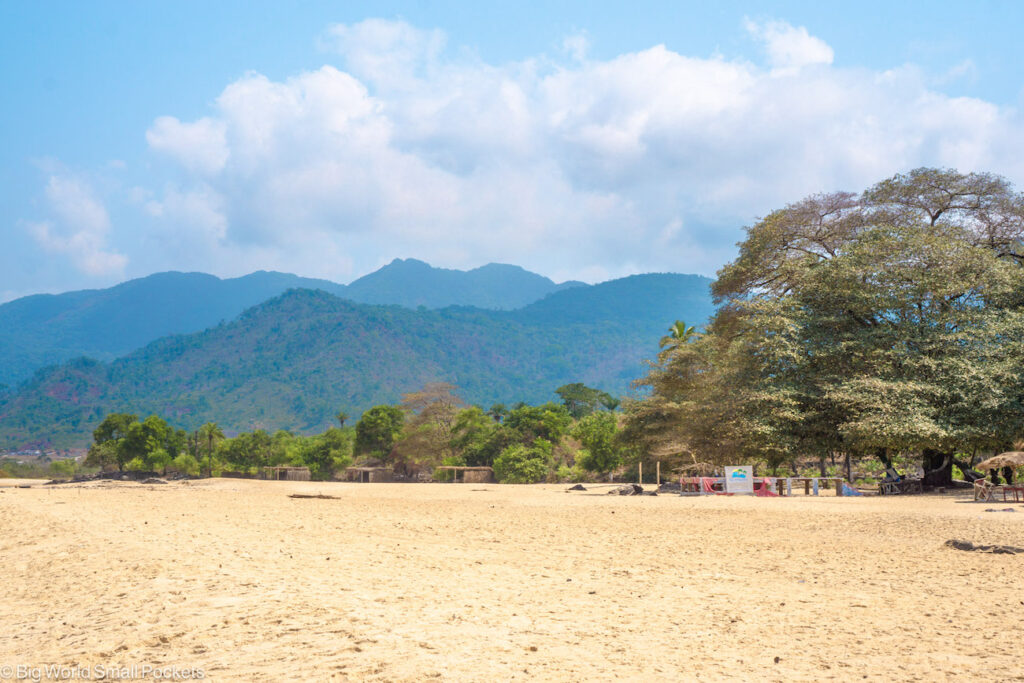 So the first thing to consider when trying to decide what to pack and wear for your travels in Sierra Leone is to consider the time of year you plan to go there.
This country has 2 main seasons – the dry season and the wet season – and the weather can vary greatly between them.
Learn more in this full guide I wrote to Sierra Leone's weather and climate if you're looking for the full lowdown.
Otherwise, I strongly recommend you visit Sierra Leone during the dry season, which runs from November through to March.
This packing and what-to-wear list will be based on the fact you're travelling in these months, as this is before the "peak" travel season in West Africa and the busiest and best time to visit this region.
Although caveat here: we're talking about West Africa here, so "busy" is really a loose description (erm… Sierra Leone gets about 200 tourists a months sooo…!)
Anywho, the point is that this article about what to wear and pack in Sierra Leone will be based on the idea you're travelling in the dry season between November and March.
If you're not, then definitely take a (including a thin waterproof jacket), some strong insect repellent and some decent, waterproof, sturdy footwear with you!
What to Wear: Sierra Leonean Culture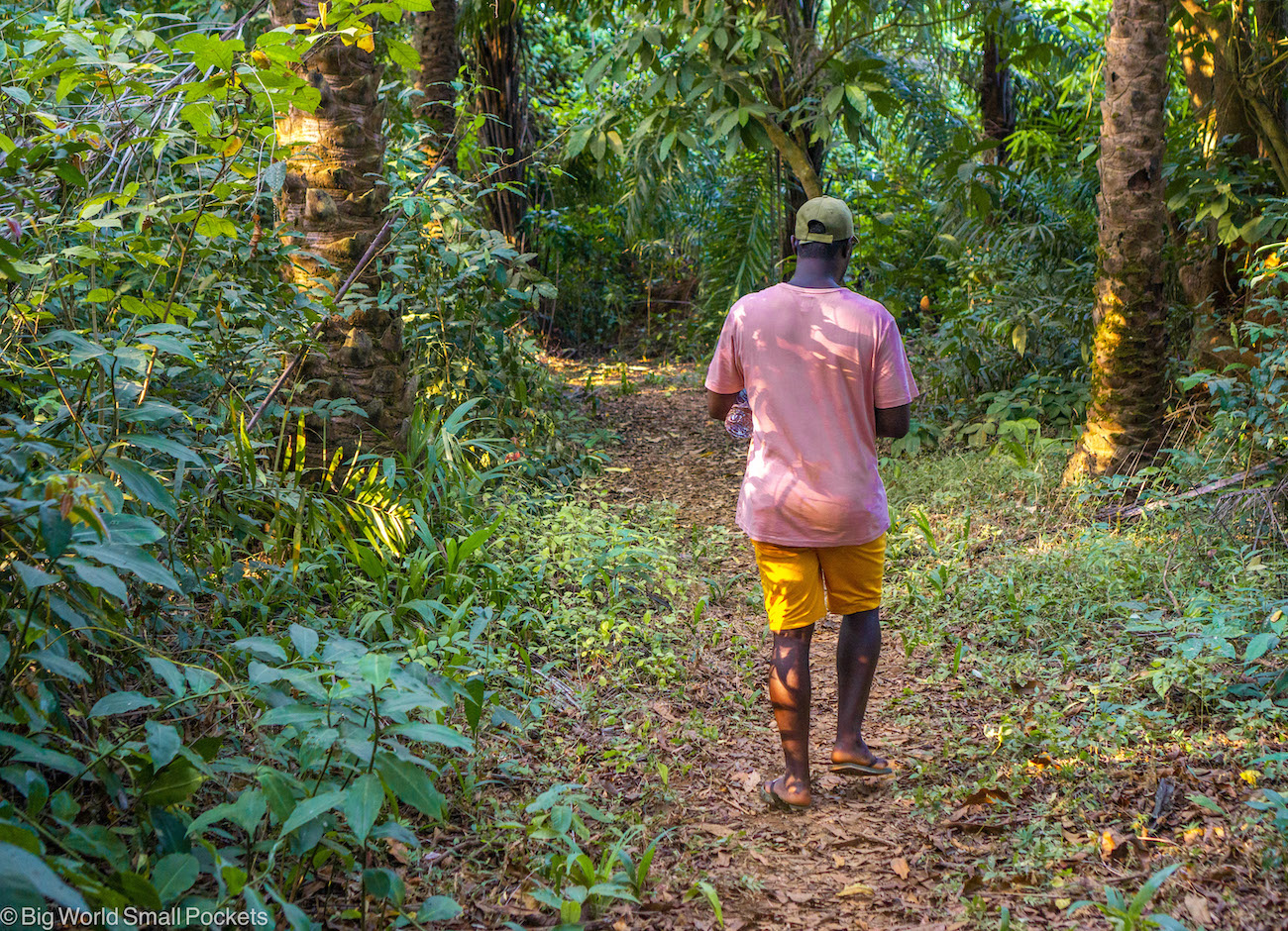 Despite being a religious country, where around 60% of people identify as Muslims and 40% identify as Christians, I found Sierra Leone to be (at least from what I saw) a pretty tolerant and relaxed nation.
Traditional religious dress was pretty thin on the ground here (although, it's worth pointing out I spent most of my time in and around the capital of Freetown, which may have meant things were more liberal) and most local people I saw – that's men and women – were dressed in either casual western clothes or beautiful, bright traditional West African styles – including big dresses and headwraps.
This definitely means you can follow suit as a traveller and wear relaxed western clothes in Sierra Leone too.
The only thing you may not feel comfortable in is shorts or short skirts – essentially anything that exposes above the knee.
I don't recall seeing any local people exposing their legs above the knee – most are in trousers or long skirts – and certainly, if you want to blend in as much as possible in this country's cities and towns, you'd be best placed to do the same.
Throughout my time in Sierra Leone I stuck to long thin trousers that I rolled up to just above the ankles, as well as 3 quarter length loose pants and skirts that extended to my mid shin.
These were great for offering sun protection, keeping cool and dressing modestly.
As well as clothing that exposes the upper thighs, I'd also avoid wearing clothes that expose chests and midriffs in Sierra Leone, as well as anything else considered tight or revealing.
This may be seen as culturally insensitive or vulgar, and will certainly draw more attention to you – which you're unlikely to want quite frankly!
Plus don't forget tight clothing is likely to make you feel hotter too – something you def want to avoid as well!
Where I did expose some of my body in Sierra Leone, was my arms.
I'd brought plenty of T-Shirts with me, incase it was better to cover shoulders, but actually felt very comfortable in singlets – which was great for the heat.
Packing for Days in Cities / Towns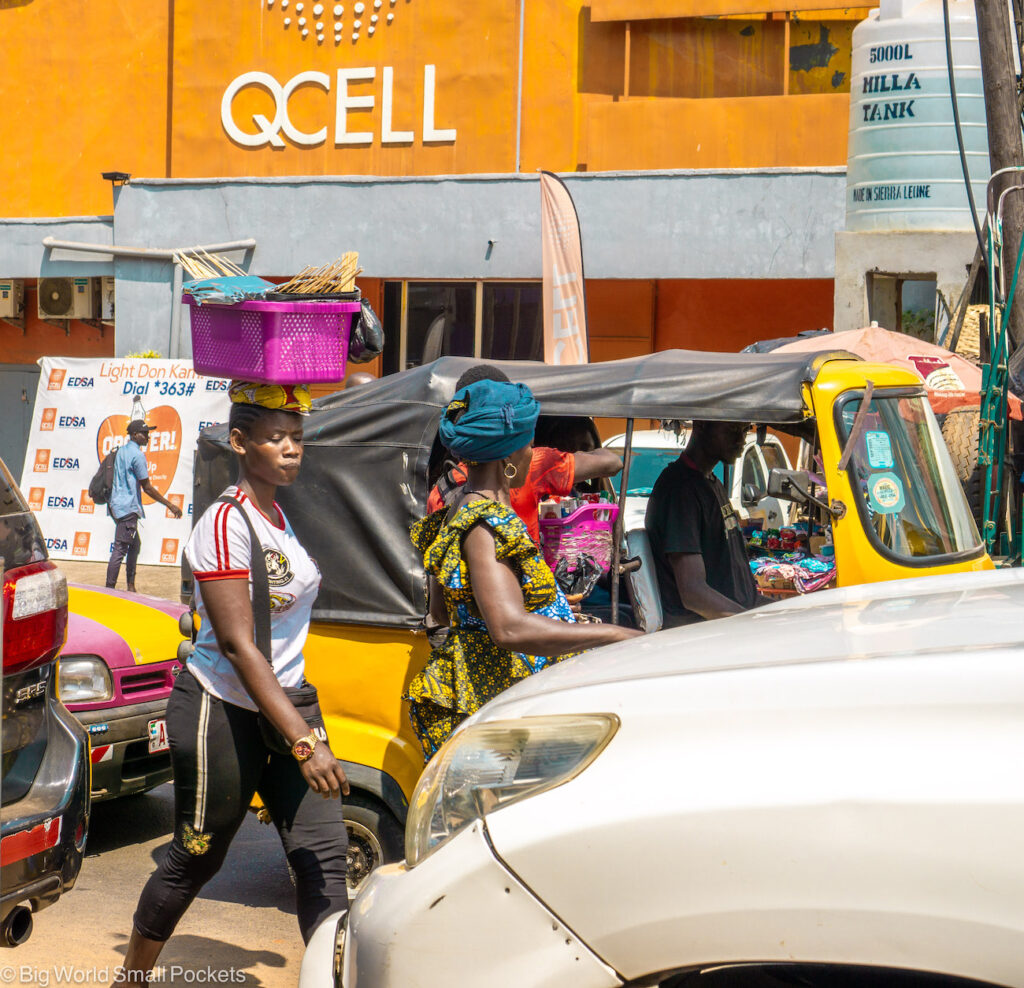 In general in Sierra Leone, I paired my long, loose pants and singlets with a scarf, which covered my chest and shoulders from the sun, as well as potentially my head too.
This worked well across all the cities and towns we visited, because sometimes you may need to cover your head when visiting certain buildings or particular communities, so it pays to be organised!
I'd also advise wearing closed-toe shoes in Sierra Leone cities and towns – streets aren't the cleanest here and there can be a lot of obstacles you risk tripping over.
When it comes to shoes therefore, a pair of light and thin trainers, or runners, is a great option for this country.
My Nike Revolution 6 were brilliant for Sierra Leone and was glad I went for a black pair as they disguised the dirt more!
A daypack or shoulder bag with a zip fastening – like this Osprey number – is also a great idea for wearing around Sierra Leonian towns and cities.
This will allow you to carry water, snacks, your camera, hand sanitiser, wipes, tissues, cash and anything else you might need, securely and easily.
What to Wear at Sierra Leone's Islands / Beaches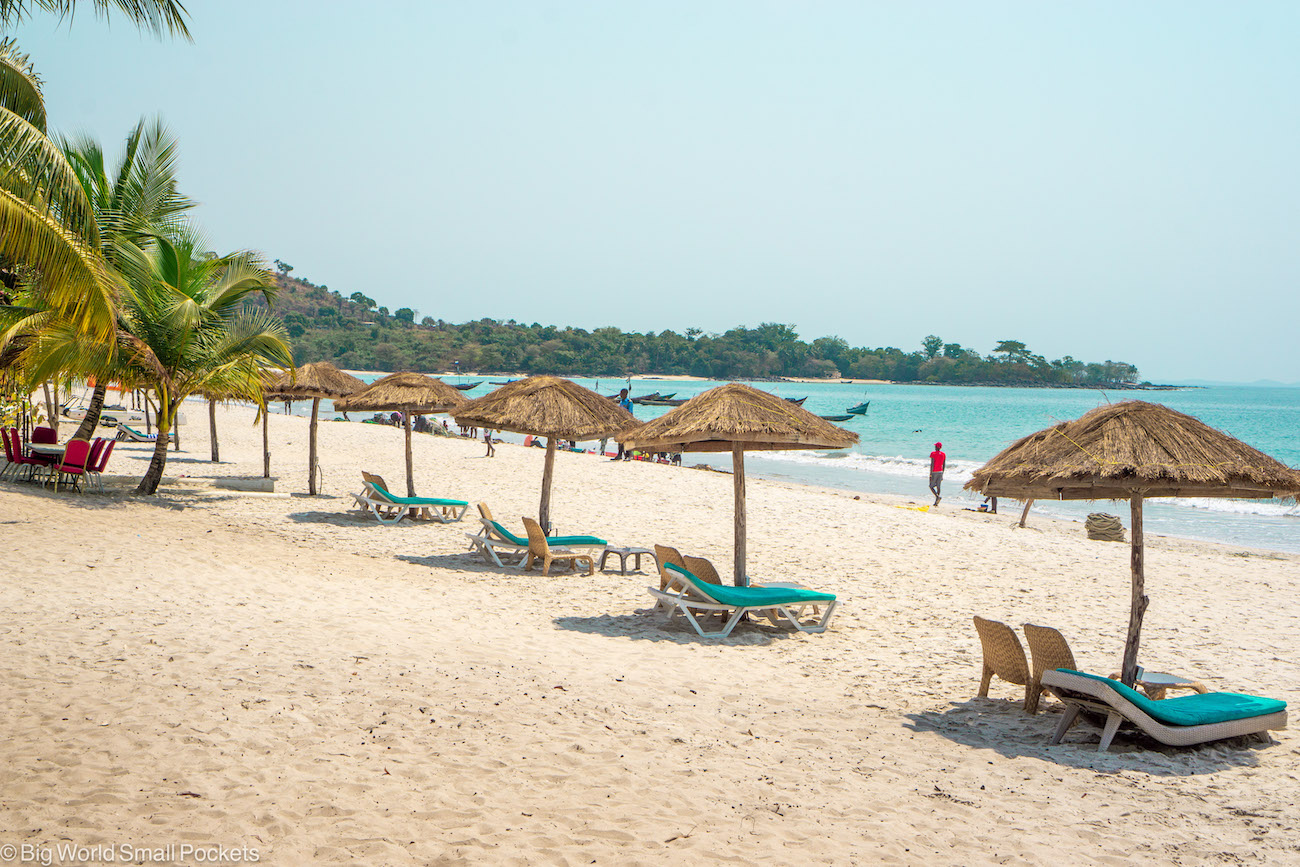 As the most touristy parts of the country and even then, that's not really saying much, things at the beach tend to be very liberal in Sierra Leone, which is great news for those who want to enjoy the sun, sand, sea and even surf!
Because yes, did you know Sierra Leone has some really up-and-coming surf spots, not to mention, some of the world's best beaches? … I know, crazy right!
Given there's quite a few hotels along the coast, and that most people who come here are travellers wanting to relax, locals are generally quite used to visitors being dressed in shorts, small tops and swimsuits.
And this means it's fine for you to do the same.
Ok, so I wouldn't wander along the beach at night by yourself dressed only in shorts – in fact, I wouldn't wander the beach alone at night full stop – but in the day, when you're enjoying the sand and sun, it's totally fine to dress as you would at a European beach.
As always, the travel must-have item of a sarong comes in wonderfully helpful here, and don't forget the sunscreen and a sun hat / cap to keep the UV rays off your face too.
Must Pack Wildlife Spotting Gear
Aside from cities, towns and villages, as well as the beach, the other outfit you might need to think about when you visit Sierra Leone is for wildlife spotting.
One of the top animal spots in West Africa, Sierra Leone is home to some wonderful birdlife, not to mention monkeys, hippos, aardvarks and even crocs!
The best place for wildlife watching in the country – or at least the easiest spot to get to from Freetown – is Tiwai Island, and there's plenty of water-based activities you can try your hand at here when not animal spotting.
The most popular of these is canoe riding, so having some loose, comfortable clothes you don't mind getting wet or dirty would be ideal for these activities.
Again, loose 3 quarter length pants and t-shirts are a great option, along with sun hat to keep the UV off your face.
Don't forget sunglasses and binoculars too and, if you have any electricals with you, then a dry bag to help protect them would be a fantastic idea as well.
Clothes for Flying to Sierra Leone
At this point, I also wanted to discuss what you might wear to fly to Sierra Leone; after all, for most of this, this won't be a straightforward or direct flight.
While Brussels Airlines and AirFrance have some direct flights from Europe, most of us will need to transit through another country to get to Sierra Leone – most likely to be Morocco, Kenya or Turkey.
As always, I use Skyscanner to find the best rates on flights and suggest you do the same.
I flew with Royal Air Maroc from London to Freetown via Casablanca and found them fine!
Once you arrive in Sierra Leone airport, take a read at this article I wrote, which will fill you in on what to expect when you arrive in the country, including clearing immigration and getting to Freetown from the airport.
But I digress, what to wear on a flight to Sierra Leone… the point I was making here is that flights to get to this off-the-beaten-track country might be long, overnight and involve some changes.
As such, I'd suggest comfortable clothes for flying to this country, including…
layers to take on and off depending how cold the plane is – think shawls, blankets, thin long sleeved tops and leggings under trousers
compression socks – for reducing the risk of DVT
and my absolute necessities for long journeys, a travel pillow, an eye mask and earplugs!
Washing Clothes
I didn't come across any washing facilities when I was in Sierra Leone, although I guess some hotels do provide a laundry service – which I imagine involves local women washing your clothes.
If you're travelling around the country a bit however you might not have time for this to be arranged and, in any case, I highly recommend packing some travel handwash with you when you visit Sierra Leone.
A great way to wash small items such as swimwear, underwear, socks and singlets in a shower or bathroom sink – this is a great way to keep your luggage size compact.
It's also good to know that, because it's so warm in Sierra Leone, things tend to dry in your room overnight, meaning wash them in the evening and you can probably wear them again the next day!
A Word About Drinking Water
Needless to say, I wouldn't advise drinking the tap water in Sierra Leone, so buying bottled water or taking a filter water bottle with you, are your only real options.
Personally, the second of these is by far the better choice in my opinion, as it will save you money, save you hassle and, most importantly, hugely reduce your plastic waste as well.
Enter the fantastic Water-To-Go bottles!
A genius invention that allows you to safely drink the tap water anywhere in the world, these guys are easy to use and incredibly secure and hassle-free.
Love mine!
Used it across West Africa and wouldn't be without it now!
Travel Insurance
World Nomads offers simple and flexible travel insurance. Buy at home or while travelling and claim online from anywhere in the world.
Alternatively, if you're a long-term traveller, digital nomad or frequent remote worker seeking travel health cover, check out Safetywing's Nomad Insurance policies.
Medical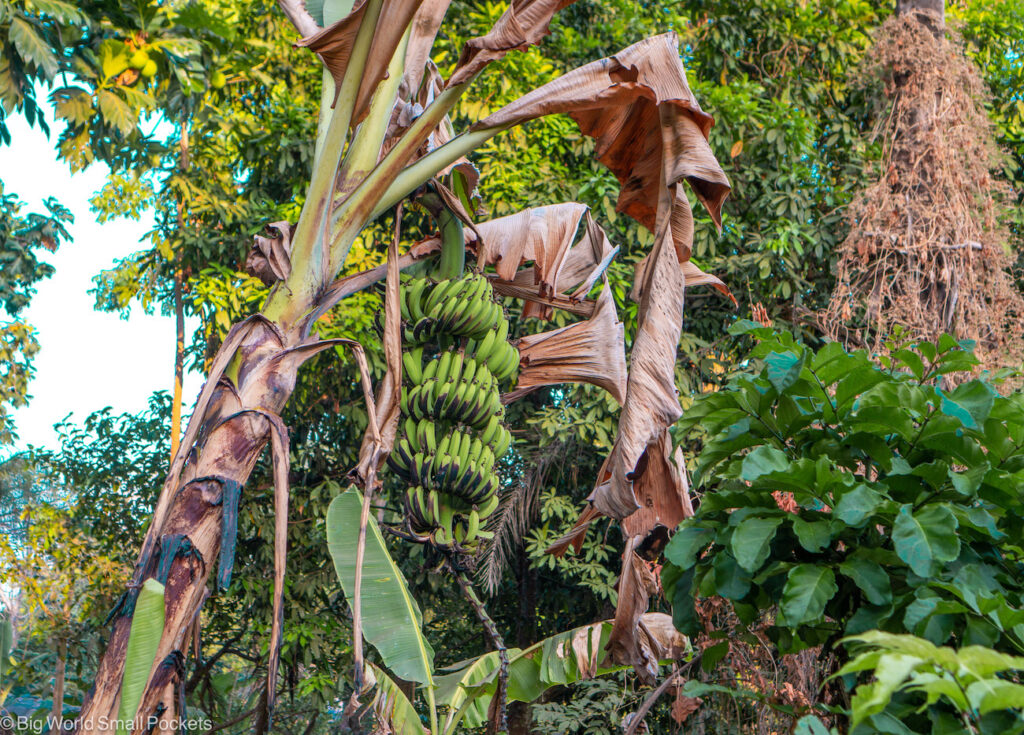 Remember to pack a small travel first aid kit with you when you travel to Sierra Leone and to seek advice from a qualified and professional health practitioner (at least 4 weeks before you travel), regarding your need for anti-malarial drugs or any vaccinations / boosters.
As a guide, I always travel with band aids, hydration tablets, antihistamines, antiseptic cream, anti-inflammatories, painkillers and imodium in my first aid kit!
Don't forget a good insect repellent too!
Importance of Packing Light
And now we come to the last of my overall tips for what to wear and pack for Sierra Leone and that is to keep your luggage light!
After all, no matter how you travel here, there's probably going to be a lot of moving gear in and out of vehicles, boats and buses, not to mention across borders and beaches too!
So trust me, keeping things down weight-wise is key.
I travelled in West Africa for 3 weeks with 10kg of gear + 1 hand luggage bag and found this more than enough!
Packing cubes are godsends for helping you compress your gear and for keeping things nicely organised, so grab some here if you don't own any already.
Sierra Leone Packing List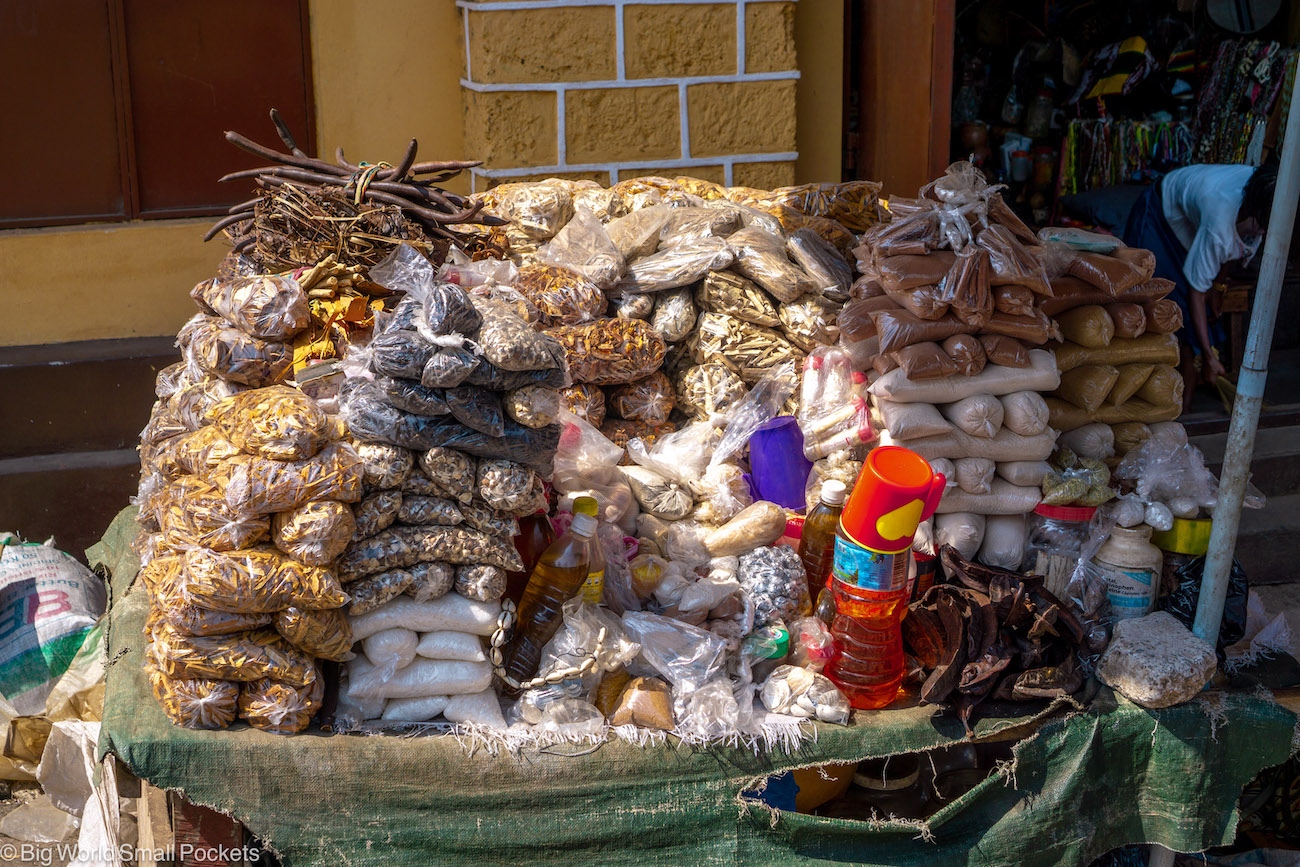 And finally, we come to my item-by-item Sierra Leone packing list.
Just follow this guide and you can be ensured you won't forget a thing that you need, or be overpacked either!
2x Thin trousers
1x Long skirt
2x 3 quarter length pants
1x Shorts
1x Leggings
1x Summer dress
5x Singlets
2x T-shirts
2x Thin long sleeved tops
1x Thin cardigan
1x Thin sweater
Sarong
Sun hat
Swimwear
Sunglasses
Underwear
Socks
Nightwear
Trainers
Supportive sandals like Birkenstocks
Reef friendly Sunscreen
Wet wipes and tissues
Smartphone
Chargers & Cables
Antibacterial soap & shower gel
Deodorant
Face cleanser, toner, serum & moisturiser
Body moisturiser
Hairbands & hairbrush
Tweezer & safety pins
Nail scissors & nail file
Razor & blades
Cotton buds & pads
Mini Travel Guide to Sierra Leone
How Long to Visit For?
1 week is a good amount of time to see a lot that Sierra Leone has to offer, including Freetown, the surrounding beaches and islands, plus some of the closest wildlife destinations too, like Tiwai Island.
How to Get Around?
It's best to get around Sierra Leone care of a tour company or an arranged driver.
Visit Sierra Leone can help with both and come highly recommended.
Where to Stay in Freetown?
It's likely you'll stay in Freetown for at least one night during your time in this country, so here's my top picks for accommodation in the capital…
All of these recommended options are situated in the Aberdeen district of Freetown, where the sea ferry from the airport arrives into.
Travel Money in Sierra Leone
Cash is king in Sierra Leone, so I advise bringing lots of USD, Euros or Pound Sterling with you, which can then be exchanged in banks, or on the street, in Freetown.
Don't rely on ATMs in this country, as they are a) thin on the ground b) often not working and c) have low limits on cash withdrawal amounts.
Paying by card in Sierra Leone is really only available in top-end hotels, restaurants and bars in Freetown and the immediate surrounds, such as Token Beach.
On the occasion that you can pay by card (and as a good backup option), I highly recommend travelling with a Wise card to Sierra Leone.
The easy way to spend abroad with real exchange rates and no sneaky transaction fees, I never travel anywhere without mine. Sign up to get yours here.
Travel Health
You need a Yellow Fever certificate, as well as a Covid-19 vaccination certificate, to be granted entry to Sierra Leone.
Bring paper copies of both to show officials at your point of entry.
Always consult a health practitioner before you travel to West Africa.
They will advise you about other recommended vaccinations to get ahead of your trip, as well as about any anti-malaria medication you may need.
Where to Travel After Sierra Leone?
After Sierra Leone, I travelled north to Senegal.
Learn more about my adventures in this fantastic West African country here.
PIN IT TO PINTEREST!
So there you have it, my full guide on what to wear and pack for Sierra Leone.
I hope I've made you feel more comfortable about travelling to this country and that you have a bit more of a sense of what to expect now, including as a woman travelling here.
Have you visited this country?
What did you pack and what do you wish you hadn't?
Tell me all in the comments box below…