The main Sierra Leone airport sits just outside the country's capital, Freetown.
It is the country's only international airport and therefore the main gateway to the country for the vast majority of travellers heading here… which is why I'm bringing you this post with all the info you need for your arrival into, and departure from, the country.
Also known as Lungi International Airport, because it is actually in the coastal town of Lungi about 30km away from Freetown, I'm also writing this post because it's very useful to know how to get from the airport to central Freetown (or at least your accommodation in this city) as well as visa versa.
After all, it's not a straightforward affair.
And quite frankly, why would it be?!
Travelling in Sierra Leone is a wild and wonderful affair, which means that accessing and navigating Sierra Leone airport is no different!
Especially given there is a ferry ride involved!
So read on to ensure your arrival into, and departure from, Sierra Leone runs as smoothly as possible…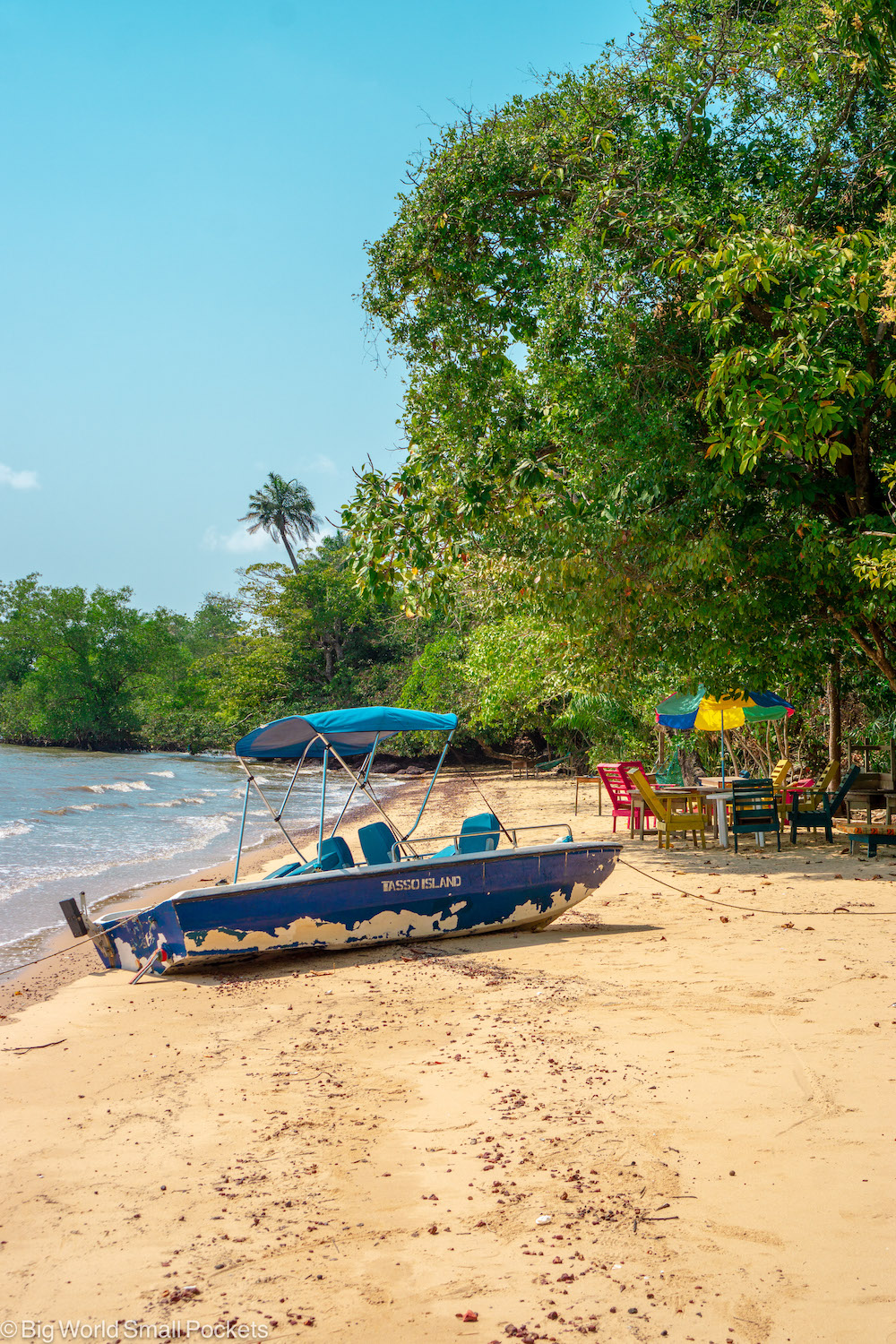 ---
Related Posts
---
My trip to Sierra Leone was sponsored by the Sierra Leone National Tourist Board, but as always, all views are my own.
This page contains affiliate links meaning Big World Small Pockets may receive a small commission on any purchases at no extra cost to you.
---
Sierra Leone Airport: The Basics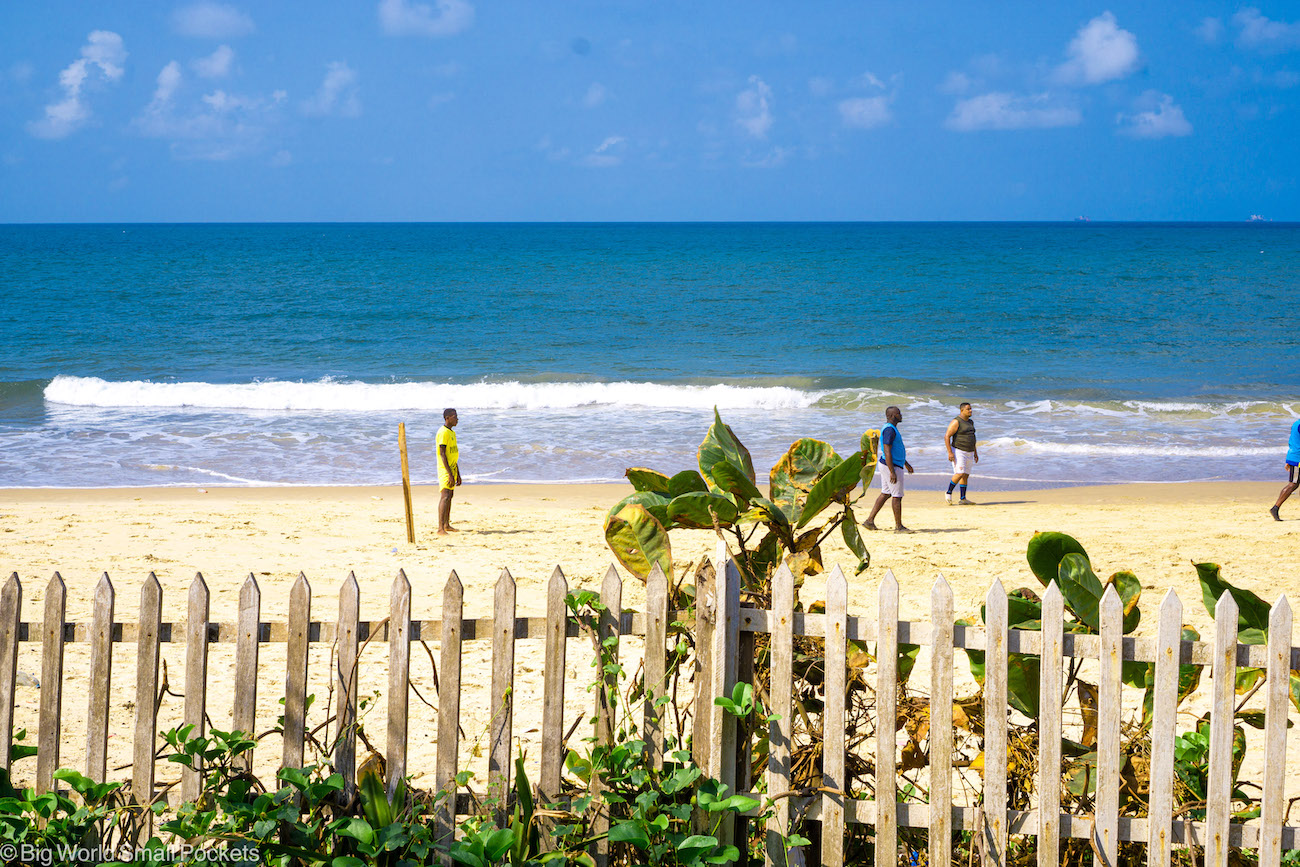 As I mentioned in the introduction, Sierra Leone boasts one international airport, which is close to the capital Freetown.
Its IATA code is FNA and it's located some 30km from Freetown in a nearby coastal town called Lungi.
Because Freetown is actually situated on a peninsula – and Lungi is situated to the north of the capital, on another peninsula – getting to and from Sierra Leone airport is not as easy as you might hope or expect… but more about this later!
For these access reasons, as well as many others, the airport and its location, has become a point of political contention in Sierra Leone, with previous parties in power drawing up plans to move it to a nearer location in Mamamah. A new airport was forecast to open here in 2022.
However, these plans were thrown out in 2018 when a new government came to power. Instead of building a new airport, they decided to refurbish and extend the current one, and then build a bridge that would connect the airport more closely with Freetown.
From what I saw during my time in the country, neither a refurb, an extension or a bridge build has begun, so the future of Sierra Leone's airport still hangs in the balance!
Arriving at the Airport
And with that short history about the airport out of the way, it's now time to talk practical details!
When it comes to arriving at the Sierra Leone airport (which is also known as the Lungi International Airport for obvious reasons!), there's several international airlines that fly into and out of this airport.
These include Brussels Airways and Air France, who offer flights direct from Europe, as well as Royal Air Maroc, who offer European connections (including from London), with a stopover in Casablanca.
Kenya Airways and Turkish Airlines also operate flights to Sierra Leone from other destinations around the world.
That said, the schedule here is still pretty limited and, at best, there at around 4-5 landing and departing flights daily from Sierra Leone's airport.
Most of these occur during the evening and night, so if you're arriving and departing from Sierra Leone airport be prepared for some pretty unsociable travel hours!
As always, I use Skyscanner to find the best flight prices and managed to grab a pretty good deal with Royal Air Maroc from London Gatwick to Sierra Leone airport, with a 3 hour layover in Casablanca.
Because Royal Air Maroc are also part of the One World Alliance group, I was able to get some Airmiles points for this flight too – result!
Entry Visas, Security Fees, Vaccination Certs & Registration
When it comes to landing in Sierra Airport and clearing immigration, then please check the entry requirements inline with the passport you'll carry and the nature of your visit.
I suggest doing this up to 4 weeks ahead of your scheduled arrival date.
Entry Visas
For Brits, tourist visas for Sierra Leone are now available on arrival and cost $80 USD, which must be paid in cash.
You'll receive a full page stamp in your passport, so ensure you have enough pages, as well the necessary 6 months validity on your passport.
Other passport holders, as well as business travellers, may need to apply for a Sierra Leone visa before arrival, so do check your specific requirements.
If you do decide / or need to apply for your visa before arriving at Sierra Leone airport, then make sure you carry 2 paper copies of any visa documents with you to the airport, along with paper copies of any payment receipts, for entry into the country.
Airport Security Fee
On top of a Sierra Leone visa, you also need to pay an airport security tax fee of $25 USD when you arrive and $25 USD when you depart.
This security tax is payable online in advance here or at the airport in USD cash.
If you go for the online option (or you're using a tour company to do this for you), then you'll need evidence of this Securipass payment, which includes your passport number, flight date, amount paid and transaction ID.
Usually, this is sent as a text message and can just be shown to the necessary person at the airport straight from your phone.
Vaccination Certificates
In addition to your visa and airport security fee, you also need to have both a Yellow Fever and Covid-19 vaccination certificate to gain access to Sierra Leone.
I would suggest bringing 2 paper photocopies of these records, as well as any additional travel health documentation / booklet you may have, with you to Sierra Leone.
Registration
And finally, before you land in Sierra Leone, you need to register to enter the country.
This can be done in 5 minutes, online, via the Government of Sierra Leone travel portal here.
Do make sure you complete this before you take off on your flight to Sierra Leone airport.
Ideally, I'd advise you to complete it 48 hours before your planned arrival in the country.
Clearing Immigration & Luggage Collection
Bring all your documents ready to clear immigration, which is situated immediately as you enter the airport building after disembarking the plane.
It's worth noting that the Sierra Leone airport is tiny, so basically as soon as you get inside, you'll be in the rather haphazard queue for immigration.
Thankfully, when I arrived, the queue moved quickly and it took under 30 minutes to get through… but I guess this depends on how busy your arriving flight is!
Once you've cleared immigration, you'll then want to pass into the baggage hall to collect your luggage (easy to spot with only 2 or 3 luggage belts) and then head into arrivals.
If you're meeting a driver or tour leader, they will pick you up here – although they may not be allowed a sign with your name… apparently, the government here wants to put a stop to it!
Getting from the Airport to Freetown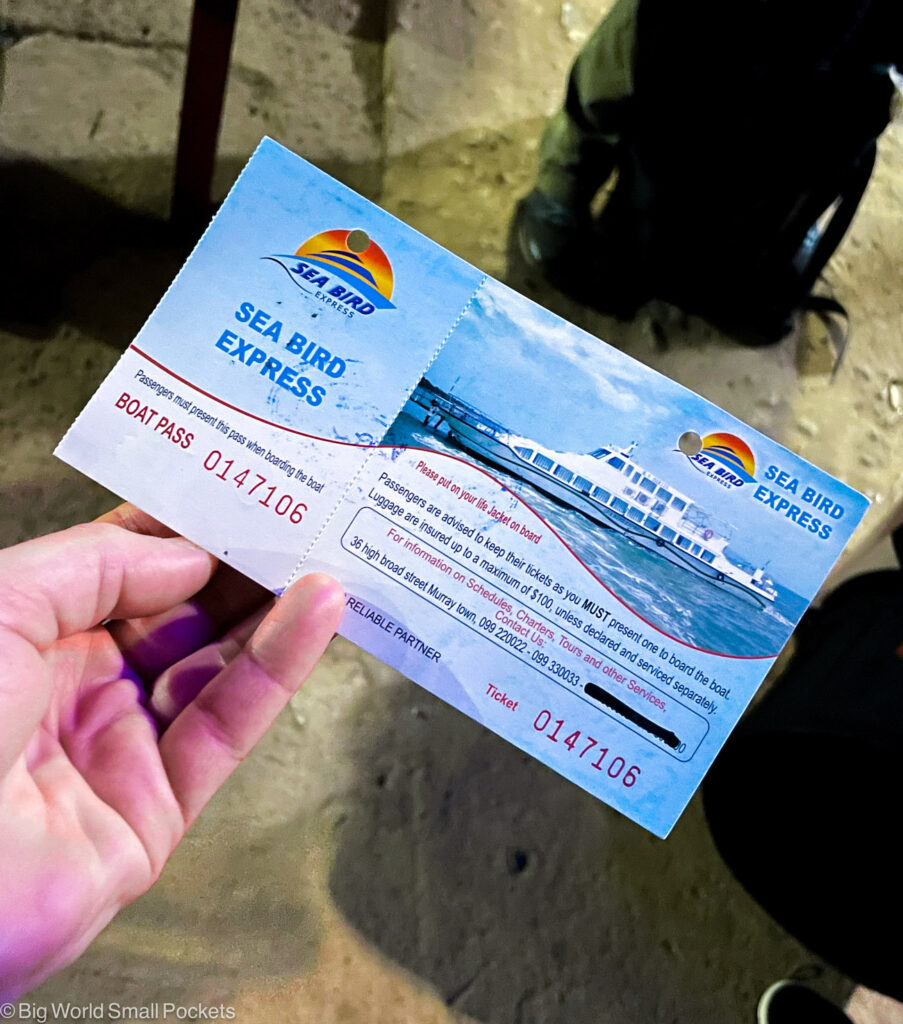 And now the fun starts!
Once you leave the arrivals hall, there's a small forecourt, which is fenced.
Walk through the gates to access taxis or other vehicles, or to access the Sea Bird Express terminal.
The Sea Bird Express is the main ferry company that runs the boat connection between Sierra Leone airport and Freetown.
Unbelievably, this 30 minute water taxi ride is the quickest option for getting to the city centre, as driving can take up to 4 hours given the traffic, the state of the roads and the general length of time it takes to navigate the peninsulas that both the airport and Freetown are located on.
As such, almost everyone flying into Sierra Leone airport opts to take the sea ferry to get to their accommodation and the city.
Sea ferry ticket costs $45 USD and can be bought in the terminal, which sits across the street from the airport arrivals hall.
It's here that you'll also have your luggage tagged and loaded for boarding.
The ferry services are timed to run with arriving flights, but of course, things are never that smooth!
Once you've bought your ticket and had your luggage tagged and loaded at the main terminal, you then have to catch the ferry shuttle to the dock, which is about a 10 minute drive from the airport.
Once at the dock, there's a small waiting room where you can sit and wait for the ferry.
There's not much here (to say the least!), so bringing water and going to the toilet beforehand is advised.
We waited about 30 minutes here for the Sea Bird Express ferry.
The Sea Ferry
Once your luggage arrives at the dock and is loaded, you'll then be called to board the ferry.
Walk down the wooden dock and get into the boat.
There's lifejackets you'll be asked to put on and the ferry ride takes about 30 minutes.
How rough it is, really depends on the state of the sea and the wind.
When I arrived into Sierra Leone airport it was night, so I made the ferry crossing at dark.
It was pretty rough and seasickness tablets would be a good idea if you don't do well on boats.
When I returned to Sierra Leone airport for my departing flight however, I caught the sea ferry in the daylight and it was very calm and enjoyable.
I even got to sit outside on the dock and soak in the sun, which was fab!
Getting to your Hotel
In general, you'll need to allow about 3 hours between your landing in Sierra Leone and reaching your hotel.
This includes 2 – 2.5 hours from clearing immigration to boarding the ferry.
30 minutes for the ferry ride, and then 15 minutes to drive to the hotel.
The Sea Bird Express docks in Aberdeen – a coastal strip in Freetown near to where the vast majority of tourist hotels are.
This is handy as it makes driving from the ferry terminal to your hotel normally quick and easy.
Here's the top picks of accommodation in Aberdeen, Freetown:
When arrived in Sierra Leone, I was checked into my hotel by 6am – not bad going, but did mean that getting some sleep on the night flight over was pretty critical!
Departing to the Airport from Freetown
When it comes to heading back to Sierra Leone airport after your trip in this country, you'll need to repeat the arrival steps in reverse.
This will involve…
Getting a taxi ride from your hotel to the Aberdeen Sea Brid Express terminal
Catching the Sea Bird Express ferry back to Lungi (buy another ticket and check your luggage)
Driving from the ferry dock to the airport with the Sea Bird Express shuttle
Collecting your luggage and heading into the airport
The Sea Brid Express ferries are timed inline with relevant flight departures.
See the image below for the details that are current as of Feb 2023…
Sierra Leone Airport Security & Departures
Once you arrive at the Sierra Leone airport, you'll need to wait outside until your flight is called to enter the airport building.
Once you do, you'll immediately find the check in area, so head to the relevant desk and check in your luggage.
There may be a queue for passport and ticket checking before this too.
After checking in, you can then head to security – it's found on the left-hand side of the check in area.
Here you'll need to show your Airport Security Fee proof of payment.
Either this can be completed online again, or paid in person – $25 USD cash. If paying in person, you'll need to leave the security queue, pay at a separate office and then return.
After having your Airport Security Fee proof of payment checked – again a confirmation message on your phone showing your passport and date of flight details should suffice – you'll be stamped out of Sierra Leone by immigration, before passing through security.
Here, European-style airport security checks are in place, so no liquids over 100ml, laptops out of bags / cases and shoes / boots / belts etc off.
After security, you'll pass into the departures lounge of Sierra Leone's airport.
This is a large room, where the gates for boarding the aircraft are straight infront of you.
There's are only 3 gates, so just sit in the chairs behind and wait for your flight to be called – no need to go anywhere else!
Facilities are scant in Sierra Leone airport departures – there's 1 bar / café, a restaurant, a duty-free shop and some toilets, so bring all the water and snacks you need is my advice, or spend the last of your Leones here!
Most flights landing into Sierra Leone airport operate a quick turnaround and take off again pretty quickly, so while you're sat in departures you'll likely see your plane land!
This is a good sign boarding will start soon!
Boarding begins about 45 mins before take-off, so head to one of the 3 gates and have your hand luggage ready for security inspection again – women go to women security staff and men to make security staff.
You'll also receive a cursory pat-down before you pass through the gate and board your flight.
It's time to leave Sierra Leone!
Mini Travel Guide to Sierra Leone
How Long to Visit For?
1 week is a good amount of time to see a lot that Sierra Leone has to offer, including Freetown, the surrounding beaches and islands, plus some of the nearby wildlife destinations too, such as Tiwai Island.
How to Get Around?
It's best to get around Sierra Leone care of a tour company or an arranged driver.
Visit Sierra Leone (VSL) can help arrange both.
Where to Stay Outside of Freetown?
Token Beach Resort was my favourite spot in Sierra Leone, just outside the capital.
Backpackers can find good cheap lodging and camping at Bureh Beach.
Travel Insurance for Sierra Leone
World Nomads offers simple and flexible travel insurance. Buy at home or while travelling and claim online from anywhere in the world.
Alternatively, if you're a long-term traveller, digital nomad or frequent remote worker seeking travel health cover, check out Safetywing's Nomad Insurance policies.
Travel Money in Sierra Leone
Firstly, I advise taking mostly cash to Sierra Leone, as ATMs here can be unreliable to say the least!
EUR, GBP and USD can all be exchanged in banks or on the black market.
Only upmarket hotels, bars and restaurants will allow you to pay by card.
Even then, you want to ensure you're not being charged overseas transaction fees or getting poor exchange rates, which is why I always take my Wise card away with me wherever I travel.
The easy way to spend abroad with real exchange rates, no markups and no sneaky transaction fees, you can use your Wise card just like a debit card in Sierra Leone… and it links easily with Google and Apple pay – sold! Get yours here.
Travel Health
You need a Yellow Fever certificate, as well as a Covid-19 vaccination certificate, to be granted entry to Sierra Leone.
Bring paper copies of both to show officials at your point of entry.
Always consult a health practitioner before you travel to West Africa.
They will advise you about other recommended vaccinations to get ahead of your trip, as well as about any anti-malaria medication you may need.
Where to Travel After Sierra Leone?
After Sierra Leone, I travelled north to Senegal.
Learn more about travelling with fantastic West African country here.
PIN IT TO PINTEREST!
And that's everything you need to know about the Sierra Leone airport – including, arriving, departing, what to expect and how to get there!
I hope it was helpful in planning your trip to this amazing West African country.
Have any more questions about adventuring in Sierra Leone?
Then don't forget to check out the other posts I've written about my time there.
Alternatively, you can drop any questions you have into the comments box below and I'll get back to you…