The Tacugama Chimpanzee Sanctuary is undoubtedly one of Sierra Leone's best attractions.
Located just outside the capital Freetown, this wonderful rescue and rehabilitation centre not only cares for these incredible creatures, but also allows visitors to view them safely and enjoyably too.
And let me tell you, staring at our closest living evolutionary ancestor makes for quite the view!
Having trekked to the Gorillas in Uganda's Bwindi Forest National Park some years ago, I was absolutely delighted to get to experience seeing Western Chimpanzees in West Africa too – in fact, I think it made my time in Sierra Leone even more special.
So if you're keen to witness these amazing animals in action as well, then here's all you need to know about visiting the Tacugama Chimpanzee Sanctuary…
---
Related Posts
---
My trip to Sierra Leone was sponsored by the Sierra Leone National Tourist Board, but as always, all views are my own.
This page contains affiliate links meaning Big World Small Pockets may receive a small commission on any purchases at no extra cost to you.
---
Why Visit the Tacugama Chimpanzee Sanctuary?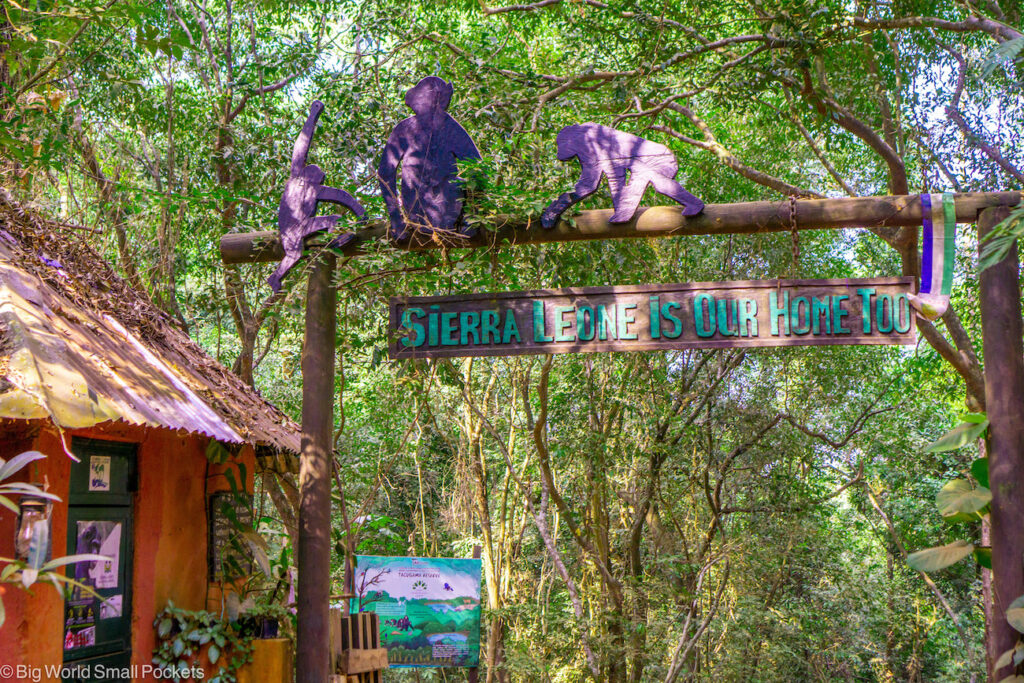 For a start, the main reason to visit Tacugama Chimpanzee Sanctuary is, of course, to see the chimpanzees.
After all, who doesn't want to have the experience of seeing another primate in the flesh?
Truly one of the world's best wildlife spots – it's up there with gorillas and orangutans in my opinion – this sanctuary is a really easy and fascinating way to witness our closest evolutionary ancestor up close.
In addition, visiting the centre also helps this great organisation with its important conservation work.
Definitely not a zoo, the sanctuary rescues and rehabilitates domestic and abused chimpanzees and ultimately, attempts to release them back into the world where possible.
The centre is now home to over 106 of these amazing creatures, all of which are at a different stage of their rehabilitation journey under the careful watch of local experts.
But not only does the sanctuary work to rescue mistreated chimps, but it is also heavily involved with some of the leading research into this awesome species, as well as global lobbying efforts for their ongoing protection.
On top of that, the Tacugama Chimpanzee Sanctuary is also a member of Queen's Commonwealth Canopy (QCC) – an accreditation that aims to protect one of the earth's most important ecosystems – its forests.
This is particularly important in a country like Sierra Leone, where tropical rainforest landscapes were hugely prevalent, but now are increasingly under threat due to deforestation, climate change and logging.
The sanctuary also employs and trains 30 fulltime staff, as well as undertakes community outreach work, so plays a key part in the economy and development of this rural area too.
As you can see, there are many important reasons to visit the Tacugama Chimpanzee Sanctuary, and doing supports all of the important work they undertake, as well as the lives of the chimps themselves.
How to Get There?
The Tacugama Chimpanzee Sanctuary is located fairly close to Freetown – meaning it can easily be reached in under an hour when driving from the city.
You'll need a 4WD to get right to the Sanctuary's entrance, otherwise, you can take a 2WD drive to the bottom of the steep hill that leads up to the entrance, and then walk the rest of the way.
This hill is about 100m long and is a steep, dirt track, so make sure you're wearing comfortable closed-toe walking shoes!
These shoes will also be helpful for walking around the sanctuary itself.
On the way to Tacugama, don't miss the lookout from Leicester Peak, just outside of Freetown – you'll get stellar photos over the capital from here.
Ticket Prices & Opening Times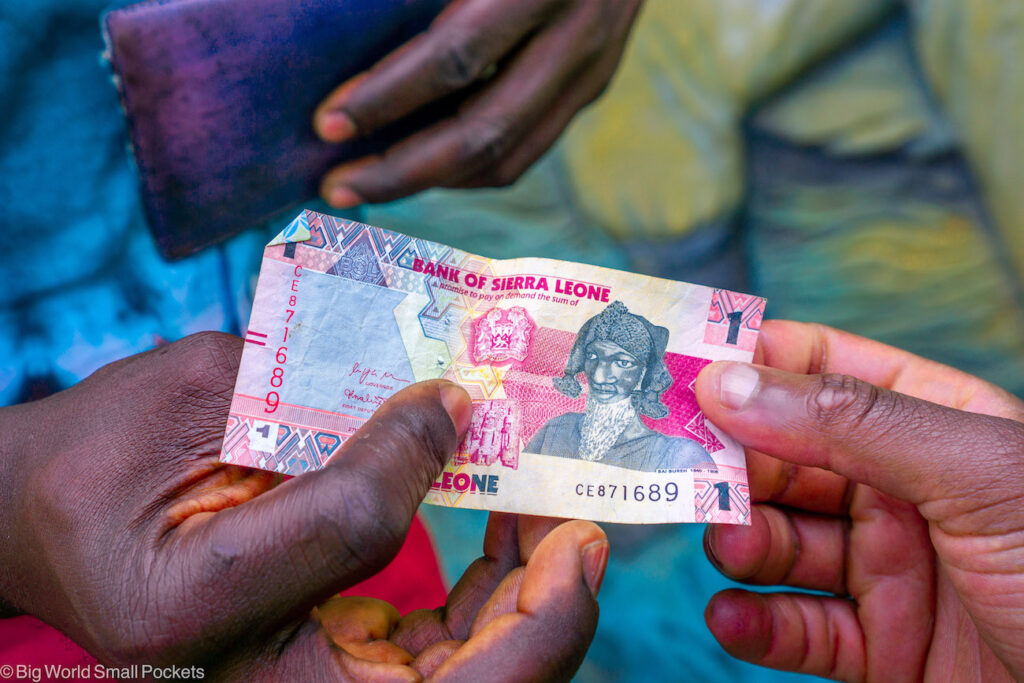 The Sanctuary is open 6 days a week – Monday through Saturday – from 9am to 5pm.
Tacugama is open year round, however as you'll learn in this article I wrote about the best time to visit Sierra Leone, there are certainly some times of the year that are better to visit than others!
Indeed the optimum time to visit this country (and the Chimpanzee Sanctuary) is during the dry winter season, which runs from December to February.
Don't worry it's still in the high 20s here even in winter!
It's then best to time your visit to the Tacugama Chimpanzee Sanctuary in line with their daily tour schedule, which operate at the following times:
10:30am – 11:30am
12pm – 1pm
2:30pm – 3:30pm
4pm – 5pm
In fact, you can only visit the sanctuary with a tour, so selecting your time and reserving your slot is key!
It's also best to book your tour at least a day or 2 in advance, which you can do through the sanctuary's website here.
Tour costs can be paid for onsite using cash, or in advance using local Orange Money technology, or through Paypal, which has a 5% admin fee attached it.
For Sierra Leone nationals, adult entrance costs Le 70 and child entrance, for those aged 5-11, costs Le 35.
For foreign nationals, adult entrance is Le 200 and child entrance, for those aged 5-11, is Le 100.
Tour groups have a max of 10 people (including children), so they are nice and intimate – no huge tourist crowds here!
They are timed to give you the best viewing slots of the chimpanzees and, as such, run to a strict schedule, so you're advised to get to the sanctuary 30 minutes ahead of your allocated tour start time.
Meet in the reception area, which is right by the entrance to the sanctuary.
There's also bathroom facilities here you can use, as well as a small gift shop.
What to Expect…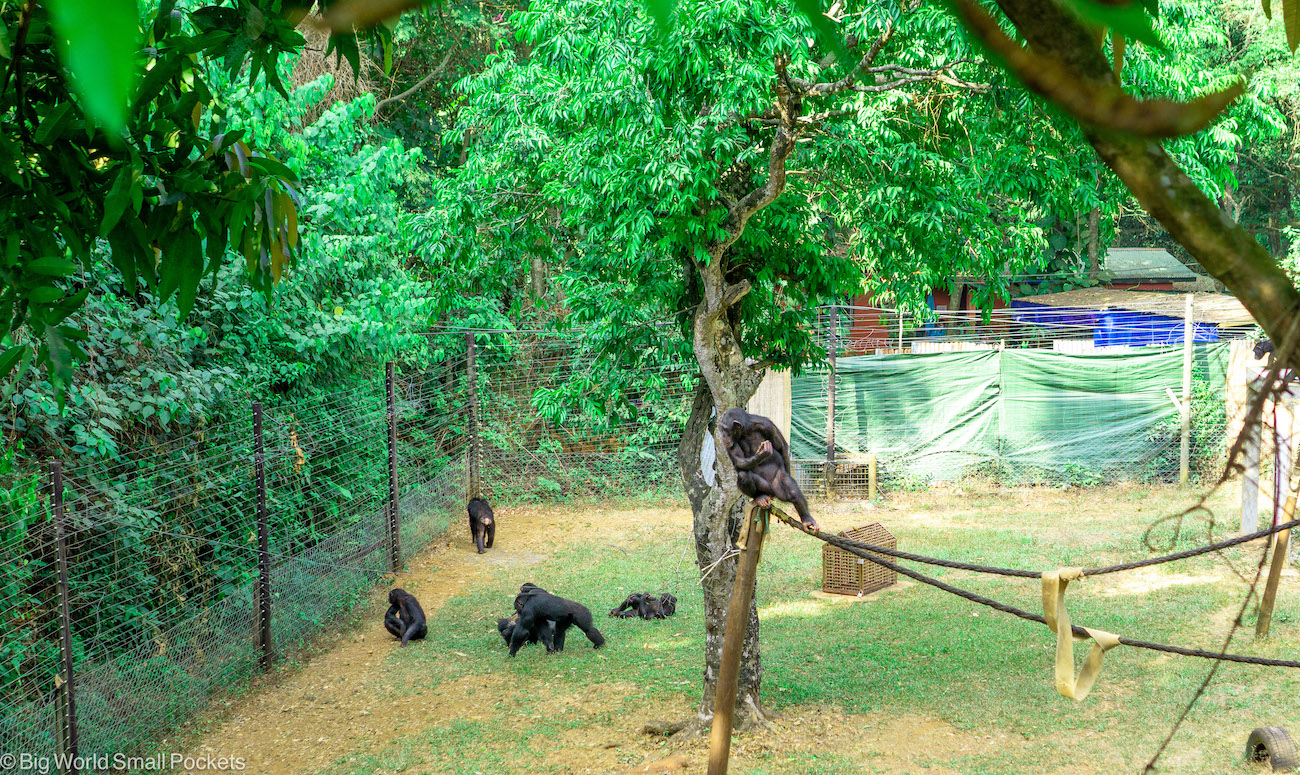 Tours of the Tacugama Chimpanzee Sanctuary take around 45 minutes to complete and lead you around the sanctuary with knowledgeable guides that understand an incredible amount about the work this organisation does, as well as about the chimpanzees themselves.
As the guide leads you between the various "family" groups of chimps they have at the sanctuary, you'll learn a lot about the habits and living patterns of these amazing creatures, as well as about the work the centre does and how they go about rehabilitating the mistreated, and often damaged, chimps they look after.
As I mentioned, the centre now cares for over 100 chimpanzees, most of which have been integrated into a "family", which allows them to live in groups as they would naturally in the wild.
The centre also temporarily hosted the emanant primate researcher, Jane Goodall, who conducted a lot of work into the lives and behaviours of chimpanzees here and, as such, there are lots of information boards around the sanctuary, telling you about how chimps communicate, their behavioural cues and what many of the sounds they make mean.
You'll be walking around the sanctuary for the whole 45 minute tour, including crossing small bridges and going up steps, so again make sure you wear flat and comfortable shoes for the forest trails you'll find here.
Tours end usually at feeding time, so you can see the chimpanzees receiving one of their daily meals from local caregivers, who work closely with each family group.
Founded in 1995 by conservationists Bala and Sharmila Amarasekaran, the Tacugama Chimpanzee Sanctuary is very well-established and professional, so taking a tour here is certainly worth it, as you'll get a much deeper understanding of these animals and a much better chimp viewing experience.
Rules for Seeing the Chimpanzees
And, inline with this professionalism, there are rules to adhere to whilst undertaking your visit to the Tacugama Chimpanzee Sanctuary and it's important that you follow them.
Your guide will explain them to you at the start of the tour, as well as remind you if any of them are broken by the group.
The rules are there to keep you and the chimps safe, so they are very important.
Firstly, you need to wear a mask when touring the sanctuary, to protect the chimps from catching any viruses, so make sure you bring a covid mask with you.
Masks can also be purchased at the reception area of the sanctuary.
Not making eye contact with the chimpanzees is also key, as well as not communicating with them in any way, including making noises or gestures.
Noise within the human group should also be kept to a minimum.
No eating and drinking in front of the chimpanzees either.
And of course, no littering.
Photos can be taken, but the use of flashes is forbidden.
Essentially, it's best to be a silent observer while visiting the Tacugama Chimpanzee Sanctuary and to remember that the animals' safety and wellbeing is paramount, especially when many face many psychological and physical difficulties from their former lives in captivity.
What to Bring for Your Visit
As I've mentioned, comfortable walking shoes are key when visiting the Tacugama Chimpanzee Sanctuary.
Comfortable, loose clothes are also a good option.
You'll also want to bring a covid mask, which must be worn at all times during your time with the chimps.
A small backpack is also a good idea, as you'll want somewhere comfortable to keep your camera and possibly any water / snacks to enjoy after the tour.
Hand sanitiser is also a good idea for Sierra Leone full stop!
If you're visiting this country during the rainy season, a thin, waterproof jacket is advised for your chimpanzee tour.
Staying the Night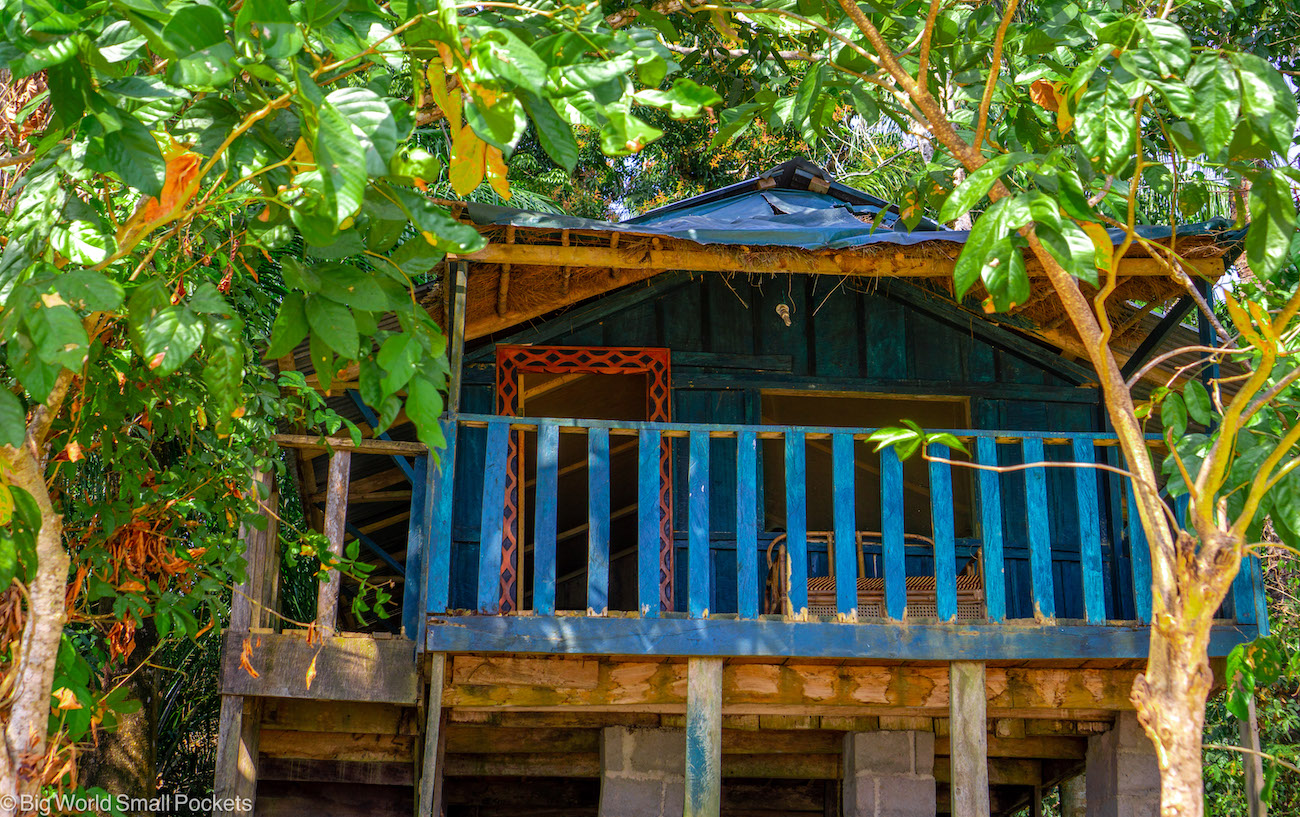 And, if you don't want to leave the Tacugama Chimpanzee Sanctuary after your tour, or you want to enjoy more of the activities the centre offers, including hiking and birdwatching, then it's great to know you can also stay the night there.
The Tacugama Chimpanzee Sanctuary boasts 6 eco-lodges, nestled in the forest, and staying here will give you a unique opportunity to stay close to the chimps in their natural, tropical forest habitat.
All the money raised through the onsite lodge accommodation goes towards supporting the conservation efforts of this organisation, so it's a fantastic ecotourism initiative that is well worth supporting.
Accommodation prices include breakfast and vary according to which ecolodge you stay in.
Each lodge is uniquely styled and named after a special chimp that has lived at Tacugama – a cute touch I thought!
Mosquito nets and towels can be found in all rooms and prices also include a free guided forest walk.
It's also possible to add on lunch and / or dinner if you stay the night here.
Here's a quick breakdown of the ecolodge types and prices:
Bruno Lodge: Double bed + ensuite bathroom | Le 1500/night
Julie Lodge: 2x single beds + ensuite bathroom | Le 1500/night
Christo Lodge: Family treehouse + kitchen / dinner | Le 2700/night
Augustu Lodge: Treehouse lodge with 2x single beds + balcony | Le 2300/night
Mumma Lucy Lodge: Treehouse lodge with double bed + balcony & patio | Le 2300/night
Phillip Lodge: Treehouse lodge with 2x single beds + patio | Le 2300/night
Like tours, the ecolodges can be reserved through the sanctuary's website here.
Check in is between 2 and 5pm. Checkout time is 12pm.
Costs can be paid for using local Orange Money technology, or through Paypal, which has a 5% admin fee attached.
Supporting the Sanctuary
All the proceeds from your tour and overnight stay at the Tacugama Chimpanzee Sanctuary go towards supporting the important work this organisation does.
Another way to support them, even if you can't visit Sierra Leone, is to adopt a chimpanzee.
This wildlife sponsorship programme offers you the chance to help rehabilitate individual chimps and includes the opportunity to receive updates about their progress and the work of the centre.
You can also learn more about volunteering on their website.
Contacting the Tacugama Chimpanzee Sanctuary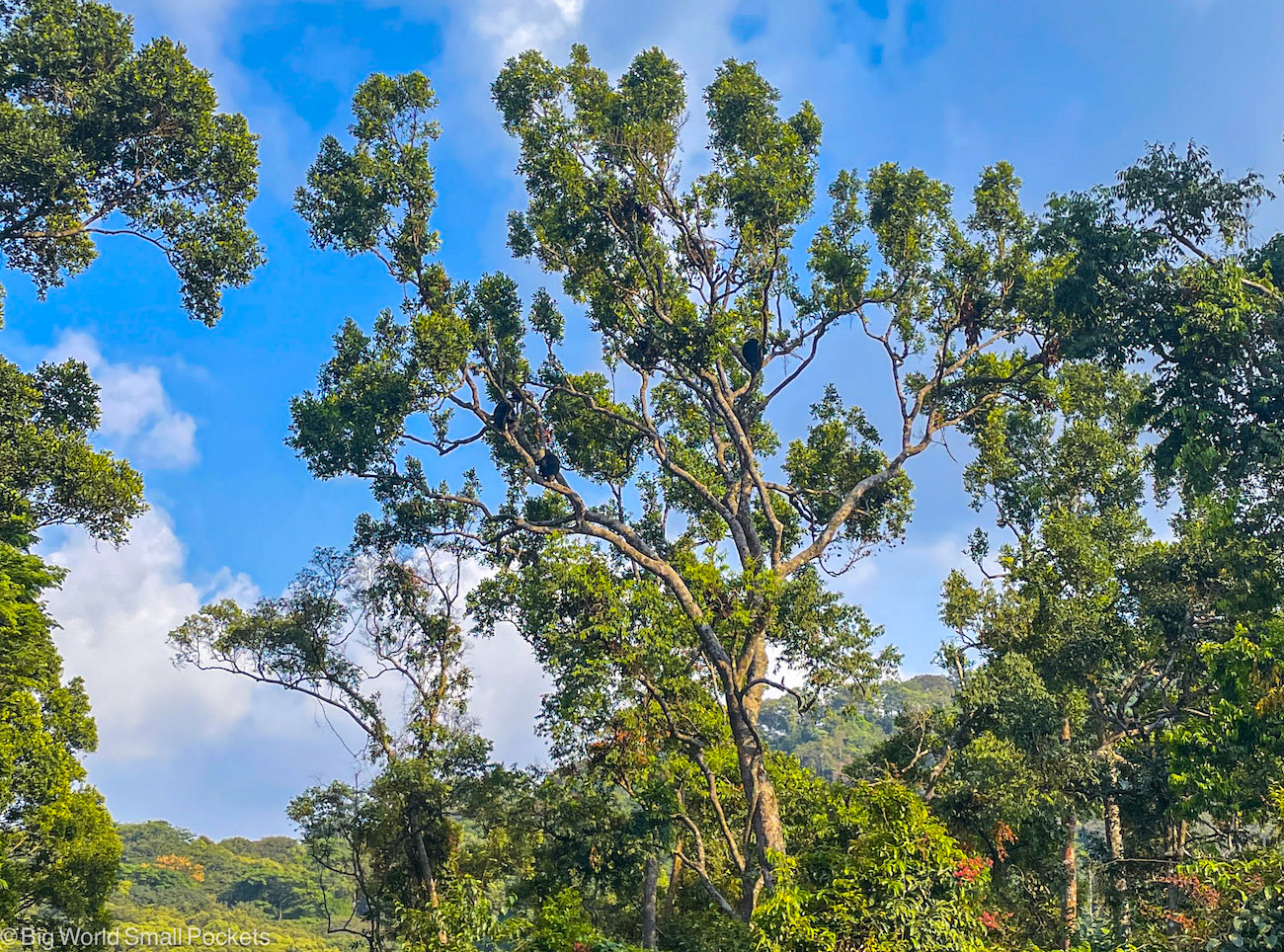 The Tacugama Chimpanzee Sanctuary can be contacted for all reservations and enquiries, including tours and ecolodges.
Get in touch via email at [email protected], or by calling (+232) 31 77 77 77 or (+232) 88 12 67 28.
Mini Travel Guide to Sierra Leone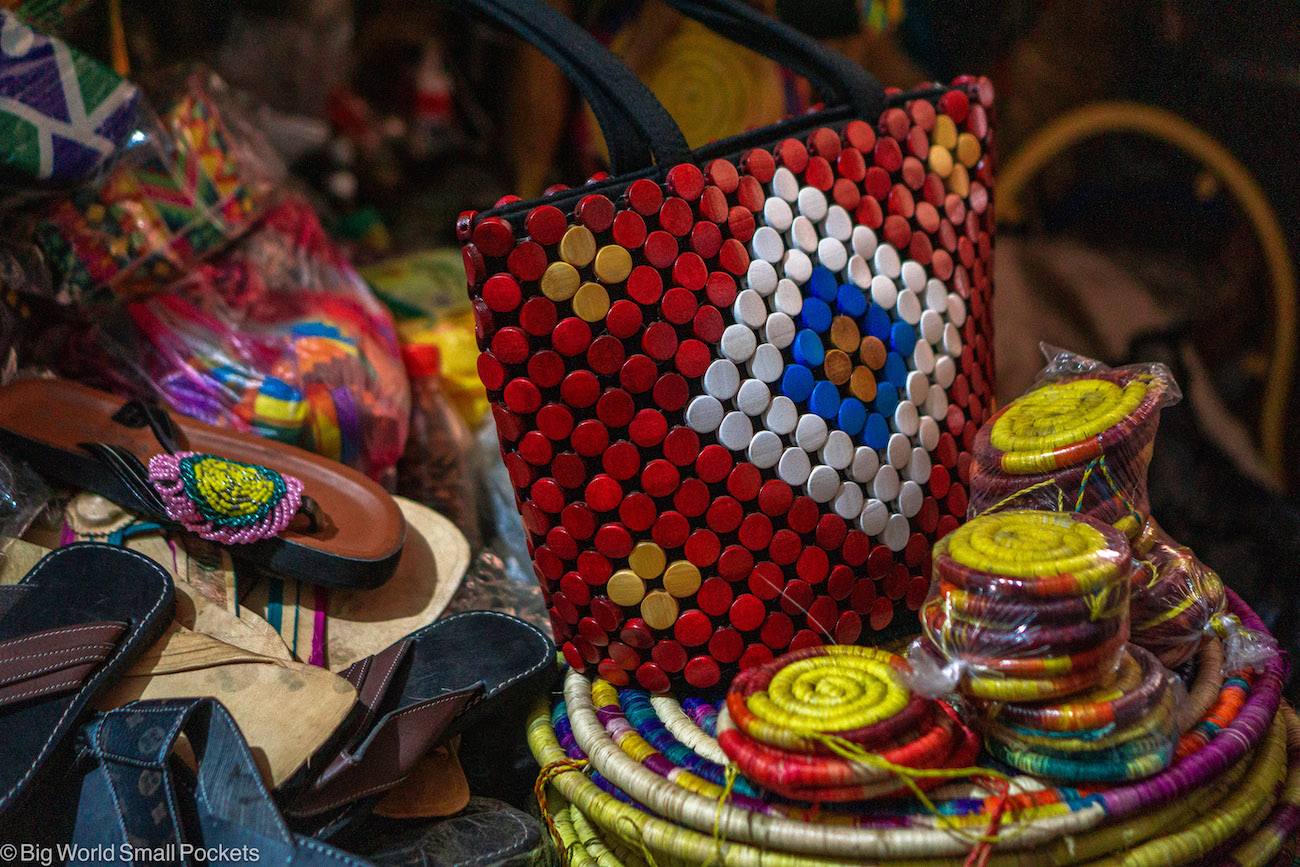 How Long to Visit For?
1 week is a good amount of time to see a lot that Sierra Leone has to offer, including Freetown, the surrounding beaches and islands, plus some of the nearby wildlife destinations too, such as Tiwai Island.
How to Get There?
Most travellers arrive into Sierra Leone via the capital's international airport.
Flights from Europe are direct with Brussels Airways, Air France or via Casablanca with Royal Air Maroc.
Kenya Airways and Turkish Airlines also operate flights here from other destinations.
As always I use Skyscanner to find the best plane prices.
To get from the airport to central Freetown, it's then best to take the ferry service, which is timed to run with arriving flights.
Sea Bird Express are the main operator and tickets cost $45 USD.
The ticket office is located outside the airport, just across the street from the arrivals hall.
Learn more in this post I wrote all about arriving into Sierra Leone's airport.
How to Get Around?
It's best to get around Sierra Leone care of a tour company or an arranged driver.
Visit Sierra Leone can help with both, including visits from Freetown to the Tacugama Chimpanzee Sanctuary.
Where to Stay in Freetown?
It's likely you'll stay in Freetown for at least one night during your time in Sierra Leone, so here's my top accommodation picks in the capital:
All of these recommended options are situated in the Aberdeen district of Freetown, where the sea ferry from the airport arrives into, making things nice and easy.
Travel Insurance for Sierra Leone
World Nomads offers simple and flexible travel insurance. Buy at home or while travelling and claim online from anywhere in the world.
Alternatively, if you're a long-term traveller, digital nomad or frequent remote worker seeking travel health cover, check out Safetywing's Nomad Insurance policies.
Travel Money in Sierra Leone
Cash is king in Sierra Leone, so I advise bringing lots of USD, Euros or Pound Sterling with you, which can then be exchanged in banks or on the street in Freetown.
Don't rely on ATMs as many don't work and cash withdrawals are limited.
Paying by card in this country is really only available in top-end hotels, restaurants and bars.
On the occasion that you can pay by card (and as a good backup option), I highly recommend a Wise card.
The easy way to spend abroad with real exchange rates and no sneaky transaction fees, I never travel anywhere without mine.
Sign up to get yours here.
Travel Health
You need a Yellow Fever certificate, as well as a Covid-19 vaccination certificate to be granted entry to Sierra Leone.
Bring paper copies of both to show officials at your point of entry.
Always consult a health practitioner before you travel to West Africa.
They will advise you about other recommended vaccinations to get ahead of your trip, as well as about any anti-malaria medication you may need.
Where to Travel After Sierra Leone?
After Sierra Leone, I travelled north to Senegal.
Learn more about travelling with fantastic West African country here.
PIN IT TO PINTEREST!
So there you have it, my complete guide to visiting the Tacugama Chimpanzee Sanctuary in Sierra Leone.
I hope I've shown you just how great this conservation organisation is and why, if you're looking to see chimpanzees in Africa, this is the place to head for.
Have you visited this sanctuary?
What did you think of it?
Tell me all in the comments box below…