Gorilla trekking in Uganda – it's got to be one of those ultimate bucket list travel numbers.
A top 10 hit for sure!
Hasn't it?!
At least I know it was one of mine!
And thankfully I can say gorilla trekking in Uganda, lived up to each and every expectation I had.
From the amazing images I captured, to the stunning rainforest hike, to the experience of staring one of our closest relatives straight in the eye, it's going to be hard to put into words just how incredible seeing the gorillas in Bwindi Impenetrable Forest was.
But I'll give it a try!
So here goes my ultimate guide to gorilla trekking in Uganda. Including everything you need to know about where to see these amazing animals, how to book your permit, the costs involved, recommended companies, what to expect, things to pack and, very importantly, where to stay nearby the gorillas – it's a jam-packed guide with all the info you need for an unforgettable primate package!
---
Related Posts
---
This page contains affiliate links meaning Big World Small Pockets may receive a small commission on any purchases at no extra cost to you.
---
Grab Your Copy of How to Travel Africa for Less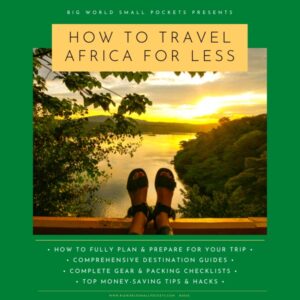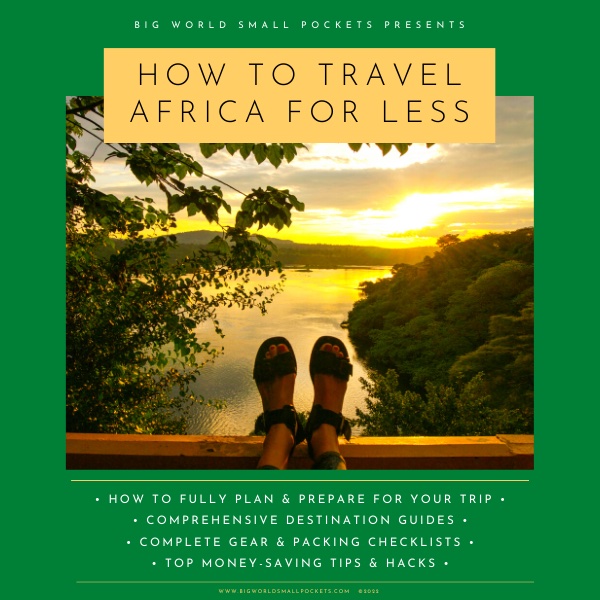 My ultimate guide to travelling Africa on a budget is now available, meaning you can finally get ALL my top tips for adventuring around all, or parts, of this amazing continent in one handy eBook, including…
Full Planning & Preparation Guides
Detailed Destination Info
Complete Packing & Gear Lists
Top Money-Saving Tips & Hacks
My Gorilla Trekking Experience
I finally got to fulfil my dream of seeing gorillas in the wild as part of the 2 month adventure overland trip I took through most of the countries of southern and east Africa because, of course, you really can't pass through Uganda and not take the time to do some gorilla spotting can you?!
So yes, as soon as we crossed the border from Rwanda into Uganda, we made a beeline for the incredible Bwindi Impenetrable Forest and its prime gorilla territory.
The gorilla trekking took a full day and I was glad we arrived in the town of Kisoro, near Bwindi, at lunchtime the day before.
This gave us plenty of time to get everything ready we needed, as well as a good night's sleep, because it was an early start the next morning.
Very early!
Driving from our accommodation to Bwindi before sunrise, we got to see daybreak as we ascended above the clouds along a bumpy dirt road.
After an hour and a half, we finally arrived at the national park and were then split into smaller groups of between 6-8 people, assigned a guide and a gorilla family – name and all!
Each guide, we found out, works with a set pair of trackers – who had already started hiking into the forest at dawn to locate the family we were going to visit.
Well that's the hard work done we thought!
HA!
Our particular gorilla clan seemed to be the furthest away from base camp, because we certainly hiked the longest of all the groups!
Telling ourselves this was because we looked like the youngest and fittest group (HA again!) the hike, through strenuous, really added to the whole gorilla spotting experience.
Indeed, we ended up trekking about 4 hours through the rainforest to get to the family (plus 3 hours back!) and at some point actually crossed over an invisible border into a neighbouring country, the DRC… or so the Vodafone alert on my friend's mobile told us!
The hike was hard and humid, with plenty of fire ants and slippery mud paths to contend with, but the views, at times, were hard to beat as we ascended higher and higher and deeper and deeper into the forest.
We also had 2 scouts with us, as well as the guide, so it felt very safe and well organised – especially as the escorts had guns, namely to protect us from the more dangerous animals that live in Bwindi including buffalo and forest elephants.
Once we were getting close to the gorillas, the guide then warned us to put down our backpacks and get our cameras ready – we were about to get our precious 1 hour with these giants of the jungle.
And what an hour!
I don't ever think 60 minutes has passed so quickly in my life.
Yes we saw a family of 10 gorillas, including a very active male silverback!
From spotting the female gorillas with their babies, to watching the youngsters play in the trees, to being charged by the silverback, it's safe to say we got the full gorilla experience!
What really struck me was how expressive these animals were, and how many "human" characteristics they displayed – including farting and even thumb sucking!
It was even hard to take photos sometimes, mesmerising as it was coming so close to a family of fellow primates.
Yet remember to snap some photos I thankfully did… and you're looking at them right here!
Without a doubt, this was one of the most magical hours of my life… and I even got a certificate to prove it!
#lifegoals!
Where to Trek to Gorillas in Uganda?
So, as I've said, my Uganda gorilla trekking experience took place in the Bwindi Impenetrable Forest – a UNESCO-listed national park located in southern Uganda.
It's unsurprisingly one of the top 5 Uganda safaris I recommend!
It's also one of the most popular places to see gorillas, given it ranks as one of the cheaper spots to see these primates in the world.
Of course, that's one of the cheapest among just a few places on earth, because gorillas' habitats are very specific to this central area of east Africa – these amazing animals can only be seen in Uganda, Rwanda and the DRC (Democratic Republic of Congo).
Add to this that fact that these animals are highly endangered – largely due to habitat depletion due to deforestation – and it's clear trekking to see the gorillas is a pretty limited experience.
And not just open to anyone either!
You actually need to buy permits to see the gorillas in both Uganda and Rwanda (the DRC is not currently recommended as a destination due to the current security concerns there) and this needs to be done well in advance.
As such, deciding where you're going to see the gorilla is a key first step in planning your experience.
Personally, I'd highly recommend trekking to see gorillas in Uganda.
And the place to see them in this country is Bwindi National Park in southwestern Uganda.
Bwindi Impenetrable Forest, as it's also known, covers 331sqkm and boasts exceptional biodiversity, with more than 160 species of trees and over 100 species of ferns.
it's also the place where famous conservationist Diane Fossey visited and studied mountain gorillas.
The gorilla trekking experience I got in Bwindi Impenetrable Forest in Uganda was fantastic and, although I can't compare it to the other locations, the hike included some lovely scenery and the rangers, guides and trackers all seemed to be very well organised.
In addition, it was great to learn about the conservation policies being heavily maintained in this park and how tourism here is providing a valuable and sustainable income for locals.
I was particularly delighted to see our guide was female and to therefore know that opportunities for work in this park and industry are ostensibly open to all.
Gorilla trekking in Bwindi offers the best value for money (the permits are much cheaper than Rwanda's) as well as near-guaranteed gorilla sightings.
Everything is well organised and accessible, which makes it a great choice for your gorilla safari
What is the Best Time for Gorilla Trekking?
You can pretty much trek to see the gorillas all year round, but do remember that rain will make the hike harder and possibly spotting these amazing animals more difficult too.
As such, the best time to enjoy an Uganda gorilla safari is generally thought to be during the country's 2 main dry seasons.
Although climate-change is invariably messing things around here, the 2 traditional dry seasons in Uganda are 1. at the beginning of the year i.e. January and February, and 2. during the northern hemisphere summer months i.e. June to September.
Any of these months would be good times to head to Bwindi for gorilla trekking, as the dry season also means vegetation is lower and not as lush (due to less rainfall) and the primates are then easier to get a good view of.
If budget is a major factor for you however, then heading to see the gorillas outside of the dry months might be a better idea.
Depending on the operator you choose, you can sometimes get a good discount by booking for your gorilla trekking experience in the low or rainy season, which in Uganda is generally during the months of April and May, and then again in November.
Gorilla Trekking Permit for Uganda
So far as the 2023-2024 season goes, there hasn't been any increase of the permit costs for gorilla trekking in Uganda.
These remain fixed at $700 USD for foreign tourists aged over 15 years old.
Compare this is $1500 USD in Rwanda!
All visitors to the gorillas in Uganda, Rwanda and the DRC must have a permit and the costs of these go toward helping to fund the conservation of these animals and protect their habitat.
Gorilla permits also mean the parks' can control the number of visitors per day, which is important for the safety and wellbeing of the animals and reduces any associated threats of over-tourism.
Permits for gorilla trekking in Bwindi are issued by the Ugandan Wildlife Authority (UWA) and under 170 are available each day.
As such, and particularly through the peak visitor months of June to September, I really recommend booking your permit at least 6 months in advance.
This is why, once you decide on the country to want to see the gorillas in, getting your permit is the next urgent step, as they regularly sell out!
Permits can only be bought either direct through the UWA offices (found at Plot 7 Kira Road, Kampala, Uganda) in person, or via a tour operator.
If you want to buy your permit in person, allow plenty fo time and bring a valid passport, the correct money in cash and a lot pf patience to the UWA Kampala office!
Unsurprisingly therefore, the way that 99% of travellers opt to trek to the gorillas and buy their permit is through a tour operator, rather than independently.
Tour operators make sure permits requests are completed properly and processed effectively – with the correct date and time of the intended trek and 1 hour visit to the primate.
After all, if you miss this date and time slot, your permit becomes invalid.
Tour operators also arrange accommodation near the park, as well as transport there as well.
Your choice of tour operator choice will greatly influence the price of your gorilla trekking tour.
Not only is this down to the type of accommodation near Bwindi and the other inclusions in your package (i.e. food and transport), but it is also dictated by the amount of service charge the tour company put on top of the permit price.
This service amount fluctuates throughout the year, but are usually higher during the dry season months, which are more in demand.
See the below section for more info…
Costs of Gorilla Trekking + Budget Tips
When a permit costs $700 USD, there's no doubt that gorilla tours in Uganda are an expensive undertaking!
However, even as a budget travellers, there's no chance I could pass up this once in a lifetime opportunity and so, ultimately, I'm super glad I splurged the cash and ticked this one off my bucket list!
It's also important to remember that some of the permit payment goes to supporting conservation efforts here, along with sustainable tourism job creation.
On top of the permit, you also need to factor in the costs of the service charge the tour operator put on top of handling your permit admin, plus the costs of travel to the area of Bwindi and your accommodation and food before and after the trek.
All in all, you're likely to be looking at around $900+ USD for this 24hr experience.
However, there are some ways to keep the prices as low as possible.
First of all, as I've outlined above, Bwindi Impenetrable Forest is much cheaper than Volcanoes National Park in Rwanda, which is another reason Uganda get my vote for gorilla trekking!
Visiting the gorillas in the DRC's Virunga National Park is cheaper than Uganda, at only $400 USD, but the security situation is so turbulent and unpredictable here, I really wouldn't advise it.
Safety first kids!
The next way to keep for gorilla trekking costs down is to go through a budget-orientated tour company.
I actually bought my gorilla permit and trekking experience through Absolute Africa and I really recommend these guys both in terms of price and service.
What's more, I'm currently offering my readers an exclusive discount off all Absolute Africa tours, meaning you can travel even more in this amazing continent for even less!
Simply send them an email to [email protected], quoting the discount code BWSP, and start planning your incredible overland trip with them today!
Thirdly, if you book a longer tour through the same company i.e. not just gorilla trekking, but perhaps a Uganda-wide trip, or a whole east Africa adventure, then costs will come down.
This is due to the classic travel mantra, that the longer you book for, the lower the cost per day is.
And finally, you can also reduce the costs of your gorilla trekking experience in Uganda even more if you visit during the low season like I did.
A reminder that this is generally during the wetter season months of April, May and November.
What to Expect from a Gorilla Safari?
So now that you've decided where to see the gorillas and how to buy your permit, along with a sense of the associated costs, it's time to gauge what to expect from the experience.
As you may have guessed from the account of my gorilla trek, you're going need a reasonable level of fitness to attempt this bucket list big one!
Not only is that because the distances are long and the terrain tough, but also because the humidity and heat can be pretty gruelling too.
Add into that mix the altitude and the lack of amenities in Bwindi Impenetrable Forest (clue's in the name!) and you definitely want to understand what you're getting yourself into here before it's too late to back out!
Mostly that it's going to one heck of a long day of hiking!
Please make sure you come prepared therefore with everything you might need for a full 8-9 hours of hiking in a comfortable backpack.
This includes lunch, sunscreen and bug spray, as well as a good camera!
You'll also want to bring appropriate footwear – see more in the section directly below this for full details about what to pack for your gorilla trek – as well as thick long socks and a raincoat, as it can pretty much bucket down any time of the year here in Uganda, and you should expect mud and dampness regardless of the time of year you're gorilla trekking!
I visited in November and while we thankfully had blue skies on the way up to see the gorillas, we got pretty soaked on the way down!
It's also important to be aware, that your whole day's effort will amount to just one hour spent in the company of the gorillas.
Due to important conservation regulations, human time with each family is strictly limited to just 60 minutes per day.
It is important to respect this and don't badger your guide for more time.
It's also important that you don't go gorilla trekking if you are feeling unwell in anyway – even if you have a cold.
Human germs and diseases can prove fatal to these already highly endangered animals.
And finally, before your gorilla trekking starts, you'll be briefed on how to behave around the primates including what to do if they approach you.
Pay careful attention to these instructions for your safety, for the safety of those around you and for the safety of the gorillas themselves.
What to Pack and Wear for Gorilla Trekking?

Coming prepared to Uganda for your gorilla trekking experience is key, as you're going to struggle to buy many of the supplies here.
Here's a full list of the gear I think you need to enjoy trekking with the gorillas in Uganda, which I recommend putting together before you embark on your African adventure…
Long, Loose Trousers – These will help to keep you cool, as well as protect from plants and bugs on the hike. Columbia do a great range.
Long, Thick Hiking Socks – You'll need ones that you can tuck trousers/pants in, to safeguard yourself against fire ants! A good pair of hiking socks, like these, will restrict your chances of blisters.
Hiking Boots – These are an absolute must when gorilla trekking Uganda due to the muddy, wet, slippery and unstable terrain. Make sure you select a pair that have good ankle support, good grip and are waterproof – I always recommend Keen Targhee II. Trainers are likely to get covered in mud in Bwindi and sandals are not allowed.
Gardening Gloves – These are optional, but many people like to use them to help protect their hands from the potential splinters of the wooden walking sticks you're given and / or when clinging to branches on the trek.
Long-Sleeved Thin Top – With the climate changing quickly here in the rainforest, your body will be warming up and cooling down a lot depending on whether you're hiking or resting and I strongly advise gorilla trekking in a long sleeved thin top as a result. Long sleeves will protect your arms from the sun, bugs and bushes and will keep you warm; the thin factor will allow your skin to breath and keep you cool too. I actually wore a thin merino top for my trekking, which was perfect and paired this with a thin singlet underneath.
Waterproof Jacket with Hood – As I've said before, the chances of it raining when you hike to the gorillas is high! Come prepared with a thin, breathable, waterproof jacket that will keep you dry without overheating you. I love North Face's excellent range.
A Good Camera – There's no doubt gorilla trekking can provide the photo opp of the year, so don't think your mobile phone will cut it! Instead invest in some decent camera equipment, including a zoom lens, spare battery, cleaning cloth and waterproof case. I love my mirrorless Sony A6000, which is light, compact and sturdy – perfect for the wilds of Africa travel. The 55-210mm lens was ideal for snapping the gorillas and the 16-50mm lens gave me some great wider shots of the stunning landscape.
Sunscreen – Goes without saying when you're this close to the equator!
Insect Repellent – This is the tropical jungle people so be prepared!
Toilet Paper and / or Baby Wipes
2 Litres of Drinking Water
Packed Lunch + Plastic Bag for Rubbish
Day Pack to Carry Everything – This one from Hikpro would be ideal!
Where to Stay Near Bwindi?
If you're heading to Bwindi Impenetrable Forest to see the gorillas, then it is possible although pricey, to stay very close to the park.
My recommendation for budget travellers however, is to base yourself in the nearby town of Kisoro instead.
Just across the border from Rwanda and very near the DRC, there's tons of things to do around this little town, including loads of hiking and wildlife activities like chimpanzee and golden monkey treks (in addition to the gorillas).
This means you could easily spend a few days in this safe, friendly, one street town, especially given its dreamy volcano backdrop!
It's also possible to change money in Kisoro, which is great if you've just come across the border, and there's a small supermarket to stock up on supplies or grab packed lunch material if needed too.
Otherwise, the best eating options in town are the Coffee Pot Café – a good expat choice – and Miami Hotel, which offers cheap, local fare.
For budget travellers, I highly recommend staying at Rafiki Guest House, which has private rooms, as well as dorms and a cute little garden space.
Read my full review of Rafiki Guest House here.
Rafiki Guest House also have a tour company – Iringa Adventure Tours – who can organise gorilla trekking for you.
They can also arrange coffee tours, orphanage visits and treks to Lake Mutanda – 3 other popular activities to do in Kisoro.
Alternatively, check out other accommodation options in Kisoro here.
Other Top Travel Tips for Uganda
How Long to Spend There?
I'd suggest at least 7 days in Uganda to ensure you have the chance to trek to see the gorillas and chimpanzees, plus explore at least one of this country's top other national parks.
How to Get to Uganda?
If you're flying to Uganda, then look for flights which arrive at Entebbe International Airport.
As always, I use Skyscanner to find the best prices.
Alternatively, you can cross into Uganda overland from Kenya and Tanzania.
Top Uganda Tours
I'm currently offering my readers an exclusive discount on all Absolute Africa tours (who I visited Uganda with), meaning you can now travel even more in this amazing country for even less!
Simply send this top African overland tour company an email to [email protected], quoting the discount code BWSP, and start planning your incredible trip with them today!
Otherwise, why not check out these comfortable and well-rated options.
Travel Insurance for Uganda
World Nomads offers simple and flexible travel insurance. Buy at home or while travelling and claim online from anywhere in the world.
Alternatively, if you're a long-term traveller, digital nomad or frequent remote worker seeking travel health cover, check out Safetywing's Nomad Insurance policies.
Travel Money in Uganda
When it comes to paying for things in Uganda, it's great to know that accommodation and tours can generally be paid for by card.
ATMs are also available in most major towns.
Whether you use ATMs or pay by card however, you'll want to ensure you're not being charged overseas transaction fees or getting poor exchange rates, which is why I always take my Wise card away with me wherever I travel.
The easy way to spend abroad with real exchange rates, no markups and no sneaky transaction fees, you can use your Wise card just like a debit card here, and it links easily with Google and Apple pay. Get yours here.
SAVE THIS TO PINTEREST!
So there you have it, my ultimate guide to gorilla trekking in Uganda.
Did I miss anything out?
Have you trekked to see the gorillas in Africa?
Where did you experience it?