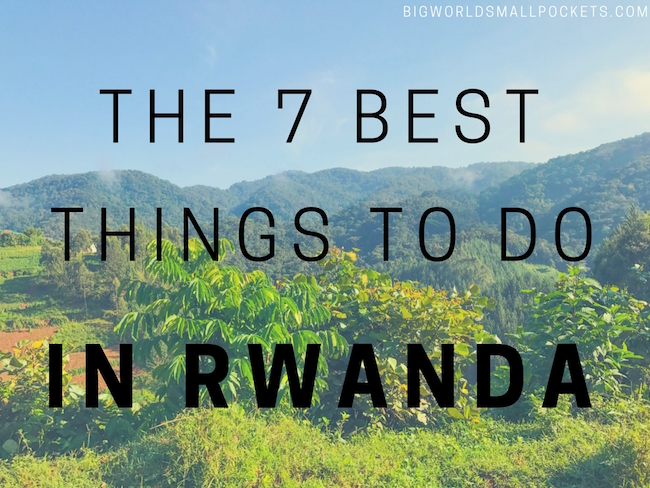 A tiny little country in East Africa, Rwanda nevertheless holds its own in a continent jam-packed full of sensational locations.
With some of the friendliest people of all (my arm actually got sore from waving so much!), Rwanda has nevertheless had a chequered and tragic recent history that can't be ignored.
Discovering its story and choosing to educate yourself about the horrific crimes committed here are just one things to do in this now peaceful and blossoming nation.
I visited the country as part of my super African overland trip and loved my time here.
So, in homage to this rich, tropical green country filled with seemingly endless rolling hills, here are the 7 best things to do in Rwanda.
Oh, and if you want to take a great tour through Rwanda, visiting all the hot spots in this epic country on a budget, then I highly recommend Absolute Africa.
I loved my trip with them so much that I'm currently offering all my readers an exclusive discount on their tours, meaning you can now travel even more in this amazing country for less!
Simply send this top African overland company an email on [email protected], quoting the discount code BWSP, and start planning your incredible trip with them today!
---
Related Posts
---
This page contains affiliate links meaning Big World Small Pockets may receive a small commission on any purchases at no extra cost to you.
---
#1 Learn What Happened in the Kigali Genocide Memorial Centre
Rwanda's recent history can be hard to stomach, but the Genocide Memorial Centre in the capital Kigali does a fantastic job of educating us about it and providing an important space of remembrance and peace.
Taking the audio guide through the exhibition and displays is highly recommended and well worth paying the extra for, giving you an in-depth understanding of the horrors that took place here in 1994 as it does.
The centre also acts as a burial ground and a vital space for the nation's bereaved.
Opened in 1999, it's been incredibly well put together with some beautiful garden spaces surrounding it.
#2 Visit the Famous Hotel Rwanda
It seems strange to be linking one of the worst genocides in human history with some the best things to do in Rwanda, but if you've seen the movie, Hotel Rwanda, you'll know what I mean.
This incredible film depicts the amazingly brave and true story of the hotel manager here, who managed to keep 1268 people safe inside the building during the killing sprees in 1994.
If truth be told, the actual Hotel Rwanda – really called the Hôtel des Mille Collines – was not used in the film, but the real building still exists today in Kigali.
A prestigious place, it's still worth going here in homage to the selfless acts conducted here and to enjoy the view from the terrace.
You can, of course, also stay the night, but if you're looking for somewhere on a budget in Kigali, then I highly recommend the Discover Rwanda Hostel where I based myself.
#3 See Gorillas in Volcanoes National Park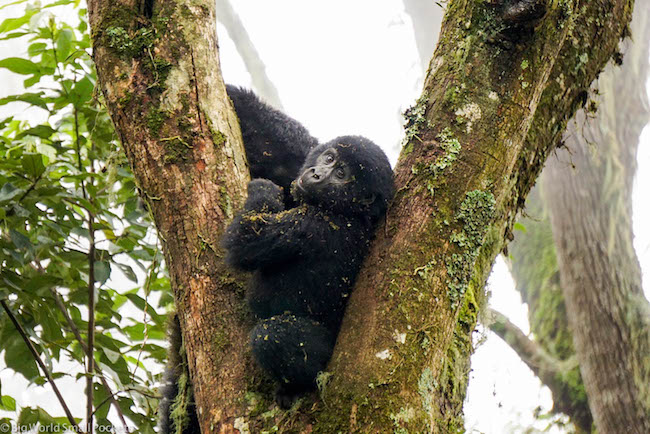 In Rwanda's rich rainforest landscape live some of the most endangered, but incredible animals on this planet.
They just also happen to be one of our closest relatives!
Yes trekking to see the gorillas – while really expensive – is one of those lifetime opportunities you can't afford not to do when in this part of the world and it's definitely one of the most famous things to do in Rwanda.
Here, the mountain gorilla populations are largely based in the Volcanoes National Park, which also provides some stunning scenery and great hiking as you make a visit to these large primates.
Home of the famous conservationist, Dian Fossey, who worked tirelessly to safeguard the gorillas from extinction, there are still only around 700 of these animals in the park, which is also home to Dian's grave.
Guides are of course a prerequisite in the park and Rwanda is now charging top dollar for the privilege.
Like over $1000 USD!
EEK!
As such, you may want to opt for some Uganda gorilla safaris instead, where the price is almost half of that.
See the post about my experience here.
#4 Hike in Nyungwe Forest
Speaking of primates, you can also view chimpanzees in the wild in Rwanda and one of the best places to do so is Nyungwe Forest.
With canopy walks and waterfall hikes, the scenery here is breathtaking and the many bird and butterfly species, as well as golden monkey populations, definitely make it one of the top things to do in Rwanda.
Once again guides are advised, but you can drive to the forest and pick up a guide directly there, rather than having to take a tour all the way from the capital.
There are actually 13 hikes in this park – that's over 130km of trails – most of which traverse ancient and stunning rainforest.
That said you must have a reasonable level of fitness to tackle most of them.
#5 Snap Lake Kivu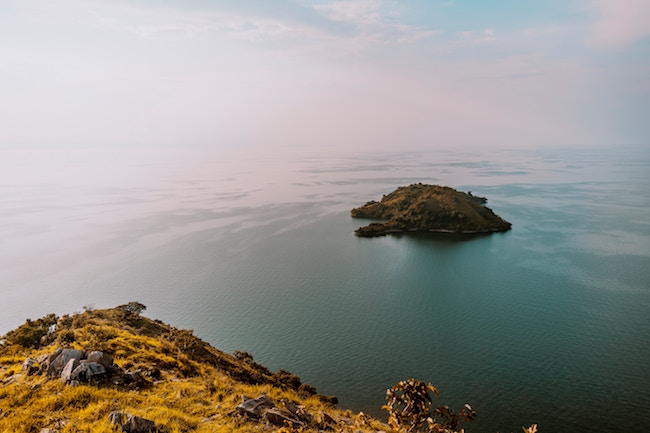 One of Africa's great lakes, the freshwater Lake Kivu is famous for its boat rides, which allow you to enjoy the many small islands located within it.
The lake is situated at 1460m above sea level, so chilling on the beach here or swimming are also hard to resist.
A peaceful spot, Lake Kivu is a winner of a thing to do in Rwanda if you're looking for some downtime.
#6 Safari in Akagera National Park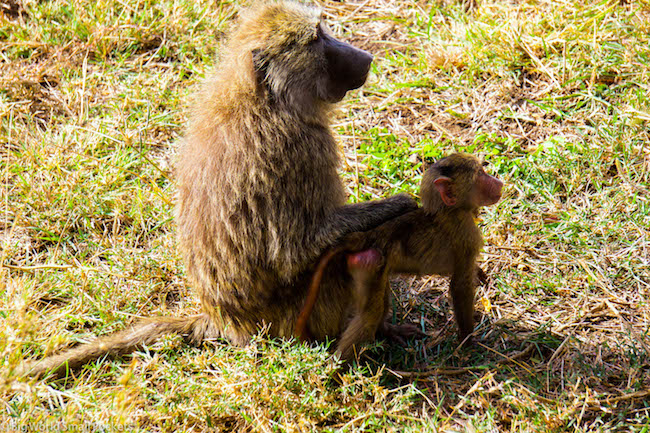 Rwanda's top national park, Akagera is a safari paradise and is the last protected wetland in Central Africa.
It's the only place in Rwanda where you can see the Big 5 and these are accompanied by giraffes, zebra as well as antelope, baboons and hundreds of species of birds.
So don't feel like you have to go to Kenya, Tanzania or Uganda for your safari experience, heading to Akagera is definitely one of the best things to do in Rwanda.
#7 Make Friends with Some Bats in Musanze Caves
The Musanze Caves are a bit of an anomaly and I must admit I didn't visit them during my time in Rwanda.
However, when I was researching this article, I came across them and they looked ridiculously cool, so I couldn't resist adding them into this list of the best things to do in Rwanda.
2km from the town of Musanze / Ruhengeri, which is near where you trek with the gorillas, these 4 caves were created from lava flows when the Rift Valley was being formed around 65 million years ago.
Bats rule the roost here, and shards of light along with twisted vines break atmospherically through to this underground world in the places where the caves' ceiling has fallen in.
The caves are 1.25 miles long and taking a guide to a) find them and b) walk you through them is highly recommended.
PIN IT TO PINTEREST!