Let's be honest, Australia is a long way from anywhere.
And it's most certainly a long way from Africa, which feels very far away when you're sat at your computer trying to plan the trip of a lifetime.
Trust me, I know!
Not very long ago, I was doing just the same in Fremantle, WA, feeling slightly frazzled by all the different options for African safari packages from Australia that were appearing on the screen in front of me.
To be honest, it was confusing knowing even where to start… and that's bearing in mind it wasn't my first trip to Africa either!
But it was my first safari package from Australia, which is quite a different thing from floating around with a backpack and so, in the lead-up to this trip, I learnt a fair few things about what and what not to look out for.
Having enjoyed an incredible adventure, I now want to bring you my 7 top tips when it comes to finding the best African safari packages from Australia, so here they are…
---
Related Posts
---
This page contains affiliate links meaning Big World Small Pockets may receive a small commission on any purchases at no extra cost to you.
---
Grab Your Copy of How to Travel Africa for Less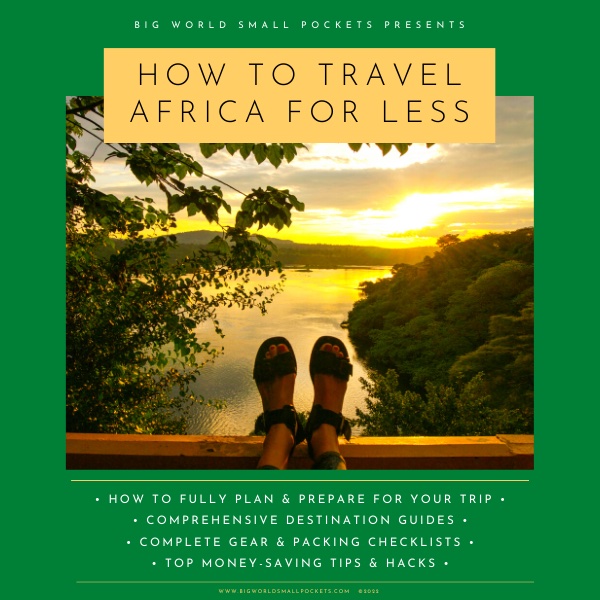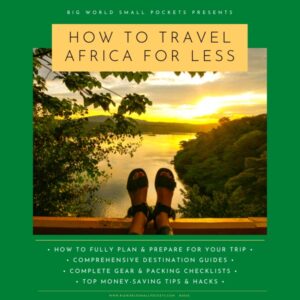 My ultimate guide to travelling Africa on a budget is now available, meaning you can finally get ALL my top tips for adventuring around all, or parts, of this amazing continent in one handy eBook, including…
Full Planning & Preparation Guides
Detailed Destination Info
Complete Packing & Gear Lists
Top Money-Saving Tips & Hacks
#1 Keep the Search Wide
I think the first and most important point to remember when trying to find the best safari package from Australia is to cast your net wide.
As most safari packages don't include flights, the fact of where you'll be coming from before you get to Africa is often irrelevant.
If you're trying to bag yourself the best deal therefore, or the itinerary that suits you best, don't limit yourself by only considering companies that appeal directly to the Australian market.
A company doesn't, for instance, have to have an Australian office or headquarters.
As long as you can pay the company in Australian dollars, contact them from Australia, and feel happy to independently book your own international flights, you can pretty much enjoy any safari package you want to.
TOP TIP: Use Skyscanner
to find the cheapest flights around from Australia to Africa.
The one thing to consider if you're going to do this however is what to do when you arrive in Africa.
Checking whether your opted-for safari package can book you accommodation ahead of the trip for you is a good start.
If yes, you might want to consider this option.
Otherwise, when booking your own accommodation in your African arrival city (preferably the same city where the safari departs from) enquire whether the accommodation offer an airport shuttle service.
9 times out of 10 they will, making your arrival into Africa far less stressful.
All you then have to do, is book the accommodation, book your flights, arrange the airport shuttle and let the safari company of your choice know where they can find you on the day the trip departs!
#2 Pick Your Destination Carefully
With your search now wide open, my next top tip when it comes to picking the best safari package from Australia is to think hard about where exactly in Africa you want to go.
Like really hard!
This may start with you considering whether you want to visit just one country or whether you'd like to journey across multiple destinations.
Of course, this is likely to vary according to your budget and time constraints, but doing some preliminary research about where exactly you want to visit in this diverse continent is going to be key in ensuring you enjoy the trip of a lifetime.
Begin by thinking about the time of year of your intended trip and consider weather patterns and climate conditions across the continent in lieu of this.
Next, consider exactly what you might want to see and experience in Africa.
If you want to combine a safari package with some beachy relaxation for example, then let me strongly suggest heading to Kenya, where this great itinerary for those on a tight schedule mixes wildlife spotting in the Masai Mara with reclining alongside the beautiful Indian Ocean!
If it's gorillas you want to trek with, then I recommend Uganda.
If it's elephants you want to see, it's hard to look past Botswana.
And if you want to combine a safari with some surfing or city time, it's got to be South Africa.
Most safari packages from Australia operate in either Southern or Eastern Africa, so start your research with this part of the continent and then keep narrowing it down from there.
A great tool for helping you do just that is SafariBookings, a wonderful online travel agency that I found very useful when researching my African safari trip.
Allowing you to amend your search options, based on trip duration, budget, countries and more, SafariBookings has a huge number of potential options for you to choose from, as well as offering reviews of particular trips from previous travellers to help you further.
#3 Is Overlanding Right for You?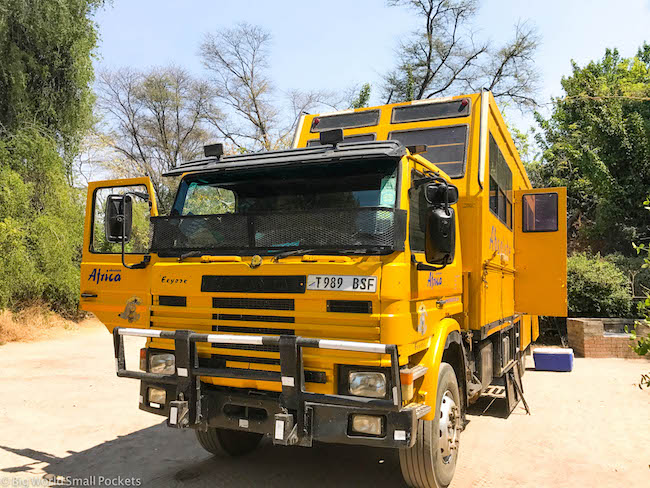 This is going to be especially crucial for those of you looking to book African safari packages from Australia that traverse multiple countries, as 9 times out of 10, you'll be doing this in an overland truck.
Essentially a huge 4wd bus on wheels – overland tours are ideal for those wanting to explore many parts of Eastern or Southern Africa in one trip.
Even within one country, like South Africa, many safari packages that combine multiple national parks use overland trucks to move guests around.
I enjoyed an overland trip through Southern and Eastern Africa with a company Absolute Africa (who offer the opportunity to pay in Australian dollars) and absolutely loved it, but do be aware this type of trip isn't for everyone.
Camping and group cooking are part of the experience, so if you're looking for something more luxurious, you may want to consider a different type of safari package.
For more info, check out my post 10 things you need to know before embarking on an African overland trip.
#4 Research T & C's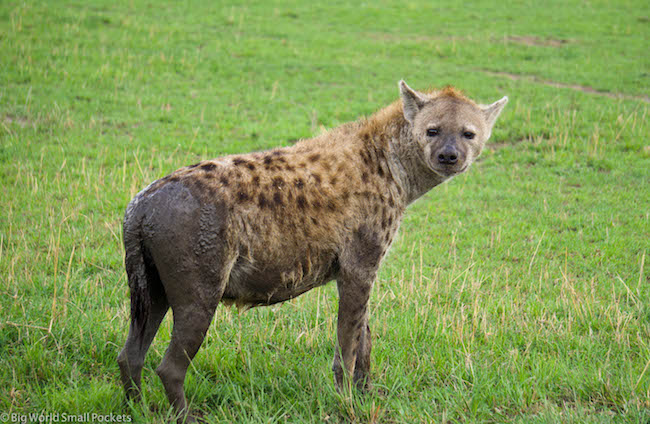 Talking about camping and cooking leads me onto my next point, which is very important to consider when it comes to choosing your perfect African safari package from Australia.
Sadly though, caught in the moment of excitement and planning, many people overlook it.
And that point is to research well, in advance, what is and isn't included in your tour.
Particular things to consider are accommodation types, food and drinks, activity costs and visa expenses.
It may not seem that important when you're sat in Australia planning the trip of a lifetime, but when you get to Africa, uninformed, trust me the costs will soon mount up!
Read the small print as well as the terms and conditions of any safari package before you part with any money to ensure the trip you're paying for is the trip you expect!
You'll also want to familiarise yourself with any cancellation policies!
#5 Get The Right Insurance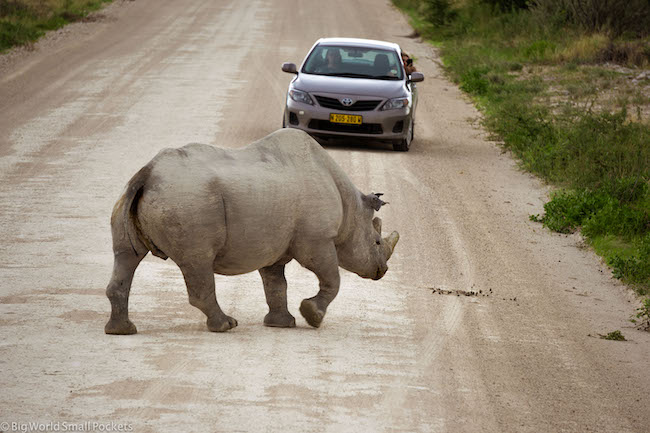 Having read the T & C's of your intended safari package, it's likely that getting travel insurance will be a pre-requisite for the company involved.
Even if it's not, I'd strongly advise getting some as you'll thank your lucky stars if anything does go wrong.
Once you know the time of the trip you're taking, the activities involved and the countries you'll be visiting, remember to book your insurance accordingly.
World Nomads offers simple and flexible travel insurance. Buy at home or while travelling and claim online from anywhere in the world.
Alternatively, if you're a long-term traveller, digital nomad or frequent remote worker seeking travel health cover, check out Safetywing's Nomad Insurance policies.
#6 Consider Travel Agency vs Booking Direct
Depending on the type of trip you want to make, consider booking your African safari package from Australia through a travel agency vs a direct booking through the company.
Travel agencies are able to provide you with a wide range of services such as flights and accommodation, as well as tours, which may be helpful if you've selected a safari package that doesn't include everything.
Otherwise, booking direct with a company that provides African safari packages from Australia may be cheaper as you're not having to pay a third party too, although more work and research may be involved as a result.
Think about how confident you are at travel booking and how tight your budget is and then decide from there.
SafariBookings are a recommended online tour agency who offer some unbeatable prices on safari trips.
Otherwise, reputable travel agencies who can organise African safari packages from Australia include Flight Centre, APT and STA Travel.
#7 ATAS Accredited
And speaking of reputable companies, if you are booking your African safari package from Australia through a travel agency, you'll want to check that they are ATAS accredited.
ATAS is a national Australian scheme that endorses travel agents who have met strict financial and customer service criteria.
You can search whether your provider is accredited here – www.atas.com.au – as well as discover all the benefits that having such certification brings.
SAVE THIS TO PINTEREST!
So that's my top 7 tips when booking an African safari package from Australia.
Have you got any more to add to the list?
Or have you experienced a trip with a great company you'd like to share?
Please join the conversation in the comments box below…