Well I made it folks, 48 days on an overland safari trip in Africa and I've lived to tell the tale!
At times it was hard, at times it was tiring, but mostly it was an epic adventure of great people, sensational landscapes, incredible memories and wild encounters.
I'd recommend an overland African safari trip to anyone who feels like they want to see a lot of this continent in an easy and accessible way, because it's definitely great for fitting a lot of your bucket list items into a short amount of time.
So, if you are thinking of hopping onboard one, here's my list of the 10 things you need to know before going on an African Overland safari trip.
---
Related Posts
---
My African overland safari trip was sponsored by Absolute Africa, but as always, all views are my own.
This page contains affiliate links meaning Big World Small Pockets may receive a small commission on any purchases at no extra cost to you.
---
Grab Your Copy of How to Travel Africa for Less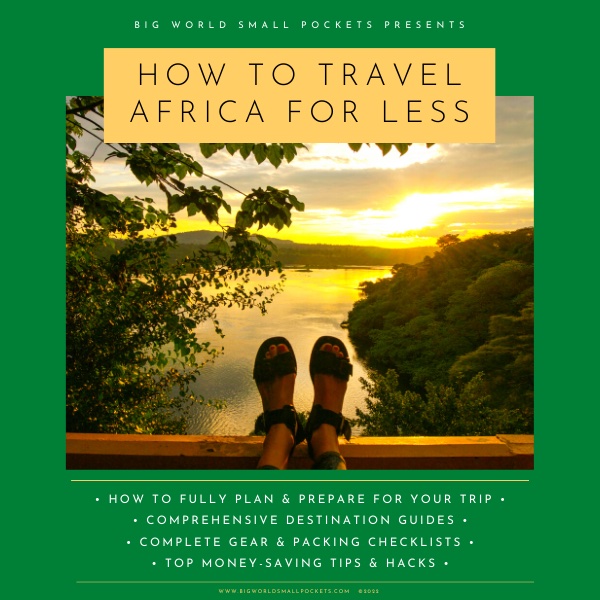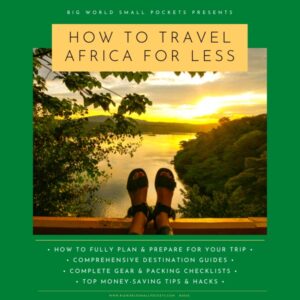 My ultimate guide to travelling Africa on a budget is now available, meaning you can finally get ALL my top tips for adventuring around all, or parts, of this amazing continent in one handy eBook, including…
Full Planning & Preparation Guides
Detailed Destination Info
Complete Packing & Gear Lists
Top Money-Saving Tips & Hacks
#1 You'll Need to Take Lots of USD Cash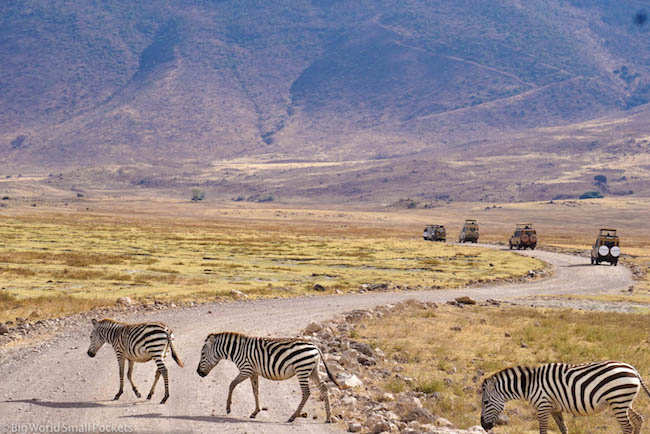 Throughout Africa (at least Southern and Eastern Africa where I overlanded) US dollars are the standard currency.
This means they are easily changed and, in some cases, even used to pay for goods and services within the countries themselves.
Taking lots of USD cash with you therefore is going to make life a whole lot easier when you're jumping between different countries each with their own currency, often in quick succession.
Changing physical notes into local currency is also going to be more cost-effective than withdrawing local currency from ATMs, where you're likely to get slammed with high foreign transaction fees and poor exchange rates; not to mention the risk of fraud from dodgy or tampered ATMs.
And that's all if you can find a working ATM of course!
But what about the security of carrying lots of cash with you?
Well I'm delighted to say that Absolute Africa – the company I undertook my overland trip with – took the security of our personal possessions and valuables very seriously.
With a secure group safe on board, and personal lockers under each seat, travelling with lots of USD cash on me never felt risky while I was on my overland safari trip.
I was also travelling my laptop, hard drives and mirrorless camera in Africa (the life of a blogger I'm afraid) and I totally felt like Absolute Africa provided excellent security when it came to making sure my luggage was as secure as possible.
#2 You're Likely to Experience Long Days of Driving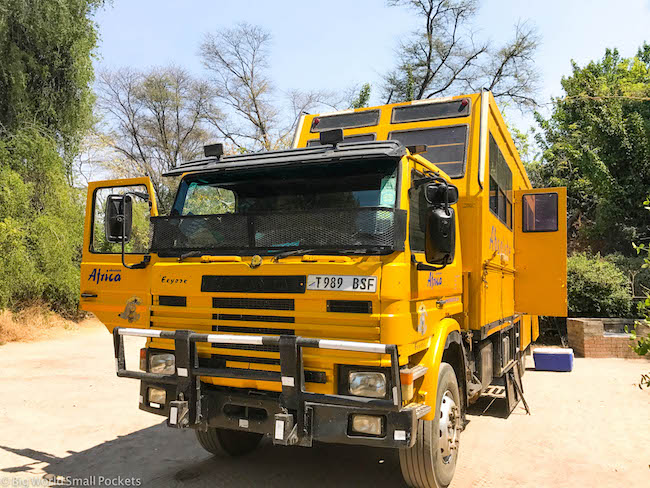 Be warned people, any African overland safari trip is likely to involve some seriously long driving days… like 12 hours+.
Sadly that's just a fact of having to travel long distances between all those amazing places and, like any road trip, you need to make your peace with sitting for a long time and staring out of the window (which in Africa, let's be honest, isn't so hard to do!)
In terms of making things a bit more comfortable on your overland trip however, I recommend bring your own full-sized pillow on board to sleep with.
I'd also suggest having music downloaded onto your phone before you arrive in Africa (Spotify Premium is a great choice), as well as some audiobooks (I recommend Amazon Audible), especially if you can't read while in motion.
Also bringing some good sound-proof headphones like these is an excellent idea as they'll help drown out any noise from those bumpy roads.
I was delighted to find that Absolute Africa actually had an inbuilt have speaker system in each of their trucks so that everyone could enjoy some group tunes on the bus!
This was so much fun and created an awesome atmosphere on board because really, you can't go wrong when each day begins with the soundtrack of Toto's Africa, followed by Elton John's Circle of Life to a view of the African landscape!
Absolute Africa also have power points at the front of each of their trucks, which means you can easily keep your phone charged up for all that music playing, your Kindle charged for all that reading and your camera, ipod, laptop and ipad on full battery for anything else you might need!
#3 It Won't Be a Luxury Trip
Although there are different levels of luxury when it comes to African overland safari trips, most involve some level of camping and help with the meals.
This means you'll be pitching a tent, washing up and chopping vegetables most days.
I wouldn't recommend an overland trip therefore if you're opposed to any of these things!
I also wouldn't recommend an overland trip if you aren't up for roughing it a bit, being quite physically active or looking to experience a bit of wilderness.
That's because of 3 of these things are key parts of the overland experience.
Sometimes the camps will be very basic, without hot water.
There likely won't be much wifi and food choices will be limited.
However, I can certainly vouch for the fact that Absolute Africa work very hard to balance western comforts with giving their travellers a real African experience.
In particular, the high-quality nature of their tents and mattresses, meant that my 48 days of sleeping in a tent was actually way less painful than it sounds!
For those who did want a bit more luxury however, Absolute also gave us regular opportunities to upgrade our accommodation.
In addition to this, having a fridge and a cooler onboard the Absolute truck meant we were able to travel with lots of delicious fresh, local produce so that our meals were anything but basic.
In fact, almost everyone commented on how amazing the food was and, as such, the process of helping with their preparation never felt like a chore.
#4 You'll Travel Quickly
Do be aware that on most African overland safari trips you're going to be covering some large distances in a short amount of time.
This is just a necessary fact when you move from highlight to highlight, attraction to attraction across many different countries and is especially true in Southern Africa, where there are some huge distances to drive between national parks and game drives.
As such, it's good to be aware you'll travel quickly on your African overland safari trip and sometimes only spend a few days in each country.
This can become very confusing when each country has its own currency, so I highly recommend printing a currency conversion table with you before you leave home.
While we did travel quickly with Absolute Africa, our excellent guides had stacks of info to help us adjust between countries quickly and were always willing to help with any questions.
In particular, they regularly told us about the best places to change money, the best conversion rates and even acted as small banks themselves, exchanging money for you if you run out.
This meant the process of travelling quickly and easily was exactly what we managed to achieve on our African overland safari trip.
#5 You'll Need to Be Aware of Multiple Visa Requirements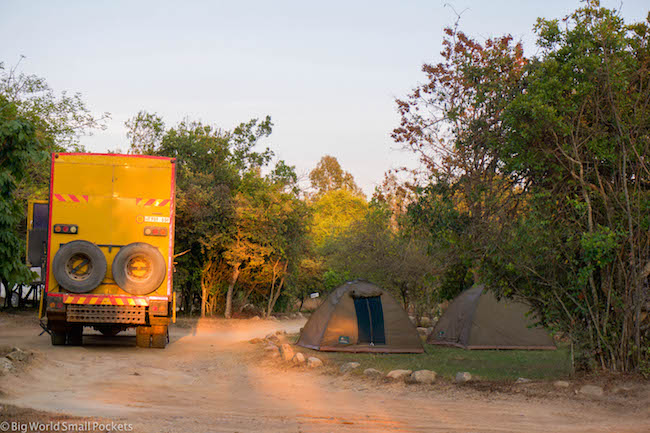 Another thing about changing countries a lot and in quick succession is that you'll need a lot of different visas on your African overland safari trip.
This can be expensive and, for some visas, you'll even need to apply in advance.
One of the most helpful things about Absolute Africa is that they give you all the info you'll need in advance of your trip concerning visas, along with current prices.
This includes details about exactly how, where and when to apply for any visas you need to do before you leave home i.e. the East Africa Visa, ensuring you get the best deal and spend the least amount of money.
For more tips about crossing borders smoothly in Africa, check out my 10 mistakes to avoid here.
LOOKING FOR A BUDGET TOUR IN AFRICA?
If you're interested in an unforgettable, well-priced tour in Africa, with guides you can trust, then email me at [email protected] with some ideas about where you want to go and I'll send you my top recommendations – simple!
#6 You'll Need a Wide Range of Clothing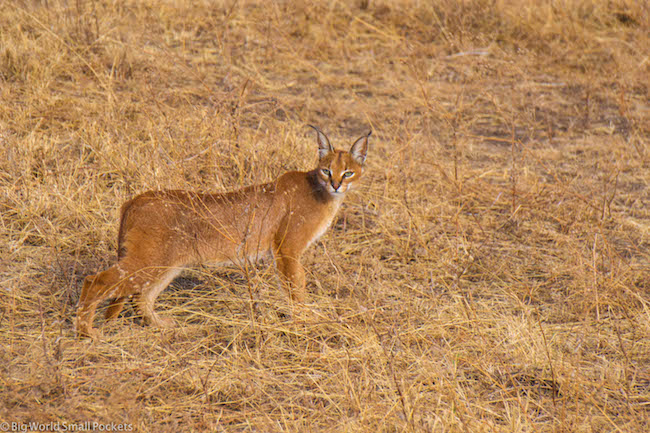 From the cold highlands of East Africa to the steaming Swahili coast, from the dry savannahs of Southern Africa to humid tropical rainforests in Rwanda, travelling on an African overland safari trip is likely to take you through a diverse range of landscapes and climates.
What this means, of course, is that you'll need to pack a wardrobe to match!
When travelling with a small bag for a long amount of time, this can be something of a nightmare, but trust me when you get to Africa you won't regret it.
Among the essentials are a waterproof jacket, long trousers, hiking boots, flip flops, shorts, thin long-sleeved tips, T-shirts, a warm hat, a sun hat and some clothing like leggings that allow you to layer.
For more info about what exactly you might need to take with you, check out my ultimate safari gear list.
#7 You'll Need to Get Your Medical Game On!
Ha ha, it might sound kind of funny, but in reality travelling to Africa takes some serious planning when it comes to your health.
That's why you'll definitely need to get organised in terms of vaccinations, first aid and medication well ahead of time.
In fact I'd recommend visiting a travel doctor 6-8 weeks before your departure date in order to get everything you need sorted in time.
Some vaccinations, such as Yellow Fever, are actually a requirement for entry into certain countries (like Tanzania & Kenya) so make sure you've got all the relevant information you need before leaving home.
Anti-malaria medication is another vital health component for an African safari trip, as well as some 30%+ DEET-based insect repellent.
One of the great things about my Absolute Africa trip was the amount of information they gave me when it came to planning.
I definitely felt like I got the full lowdown from them ahead of time, and this would have been an even bigger help if I hadn't travelled in Africa before.
Absolute Africa also require anyone taking a trip with them to have travel insurance, which is a great health precaution.
World Nomads offers simple and flexible travel insurance. Buy at home or while travelling and claim online from anywhere in the world.
Alternatively, if you're a long-term traveller, digital nomad or frequent remote worker seeking travel health cover, check out Safetywing's Nomad Insurance policies.
It's also great to know that if you do get sick, someone will definitely be there to help you out and that local guides with local language and knowledge are there with you every step of the way.
Check out the complete review of my Absolute Africa Overland trip here.
#8 You're Likely to be Exhausted at the End!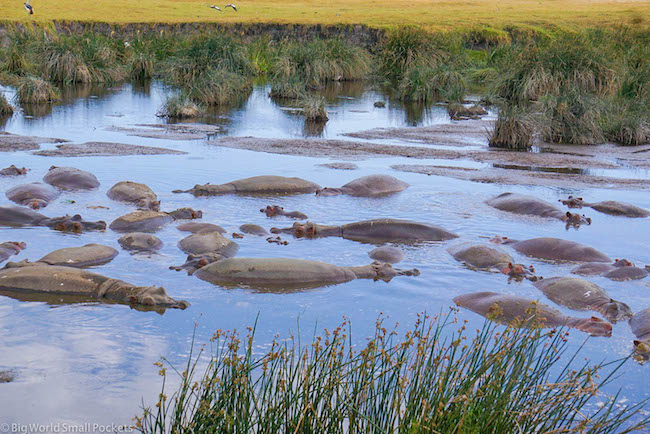 Any travel adventure can be tiring, but I've got to say my African overland safari trip, was probably the most tiring of them all.
Despite the fact that you're on a truck for long periods of time, the quick schedule and long days can be exhausting.
And with camping every night, it's definitely more of an adventure trip than a relaxing holiday!
Most overland trips have a good range of optional activities built into the overall tour and this is perfect for being able to tailor a trip to your particular interests and level of energy!
One of my favourite things about the Absolute Africa trip was the ability we had to decide about these optional activities very near to the time.
Apart from the gorilla trekking and the Zanzibar stay, most extra excursions could easily be booked the day before through our guide which meant you could judge entirely how much or how little to do dependent on how you were feeling.
The other great thing about the Absolute trucks were how comfy the seats were!
This made sleeping onboard very easy – a really bonus on the days I felt exhausted!
#9 You'll See Some Amazing Stuff!
Yep, surely the most important thing you need to know before going on an African overland safari trip is that you're going to see and experience some incredible stuff.
Isn't this why you want to go after all?
From trekking to see gorillas in Uganda to rafting Victoria Falls to spotting elephants in Botswana to diving Lake Malawi or snapping leopards in the Serengeti, it's all there for the taking and it's all seriously amazing!
#10 You'll Meet Some Amazing People from Around the World
And it's not just the things you'll see outside the overland truck that are going to ensure you have an amazing experience.
No, the people you'll encounter inside your truck will definitely add to your enjoyment and memory-making too.
An international industry, it's great that you'll get to travel on your safari trip with people from all around the world, many of whom are likely to have similar interests as you.
Being hours in each other's company every day, you'll be amazed how quickly you become friends and how much you get to learn, grow and share together.
Sounds clichéd, but it's true!
Absolute Africa was so perfect in this domain.
Everybody I travelled with (and there were lots of different people across the full 48 days) was aged 25-45, interested in travelling, the world, adventure, wildlife, politics, photography, history and having a good time and were from places as far-flung as Greece, Australia, New Zealand, Holland, the US, Canada, Ireland and Italy.
Sharing tents and bus seats quickly forged us like a family and for a set of amount of time we became a very close tribe bound by our amazing shared experiences and the collaborative nature of the journey.
SAVE THiS TO PINTEREST!
So there you have it guys, the 10 things you need to know about going on an African overland safari trip.
Seriously I can't recommend this sort of trip enough to those who want to explore the length and breadth of this incredible continent in a quick and accessible way… and I can't recommend Absolute Africa enough as the people to do it with.
You can check out the full range of Absolute Africa tours here.