If you're looking for the idyllic white, powder sand beach among sparkling, turquoise azure seas, then Paje Beach in Zanzibar is hard to surpass.
It's the sort of beach that quite literally takes your breath away, or, in my case, forces an audible squeak of joy from you in a mixture of pure delight and ecstatic surprise!
And let's be honest, if you're travelling to be by a beach this perfect, then why the heck wouldn't you stay near it too?
---
Related Posts
---
My stay at Ebb & Flow Apartments was kindly sponsored by the owners, but as always, all views are my own.
This page contains affiliate links meaning Big World Small Pockets may receive a small commission on any purchases at no extra cost to you.
---
Grab Your Copy of How to Travel Africa for Less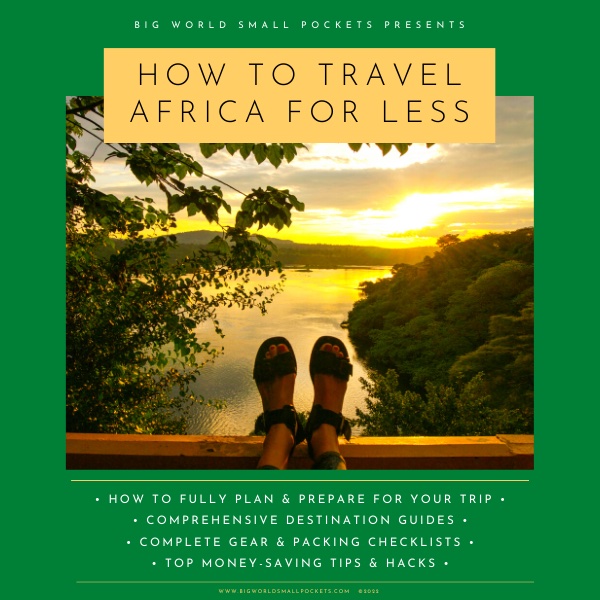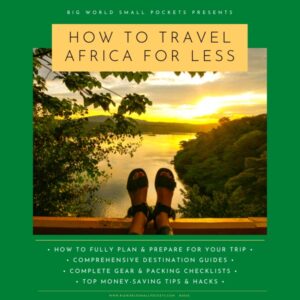 My ultimate guide to travelling Africa on a budget is now available, meaning you can finally get ALL my top tips for adventuring around all, or parts, of this amazing continent in one handy eBook, including…
Full Planning & Preparation Guides
Detailed Destination Info
Complete Packing & Gear Lists
Top Money-Saving Tips & Hacks
Location, Location, Location

So yes, that's the first thing that drew me to Ebb & Flow Apartments in Paje, Zanzibar.
Set less than 2 minutes from the stunning Indian Ocean beachfront, as the name suggests, Ebb & Flow Apartments are inherently connected to this paradise-perfect patch of water.
You fall asleep there listening to the ocean breeze and you wake, just a hop, skip and a jump from a morning swim or stroll along this massive stretch of sand.
It's a location that's hard to beat and it's certainly a location you'll want when you realise just how beautiful this place is.
No joke, it's top 10 worldwide for me so far and that's exactly why I think Ebb & Flow is the perfect Paje Beach accommodation!
Diving, Diving, Diving
Ebb & Flow Apartments also occupy a key spot if you want to scuba dive.
The accommodation is connected with the Buccaneer Dive Shop in Paje, which is the leading dive centre in East Africa and a PADI 5 Star rated IDC Centre.
I was lucky enough to dive with these guys myself during my time in Paje and can't recommend them enough for their professional approach, friendly conscientious staff and the quality of the coral I saw.
Check out the full review of my Buccaneer Paje Diving experience here.
There's also a fantastic kitesurfing school linked to the accommodation as well (Paje is an awesome kiting spot) and with regular surfing on offer too, this is the perfect place to stay if you want a more active beach holiday, instead of (or as well as) a relaxing one.
TRAVEL INSURANCE FOR TANZANIA
World Nomads offers simple and flexible travel insurance. Buy at home or while travelling and claim online from anywhere in the world.
Alternatively, if you're a long-term traveller, digital nomad or frequent remote worker seeking travel health cover, check out Safetywing's Nomad Insurance policies.
Relax, Relax, Relax
For there's no denying that Paje is up there when it comes to relaxation.
Having been roughing it on overland trip and living out of a tent for a month before I set foot on Zanzibar, the chilled vibe of Paje and comfort of Ebb & Flow Apartments was unparalleled
Staying there really did feel like the ultimate tropical holiday in every way.
For starters, the small apartment complex of Ebb & Flow was set around a gorgeous swimming pool and terrace area.
Even if you couldn't quite make it the 1 minute to the beach therefore, you could just roll of out bed and into the gorgeous pool, complete with tropical palm tree floaties!
Soaking It All In
There was also the gorgeous balcony to my apartment, which gave tropical palm trees views to the local village that backs onto the beach.
Cows could be seen wandering the narrow, sandy street behind and children running to school. Birds flittered through the trees as the bouganvillea blew in the breeze… it was all just too good!
In the late afternoon, after I'd had enough sun for the day, relaxing here on the balcony in the one of the lovely wooden chairs and watching the world go by was bliss!
Ebb & Flow Apartments really does combine the best of the Paje Zanzibar accommodation options and rolls them all into one with some competitive prices to boot.
LOOKING FOR A BUDGET TOUR IN TANZANIA?
If you're interested in an unforgettable, well-priced tour in Tanzania with guides you can trust, then email me at [email protected] and I'll send you my top recommendations – simple!
Roomy and Homely
The balcony backed right onto the upstairs of my one bedroom apartment, which would have been totally adequate for a week's stay for 2 people, let alone just little old me rattling around for a few days!
There was a huge king-size bed with four-poster mosquito net, large bathroom with power shower, safety deposit box and excellent free wifi.
The only thing I could possibly criticise was the lack of air conditioning.
Despite the huge ceiling fan and netted windows, it got very hot upstairs in the bedroom and a quick blast of the aircon wouldn't have gone a miss!
Downstairs, the living area had a separate sofa bed that could be used to accommodate a family or a few friends, and this was next to a perfect little kitchenette with kettle, fridge, toaster and sink – plus all the cutlery you'd need to enjoy a breakfast or quick lunch.
As I said, with the village just behind, it was an easy walk to the shop to get supplies. However given the amount of amazing cafes along Paje Beach, I have to admit I never quite made it to the shop!
FYI: the Mr Kahawa offers the best coffee I've had in Africa!
Friendly, Helpful and Safe
I also have to say that the staff at Ebb & Flow Apartments were lovely – so helpful, kind and polite.
They couldn't do enough to assist you and, on top of the daily morning housekeeping, the staff even came into my apartment in the afternoon to spray for mosquitos and let down the net in anticipation of the evening.
The apartments also felt very safe and there was a lovely community atmosphere around the pool.
I loved the small and personal touches around the Ebb & Flow Apartments too which, despite being very new, were so well-run and organised.
My favourite has to be this sign, which was hung by the pool…
… For me, it summed the place up!
We do love the beach and Paje is certainly up there with the best!
As such, I highly recommend getting this place on your bucket list and with it, the Ebb & Flow Apartments are the Paje Zanzibar accommodation I'll definitely be returning to.
To find out more about Ebb & Flow Apartments, check out their website here.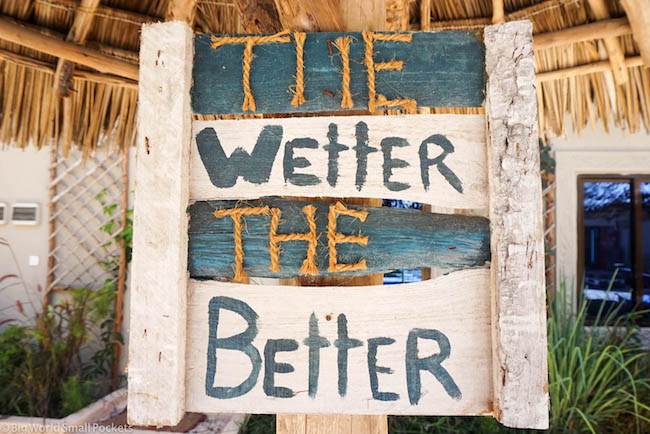 So that's why I think Ebb & Flow Apartments really are the perfect Paje Beach, Zanzibar Accommodation choice.
Have you visited this amazing place?