If you've done any research when it comes to seeing gorillas in the wild, you'll know one thing – that it's not a cheap undertaking!
Read: budget travel nightmare!
The other thing it's not, is easy, with some serious advance planning and booking required to ensure all the pieces of the puzzle fit together.
Luckily, if you're happy to pull your finger out a bit when it comes to organisation and research, there are some cheaper ways you can see the gorillas than others.
One is to head to the Bwindi Impenetrable Forest, a national park in Uganda, that has some of the cheapest gorilla trekking permits going.
Even better is to head there in rainy season, when the cost is lowered even further!
So it's probably no surprise that's exactly what I did, heading over to trek with the gorillas in October 2017!
Another great way you can save some coin when trekking to see the gorillas is on your accommodation costs while you're in the area.
And that's where my recommendation for Rafiki Guest House comes in.
---
Related Posts
---
This page contains affiliate links meaning Big World Small Pockets may receive a small commission on any purchases at no extra cost to you.
---
Grab Your Copy of How to Travel Africa for Less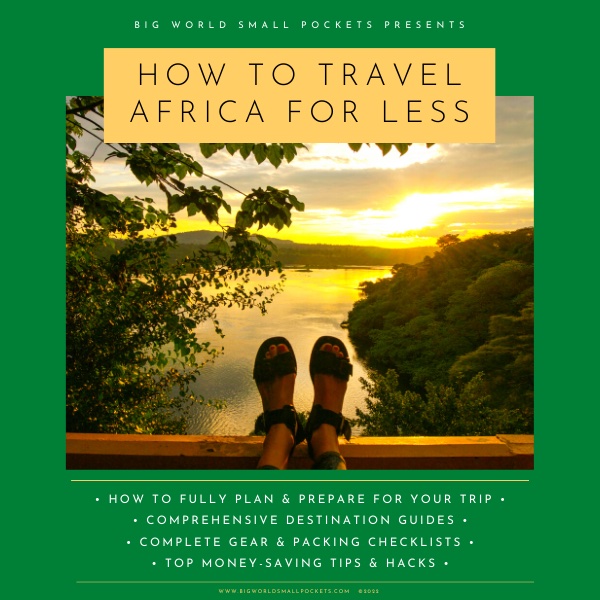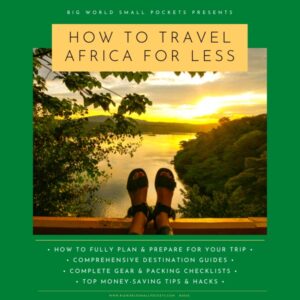 My ultimate guide to travelling Africa on a budget is now available, meaning you can finally get ALL my top tips for adventuring around all, or parts, of this amazing continent in one handy eBook, including…
Full Planning & Preparation Guides
Detailed Destination Info
Complete Packing & Gear Lists
Top Money-Saving Tips & Hacks
Kisoro, Uganda
Situated in Kisoro, a Ugandan town just near the Rwandan border, this is a great place to base yourself when Gorilla trekking.
For starters you can easily arrange shuttle transport to the Bwindi Impenetrable Forest National Park entrance where you begin hiking.
You can also stock up on any last-minute supplies here that you might need, as well as be assured of some hot food and good coffee when you're done hiking too!
Kisoro is also a great place to undertake some other activities in the area, such as hiking to see the golden monkeys, enjoying a coffee tour or visiting the beautiful Lake Mutanda.
This means there's plenty to enjoy during a relaxed few days here, which you may just need after your big hike to see the gorillas!
LOOKING FOR A BUDGET TOUR OR SELF-DRIVE TRIP IN UGANDA?
If you're interested in an unforgettable, well-priced tour in Uganda with guides you can trust, or a self-drive trip organised by a great company, then email me at [email protected] and I'll send you my top recommendations – simple!
Rafiki Guest House Location
Rafiki Guest House is well situated in Kisoro – on the main street, an easy walk from the centre – which means it's ideal for solo and independent travellers.
The guest house also gets a lot of regular overland trucking business too, which is always a good sign!
Kisoro is also very safe and I liked that staying at Rafiki Guest House allowed me to walk and grab a coffee at the great Coffee Pot Café (a good Mzungu choice with free wifi) or a local lunch at The Miami any time of the day.
If you're travelling by public bus you can easily reach Rafiki Guest House on foot once you arrive in Kisoro and any friendly local will happily point you in the right direction!
Amenities
Rafiki Guest House has a good choice of room types, with both dorms, privates and family rooms all on offer.
In my opinion, the best ones are found out at the back of the guest house near the courtyard.
Despite not having a kitchen, Rafiki Guest House has a great lounge / common area with lots of power points, chairs and tables if you want to relax or work.
There's also a simple bar, if you don't feeling going far to grab your beer and free wifi to boot.
The cute courtyard is perfect if you want to catch some sunny rays or, even better, is the garden where you can chill and watch the world go by.
But it has to be said, the best seat in the house is the one with the view of the volcanoes from the neighbouring Democratic Republic of Congo, reminding you just how close you are here to both the Parc National des Virungas and Parc National des Volcans.
As if to corroborate this, Rafiki Guest House are affiliated with a sister tour company based in Kisoro called Virunga Adventure Tours.
These guys can organise a whole range of activities for you during your time here, including those mentioned above and many more into the DRC and beyond.
THE BEST TRAVEL INSURANCE FOR UGANDA
I would never think of travelling to Uganda without proper coverage and always recommend travel insurance from World Nomads who I've used during my time in this country and throughout Africa.
I love their great coverage of adventure activities – crucial for a country like Uganda – as well as their excellent customer service and ability to claim online, which is very handy if you're travelling in remote places for a long time.
Perfect for Budget Travellers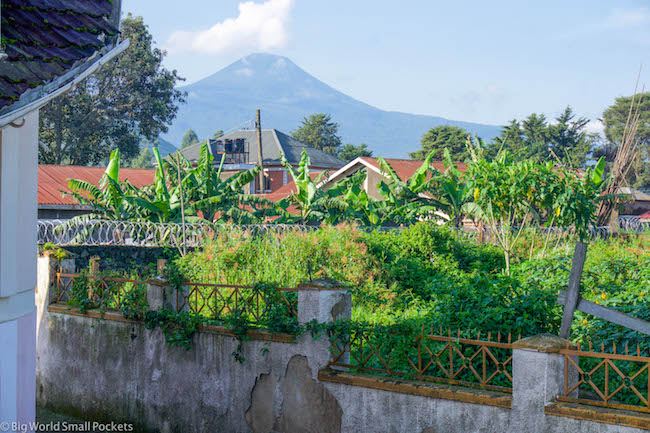 Coming in the rainy season you're likely to be able to strike a good deal when it comes to the rates at Rafiki Guest House, but even in peak season this place is well-priced and ideal for budget travellers.
It's also locally-owned and staffed, which is always a huge plus point in my book!
Being a budget accommodation option in Uganda, Rafiki isn't without its occasional problems, such as power cuts and a lack of hot water, but there really isn't much more you can expect from this price range in this part of the world.
Overall, I thoroughly enjoyed my time in Rafiki Guest House, not least because it felt clean, safe and secure.
As such, I highly recommend Rafiki Guest House as a great budget option if you're travelling to Kisoro and a great option for those wishing to trek to the gorillas in Uganda.
To make your reservation at Rafiki Guest House in Kisoro please either email them at [email protected] or call +256 704 837 506 / + 256 701 257 647 /
+256 701 257 693.
And, if you are going Gorilla trekking, don't forget these essential items…