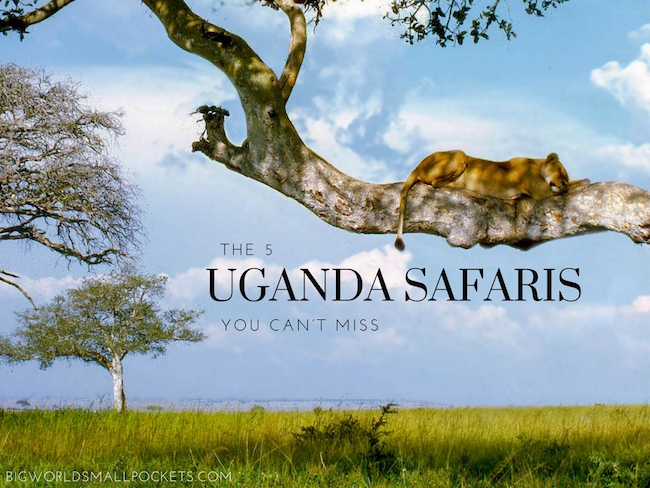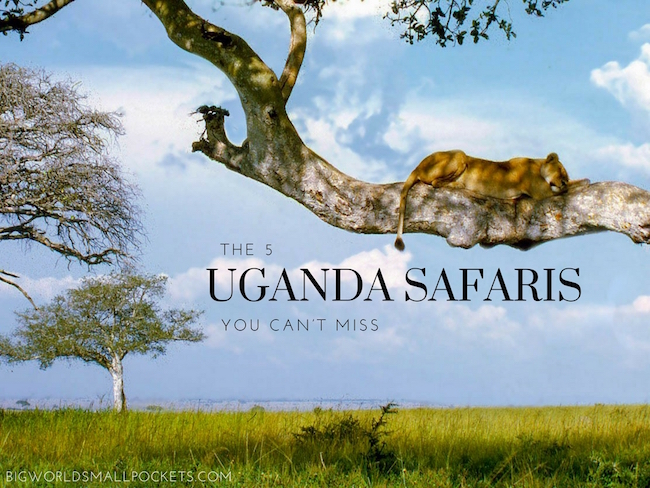 The lush green East Africa country of Uganda is a safari paradise.
Far less popular and therefore less crowded than neighbouring Tanzania and Kenya, Uganda's national parks are home to a huge array of wildlife, including the Big 5, plus some stunning landscapes too.
With the Equator running right through this country and the White Nile starting life here, this is a jam-packed and diverse place from valley lakes to tropical rainforests.
And of course, it's home to the world's best gorilla and chimpanzee encounters too!
So if you want to get up close and personal with some of your closest relatives, take a look at these 5 Uganda safaris and find out where you can do just that…
---
Related Posts
---
This page contains affiliate links meaning Big World Small Pockets may receive a small commission on any purchases at no extra cost to you.
---
#1 Murchison Falls National Park
With the river Nile flowing through its grounds and crocodiles and hippos lining its banks, Murchison Falls National Park is undoubtedly one of the top Uganda safaris in terms of both wildlife and landscape.
Offering land and water safaris, the big drawcards here are the mammals, including Rothschild giraffe, buffalo and elephants, which you can spot (and snap) infront of the stunning Victoria Nile cascades and falls.
For it's here that the River Nile, which bisects the park, is forced through an 8 metre gap, creating the stunning Murchison Falls that plunges into Devil's Cauldron below.
Unsurprisingly, breathtaking rainbow formations are not uncommon!
Like most National Parks, games drives in Murchison Falls National Park are best conducted in the early morning and late afternoon, when the animals make their appearance after the heat has died down.
The light and colours of the Savannah grassland are also stunning at this time of day.
Uganda's largest national park Murchison Falls National Park was also one of its first, established in 1952 and is a must-see during any trip to this wonderful country.
#2 Queen Elizabeth National Park
If you want to see elephants during your time in Uganda, then Queen Elizabeth National Park is the place to head.
Situated in the west of the country, and bordering Kibale National Park to the north, Queen Elizabeth National Park features 4 of the Big 5 and offers one of the best Uganda safari experiences.
It's understandably busy as a result, but the stunning scenery here, including enormous crater lakes, and its sensational tree-climbing lions, make it worth battling the crowds for.
In fact, there's been a total of 600 bird species and 95 mammal species recorded in Queen Elizabeth National Park which, in addition to those already mentioned, includes hippos, leopards, buffalos, hyenas and warthogs.
There's no question that this park offers one of the top Uganda safari experiences and you'll ideally need 2 nights here to soak it all in.
#3 Bwindi Impenetrable Forest
Undoubtedly one of the most unique Uganda safaris you can enjoy, most people head to Bwindi Impenetrable Forest (as I did) for 1 thing and 1 thing only.
And that thing is to see the Mountain Gorillas.
As bucket list numbers go it's a big one (there's no denying it) and seeing these incredible primates up close and personal is every bit as spellbinding as you would imagine.
To put it quite simply, staring into the face of one of the human race's closest ancestors is a mesmerising experience and although you only get 1 hour to spend in their company, in some ways it feels like a lifetime.
As you watch the gorillas climb trees, roll in the grass, scratch, eat, play and chase each other, the sense of time seems to slips away and you really are transported to an altogether different realm of existence.
That is until you're charged by the silverback male of course, and firmly brought back to reality with a terrifying thud!
But seriously, there's no doubt that Bwindi Impenetrable Forest is one of the best Uganda safaris, if not one of the best wildlife experiences in Africa.
Although it will set you back quite a bit of cash, I'd argue it's worth every penny.
Because, believe it or not, Bwindi is actually the cheap place to trek and see the gorillas, compared to neighbouring Rwanda and, coupled with some seriously stunning landscape and jungle hiking adventure, it's easy to understand the big draw.
Access to Bwindi is simplest from the nearby town of Kisoro where you can find cheaper accommodation and stock up on supplies.
If you are looking for somewhere to stay in Kisoso, then let me recommend top budget accommodation choice Rafiki Guest House.
#4 Kibale National Park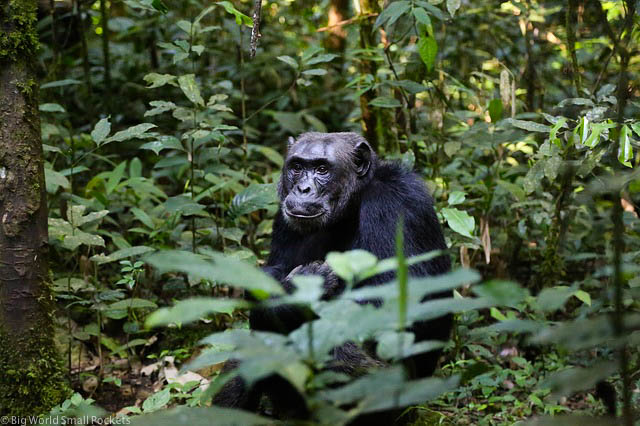 Another Ugandan national park that offers the chance to trek among some of our closest relatives is Kibale National Park, which features a large chimpanzee population, as well 12 other species of primates including Colobus monkeys!
There's also 139 species of bird recorded in this park, as well as numerous mammal species and altogether, this park forms part of an important wildlife migration corridor in western Uganda.
Located north of Kisoro and Bwindi, the south of Kibale borders Queen Elizabeth National Park and is best accessed from Fort Portal.
Trekking to see the chimps is a full day adventure, normally involving a 12km, and for this reason, is best attempted during the dry season months of November-February and June-September.
The topography of the park is largely covered by tropical forest vegetation, meaning things get hot and humid here very quickly, so come prepared!
#5 Lake Mburo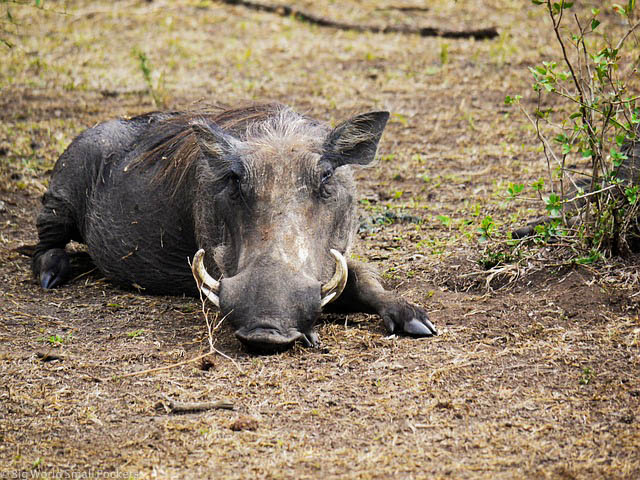 Close to the city of Kampala, Lake Mburo makes a great Uganda safari choice if you only have a few days in and around the capital to play with.
Compact and easily accessible, it nevertheless offers a wealth of wildlife, with hundreds of bird species and large populations of mammals including zebra, topi, waterbuck, eland, buffalo, hippo and hyena.
Unsurprisingly given its name, the park mainly consists of wetland environment, but this doesn't stop it from being something of an adventure playground with horse riding, boat trips, mountain biking and guided walks all on offer here.
This gives visitors a really different way to discover the beauty of Uganda – a welcome change if you've been bouncing around in a safari vehicle for a while!
LIKE IT? PIN IT!
So there you have it, the 5 Uganda safaris you can't miss.
Have you visited this incredible country?
Where did you safari and what did you see?
Please help others by commenting any info below…