There's no doubt that Bruges is one of Europe's prettiest cities and, as a result, it's also possibly one of its most expensive too!
This can make life pretty hard for a budget traveller.
One top tip when it comes to seeing Bruges on a budget to is avoid the summer high season, when crowds of people flood the tiny streets here.
Instead, you can see more of Bruges for less by heading here in the winter months, when accommodation is cheaper and the crowds much thinner.
I actually visited Bruges in January and although freezing cold, the log fires and cosy indoor atmosphere at this time of year, really added to the magic of the city.
When it comes to other top tips for seeing this fantastic Belgian city on a shoestring, read on check out my best weekend Bruges itinerary, designed especially for those on a budget.
---
Related Posts
---
My canal cruise was kindly gifted by Bootex.Be, but as always, all views are my own.
This page contains affiliate links meaning Big World Small Pockets may receive a small commission on any purchases at no extra cost to you.
---
Bruges Itinerary Day 1
Begin your first day in Bruges by locating the 2 most important central squares of the city – namely The Markt and The Burg.
Once here, absorb the free hustle and bustle as tourists, horses, taxis and locals all jostle together; then make sure you snap the iconic Bruges buildings that surround both squares.
Once you've done this, it's time to explore the attractions.
Climbing the infamous Belfry, made famous by the movie In Bruges (which you have to watch if you haven't already), will set you back 12 euros, but is worth the splurge for the view from the top – a perfect introduction to the city's UNESCO status.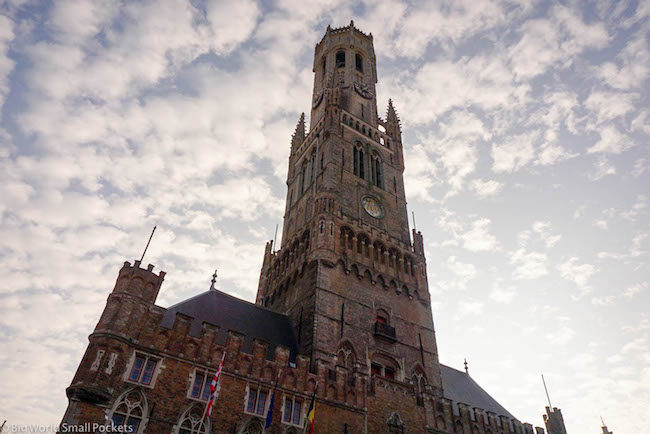 After this, The Burg's Heilig-Bloedbasiliek and Brugse Vrije are both free to enter and therefore perfect budget itinerary activities.
Try to time your visit to Heilig-Bloedbasiliek with the phial of Jesus' blood getting brought out – it's quite the spectacle!
After the 2 squares, it's then time to head to Bruges' premier museum, the Groeningemuseum, which features the city's best collection of artwork and is dominated by the creations of a group of artists known as the Flemish Primitives.
Anything but primitive, you can easily spend an hour exploring the work on show here, before heading over to the Arentshuis, whose entry is included in the joint 12 euro ticket fee.
Largely showcasing the work of official war artist Frank Brangwyn, the collection sits in a traditional Bruges 18th century merchant house, which has been well restored and makes a lovely part of any Bruges itinerary.
In the afternoon, hop onboard a beautiful 8 euro Canal Cruise and take in the stunning city views from its peaceful waterways.
Highly recommended is Bootex.Be, a well-priced and very centrally located canal cruise company who offer fantastic tours with witty, multi-lingual commentary.
Then it's off to enjoy some of Belgium's top beers as the sun goes down.
One of the most atmospheric places to sample them is in the historic bar of Cambrinus, where the menu features hundreds of local varieties and some cheapish (for Bruges!) snacks.
Or why not take a private beer tour to learn more about the famous drink that seems to fuel this city!
After dark, grab your camera and head to Minnewater, or the Lake of Love as it's known, to grab some stunning nighttime shots.
A perfect free way to round off day 1 on your Bruges itinerary, call in at local favourite De Stoepa for an alfresco nightcap on the way home!
Bruges Itinerary Day 2
On day 2 of your Bruges itinerary, why not burn off some of that beer with a stroll to Bruges' fabulous windmills?
Located in the suburb of St-Anna, the windmills occupy a grand position on the edge of the canal and walking to see them, past pretty houses and along cute streets, makes for a lovely stroll.

Once you've got your windmill snaps – 2 of them are still active and look fairly grand cast against a blue sky, head to the lovely local café/bar nearby called De Windmolen to get a great view into some local life.
After warming up with a reasonably-priced hot chocolate, or cooling down with a beer, continue your wander through St-Anna to the imposing Jeruzalemkerk.
One of Bruges' oldest churches, it's only a few euros to get in here and admire (if that is the right word) the very unique altarpiece covered in skull motifs.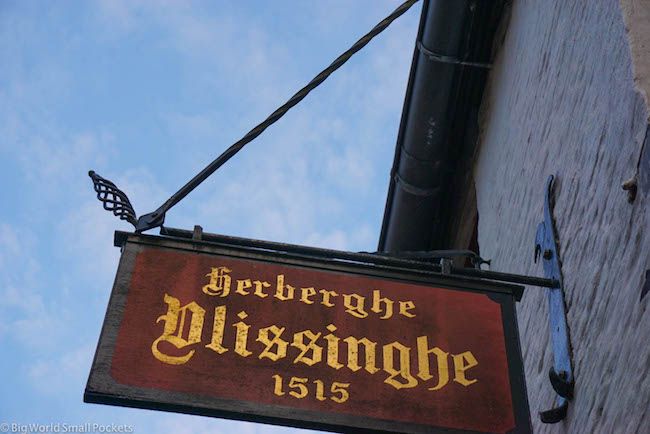 After this it's definitely time for another drink, this time in Bruges oldest pub, Herberg Vlissinghe.
Located in St-Anna, it has been serving locals for over 500 years.
After you've refreshed yourself, wander back into the centre of Bruges and take in the grand St-Salvators-Kathedraal and Onze-Lieve-Vrouwekerk – 2 of the city's best churches and free to enter.
Then make your way to the long-standing family brewery Halve Maan.
Here you can enjoy an excellent 45-minute guided tour for just 8 euros, which includes a glass of their famous Bruges Zot beer at the end.
The tour also provides rooftop views of the Bruges, so heading here at dusk will give you stunning skyline snaps.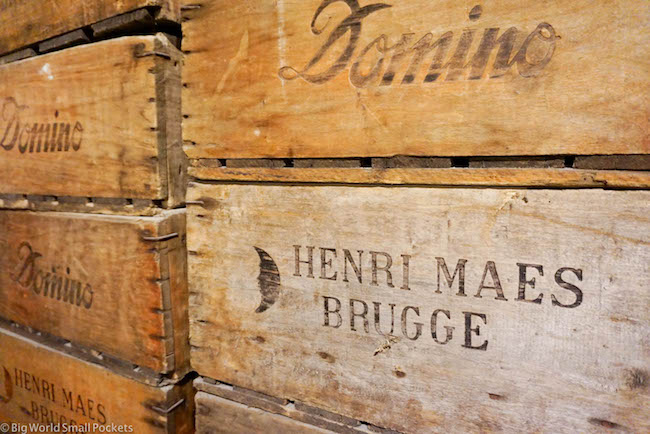 Complete your Bruges itinerary with a trip to 't Poatersgat.
This is one of the cheapest drinking holes around.
Jampacked full of students in a cellar-like bar below the street, you can choose from over 120 beers here – the Fort Lapin and Barbar brews come highly recommended!
More Time in Bruges?
If you're lucky enough to have even longer in Bruges, then why not head out of the city to explore the surrounding sights?
History buffs, in particular, will definitely enjoy the key World War I sites that can be found all around this area and this excellent day trip to Flanders Fields will allow you to see the iconic poppies as you ride through the picturesque countryside to discover battlefields, bunkers and the town of Ypres.
PIN IT TO PINTEREST!
So that's my perfect weekend Bruges itinerary for those of us on a budget.
Have you visited this classic Medieval city?
What did you enjoying doing most there and do you have any great budget tips to add?
Please share your advice with other travellers in the comments box below…