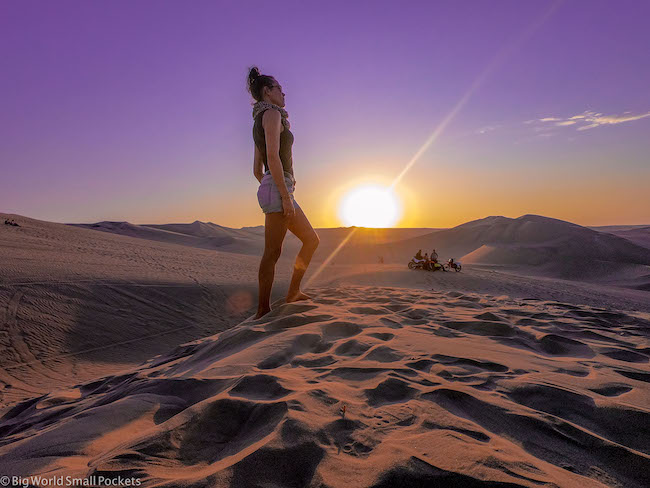 Here's a list of the simple travel essentials that I never leave home without …
---
Related Travel Gear Posts
---
This page contains affiliate links meaning Big World Small Pockets may receive a small commission on any purchases at no extra cost to you.
---
This anti-theft bag has literally changed my life when it comes to not stressing about my valuables whilst on the road.
Check out my review of the incredible Bobby Anti Theft Backpack which I now wouldn't leave home without.
My new go-to company when I want to get some travel basics!
Boody's eco-clothing essentials are made from 95% organic bamboo and are light, breathable and hypo-allergenic.
Perfect for travel, their clothing packs down to nothing, are quick to dry and are incredibly comfortable and soft to wear.
From leggings to sports bras, I'm working up to the whole range!
Plus the sustainable practices of this company are top-notch too.
Combination Padlock
Useful for luggage in transit, tents in parks and lockers in hostels … and you never need to worry about forgetting a key!
Make sure you buy a combination padlock that is sturdy and large enough to fit most things, but not so heavy that you feel you are lugging a paperweight round in your bag.
The Newbee range is super light.
A great space saver, this all-in-one product is the only thing you'll need to take in your toiletries bag!
Eye Mask
In terms of an eye mask, it's worth getting something decent that is totally light blocking and also soft on the eyes when you travel.
I recommend the Alaska Bear Natural silk sleep mask, which is super comfortable and will keep your delicate eye area protected from bright LED lights and dry air, be that in planes, on trains or in hostel dorm rooms!
If you've ever set up a tent in the dark, or wanted to read a book in a hostel dorm when everyone else is asleep, you'll know that a headlamp really is a travel essential item!
Fashion statement it is not.
But practical? Woah mamma, is it ever!
Check out my list of the top 3 headlamps for backpacking for some more recommendations or else get the same Black Diamond Storm as me – hasn't failed me yet!
Quick-Dry Shorts
I came across these in Nicaragua, when I met a girl cycling from Alaska to Argentina.
They were all she wore and now, they are all I wear too!
Perfect for hiking, swimming, down the beach or up a mountain, they are comfortable, cool and so easy to pull on in the morning, so that's one less thing you have to think about!
I recommend Nike Dri-Fit for keeping you super cool.
Mosquito Net
Both light-weight and compact, you'll be super happy you've bought a mosquito net when the critters start attacking you in the night.
I like the LIFESYSTEMS ones as I find them easy to hang and versatile regardless of the size of the bed, mattress or whatever else you might be sleeping on.
This Universal Backpackers King Size Mosquito Net is also fantastic with its Tear Resistant Loop & Snug Fit Bottom.
Plus you get a FREE Carry Bag & Hanging Kit with it too!
Packing Cubes have made a huge difference when it comes to getting my luggage ready and almost everyone I know raves about them too.
See my post about the advantages of packing cubes to learn how I was converted!
Otherwise, hop straight to pick up a set of my recommended ones from Arcido.
Phrasebook
I've always gone for Lonely Planet Phrasebooks
as I'm familiar with their layout, meaning I can find information quickly and easily.
With a good range of everyday useful words and phrases, handily sorted into sections, as well as simple grammar pointers, these little gems are a great way to get started in another language, or at least try to be a bit polite!
They also have some hilarious translations… just look at the dating pages!
Sand-Free Beach Towel
If you weren't in the know, sand free beach towels are now the travel item you'll need to pack for those beach days!
Compact and fast drying, large but lightweight, Tesalate's sand free towels, designed in Australia, are gorgeous as well as practical.
With some stunning designs, like my favourite Into the Wild, these super absorbent, genius inventions have been sold in over 130 countries across the world – winning!
Sarong (or 3!)
Oh how versatile the humble sarong is!
There are probably a million uses for this incredible piece of essential travel gear, which is why I would NEVER leave home without at least one.
Check out my top reasons to travel with a sarong to learn why.
Silk Sleeping Bag Liner
Whether it's to keep your sleeping bag clean, or to sleep under something thin when it's too hot for a sleeping bag silk sleeping bag liners will keep you cool and dry all night.
Sometimes, if I'm looking to pack extra light, it's all I take.
Small, thin and compact, it can be stuffed into any pocket easily.
Sleeping Bag
If you're taking a sleeping bag travelling, then it's got to be a snugpak – read my list of the best sleeping bags for backpackers to learn why.
Go for a 2 season model in the tropics and 3 season model everywhere else – unless you're going to Antarctica of course!
SleepPhones
These are literally the best inventions ever if your travels involve any long haul flying, overnight bus rides or sleeping near others – be it camping or in a hostel!
As such, I've used the amazing SleepPhones designed by the award-winning small company, AcousticSheep, just about everywhere this last year and I can't get enough of them.
Super comfy, easy to charge, Bluetooth operated and perfect for those long and bumpy overland rides in Africa and day-long flights to Australia, the soft, washable headband keeps 2 flat speakers at exactly the right position for your ears and comes with a 1 year warranty.
Continually attracting 5 star reviews, my SleepPhones Effortless model are wonderfully compact and top of the range – can't recommend them enough.
Is it a knife, is it a file, is it a bottle opener, is it a screwdriver, is it a pair of scissors?
Yes, yes, yes and yes!
And it's the sort of thing you'll never realise is useful until you are in the situation when it's required.
I lost my Swiss Army knife once in the back of an Albanian taxi – gutted!
First thing I bought again as soon as I got home!
It might mean carrying a bit of extra weight, but knowing you'll always have a roof of some sort over your head, is a great way to travel.
This makes a tent a total essential for me.
Tents can also save you a lot on accommodation costs, particularly in Europe, Australia and New Zealand.
I carried mine through Latin America and Southern Africa and it saved me a ton!
Just make sure you pick a tent appropriate for the climate of your destination.
I love my trusty Gelert tent and do think it might be the best backpacker tent ever!
Read more about choosing a tent in my handy guide here.
It doesn't matter whether you plan to go camping or not, a set of eating tools is definitely handy to have for long bus journeys or dirty hostel kitchens.
It's a staple for me when I travel, along with an airlock tupperware that can be used as a plate, bowl or cup, allowing me to munch happily on the road wherever I am.
I recommend the titanium, lightweight travel cutlery set by FitnessCity – it won't take up room or rust.
Travel Towel
I've gone for cheap travel towels in the past and believe me, you'll soon realise they're not worth it when they stink within a week.
Instead, buy something that is microfibre and feels more like a towel than a chamois cloth!
Travel Towels are ridiculously helpful if you're trying to conserve space and Latrek offer the best I've found.
Check out my full review of the Latrek travel towel here.
Travel Yoga Mat
I've just discovered these superb eco travel yoga mats from YogaMatters.
Made from sustainable rubber sources and free of toxic chemicals and dyes, these great-coloured, marbled mats are lightweight and non-slip, meaning they can easily fold down and support your practice no matter where in the world you're roaming.
Learn more about why I always travel with a yoga mat here.
A small, but surprisingly useful tool, a universal sink plug is a great piece of travel kit.
Handy when you want to wash a pair of undies in a sink and you finally give in to the science that even thick socks don't keep the water from going down the plughole!
This is such a great product to have, no matter whether you're going hiking, camping or hitting some of the more off the beaten track destinations around the world.
The inbuilt filters within these products remove 99.9% of bacteria, keeping you safe and hydrated no matter where you are.
Read my review of the Water-To-Go Filter Bottle for more info about these great pieces of travel gear.
The Crocpak is my number one waterproof travel bag for sure!
Developed by a small company in Australia, this anti-theft, lightweight and totally waterproof bag is ideal for water adventures, beach days, outdoor sports, hitting the pool or hiking – basically whatever your travel adventure involves, the Crocpak can handle it!
With the possibility to wear this waterproof bag both over your shoulder or as a backpack, and with a handy front pocket, as well as a secret inner mesh compartment, this hard-wearing, slick-looking number comes in 3 great colours.
The TSA-approved lock provides total peace of mind and the Ecosafe™ bio-nylon fibre of the bag, plus the fact this company plant a tree for every bag sold, showcases its environmental credentials too.
A winner for all us active adventurers!
World Power Adapter
Never risk not being able to charge your camera or phone again!
Skross
are a great brand of world power adapter, that offer flexibility, including USB chargers for apple products in their models too.