It seems to me that mountain climbers and serious explorer folk largely dominate the 'Buying a Tent Guide' field online.
So I thought I would branch out a bit and create a guide for those looking to buy a tent specifically for backpacking.
Tents are such an awesome addition to any adventure, because they really free you up to sleep anywhere.
If you're interested in getting off the beaten track, exploring National Parks, trekking or saving money, tents are a backpacker must have.
Indeed they are one my top recommended items to take away with you (see my top 10 best backpacking tips) and so, I thought it useful to offer some advice about the sort of things to consider when purchasing one.
My buying a tent guide for backpackers is applicable the world over, as I've tried to be flexible and consider a range of tents that might suit different types of trips.
In this post, I've listed 5 handy hints I think are important when looking to buy a tent, as well as recommended suppliers you can purchase one from.
Hopefully you'll find the information useful and will be encouraged to take a tent with you on your next travels.
---
This page contains affiliate links meaning Big World Small Pockets may receive a small commission on any purchases at no extra cost to you.
---
#1 Size
The first thing to consider when buying a tent for backpacking is size.
Namely, how many people will be sleeping in it and how much stuff will you have?
If you're a couple you want to make sure there is enough room for the two of you, plus packs.
If you're out in the wilderness, you might want to also factor in room for food and cooking equipment, especially if you're hiking or exploring places without amenities.
The general rule is to always to buy a tent that is 1-man bigger than the number of people who will be sleeping in it i.e. when I travelled by myself, I always bought and used a 2-man tent or 2 berth.
Namely the Gelert Track 2 tent, which I can't rate highly enough. Generally this extra berth would give enough room for me to lie down, as well as room for my pack and belongings.
It's worth bearing in mind however that there isn't a universal guideline for what counts as 1 berth, so individual companies and tent styles will vary.
You will also want to consider the shape of the tent and the interior size this gives.
Commonly backpacking tents are either geodesic/dome or tunnel/wedge models.
Being long-limbed, I generally used to go for a tunnel or wedge model as they allowed me to stretch out more, meaning sleeping was more comfortable.
However, tunnel or wedge tents are generally lower-profile, meaning standing up in them, even crouched over, is rarely an option. As such, we now use a geodesic / dome tent as a couple, which just gives much more room for 2 inside.
The other thing to consider size-wise is whether you are happy just with a sleeping compartment or whether you want a "porch" area or vestibule too and if so, what size?
Normally a great place to put dirty shoes, store waterproof stuff, cook or even to sit under if you want rain or shade cover, such areas can be really handy and I would advise buying a tent with one.
They do vary in size and shape however, so you need to think about what you sort of activity you're likely to be using your tent for and the sort of place you'll likely be pitching it.
This will help you determine what you will use the porch or vestibule for.
Overall, the most important thing when it comes to size however is to always look at the dimensions of a tent before buying it (don't just go on the berth or floor space).
If you're purchasing online perhaps get a tape measure and mark out the shape of it on the floor, including any vestibules.
Consider the width and height you will require, as well as the logistics of where you will store your pack and belongings. (Generally I stuff soft clothes under my head as a pillow and store packs under my feet!)
You also want to think about the packed size of the tent i.e. when it's disassembled what size bag does it roll up into.
This is particularly important with backpacking tents, as they need to fit into or onto your bag.
If you already have your bag, measure it up to see what size tent it can accommodate and go from there.
A little bit of research in this case can go a long way to making sure you buy the right tent.
#2 Weight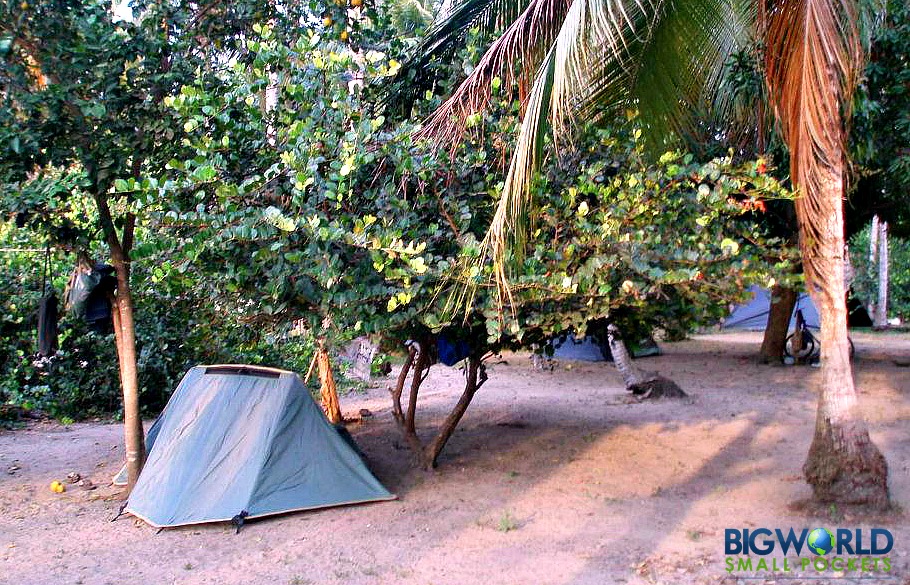 Along with size, I also advise you to think carefully about the weight of your tent.
This is especially important if you are going to be carrying the thing on your back for extended periods of time or round several continents!
Generally backpacking tents are designed to be lightweight, but nonetheless there are always going to be some that are heavier than others.
Generally, the cheaper the price the heavier they are.
Go for something under 2kg if you can and believe me you'll be grateful in the long run, even if you do have to pay a bit more initially.
Don't forget, you'll also have to take some sort of sleeping bag and ground mat if you travel with a tent, so that all adds up weight-wise too.
If I'm going to warmer climates, I normally actually forego a sleeping bag and just take a silk sleeping bag liner and thin blanket instead, which are lighter and more versatile.
If I think I might mostly be sleeping on sand – I forego a thicker inflatable sleeping mattress and just rough it with a yoga mat.
That might sound pretty hard-core, but it's really indicative of just how important keeping the weight of your tent down is.
Lighter tents will normally have smaller sleeping compartments, including limited headroom, in order to keep weight low, so just remember to check your dimensions to make sure you're happy with what you're buying!
#3 Climate
The third point in my buying a tent guide for backpackers concerns where you're going, i.e. the particular countries and areas you're most likely to be camping in.
If you're just planning on taking a tent backpacking to save money, then likely you will stick to just erecting it in hostels or back gardens etc.
Here, the need for weather resistance or multiple guy ropes is lower because, if something goes wrong, you can normally find some other accommodation easily enough.
Equally, tents pitched in hostels mean less need for vestibule space, as you'll likely cook and socialise in the hostel itself. In this case, your tent will probably just be somewhere to store you stuff and rest your head.
A simple tunnel or wedge tent would do you well in this instance.
However if it's hiking you're planning on using your tent for, or camping out in the wilderness, weather resistance becomes a bit more of an important feature. Remember again, that the thicker and more sturdy your tent, the heavier it will be, so it really is all about a few cost-analysis workings when it comes you getting the right tent for you.
If you suspect more adverse weather conditions will be a factor in your trip then avoid models with unsupported flat surfaces, as these are likely to collect water meaning leakage will happen faster.
Also try and workout the drip line from any vestibules, as once you open these a fraction, any water will quickly come inside and ruin your precious dry area.
Generally geodesic or dome tents will be stronger in inclement weather as they can better withstand a battering and will have arched ceiling for rain run-off.
Models that have more guy ropes are also advised, as they will give your tent a more taut, rigid and stable structure.
Dome tents also provide greater interior space, meaning if you're sheltering inside your tent for a few hours you can still sit up, cook and move around with greater ease.
You also want to look at the season classification on your tent. 2-Season or Summer tent models are perfect for tropical or even low sub-tropical climates as they allow for good airflow with plenty of mesh that also work brilliantly to keep bugs and mosquitos out. Most light backpacker tents fall into this category.
I love my 2-season Gelert Track 2 tent, but it does have its drawbacks.
Perfect as it was for camping in the steamy tropics of beachside Nicaragua, it sadly failed to give much protection when, a few months later, I was sleeping at 3000m high in the Ecuadorean Andes! I guess the advice is to factor in anywhere you think you might end up backpacking and plan accordingly!
3-Season tents are a little more hardy and designed to withstand moderate wind and rainfall whilst still keeping you warm with part mesh, part nylon walls.
Most tents are 3-season, meaning you'll have a greater range to choose from if you decide on this type, although they will be heavier.
Picking a 3-season also gives you more versatility if you intend on backpacking in a range of countries where climates alter significantly i.e. Latin America!
4-season or Winter tents are much thicker and durable, designed for cold temperate zone climates or high altitude blizzards!
Rarely would you use them for backpacking due to their weight.
#4 Set Up
The fourth point in my buying a tent guide for backpackers concerns assembling the tent and how it supports itself when erect.
Largely speaking there are two main types of tent in this area: freestanding and non-freestanding.
Dome tents tend to be freestanding i.e. they do not need to be pegged down in order to stay upright.
Essentially, you can put them up and then, as long as the winds not too strong etc., throw your stuff inside and use this weight to stop them blowing away.
This makes freestanding tents quicker to assemble, which is handy if you're arriving somewhere in the dark and /or you're tired after a long day of travelling.
Not relying on pegs to stay upright also means freestanding tents are easier to use in places where the ground is too hard and/or dry to get pegs in easily.
Knowing some of the hostel campgrounds I've stayed in, particularly in Australia, this is a useful component!
Non-freestanding tents are generally the tunnel or wedge models, which must be staked out i.e. they require pegs and guy ropes to stop them from collapsing.
You can get creative here with tying the ropes to trees or other solid objects if pegging into the ground is not an option, but it's a lot more work.
Non-freestanding tents are generally lighter however as they have less poles.
#5 Features
The final point in my tent buying guide concerns tent features.
There are several elements to a tent that make it that much more practical and ones that I deem particularly helpful are given below.
2 Doors: This is a great feature if there are 2 of you in the tent as it avoids the problem of someone having to clamber over the other to get out.
It also increases airflow potential and means a tent can have 2 accessible vestibules, which is very handy for personal storage.
Double Wall: This is when a tent has an inner breathable, mesh layer, as well as an outer, waterproof fly cover that sits on top.
Most tents nowadays do have double wall designs, but it's worth double-checking on some of the lighter backpacking models as this may have been sacrificed in order to keep weight down.
Double walls help with the prevention of condensation, as well as keeping warmth in.
They are great for ventilation and keeping bugs out.
Another bonus of double wall tents in warmer climates is that you can take the fly off and lie just under the mesh, looking up at the sky for some incredible stargazing!
Inner Pockets: These are very handy storage areas for quickly accessing items that are important or might otherwise get lost.
Ceiling Loops: Another handy feature that allows you to tie a torch or headlamp onto the roof of the tent, thereby serving as an internal light with a wide beam.
Great for getting into bed or finding things in the dark!
PIN IT TO PINTEREST!
Always remember to practice setting up your tent at home before you go off on your trip to make sure you know how to assemble it.
This is especially important if you've bought a tent online, so that you can return it if you discover a fault or problem.