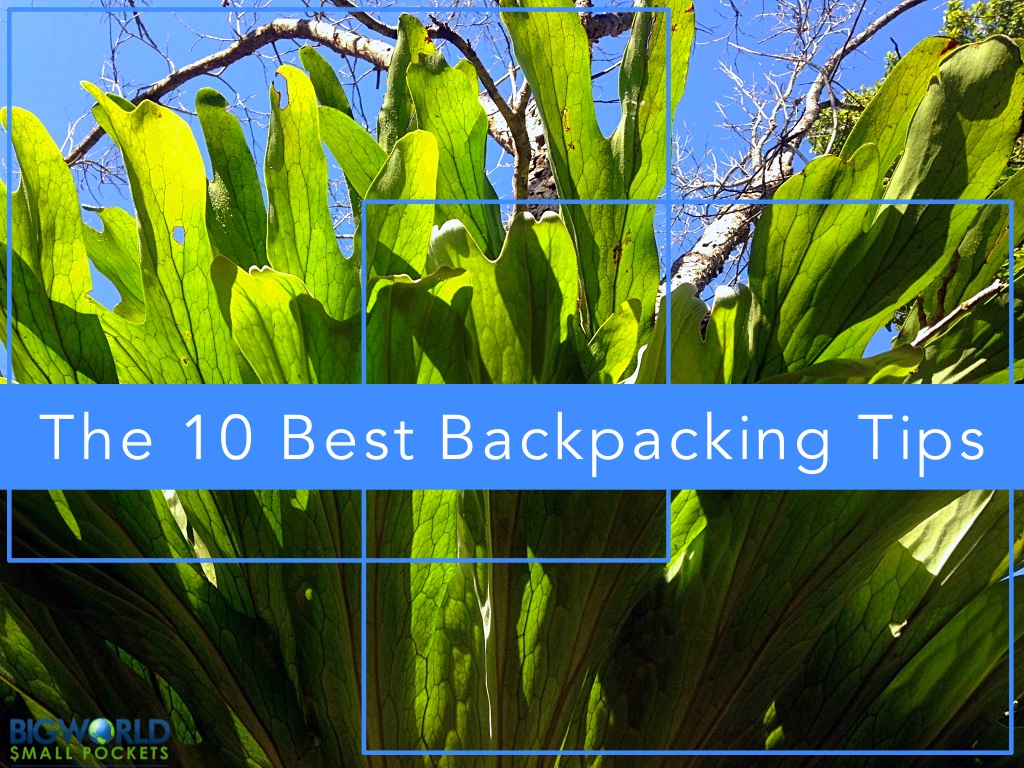 With over 10 years experience of independent travel, I've got a fair level of insight into how this whole globetrotting thing works!
My 10 best backpacking tips are a collection of the most helpful information I've collected over the years, regardless of where in the world I might be wandering.
Simple, but effective snippets of wisdom, they offer the sort of advice I wish someone had given me all those years ago and hope they might, in turn, prove useful for those of you just starting out on new adventures!
So here they are, my top 10 best backpacking tips.
---
Related Posts
---
This page contains affiliate links meaning Big World Small Pockets may receive a small commission on any purchases at no extra cost to you.
---
#1 Choose Countries Carefully
When planning a trip it's easy to follow the crowd and head to places you know friends have been or you've heard a lot about.
While there is nothing wrong with this, my best backpacking tips suggest it's worth doing a bit of research – consider what sort of activities you enjoy and what you want to get out of your travels.
By this I mean that if, for example, you want to experience other cultures heading to Australia from the United States or Europe is not necessarily going to give you what you might be looking for.
Similarly if you love hitting the beach and trying your hand at water sports, then Mongolia and China might not offer many activities you enjoy!
If, however, you want to learn a new language, travelling in Latin America might be the perfect opportunity to try getting your tongue round some Spanish.
Or, if it's an extensive road trip you want to experience, why not hit up the US?
Like history? Consider taking yourself round Europe.
Want to experience some incredible wildlife? Think about Africa.
Do you like cities or the countryside? Do you want to go hiking or visit museums? Do you enjoy partying or prefer meditation?
There are many possibilities and they're all open to you, but it's a good idea to really consider the how's and why's of it all before you book.
The other thing to think about when choosing your destination country/ies is money.
Depending on how much you have saved, some countries, due to high costs of living etc, might be out of bounds, particularly if you want to travel for a long period of time.
And don't forget to apply the golden rule: You'll always spend more than you think!
#2 Make Electronic Copies of Important Documents
Before you go, it's a super idea to scan and save electronic copies of all valuable documents you might need.
This includes your passport, driving license, insurance details, flight tickets and bankcards.
Email a copy to yourself, as well as to a next of kin so that, should anything go wrong, they also have a set of all your important information.
Another one of my best backpacking tips is to call your bank to let them know you will be using your card overseas, this will limit the chance of them locking your account due to security risks and save you lots of time and money trying to call them to get it unlocked!
For more details about all the things I recommend you do before you go backpacking, check out my checklist for going travelling.
#3 Read Insurance Small Print
While I'm all about the budget here at Big World Small Pockets, I do recommend you fork out for some travel insurance – if only initially for your peace of mind, it can be a real relief if something does go wrong.
The best company I always recommend is World Nomads whom I've used personally.
The main thing you have to do with any insurance policy is read the small print. Yes it's boring and yes it takes a while, but you'll certainly be grateful if you do want to make a claim.
The most important to look out for are the amount of excess you'll pay (the first part of any claim you will have to foot the bill for).
This can often be reduced if you take out a more expensive policy initially, so weigh up the costs of paying a bit more for taking out a policy against paying less if something does go wrong while you're abroad.
You also want to look at what the insurance covers.
Bear in mind, missing valuables, lost passports or theft of possessions are probably the most common claims made by backpackers, so check the policy covers you for this.
You will also want to consider up to what amount your valuables are covered i.e. what is the single item limit? (This is the maximum amount you can claim for any one lost, stolen or damaged item.)
If the limit is only $100 and you have a camera or computer worth $1000, you might want to think about the benefits of this policy for your needs.
For more ideas about what to consider for when deciding what travel insurance to buy, check out my post about the 10 most important questions to ask when it comes to travel insurance.
#4 Less is Always More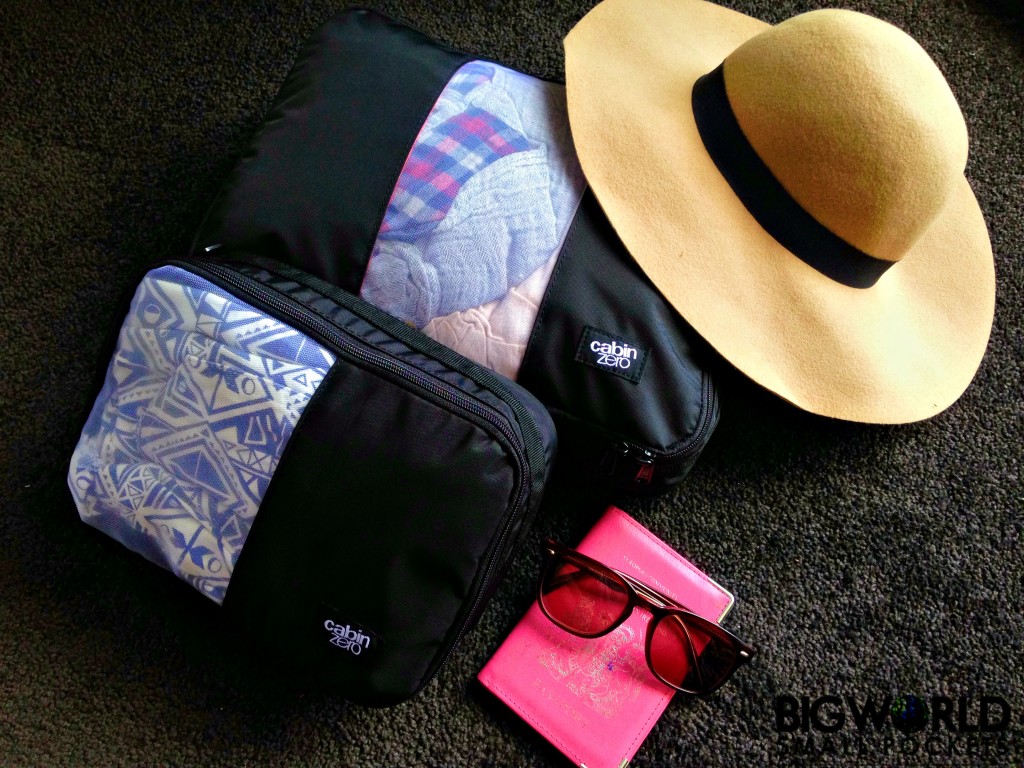 When it comes to packing, believe me, this old adage rings true.
No matter how many sets of clothes you think you'll need, how many gadgets you've been given or how important that hairdryer is to your existence, you'll always regret having brought so much with you when you have to lug a heavy pack round for more than a few steps.
I've written about the best backpacker essentials that will save you money in the long run and there are more great pieces of advice on my packing resource page too.
Generally speaking, versatility and layering is the key no matter where in the world you're heading off too.
Always take 1 pair of shoes you will be comfortable walking in, as well as 1 jumper that can double up as a pillow. A sarong is another must – learn 20 reasons why.
Oh and don't forget the packing cubes too!
They will really help you compact everything done!
#5 Take a Tent
The other item I always advise people to take, especially if they're budget conscious, is a tent.
This is one of my more unusual best backpacking tips, but can save you a fortune on accommodation costs if you're travelling anywhere in the world (apart from maybe Southeast Asia).
When buying a tent, consider the climate of where you'll be using it and also make sure the tent has enough space for you and your pack at night (this usually means a 2-man tent for a single person!).
For more tips, check out my list of the 7 best backpacking tents you can buy.
Nowadays, many hostels have camping space, which means you still get to enjoy all the amenities they offer, just at a cheaper rate.
Tents also allow you to explore more off the beaten track destinations, including national parks, as well as more remote areas where accommodation options may be limited.
#6 Learn Some Local Lingo
Once you're in a country a little cultural sensitivity can go a long way and it's always good to remember you are a visitor.
Learning some of the local language can really help you initiate yourself with local people, as well as ensure you score the best deal on transport or food costs.
Lonely Planet Phrasebooks are my indispensable guides when it comes to this, as they include all sorts of helpful tips and sentences that will have you asking for directions or enquiring about availability in no time.
Depending on where you are in the globe, language learning might be easier or harder (i.e. you might struggle more with Japanese than French) but even a simple "thank you" or "hello" can go a long way.
#7 Don't Jump on Tours Without Thinking
Sure they're easy, quick and ferry you to the main attractions without fuss, but I do advise you think seriously about organised tours before you hand over a wad of cash for the service.
In particular, you might want to think about the ethics of the tour, who benefits financially from them, might the activity harm the environment and is it culturally appropriate?
The other thing you might want to research is whether you can do the same activity the tour offers, but independently.
Can you, for example, get a local bus to the attraction and hire a local guide there to show you round? Will this be cheaper? Will it give you a more authentic experience?
My general rule here is to never take a tour unless it covers something we really want to see and it can't be accessed any other way.
Even then, I think carefully about the impact taking a tour can have.
Sadly, this does mean I've missed out on some attractions round the world, but I feel better that my actions have been those of a "responsible" tourist and that I've seen other, less-spotlighted, but more interesting things instead.
#8 Don't be a Slave to the Guidebook
Leading on from the above point, one of my best backpacking tips is just to put down the guidebook, get out on the streets and see where the adventure takes you.
Much as I recommend having a guidebook and using it for preliminary research or when you first touchdown in a place, it is important to put it away sometimes and let the magic and spontaneity of travel take you on an adventure.
This sort of free-flow, organic wandering is addictive, enthralling and bound to have you seeing, experiencing, tasting and hearing things that certainly aren't included in any book.
Often these are the sort of experiences that give you genuine cultural insights, away from organised tours, and memories that last you a lifetime.
#9 Be Open to Trying New Things
Being open to new things is a key part of discovering more of a place and making memories from your travels.
If you try to do something that scares you, so often you'll find your efforts are rewarded and you come away a braver, more positive, confident person.
Travelling, especially by yourself, is a huge step into the unknown and can lead you to discover, uncover and recover all sorts of things about yourself.
This is what makes it such a thrilling experience and is one of my 6 reasons why spending money on travel makes you richer.
To get the best from your backpacking experience you need to take risks, to jump into the unknown and to be unafraid of new things – you're not at home now, so don't expect things to be the same.
#10 Look Out for Work, Volunteer or Exchange Possibilities
Wherever I go, I keep my ear to the ground for projects I can get involved in.
Not only is this a key way in which I sustain my semi-nomadic lifestyle and travel longer for less, but being actively involved in some form of work in a place is the fastest way of meeting, interacting and making friends with other people, including local populations.
It can also be a great way to make a difference, learn new skills and increase cross-cultural understanding.
Teaching English as a Foreign Language (TEFL)
is an awesome skill I've got that helps me find work or voluntary placements across the globe, so see my post about getting a TEFL qualification if you think this might interest you too.
My work & travel resources page also has a number of other useful ideas and websites that could help you extend or enjoy your trip all the more next time.
Do you have any other great backpacking tips?
I look forward to seeing you on the road somewhere soon!
Save it to Pinterest!