The best way to improve your comfort, safety and experiences during camping trips is through bringing the best-quality tent with you.
However, I'm sure that you've found a TON of choices when trying to look for the perfect one.
As such, finding the ultimate tent to fit your needs can get quite complicated.
That's why I've put together my list of the best backpacking tents on the market.
I spent a lot of time doing my research, and testing the tents, so I could narrow the list down to review only the best of the best.
I made sure to factor in crucial characteristics here such as the weight, price, space, strength and even how well it fares with the weather.
Hopefully, this article will help your search for the best backpacking tents to have you staying dry, protected and warm when outdoors for many years to come.
---
Related Posts
---
This page contains affiliate links meaning Big World Small Pockets may receive a small commission on any purchases at no extra cost to you.
---
CRITICAL TENT CONSIDERATIONS

Price
Remember that you do not need to spend a lot of money just to purchase the best backpacking tent.
That's why I made sure that the list would have all the solid options for all types of budgets.
For those who go backpacking more than the typical camper, then I recommend that you spend more on a quality product which will last for many years.
For those on a limited budget, or who are unsure of what type of tent to get, then go for something that's suitable for your budget and consider the other factors I mention below.
Weight
Sure a few ounces isn't a big deal at first, but making sure that the weight of your backpack stays as light as possible is crucial to help you enjoy your future camping trips.
A lightweight backpack would make hiking and camping more enjoyable, which is what you want right?
Take note that besides your sleeping bag, sleeping pad and backpack, your tent will be one of the heaviest items you'll be carrying.
That's why it's best to keep its weight down to a minimum.
The tents I mention here vary by weight, convenience, and comfort, so carefully consider what is most important to you.
Protection
Just like your home, your tent will need to protect you from all types of weather conditions!
A tent that isn't able to protect you against the weather is not only worthless, but dangerous as well.
As such, avoid going for extreme budget tents.
The best backpacking tents I have chosen here will ensure that you are protected and dry from even the worst of storms.
Interior Space
You may have known that backpacking tents keep their weight down to a minimum through limiting the space inside it, as they use less material.
Two-person tents would usually sleep two people with extra room for their backpacks and gear.
But for those who want more space when camping for their items, then I recommend that you get one size up (like purchasing a three-person tent for two hikers).
But take note that your space inside the tent is a tradeoff between the tent's weight and your comfort.
For those who prefer hiking light for mileage, opt for a two-person tent.
But if you're willing to carry more weight for your comfort, then opt for a three-person tent.
Capacity
One-person tents are optimal for solo travelLers who want to hike quickly and without much weight.
Two-person tents are extremely popular because of their excellent weight-to-space ratio (though still not much space, so don't expect a lot!)
Three and four-person tents are crowded and impractical, though make a good fit for two to three hikers who need more space for their gear or when camping for longer periods of time.
Season Rating
Three-season shelters are one of the most popular tents and style.
I'll be focusing more on these types of tents because of their versatility.
These tents are made for spring, summer and autumn expeditions, and for the times you want to ensure protection from inclement weather while staying well-ventilated inside.
Three-season tents may also handle a bit of snow, though they are not for heavy snow and winter.
Design
Yes, even the tiniest design flaws can ruin a solid backpacking tent!
Excellent tent quality keeps the elements of design simple.
Usually, there are features added to the design as well including multiple doors, vestibule and gear space, headroom, and air vents for less condensation.
Setup
Many people prefer freestanding tents, as they are easier to use and take less time to set up.
Plus, they also have a fixed pole system which can be assembled just about anywhere, even on rocks.
Non-freestanding tents require guy lines, trekking poles and stakes to pitch.
The former would save a ton of weight as they require less tent poles, though they can take time to pitch and a bit of practice to set up successfully.
Wall Construction
I like double-wall tents as they have two separate parts, which is the mesh tent body and rainfly.
The mesh material is a barrier from condensation, which would usually form in the rainfly.
Single-wall tents reduce weight because they have no inner-mesh material, though this can result in condensation when camping in wet or cold conditions.
As a consequence, you'll end up with a wet tent interior, which is something no one wants to endure while sleeping!
That is why I recommend a double-wall tent unless you plan to camp in dry climates.
Doors and Vestibules
For couples or small groups of two people, I suggest that you get a tent that comes with two doors and vestibules.
Separate entrances will ensure that you do not have to climb over your sleeping tentmate and risk waking them up or hurting them.
Plus, it keeps both your gear safe every time you want to get something from the vestibule.
This is a massive advantage, which is the reason why many tents come with two doors and vestibules.
Durability
The known tradeoff with lightweight tents is that they are constructed from thin materials, which result in them being less durable than their heavy-duty counterparts.
With that being said, lightweight tents last for at least thousands of miles as long as you treat them with the proper care they need.
It's crucial to remember that sharp sticks can go through any type of tent material.
So if you are a bit tough when handling your camping equipment and don't want to deal with the ultralight materials, then you'll want something a bit heavier for durability.
Personally, I would prefer ultralight tents, which are still fairly durable.
Footprint
Backpacking tents don't usually come with a footprint now and a lot of lightweight backpackers would see this as an unnecessary form of equipment.
But the greatest advantage of using tent footprints is that they add strength and durability to your tent's flow.
The footprint would protect the tent floor from abrasion, so it will last for a longer period of time, requiring fewer repairs and tender care.
So, if you are willing to carry a bit of extra weight for your tent's lifespan, then I suggest you get a footprint along with the tent.
Purchasing Online
Before you make any purchase for the best backpacking tent, make sure that you check the seller's return policy.
Fortunately, you can usually return an unused tent as long as it is within a specific period of time after you have purchased it.
I recommend that you purchase your top choice and test it at home.
Return or have it exchanged if it doesn't feel right.
Luckily for me, I have been purchasing lightweight tents from online shops for years and I haven't had any issues.
THE 7 BEST BACKPACKING TENTS
Based on my research, tests and overall customer reviews, here are the 7 best backpacking tents you can purchase today:
#1 ALPS Mountaineering Lynx One-Person Tent
What I love about the ALPS Mountaineering Lynx One-Person Tent is that it's extremely easy to assemble.
It uses freestanding aluminium poles and lightweight pole clips, which snap effortlessly.
As for its material, it has a polyester tent fly, which is water-resistant and resists UV damage, so you are assured excellent quality and strength no matter the weather.
Its interior space is awesome as well.
There is a vestibule for extra storage space, as well as strong zippers, storage pockets, a gear loft, and a doorway big enough to go in and out the tent without stumbling.
With all its space and quick assembly, it lessens the hassle but heightens comfort, making it worth the investment for solo backpackers.
Pros:
Withstands all types of weathers
A lot of space for gear and sleeping
Very easy to set up
Sturdy and can last for years
Cons:
A bit dark and narrow for winter
Not great for those over six feet tall
#2 Winterial Single Person Tent, Light Green
I know how difficult it can be to fit in a tent if you're on the tall side, especially if you want a single-person tent.
That's why I would recommend the Winterial Single Person Tent, which has the height to accommodate taller people and still have enough space for sleeping and keeping your gear safe.
It's got the optimal space for solo backpackers, without scrimping on quality while still keeping the tent compact and lightweight.
Plus, it has a large door for easy access and exit!
I appreciate the fact that it's quick to assemble and stays in its shape despite the windy or rainy weather.
This three-season tent is also perfect for summer nights because of its ventilated roof mesh.
Plus, it has a full-coverage rainfly for colder or rainy days.
All in all, I can say it's a wise investment.
Pros:
Large zippered door
Lightweight
Simple and quick to assemble
Great for taller people
Cons:
No vestibule
Paracords aren't very durable
#3 Mountainsmith Morrison Two-Person Three-Season Tent
The Mountainsmith Morrison Two-Person Three-Season Tent
has a simple design and construction.
It's your basic two-person tent build for three seasons.
But don't be fooled by its simplicity.
I love how well-designed this tent is with the mesh walls, two-doors and vestibule layout. It makes the tent more comfortable to sleep in.
It's even got a bathtub floor construction so you won't have to worry about any water leaking into the tent during rainy days.
It's also optimal during hot nights, with the ventilation windows.
This freestanding tent is incredibly easy to assemble and comfortable to stay in.
Even if you're tall or on the heavier side, it can fit two people well with extra space for your gear.
It comes at an affordable price compared to other tents, so you can save a lot without scrimping on quality.
Pros:
Bathtub floor keeps tent dry
Excellent in cold weather
Has good storage room
Fits two people of any size
Cons:
Doors aren't waterproof
Not the best for hot weather
#4 Coleman Sundome Two-Person Tent
Coleman is a very reputable brand that offers affordable and quality tents and their Sundome Two-Person Tent is no exception.
I appreciate this dome tent because it comes with a spacious interior great for people of any size.
For a tent that fits two people, you still have room for your gear and to move around!
It's got large windows and ground vent for superior ventilation, as well as a WeatherTec system that keeps you dry, so it's perfect for either hot or cold weather.
It's also lightweight and easy to bring around – you can pack it in a small bag and place it in your backpack.
It has an amazing layout, simple assembly and no issues in terms of strength and space.
You can't beat that!
Pros:
Set up in minutes
Bag for easy transport
Sturdy tent for hot or cold weather
Awesome roof for stargazing
Cons:
A bit difficult to zip up doors
Collects some moisture or dew at times
#5 Kelty Salida Two-Person Tent
I really appreciate the Kelty Salida 2 Tent, as it's the ultimate two-person tent for light backpackers, being super compact in size when folded.
The tent also comes with colour-coded clips and a fly, so you can set it up fast and without hassle.
It comes with fabric and meshes tent walls so it isn't only conducive to hot weather, but keeps you warm during rainy days too.
Besides its strength and ease of assembly, it also has a large door for easy entry, as well as the space to fit two people snuggly.
After testing this out a few times, you can see that the tent stays stable and can be used anywhere.
I'm impressed with the material and lightweight size.
A smart investment!
Pros:
Easy to set up and place in storage bag
High quality and stays stable when assembled
Lightweight and compact size when folded
Has a lot of space for two people
Cons:
Some issues with tent colors
Flimsy indoor pockets
#6 Coleman Four-Person Pop-Up Tent
Coleman is back on the list again and this time with a tent that can fit up to four people snuggly.
The Coleman Four Person Pop-up Tent is almost effortless to pop up, as it installs in less than a minute!
Even I was surprised at how quick it was to assemble.
It also packs up just as easily.
This tent is pretty awesome for something that fits a larger group of people because it is still lightweight but offers a lot of space.
The tent has a multi-position rainfly for both protection and ventilation, as well as taped floor seams to ensure you stay warm and dry throughout your whole trip.
There are storage pockets and space enough for four people, and you'll be surprised that it weighs only seven pounds.
A bit heavier than usual lightweight tents, but for something that fits four people, definitely convenient and worth the extra weight.
Pros:
Fits four people snuggly
Perfect for summer nights
Excellent protection and ventilation
Instant assembly- only ten seconds!
Cons:
Has a flimsy door zipper
Folds into a large size, difficult to pack
#7 Winterial Single Person Tent, Orange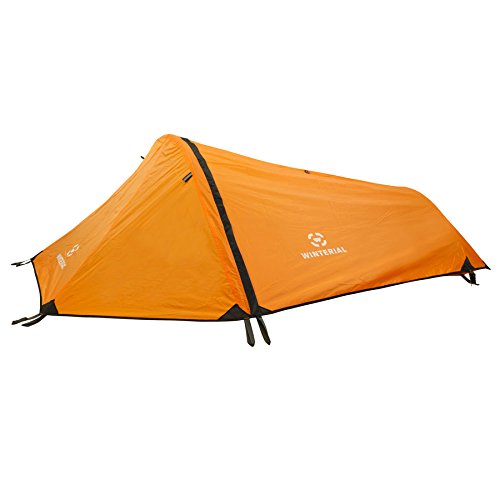 What makes the Winterial Single Person Tent different from the others is its flatter design, which is suitable for shorter people.
But with that being said, it has wide interior space to ensure comfort and room for both your sleeping bag and gear.
It is easy to assembly and ultra-lightweight, just a bit over three pounds!
There is also a large zippered door to easily access and exit the tent, as well as a rainfly and roof mesh for ventilation and to prevent any condensation.
I really loved setting it up, it was a breeze.
It also looked awesome and had a ton of room for someone with a wide body.
I recommend this to anyone, as it's a worthy investment for years to come!
Pros:
Strong stakes for stability
Works for either hot or cold weather
Very breathable and lovely to look out the windows
Fits one person with a lot of room for gear
Cons:
No vestibule
Paracords aren't as strong as the tent
LIKE IT? PIN IT!
And there you have it!
Through learning the proper way to choose the best backpacking tents, you will be able to find the one suitable for your next camping trip.
Any of these 7 are optimum for solo backpackers, couples and groups of four.
Remember to look up on these factors again when choosing a tent and ensure that you purchase from reputable sources.
I hoped that this article helped you out. If you have any questions or would like to share your tips and experiences, then comment down below.
I would love to hear what you have to think.
---
Deann Rebello – I'm a founder at BearinForest.com, a camping blog that shares everything about traveling and camping.
I'm just a young lady who loves camping out and always eager to share my bonding experience to the world.
Don't forget to follow me on Twitter.
---