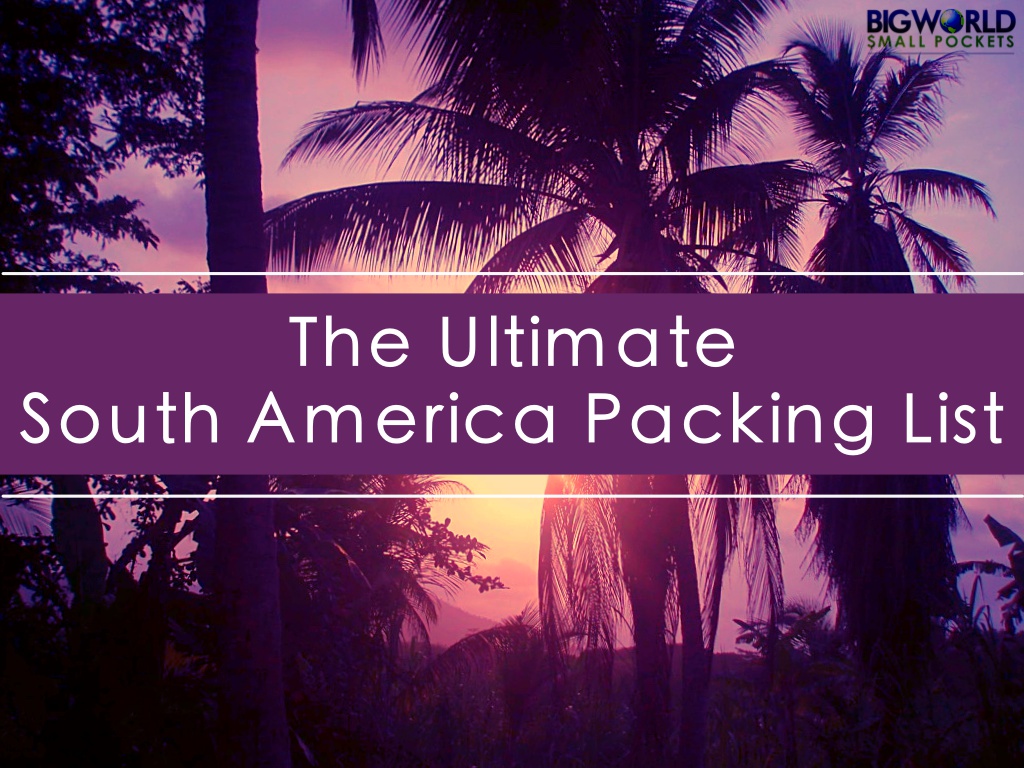 The best thing about travelling in South America is that fact that it's one heck of a diverse continent.
And one of the worst about travelling in South America is that it's one heck of a diverse continent.
That's because packing for such a broad range of climates, altitudes, terrains and activities can be a nightmare, especially if you're a backpacker.
Yes, good old South America can put even the most hardcore and /or experienced backpacker's skills to the test when it comes to making sure you'll have everything you need.
But don't worry, be it dancing tango in Buenos Aires, hiking in the Andes or sunbaking on the Brazilian beach, I've got you covered with this ultimate backpacking South America packing list…
---
Related Posts
---
This page contains affiliate links meaning Big World Small Pockets may receive a small commission on any purchases at no extra cost to you.
---

Clothes
1x Waterproof Jacket
The Andes can get cold and wet … a lot!
As such, I highly recommend taking a waterproof with you.
I love my Berghaus Stormcloud Jacket and think it would be a great choice.
Otherwise, check out this article for more good ideas.
1x Hoodie / Fleece
Essential for evenings and cooler days, something light and quick dry would also be helpful.
This women's breathable fleece by Columbia would do brilliantly.
1x Thin Long-Sleeved Top/ Base Layer
Good for cooler days or when hiking / travelling and you need layers.
My recommendation is always for a natural fibre like Merino. Check out Meriwool's great range.
1x Cardigan / Shirt
Helpful in the evening if you want something a bit dressier.
Also provides another layer in an emergency.
1x Pair Long Jeans
Great for going out in the evening or wandering around cities when you don't feel comfortable with bare legs.
1x Hiking Pants / Cotton Trousers / Thin Cargo Pants
Any pair of loose-fitting, thin pants will be ideal for hiking in South America, as well as for travel days and if you plan to undertake any volunteer work.
These Columbia Sportswear Women's Saturday Trail Pant are great.

1x Pair Leggings
One of my travel essentials and so helpful for putting under trousers if cold, for hiking or exercising, for being comfortable, for extra nightwear or for under a casual dress.
If you have room, take 2 pairs!
2x Pair Shorts
You're going to need something for those beach days.
1x Light Dress
Again a good item for beach days or if you want to dress up a bit during the evening.
Easy to pair this over leggings too.
2x Sarongs
You can't take enough sarongs travelling in my opinion and, as they are so light, I recommend 2 as a minimum.
Perfect for using as a beach towel, a scarf, a beach dress, a sheet, a laundry bag… the list goes on.
Check out my post about the 20 reasons why you should always take a sarong travelling for more ideas!
1x Beanie / Warm Hat
Great for when you're at altitude, camping or hiking as it will keep you amazingly warm.
6x Singlets / Vests / T-Shirts
Choose a range of colours that match the trousers /shorts you've selected.
1x Sports / Quick-Dri T-Shirt
Good for hiking / exercising / volunteer days, I love my Nike Miller Dri-Fit T-Shirt, because it's ideal in humid locations.
7x Pairs Underwear
Small and compact, 7 pair of undies will get you through a week without having to wash them!
2x Bras
Try to go 1 if you think you can and make extra use of your bikini or sports bra instead!
1x Sports Bra
Small and great for hiking or those bumpy bus journeys ladies!
Nike are my go to here because I find they last a long time.
1x Bikini / Swimwear
You'll need something to enjoy the ocean with.
3x Pairs Socks
Make sure you take ones of various lengths / thickness, include ankle socks for city days and thick warm socks, like these, for camping and hiking nights.
Nightwear
You can always double up on your daywear here to save room!

Shoes
1x Pair Hiking Shoes
Depending on your plans, either hiking boots, hiking shoes or trail runners.
See my post about how to choose the best hiking footwear for some top tips.
1x Pair Flip Flops
Essential! Havaianas are always a winner.
1x Pair Day Shoes
Either converse, pumps or sneakers for exploring cities and towns on foot are a must on my South America packing list.
1x Pair Evening / Dressy Sandals
Nonessential, but many people like to take them.

Toiletries
1x Thin Toiletries Bag
To hook or not to hook, that is the question! Either way, just make sure it is light and thin.
1x Shampoo & Conditioner
Small travel bottles are available, or even better, grab a shampoo bar for a spill-free delight!
1x Deodorant
I always prefer a natural crystal deodorant as they last forever!
1x Toothbrush, Toothpaste, Floss
1x Soap
Keep in a ziplock bag!
1x Razor & Spare Blades
1x Nail Scissors, Nail File & Tweezers
1x Travel Handwash
Great for doing emergency washing, such as underwear in a sink!
Sea to Summit do a good sized one.
Cotton Buds
Hair Bands
Safety Pins
1x Diva Cup
Oh yes ladies, you know what I'm talking about.
And if you don't, check one out here.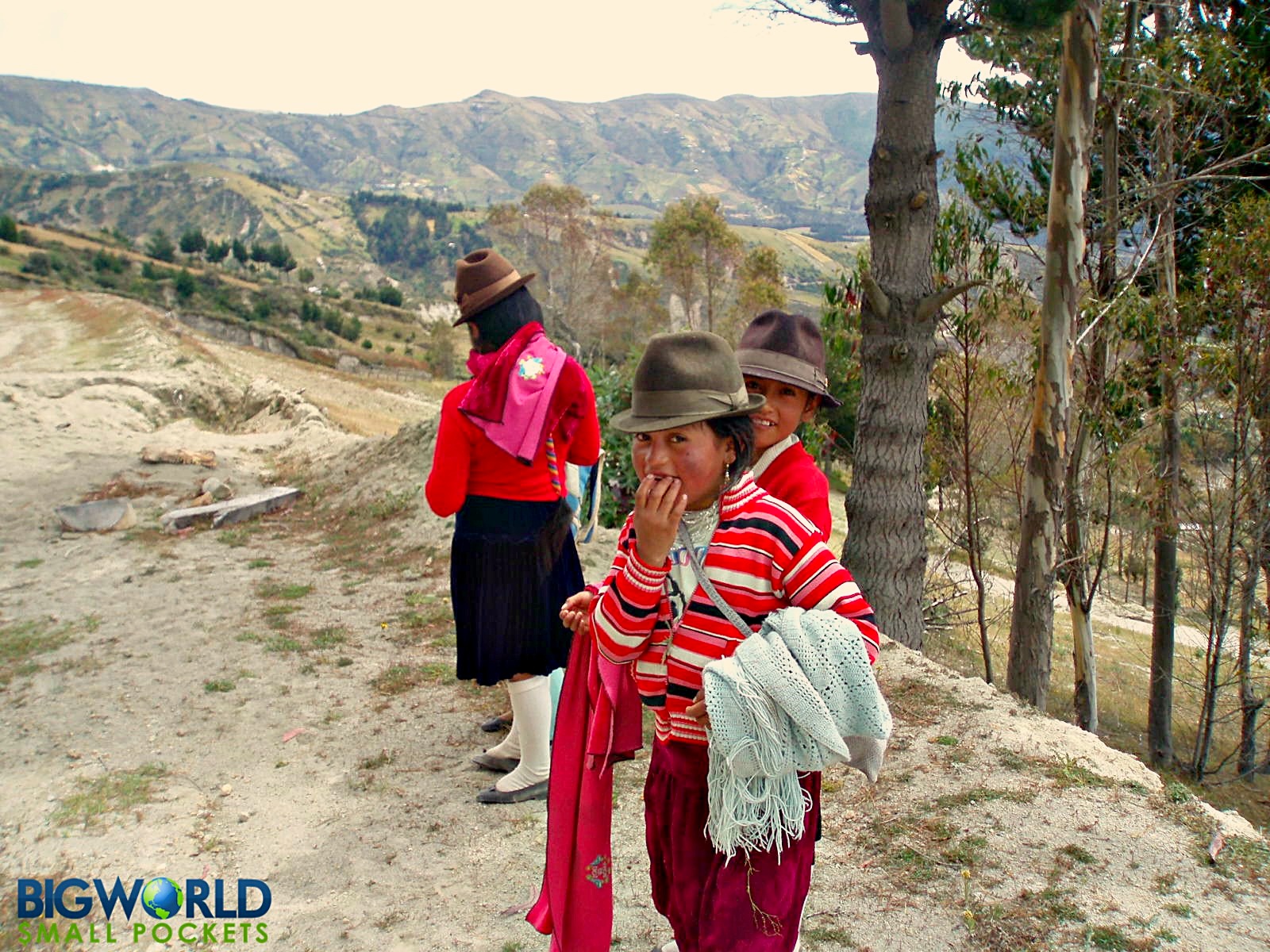 Medical
Choose a 30+ SPF or higher.
1x Aloe Vera
This doubles as a great moisturiser, soother and aftersun.
1x SPF Lip Salve
Very important for those high-altitude conditions.
1x Natural Bug Repellent
See my post about how to make your own DEET-Free insect spray or else there are plenty of ready-made products on the market such the excellent one by Burts Bees.
1x Tiger Balm
An ideal remedy for headaches, sore muscles and insect bites.
A powerful antiseptic, anti-mould, anti-fungal cleaning agent.
Also great to throw in a few drops with your washing and ideal for freshening up smelly bags / dirty laundry etc.
1x Box Paracetamol
1x Box Band-Aids
Electrical
1x Camera, Lens, Memory Card & Charger
I love my Sony A6000 mirrorless camera, which is light and small – ideal for travel.
I carry it with a 16-50mm lens and 55-210mm lens.
I also recommend at least one 64GB SD Memory Card and a spare battery too.
Oh, and of course, the charger!
1x Headlamp & Spare Batteries
Never travel without a headlamp and try to choose a product that uses commonly found batteries and has a red light function.
Black Diamond are always my go-to.
1x Adapter
How are you going to charge anything otherwise?!
I love the Skross MUV World Travel Adapter, which even has a USB charger port too.
1x USB Stick
Very helpful for backing up photos and important info.
Other
1x Eye Mask & Earplugs
Key for sleeping on long bus journeys, in tents or at hostels.
1x Travel Towel
It has to be Sea to Summit.
These are the only brand of travel towel I've found that don't get smelly and mouldy.
1x Day Pack
Good for hiking and beach days. I love my Bobby Anti Theft Backpack, which I would not travel without these day.
Read my full review here.
2x Books
Swap them when you are travelling to keep your bag light.
1x Phrasebook
Having a little bit of Spanish under your belt will go a long way in South America and you can't beat the Lonely Planet Phrasebook in my opinion.
1 Notebook & Pen
1x Combination Padlock
Very useful for locking up bags while hiking or when staying in hostels.
1x Multi-Tool
Lots of people say you don't need this, but I find it very helpful.
Choose a light, inexpensive one, like the Gerber Suspension Multi-Plier for example and then it doesn't matter if you lose it!

1x Pair Sunglasses
1x Water Bottle
Can't go wrong with a Kleen Kanteen.
1x Sleeping Bag & 1x Silk Liner
If you're doing any hiking or going remote, both of these things will come in very handy.
The Snugpak Travelpak is always my choice for backapcker sleeping bags because it condenses down so small.
A silk liner is great for keeping clean and sweat-free. It takes up no room and will make a world of difference.

Documents
Passport & Photocopies
Photocopies are always the best backup idea.
Flight Tickets
You may not get far without these and even if you have an email copy, I suggest a paper duplicate somewhere too.

Visa Documentation
Research any visa requirements well in advance and have the necessary paperwork on you.

Vaccine / Immunisation Documentation
Great idea to carry with you, especially in the case of Yellow Fever certs or rabies information.

Travel Insurance Policy
If you're backpacking in South America for a long time, then definitely check out my advice for long term travel insurance, otherwise World Nomads are my top pick for South America travel insurance.
Credit Card & Debit Card
A great idea to have at least 2 cards with you when travelling, preferably stored in different locations on your person!

Cash in Small Thin Purse
Don't worry about a money belt, just make sure your purse is discreet, thin and unassuming!
It's a great idea to arrive in South America with a little bit of currency you can use to buy small things immediately such as food or buses fares.

And believe it or not, I fitted all of this into a Berghaus Freeflow 40l backpack – my number one choice when it comes to the best backpack for travel!
PIN IT TO PINTEREST!
So there you have it, the ultimate backpacking South America packing list.
Have you been to this incredible part of the world?
What did your packing list look like?
And what may I have missed?