One of Peru's many UNESCO World Heritage sights, the stunning city of Arequipa in the south of country is a delightful spot to explore.
Renowned for its charming colonial architecture, Arequipa's famous use of sillar, a white volcanic stone, is what gives many of its buildings such a distinctive appearance.
Flanked by 3 volcanoes and boasting a wonderful year-round climate, a trip to Arequipa can be a fantastically cheap, as well as mesmerising experience, so check out these 13 top things to do in Arequipa if you're planning a trip there soon.
---
Related Posts
---
My stay in Arequipa was kindly sponsored by Le Foyer Hostel, but, as always, all views are my own.
This page contains affiliate links meaning Big World Small Pockets may receive a small commission on any purchases at no extra cost to you.
---
#1 Marvel at the Basilica Cathedral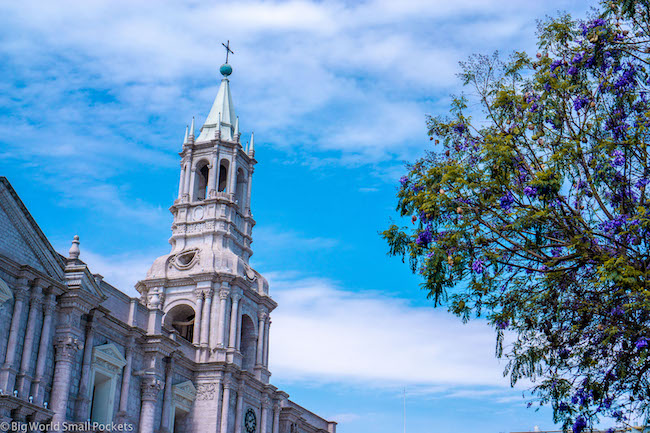 The centre of Arequipa is built around the Plaza de Armas, which houses the impressive Basilica Cathedral.
Standing in this stunning central square, gazing at the beautiful fountain, cathedral and other wonderfully preserved colonial buildings around, it's easy to see why the centre of Arequipa was designated a UNESCO World Heritage Site in 2000.
Free to enter during the hours of 7am – 10am and 5pm – 7pm, visiting the huge Basilica Cathedral is a must-do thing in Arequipa – it's definitely one of the most impressive religious buildings in the whole of South America.
THE BEST TRAVEL INSURANCE FOR PERU
I wouldn't dream of travelling to a country like Peru without proper coverage and always recommend travel insurance from World Nomads who I've used during my time in this country and across the world.
World Nomads are actually one of the few companies that will insure you for hiking and camping at altitudes above 3000m – essential for a country like Peru where many destinations, including Colca Canyon and Machu Picchu, are situated above this height.
Alternatively, if you're looking for travel insurance with Covid-19 cover, then look no further than Safetywing's great Nomad Insurance policies.
These guys will cover you at some seriously great prices, including if you have to quarantine!
#2 Snap an Alpaca Selfie
Arequipa's fascinating cultural centre cross museum, Mundo Alpaca, gives tourists a great insight into the production of alpaca goods.
It really is amazing to see just how much work goes into making those incredibly warm clothes these animals help produce.
Local women demonstrate the traditional art of weaving, as well as talk visitors through the modern day, timesaving machine method too!
A great free thing to do in Arequipa, it's also possible to buy some wonderful alpaca clothing items here, which, although a bit more expensive than the local markets, are of a much higher quality.
Oh and of course, there's a chance to say hi and grab a selfie with an alpaca or 2 as well!
5 PACKING ESSENTIALS FOR PERU
#1 Good Camera – I would never even think of travelling to Peru without a camera good enough to capture the amazing landscape and people of this country. Both my Sony A6000and GoPro Hero 7 have been perfect for the job!
#2 Waterproof / Windproof Jackets – With so much of this country situated high in the Andes, taking a waterproof and windproof jacket is essential if you're going to be hiking or sightseeing in the mountains. I highly recommend the North Face Venture 2 for the job.
#3 Hiking Boots – You can't come to Peru and not do some trekking, so make sure you come prepared with some good, supportive hiking boots… I've never worn mine so much in my life! These Keen Targhee II's are a great solution.
#4 Day Pack – And with all the hiking and sightseeing, a good daypack to carry water, snacks, camera, hat, gloves and other clothing layers is key in Peru! This one from Osprey is my pick.
#5 Travel Scarf – And finally, I've just discovered the amazing travel wraps from Sholdit and am so happy I took mine to Peru. Acting both as a scarf to keep you warm and a place to store your valuables while you're out and about, this great invention is perfect for travel in South America.
#3 Shop in San Camilo Market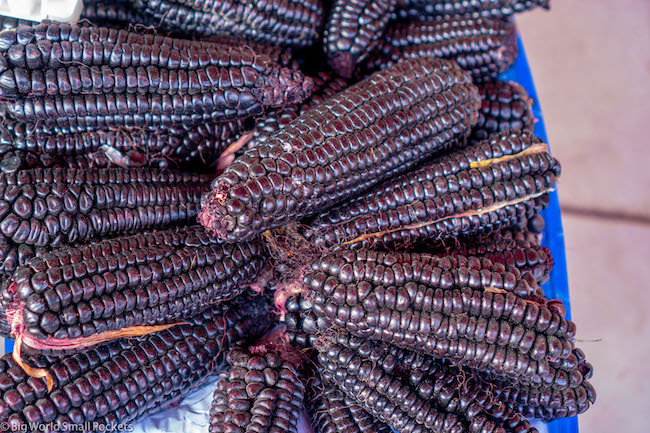 One of the best markets in Peru, San Camilo in Arequipa is the bustling hub of local life here.
Providing visitors with a very authentic experience, the market gives travellers a wonderful opportunity to sample an amazing array of traditional treats and delights, including a few Peruvian cuisine classics, such as Rocoto Relleno and Soltero de Queso.
Don't miss the unique black corn either, or the amazing avocados, which Peruvians called paltas.
A very local affair, the prices are incredibly cheap in San Camilo Market and the atmosphere is unbeatable.
#4 Visit Colca Canyon
The world's second deepest canyon, Colca is a hiker's dream and understandably many tourists like to make the epic trek inside this impressive geographical feature.
Walking (or horse riding) in the canyon is definitely the best way to experience this amazing place on a budget and quite easy to arrange too via a local tour.
Situated few hours' drive outside Arequipa, the Colca Canyon is definitely the city's main excursion for either 1,2 or 3 days, not least for the chance it offers to spot great Andean Condors, bathe in hot springs, watch smoking volcanoes or experience very authentic village life.
READ MORE: The BEST Alternative Colca Canyon Tour
#5 See Juanita
The amazing tale of Juanita is a story worth taking the time to discover when it comes to the best things to do in Arequipa.
Believed to have been sacrificed to the Gods during the Incan Era, Juanita's teenage body was only revealed in 1995 after a melting glacier exposed her tomb at the top of Ampato volcano, which lies in the landscape outside Arequipa.
Learning the story of Juanita, as part of a visit to the Museo Santuarios Andinos where she now rests, includes a fascinating video and exhibition of her 500 year old body.
For just S/ 20 (price for foreign visitors), you'll receive the knowledge and information of a museum guide, as well as a fascinating peek at Juanita's naturally mummified corpse and the ancient articles found alongside here.
No cameras or phones are allowed in the museum, but there are handy secure lockers available to use for free at the point where you buy tickets.
The Museo Santuarios Andinos is open 7 days a week, from 9am-6pm Monday through Saturday and 9am-3pm on a Sunday.
#6 Explore the Santa Catalina Monastery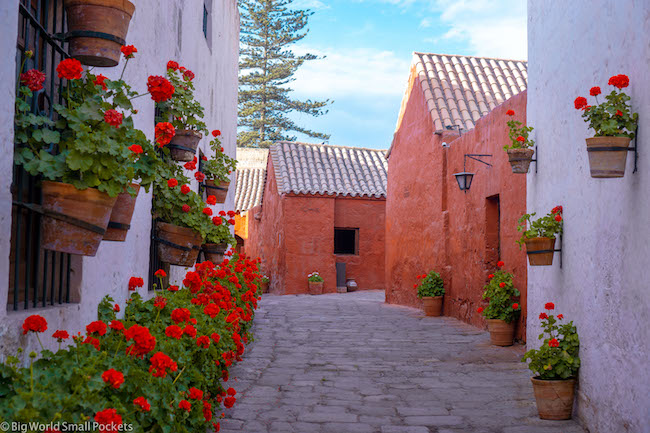 Built in 1579, this monastery is still home to a group of nuns today, as well as a fantastic collection of native artwork, religious objects and artefacts from numerous historical periods.
It costs S/40 to explore the huge maze of tunnels, cloisters and walkways that make up the Santa Catalina monastery, which was only opened to the general public as late as 1970.
Essentially cut off from the outside world until that point, the highlight for visitors is the climb onto the rooftop during the late afternoon to view the incredible sunset spectacle.
The Santa Catalina Monastery is pricey to enter, but it's good to know you can easily spend a couple of hours wandering, snapping and relaxing in these quiet and peaceful grounds and, as such, it's definitely one of the top things to do in Arequipa.
Open from 9am to 5pm daily, guides can be hired here too if you wish to learn more about the history of this famous city within a city.
THE BEST HOSTEL IN AREQUIPA
Without question, the best budget accommodation option in Arequipa is to Le Foyer Hostel.
Set around a beautiful open courtyard, with a rooftop bar, epic volcano views and spotlessly clean dorms and private rooms, the central location and delightful staff at this place set it apart.
Oh and you can store your luggage securely here for free too if you're going off to visit the Colca Canyon – bonus!
#7 Take in the Volcano Views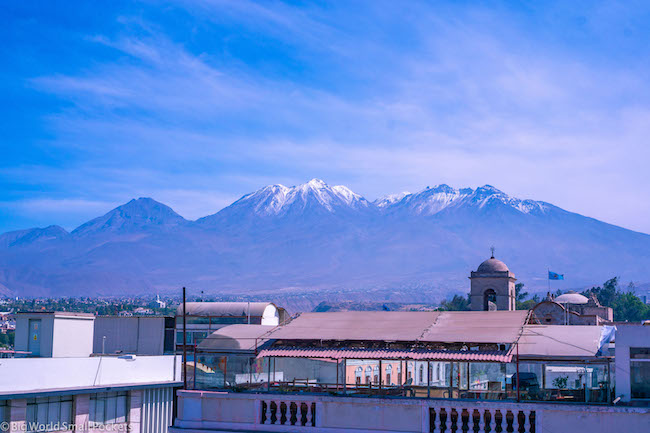 It's hard to deny Arequipa's stunning backdrop and getting the best view, not to mention photographs, of its famous volcano – El Misti – is definitely one of the best things to do in this city.
As I've said before, Le Foyer Hostel has an epic view from their rooftop terrace which you can enjoy over your included free breakfast, or over a Pisco Sour in the evening.
HOW LONG TO SPEND IN AREQUIPA
I'd recommend a stay of at least 2 days in Arequipa, which will give you enough time to explore the historic centre and all the yummy cafes, bars and views!
If you're looking to explore more of the surrounding area, including Colca Canyon (which you definitely should) then extend this to 5-6 days giving yourself time to acclimatise to the altitude too!
#8 Enjoy Sunset at Yanahuara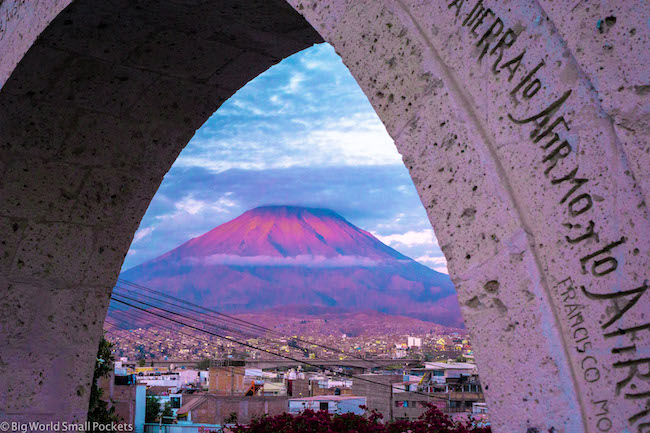 The other best place to enjoy the volcano views from in Arequipa is the Yanahuara Mirador.
This gorgeous suburb, which lies on the other side of the Rio Chili, can easily be accessed on foot from the centre of Arequipa via a 20-30 minute stroll.
The lookout here, which gives a great shot of the city from under some picturesque arches, also has a quaint little plaza and an 18th Century church, which is free to enter.
But perhaps best of all, is the local speciality queso helado – literally translated as cheese ice-cream!
Trying some is a must, but don't worry there's no cheese involved, only vanilla and coconut!
#9 Take a Day Trip
And after you've seen the views, I'm sure, like me, you won't want to stop at Yanahuara and instead we'll be keen to explore further around Arequipa too.
We've already spoken about visiting the Colca Canyon – the main attraction outside this city – but there's honestly tons of other stuff to enjoy too including visits to nearby villages, tours to the sillar quarries where the white stone Arequipa is built from is mined and, perhaps best of all, rafting opps on the great Chilli River.
This is definitely a lot of fun and easy to pack into a half-day if you're short on time, so check out this top-rated rafting trip from Arequipa for more info.
#10 Admire the Architecture
A colonial city, there's no question in my mind that Arequipa is the prettiest of them all in Peru thanks to its cobbled streets, charming heritage feel and iconic white buildings.
As such, simply strolling this city and snapping away is definitely one of the best things to do in Arequipa, with particular architectural highlights including La Casa De Moral (situated on Calle Moral), Los Claustros de la Compana (with its highly decorative style) and Casa Tristan Del Pozo being some of my favourites.
#11 Chill in Plaza De Armas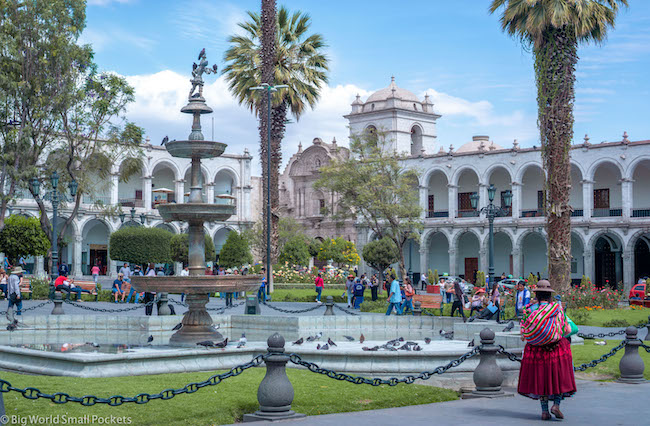 And right at the heart of all this splendour – I'm talking about the rich architecture and volcano backdrop – lies the heart of Arequipa, La Plaza De Armas.
Spending some time here relaxing on one of the many benches under that perfect blue sky, is the perfect way to soak in the ambience of this city as tourists and locals alike stroll around this beautifully green and fountain-centred location.
And if you want to learn more about the history of this famous square, or indeed about the whole historic centre of Arequipa, then you can't go wrong with one of the city's great free walking tours.
Beginning at 10am, 1pm & 3pm from Calle Santa Catalina 204, this makes a great introduction to the city and is ideal for budget travellers as all you need to pay is a tip to your guide at the end.
#12 Eat, Eat & More Eat!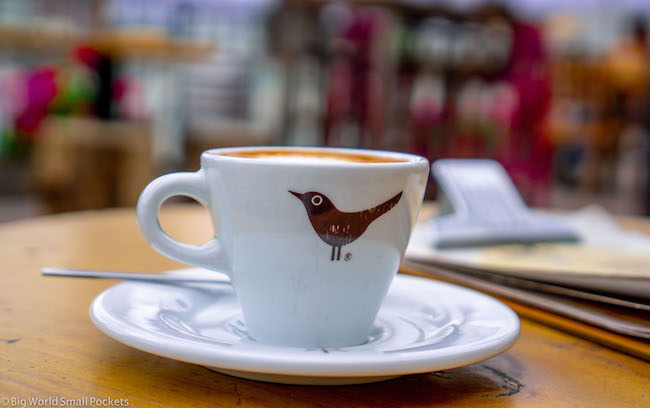 And with all that history and culture stuff now out of the way, we can get onto the fun stuff Arequipa is famous for, namely eating and drinking!
Yes, ask any Peruvian and they'll tell you that this city has some of the best food in the whole country and sampling as much of it as you can is definitely one of the best things to do in Arequipa.
Many chocolate shops and coffee roasteries can also be found here (my favourite are Chaqchao Chocolates & Puku Puku Cafe respectively) so taste-testing these 2 other top Peruvian products is a must.
And I'm also delighted to say that Arequipa is a hotspot for vegetarian cuisine too. In fact, I found no less than 4 awesome vegan / vegetarian restaurants within the city centre during my visit.
Omphalos, Bio Bio and Prana were all great and well-priced, but my top pick has to be La Bodega Ecane on Calle Bolivar.
#13 Drink at a Rooftop Bar
And finally, no time in Arequipa is complete without enjoying a few drinks in this fun-loving city.
Rooftop bars are the way to go here with their epic views over the city and great range of Pisco Sours and local craft beers setting the scene for a perfect evening.
PIN IT TO PINTEREST!
With so much to offer, I'm sure you can now see why Arequipa is well worth a stop during any trip to Peru.
From markets to monasteries, cathedrals to canyons, it's the perfect choice for those travelling on a budget with so many cheap and unique things to do and is definitely my favourite city in this country!