The thing I loved most about Peru, and probably the thing that surprised me about this country was that, despite being a wildly popular country with travellers, it's still incredibly easy and cheap to get entirely away from the crowds to some of the epic hidden corners and authentic treasures that still lie largely undiscovered here.
And probably that has a lot to do with Peru being so vast and so diverse, so that even though there are those bucket list parts of the country we all want to tick off our list, most of them have epic alternatives that escape the tourist rat race.
And so it was with the Colca Canyon!
Situated near the city of Arequipa, this is a famous spot for hiking and condor-spotting, with most travellers following a well-trodden route to do one or both of these things.
But not me!
Nope, I've discovered the top way to see the Colca Canyon, which has you visiting a whole different, budget-friendly, crowd-free, local-vibes side to this epic geographic spectacle.
So read on to learn all about the best alternative Colca Canyon tour – you won't be able not to take it when you learn how amazing it is!
---
Related Posts
---
My time in Colca Canyon was kindly sponsored by Le Foyer Hostel & Tours, but, as always, all views are my own.
This page contains affiliate links meaning Big World Small Pockets may receive a small commission on any purchases at no extra cost to you.
---
Where & What is the Colca Canyon?
But before we launch into all of that, let's start with a bit of background info… namely where and what is the Colca Canyon?
In the interest of keeping it short, let's just say the Colca Canyon is one of the deepest canyons in the world.
Situated at altitude (now there's a surprise) in the Andean mountains of Peru, this is a beautifully natural, thermal and rural area scattered with agricultural plots and a flowing river.
Just over 150km from Arequipa (Peru's 2nd largest city), the Colca Canyon is not just one deep canyon in the middle of nowhere, as I thought it was.
No this is very much a region, a part of Peru, which has its own cultural identity and lots of many small villages, attractions, sights, widlife and activities that scatter both its high banks and deep valleys.
And those valleys are definitely deep – twice the depth of the Grand Canyon in the US in fact – and with a population that still retain much of their unique cultural heritage.
Yes in the Colca Canyon, UNESCO-listed traditional dances can be seen alongside pre-Incan terraces and ruins, natural hot springs, smoking volcanoes and soaring condors.
With so much to do, see and experience in the Colca Canyon therefore, it's a no-brainer that this area deserves at least 3 days of your time, especially if you want to head the places fewer tourists head and because all travel to the Colca Canyon begins and ends in Arequipa.
The Colca Canyon Tour Most People Make
So while we're on the subject of where most travellers go, let's take a little time to talk about where most Colca Canyon tours head and what they involve, so you can get an idea of why my alternative recommendation is sooo much better!
Right, the first thing to know is that there's 2 types of "normal" Colca Canyon tours.
The first is sold as a Colca Canyon tour and lasts 1-2 days.
Generally it involves little to no hiking and more time sat on a bus.
The main aim of these tours are to show you the sights of the Canyon, i.e. the condors, hot springs and views.
The tours that take 1 day, just usually cram into a single, long 12hrs+ what the 2 day tours view at a more leisurely pace.
As such the 1 day tours depart Arequipa at around 3am, while the 2 day tours begin at a more respectable 8am and usually involve spending the night in a touristy town called Chivay at the junction where the Colca Valley ends and the Colca Canyon begins.
The second type of Colca Canyon tour is sold as a Colca Canyon trek and last 2-3 days.
These treks, unsurprisingly, are all about the hiking and take place in the deep Canyon usually begin around the town of Cabanaconde.
Again the 2 days tours cram into a shorter timeframe, what those with 3 days experience, meaning it's hard going on the hiking and also likely you miss the sight of the Condors.
Generally, you hike from one side of the Canyon, down into the depths and then out again. As such, this can be seriously tough on the legs and at an elevation of over 2500m, seriously tough on the lungs as well!
And so, it's worth pointing out that the usual Colca Canyon tours / treks either involve a lot of time in a bus at the edge of the canyon or a lot of time hiking in the deep canyon and not much inbetween.
THE BEST PLACE TO STAY IN AREQUIPA
There's no question in my mind, that the best place to stay in Arequipa is Le Foyer Hostel.
Centrally-located, immaculately clean and with one of the best breakfast views (think snow-capped volcanoes from a roof terrace) I've ever seen, this is a great spot to meet other travellers in the heart of the Arequipa action.
And best of all, they have super hot water and good wifi!
Book your spot in either a private room or a dorm at Le Foyer Arequipa at the best rates HERE!
The Best Alternative Colca Canyon Tour
So enter the alternative Colca Canyon tour, one that combines sightseeing and road tripping with active hiking and horse riding, as well as local village stays, hot spring soaks, ruin wanderings and even a whole other reserve excursion, away from the Canyon, thrown in as well.
Sounding good already right?
Usually lasting 3 days, the best alternative Colca Canyon tour begins from Arequipa and has been specifically designed for budget travellers looking to get off the beaten track by the great guys at Le Foyer Hostel Arequipa.
They have recently opened a sister hostel – Le Foyer Colca – which is located within a very local village called Yanque that is half way between the Colca Valley and the deep Canyon.
It's here that you'll stay for 2 nights, surrounded by delightful local restaurants, pre-Incan terraces, hot springs, views to die for and lots of adventure to seek out.
THE BEST TRAVEL INSURANCE FOR PERU
I wouldn't dream of travelling to a country like Peru without proper coverage and always recommend travel insurance from World Nomads who I've ever used during my time in the country and across the world.
World Nomads are actually one of the few companies that will insure you for hiking and camping at altitudes above 3000m – essential for a country like Peru where many destinations, including Machu Picchu and the Colca Cayon, are situated above this height.
Alternatively, if you're looking for travel insurance with Covid-19 cover, then look no further than Safetywing's great Nomad Insurance policies.
These guys will cover you at some seriously great prices, including if you have to quarantine!
Alternative Tour Itinerary Day 1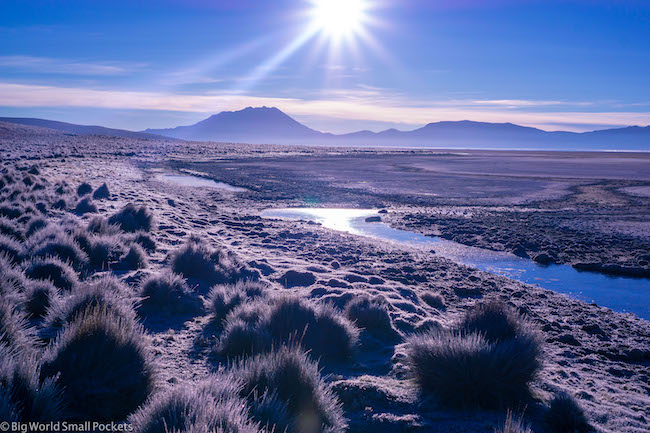 And with so much around Yanque, it probably comes as no surprise to learn just how much this tour packs into your 3 full days.
On day 1, it's an early start as you head out of Arequipa to check out that other reserve that basically no one, and I repeat no one, gets to visit!
Yes being there for sunrise, amidst the volcanoes as the sub-zero temperatures and dry air lead to an amazing light display, there was not a single other traveller.
In fact there wasn't a single other person!
And let me tell you, they were missing out because the snaps I got here were something else!
But it's not just the volcano views this reserve is famous for.
Nope, in La Reserve Nacional de Salinas, the main attraction in this huge desolate area is the high altitude salt lake.
After near-freezing to savour the experience of walking in this otherworldly place (it was worth it for the pics!), we headed to a tiny local village – San Juan de Tarucani – to warm up with a coffee and to see the local women leading their alpaca flocks from their nighttime pens to their grazing fields.
Again, no other tourists, just a real insight into how traditional communities in this part of Peru live and some good jokes with the local señoras!
After this, and a drive past amazing rock formations, high lookout points, raging waterfalls and wild vicuñas, we arrived into the Colca Valley and began driving towards to the Canyon and the village of Yanque where we could eat, relax and explore the town for the remainder of the afternoon.
5 PACKING ESSENTIALS FOR PERU
#1 Good Camera – I would never even think of travelling to Peru without a camera good enough to capture the amazing landscape and people of this country. Both my Sony A6000 and GoPro Hero 7 have been perfect for the job!
#2 Waterproof / Windproof Jackets – With so much of this country situated high in the Andes, taking a waterproof and windproof jacket is essential if you're going to be hiking or sightseeing in the mountains. I highly recommend the North Face Venture 2 for the job.
#3 Hiking Boots – You can't come to Peru and not do some trekking, so make sure you come prepared with some good, supportive hiking boots… I've never worn mine so much in my life! These Keen Targhee II's are the perfect solution.
#4 Day Pack – Also for the hiking and sightseeing, a good daypack to carry water, snacks, camera, hat, gloves and other clothing layers is key in Peru! This one from Osprey is my pick.
#5 Travel Scarf – And finally, I've just discovered the amazing travel wraps from Sholdit and am so happy I took mine to Peru. Acting both as a scarf to keep you warm and a place to store your valuables while you're out and about, this great invention is perfect for travel in South America.
Day 2 & 3
Day 2 of the alternative Colca Canyon tour is all about exploring around Yanque which lies in the heart of this stunning natural landscape.
There's so much to do in and around this village that honestly you could spend 2 full days just here!
But, with time limited, I'd suggest choosing between horse riding to the Incan ruins at Uyo Uyo, bathing in the thermal baths of Chacapi (complete with their beautiful stone bridge backdrop with cost just 15 Soles) and the 2 hour hike to La Forteleza – need I say a hidden lookout hardly anyone else visits!
All guides for these activities can be arranged in Yanque, if you want to take them. Otherwise, with the tour some are included.
The only thing that's not included with the tour, is the price of the Colca Canyon Park entrance fee, which you'll need to pay on day 3 of the tour unless, like me, you're lucky and manage to avoid it!
Costing 70 Soles, this fee gets you into the main tourist drag of the Colca Canyon and seeing the big-ticket items which, let's be honest, you don't want to miss either.
These include the Mirador Cruz Del Condor – where you can see these enormous sweeping birds warming up in the morning sun, as well as enjoy a delightful stroll along the edge of the canyon.
You can also visit the historic church in the village of Maca, as well as the lesser-known towns on the otherside of the canyon few get to visit, like Madrgial.
And then, let's not forget the pièce de résistance, the Geyer Pinchollo – yes who knew about this smoking bad boy too?!
All in all, this epic 3 day alternative Colca Canyon tour has you seeing, tasting and experiencing pretty much all there is to see in this fabulous area and doing it in a delightfully crowd-free and culturally-rich way.
How to Book the Alternative Colca Canyon Tour
As I said, this new and exciting tour has been put together by the great guys at Le Foyer Hostel in Arequipa because they want to help travellers get off the beaten track in the canyon and they also want to help other local villages in the area, such as Yanque, which typically tend not to benefit from the crowded tour buses / trek tourists in the same way.
They also wanted to create a tour that lies somewhere between the hectic-hiking trip and the long-hours-in-a-bus tour.
And so their super alternative Colca Canyon tour was born!
Just email the amazing owner of Le Foyer Hostel, Hendry, if you want to try this great way to see the Colca Canyon and he can help you out.
And don't forget to say that you heard about it through Big World Small Pockets!
Email: [email protected] and quote BWSP for your exclusive discount!
Visiting Yanque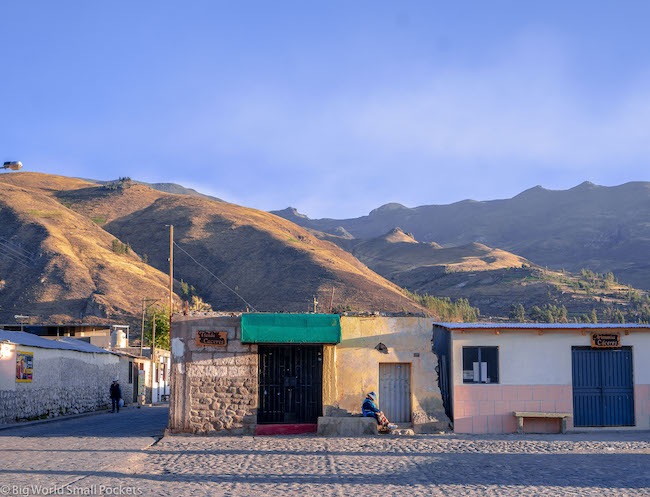 While you can take this complete alternative Colca Canyon tour for an amazing price, I know there's some of you out there who hate tours FULL STOP.
And I can understand that.
As such, it's also worth knowing that you can just head to Yanque independently if you like and enjoy the sights and the sounds of the canyon from there at your leisure.
Of course, you don't get to visit the La Reserva Nacional de Salinas that way, but you do get to experience local buses!
From Arequipa, take a collectivo minibus to Chivay and from here, change minivan and head to Yanque – it's only around a 20-30 minute ride.
Once in Yanque, check-in to the wonderful Le Foyer Colca and enjoy a few days / nights here, hiking, horse riding, eating, bathing in hot springs, marvelling at the views and eating your heart out!
You can arrange all of this from Yanque, especially the eating, as this local village has some epic food spots.
Top of my eatery list are:
Restaurant Alpaca Chef
Restaurant Incafe
Restaurant / Bar CoCafe
Restaurant Urpicha Del Colca
Sumaq Wayra
Here you can try amazing local foods, including several fruits I'd never even heard of!
Don't miss the green dragonfruit (known as Sancayo) ice-cream!
In fact all of these restaurants, along with Le Foyer Colca Hostel, local hiking guide Edwin Oxa and local horse-riding star, Wilbert, who runs Cabalgatas Kgoriwayra, have all grouped together to form a new tourist association in the town.
Check out their Yanque website here to learn more and to book your trip to this beautifully authentic canyon village.
It's also worth pointing out that the great, UNESCO-listed Wititi dance takes place in Yanque each morning at around 6:30am. So, if you stay in this village, you can visit this for free too!
Things to Know About the Alternative Colca Canyon Tour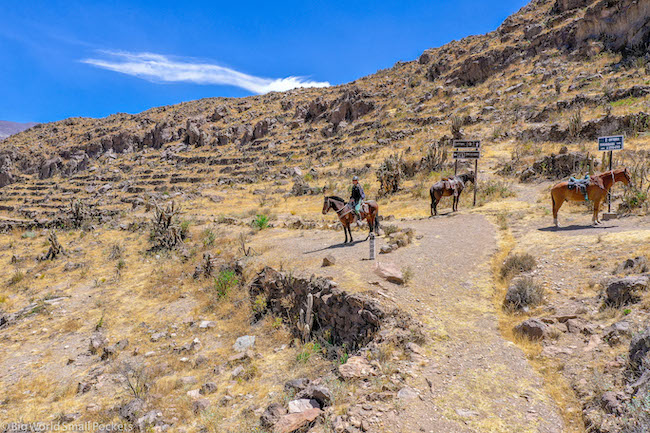 The best time to visit the Colca Canyon is during the month of April when the rainy season has passed, but everything is still lush and green, making the views even more spectacular.
Rainy season in the canyon falls during the months of December to March and the coldest time of year (although it is dry then) is during June and July.
The warmest times of the year are the months October, April and May.
But when I say warm, it's still over 3000m+ high around here, so insulated clothing – think layers, coat and hats – are a good idea.
As always, I find natural fibres like merino / alpaca are a treat!
I'd also pack a headlamp in case of power cuts, insect repellent, swimwear for the hot springs and sunscreen.
A sunhat would also be wise, as would some good, outdoor walking shoes.
LIKE IT? PIN IT!
And there is it, my full guide to the best alternative Colca Canyon tour for getting off the beaten track in this amazing part of Peru.
Are you planning a trip to Arequipa and the Colca Canyon?
You should be!
Let me know any questions you have in the comments box below…