I can tell you now, I thoroughly enjoyed writing this post (and hopefully you're going to enjoy reading it too) because the biggest budget travel blogger delight always comes from writing about amazing countries that are cheap to adventure in!
So, with a huge grin, I can safely say the answer to the question "what does travel in Georgia cost?" is… not much!
SHAZAM!!
Seriously, Georgia is one of the cheapest countries I've ever travelled in (just behind Egypt and Turkey and probs on par with the Balkans) and if you've read any of my other blog articles on my time in this country, you'll know it's freaking amazing and totally safe too.
The trio of dreams I'd say!
Well at least my dreams, because budget, solo female, off the beaten track travel is what I'm all about, and, guess what?
Georgia nails all 3.
So let's get started on showing you just how accessible and inexpensive this country is, care of my breakdown about exactly how much it costs to travel in Georgia…
---
Related Posts
---
This budget is based on the trip I made to Georgia, with all prices correct at this time.
This page contains affiliate links meaning Big World Small Pockets may receive a small commission on any purchases at no extra cost to you.
---
Intro to My Georgia Travel Budget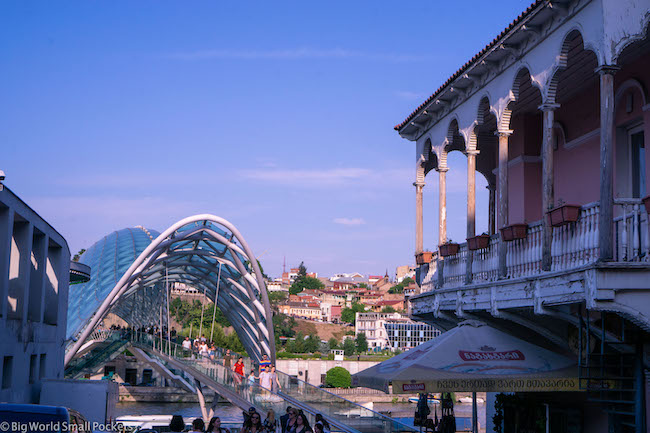 The first thing I'd encourage you to do is head over to my Georgia itinerary post and check out this 2 week plan and then come back here!
The reason is that, in order to give you some idea of Georgia travel prices, and to put these into context for you, I'm going to cost out this specific itinerary – the one I travelled in fact!
Yes, this budget will be costed exactly based on the trip I've done, staying in the same hotels, visiting the same attractions and eating at the same places, so you can trust it's entirely authentic.
Obviously, this will involve travelling on a budget i.e. eating in cheap, local restaurants and staying at cheap, local guesthouses, yet it will also include some added extras, which perhaps might not be considered budget travel items, but which are incredibly worthwhile – such as a trip up to the mountain region of Tusheti.
I've also included some day trips in this Georgia travel budget, because they are perfect for seeing more of this country in a short time and very easy for solo travellers. However, if there's a group of you, it might be cheaper to hire a car etc to visit these spots.
In terms of structure, I'm going to give you a breakdown of each category so that if you are travelling for longer than 2 weeks, or with a bit more / less cash, you can do your own workings. Then, at the end of this post, you'll find the complete budget breakdown of my proposed 2 week Georgia travel itinerary.
This budget won't include the cost of any visas (although for Georgia you almost certainly don't need one), nor the cost of international flights or travel insurance, so don't forget to factor these in as well.
When it comes to insurance, World Nomads offers simple and flexible travel insurance. Buy at home or while travelling and claim online from anywhere in the world.
Alternatively, if you're a long-term traveller, digital nomad or frequent remote worker seeking travel health cover, check out Safetywing's Nomad Insurance policies.
If you're flying from Europe to Georgia, then the cheapest flights are normally those that land in Kutaisi – a city that is home to the country's parliament – because this is the airport used by most budget airlines.
You'll then have to get yourself from Kutaisi to Tbilisi, the capital, where this itinerary starts (which is simple enough) but do allow time and a small budget for this.
If you want to compare flights that land in Kutaisi with those that land in Tbilisi, plus find yourself the best deal overall, then I highly recommend you use Skyscanner – my go-to site for finding the cheapest tickets.
Anyway, sorry for the long intro!
Let's get on with answering the question about how much it costs to travel in Georgia…
#1 Accommodation Costs
Accommodation costs are probably the biggest expense when you travel Georgia, because they are aimed at the tourist market and therefore higher than any of the local services like food and transport.
In fact, they accounted for 41% of my total spend in the country (and yes I use a very geeky, but helpful app called TravelSpend to track this stuff!)
As Georgia gets more and more popular as a travel destination, I'm pretty sure accommodation rates, even in hostels, are going to go up even more, aka get to this country as soon as you can!
In the major tourist locations in Georgia such as Tbilisi, Batumi, Kutaisi etc you'll find backpacker hostels – normally with dorms and private rooms as well as shared kitchens, bathrooms and the usual social vibes.
Elsewhere in the country though, especially in mountain areas, budget accommodation is more likely to be in homestay or small guesthouses, which can often prove just as good value (if not better) and are an amazing way to experience local culture.
A private room in either a hostel or guesthouse costs around 45-65 Georgian Lari (GEL) which is about £14 GBP, 16 Euros or $19 USD. Some rooms of this price might be ensuite, but often they can be shared bathrooms.
As you'd expect, accommodation in the capital Tbilisi and remote areas is usually a little more than elsewhere in the country. Check out these Tbilisi hostel options for ideas and a price guide.
When it comes to dorm rooms, you're looking at paying around 25 GEL for a bed, which is around £6.50 GBP, 7.5 Euros or $8.50 USD, but bear in mind this kind of accommodation is often only available in major tourist places.
Elsewhere, especially in more rural mountain areas, camping is going to be the cheapest option. If you do come prepared with your own gear, make sure it is suitable for camping in cold altitude conditions. Having your own gear will also prove helpful if you want to undertake any multi-day hikes in Georgia.
For more information about backpacking Georgia, check out my list of the 21 things you need to know about adventuring in this country on a budget.
#2 Food & Drink Expenses
Well now we've got the expensive part out of the way – ha ha – and wait for it if you thought that was cheap, we come to the costs of food and drink in Georgia, which is crazy cheap… even if you eat out in cafes and restaurants.
In fact, it's one of those of countries where it's not even worth going to the supermarket to buy and cook stuff in your hostel (unless you really want to eat healthy like me!) because it's so cheap to eat out.
Adding to this is the fact that outside of the hostel I stayed at in Tbilisi, no accommodation spots really provided kitchens, but most do include breakfast in their rates – what this leaves you to do therefore, is fork out for 2 meals per day and some drinks.
Georgian food is simple and hearty, salty but delicious. Expect to eat a lot of meat, bread and cheese, and even more of the other 2 if you don't eat a lot of one of those 3!
Street snacks are common and cost just a few Lari and normally include fruit, sweets and nuts from stalls.
Cheap bakery goods, like the national dish khachapuri and its multiple variations, also make good lunch options.
These are served everywhere, from hole-in-the-wall bakeries to good restaurants, and are basically cheese pies +/- spinach or meat or egg. The cheaper ones cost around 3-5 GEL and are extremely filling!
Coffee is also drunk in abundance in Georgia – hoorah – and is usually made like Arabic / Turkish coffee and served black and sweet. Again cups are just are around 3-5 GEL+ depending on how posh the café you're drinking it in is!
Beers are again around 5 GEL for a local option, but most popular in Georgia is wine, which they make here and which is delicious.
Tap water is drinkable across the country and therefore free if you travel with a refillable metal water bottle.
For dinner, if you eat in local cafes / restaurants, especially in Tbilisi, then a casual option will likely set you back around 20-30 GEL per person. Outside of the capital, you're more likely to be pay around 15-25 GEL.
Presuming therefore that your breakfast is included in your accommodation rate, I would allow around 40-50 GEL roughly per person per day for lunch, snacks, dinner, coffee, soft drinks and alcohol, which equates to roughly £10-£13 GBP, 12-16 Euros and $14-$17 USD per day.
#3 Transport Costs
Using local transport in Georgia is easy and plentiful and a great way to keep your budget down.
In general, you'll be catching marshrutkas, which are local minivans that hurtle around the country at an alarming rate!
Otherwise shared taxis, like Uber Pools, also operate on an ad-hoc basis and taxis or private drivers are also available.
Ride-sharing apps like Uber operate in the big cities and there's a good and very cheap metro in Tbilisi too. It works on a card top-up system and 5-7 GEL is likely to cover your whole use of it across 2 weeks.
Because, bear in mind, you are likely to return to Tbilisi a few times during your 14 days in Georgia.
The simple reason for this is, that most public transport runs into and out of the capital, which means going across the country, without first heading back to Tbilisi to connect, can be difficult.
Be sure to factor this into your itinerary and allow time as it can slow things down.
As an example, a marshrutka from Tbilisi to Telavi costs around 10 GEL and from Tbilisi to Kazbegi costs the same.
A taxi ride in Tbilisi, for example to your hostel from a bus station, might cost around 7 GEL and as I said before, topping up a metro card for between 5-7 GEL should easily cover your entire time.
Transport accounted for about 13% of the total amount I spent travelling in Georgia, which was around 210 GEL – but a large part of this went on the return 4wd drive to Tusheti, which cost 110 GEL alone!
Learn more about visiting Tusheti in Georgia here.
#4 Entrance & Guide Fees
The great news is that the sights you're most likely to visit in Georgia are monasteries and these are all free!
Hoorah say the budget travellers everywhere!
The other great news that is you don't require guides to visit them, nor do you require guides for most of the hiking you'll be doing in Georgia.
Double budget traveller hoorah!
In fact, during my whole 2 weeks in the country, I didn't pay for a single guide outside of those that were included in a day tour price.
And the only entrance prices I paid were 15 GEL for the Stalin Museum, 7 GEL for the entrance to the Uplistsikhe Cave City and 100 GEL for the Sulphur Baths in Tbilisi which included an exfoliating massage.
The fact you have to allow almost no budget for entrance fees and guides is one of the primary reasons travel in Georgia costs so little.
#5 Tours & Activity Costs
And coming in at number 5, we tackle tours and activities when it comes to defining the cost of travel in Georgia.
I actually didn't undertake any paid activities in Georgia, only lots of free hiking but if you did want to enjoy any activities, then the most popular option is horse riding or cycling in the mountain areas.
Otherwise, you may want to consider a couple of day trips which will help you see a lot more of Georgia in a short time.
As you can see my from 2 week Georgia itinerary, I did make a couple of day trips during my time there.
They were…
Day trip from Tbilisi to David Gareja = 30 GEL
Day trip from Tbilisi to Gori (which also included Uplistsikhe – an incredible ancient rock-cut town, Mtskheta – Georgia's former capital and Jvari Monastery) = 53 GEL
Wine Tour around Telavi = 50 GEL
Tour to Daartlo from Omalo in Tusheti, which was actually just a shared 4wd taxi ride where the driver waited for us = 50 GEL per person
Return private taxi to Juta Valley from Stepantsminda where the driver waited for me = 70 GEL
Depending on how many trips you make, this budget will fluctuate, but roughly you can allow between 30-70 GEL for each day trip you make.
#6 Other Costs to Consider
Then you've got to factor in all those other incidental expenses like laundry (once a week should do it) and possibly a SIM and data package too.
For my travels in Georgia, I got a Geocell SIM card with 10 GB of Data for 35 GEL.
Final Cost of Travelling in Georgia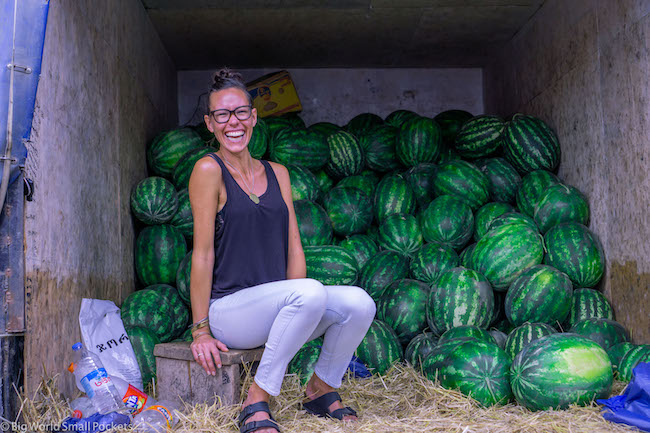 For my 2 week Georgian itinerary, travelling solo on a budget, here's a rough breakdown of what I spent…
Total Accommodation in Budget Private Room = 700 GEL (remember to split this in half if you are sharing with someone or go for a dorm)
Total Food and Drink spend inc. coffee and alcohol = 630 GEL
Total Transport Spend = 210 GEL
Total Entrance Fees & Guides = 125 GEL
Total Tours and Activities = 250 GEL
Other Expenses = 55 GEL
The total I spent on a 14 days trip to Georgia was therefore about 1,970 GEL.
Which is roughly 140 GEL per day
The total trip equates to around £530 GBP or 600 Euros or $670 USD for 14 days.
Which is in the region of £37 GBP or 42 euros or $47 USD per day.
You could cut this significantly by staying dorms or taking out a few large ticket items such as the entrance to the Sulphur bars, or less beers.
Doing this, you could easily get away with spending £25 GBP per day or 28 euros or $30 USD, making Georgia a very cheap trip indeed.
Mini Travel Guide to Georgia
When to Visit Georgia?
Winters in Georgia can be fiercely cold with snow and freezing temperatures not uncommon across the country, especially in the mountainous areas such as Tusheti. At this time, many roads become impassable and travelling difficult.
As such, I would definitely visit Georgia during their summer months, when the climate is wonderfully warm and the skies are almost always blue.
The summer season here runs roughly from May to September, however July and August can be super hot in Tbilisi and other lower areas (like 40 degrees hot), so do bear this in mind if you're not a fan of the heat and want to enjoy some hiking.
I visited Georgia in June and the weather was perfect – very warm and clear days, with loads of wildflowers around and perfect hiking conditions.
Learn more in the post about the 21 things you need to know before you travel Georgia.
How Long to Spend There?
I'd suggest at least 2 weeks in Georgia to ensure you have the chance to tick most of the major sights off your list.
Recommended Tours in Georgia
Check out these fantastic tours of Georgia, which will help you see the best of this country.
5 Packing Essentials for Georgia
#1 Caucasus Lonely Planet – Still my go-to when it comes to guidebooks, the Caucasus Lonely Planet packs in a huge amount of information about travelling in Georgia and will likely save you the cost of a guide in many of this country's fabulous historical attractions.
#2 Good Camera – From the mountain landscapes to the village life, you'll want a good travel camera to capture the best of Georgia and the Sony A6000 mirrorless ticks my box every time!
#3 Headscarf – If you're heading to see any monasteries in Georgia, ladies will need to come prepared with a headscarf to enter, as well as a long skirt or pair of pants and a long-sleeved top.
#4 Hiking Shoes – No trip to Georgia would be complete without spending at least a day or two hiking in this country's untouched rural landscape. Coming prepared with a pair of good walking shoes is essential therefore and Keen Targhee's II always get my vote!
#5 Rain Jacket – I visited Georgia in June, technically the start of summer and the high season, but was amazed how storms suddenly blew in across this high altitude country. Having my North Face lightweight, windproof and waterproof jacket therefore saved my life!
Learn more in this complete packing guide to Georgia I wrote.
Travel Insurance for Georgia
World Nomads offers simple and flexible travel insurance. Buy at home or while travelling and claim online from anywhere in the world.
Alternatively, if you're a long-term traveller, digital nomad or frequent remote worker seeking travel health cover, check out Safetywing's Nomad Insurance policies.
Travel Money in Georgia
When it comes to paying for things in Georgia, it's great to know that accommodation and tours can generally be paid for by card.
ATMs are also available in most major towns.
Whether you use ATMs or pay by card however, you'll want to ensure you're not being charged overseas transaction fees or getting poor exchange rates, which is why I always take my Wise card away with me wherever I travel.
The easy way to spend abroad with real exchange rates, no markups and no sneaky transaction fees, you can use your Wise card just like a debit card here, and it links easily with Google and Apple pay. Get yours here.
PIN IT TO PINTEREST!
And there it is folks, the full breakdown of my Georgia travel budget for 2 weeks.
Do you think this is cheap or pricey?
Let me know your thoughts in the comments below…