Is there a region more beguiling than the delightful than that of the Caucasus?
Personally, I think not!
Perched on the edge of Europe and Asia it's a veritable travellers' feast and, best of all, few people go there!
As soon as I first step foot in the Caucasus countries, I fell in love with the amazing mix of cultures, delicious fresh cuisine, stunning landscapes and warm-hearted people.
So it's absolutely no coincidence this is one area of the world I continually feel most called to return to.
For wrapped up in the beguiling nature of this place is a charm that is both infectious and deeply confusing… but in a good way!
With one foot in each continent, this ancient land (which has seen the rise and fall of many an empire and civilisation) has both a fascinating history and culture mix as result.
Encompassing the countries of Armenia, Azerbaijan and Georgia, sandwiched between the Black and Caspian Seas, this area even has its own mountain range, with the tallest peak in Europe – soaring Mount Elbrus!
From delicious wines, coffee and food to sulphur baths, ancient mosques and monasteries, fabulous hiking, bustling markets, coastline, lakes and cable cars, it's definitely fair to say this region is a travellers delight.
And here to help you plan your next visit is my list of the 25 best things to do in the Caucasus area – the very top picks for your travel itinerary here….
---
Related Posts
---
This page contains affiliate links meaning Big World Small Pockets may receive a small commission on any purchases at no extra cost to you.
---
#1 Strap on your Hiking Boots, Georgia & Armenia
And we can't go on much longer in this list of the best things to do in the Caucasus countries and not talk about hiking, especially in Armenia and Georgia.
For these countries are hiker's paradises!
What I loved about hiking here, especially in Armenia, is just how off the beaten track and undiscovered it all felt.
Safe without a guide, as long as you have downloaded maps.me, a lot of the hiking here is along ancient village paths that cross stone monasteries and boast stunning views.
Otherwise friendly English-speaking owners of guesthouses can also generally fill you in on all the best walks to enjoy in their local area.
In Armenia, there's great hiking around Goght and Tatev, while in Georgia, most people head to Tusheti, Kazbegi and Svaneti for the trekking.
#2 Don't Miss Svaneti, Georgia
It's certainly one of the big daddies across the whole of the Caucasus, especially for hikers, because Svaneti is a mountain-lovers paradise.
Set in the high Caucasus range, this is a beautiful and wild place scattered with cute, traditional villages and soaring peaks.
No matter what time of the year you visit, this spot is stunning, with activities as diverse as winter skiing or spring hiking among the wildflower meadows both possible depending on the month!
The main town of Mestia is the hub for travellers here, with a recent boom in tourists meaning the accommodation and eating options have soared.
Around Mestia and the wider region, traditional stone towers dot the landscape, as do tiny churches decorated with beautiful frescoes.
A bastion of Georgian culture, the sublime landscape of Svaneti is probably the place in the county to head for great day walks or epic multi-day hikes that will take you to glaciers, elevated passes, pristine lakes and snow-capped summits.
Without question, one of the best places to visit in the Caucasus and a must on your Georgia travel itinerary!
#3 Marvel at Geghard Monastery, Armenia
UNESCO-listed,Geghard Monastery is definitely one of the best things to do in Caucasus region.
Located not too far from Yerevan in Armenia, you can either visit as part of a day trip or stay in one of the nearby villages, like Goght, like I did.
From Goght to can either walk, hitch or drive to the monastery, taking in the amazing views and the traditional lavosh bread baking you'll see happening along the side of the road.
Easy to visit in a few hours, if you're lucky you'll time your visit with a female acapella quartet singing inside the acoustic marvel of the monastery.
Like so many places in this county, Geghard Monastery is free to enter, which is one of the reasons Armenia is one of the cheapest places I've ever travelled.
Get a full budget breakdown, and all the info you need to know about how much it costs to travel Armenia in this post.
#4 Snap Garni Temple, Armenia
And just down the road from Geghard is another important religious building in Armenia, but one that pre-dates its Christian status.
And that's Garni Temple.
An impressive Roman place of worship, set atop a stunning valley, don't miss seeing this place during your time in Armenia either.
Again you can walk, hitch or drive here from Goght and don't miss the Symphony of Stones – a fascinating rock formation that makes for a nice stroll below Garni Temple.
Learn more in this travel guide to Geghard and Garni I wrote.
#5 Explore Baku, Azerbaijan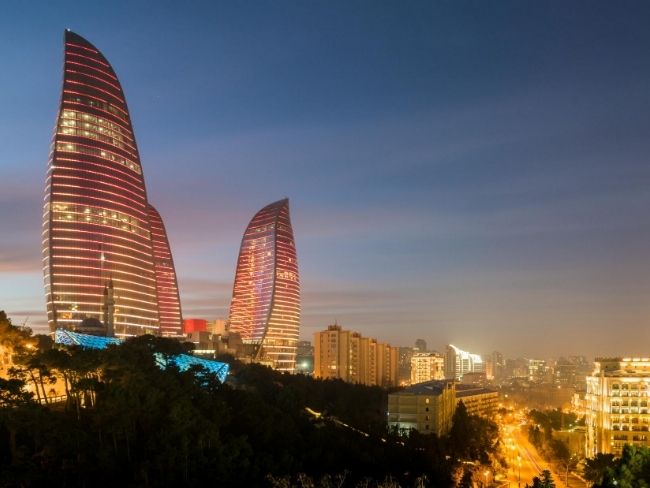 Azerbaijan's capital is definitely the centre of the tourist action in this county and if you're arriving into the country via air or ferry, it's also the first place you'll land.
Most people allow a couple of days for this bustling capital, which really combines the old and the new, the modern and the traditional in every sense of the word.
Modern skyscrapers and the famous Flame Towers rub shoulders with historic buildings that are centuries old.
The Maiden Tower is an iconic building in Baku you shouldn't miss and the old streets that surround it are UNESCO-listed.
Shirvanshas Palace is an ancient mosque you should definitely check out and there's more than enough museums, markets, squares and mosques to keep you sightseeing for a few days.
Don't forget to squeeze in a day trip to outside the city too if you get the chance – an excursion to the famous petroglyphs and mud volcanoes at Qobustan are the top pick!
#6 Soak Up Tbilisi, Georgia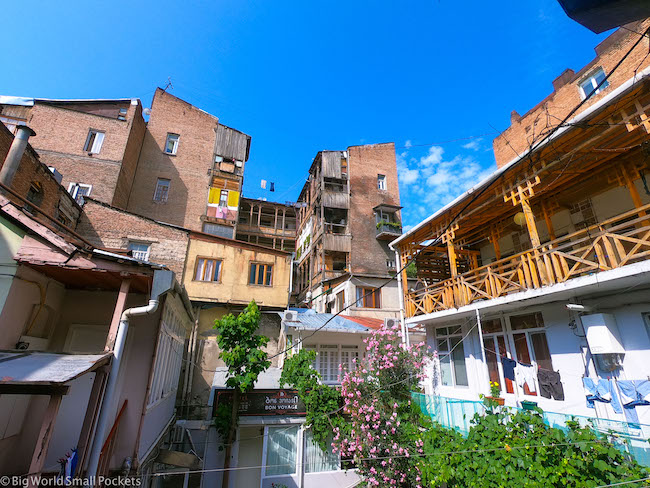 A mishmash of architectural styles, the capital of Georgia, Tbilisi perfectly showcases the geographical and cultural crossroads that this region has been at the heart of for so long.
From the Old City Walls with their stone castles perched on hilltop lookouts, to modern contemporary bridges, soviet metro stations, grand statues, mosques, churches, synagogues, cable cars, markets, parks, street art and public baths, Tbilisi's got it all.
I absolutely loved this city and spent over 6 days there, which it's certainly easy to do given both the size and charm of it.
It's also kind of necessary to do, because Tbilisi lies at the heart of Georgia, and almost all public transport feeds into and out of this city – hence why you're likely to spend quite a bit of time there if you explore further across this country.
There's also an international airport in Tbilisi, as well as regular land crossings to Armenia and Azerbaijan, meaning many travellers either begin or end (or both) their trip to Georgia in Tbilisi too.
For more info and ideas, do check out my list of the best things to do in Tbilisi, otherwise make sure finding hidden bars, relaxing in parks, taking a walking tour, climbing to the lookouts and visiting the markets all make it onto your list!
#7 Day Trip to David Gareja, Georgia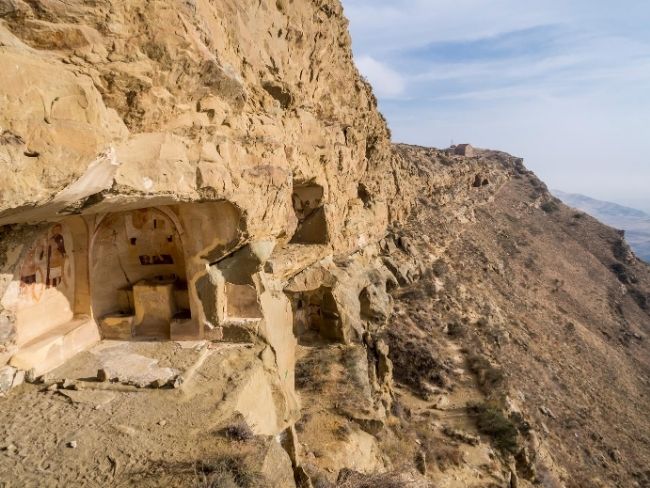 Situated down near the Azerbaijani border, the only other way to get to Davit Gareja is via public transport or a tour from Tbilisi, which means most visitors make the long day trip here from the capital.
But it's certainly worth it.
This is an ancient monastery complex spread over a remote semidesert area, and is still inhabited by some monks. Oh and you also get the chance to peek across the fence border into Azerbaijan from here too!
Originally thought to have been constructed in the 6th century by Syrian Christians travelling from the Middle East, the place has been ransacked and rebuilt many times since.
The whole area takes around 2-3 hours to visit (including staring at the mesmerising desert landscape) and daily tours depart at 11am from Liberty Square in Tbilisi during the summer months.
Otherwise, you can take a private jeep tour that also visits the Rainbow Mountains.
Just be sure to check the changing security status of this region before you visit Davit Gareja – the Azerbaijani army were occupying half the site when I visited, meaning while day trips were still running, only half the place was accessible!
#8 Witness the Genocide Memorial Complex, Armenia
One of the most important things to do in the Caucasus region while you're here is the visit the genocide memorial in Armenia.
Situated just outside Yerevan, this is a very significant place when it comes to remembering and honouring the Armenians killed during this awful part in their history.
The museum and memorial is free to enter and very interesting, so if you don't much about what happened during this time, this is a great way to educate yourself and it's free.
It's also a good half day trip from the capital – the perfect excursion if you have a couple of days there.
Taxis to the site are easy to find in the city centre and cost a minimal amount.
#9 Visit Lake Sevan, Armenia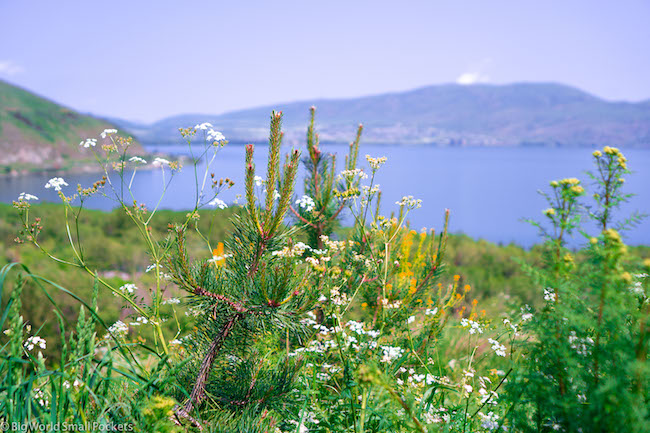 And now we move north through Armenia to the next must-do thing on this list, and that is visit Lake Sevan.
As a landlocked country, the huge Lake Sevan in Armenia acts as a kind of beach in this country, with a real holiday feel of people enjoying themselves all around.
If you're a fish eating, you can get some delicious fresh stuff here and snapping the picturesque setting of the lake, with its mountainous backdrop and quaint Sevanavank Monastery in the middle, is certainly one of the best things to do in the Caucasus.
Lake Seven can be enjoyed either as a day trip from Yerevan or as part of a longer tour, either way it's certainly one of my top things to do in Armenia!
#10 Go Back in Time in Dilijan, Armenia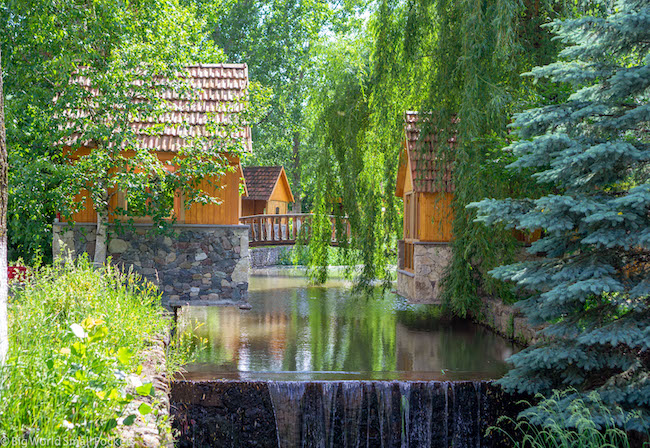 And just down the road from Lake Sevam – and a place many people often combine together into a day trip – is the historic town of Dilijan; visiting here is definitely one of the best things to do in the Caucasus region.
There is a specific part of this small town that has been beautifully restored, and visiting here is like stepping back in time.
That said, it was the riverside setting of nearby Getap that really captured my heart here – don't miss it!
In addition, the Haghartsin Monastery in the adjacent National Park and the cable car ride at Tsaghkadzor are also worth some of your time because, as already discussed, Armenia is the land of the cable car!
Overall, Dilijan is a must on your Armenia itinerary.
#11 Shop at the Markets, Armenia & Georgia
Across all 3 of the Caucasus countries, markets are plentiful and exploring them makes for a joyous travel experience.
Armenia especially has a huge wealth of fresh produce and without the use of pesticides (i.e. most of it naturally organic and chemical-free) all of it tastes absolutely delicious!
The apricots, in particular, are something of a national treasure and no time in the country is complete without trying them.
Fresh vegetables and nuts are also sensational and I've already touched on the amazing local bread – lavosh – still made in the traditional way.
In Georgia, the incredible Deserter Market in Tbilisi is the biggest market in the country, and the place stretches on, street after street, selling everything you could want – no question it's a feast for the senses!
There's also plenty of flea markets in Georgia to enjoy and just about every village and town in the whole region will have some sort of fresh produce selling event or space!
Learn more in this post I wrote about the 21 things you need to know before you travel Georgia.
#12 Trek Around Xinaliq, Azerbaijan
The best place to go hiking in Azerbaijan, Xinaliq is a village that lies high in the Caucasus mountains as the hair-raising drive to get here will testify!
If your morning coffee hasn't woken you up yet, the drive here certainly will!
The village had a distinct and unique culture and language (in a similar way to Tusheti in Georgia) and homestays here are the perfect way to experience it.
Homestays also allow you to stay here longer and therefore get to experience the best of this region – the hiking!
Trails aplenty will lead you out the village to amazing mountain views, with next to no people about.
Maps.me has plenty of trails you can explore over a few days.
Xinaliq is visited from the town of Quba, which lies north of Baku, along the main highway to Georgia – great if you're heading to or from this neighbouring country
#13 Walk to Kazbegi, Georgia
Kazbegi is yet another place you should definitely go when in the Caucasus region!
Yes undoubtedly one of the top places to visit in Georgia, Kazbegi is certainly on the tourist trail, but once you get here, you'll know why.
A few hour's drive north of Tbilisi, along one of the most stunning driving routes in the whole country, Kazbegi is situated in the high Caucasus mountains and boasts some of the country's best hiking and most spectacular views.
The flagship image of the Tsminda Sameba (Gergeti) Church is situated just outside the main town of Stepantsminda here, and walking up there (and continuing onto the glacier above if you can), is a remarkable day hike you can make without a guide.
Otherwise, both the Truso and Sno valleys nearby are filled with more opportunities to get amongst it all and to soak in the amazing landscape.
And, if that wasn't enough to tempt you, you can even get up to very near the Russian border from here too.
Some people only make a day trip to Kazbegi, from Tbilisi, but honestly, this destination deserves a stay of at least 3 nights to do it justice.
Learn more in this Kazbegi travel guide I wrote, which covers itineraries, transport, accommodation and more.
#14 Take a Ride on Tatev Cable Car, Armenia
Did you know Armenia is home to the world's longest cable car!
I know, what a claim!
Especially for a country as small as Armenia!
And it's got a monastery at the top too!
Yes the famous cable car at Tatev, in the south of this country, will take you all the way up to this hilltop place of pilgrimage from where you can admire the ancient building and the views.
Or, if Tatev seems too far to travel to enjoy a cable car ride (it's a good 5 hour drive from Yerevan), then the one at Tsaghkadzor may suit you better.
Yes, it seems Armenia really is the land of the cable car!
#15 Drink Coffee, Azerbaijan & Armenia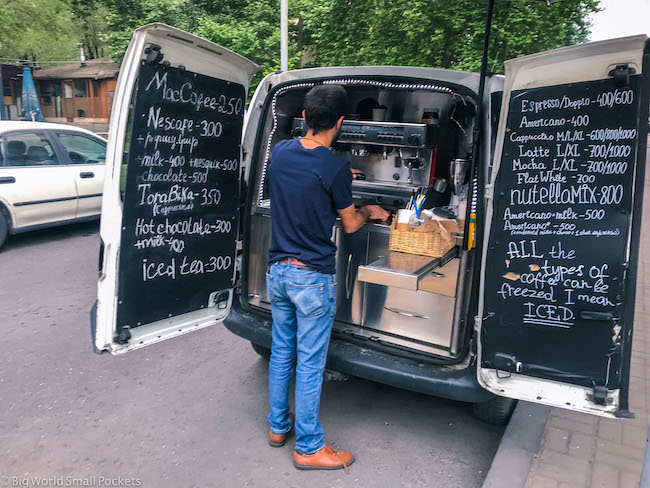 Next up on this huge Caucasus bucket list is a particular favourite of mine!
Not hugely dramatic, just simply delightful and delicious all the same, it's get involved in the coffee in these countries!
As a predominantly Muslim country, Azerbaijan is, as you would expect, big on the coffee and neighbouring Armenia isn't far behind!
Yes in both these countries, drinking coffee is basically a national pastime (in Georgia they tend to stick to the chacha!)
Yes often it seems there's more cafes than people here and spending time at least a bit of time sampling some of those which line the streets and parks here, people-watching and enjoying the sunshine, is one of this region's greatest delights!
#16 Sip Chacha, Georgia
Sip is the operative word when it comes to chacha!
Yes Georgia's favourite drink, this rather lethal spirit has to be tried at least once during your time in this country.
But be warned, it's been on the undoing of many of a traveller, so only in moderation please!
#17 Enjoy Some Wine Tasting, Georgia & Armenia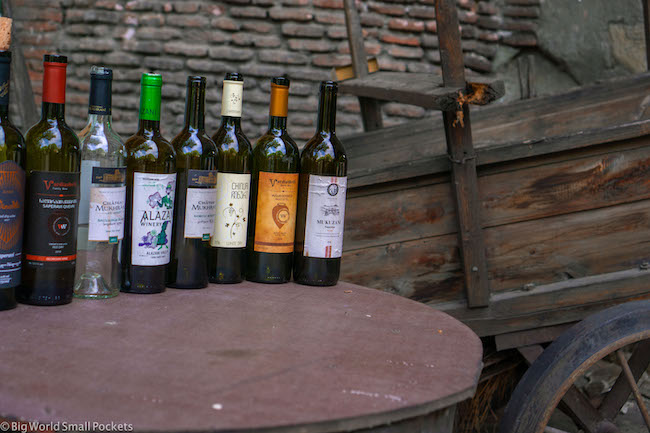 Both Georgia and Armenia are big on the wine and tasting some of the stuff is an absolute must in both countries in my opinion.
Traditionally, Georgian wine is fermented ceramic vessels buried underground and uses a process involving the whole grape.
The best wine regions to visit in Georgia are Telavi and Sighnaghi.
In Armenia, the process is slightly different and you can actually see how it's done at a vineyard near the town of Areni – learn more about this in my list of the 18 things to know before you travel Armenia.
Sampling the stuff here or at any of the cool wine bars in Yerevan that keep popping up is a must!
#18 Hit the Beach at Batumi, Georgia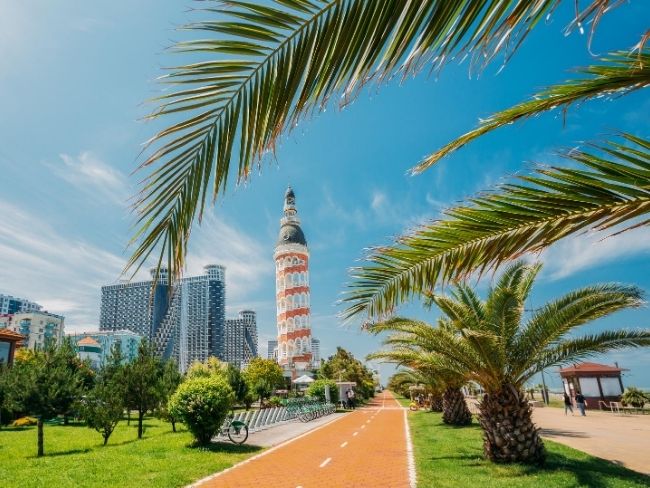 Next up on my list of the best things to do in the Caucasus is to hit up the main Black Sea resort of Batumi in Georgia for some beach time!
This is by far the most popular resort on Georgia's coastal strip and is the place many local and international tourists go to unwind and soak in the beautiful Georgian summers.
Backed by misty hills and boasting a good boulevard, pebbly beach, quaint old town and musical fountains, few can ignore its relaxing allure and easy, feel good spirit.
Word of warning however, don't expect a quiet time if you visit Batumi… expect a wild time!
If that sounds less appealing to you, then there's a number of quieter resorts within Georgia's Black Sea region which are likely to suit you more.
However if you're using public transport to travel Georgia, it's likely you'll arrive into Batumi and then have to make your way to any smaller destinations from there.
Equally, boats into Georgia from Turkey, Bulgaria and Ukraine also arrive into Batumi, making this a place most travellers visit even if it's only before they move on.
#19 Pose at Khor Virap, Armenia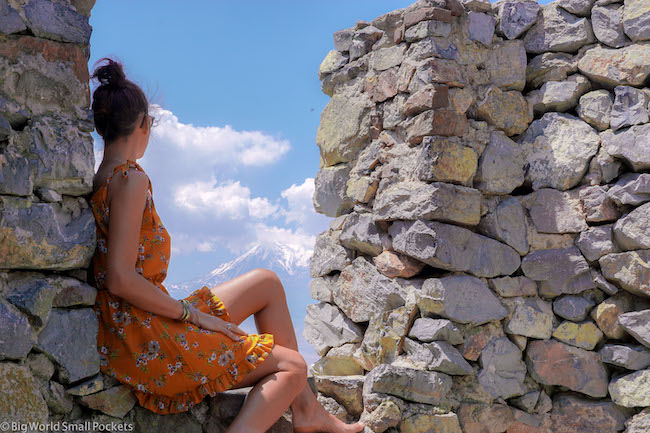 Oh Khor Virap is a must in Armenia too!
Another monastery (yes there's a lot of them, so you may want to pick wisely!), I love Khor Virap because of the stunning snaps you can get here.
Absolutely one of the Caucasus region's most iconic locations, the snow-capped Mount Ararat, which forms the backdrop to this ancient church, really is something else!
Check out this highly-rated day trip from Yerevan to Khor Virap, which includes a visit to the Areni winery and Noravank monastery too.
#20 Head to Remote Monasteries, Armenia
And while we're on the subject of monasteries, it's definitely fair to say Armenia, like Georgia, has its fair share.
Yes as the oldest official Christian nation in the world, Armenia is literally awash with monasteries, and most are still in use and adorned with beautiful frescoes common across the Orthodox church that still forms the backbone of everyday life here.
As such making the climb up to at least a few of them (most sit on top of hills) is a must-do thing in Armenia and special mention has to go to Noravank and those in the north of the country, near the Georgia border, which are UNESCO-listed.
#21 Experience Kutaisi, Georgia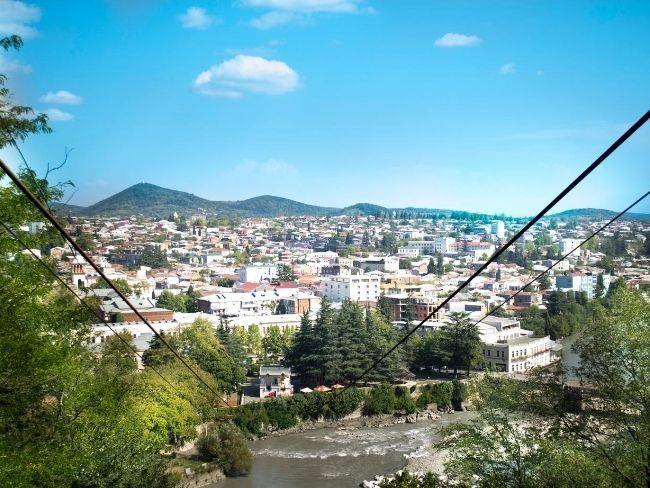 The city of Kutaisi houses Georgia's parliament and, as such, occupies an important part in the running of this nation.
For tourists, it's good to know that Kutaisi's international airport is where most budget airlines fly in and out of, which means if you're coming from across Europe into Georgia on a cheap flight, Kutaisi is likely to be the city you land in.
As such, take a few days to get accustomed to Georgian life here, enjoying the views of the Rioni River, on whose banks the city is built, as well as the Bagrati Cathedral – largely thought to be one of the country's most beautiful and UNESCO-listed.
There's also plenty of political history to discover in the city (as it used to be the country's capital) and recent regenerative efforts have left some beautifully restored parks, fountains and squares.
Don't miss the indoor produce market here either as you get to grip with the amazing Georgian foods and drinks… enjoy!
You can also visit abandoned Soviet sanatoriums here!
Learn more about this in my list of the best places to visit in Georgia.
#22 Find Yerevan's Carpet Shops, Armenia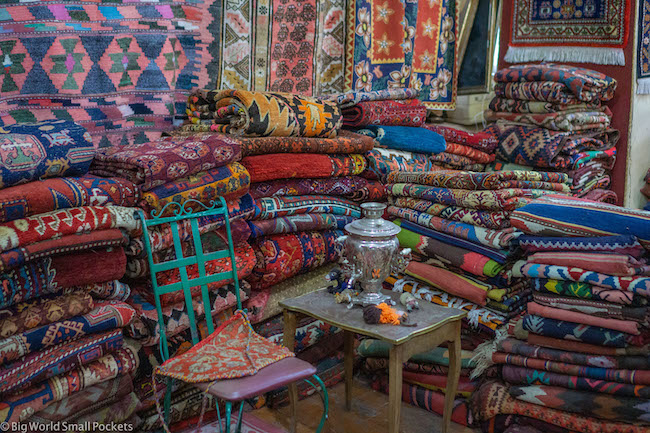 Armenia is such a fascinating cultural mix and just a short time in this country will reveal the Middle Eastern, Persian, Turkish and Soviet influences.
One of the clearest elements of the Turkish culture (or was it the Armenians influencing the Turks?) is the beautiful carpet and rug stalls, which can be seen across Yerevan.
Often traditionally made with natural fabrics, dyes and patterns, the Armenian carpets and rugs really are beautiful and probably the best shop I found was on Abovyan Street – checking it out is certainly on my list of the key things to do in Yerevan.
A hidden delight, also selling lots of Soviet and Armenian antiques, this shop was a veritable treasure trove and I ended up spending hours here, including shooting some shots for Instagram among all the rugs and carpets on the upper floor.
#23 Wander Telavi, Georgia
The main town is Georgia's famous wine region, Telavi is just a few hours from the capital Tbilisi.
Yet it feels like another world.
Quiet, quaint, small and slow, this is the perfect place to relax for a few days with its mild climate and warm people.
Many take a wine-tasting day trip from Tbilisi, but you're doing the city a serious injustice if you don't stay longer.
Instead, I suggest a stay of 2 nights, which will give you ample time to explore the old Medieval town itself, as well as venture out to a few wineries (Shumi Winery is a great one) and a few Cathedrals (Alaverdi is my pick) which lie scattered across the surrounding picturesque countryside.
Otherwise, if you want to take things at an even slower or more rural pace, then head to the other Georgian wine region town of Sighnaghi, which is 60km southeast of Telavi and arguably even prettier.
#24 Soak in Sulphur Baths, Georgia
Hitting up some sort of hot spa / hot spring / mineral bath is always one of my favourite things to do anywhere, let alone when it's set in the middle of one of my favourite parts of the world!
Yes definitely deserving a place of this list of the best things to do in the Caucasus region, spending at least evening of your stay soaking in some baths in Georgia's capital is one of the most relaxing things ever!
The mineral springs here all contain natural sulphur elements, so be prepared for a bit of a smell and some scorching temperatures, although you'll quickly get used to both!
Men have the option of attending public baths here, while women most book a private room and in summer its advised you do this at least a day in advance.
There are several different bathhouses, as well as rooms to choose from, but one of the cheapest and nicest is the private rooms at Orbelinai.
Here you can also enjoy an exfoliating body scrub, which much be paid in cash direct to the person scrubbing you.
Take along some slippers, a towel and some water with you (it gets very hot instead). Swimwear is optional.
#25 Bliss Out in Tusheti, Georgia
And finally, we've come to the end of the most epic places to visit in the Caucasus region, yes I just may have saved the best for last!
For Tusheti really is the land time forget and is completely off the beaten track, even for Georgia… which is really saying something!
Again situated in the high Caucasus Mountains, this whole region is only accessible during the months of June through September, after that it gets cut off again by snow and residents must either stay separated from the outside world the whole winter or move elsewhere in Georgia away from their homelands.
It might not surprise you to know that as soon as I heard about this place I knew I had to go there.. and trust me, it really as special as it sounds.
Accessed from either the town of Telavi or nearby Alvani, there is just one road into and one road out of the Tusheti region which must be made in a 4wd as it's a hair-raising 4-5 hour drive past melting snow glaciers and sheer cliffside drops.
But it's worth it, for when you reach this untouched land, where time ceases to exist and the pace of life is like something from a lost era, you won't want to leave.
I'd suggest basing yourself in the main "town" of Omalo if you visit Tusheti and from here enjoy day hikes, epic drives and even horse rides to surrounding villages and ruins.
Give yourself plenty of time, bearing in mind it really is a full day journey to get here and another day to get back.
Learn more about how to get to Tusheti, where to stay and what to do there in this full travel guide I wrote to the region.
PIN IT TO PINTEREST!
Woah, well that turned into a mega post!
Well I did warn you that I loved this region a lot, so I guess it's no surprise I've waxed lyrical about it!
Hopefully through this list of the top 25 things to do in the Caucasus, I've managed to show you just why I love this area so much and hopefully convinced you to visit as well!
Any questions about travelling in the Caucasus?
Please drop them into the comments below and I'll get back to you 🙂