I think it's probably fair to say most people couldn't place Armenia on a map, let alone know what there is to do there.
But that's a real shame for them, because they are missing out!
Yup, newsflash in case you haven't read any of my other articles about this amazing country, but I loved my time in Armenia and found that the 10 days I'd allocated to travel there simply wasn't enough time to soak it all in as much as I wanted.
So hold the phone if you thought there was nothing worth going to this country for, here's my list of 10 incredible things to do in Armenia to convince you otherwise.
---
Related Posts
---
This page contains affiliate links meaning Big World Small Pockets may receive a small commission on any purchases at no extra cost to you.
---
#1 Caffeinate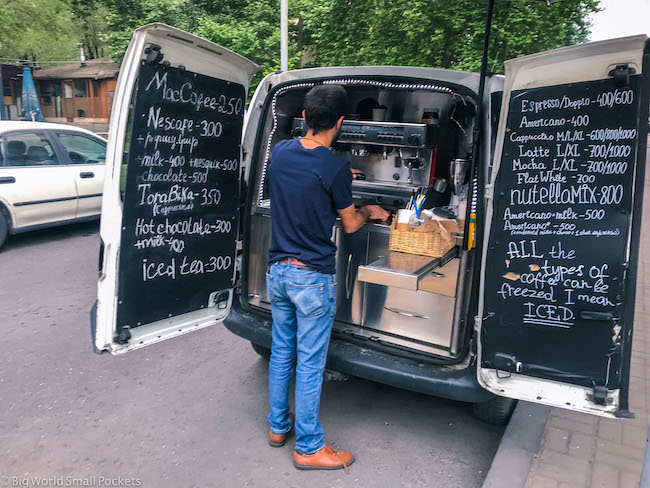 The first entry in this article is not a huge bucket list tick item, it's not even hugely dramatic, it's simply delightful and delicious, the extraordinary in the ordinary and that, for me, is Armenia all over.
Because yes, the first thing on this list of the best things to do in Armenia is to drink coffee.
And why?
Because this is basically a national pastime!
And that's especially true in the capital Yerevan, where you're likely to begin your time in Armenia.
So, you see, it makes the perfect place to start!
Yes in Yerevan, it seems, there's more cafes than people!
So, spending time in at least a few of those that line the streets and parks here – people-watching, enjoying the sunshine and taking in the gentle delight and pleasant vibes of this leafy city, is a must.
#2 Witness the Genocide Memorial Complex
And then, changing tact completely, another one of the most important things to do in Armenia while you're in Yerevan too, is the visit the genocide memorial here.
This significant place is very important when it comes to remembering and honouring the Armenians killed during this awful part in their history.
The museum and memorial are free to enter and very interesting, so if you don't much about what happened during this tragic time, this is a great way to educate yourself.
Check out my list of the other top things to do in Yerevan here.
THE BEST BUDGET ACCOMMODATION OPTIONS IN ARMENIA
#3 Snap Lake Sevan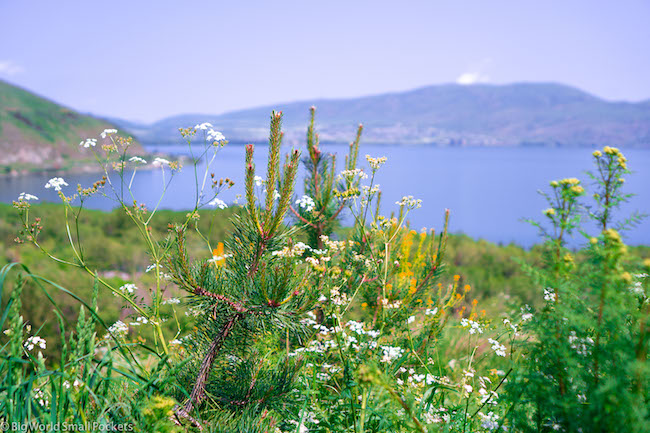 And now we move north from the capital Yerevan to the next must-see place on this list in Armenia, that is Lake Sevan.
As a landlocked country, the huge Lake Sevan kind of acts as a kind of beach in this country, with a real holiday feel of people enjoying themselves all around.
If you're a fish eater, you can get some delicious fresh stuff here, and snapping the picturesque setting of the lake, with its mountainous backdrop and quaint Sevanavank Monastery in the middle, is certainly one of the best things to do in Armenia.
WHEN TO VISIT ARMENIA
Winters in Armenia can be fiercely cold with snow and freezing temperatures not uncommon across the country, especially in the mountainous areas. At this time, many roads become impassable and travelling difficult.
As such, I would definitely visit Armenia during their summer months, when the climate is wonderfully warm and the skies are almost always blue.
The summer season here runs roughly from May to September, however July & August can be super hot (like 40 degrees hot), so do bear this in mind if you're not a fan of the heat and want to enjoy some hiking.
I visited Armenia in June and the weather was perfect – very warm and clear days, with loads of wildflowers around and perfect hiking conditions.
Based on this, I would suggest the shoulder season months of May, June and September as the ideal times to visit this country when the weather is good enough to enjoy getting outdoors and sightseeing, but not too hot that you'll worry about burning and dehydrating!
#4 Make it to Some Monasteries
And while we're on the subject of monasteries, it's definitely fair to say Armenia has its fair share.
As the oldest official Christian nation in the world, Armenia is literally awash with monasteries, and most are still in use and adorned with beautiful frescoes common across the Orthodox church that still forms the backbone of everyday life here.
As such, making the climb up to at least a few of them (most sit on top of hills) is a must-do thing in Armenia and special mention has to go to Noravank and those in the north of the country, such as Sanahin and Haghpat, which are UNESCO-listed.
HOW TO GET TO ARMENIA
The capital of Armenia, Yerevan has a small, but well-appointed international airport that is an easy taxi ride from the city centre.
The cheapest flights generally arrive here from Dubai and Istanbul, so check out FlyDubai and Pegasus Airlines via Skyscanner if you're looking to score a well-priced ticket.
Otherwise, many people take a budget flight to Kutaisi in Georgia, and from there head to Tbilisi and cross overland to Yerevan. This is easily and cheaply done either by overnight train or a local minivan (mashrutka) ride, which takes around 6-7 hours.
#5 Stroll the Historic Streets of Dilijan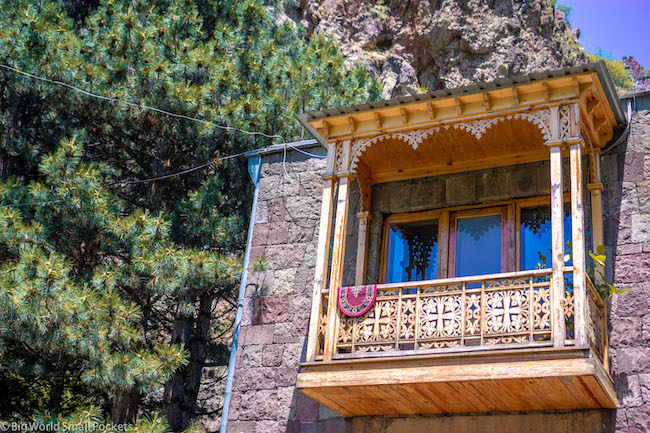 But getting back to Lake Sevan, just down the road from here – and a place many people often combine together into a day trip – is the historic town of Dilijan. Visiting here is definitely one of the best things to do in Armenia.
There is a specific part of this small town that has been beautifully restored, which is certainly worth a stroll and a snap, but it was the riverside setting of Getap that really captured my heart here.
In addition, the Haghartsin Monastery in the nearby National Park and the cable car ride at Tsaghkadzor are also well worth some of your time.
#6 Ride a Cable Car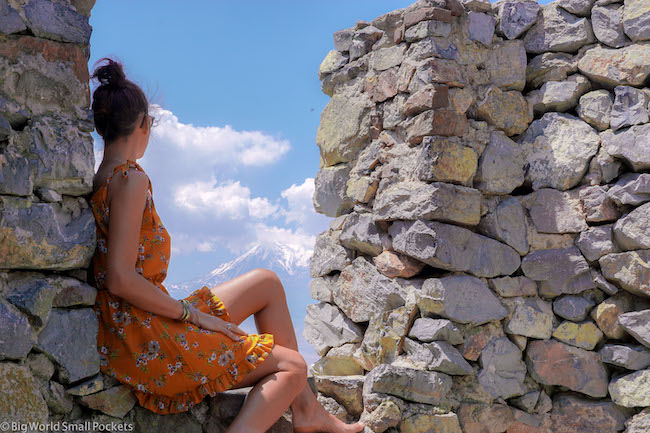 Yes it might just be that Armenia is the land of cable cars!
With the one at Tsaghkadzor being very popular, it is still outsized by the one in the south of the country at Tatev.
This is meant to be the longest cable car ride in the world – quite the claim for a country as small as Armenia – and the famous Tatev Monastery at the top makes it totally worth the ride!
5 PACKING ESSENTIALS FOR ARMENIA
#1 Caucasus Lonely Planet – Still my go-to when it comes to guidebooks, the Caucasus Lonely Planet packs in a huge amount of information about travelling in Armenia, Georgia & Azerbaijan and will likely save you the cost of a guide in many of this country's fabulous historical attractions.
#2 Good Camera – From the mountain landscapes to the village life, you'll want a good travel camera to capture the best of Armenia and the Sony A6000 mirrorless ticks my box every time!
#3 Headscarf – If you're heading to see any monasteries in Armenia, ladies will need to come prepared with a headscarf, like this hemp one, to enter, as well as a long skirt or pair of pants and a long-sleeved top.
#4 Hiking Shoes – No trip to Armenia would be complete without spending at least a day or two hiking in this country's untouched rural landscape. Coming prepared with a pair of good walking shoes is essential therefore and Keen Targhee's II always get my vote!
#5 Rain Jacket – I visited Armenia in June, technically the start of summer and the high season, but was amazed how storms suddenly blew in across this high altitude country. Having my North Face lightweight, windproof and waterproof jacket therefore saved my life!
#7 Hike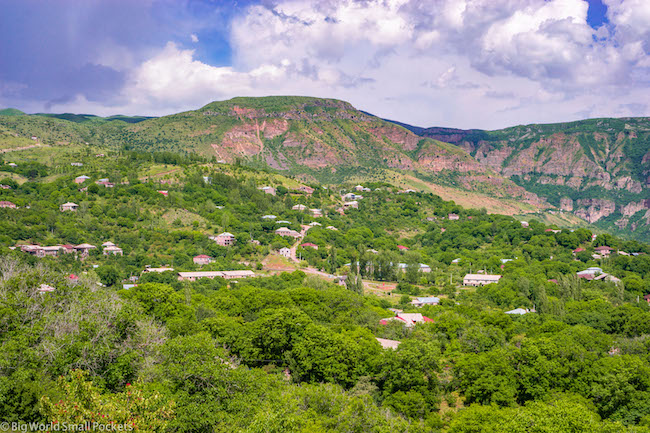 And we can't go on much longer in this list of the best things to do in Armenia and not talk about hiking, especially in and around Goris, which is the largest town near Tatev.
For this country is a hiker's paradise, and around Goris is a particularly beautiful area.
What I loved about hiking in Armenia is just how off the beaten track and undiscovered it all felt.
Safe without a guide, as long as you have downloaded maps.me, a lot of the hiking here is along ancient village paths that cross atmospheric stone monasteries and boast stunning views.
The organisation, Hike Armenia, have lots of information about multi-day trails across the country (check out their website or head into their Yerevan office to learn more), otherwise the area around Geghard, Garni and Goght – just south of the capital – is a great location to strap on your walking boots for a day hike.
I highly suggest staying at 3G's Guesthouse and Camping in the Geghard, Garni & Goght area as the friendly English-speaking owners here can fill you in on all the best walks to enjoy in the surrounding area.
#8 Visit Geghard, Garni & Khor Virap
And while we're on the subject of Geghard and Garni, don't miss a visit to these top destinations as one of the best things to do in Armenia.
UNESCO-listed Geghard Monastery is a must-see and, on the way, you can't neglect to try and taste the freshly baked lavosh bread.
Garni Temple, just down the road from Geghard, is another important religious building in Armenia, but one that pre-dates the country's Christian status.
An impressive Roman Temple, set atop a stunning valley, don't miss seeing this place during your time in Armenia either.
Oh and while you're in this part of the country, Khor Virap is a must too!
You can get some stunning snaps here at what is one of Armenia's most iconic locations, a snow-capped mountain forming its backdrop and everything!
THE BEST TRAVEL INSURANCE FOR ARMENIA
I would never travel to a destination like Armenia without proper coverage and always recommend travel insurance from World Nomads which I've used during my time in this country and beyond.
I love World Nomads great protection for outdoor activities like hiking – essential in a place like Armenia – as well their easy claims process and the ability to buy or extend coverage with them when you're already overseas.
Alternatively, if you're looking for travel insurance with Covid-19 cover, then look no further than Safetywing's great Nomad Insurance policies.
These guys will cover you at some seriously great prices, including if you have to quarantine!
#9 Eat and Drink
And coming in at number 9 is one of the absolute top things to do in Armenia, and that is, namely, eat and drink!
Yes, the land of the plentiful, Armenia has a huge wealth of fresh produce and without the use of pesticides (i.e. most of the grown food here is naturally organic and chemical-free) all of it tastes absolutely delicious!
The apricots, in particular, are something of a national treasure and no time in the country is complete without trying them.
Fresh vegetables and nuts are also sensational and I've already touched on the amazing local bread – lavosh – still made in the traditional way.
And then we move onto the drink!
The wine, which Armenia is famous for, is both cheap and delicious – sampling some is a near rite of passage!
And if you visit Areni, then you can also see the stuff being produced too.
And then there's the delicious spring water.
Public fountains are everywhere in Armenia and constantly flowing with delicious mountains-fed spring water, drinking from them (and filling up your water bottle) is a must.
#10 Hitchhike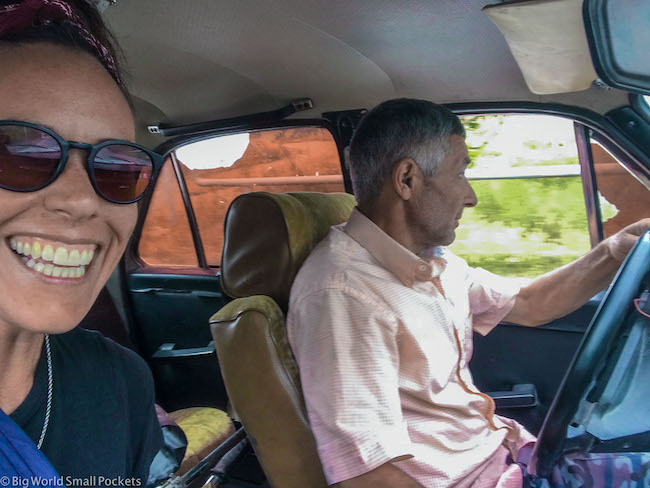 And finally, it's a bit of a strange one, but last on my list of the top things to do in Armenia is to hitchhike!
And you might not even have to try very hard for this one, because right across the rural parts of this country (i.e. most of it!) you're likely to be picked up by a friendly driver without even having to stick your thumb out.
Such is the nature of getting around in this country, and such is the friendly and hospitable nature of its people, that hitchhiking almost forms part of a cultural experience in Armenia.
Be it long or short distances, in a truck, a car or a van, hitchhiking in Armenia really is part of life in this country and it's an amazing, cheap and culturally-rich way to see it!
Just make sure you stay safe and act sensibly.
And if you are travelling on a budget, then check out the full cost breakdown of my trip to Armenia and learn just how cheap this country is!
PIN IT TO PINTEREST!
So there you have it, my list of the 10 best things to do in Armenia.
Is this country on your list yet?
Don't hesitate to let me know any questions you may have and I'll do my best to answer!