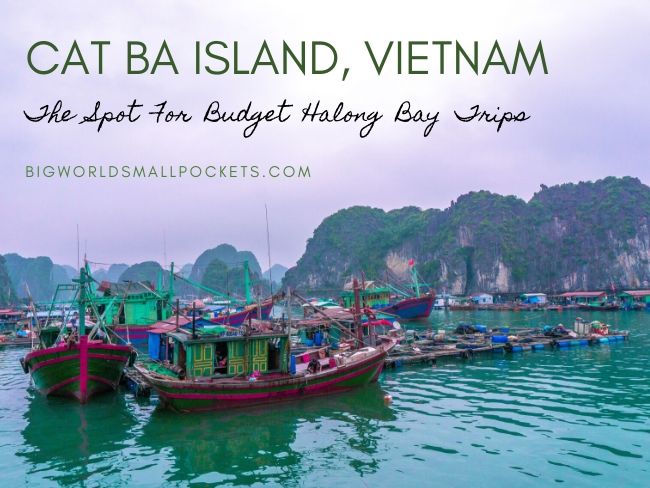 It's one of the best places to visit in Vietnam in my opinion, but it's also a spot many travellers miss off their Vietnam itinerary and what a shame.
#1 Because Cat Ba Island has a lovely national park at its heart – a great place to enjoy some nature time and day hiking
And…
#2 Because it's from here that you can score the best deals if you want to visit Halong Bay on a budget.
Yeah y'know that UNESCO-listed, insta-famous, jaw-dropping landscape everyone comes to Vietnam to see?
The one that costs hundreds of dollars usually?
Well don't pay that, instead read on to learn how you can experience this magnificent scenery for a fraction of the usual price…
---
Related Posts
---
This page contains affiliate links meaning Big World Small Pockets may receive a small commission on any purchases at no extra cost to you.
---
Why Visit Cat Ba Island?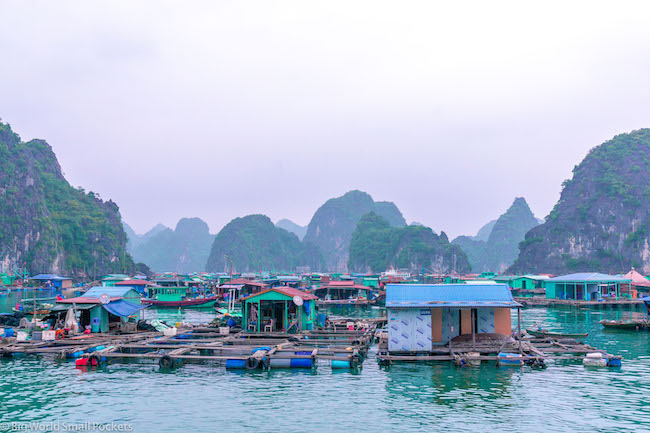 I think I've spelt it out pretty clearly in the title and the intro, but the main reason to visit Cat Ba Island is that it's from here that you can experience an affordable trip to Halong Bay.
And if, like me, you're baulking at the idea of paying hundreds of dollars for a crowded cruise in this part of Vietnam now, then you need to visit Cat Ba Island too.
If you want to kayak this country's most famous landscape without the crowds and half the trash, then you need to visit Cat Ba Island.
And if you're getting a bit tired of the hectic cities of Vietnam and want to escape the pollution and noise of Hanoi, then you need to visit Cat Ba Island.
Because this is the spot to do all of those things, plus more, which certainly makes it one of the top places to visit in Vietnam!

Where is Cat Ba Island?
So let's start with the obvious, where is Cat Ba Island?
Essentially on the coastline closest to Hanoi – the capital of Vietnam – Cat Ba Island lies in the northeast of this country in a province called Hai Phong.
Hai Phong Province is actually the province directly below the one in which Halong Bay sits.
What I mean is Halong Bay is located in Quang Ninh province, while Cat Ba Island lies just south, across the border, in Hai Phong province.
Why I'm going to lengths to explain this to you is because technically the bay which surrounds Cat Ba Island is not called Halong Bay, instead, because it lies just south of an arbitrary provincial line, the bay around Cat Ba Island is called Lan Ha Bay.
But let's be clear, the landscape looks exactly the same… because it is!
It's the same landscape with the dramatic limestone islands and aqua-turquoise waters.
It just happens to have a different name.
And because of this, the prices of trips here are less than half the cost of what they are to Halong Bay.
"What's in a name?," you might ask.
Turns out, quite a lot!
And this is why trips to the bay around Cat Ba Island – Lan Ha Bay – are a mere fraction of the cost, a mere fraction of the crowds and a mere fraction of the chaos compared to Halong Bay, even though the landscape looks every bit as dramatic, every bit as magical, every bit as spellbinding… if not more!
How to Get to Cat Ba
So, if this sounds like good news to you, the first key bit of info you'll need is how to get to Cat Ba Island.
And the main thing you need to know here is that the launch point for all transport to Cat Ba Island is Hanoi.
So first, get yourself to Hanoi, either via international or domestic flight – I always use Skyscanner to find the best flight deals – or via local bus, which is a more economical and better environmental option and no hardship, because the buses in Vietnam are excellent… even the night buses.
As always, I use the excellent 12Go to book my buses in Southeast Asia, because you can directly compare services, journey times, prices and pay securely for your tickets all at once – simples!
So once you get to Hanoi (and I recommend Little Charm Hostel there if you need to spend the night FYI), I strongly suggest you use Cat Ba Express to get to Cat Ba Island.
There are 2 companies that run the bus / boat service from Hanoi to the island, but the Cat Ba Express one is by far the better option.
With better buses and organisation (and no this isn't sponsored!) I'd definitely recommend going with them.
A return journey from their office in Hanoi, via bus and then boat and then bus again, to Cat Ba island AND back cost me just $28 USD.
Learn more including Cat Ba Express' departure times and how to reserve a place via their website here.
Otherwise, if you want to compare journeys from Hanoi, check out the great travel site Bookaway, who handily give you tons of options and times to get to Cat Ba Island, so you can make the best choice.
5 PACKING ESSENTIALS FOR VIETNAM
#1 Lonely Planet Guidebook – The Vietnam Lonely Planet is excellent and very helpful for any trip to this country with lots of top tips and recommended places to eat.
#2 Walking Shoes – There's likely to be a lot of walking in Vietnam especially around those temples and cities! As such, I advise packing a pair of good runners, like these New Balance trainers, which were perfect for my time here.
#3 European & British Power Adapters – Vietnam has a mix of power outlets, but generally opts for a mix of the European and British ones, so make sure you come prepared with a Skross world adapter.
#4 Camera and Lens – I love my Sony A6000 mirrorless, which was ideal for capturing the colour, chaos and cuisine and charm of Vietnam.
#5 Travel Scarf – A great multi-purpose travel item that can be used to safely store valuables as well as cover your shoulders while you explore many of Vietnam's top sights, a travel scarf is a must for me!
Where to Stay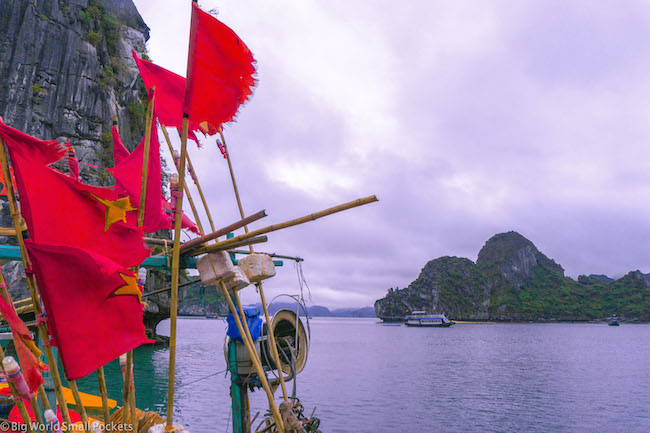 I highly recommend basing yourself in Cat Ba Town when you stay on this island, especially if you are a solo or budget traveller.
That's because this town is where most amenities are and where most other travellers stay, and so you might feel a little isolated staying anywhere else.
Plus, Cat Ba Express will ferry you straight to Cat Ba Town when you reach the island and then drop you off at the door of your accommodation – winning!
For us budget travellers, Secret Garden Hostel is a great option and I love their veggie café and family dinner vibes. However, you can't book ahead and just have to turn up, so it can be a bit risky.
As such, you may want to stay at Luna's House Hostel instead, which is just up the road and which you can book in advance – pretty essential during high season here.
This is where I stayed during my time on Cat Ba Island and the location, plus rooftop café, made it a good solid option.
Dorms are pretty cosy, but have privacy curtains and individual fans which are a blessing in the humidity.
Things to Do
So the main thing to do from Cat Ba Island, and why most travellers head there, is to cruise Lan Ha Bay – the Halong Bay double we spoke about that costs a fraction of the price… more on this soon.
But first I want to tell you about the other things there are to do in Cat Ba Island, including the great national park that lies at its centre.
I highly recommend spending at least 2 nights on the island, but better 3 if you can, because this will give you enough time to experience a day trip to the bay and a day in the national park here.
As such, your itinerary may look something like:
Day 1: Arrive Cat Ba Island and prepare trips for following days
Day 2: Hike in National Park
Day 3: Take a Lan Ha Bay Trip
Day 4: Return to Hanoi
When it comes to hiking in Cat Ba Island's National Park, you can either enjoy a self-guided day or take an organised excursion.
The basic premise is the same, you take an early bus from Cat Ba Town to the western edge of the national park, walk across it, stopping to enjoy the high lookout point in the middle, and then continue onto the coastal edge of it.
From here you can pick up a boat, which will take you back to Cat Ba Town and give you a mini glimpse into the sort of scenery you can enjoy the next day of your boat trip.
As always, I recommend you download the local maps.me resource onto your phone before setting off on any independent hikes.
THE BEST TRAVEL INSURANCE FOR VIETNAM
I'd never even consider travelling to Vietnam without proper coverage and always recommend travel insurance from World Nomads who I've used throughout my time in this country and beyond.
I love that they cover a wide range of adventure activities – which is definitely needed for a country like Vietnam – as well as their great customer service and the fact that you can easily claim or extend your coverage while you're still abroad, online.
Alternatively, if you're looking for travel insurance with Covid-19 cover, then look no further than Safetywing's great Nomad Insurance policies.
These guys will cover you at some seriously great prices, including if you have to quarantine!
How to Score a Budget Halong Bay Trip
And now we come to the crux of out all, the best thing to do in Cat Ba Island – in fact the reason most people come here and the whole reason I wanted to write this article!
Because for me the real reason to head to Cat Ba Island was to see the Halong Bay landscape without the crowds and without paying ridiculous amounts, backpacker style.
And I achieved it, here's how…
Ok, ok, as we've discovered, the offshore landscape here isn't technically Halong Bay, it's Lan Ha Bay. But honestly, I challenge you to see a photo from both and to be able to tell the difference, aka you won't be able to!
So now it's time to call upon the services of good old Cat Ba Express again, who have a handy office right along the waterfront road in Cat Ba Town where you can book your day trip to Lan Ha Bay.
Costing just $23 USD, yes you heard right, that's just $23 USD, you can spend an entire day in this famous landscape for an absolute bargain price.
Tours take place on local junk boats, which are a bit like large barges and normally include a trip to see how locals live out here on their boats, snorkelling opps, photo stops aplenty and, best of all, a chance to kayak in a part of the bay that forms a sort of lagoon and had not another tourist in sight.
There's also lunch and morning tea included!
Sound like a bargain to you too?
Honestly, I heard horror stories of insane boat crowding, horrendous amounts of trash and awful experiences from everyone I spoke to who had sailed Halong Bay instead and, let's not forget, paid ridiculous amounts for, because with Halong Bay you have to travel direct from Hanoi, so most tours are a minimum of 2 days, 1 night.
In contrast, 1 day trips to Lan Ha Bay from Cat Ba Island are relaxed, affordable, accessible and short.
You get to see and snap those amazing limestone islands without the hordes of people, or the tragic trash levels and even get to kayak and snorkel in and around them too.
What a result!
If you want to know more about how I budgeted, and how much I spent on my trip to Vietnam, check out this post I wrote that details all my costs.
Things to Know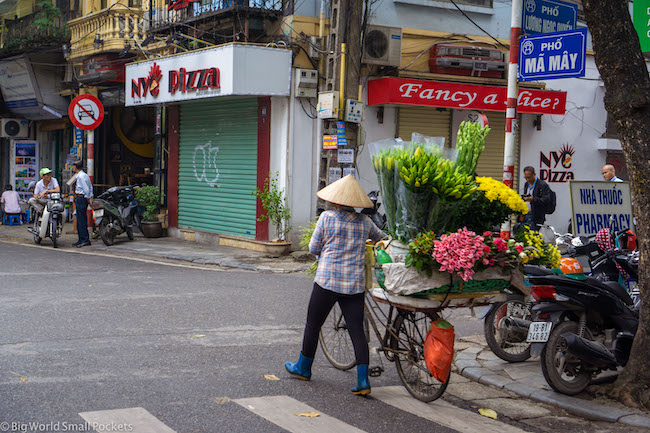 It's important to know that in this tropical country of Vietnam it can be cloudy and rainy at almost any time of the year.
I visited Cat Ba Island and Hanoi during April – technically one of the few months in which it is meant to be dry weather in both the north and south of Vietnam – but let me tell you it was not dry in Cat Ba Island or Hanoi.
In fact, it rained heavily most days I was there and, from what I could tell, this actually seems to be pretty common in this area.
As such, you'll def want to come prepared with a thin light rainjacket for your trip to Cat Ba Island.
Sunscreen, sunglasses and insect repellent would also be good things to pack, as would some swimwear, towel and dry-bag.
There are ATMs on Cat Ba island, but probably not a bad idea to bring what you need money-wise with you from Hanoi too.
Book your transport to the island with Cat Ba Express at least one day in advance and your accommodation and boat trips in advance too during high season.
Finally, bring a big smile safe in the knowledge you will have saved yourself a fortune on visiting and seeing one of the world's most iconic landscapes!
PIN IT TO PINTEREST!
And there you have it, my full travel guide to Cat Ba Island – the spot to head to if you want to experience Halong Bay for a fraction of the price.
Is this great budget travel alternative now in your list?
Tell me all in the comments below…