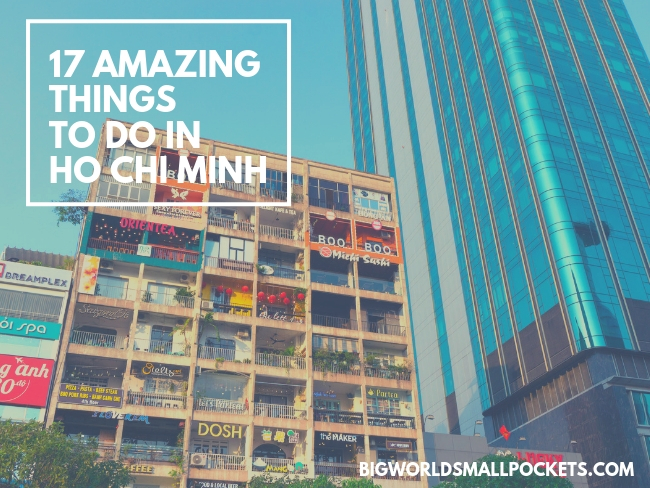 Ain't no secret that Ho Chi Minh is, without question, my favourite Southeast Asian city to date.
Its unrelenting energy, coupled with its earthy authenticity, meant I was quickly charmed by this huge metropolis, which seems to have far fewer of the tacky, soulless tourist trappings many other cities in Southeast Asia are blighted by.
While the chaos of the traffic here and the action out on the main streets will please those of you craving a sensory overload, stepping just off almost any major road into one of the thousands of tiny back alleys that make up this city, will suddenly transport you to a different world.
Doors of homes are flung open, kids play on old bicycles in the street and incense burns at statue-laden altars as life between the domestic and public spheres merge.
Alongside, crowds of plastic chairs huddle on every corner, filled with chatting locals, as some of the best street food in the world is served, steaming into small bowls, by hardworking women from simple carts.
There's the French influence to account for too, the sky bars, the sensational coffee scene, the green parks and the historical, cultural and spiritual attractions, all of which blend together to make Ho Chi Minh one of the most rewarding cities to travel in my opinion.
It is, without question, 100% Vietnamese, 100% authentic and 100% brilliant.
A global city, with a distinctly local feel, here's my list of the best 17 things to do in Ho Chi Minh that will make the perfect beginning or ending to your Vietnam adventure.
---
Related Posts
---
This page contains affiliate links meaning Big World Small Pockets may receive a small commission on any purchases at no extra cost to you.
My trip to the Cu Chi Tunnels was kindly sponsored by TakeMeTour but, as always, all views are my own.
---
#1 Pay Witness at the War Remnants Museum
In my mind, there's perhaps no better place to begin your sightseeing list in Ho Chi Minh than with a trip to the War Remnants Museum.
While it definitely doesn't make for a cheery or uplifting couple of hours – this is an important documentation of the devastating war that blighted this country.
Visiting the War Remnants Museum will give you a greater understanding of just what Vietnam has endured and continues to endure today.
Entrance tickets cost 40,000 Vietnamese Dong (d), which is a bargain at around $2 USD.
#2 Marvel at the Reunification Palace
From the War Remnants Museum, it's then an easy walk around the corner to visit my next entry on this list of Ho Chi Minh : the best things to do, namely the Reunification Palace.
A huge, imposing structure, which lies at the end of a wide, tree-lined (and very French-looking) avenue, walking inside the hallways here imparts a sense of time having stood still.
Entrance costs 40,000 Vietnamese Dong (d), but the place closes at lunchtime, so avoid visiting then if you do want to head inside.
#3 Drink Coffee… by the Gallon
Ok, so this is definitely one of the best things to do in Vietnam full stop, but given that Ho Chi Minh was my first destination in this country and therefore my first real experience of Vietnamese coffee, it seared its way into my heart pretty quick!
For those not in the know, the Vietnamese are coffee mad (just one reason I feel we got on!) and from egg coffee to coconut coffee, evaporated milk coffee and just some good old hardcore, drip stuff, they drink it all strong af and by the gallon!
You'll soon realise if you wander the streets of Ho Chi Minh, that there's almost as many coffee shops here as there are people and scooters, which is really saying something!
Finding a traditional cafe, where you can sit down with the locals and get buzzed up is definitely on my list of Ho Chi Minh's greatest things to do and my recommended top spot is the atmospheric Saigon Café Rococo situated at 140 Nguyen Tieu La in District 10.
#4 Eat, Eat & Eat Some More
And sticking with the theme, another one of Ho Chi Minh's best things to do is eat!
Yup welcome to the culinary paradise that is Vietnam, where food is fresh, cheap, varied and unbelievably delicious!
If you're a veggie like me, hunt out the Chay restaurants, which are meat and fish free – hoorah! One of my favourites was Phuong Mai Vegetarian Restaurant along Tan Dinh in District 1.
Otherwise, pull up a plastic chair at one of the thousands of busy street vendors or find a local restaurant, be adventurous and tuck in!
#5 Snap Notre Dame Cathedral
But back to the sightseeing, snapping the picturesque Notre Dame Cathedral in central Ho Chi Minh is definitely one of the best things to do in this city.
Now that the one in Paris is sadly no longer in its completely original form, take a trip to Vietnam to see the spin-off – a strong remnant of the long French colonial rule here.
#6 Wander into the Post Office
And just opposite the Notre Dame Cathedral is another French colonial relic – the Saigon post office!
No longer a functioning post office inside it seems – and certainly more of a tourist trap – the exterior facade and interior vaulted architecture of this building are nevertheless beautiful and worth checking out.
READ MORE: The 15 Best Things to Do in Vietnam
#7 See a Show at the Opera House
Located in the upmarket district of Dong Khoi and surrounded by swanky designer stores, heading to the Opera House is another one of Ho Chi Minh's great things to do.
If your budget can handle it, why not see a performance here, otherwise marvelling at the colonial architecture and the upmarket location of this performance space (which shows quite another side to this city) is an experience in itself.
#8 Stroll Along the Nguyen Walking Street
And carrying on, just around the corner from the Opera House, is Ho Chi Minh's famous Nguyen Walking Street.
Take a welcome respite from the traffic here and enjoy ambling this long pedestrian-friendly strip complete with water fountains, local families and skyscraper views.
#9 Tour the Mekong Delta
My next entry on this list of the top Ho Chi Minh things to do is actually outside of the city and will see you heading to explore some of the amazing sights around.
The Mekong Delta is the area of Vietnam that bulges out below Ho Chi Minh towards the Cambodia border and is, unsurprisingly, dominated by the many tributaries of the highly important Mekong River.
Day tours from Saigon to the Mekong are popular and tend to focus around the Ben Tre area, where you can see local crafts and food production.
However if you really want to travel deeper into this region, experience some of the famous floating markets and learn more about the locals' way of life, an overnight trip, which generally includes a homestay and takes you further to around Can Tho, is highly recommended.
Check out this great Mekong Delta tour option from TakeMeTour, who support local independent guides and authentic tourist experiences.
#10 Scale Bitexco Financial Tower
This one is a bit of splurge, but once you see the view from the top, you'll have no question why I'm putting scaling the Bitexco Financial Tower on my list of the best things to do in Ho Chi Minh.
With a steep entrance price of 200,000 Dong (d), this is nothing compared to the steep ascent you'll make from the ground floor of this tower up to the incredible Sky Deck where a stunning city skyline view await you.
(FYI your ears will pop in the lift!)
Heading here at sunset to catch the awesome light is definitely recommended and your ticket then gives you 10% off drinks at the restaurants on both the 50th & 51st floors too – perfect if you want to really enjoy a sundowner in style!
#11 Haggle at Ben Thanh Market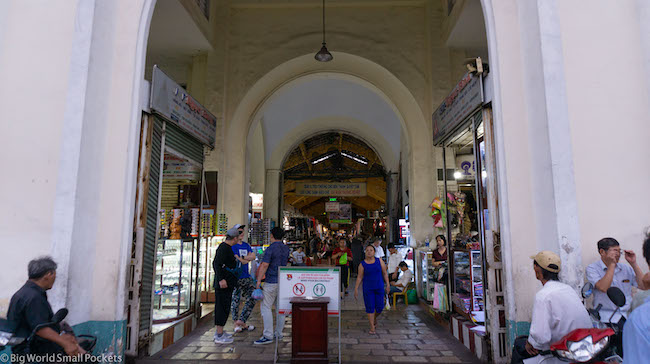 And back on the ground with a reality thud, wandering the aisles of one of Ho Chi Minh's most famous markets is sure to bring you down from the clouds to life on the street here with a sensory impact!
Bargain hard and you can definitely find some deals on great souvenirs.
#12 Grab a Grab
And talking of local vibes, grabbing a Grab Bike in Ho Chi Minh, is probably the most fun you can have on a budget… just about anywhere… ever… in the world!
Operating like Uber, Grab is a ride-sharing app prevalent across Southeast Asia, but it doesn't stop at cars and food delivery like Uber, you can also use it for motorbike taxis!
This is by far the cheapest, most fun, quickest and easiest way to get around Ho Chi Minh and really is a whole bag of jokes!
#13 Party in the Backpacker Area
But if you do want to meet other tourists then the best place to head is the backpacker area clustered around Bui Vien street in Ho Chi Minh.
This is where most of the city's hostels are and the place where the party goes off.
If you want the best of both worlds, stay amongst the local vibes at DaBlend and drink with the tourists in District 1!
#14 Day Trip to the Cu Chi Tunnels
Another great way to meet people if you're a solo traveller in Vietnam is to enjoy a day tour and my trip to the Cu Chi Tunnels with TakeMeTour was excellent for this.
It was also excellent for helping me to learn more about the American war, the north /south political divide in the country and how incredibly hardcore and resilient the Vietnamese guerrilla fighters were.
This trip was also great for teaching me more about local Vietnamese food, culture and coffee too – all round winner!
With a guide who spoke impeccable English and was very knowledgeable, I'd highly recommend this tour to anyone, where the experience of crawling through the infamous tunnels will stay with you for a long time.
Check out the exact tour I took here.
#15 Be Dazzled by the Pink Church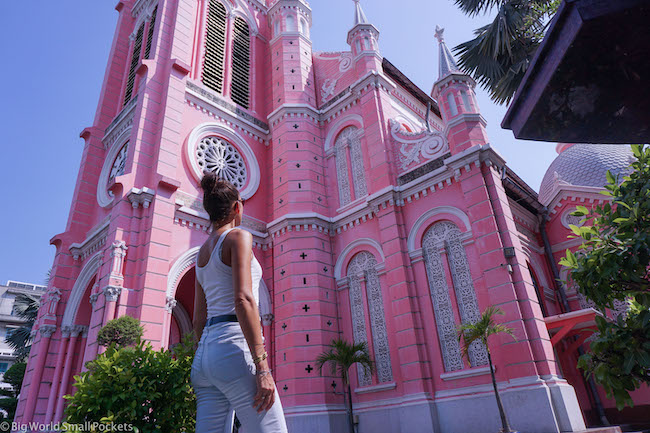 It looks like something out a fairground or a fairytale and it's a great place for Instagram shots – yes the Pink Church in Ho Chi Minh is definitely one of the best places to visit in this city to relish its kitsch and quirky side.
The Church is situated in District 3 (take a Grab Bike to get there) and is free to enter, although closes for lunch until 2pm.
#16 Step Inside the Ngoc Hoang Pagoda
And not far from the Pink Church, is the Ngoc Hoang Pagoda, a colourful, bustling temple you can step inside to feel the diversity of Vietnam's spiritual beliefs.
From huge wooden sculptures to devote monks lighting candles and locals making offerings, this is very much a living, breathing temple and a fascinating cultural place to witness.
#17 Hit the Mary Jane Bar
And finally, if your visits to the Pink Church and the Ngoc Hoang Pagoda mark the end of your day, why not reward yourself with an amazing sunset drink from a nearby roof bar.
Highly recommended to me by 2 locals, the Mary Jane Bar (notice the name) is situated on the top floor of a building at 85 Nguyen Huu Cau and boasts amazing city views from its 2 roof terraces.
PIN IT TO PINTEREST!
So tell me, have you experienced the magic of Ho Chi Minh yet?
Or is it still on your list?
I'd love to know more about your Vietnam experiences and plans in the comments section below and if you want more tips about backpacking Vietnam, then check out this post.