Need a visa to visit Mozambique, but you've already left your country of origin?
Heard you can get them on the Mozambique land border, but you're either a) travelling with an overland tour that requires you to get it in advance or b) not happy about risking it until the last minute?
Then this article is for you!
I was in this exact position just a few months again and had to go through the process of trying to get my Mozambique visa in Cape Town.
Not easy, but I managed it and here's the full lowdown on exactly how…
---
Related Posts
---
This page contains affiliate links meaning Big World Small Pockets may receive a small commission on any purchases at no extra cost to you.
The following advice refers to my personal experience as a British citizen. I cannot take any responsibility for individual circumstances or changes in visa regulations.
---
Grab Your Copy of How to Travel Africa for Less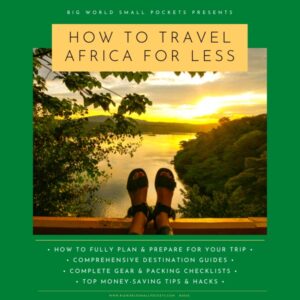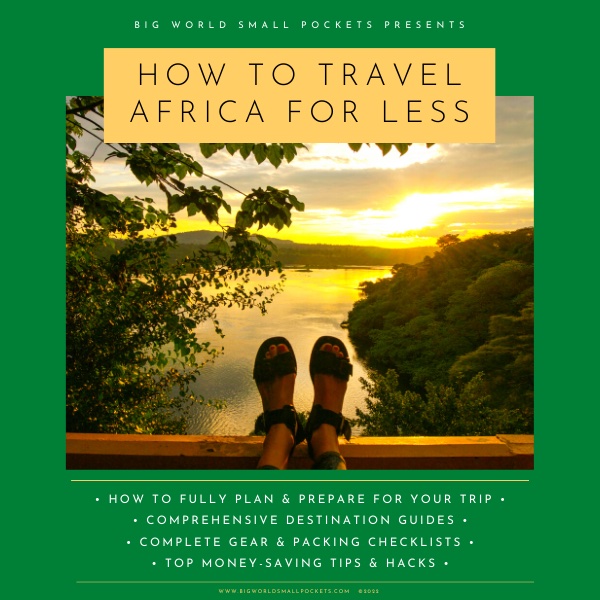 My ultimate guide to travelling Africa on a budget is now available, meaning you can finally get ALL my top tips for adventuring around all, or parts, of this amazing continent in one handy eBook, including…
Full Planning & Preparation Guides
Detailed Destination Info
Complete Packing & Gear Lists
Top Money-Saving Tips & Hacks
Mozambique Visa Basics
So the first thing you should know, is that I'm a British citizen and the following process to get my Mozambique visa in Cape Town.
I've decided to write a blog post about it all to help fellow travellers out, but please, please check your individual circumstances linked to the type of passport you hold and the time of travel, as I can't speak for, or advise you on, your personal situation.
It's also worth pointing out that this information was correct at the time of going to press, but please, please check online for any changes in Mozambique's immigration policy.
And with that out the way… here goes!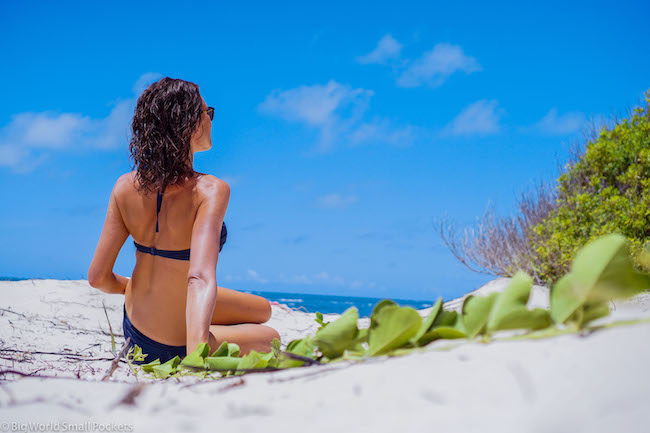 Check If You Need a Tourist Visa
Unless you're from a handful of countries worldwide (like South Africa), the chances are you will need a tourist visa to visit Mozambique, but do confirm this with your embassy.
You'll also want to confirm if you're eligible for a Mozambique visa on arrival (as many European passport holders are).
Rest assured these are available for both land and air arrivals.
However, at both these points of entry, queues can be long, corruption can be high and if you don't want to risk being refused, then it's good to know you can obtain a visa in advance from a Mozambique embassy / consulate.
It's also worth knowing, that if you are travelling as part of an overland tour, getting your Mozambique visa in advance may be a requirement.
Generally, Mozambique like you to obtain your tourist visa in your county of residence, but for some of us who may already be on the move, this just isn't possible!
And case in point: me!
And so I found myself googling how I could get a visa in Cape Town… and not finding all that much!
Which is exactly why I've written this post to bring you all the details that could save you time and money…
Mozambique Consulate Location in Cape Town
So the good news is that you can get your Mozambique visa in Cape Town and it takes a minimum of 3 working days!
Applications must be lodged at the consulate between 8am and 12pm and collected 3 days later from the same place between 2pm and 4pm.
The consulate is located on the third floor of a huge building at 1 Thibault Square, which is at the end of Long Street in Cape Town's CBD.
I suggest getting there early, so you have time to navigate any queues or extra bit of info you may be asked to provide.
To get to the consulate, you have to sign in at the main reception (giving your name, phone number and having your photo taken) before receiving a temporary pass-card that will grant you access to the embassy floor.
Head through the building's barriers by swiping your pass-card and go round to the lifts.
You'll need to access the third floor, which is only available at a certain number of lifts, so don't stand at the wrong lift, like a lemon, as I did for a while!
Instead press the button for level 3, see the letter you're shown and then go and stand at the corresponding lettered lift.
Simple when you know how!
Ha!
Turn right out of the lifts on the 3rd floor and the Consulate is in front of you.
Required Documents for Mozambique Visa
Despite what you may read elsewhere, I needed the following documents to obtain my Mozambique visa in Cape Town…
Do make sure you have them all because, one little mistake, and you can be assured that the beauty of African bureaucracy will kick in and you'll be sent away to come back with EXACTLY the right documents the following day!
The documents you'll need are…
2x Recent Passport Photos
1x Photocopy of your Passport Page
1x Photocopy of your South Africa Visa or Entry Stamp
Proof of a Return Bus or Airline Ticket from Mozambique
Proof of a Confirmed Hotel Reservation in Mozambique
South African Mobile Number
1000 Rand Cash
As I was travelling with an overland company during my time in Mozambique, and didn't have either a hotel reservation or a return bus / airline ticket, I had to email the tour company for the relevant documents, which they duly provided me with.
Proof of my place on the tour and the tour itinerary, as well as details of a hotel stay, seemed to suffice for the visa… eventually!
The one mistake I did make when I finally got this all together however, was folding the paperwork in half so that it fitted in my bag.
This resulted in the relevant documents not being accepted by the embassy for the visa (I kid you not!), so do not, I repeat DO NOT, fold any prints-out, papers or photocopies!
You'll also need 1000 Rand in cash to pay for the visa too. Card won't be accepted.
Visa Payment
However, even when you've got the cash, things are not straightforward here!
Instead of paying at the embassy, the visa payment needs to be made at the FNB Bank on Adderley Street – about a 10 minute walk from the Mozambique Consulate.
You make the payment after you've handed in the visa-required documents and the embassy worker has given you details of the relevant account to deposit the money into.
Once you have this, walk to the bank (it's big building so you can't miss it), go to the tellers and hand over the instructions and 1000 Rand in cash.
They'll likely know what you need and will grant you a receipt without you having to ask, but do request one if they don't.
After you've paid for your visa, head back to the Mozambique Consulate (go through the same sign-in process at the ground floor reception desk,) submit the payment receipt and get another receipt from them showing proof of visa submission – KEEP THIS!
This is when you'll have to let them know your South African mobile phone number – so have it to hand!
Visa Collection at Mozambique Consulate in Cape Town
The Consulate employee will then tell you when to come back and collect your passport with the glorious visa sticker in it.
If you're lucky, they may throw in the kind disclaimer that you won't be entitled to a refund if you're visa is denied… cheers!
My collection time was 3 days after submission (and luckily the day before I was leaving Cape Town!)
Arrive at the Consulate at 2pm on the given day to collect your visa, with your receipt document, and be prepared to wait.
It's just how it is!
Mini Travel Guide to Mozambique
Looking for a Great Tour in Mozambique?
If you're interested in an unforgettable, well-priced tour in Mozambique with guides you can trust, or a self-drive trip organised by a great company, then email me at [email protected] and I'll send you my top recommendations – simple!
Alternatively, I'm currently offering my readers an exclusive discount on all Absolute Africa tours, meaning you can now travel even more in the amazing country of South Africa and across the whole region of Southern Africa for even less! Simply send this top African overland tour company an email to [email protected], quoting the discount code BWSP, and start planning your incredible trip with them today!
Otherwise, if it's strictly safari tours you're looking for, check out these top picks.
Travel Insurance for Mozambique
World Nomads offers simple and flexible travel insurance. Buy at home or while travelling and claim online from anywhere in the world.
Alternatively, if you're a long-term traveller, digital nomad or frequent remote worker seeking travel health cover, check out Safetywing's Nomad Insurance policies.
6 Packing Essentials for Mozambique
#1 Swimwear and Sarong – One World Sarongs are always my go to.
#2 Bradt Guidebook – Their Mozambique edition is excellent and very helpful.
#3 Insect Repellent and Anti-Malarials – I recommend a 30% DEET spray.
#4 European and South African Power Adapters – They mix and match in Mozam so best to have a World Adapter to cover all bases.
#5 Camera and Lens – I love my Sony A6000 mirrorless, but a GoPro would also be great for the underwater action in this country.
#6 Good Sandals – You'll live in sandals on the coast in Mozambique and I would never travel anywhere now without my trusty pair of Birkenstocks!
Best Budget Accommodation in Mozambique
Tofo: Pariango Beach
Vilanculos: Baobab Beach Lodge & Backpackers
Maputo: The Base
Travel Money in Mozambique
When it comes to paying for things in Mozambique, you want to ensure you're not being charged overseas transaction fees or getting poor exchange rates when using an ATM or your card abroad, which is why I always take my Wise card away with me wherever I travel.
The easy way to spend abroad with real exchange rates, no markups and no sneaky transaction fees, you can use your Wise card just like a debit card here… and it links easily with Google and Apple pay – sold! Grab yours here.
PIN IT TO PINTEREST!
So there you have it, my full guide on how I got my Mozambique visa in Cape Town.
Have you been through this process too?
What was your experience like?
Please share the traveller wisdom in the comments box below…