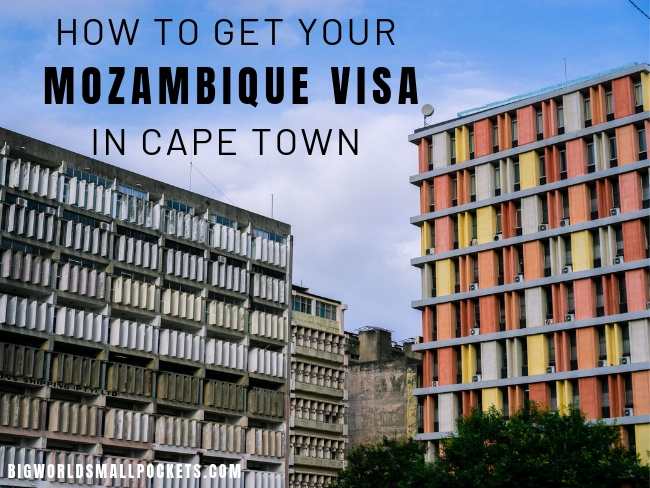 So you need a visa to visit Mozambique, but you've already left your country and while you've heard you can get them on the border, you're either a) travelling with an overland tour that requires you to get it in advance or b) not happy about risking it until the last minute!
Sound familiar?
I'm hearing ya peeps!
Yes I was in this exact position just a few months again and had to go through the process of trying to get my Mozambique visa in Cape Town.
Not easy, but I managed it and here's the full lowdown on exactly how…
---
Related Posts
---
This page contains affiliate links meaning Big World Small Pockets may receive a small commission on any purchases at no extra cost to you.
The following advice refers to my personal experience as a British citizen. I cannot take any responsibility for individual circumstances or changes in visa regulations.
---
So the first thing you should know, is that I'm a British citizen and the following process to get my Mozambique visa in Cape Town took place in February 2019.
I've decided to write a blog post about it all to help fellow travellers out, but please, please check your individual circumstances linked to the type of passport you hold and the time of travel, as I can't speak for, or advise you on, your personal situation.
It's also worth pointing out that this information was correct at the time of going to press, but please, please check online for any changes in Mozambique immigration policy.
And with that out the way… here goes!
Check If You Need a Tourist Visa
Unless you're from a handful of countries worldwide (like South Africa), the chances are you will need a tourist visa to visit Mozambique, but do confirm this.
You'll also want to confirm if you're eligible for a visa on arrival (as many European passport holders are). Rest assured these are available for both land and air arrivals.
However, queues can be long, corruption can be high and if you don't want to risk being refused, then it's good to know you can obtain a visa in advance from a Mozambique embassy / consulate.
Also worth knowing, that if you are travelling as part of an overland tour, getting your Mozambique visa in advance maybe a requirement.
Generally, Mozambique like you to obtain your tourist visa in your county of residence, but for some of us who are already on the move, this just isn't possible, and so I found myself googling how I could get a visa in Cape Town… and not finding all that much!
Which is why I've written this post….
Mozambique Consulate Location in Cape Town
So the good news is that you can get your Mozambique visa in Cape Town and it takes a minimum of 3 working days!
Applications must be lodged at the consulate between 8am and 12pm and collected 3 days later from the same place between 2pm and 4pm.
The consulate is located on the third floor of a huge building at 1 Thibault Square, which is at the end of Long Street in Cape Town's CBD.
I suggest getting there early so you have time to navigate any queues or extras you may need to provide.
To get to the consulate you have to sign in at the main reception (giving your name, phone number and having your photo taken) before receiving a temporary pass-card.
Head through the barriers by swiping your pass-card and go round to the lifts.
You'll need to access the third floor, which is only available at a certain number of lifts, so don't stand at the wrong ones like lemon as I did for a while!
Instead press the button for level 3, see the letter you're shown and then go and stand at the corresponding lettered lift.
Simple when you know how!
Ha!
Turn right out of the lifts on the 3rd floor and the Consulate is in front of you.
Required Documents for Mozambique Visa
Despite what you may read elsewhere, I needed the following documents to obtain my Mozambique visa in Cape Town…
Also do make sure you have them all, because one mistake and the beauty of bureaucracy kicks in and you'll be sent away to come back with EXACTLY the right documents the following day!
2x Recent Passport Photos
1x Photocopy of your Passport Page
1x Photocopy of your South Africa Visa or Entry Stamp
Proof of a Return Bus or Airline Ticket
Proof of Confirmed Hotel Reservation in Mozambique
South African Mobile Number
1000 Rand Cash
As I was travelling with an overland company during my time in Mozambique and didn't have either a hotel reservation or a return bus / airline ticket – I had to email the tour company for the relevant documents, which they duly provided me with.
Proof of my place on the tour and the tour itinerary, as well as details of a hotel place we would be staying in, seemed to suffice… eventually!
The one mistake I did make when I finally got this all together however, was folding the paperwork in half so that it fitted in my bag.
This was cause for a denial of accepting the documents, so do not, I repeat DO NOT, fold any prints-out, papers or photocopies!
You'll also need 1000 Rand in cash to pay for the visa.
Visa Payment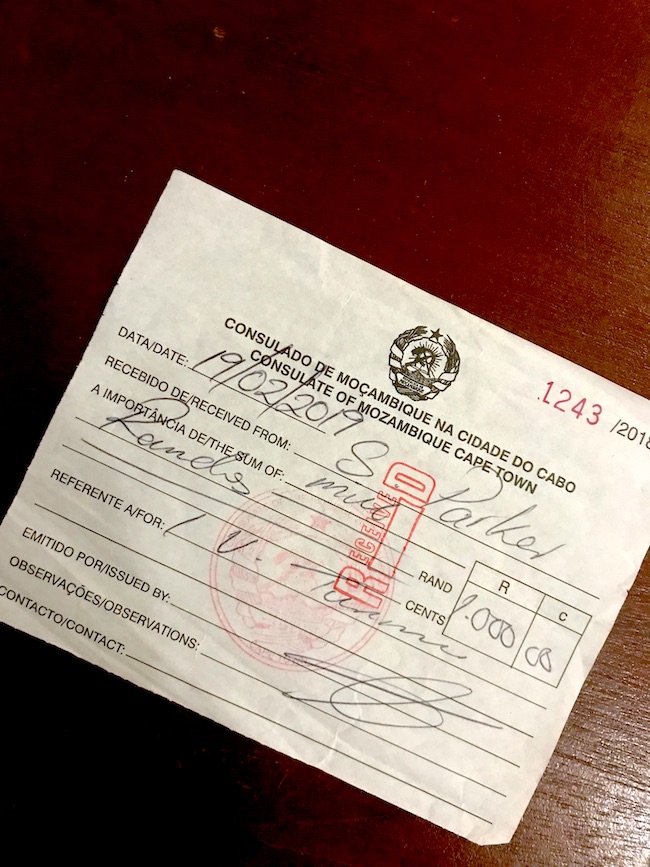 The visa payment needs to be made at the FNB Bank on Adderley Street – about a 10 minute walk from the Mozambique Consulate.
You make the payment after you've handed in the visa required documents and the embassy worker has given you details of the relevant account to deposit the money into.
Once you have this, walk to the bank (it's big building so you can't miss it) go to the tellers and hand over the instructions and 1000 Rand in cash.
They'll likely know what you need and will grant you a receipt without you having to ask, but do request one if they don't.
After you've paid for your visa, head back to the Mozambique Consulate (go through the same sign-in process at the ground floor reception desk) submit the payment receipt and get another receipt from them showing proof of visa submission – KEEP THIS!
This is when you'll have to let them know your South African mobile phone number – so have it to hand!
Visa Collection at Mozambique Consulate in Cape Town
The Consulate employee will then tell you when to come back and collect your passport with the visa sticker in it.
If you're lucky, they may throw in the kind disclaimer that you won't be entitled to a refund if you're visa is denied – cheers!
My collection time was 3 days after submission (and luckily the day before I was leaving Cape Town!)
Arrive at the Consulate at 2pm on the given day to collect your visa, with your receipt document, and be prepared to wait.
It's just how it is!
So there you have it, my full guide on how I got my Mozambique visa in Cape Town.
Have you been through this process too?
What was your experience like?
Please share the traveller wisdom in the comments box below…