It's a cliché, but it's true – an overland Africa tour really is one of those once in a lifetime opportunities.
After all there's nothing like spending a few weeks or months, staring out of the window at the wild African landscape between enjoying world-class safaris, extreme adventure opportunities and camping under epic starry skies.
From the beauty of Cape Town to the deserts of Namibia, the huge Lake of Malawi to the gorillas of Uganda, the migration in the Serengeti to the crashing water of Victoria Falls, overland African tours, allow you to take in a huge range of sensational sights and sounds that have probably been on your bucket list for a while!
But organising your perfect overland Africa Tour can be tricky.
For a start there's a huge amount to research, read and learn as you try to decide where exactly you want to go.
Then there's a huge amount to research, read and learn as you try to weigh up all the different options and companies.
Trust me, I know… been there done that too!
But now, having come out on the other side of an incredible Africa overland tour with Absolute Africa, I'm hoping I can impart some good, useful advice to those looking to have the road trip of their lives in this fantastic continent, regardless of which company they go with.
And so, here it is my top tips on how to organise your perfect overland Africa tour.
---
Related Posts
---
This page contains affiliate links meaning Big World Small Pockets may receive a small commission on any purchases at no extra cost to you.
---
Grab Your Copy of How to Travel Africa for Less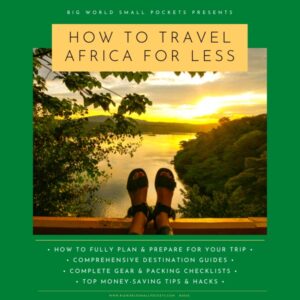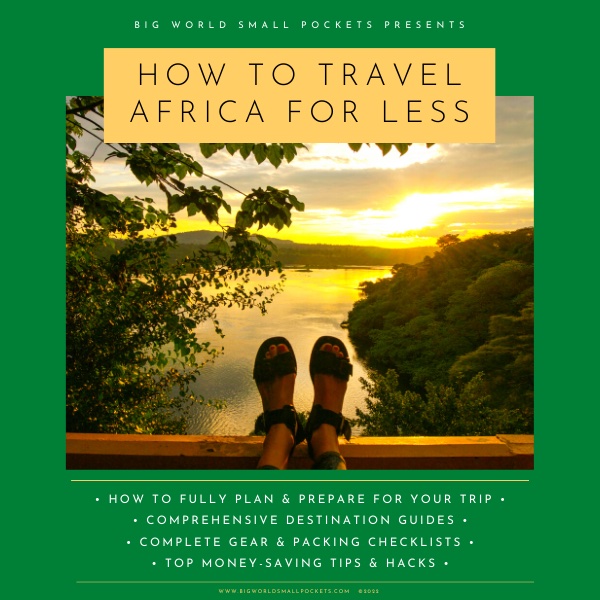 My ultimate guide to travelling Africa on a budget is now available, meaning you can finally get ALL my top tips for adventuring around all, or parts, of this amazing continent in one handy eBook, including…
Full Planning & Preparation Guides
Detailed Destination Info
Complete Packing & Gear Lists
Top Money-Saving Tips & Hacks
#1 Where Do You Want to Go?
The first crucial point to consider when planning your Africa overland tour is where do you want to go?!
Most overland tours operate in either Southern or East Africa or both.
There are a few companies that provide trips in Northern and West Africa, but these are definitely in the minority… and largely more expensive.
As such, if you want to get on a big truck and road trip for a few weeks or months I'd recommend choosing Southern or East Africa as your destination… or both of course!
There's also a huge amount to see in this part of Africa, including the Serengeti, the Masai Mara, the Gorillas, the island of Zanzibar, Kruger National Park, The White Nile, Chobe River National Park, Cape Town, Lake Malawi, the Namibian Deserts, Victoria Falls… the list goes on and on!
READ MORE: 10 Things You Need to Know Before Going on an African Overland Safari Trip
If you're pushed for time i.e. 1 month or less, then I actually recommend choosing a tour in East Africa, rather than Southern Africa.
That's simply because the attractions are closer together in East Africa and therefore you'll spend less days driving between them and more time doing and seeing stuff!
But if you've got the time, then hey I definitely recommend overlanding through both these parts of the continent.
That's what I did and I can assure you I had the time of my life!
#2 What Do You Want to See?
Once you've worked out the general area of Africa you want to explore via an overland tour, the next step is to consider the specific attractions you want to see or places you want to visit.
For example, are you hanging to seeing the gorillas? Are you desperate to raft Vic Falls? Can you not wait to stare into the eyes of a lion in the Serengeti?
Have a look at each country online briefly to get some ideas and then draw up a list of things that resonate with you most.
Does the contents of this list fit largely with the region of Africa you want to explore?
If yes, you're onto a winner!
#3 When Do You Want to Go?
So once you're settled on where in Africa you want to enjoy an overland tour and what you want to see, the next factor to consider is when do you want to go?
If this is flexible, then do some quick research about the best time to visit the destination of your choice.
For example, if you want to visit Uganda and Kenya, google when the rainy season is or when it's coldest.
Personally, I can't imagine anything worse that being caught in heavy rain day in day out in East Africa or travelling in Southern Africa during a freezing winter, so these points are crucial for me!
At the end of this process, you should then have an idea of where you want to go on your overland Africa tour… and when!
#4 What's Your Timeframe?
Somewhat aligned with your decision about when to go to on your Africa overland tour, is how long to go for?
If you're just taking a break from work, this is more likely to be a fixed and shorter period of time and, therefore a more prominent factor in your decision about which overland tour to opt for.
If time is on your side and you're freewheeling with an open calendar, then maybe my next point about budgeting will help you decide on your overland tour timeframe!
Whatever timeframe you come up with, you then need to consider if you can see all the things you want to in that period?
At this point, I suggest checking out Viator, an online tour agency, who bring together lots of African overland tour options.
Use Viator to get an idea of some typical itineraries and you'll quickly be able to ascertain whether what you want to see and do is possible in the time you have!
If not you're going to have to prioritise and make some decisions … I know, I know this is my sort of worst travel nightmare too!
5 Things You Should Never Overland Africa Without
#1 Good Mirrorless Camera and Zoom Lens – like the Sony A6000 and 210mm Lens. I have one and I love it!
#2 Binoculars – but don't think they have to cost the earth. My cheap Eurohike pair were perfect for my overland tour.
#3 A Sarong or Buff – which are ideal for covering your shoulders from the sun and protecting you from inhaling a ton of dust on safari trips.
#4 Insect Repellent – with at least a 30% DEET content – those mozzies are vicious in Africa, trust me!
#5 Headlamp – for all the amazing camping. Black Diamond are always my go-to brand here.
#6 Amazon Audible
– so you can listen to all your favourite books without the mostion sickness!
#5 What's Your Budget?
The next thing to consider is your budget.
How much have you got to spend, how much do you want to spend or how much can you spend?!
Working this out will certainly help give you some parameters when looking at different tours and tour companies who cater for different parts of the market.
Write down your cost parameters and search accordingly!
#6 What Are Your Immovable Preferences?
The next thing to consider in this process is… what are your immovable preferences?!
By this I mean what won't you compromise on?!
Is going to the Masai Mara an absolute must-see for you? Then don't look at tours which miss this park or don't include Kenya!
Are you dead-set on not cooking while you overland? Then you're going to have to consider tours which include a cook in the price.
Whatever those immovable preferences are, make sure to jot them down and stick to factoring them in as you explore your options – this will be key in ensuring you organise the perfect overland Africa tour for YOU… after all, we're not all the same!
Please do be aware that all overland Africa tours involve some form of camping and adventure travel. If you're not keen on this, then they might not be for you.
#7 Carry Out Background Check on Companies
Ok so by now, you should have a list of potential overland Africa tours you're interested in taking and a list of the companies who run them.
The next thing to do in ensuring you organise the perfect trip is to conduct some background research on these companies.
– Start with TripAdvisor and see what former customers have to say about each company.
– Next Google the company and see if any bloggers or writers have taken a tour with them and reviewed them.
– And finally, search on Facebook for some relevant groups (like Africa Travel groups or Africa Backpacker groups) join them and then post a question in there about the intended trips you want to make and the companies you want to go with.
Generally, other group members respond really quickly and honestly, so this can be a great help in your final decision.
Read my Review of the Overland Trip I took with Absolute Africa HERE.
#8 Review Carefully What is Included and Not?
Ok, so you should now be narrowing down on specific tours with specific companies, making your way closer and closer to your perfect overland Africa tour… exciting isn't it?!
As you do this, be sure to read all the small print about EXACTLY what is and isn't included in the payment and provision of the company and the tour.
It's easy to get carried away in the fun booking part and not worry about the small details, but when you're in Africa on that truck, trust me it will matter!
Things to look for are additional local payment fees, what meals and activities are included and what accommodation is covered.
Vaccinations, malaria medication, travel insurance and flights will almost always be extra, so don't forget to factor these into your budget as well.
Another likely extra will be visa costs… so onto my next point!
#9 Study and Prepare Visa Information in Advance
One of the most important things to do before you book and pay for any overland Africa trip is to go and check the countries you want to visit and their entry requirements for you.
It's impossible for me to go through them all here, because they will vary according to the passport you hold, but you never want to get to a border in Africa and realise you can't get a visa on entry or, worse still, you can't get a visa at all.
I speak from experience here as I know a Greek friend of mine was finding it really difficult to visit Namibia when he wanted to overland there.
2 Mexican girls I know also weren't eligible for a Zimbabwean visa on entry and had to prepare things in advance.
Therefore do your research people and check all the information visa carefully, and I mean very carefully, at least 2 months ahead of time!
For More Tips on Crossing International Borders, Read my Post that Outlines All the Major Mistakes to Avoid!
#10 Be Prepared About What to Expect
So you're almost there with organising your perfect overland Africa tour.
The last thing is just be prepared and know what to expect.
I've discussed this above and I cover a lot more in my article the 10 things you need to know before going on an African overland safari trip, but the main points are, don't go overlanding in Africa if you don't like camping, if you can't live without hair straighteners, if you're not prepared to drive long distances and if you don't like having a good time!
LIKE IT? PIN IT!
So I think that just about covers it!
I'm pretty confident that if you follow this list, you'll have organised your perfect overland Africa tour in no time and will soon be winging your way to the trip of a lifetime very soon.
I'm even getting a bit (read. very) jealous!!