My personal travel favourite.. the great continent of Africa still has a magical allure for most wanderers.
With so little of it well-explored, the diversity and the different sort of experience Africa can provide the adventurous with, is unparalleled in my opinion.
And all the more rich and alluring for it I say!
From the sandy Sahara of the continent's north to the thick jungle of its central belt and finally down to its wild ocean charms as you venture towards its coast, whatever you're into, Africa delivers.
It's a continent I'm now planning my fifth journey to and every time I do make tracks here I'm just as excited as I was the first time.
For rarely is variety and vibrancy offered in such abundance, so whether it's the north, the south, the east or the west you're headed to, here's my list off the 55 best things to do in Africa.
Oh, and if you're looking for some great tours to enjoy in this continent, check out these brilliant Africa trip options…
---
Related Posts
---
This page contains affiliate links meaning Big World Small Pockets may receive a small commission on any purchases at no extra cost to you.
---
Grab Your Copy of How to Travel Africa for Less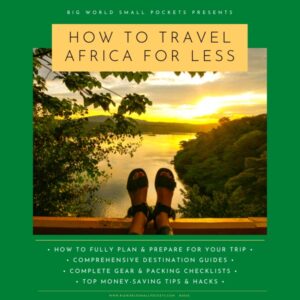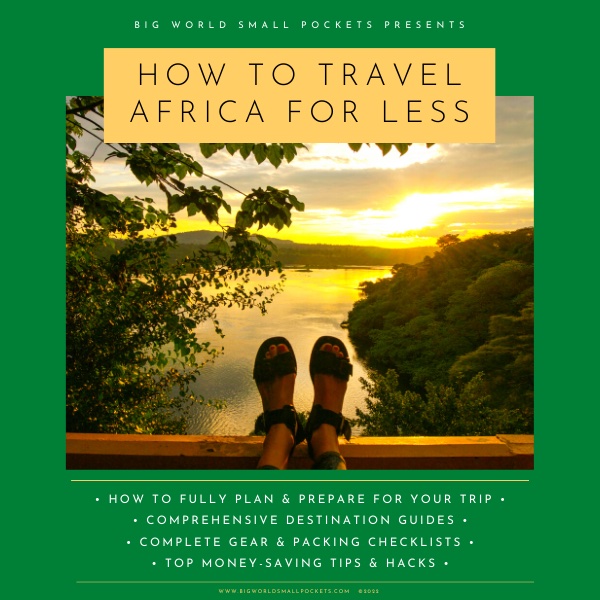 My ultimate guide to travelling Africa on a budget is now available, meaning you can finally get ALL my top tips for adventuring around all, or parts, of this amazing continent in one handy eBook, including…
Full Planning & Preparation Guides
Detailed Destination Info
Complete Packing & Gear Lists
Top Money-Saving Tips & Hacks
#1 Take a Traditional Mokoro Ride through the Okavango Delta
There's no question that Botswana's Okavango Delta is an enduring favourite among travellers, making visiting this vast wetland undoubtedly one of the best things to do in Africa.
From the number of animals you can get up close and personal with here, including hippos and lions, to rowing out in a traditional Mokoro canoe to camp with local people for a number of nights, this huge floodplain is simply unforgettable.
READ MORE: The Best Time to Visit the Okavango Delta
#2 Visit Luxor Temple at Night
Home to the Valley of the Kings, Karnak Temple and Luxor Temple, there's no question this ancient city in the centre of Egypt is one of this country's top destinations and heading here is definitely one of the best things to do in Africa for anyone even remotely interested in history.
Check out my recommended Luxor itinerary for a list of things you need to see and do here, but make sure you don't miss the highlight – visiting Luxor Temple after dark when the beautiful illumination of this riverside beauty takes on a charm that's remained unchanged for thousands of years.
#3 Cycle with Zebras in Hell's Gate National Park
No trip to this continent would be complete without at least one safari experience, but if this is one of the best things to do in Africa you've already tried, why not sample one with a difference – namely on 2 wheels!
Yes, Kenya's amazing Hells Gate National Park allows you to enjoy a cycle safari!
Thanks to the lack of predators here, you can safely cruise through this amazing geothermal landscape without the barrier of a vehicle as you wave at the zebra, giraffe and warthog you peddle past at close range!
LEARN MORE: Why Hells Gate National Park Provides a Totally Unique Safari
#4 Hit the Coast in Sierra Leone
With some of the most beautiful beaches in the world, West Africa takes this continent's crown for stunning stretches of sand.
And top of the list, it has to be the fantastic country of Sierra Leone!
Hit up this tropical beauty's coast and prepare to chill in paradise-like surrounds while palm trees sway gently in the breeze.
Head to mainland Token Beach, or No 2 Beach, or else consider an escape to some of the nearby islands such as Banana Island or Tasso Island – check out the top 6 Sierra Leone beaches here.
There's also some interesting, historic sights to see around Sierra Leone's coastline too, including Bunce Island, which provides a chilling insight into the darkest practices of the colonial era's slave trade.
DISCOVER MORE: Top 15 Things to Do in Sierra Leone + 7 Day Itinerary
#5 Walk in South Africa's Drakensberg
One of the most diverse countries in the continent, South Africa's varied topography really does set it apart.
I've previously compiled a list of the best 15 things to do in South Africa, but one of my favs on there has to be hiking in the dramatic Drakensberg Mountains.
An untouched altitude wilderness north of Durban, this national park provides spectacular walking opps along with some top camping possibilities that show nature at its best.
#6 Embrace the Boat Life in Benin
Over in West Africa, the tiny country of Benin's most famous attraction is probably the stilt village of Ganvie.
Usually accessed as a day trip from the country's capital, Cotonou, spend some time on the water here observing the local people go about their daily business via boats and checking out, or even staying in, some of the remarkable stilt-houses at the same time.
#7 Surf Morocco's Atlantic Coast
There's lots of spots to surf in South Africa, but with the threat of sharks a pretty real risk this way, why not keep it safe and surf further up the Atlantic Coast in the country of Morocco?
Travel to Agadir and then hit one of the many little surf towns around this coastal city.
Taghazout remains a firm favourite with plenty of surf camps available for those who aren't experienced.
But whichever spot takes your fancy along this coastline, surfing is definitely one of the best things to do in Africa.
#8 Scramble to Ethiopia's Remote Tigray Churches
And if you're not out of the breath just thinking about all the physical activities on this list already, good, because there's plenty more to come!
And here's one that's sure to get your adrenaline going, as well as take away your breath.
Yes involving a good hike, followed by some barefoot rock climbing without a harness and a final, treacherous balance along a thin cliff-face ledge, scrambling to Ethiopia's remote Tigray Churches is one of my favourite memories from my time both in this country, as well as this continent.
DISCOVER MORE: Trekking Ethiopia's Tigray Churches
#9 Freshwater Dive in Lake Malawi
There's definitely a certain novelty appeal in this one, but who can overlook trying some freshwater diving in Lake Malawi as one of the best things to do in Africa.
This huge lake, which almost consumes the whole country of Malawi, is the perfect spot to chill out for a few days, take a boat ride on, or just soak in the delightful friendliness of the Malawi people – they don't call this the warm heart of Africa for nothing!
#10 Fulfil Your Desert Dreams in Namibia's Sossusvlei
Cameras at the ready, this is perhaps the most spellbinding landscape in the whole African continent… and what a claim that is!
I'm a huge desert fan and honestly, with the stunning series of colours that make up this great Namibian scene, including the silhouettes of the ancient forest against the blue sky and orange sand dunes, I know this place is going to blow you away too!
No question, photographing Sossusvlei is definitely one of the top things to do in Africa!
READ MORE: 9 Amazing Places to Visit in Namibia
#11 Meet Penguins in South Africa
Who doesn't love a p-p-p-enguin?
Even if you're on the fence about this one now, you won't be once you've met the cute African Penguins that call Boulders Beach in South Africa their home.
A great day trip from Cape Town, which you can combine with viewing the whole Cape of Good Hope Peninsula, this is one of the continent's most unique animal encounters and certainly one of the best things to do in Africa too!
#12 Stroll Morocco's Blu City, Chefchaouen
Made famous by Instagram for those weren't in the know already, this is one definitely one of the prettiest cities in Africa with its charming blue streets, stairways and doors cracked ajar.
Wander around getting joyfully lost, sit in the Medina sipping delicious, fresh, orange juice or tackle some of the surrounding mountains in a super hiking adventure.
Whatever you get up to in Chefchaouen (and here's my list of the best things to do there), just make sure you visit it!
#13 Discover the Pyramids of Sudan
Ok, now we're getting off the beaten track… and I like it!
I travelled through Sudan as a solo female back in 2018 and was simply blown away by the hospitality of the local people here.
Discovering ancient pyramids, older than those found in Egypt, lying semi-abandoned in the middle of the desert only added to the magic of visiting this seldom-explored country.
DISCOVER MORE: The 33 Things to Know About Travel in Sudan
#14 Visit Senegal's Pink Lake
A pink lake I hear you cry?!
Yes, that's right a pink lake, aka Lac Rose, is a pretty amazing thing and just a clue as to how wonderful travels in Senegal can be.
One of Africa's longest-standing democracies, Senegal is also one of the safest countries to visit in West Africa and its beautiful coastline only adds to the appeal.
#15 Horse Ride in Lesotho
The landlocked country of Lesotho is a hidden gem in Southern Africa, but shouldn't be overlooked because of its size.
Head here for a few days on your way to or from the Drakensberg Mountains to enjoy traditional homestays, unique local culture and some beautiful horse riding opportunities.
One that a lot of tourists miss when they travel southern Africa, visiting Lesotho is certainly one of the best things to do in Africa.
DISCOVER MORE: 5 Epic Southern Africa Itineraries For Your Perfect Trip
#16 Watch Bathing Elephants in Chobe National Park
Is there anything cuter than elephants washing themselves with their trunks, especially the babies?
If you agree the answer is no, then heading to the elephant heartland of this continent – namely Chobe River National Park in Botswana – is definitely one of the top things to do in Africa.
Enjoy a morning game drive to spot these beautiful grey giants, among a whole heap of other animals, or try a sunset evening game cruise along the river to see all the action from a delightfully different perspective.
#17 Cruise Along the Nile
People think it's going to be expensive, but an iconic cruise up the River Nile (absolutely one of the best things to do in Africa) doesn't have to be.
Learn how I scored a bargain Nile Cruise, otherwise, rest safe in knowledge that this adventure has to be on your bucket list!
#18 Climb Cape Town's Table Mountain
Strap on those hiking boots, set out early and get ready for the climb of your life, as you prepare to scale Cape Town's Table Mountain.
While you don't have to take a guide for this, I do suggest downloading the version of maps.me before you set and ideally trekking with others just to be safe.
There's loads of routes to choose from if you want to reach the top, but my best recommendation is the trail that starts in the Kirstenbosch Botanical Gardens.
Once you reach the flat summit of this giant, you can then walk across it until you arrive at the cable car and enjoy the ride down!
LEARN MORE: The 18 Best Things to Do in Cape Town
#19 Experience a Dawn Mass in Ethiopia's Lalibela
There's few experiences I've had in Africa more mesmerising than that of the dawn mass I witnessed in the UNESCO churches of Lalibela in Ethiopia.
Home to some of the oldest churches in the world and a place of deep significance for the Ethiopian Orthodox followers, this is a mystical, magical place it's hard to put into words!
READ MORE: Everything You Need To Know About Visiting Lalibela
#20 Snorkel with Whale Sharks in Mozambique
Yes, it's true, you can swim with Whale Sharks in Mozambique… in fact, it's one of the best places to do this in the world, with few other tourists and regular sightings at the right time of year.
To achieve this, head to Tofo – the main beachside resort in the province of Inhambane, for your best chance to snorkel with these amazing creatures – definitely one of the things to do in Africa you'll never forget!
DISCOVER MORE: The Best Things to Do in Mozambique
#21 Be Amazed by Abu Simbel, Egypt
And now we head back up to the north of Africa, and the country of Egypt, to visit another of its amazing attractions that lies just south of the city of Aswan.
Yes, visiting the great temples of Abu Simbel is definitely one of the best things to do in Africa, as you honestly can't fail to be amazed by these huge, ancient structures, especially when you realise they were painstakingly relocated brick by brick to make way for the flooding of Lake Nasser.
LEARN MORE: 10 Unmissable Things to Do in Aswan
#22 Bliss out at the Bazaruto Archipelago, Mozambique
Welcome to paradise is the sign they should definitely have posted somewhere as you enter the incredible Bazaruto Archipelago in Mozambique.
Most frequently accessed from the mainland city of Vilanculos, Bazaruto looks like every postcard of paradise you've ever seen, as these sandy islands seem to glisten like gems dropped into the turquoise tranquillity of the Indian Ocean.
Snorkelling and boat trips are the best way to experience this amazing place on a budget and are definitely one of the best things to do in Africa.
READ MORE: The Best Time to Visit Mozambique
#23 Relive the Roman Empire in El Djem, Tunisia
Just south of the capital, Tunis, the town of El Djem is famous for its incredible Roman amphitheatre, which was once the centre piece of this empire's most prosperous settlement.
Originally holding 35,000 people back in the day, this structure has been amazingly well-preserved and is now, unsurprisingly, UNESCO-listed.
Climb up the steps and enjoy the views from the top-tier of this truly impressive ancient theatre or wander the corridors to see where the gladiators prepared for their battles.
El Djem is one of my top recommended things to do in Tunisia. Check out the other 20 on the list here.
#24 See the Largest Seal Colony in the World
The Cape Cross Seal Colony in Namibia has to be seen (and smelt) to be believed!
The largest colony of seals in the world, there are literally thousands here basking in the sun and surfing the waves as far as the eye can see.
My top tip, take a sarong or scarf to cover your nose.. you'll definitely thank me!
#25 Tick the Pyramids off your List
Come on, we all want to do a little bit of bucket list ticking when we head to Africa and it probably doesn't get bigger than ticking the famous pyramids of Ancient Egypt off your list.
Head to Cairo and from there take a tour, an Uber or the Metro to the other side of the Nile and the city of Giza where you'll see these massive guys rising out of the desert!
Don't miss the Sphinx if you head here either – there's no question that combining such textbook historical sights into one day is one of the most incredible things to do in Africa.
The National Museum of Egyptian Civilisation soon to be situated nearby, is well worth a few hours of your time too.
DISCOVER MORE: Top 10 Things to Do in Cairo
#26 Safari in the Mighty Kruger
Does it get bigger and better than Kruger National Park in South Africa?
I'm not sure it does!
Providing one of the most budget-friendly safari opportunities on the continent, check out my guide about how to enjoy a Kruger Safari on the cheap if you want to visit it on a shoestring.
From the Big 5 to the beautiful landscape, Kruger is always a big hit that never fails to disappoint.
#27 Visit the Ancient Tanneries in Fez
Personally, I'm not a big fan of Marrakesh (controversial I know!) and way preferred the city of Fez (or Fes) during my time in Morocco.
More traditional, with a wonderful authentic-feeling Souk, even if you only head here for the day, you can't miss the sight (or smell) of the iconic tanneries!
There's 3 in the city, but the Chorara Tannery is the largest.
Built in the 11th century, it's been in continual operation since then, with very little having changed by way of processes or products since.
Climb to one of the lookout balconies if you want to pay a tip, or else stand at the base of tannery and take it all in for free!
Learn more about my fav things to do in Fez, plus 7 top tips for visiting this city, here.
#28 Spot the Big 5 in Etosha National Park
I know I just mentioned Kruger a few points ago as one of the best things to do in Africa, but if you want a safari experience that's a little more off the beaten track, then it really is hard to beat the mighty Etosha National Park in Namibia.
Home to the big 5 and giving you one of the best chances to spot a highly endangered rhino, the unique landscape and setting of this national park only add to its allure.
Plus, you can stay right within Etosha, while lions, elephants, hyenas and a whole heap of other large mammals prowl around your campsite fence at night!
#29 Wine Tour in South Africa
It's not all about wilderness and wildness when it comes to the best things to do in Africa y'know!
Nope, things here can be very sophisticated too!
Take wine tastings in the famous wine region of South Africa for example – pure delight!
Head to the towns of either Stellenbosch or Franschhoek (easy trips from Cape Town) for the best experiences going!
#30 Feel the Force at Victoria Falls
Come on, it's one of the 7 Natural Wonders of the World and one of the most impressive waterfalls on this planet!
Yup, no question feeling the force of the mighty Victoria Falls is one of the most amazing things to do in Africa and whether it's from the Zimbabwe side or the Zambia side and whether you walk along it, swim in a pool at the top of it or bungee jump over it, this is a big hit wonder you can't miss!
DISCOVER MORE: 8 Things To Do at Victoria Falls Guaranteed to Take Your Breath Away!
#31 Experience Sunrise at Burkino Faso's Sindou Peaks
These amazing natural towers in the west of Burkino Faso are quite the landscape to behold thanks to their otherworldly appearance.
Trekking in and around these peaks is possible, but even the drive there will afford you some amazing photo opportunities, especially at sunrise, when the light bouncing off the paddy fields below is truly astounding.
#32 Camp in the Wild at South Luangwa National Park
A hit for Zambia on this list of the best things to do in Africa, South Luangwa National Park was definitely one of my favourite reserves across the continent.
Boasting fewer tourists and loads of animals, this is where I got my amazing leopard sighting and shot… no wonder it's one of my favs!
Heading here to camp just outside the park will also mean you'll be sharing the darkness with the hippos and the elephants who are definitely going to be munching their way through your campsite's foliage of a night time!
#33 Visit the Great Zimbabwe Ruins
Some of the most impressive stone ruins in sub-Saharan Africa can be found in Zimbabwe – indicative of the highly sophisticated, ancient culture that existed here.
Still wonderfully off the beaten track, walking in and around these ruins is definitely one of the best things to do in Zimbabwe, as well as one of the top things to do in Africa.
#34 Walk with Rhinos in Eswatini
It doesn't get much more special than walking with rhinos does it?
Well not in my opinion and that's exactly one of the amazing things to do in Eswatini.
Landlocked within the borders of South Africa, this small African nation boasts many delightful national parks, but probably the Hlane Royal Park is the best one to visit thanks to how up close and personal you can get with some of the most endangered animals in the world.
#35 Skydive
I have to be honest, this personally isn't one for me, but I know many people love it, so whether it's over the deserts of Namibia or above the enchanting cityscape of Cape Town, there's no question that, for many people, skydiving is definitely one of the best things to do in Africa.
Alternatively, there's bungee-jumping to enjoy in Uganda and Victoria Falls or hot air balloon riding to enjoy in Kenya, Egypt or Tunisia!
#36 Check out Arty Grand Bassam in the Ivory Coast
Only a 40 minute drive from the economic capital, Abidjan, the town of Grand Bassam is a welcoming relaxing break from the bustle of the big city and is brimming with creativity and charm.
Check out the local street art, craft market and gorgeous French architecture amidst relaxed terraced cafes here.
A UNESCO World Heritage site, this town, set on the Gulf of Guinea, also allows travellers the opportunity to enjoy the beach as well, just avoid swimming here as the strong currents are extremely dangerous.
#37 Spot Gelada Baboons in Ethiopia's Simien Mountains
Did you know Ethiopia boasts the most UNESCO sites of any African nation?
And that the first destination to receive this accolade in the country was the marvellous Simien Mountains National Park?
Home to the endemic Gelada Baboon, otherwise known as the bleeding-heart monkey due to its magnificent markings, this high altitude park boasts epic hiking, top camping, amazing views and incredible wildlife spotting opps.
Don't miss it!
#38 Visit Rwanda's Genocide Memorial
An incredibly dark period in the history of East Africa, the Rwanda Genocide is now renowned the world over for all the wrong reasons.
Paying witness to the horrific tragedy that befell this small African nation however, is hugely important in ensuring such a human disaster never happens again.
And nowhere is this more powerfully demonstrated than in Rwanda's Genocide Memorial in the country's capital, Kigali.
LEARN MORE: The 7 Best Things to Do in Rwanda
#39 See the Start of the Nile in Jinja, Uganda
Did you know that the Nile actually originates in 2 different areas?
While the Blue Nile begins in the city of Bahar Dar in Ethiopia, the White Nile begins in Jinja, Uganda, which also doubles as the adventure sport epicentre of East Africa.
So whether you want to just see the start of the Nile, or whether you want to raft, kayak or quadbike around this area, there's loads of choices in this tourist-friendly town.
DISCOVER MORE: The Perfect 2 Day Itinerary for Jinja, Uganda
#40 Explore Algier's Kasbah
Another UNESCO World Heritage site on this list, the walled Kasbah in Algeria's capital is situated on top of what was once a Roman city and is now a picturesque place of winding alleys filled with traditional craftsmen and white-washed houses.
Overlooking the Mediterranean, this cultural icon has several mosques and a historic palace, but is now sadly under threat from overpopulation and neglect.
Nevertheless, witnessing such an important slice of history is definitely one of the best things to do in Africa.
#41 Enjoy a Sunset Cruise at Lake Naivasha, Kenya
Kenya is full of amazing safaris and a beautifully sedate experience can be found in the west of the country on Lake Naivasha.
Here, sunset boat trips offer wonderfully relaxed opportunities to spot hippos and birdlife in this fabulous watery ecosystem.
READ MORE: 14 Spellbinding Things to Do in Kenya
#42 Meet the Masai
And while we're on the subject of Kenya, there's no way we can overlook a safari in the Masai Mara as one of the best things to do in Africa.
Probably my favourite safari experience in Africa, and that's quite the claim, the Masai Mara has it all – the Big 5, a fascinating human culture and a beautiful landscape to boot.
It's also quite a small park and therefore feels quite manageable and accessible too.
Trips here normally depart from Nairobi and I'd allow at least 2 nights / 3 days to soak in all this park has to offer.
#43 Enjoy Paradise on a Zanzibar Beach
If you're a regular reader of this blog you'll definitely know that I'm pretty partial to a good beach or 2 and I definitely found my idea of heaven in Zanzibar.
This large island off the coast of Tanzania is lapped by the Indian Ocean (one of the favourite oceans FYI!) and the beguiling turquoise colour of this water, contrasted against the white stretches of sand and swaying palm trees, puts the beaches of Zanzibar in another league!
I love the coastal resort of Paje myself, but there's also some beautiful beaches to be found in the north of Zanzibar too.
#44 Game Drive in Ngorongoro Crater, Tanzania
And sticking with the Tanzania theme (we really are hitting the big daddies now on this list of the best things to do in Africa) we can't not mention the epic Ngorongoro Crater.
Normally combined with a safari trip to the Serengeti, this huge former volcano crater makes for an insanely brilliant one day game drive as you cruise down into and around what is essentially a huge hole in the ground filled with animals!
DISCOVER MORE: Why the Serengeti Will Blow Your Mind!
#45 Wander the Crumbling Glory of Stone Town

And now we come to the final 10 on this mammoth list of the best things to do in Africa and whose going to make the final cut I hear you cry!
Well first in, and unquestionably one of the best historical sights in Africa in my opinion, it's the amazing UNESCO-listed capital of Stone Town.
Situated on the island of Zanzibar, you can't miss the crumbling beauty and atmospheric feel of this old trading port, nor the great food markets.
Check out my list of the best things to do in Stone Town for more ideas about how to spend your time here.
#46 Trek with Gorillas in Uganda
And now we head back to East Africa to talk about one of the best things to do in Africa that's not easy on the budget, but is big on the memory stakes!
Yes gorilla trekking in Uganda (which is the cheapest and safest country to experience it in) is simply unforgettable as you hike through the Bwindi Impenetrable Forest (even the name is memorable) to see these amazing creatures in the wild.
Breathtaking in every way, this is 100% worth the splurge!
LEARN MORE: The Ultimate Guide to Gorilla Trekking in Uganda
#47 Get Your Eco Game on in Kilifi, Kenya
Kilifi is a lovely little town on the Kenyan coast that is great if you want to relax for a few days and get off the beaten track.
The main attraction for tourists however really is Distant Relatives – an amazing permaculture backpackers come eco-village, which is the perfect spot to make friends and have fun at for a few days… or longer!
#48 Step Back in Time on Lamu Island
And just further up the Kenyan coast lies the tiny island of Lamu.
Like stepping back in time, this old Swahili area doesn't seem to have changed much in hundreds of years and from the old houses to the donkeys that make up the main source of traffic here, this is a cultural feast and the perfect place to get away from it all!
DISCOVER MORE: The Ideal Kenya Itinerary for a Tight Budget
#49 Stay on a Houseboat at Lake Kariba, Zimbabwe
Heading back down to Zimbabwe now, along with Victoria Falls and the Great Ruins, you can't miss out on the opportunity to spend a few days relaxing on a houseboat in the beautiful setting of Lake Kariba.
If you're into your fishing, this is the spot to try it, otherwise swing in a hammock, crack open a beer and take in the sights, sounds and smells of sub-Saharan Africa at its best!
#50 Conquer Mount Kilimanjaro
And at number 50 on this list of the best things to do in Africa, it's one that simply can't be missed… and that is climbing Kilimanjaro.
Known as the ceiling of Africa, this towering giant lies in Tanzania and definitely requires some preparation given the gear you'll need and the altitude levels you'll experience.
Guided tours are a must, as is a serious level of training, but get yourself organised and this will prove amazing beyond words!
#51 Scuba Dive the Red Sea
It's the mother of all scuba mothers, yes the red sea is something of a Holy Grail for divers and there's no question, you should try it, or at least snorkel it, if you're in Egypt.
You can access the underwater fun in this country via the mainland coastal enclave of Hurghada or the resort hub of Sharm El Sheikh, which is on the Sinai Peninsula, but my favourite spot is Dahab.
Also situated on the Sinai, just a short distance from Sharm El Sheikh, Dahab is a chilled-out village loved by budget travellers.
Its mega-relaxed vibes are the perfect antidote to chaotic Cairo and I'm warning you now that most travellers tend to extend their stay here… you have been warned!
And why not check out St. Catherine's Monastery and Mt. Sinai while you're there? These 2 top Sinai attractions can be easily reached from Dahab care of this tour.
READ MORE: The Perfect Egypt Itinerary
#52 Climb an Active Volcano
If climbing an active volcano doesn't sound like one of the best things to do in Africa, then perhaps we should part ways now!
Depending on the security situation, you can enjoy such an activity in the Democratic Republic of Congo, or perhaps slightly safer, is heading to the Erta Ale volcano in Ethiopia's Danakil Depression.
Otherworldly, doesn't even begin to describe this landscape (one of the hottest and driest places on earth), so check out the article I wrote about my time in the Danakil Depression if that sounds like fun to you!
#53 Visit the Traditional Communities of the Omo Valley
And continuing on with Ethiopia, heading to the Southern region of the Omo Valley will after the Danakil Depression will show you just how diverse this country is.
With over 20 different indigenous communities still living in this small valley region, this is one of the most culturally diverse places on the planet and a fascinating insight into traditional ways of living in this part of Africa.
#54 Cruise to Robben Island, South Africa
And in at #54 on this list of the best things to do in Africa, we return to South Africa and the prison where Nelson Mandela spent the majority of his incarcerated years.
As such a key figure in African politics, you can't miss the opportunity to witness the horrific conditions Mandela and his comrades endured and a tour to Robben Island is certainly eye-opening in this regard.
Led by former inmates, tours here are incredibly poignant and shouldn't be missed.
Not to cheapen their significance in any way, but the boat ride over to Robben Island and the stunning views of Cape Town it affords, only adds to the experience.
Check out this fab tour, which includes your ferry ticket and a township tour, or this epic helicopter ride over Robben Island for a truly unforgettable experience.
#55 Visit Gambia's National Sanctuaries
And finally, we return to West Africa for #55 and the smallest African nation of them all.
Yes Gambia is usually known for its package tourism and great beaches, but take some time if you do come here to also explore the amazing wildlife sanctuaries this country offers too.
From the Chimpanzee Rehabilitation Project in River Gambia National Park to Bijilo Forest Park, Abuko Nature Reserve and Makasutu Culture Forest, there's plenty to choose from here, and all offer some great wildlife encounters that include several monkey species, birds, crocs, snakes and bushbucks that can be spotted both from traditional canoes or special walkways.
Mini Travel Guide to Africa
When to Visit?
As a huge continent, it's impossible to give an overall best time to visit Africa, so I've split this question down in sub-regions.
When it comes to North Africa, I highly recommend visiting during the spring and autumn months, ie. April to May and September to October, so that the weather is pleasant enough for sightseeing.
In West Africa, the high season runs from December through February, when the region generally experiences its lowest rainfall and humidity – definitely a good idea to visit at this time!
In East Africa, visiting during the long dry season is a great idea. In general, this runs between the months of July and September and also conveniently aligns with the Great Migration too. the short rainy season in November and December can be another good time to visit this part of the continent.
And finally, we come to Southern Africa.
If you're heading to Cape Town, I'd visit between November and February, but for Namibia and Botswana, the best months are May through October when it's cooler and less humid.
Best Tours in Africa
If you're interested in an unforgettable, well-priced tour across Africa, with guides you can trust, or a self-drive trip organised by a great company, then email me at [email protected] and I'll send you my top recommendations – simple!
Alternatively, I'm currently offering my readers an exclusive discount on all Absolute Africa tours, meaning you can now travel even more in the amazing regions of southern and east Africa for even less! Simply send this top African overland tour company an email to [email protected], quoting the discount code BWSP, and start planning your incredible trip with them today!
Otherwise, if it's strictly safari tours you're looking for, check out these top picks.
Travel Insurance for Africa
World Nomads offers simple and flexible travel insurance. Buy at home or while travelling and claim online from anywhere in the world.
Alternatively, if you're a long-term traveller, digital nomad or frequent remote worker seeking travel health cover, check out Safetywing's Nomad Insurance policies.
6 Packing Essentials for Africa
#1 Swimwear and Sarong – One World Sarongs are always my go to and a must when you hit the beautiful beaches across Africa.
#2 Lonely Planet Guidebook – Their Africa edition is excellent and very helpful when it comes to a broad range of travel tips, maps and recommended itinerary routes.
#3 Insect Repellent and Anti-Malarials – I recommend a 30% DEET repellent for Africa and anti-malarials if you're travelling in at risk countries – although please always consult the advice of a medical professional before any travels to this part of the world.
#4 World Power Adapter – There are at least 3 different types of adapters used across this continent, so make sure you come prepared with a Skross World Adapterat the ready.
#5 Camera and Lens – I love my Sony A6000 mirrorless, and have used it to capture the beauty of this continent and beyond. My GoPro Hero 7 was also amazing for preseving some of the adventure of my Africa travels too!
#6 Good Sandals – You'll live in sandals in most of Africa and I would never travel anywhere now without my trusty pair of Arizona Birkenstocks!
Travel Money in Africa
When it comes to paying for things across this continent, you want to ensure you're not being charged overseas transaction fees or getting poor exchange rates when using your card abroad, which is why I always take my Wise card away with me wherever I travel.
The easy way to spend abroad with real exchange rates, no markups and no sneaky transaction fees, you can use your Wise card just like a debit card… and it links easily with Google and Apple pay – sold! Grab yours here.
PIN IT TO PINTEREST!
So there it is folks, the 55 best things to do in Africa.
Phew!
Which is top of your bucket list?
And which have you crossed off already?
Tell me all in the comments box below…