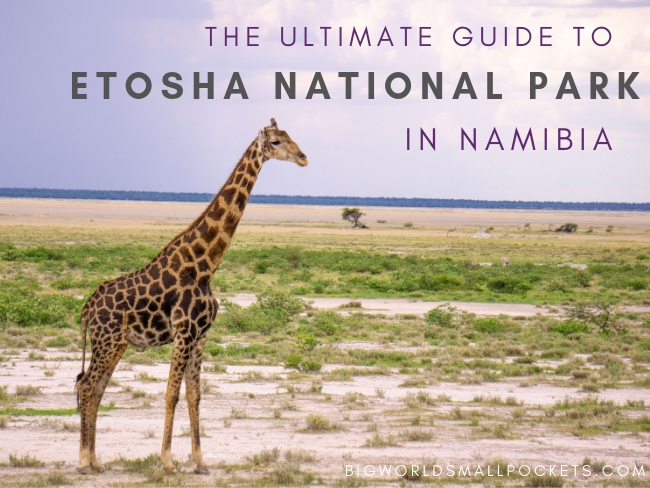 I have wanted to visit Etosha National Park for so long.
But on each trip to Africa, it's a place that has evaded me.
Tucked in the northern corner of Namibia, Etosha is remote, hard to get to and set in some wild desert terrain, all of which hardly amounts to it being the most accessible of wildlife-spotting destinations in this continent!
But precisely for these reasons, Etosha is thought to be one of the best national parks in Southern Africa – relatively untouched, chock full of wildlife and with some epic, otherworldly scenery.
And eventually, I couldn't resist any longer.
I knew it was time.
And so, I'm delighted to say, that on my latest trip to this part of the world, I finally made it to Etosha National Park and I was every bit as amazed as I expected to be!
Travel doesn't get better than that right?
So read on to discover my ultimate guide to Etosha National Park and why I guarantee this place will amaze you too!
Oh, and if you want to take a great tour to Etosha, then I highly recommend Absolute Africa who I visited this park with.
I loved my trip with them so much that I'm currently offering all my readers an exclusive discount on their tours, meaning you can now travel even more in this amazing continent for less!
Simply send Absolute Africa an email to [email protected], quoting the discount code BWSP, and start planning your incredible trip with them today!
---
Related Posts
---
This page contains affiliate links meaning Big World Small Pockets may receive a small commission on any purchases at no extra cost to you.
---
Grab Your Copy of How to Travel Africa for Less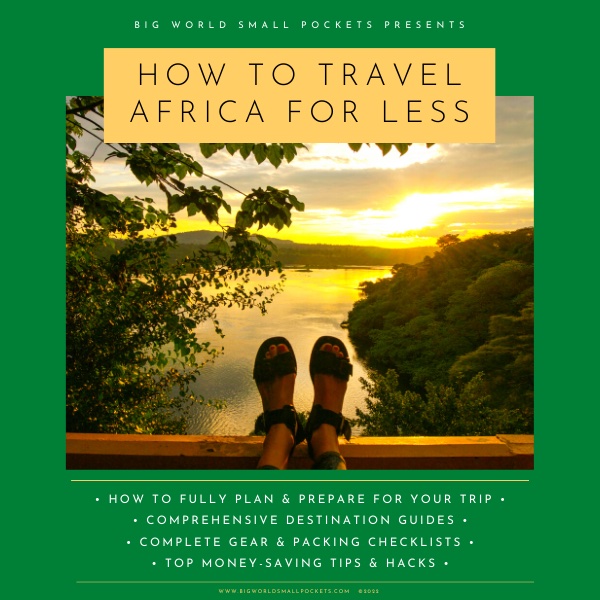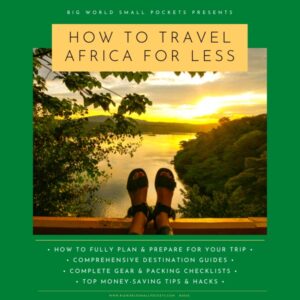 My ultimate guide to travelling Africa on a budget is now available, meaning you can finally get ALL my top tips for adventuring around all, or parts, of this amazing continent in one handy eBook, including…
Full Planning & Preparation Guides
Detailed Destination Info
Complete Packing & Gear Lists
Top Money-Saving Tips & Hacks
What is Etosha National Park?
Put simply, Etosha is a huge a national park in northern Namibia.
It's an epic wildlife spotting reserve thought to be one of the best in Southern Africa and offers the chance to see the Big 5 as well as a huge amount of other animals.
Set in the desert – in what is essentially the floor of an ancient evaporated lake that dried up millions of years ago – Etosha landscape is barren, mostly comprised of thorny scrub, dried mud flats, salt pans, sandy slopes and dried clay beds.
Spotting animals in this low foliage landscape is therefore easy, as camouflage is thin on the ground and the limited watering holes in this arid region make for a concentrated wildlife haven.
Why Visit Etosha National Park?
You should visit Etosha National Park for the concentration of animals and birdlife as well as the lunar-like landscape, which is totally different to almost any other game reserve on the continent.
The uniqueness of Etosha makes it very special, as does its gigantic size.
You can honestly spend 2 days driving solidly across Etosha and not reach the other side.. it's that big!
Barren and remote, camping in Etosha is another great experience, with fenced sites within the park providing the opportunity to spot wildlife just a few metres from your tent and to star gaze in one of the least light polluted places I've ever been.
Etosha National Park combines the vast scenic spectacle of the desert with the richness of the African wilderness – in fact, it's very name translates as "great white place".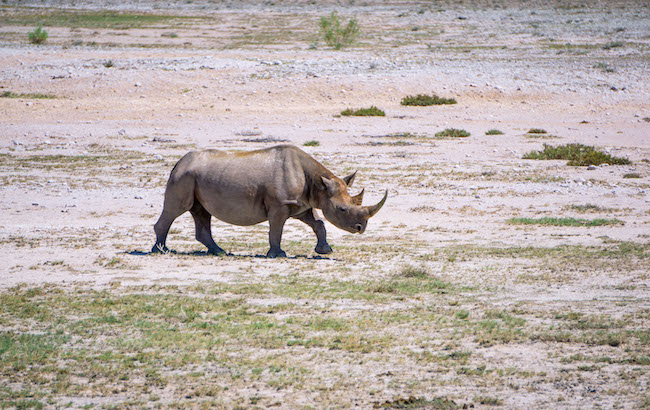 THE BEST TRAVEL INSURANCE FOR NAMIBIA
I would never think of travelling to Namibia without proper coverage and always recommend travel insurance from World Nomads who I've used during my time in this country and throughout Africa.
I love their great coverage of adventure activities – crucial for a country like Namibia – as well as their excellent customer service and ability to claim online, which is very handy if you're travelling in remote places for a long time.
The Best Time to Visit Etosha
The best time to visit Etosha is during the dry season, when the further limitations of this arid area are upped to the max.
What this time of year does is send animals flocking to the few remaining waterholes, meaning the chance of spotting a huge amount of wildlife is even higher.
Etosha's dry season is in keeping with that of its surrounding geography and Namibia's dry season runs from September to December.
While I visited Etosha in February, technically the "wet season" aka summer, and still saw a huge array of animals, the best time to visit Etosha National Park is probably October – when the rains are still scarce but the climate is not yet too hot.
READ MORE: The Best Time to Visit Namibia and Other Top Travel Tips for this Country
6 PACKING ESSENTIALS FOR ETOSHA NATIONAL PARK
#1 Headtorch – Required for your overnight camping in Etosha, I love my Black Diamond Storm, which served me perfectly here.
#2 Namibia Lonely Planet – A great travel aide to this country with tons of historical info, maps and top tips, the Namibia Lonely Planet will help you get the best from your time in Etosha and beyond.
#3 Good Camera – Etosha is one of those ultimate bucket list destinations in Africa and travelling here with a good camera will help you preserve the memories. I highly recommend the mirrorless Sony A6000. Light, compact and robust, it's been perfect for my wild travel adventures in this continent.
#4 Sun Hat – Namibia is hot all year round, with some crazy strong UV rays, so making sure you pack a sunhat for adequate protection is key. I love this one from Hello Sunshine.
#5 Insect Repellent – Malaria is a risk in Etosha National Park, so cover up at night and use at least a 30% DEET repellent.
#6 Sarong – Whether it's for covering your shoulders from the sun, using as a sheet when camping or as a towel after your shower, a sarong is a great multi-purpose travel item to bring here. I love these ones from One World Sarongs.
Where is Etosha National Park?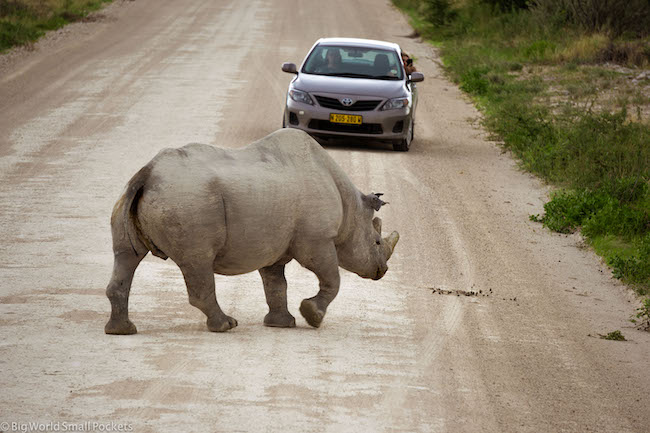 Situated in the north of Namibia, not so far from the Angolan border, the nearest sizeable towns to Etosha National Park are Grootfontein, Ondangwa and Tsumeb, which all have small airstrips and supermarkets for supplies as well as ATM facilities.
Trains and buses also pass through these towns from Windhoek / Swakopmund, as well as the usual spattering of local minivans.
If you're approaching Etosha from the south, then you'll likely access the park via the town of Outjo, which is about 100km from the park entrance and offers the opportunity to stock up on supplies too.
How to Get There?
Almost everyone reaches Etosha National Park via land – having driven from other destinations in Namibia, Angola or Botswana.
Because of the remoteness of the park, hiring a vehicle to drive here or taking a land-based tour, are by far the 2 most popular options.
I suppose you could fly into one of the nearby airstrips and from there make your way to Etosha, but I've never met anyone whose done this and have no information about such a feat – I imagine it's expensive and difficult.
Overland tours covering Namibia almost all make a stop at Etosha for 2-3 nights, otherwise travelling north from the cities of Windhoek or Swakopmund, or west from Botswana's Okavango Delta, are good options.
I visited Etosha National Park as part of an overland tour, but many other companies ply the route either as part of a Namibia-only overland experience or as part of a longer Southern Africa adventure.
If you want to see Etosha independently, then probably your best options would be to fly to Windhoek, where you can hire a 4wd to drive yourself to and around the area.
LOOKING FOR A BUDGET TOUR OR SELF-DRIVE TRIP IN NAMIBIA?
If you're interested in an unforgettable, well-priced tour in Namibia with guides you can trust, or a self-drive trip organised by a great company, then email me at [email protected] and I'll send you my top recommendations – simple!
Top Things to Do in Etosha
The number one thing to do in Etosha National Park is to experience some epic game drives.
Littered with wildlife, just driving across the park (via the many tracks that connect the various waterholes) is bound to bring you into contact with a massive amount of wildlife.
Games drives will also allow you to take in the landscape and the vastness of this dry, flat, hot and baked land and can be taken during the day or at night (no self-drive wildlife watching allowed at night).
The sense of remoteness, off-grid, detachment from the busy world of connection and distraction are also palpable here and provide the sense of a true escape to the wild.
Camping in Etosha
Camping in Etosha National park is also an incredible experience and absolutely one of the best things you should do here.
There are 3 official fenced camps within the park grounds; 1 on the east side (Onkoshi Camp), 1 on the west side (Okaukuejo Camp) and 1 in the middle (Halali Camp).
A popular way to see Etosha therefore is to camp in one site (either Onkoshi or Okaukuejo depending on which side of the park you enter from) and then spend the next day driving across the reserve to the other camp, stopping at Halali for lunch and a break from the heat in the afternoon.
This way you get the experience of traversing this park and camping in 2 different sites which, while secure, offer the chance to hear a huge amount of animals at night, gaze at some of the clearest, star-heavy skies I've ever seen and even walk to floodlight waterholes where animals can be spotted coming to drink after dark.
All 3 camps have good facilities, with swimming pools, small bars / cafes, showers, toilets and even phone reception.
The camps can also arrange game night drives for you, as these aren't allowed as self-drive options.
Everyone staying in the park must have entered a campsite by sunset, after this, it's only official, camp-operated night drives that are allowed.
Prices for night game drives start from $40-$45 USD per person.
Wildlife to Spot
In case I hadn't mentioned it enough already, Etosha National Park offers a huge array of wildlife!
For starters, I saw more rhinos here than anywhere else in Africa, including several of the highly endangered black rhinos.
If you're longing to see a rhino in Africa, go to Etosha!
Other wildlife I spotted included lions, elephants, wildebeest, white rhinos, genet cats, jackals, zebra, giraffe, ostrich, dik diks, gemsboks, impala, mongoose, elands, kudu, flamingos and an incredible array of birds, including owls and eagles.
I didn't manage to see any hyenas, leopards or cheetahs in Etosha, but they are around!
Are you ready?
Here's the stats: Etosha has 114 mammal species, 340 bird species, 16 amphibian / reptile species and 1 fish species!
What to Take for Your Trip
If I've not made it clear enough already, then I'll spell it out now – Etosha is extremely remote, hot and dry.
There are very limited shops or supplies in the park and I would highly advise taking everything you need with you.
This includes:
Sunscreen
Sunhat
Sunglasses
Toilet paper
Wet wipes
Strong insect repellent
Small first aid kit
Anti-malarials
Headlamp
Good camera, lens, tripod and cleaning kit
Neutral-coloured, thin, light clothing you can layer
Camping gear including sleeping bag / silk liner
You'll also need to take all the food and water you will require – and lots of it!
I'd suggest at least 5 litres of water per day per person.
There are almost no facilities in the park if you're camping, outside of toilets, showers and firepits, so bring all cooking facilities with you.
A guidebook would also be good to give you some background info.
As it's very hot in the daytime here, but can be cold at night, bringing neutral coloured clothing you can layer is ideal, especially as mosquitoes are prevalent and malaria a risk.
How Much Does it Cost?
Unless you're part of an organised tour, where entrance and gamed drives are often included in the overall price (although do sure to check this), you'll have to pay both visitor and vehicle fees to enter Etosha National Park.
At the time of going to press, it costs $80 NAD per person per day to experience Etosha, plus $10 NAD per vehicle.
You can enter the park between sunrise and sunset only.
PIN IT TO PINTEREST!
And that's my complete guide to this amazing destination, including the best time to visit the Etosha National Park, what to do there, how much it will cost, what you need to take and what you can expect.
Do let me know if I've missed any crucial information out by firing your questions into the comments box below…