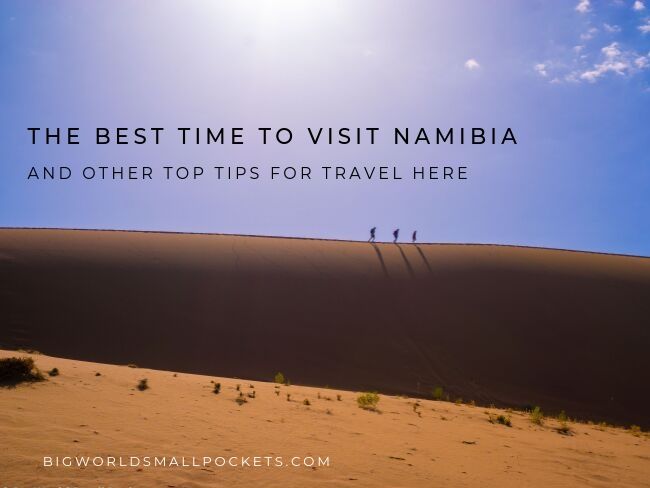 Oh my oh my, well what can I say, Namibia has to be one of the best countries in Africa to travel if you're into, well anything really – wildlife, deserts, road tripping, photography, extreme sports, spectacular scenery… just about everything you go to Africa for!
It took me 5 trips to Africa to finally get to this country, but I reckon I saved one of the best till last!
And that's because Namibia truly is breathtaking.
Safe, a little more developed than many other countries in this part of the world and with some truly mind-blowing landscapes, this is a dry desert, sparsely populated land that is bound to take your breath away.
So if you're thinking of hitting up this Southern Africa beauty, but still have some questions about when, why and how to do it, then read on to discover my full guide about the best time to visit Namibia and a host of other top tips for travelling here.
---
Related Posts
---
This page contains affiliate links meaning Big World Small Pockets may receive a small commission on any purchases at no extra cost to you.
---
Why Visit Namibia?
To put it frankly, Namibia is one of the most amazing destinations to visit in Africa.
Nothing can compare to the sort of safari experiences it offers care of Etosha National Park, the desert scenery you can witness at Sossusvlei, the sunsets, the remote camping opportunities, the mixed cultural vibes, the wild ocean experience of the Skeleton Coast and the amount of times it will have you reaching for your camera.
You should allow at least 2 weeks to experience the wealth of Namibia – a) because this is a huge land it will take time to explore and b) because you'll need this long to really soak up what can only be described as one of Africa's most unique and memorable landscapes.
What is the Best Time to Visit Namibia?
While this country can be visited at any time of the year, probably the best time to visit Namibia (according to my experienced guide and the local facilitators I met there) is during the months of September through November, with October being the pinnacle month.
This is when the summer rainy season has yet to begin (meaning you won't get soaked) and the dry water holes during these months means it's easy to spot tons of wildlife, especially in Etosha National Park.
During this season (which is the beginning of the high season across Southern Africa generally) it's also not yet too hot.
Because Namibia has the tendency to do just this.
Get too hot I mean!
Which is why it's so important to think about the best time to visit Namibia.
A dry, desert land, scorching temperatures here are common with the main summer season of December through February providing some of the hottest temperatures of the year.
Indeed, I visited Namibia in late January and while I still saw a lot of wildlife, it certainly was sweltering.
Thankfully it's dry heat here (which I can cope with far better than humidity) and the nights were cool, but do be aware temperatures rose to over 35 degrees during the daytime and of course, you'll largely have to get by without even a fan, let alone aircon!
BEST TRAVEL INSURANCE FOR NAMIBIA
I'd never even consider heading to Namibia – or anywhere in Africa for that matter – without proper coverage and highly recommend travel insurance from World Nomads, which I've used during my time in this country and across Africa.
How to Get to Namibia
Situated just above South Africa on the west coast of Southern Africa, there are 2 main ways to access Namibia.
Either you can fly into Namibia's capital Windhoek, which has international arrivals from several destinations in Europe, or you can fly to Cape Town and from there take a cheap budget flight to Namibia.
As always, I use Skyscanner to check for the best prices.
Driving to Namibia is also totally possible and most people access it from South Africa (it's a 2-3 day drive from Cape Town) as part of an extended road trip or African overland tour between the major Southern African attractions of Cape Town, Botswana and Victoria Falls.
As well as getting to Namibia from South Africa, many people also make the classic Southern Africa route I've described above in reverse – starting in Victoria Falls and from there driving into and across the top of Botswana and then crossing into northern Namibia, before journeying south through the country onto Cape Town.
LEARN MORE: 5 Epic Southern Africa Itineraries For Your Perfect Trip
How to Get Around Namibia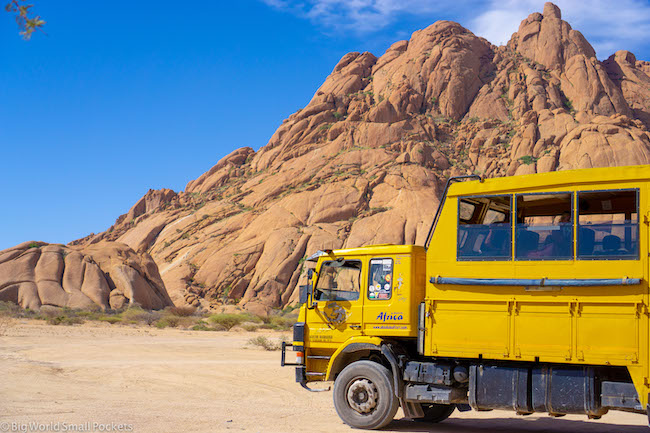 As I mentioned above, Namibia is a very sparsely populated country, in fact it's one of the most sparsely populated on earth, which means public transport is almost non-existent here and, given the distances you'll need to cover and how remote many of the top attractions in this country are, it's also not that convenient when it does exist.
Ditto domestic flights, which are possible, but hugely expensive and will land you in small, remote towns, from where you've still got to access the parks and places you came to Namibia to see.
As such, there's no question, the best way to get around Namibia is via road, which is another good reason to consider the best time to visit Namibia.
This can either be done as a part of a self-drive experience, which is a good budget option if there's a few of you to share the costs and you feel comfortable with some 4wd driving.
Self-drive options can either form part of a larger Southern Africa excursion, where you rent a car in say Cape Town and drop it off in Victoria Falls, or a shorter, Namibia-only road trip, where you hire a car in Windhoek, make a loop of the country, and then return it back to the capital.
Alternatively, you can take a tour to explore Namibia.
This can be a great option for solo travellers – as it will easily bring you into contact with other friendly nomads and can end up costing you less than hiring your own vehicle.
Tours in Namibia are also great for new travellers or first time Africa travellers who may feel nervous about navigating Namibian roads and destinations by themselves.
Tours take the hassle out of having to organise everything, plan routes and find places to stay etc, and can therefore be great option for those who are time-poor.
For a great selection of Namibia tours, check out TourRadar, my go to site for tour comparisons and bookings.
Things to Do in Namibia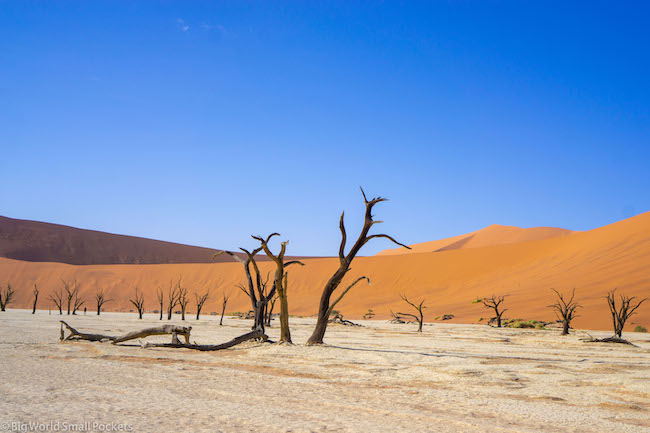 I have written 2 separate posts about the best places to see in Namibia and the best things to do in Namibia, so check those out for some more detailed ideas.
But quickly here, I'll list the major spots you can't miss, especially if you choose the best time to visit Namibia well.
Of course, there's loads of choice for off the beaten track adventure in this country too, which self-driving options in particular will give you more of a chance to experience.
That said, with Namibia being a big country and most people not having a huge amount of time to travel and explore it, I'll list the most popular destinations below…
Etosha National Park – One of the most spectacular safari destinations in Namibia given it's wildly different landscapes and plethora of animals. Essentially an ancient, and now dried up pan, watering holes here form the backbone of the animal spotting in this huge park. Allow at least 2 days to drive across and camp in this magical reserve.
Sossusvlei – A dreamy desert landscape that has an eerie ancient forest situated within it, now made famous through Instagram. Dune climbing, desert camping and epic sunrises/sunsets are all part of the experience here.
Spitzkoppe – Essentially a private reserve belonging to the nearby village community, this place has incredible rock formations and some amazing examples of traditional rock art.
Cape Cross Seal Colony – This is meant to be the largest seal colony in the world and the sight of literally thousands of seals, plus the smell of them too, is quite unbelievable!
Swakopmund – A bizarre, German colonial town come seaside resort come African adventure spot in the middle of the desert that offers a huge array of extreme adventures from skydiving to dune biking.
Windhoek – Colourful capital with some lovely colonial era architecture.
Fish River Canyon – The second largest canyon in the world, which offers some amazing hiking and epic views.
Wildlife in Namibia
You've already heard me talk about the seals you can see in Namibia at the Cape Cross Colony, which definitely provides a very unique wildlife experience here.
But really, the big daddy in the Namibia wildlife crown is Etohsa, situated in the north of the country.
I've covered my time there in detail in my Etosha National Park specific post, but this park offers the big 5, as well as a whole host of other classic African animals and is an absolute must-see.
Honestly, it's easily one of the best parks in Southern Africa, if not the whole of the continent, because of its dramatic landscapes, concentration of wildlife, good facilities / amenities, easy access and awesome camping opportunities.
Spotting wildlife is usually conducted around the water holes throughout the park, where then animals tend to gather in large numbers, but the camps here (there's 3 main ones, meaning you can spend a couple of nights within the reserve itself) also boast watering holes, which are illuminated at night for some great animal encounters.
6 PACKING ESSENTIALS FOR NAMIBIA
#1 Headtorch – Required for your camping overnight excursion in the Delta as there is no electricity, I love my Black Diamond Storm, which served me perfectly here.
#2 Namibia Lonely Planet – A great travel aide to this country with tons of historical info, maps and top tips, the Botswana & Namibia Lonely Planet will help you get the best from your time out here.
#3 Good Camera – Namibia is one of those ultimate bucket list destinations and travelling here with a good camera will help you preserve the memories. I highly recommend the mirrorless Sony A6000. Light, compact and robust, it's been perfect for my Africa travel adventures.
#4 Sun Hat – Namibia is hot year round, with some crazy strong UV rays. You'll be exposed to the sun for long periods of time, when you travel here, so making sure you pack a sunhat for adequate protection is key. I love this one from Hello Sunshine.
#5 Insect Repellent – Malaria is a risk in the north of Namibia, so cover up at night and use at least 30% DEET repellent.
#6 Sarong – Whether it's for covering your shoulders from the sun, using as a sheet when camping or as a towel after a swim, a sarong is a great multi-purpose travel item to bring here. I love these ones from One World Sarongs.
What to Take to Namibia
If I've not made it clear enough already, then I'll spell it out now – Namibia is remote and outside of the major towns like Windhoek and Swakopmund, there are almost no shops or supplies available.
Taking everything you need with you as you journey around the country therefore is essential.
This includes:
Sunhat
Toilet paper
Wet wipes
Strong insect repellent
Headtorch
Swimwear and towel
Thin, light clothing you can layer
Camping gear including sleeping bag / silk liner
You'll also need to take enough food and water with you – and lots of it!
I'd suggest at least 5 litres of water per day per person.
Of course, always take all your trash and rubbish back out with you after visiting any areas of natural beauty.
A guidebook would also be good to give you some background info on this country, and, as it's very hot in the daytime here (too hot to do much when I was there at least) books to read, games to play or other activities to enjoy in the shade are recommended.
It's also worth bearing in mind that the Namibia's desert topopgraphy means it can get very cold at night, so bringing thick layers to wrap up in of an evening is an excellent idea.
At night, you might also need to be careful of animals – never go anywhere alone after dark and always listen for wildlife noises and scan the surrounding area with your headlamp.
How Much Does it Cost to Travel Namibia?
Overall, Namibia isn't a cheap excursion given its remote make-up and the distances you need to travel to cover the top sights.
Renting a car between a group, to self-drive around the country in a loop from Windhoek and taking camping gear with you, can save you a lot of money.
Otherwise, I highly recommend joining a budget overland tour like those offered by TourRadar – I honestly don't think you can do it cheaper as a solo traveller and it's a great way to make friends, leave the planning to someone and enjoy the experience with others too.
Most budget tours will take you camping across Namibia and, as there are plenty of campsites around the country, if you're road tripping too, this will be your cheapest option.
And finally, there are the cost of the activities.
Park fees, guide fees, safari fees, camping fees and fuel all need to be factored in and will vary, depending where you visit, how long for and the distances you cover in Namibia.
PIN IT TO PINTEREST!
And that's my complete guide to this amazing country, including the best time to visit Namibia, what to do there, how much it will cost, what you need to take and what you can expect.
Do let me know I've missed any crucial information out by firing your questions into this comments box below…