So, how much does an African safari cost?
Well, here's the short (and rather unhelpful) answer… it depends… massively!
Yup, I'm sorry to disappoint you, but there just isn't a simple answer to how much an African safari costs, and that's mostly because African safaris vary wildly.
Depending on which country you experience your safari in, how long the trip is for, what you see, where you stay, how you get there and, most of all, the style of your trip, the price of an African safari can jump from a few hundred dollars to a few thousand dollars… and more!
As such, I've decided to write this post to give you some ideas about the costs of an African safari, as well as the sort of variables involved when it comes to prices, as well as some top money-saving tips.
I hope it will help you plan for, and cost out, this incredible travel experience a little bit better and also help you learn how to save money on your African safari trip too.
So here goes…
---
Related Posts
---
This page contains affiliate links meaning Big World Small Pockets may receive a small commission on any purchases at no extra cost to you.
---
Grab Your Copy of How to Travel Africa for Less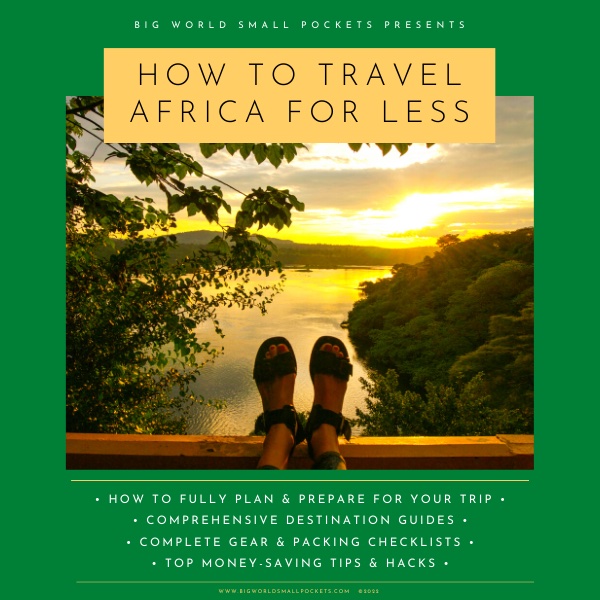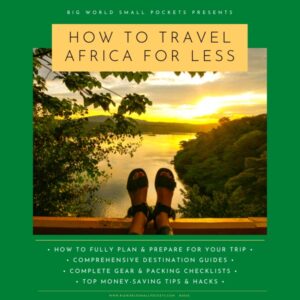 My ultimate guide to travelling Africa on a budget is now available, meaning you can finally get ALL my top tips for adventuring around all, or parts, of this amazing continent in one handy eBook, including…
Full Planning & Preparation Guides
Detailed Destination Info
Complete Packing & Gear Lists
Top Money-Saving Tips & Hacks
#1 Which Country to Safari In?
So the first variable to think about when it comes to costing your African safari experience is which country, or countries, in Africa you want to visit.
From Uganda to Kenya, South Africa to Sierra Leone, where you choose to enjoy a safari can massively affect the costs.
For some ideas about how to safari for less cash, check out this list I've compiled about the cheapest countries in Africa to visit.
Otherwise, it's good to bear in mind that self-drive opportunities (which are a much cheaper option) are only widely available in certain countries such as South Africa, Namibia and Uganda, making these key options for those wishing to safari on a budget.
Learn more with the 8 budget hacks I've discovered to help you enjoy a South Africa safari for less.
At the other end of the scale, there's certain countries such as Botswana, and again South Africa, that have more to offer luxury travellers, with high-quality lodges and resorts catering to those who want to splash the cash on an amazing safari experience.
In line with this, it's wise to consider not only which country you want to visit, but also the area within in each country as, again, this will wildly alter the price of your trip.
Generally, state-run parks are much cheaper than private game reserves and smaller, lesser-known parks, such as South Luangwa, are cheaper than large, famous ones, such as the Serengeti, so again consider where exactly in a country you want to safari too.
To sum it all up, thinking about which country in Africa you want, as well as where within that country you want to go, is a key factor in working out your African safari cost.
Sticking to countries that offer cheaper safari options (often those in southern Africa over east and west Africa), along with self-drive options, will make a big difference.
And within these countries, consider parks that are less famous and busy.
#2 Duration of Your Safari
The next thing to consider when trying to estimate your African safari costs are how long your excursion will be for and, with this in mind, if you're intending to visit more than one park.
It goes without saying that the longer the trip, the greater the cost.
Most organised African safari adventures that visit just one park are a minimum of 2 days / 3 nights – this would normally include the time it takes to get to the park from the nearest city.
Take the Masai Mara in Kenya for example – most trips to this park include return transport to Nairobi as part of a 3 day / 2 night tour.
Similarly, for visits to the Serengeti in Tanzania, trips usually leave from the town of Arusha and again take roughly 3 days, including a visit to the Ngorongoro Crater.
For other safaris in more remote destinations, such as Botswana's Okavango Delta or Namibia's Etosha National Park, trips are likely to be longer, because the distance from major towns to these reserves is considerable.
As such, these safari destinations are normally visited as part of a longer, multi-park safari trips that will definitely cost more because they run for more days, cover more parks and involve greater travel distances.
On the other hand, safaris such as those in Botswana's Chobe River National Park or Kenya's Hells Gate can often be enjoyed as a day trip from major cities and are therefore much lower in cost.
Overall, considering the duration of your trip is a key component in working out your African safari costs.
#3 Style of Safari
And the third variable when it comes to your African safari cost, and probably the one that will have the greatest bearing on your overall spend, is your style of travel.
We touched on this a bit in #1, but what I want to expand on here can largely be summed up the decision to opt either for a luxury lodge safari experience, or a rough and ready African camping safari on a shoestring.
Or, of course, something in between!
And that's because there really are safari adventures for every budget.
From flying into remote destinations and staying in deluxe lodges based within private game reserves, to self-drive safari trips that involve camping and cooking on an open fire under the stars, everything is up for grabs!
And, of course, prices will vary wildly as a result.
Check out these great options, which run across the continent but can be filtered by country, to get more of an idea.
Aside from luxury vs budget, the other major factor that will determine your African safari cost is how much of the trip you independently organise, arrange and book, versus how much you use a travel agent, tour company or booking service.
The more you arrange yourself, the cheaper the trip is likely to be, as you'll avoid much of the commission agents place on top.
That said, it will also mean research, hassle and work, so again it's up to you.
For more information about planning your own safari trip vs using an agent, check out this post I write about planning your perfect Kenya safari holiday.
Much of the advice in this article can be applied to other countries in the continent too.
#4 African Safari Cost Examples
Having discussed all the major factors that can influence your African safari cost, it's probably now time to move forward and give you some idea of actual costs.
All the below examples are care of online price comparison sites, which I've found are often the best way to ensure you get the safari trip you want.
Such sites easily allow you to compare reviews, itineraries, schedules and prices as well as provide a secure and safe way for you to book.
I also find them extremely competitive on price, especially when compared to using major high street travel agents.
So here goes, some of the most competitive African safari costs I've found are…
Full-Day Game Drive in Kruger National Park, South Africa: Roughly £50 / $65 USD
1 Day Trip to Addo Elephant Park, South Africa: Roughly £100 / $130 USD
3 Day / 2 Night Excursion to Kruger National Park, South Africa: Roughly £450 / $600 USD
Budget 3 Day / 2 Night Trip to Kenya's Masai Mara: Roughly ££270 / $350 USD
4 Day Adventure in Victoria Falls, Zimbabwe: Roughly £450 / $600 USD
5 Day / 4 Night Mid Range Serengeti and Ngorongoro Crater Safari, Tanzania: Roughly £1275 /$1650 USD
6 Day Budget Overland Trip in Botswana: Roughly £620 / $800 USD
8 Day Kenya Wildlife Safari: Roughly £900 / $1200 USD
11 Day Trip Overland Trip through Namibia to Cape Town: Roughly £900 / $1200 USD
14 Day Budget Group Tour of Uganda, Rwanda & Tanzania inc Gorilla Trekking: Roughly £1200 / $1600 USD
#5 Number of Game Drive
You'll also want to think about the number of game drives or safari activities you want to enjoy in each reserve.
If you take group or packaged adventures, these will usually be specified and often included in the itinerary, although you may have the option to pay for extras.
If you're organising everything independently, then do be aware not all game reserves allow self-drive safaris and once you get to a park, you may still have to take an organised game drive.
Normally these can be arranged through your park accommodation or at the main park headquarters or entrance gate.
As you'd expect, the more game drives or safari activities you do, the higher the costs will be.
Most game drives / sunset cruises / walking safaris are in the region of $40 – $60 USD per person, although activities such as scenic flights or hot air balloon rides are much higher.
#6 Extra Safari Costs to Think About
On top of the price of a safari excursion, there are some extra costs you'll definitely need to factor into your trip budget.
Often these get overlooked, but they can be significant and soon mount up.
As such, it's really important to include them in your projections to ensure you properly calculate your African safari cost.
Such factors include:
International Airfares
Visas (check your foreign office website for the latest costs)
Vaccinations (always consult a travel health specialist before a trip to Africa)
Antimalarial Medication
Camping Gear (if applicable)
Special Clothing or Accessories
For more ideas about what to pack for your African safari adventure, check out my specific safari packing list post here.
#7 Safari Money-Saving Tips
While travelling solo in Africa is totally possible, if you are looking to include a lot of activities in your adventure, you may well find it cheaper to join a budget overland tour.
These are group tours that travel through several African countries with pricing that includes many safaris, activities and guides as well as accommodation and even meals.
The cheapest options usually involve camping and, with access to group discounts, can often be the most affordable way to cover a lot of ground in Africa.
Another great money-saving tip is to limit your safari to one country, such as Kenya, Uganda or South Africa – this way you won't have to pay multiple visa fees or waste time and money on long-distance travel between destinations.
As we've already mentioned, booking trips independently or enjoying a self-drive safari will likely be cheaper, especially on shorter trips, and keeping your safari activities to a minimum will also keep prices lower.
Taking out insurance, although involving an initial outlay, will prove a wise and effective money-saving option if anything does go wrong during your trip.
And finally, coming with all the gear you need (note need here, because I never advise overpacking!) will help you save money.
Despite what you might think, buying camping gear or forgotten technical items will be more expensive in Africa and you certainly won't have the selection (nor perhaps the quality) you'll be able to purchase in your home country.
Buying all the gear you require in advance therefore, is a great money-saving option.
When booking your international flights, save money on your African safari cost by using a search comparison site like Skyscanner to find the best prices.
And once in the continent, using ride-sharing apps like Uber, is another great money-saving tip as you'll be assured of local rates on any rides.
Mini African Safari Travel Guide
As a huge continent, it's impossible to give an overall best time to visit Africa, so I've split this question down in sub-regions.
When it comes to North Africa, I highly recommend visiting during the spring and autumn months, ie. April to May and September to October, so that the weather is pleasant enough for sightseeing.
In West Africa, the high season runs from December through February, when the region generally experiences its lowest rainfall and humidity – definitely a good idea to visit at this time!
In East Africa, visiting during the long dry season is a great idea. In general, this runs between the months of July and September and also conveniently aligns with the Great Migration too. the short rainy season in November and December can be another good time to visit this part of the continent.
And finally, we come to Southern Africa.
If you're heading to Cape Town, I'd visit between November and February, but for Namibia and Botswana, the best months are May through October when it's cooler and less humid.
Best African Safari Tours
If you're interested in an unforgettable, well-priced tour across Africa, with guides you can trust, or a self-drive trip organised by a great company, then email me at [email protected] and I'll send you my top recommendations – simple!
Alternatively, I'm currently offering my readers an exclusive discount on all Absolute Africa tours, meaning you can now travel even more in the amazing regions of southern and east Africa for even less! Simply send this top African overland tour company an email to [email protected], quoting the discount code BWSP, and start planning your incredible trip with them today!
Otherwise, if it's strictly safari tours you're looking for, check out these top picks.
Travel Insurance for Safaris
World Nomads offers simple and flexible travel insurance. Buy at home or while travelling and claim online from anywhere in the world.
Alternatively, if you're a long-term traveller, digital nomad or frequent remote worker seeking travel health cover, check out Safetywing's Nomad Insurance policies.
5 Key Safari Packing Items
#1 Headlamp – Required for those all too often power cuts, my Black Diamond Storm hasn't failed me in Africa yet!
#2 Insect Repellent – Malaria is a big risk in a lot of Africa, so cover up at night and pack at least 30% DEET spray as well as some antimalarials. Always consult a travel doctor well in advance of your safari trip.
#3 Good Camera – An absolute must if you're looking to capture the incredible sights of this continent. I love my mirrorless Sony A6000, which is light, compact and robust – ideal for Africa travel.
#4 Sarong – Whether it's covering yourself from the dust on safari, using as a pillow on long bus journeys or making into a beach dress, this is a great multi-purpose travel item for Africa. 1 World Sarongs have a great collection if you're looking for some inspiration.
#5 Walking Shoes – Incredibly useful for cities, safaris, sightseeing and hiking, a good pair of waterproof walking shoes is a must covering the versatile nature of Africa travel.avel anywhere now without my trusty pair of Arizona Birkenstocks!
Safari Travel Money
When it comes to paying for things across this continent, you want to ensure you're not being charged overseas transaction fees or getting poor exchange rates when using your card abroad, which is why I always take my Wise card away with me wherever I travel.
The easy way to spend abroad with real exchange rates, no markups and no sneaky transaction fees, you can use your Wise card just like a debit card… and it links easily with Google and Apple pay – sold! Grab yours here.
SAVE THIS ARTICLE TO PINTEREST!
As you can now tell, the answer to the question of how much does an African safari cost is not straightforward!
Rather it begs more questions first about where you want to go, how long for and what sort of travel style you want to adopt.
Once you've got the answers to these questions however, you can start searching for trips that fit your demands and find the perfect adventure for you.
Enjoy!