With a packed South America schedule ahead of me, and Peru being my first port of call, I planned to spend just 4 weeks in this country to ensure I saw as much of this continent as I wanted!
Well, let me tell you that plan quickly turned into an epic fail!
Because if you double my initially estimated Peru slot, you're then getting somewhere close to the actual amount of time I spent in this incredible South America nation!
And there's several reasons for that.
#1 Peru is huge.
#2 It's about as diverse as it gets.
#3 It's flipping fabulous!
As such, this incredible country instantly shot its way into my top 5 destination list!
Wow, you might be thinking, what an accolade, but I've only got a number of weeks to see the best of this nation.
Well fear not peeps, because the long and short of it is, I spent longer in Peru so you don't have to… if you don't want to!
Yup, I've done the legwork and I've crunched it all down to give you this, the ultimate Peru itinerary, cleverly arranged into 2 week, 3 week and 1 month sections.
That way, no matter how long you have to backpack this incredible country, I've got you covered!
---
Related Posts
---
This page contains affiliate links meaning Big World Small Pockets may receive a small commission on any purchases at no extra cost to you.
---
When to Visit Peru
Travel seasons in Peru are often a little complicated, purely because of the diversity of this country's topography.
When it's summer on the coast, for example, it's rainy in the mountains and when it's cooler in the jungle, it's freezing along the Pacific.
As such, you're always going to be rolling the dice a little when you travel Peru, especially with global warming messing everything around too.
Generally speaking however, the months of November through February are known as summer here, which means very hot temperatures on the coast and wet weather in the highlands and jungle.
Conversely, the months of June through August are known loosely as winter in Peru. This is when it's cold on the coast, but dry in the mountains and jungle!
As such, the high season for travellers in Peru tends to be June through August – a) because this coincides with the northern hemisphere summer holidays and b) because most people come to Peru for the mountains.
That said, this time of year is also the coldest and the most crowded, so it's not all plain sailing!
As such, I'd suggest the shoulders seasons of April and May or September and October as the best times to visit Peru.
This is when the weather is good across most parts of the country and the crowds and prices lower!
Indeed, trying to combine the best of both worlds i.e. spring on the coast and dry season in the mountains, I visited Peru in September and October, and actually found it ideal in terms of tourist numbers, crowds and prices.
I cover this topic in far greater detail in my post about the best time to travel Peru, so click the link if you're looking for more info on this, including a region by region breakdown.
You might also find it useful to check out my post about the 13 crucial things to know before you travel to Peru.
Otherwise, let's get stuck into this itinerary…
2 Week Peru Itinerary
With only a fortnight in Peru you've got a seriously huge country to try and cover, so limiting yourself to a few key spots is going to be the best way to experience this part of the world with the time you have.
And if you're looking to save even more time, then I recommend booking your Peru transport before you get to the country – check out Bookaway which is an ideal website for the job.
Day 1: Lima
Stay: La Unsha Hostel, Barranco
Your ideal 2 week Peru itinerary begins in Lima because this is likely to be the place you'll arrive into – it's the country's capital and has the largest international airport.
Miraflores and Barranco are the 2 best tourist districts to explore in this city and with only 1 day here, I'd advise limiting yourself to these 2.
Bohemian Barranco is the far better of the 2 in my opinion, with less commercialised vibes, a calmer, more arty atmosphere and better cafes!
That said, Miraflores is worth a look and it's good to know the free walking tours run in both areas, meaning you cover some good ground with just 1 day.
For ideas about what to do in Barranco, Miraflores or the free walking tours, check out my list of the 19 super things to do in Lima.
Day 2: Huacachina
Stay: Banana Homecoming, Huacachina
After a quick day in the capital, it's time to start heading south and, as you're rushed on time, I suggest a bus ride straight down to the desert oasis of Huacachina.
Located near the city of Ica, the towering sand dunes that ring this isolated body of water make for quite the setting and clambering up them to enjoy a sunset is a must.
Huacachina is very touristy however, definitely a party town, and absolutely tiny!
As such one night here should be enough.
Don't miss the amazing sandboarding and dune buggy fun you can enjoy around sunset – complete jokes guaranteed!
Check out this top-rated tour which runs from Lima and includes a stop in the national reserve of Paracas, a pisco vineyard tour and dune-top sunset views and buggy ride in Huacachina as well!
Day 3 – 4: Arequipa
Stay: Le Foyer Hostel, Arequipa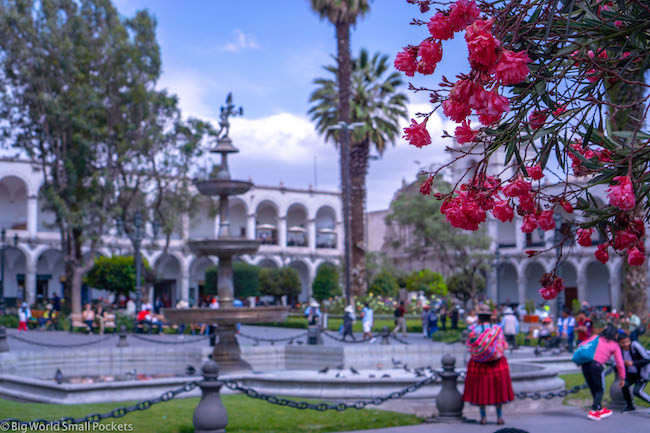 After Huacachina, it's time to continue the journey south to the beautiful city of Arequipa.
This was one of my favourite destinations in Peru because the beautiful white-washed appearance of the city, its quaint cobbled streets, top foodie scene and great climate made it a winner in my book.
Enjoying the squares, streets, café and corners of this city is definitely one of the best things to do, but you also can't miss the amazing Museo Santuarios Andinos, which features Juanita – a preserved Incan girl who was sacrificed and then found hundreds of year later, mummified, at the top of Volcan Ampato.
Free walking tours of the city are also available and make sure you do the sunset walk up to Yanahuara.
For more info about these top activities, along with more ideas about the best things to do in Arequipa, check out my specific post on this city here.
Day 5 – 7: Colca Canyon
Stay: Le Foyer Hostel, Yanque
And now we move onto some serious nature and, if you want, hiking too, with a side trip from Arequipa to the incredible Colca Canyon.
One of the deepest canyons in the world – actually twice that of the Grand Canyon – I found this amazing place one of the most visually striking in the whole of Peru.
But what many people don't realise is that this area is also very culturally rich, with a strong traditional heritage still very much at the forefront of local village life here.
Most people visit the Colca Canyon for between 2-3 days on a trip from Arequipa – either as part a straightforward tour that is more based on bus time and sightseeing, or as part of trekking excursion that is all about conquering this great gash in the landscape on foot.
However, neither of these tours really capture the diversity of the activities and attractions on offer in the canyon, because from spotting great condors to visiting Inca ruins, bathing in natural hot springs, gasping at gushing geysers, staying in local villages and yes horse riding and hiking, Colca has so much to offer as part of your Peru itinerary.
As such, I highly recommend you check out my article about the best way to get off the beaten track in the Colca Canyon for practical ways on how to experience this area at its best, including staying in local villages, taking treks most don't and getting to see this thermal diversity of this landscape.
Day 8 – 13: Cusco & Around
Stay: Milhouse Hostel, Cusco
After returning to Arequipa to spend the night at the end of your Colca Canyon trip, it's then time to head to your final destination in this country.
Yes, one week into your Peru itinerary and it's time to hit up the big daddy of them all, Cusco.
Now do be aware that with just 1 week in and around this city, you're not going to be able to see it all and will need to choose your activities carefully, so here's a list of the main highlights and trips to make around Cusco if you have just 7 days.
Machu Picchu: 1 – 5 Days depending on how you get there. Learn more in this post.
Sacred Valley: 1 – 3 Days
Rainbow Mountain: 1 Day Trip
And in between all these adventures, you'll want to allow at least 2 days to enjoy the sights and sounds, ruins and restaurants, squares and shopping, ambience and architecture of the mighty Cusco itself.
To learn more, check out my list of the top 21 things to do in Cusco, 9 of which are free!
Day 14: Return to Lima and Depart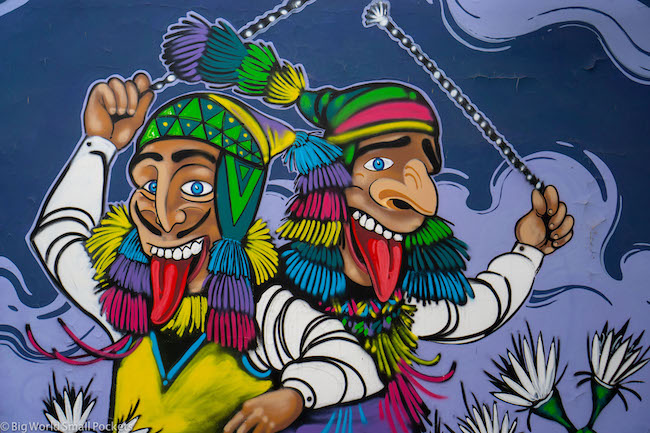 And just like that, your Peru itinerary has come to an end!
So sadly, it's time to head back to Lima and grab your flight home.
Or perhaps you're lucky enough to be continuing onto Bolivia and Lake Titicaca.
If so, head down to the city of Puno from Cusco, cross the border at Kasani and then continue onto the town of Copacabana, for the best lake experience and a stay at Eco Hostal Joshua.
Learn more in this post I wrote about my amazing time there.
THE BEST TRAVEL INSURANCE FOR PERU
I wouldn't dream of travelling to a country like Peru without proper coverage and always recommend travel insurance from World Nomads which I've used during my time in the country and across the world.
World Nomads are actually one of the few companies that will insure you for hiking and camping at altitudes above 3000m – essential for a country like Peru where many destinations, including Machu Picchu and Huaraz, are situated above this height.
Alternatively, if you're looking for travel insurance with Covid-19 cover, then look no further than Safetywing's great Nomad Insurance policies.
These guys will cover you at some seriously great prices, including if you have to quarantine!
3 Week Peru Itinerary
With 3 weeks for your Peru itinerary, you're allowing yourself a bit more time and, as such you've got the chance to squeeze in another amazing part of this country, namely Huaraz and Huascaran National Park – places I absolutely loved!
So here goes…
Day 1: Lima
Stay: La Unsha Hostel, Barranco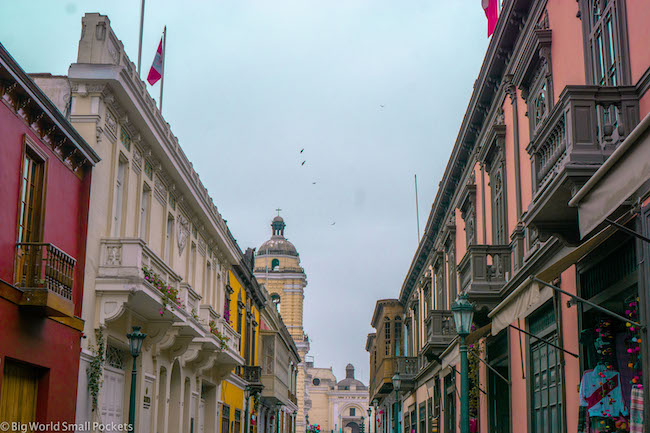 As with my 2 week Peru itinerary above, spend your first day in this country checking out the capital and the suburbs of Barranco and Miraflores.
If you're feeling a little more adventurous, and not too jetlagged, then you can even consider a trip to the historic centre of this city too.
A free daily walking tour that leaves from Miraflores is a great way to do this. Learn more in this article.
Day 2 – 7: Huaraz
Stay: Akilpo Hostel, Huaraz
And this is where things start to get different from the 2 week Peru itinerary.
On your 2nd day in this country, it's time to head north from Lima to the highland town of Huaraz.
The main draw here is the incredible landscapes and hiking in the nearby Huascaran National Park, but Huaraz acts as the main access point and regular buses run here from the capital.
I highly recommend the bus service Cruz Del Sur to get to Huaraz as they provide the most comfortable and secure ride, and offer both day and nighttime services.
On arrival in Huaraz from Lima, you must give yourself time to acclimatize to the altitude, because this town sits at over 3000m and most of the hikes here take you to over 4000m, so on the first day I just advise chilling in the town.
Over the next 3-4 days (depending on whether you take a night or day bus back to Lima) there are some amazing one day hikes you can enjoy, with my favourites being Laguna Churup, Laguna Peron and Laguna 69.
Learn more about these, as well as some top multi-day hikes to do in the area, in my full travel guide to Huaraz.
Day 8: Return to Lima
Take the bus back to Lima and relax because there's another long journey to Arequipa coming up!
Day 9 – 10: Arequipa
Stay: Le Foyer Hostel, Arequipa
Yup on day 9 of your Peru itinerary it's time to head to Arequipa, which involves either a flight or long bus ride from Lima.
Once in Arequipa, I highly advise staying in the centre of this city, so you can explore the museums, historic streets, great restaurants and volcano views of this beautiful spot.
Check out my list of the best 13 things to do in Arequipa for more ideas about how to spend your time in Peru's most charming city.
Day 11 – 13: Colca Canyon
Stay: Le Foyer, Yanque
And you can't come to Arequipa and not enjoy at least a few days in the spellbinding landscape of the Colca Canyon.
As I've said in the 2 week itinerary above, most people either trek or take a sightseeing trip to the canyon, but I advise mixing it up with a bit both.
The amazing alternative Colca Canyon tour I enjoyed included such a jampacked and diverse itinerary that I absolutely loved it and I even got to see the amazing Reserva de la Salinas y Aguadas Blancas too.
Most tourists miss this… in my opinion, it's a Peru itinerary must!
Day 14 – 20: Cusco & Around
Stay: Milhouse Hostel, Cusco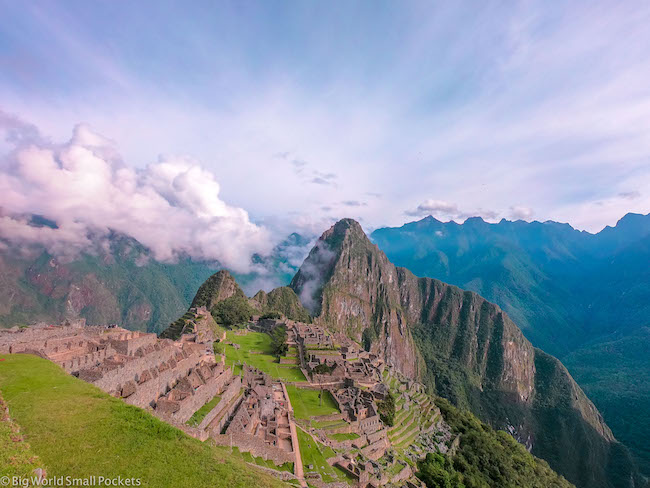 After returning to Arequipa following your time in the Colca Canyon, grab either a long day or long night bus to the epicentre of tourism in Peru – Cusco.
This 3 week Peru itinerary gives you about a week to explore the city of Cusco and the amazing landscape around.
Top highlights here include one of the 7 new Wonders of the World, Machu Picchu, which takes anything between 1-5 days to visit, depending on whether you train, bus or trek there. Learn more in this post.
With more time on your hands, this one day trip to Rainbow Mountain or this excursion out to the Inca ruins and beautiful towns of the Sacred Valley also comes highly recommended.
Day 21: Return to Lima and Depart
At the end of your 3 week Peru itinerary, make sure you allow a day to get back to Lima care of a domestic flight to grab your plane home.
Otherwise, travel onto Puno where you can cross the border to continue your adventure at Lake Titicaca in Bolivia.
The town of the Copacabana in Bolivia is much nicer than Puno in my opinion and makes the perfect base for some lovely lake time.
5 PACKING ESSENTIALS FOR PERU
#1 Good Camera – I would never even think of travelling to Peru without a camera good enough to capture the amazing landscape and people of this country. Both my Sony A6000 and GoPro Hero 7 have been perfect for the job!
#2 Waterproof / Windproof Jackets – With so much of this country situated high in the Andes, taking a waterproof and windproof jacket is essential if you're going to be hiking or sightseeing in the mountains. I highly recommend the North Face Venture 2 for the job.
#3 Hiking Boots – You can't come to Peru and not do some trekking, so make sure you come prepared with some good, supportive hiking boots… I've never worn mine so much in my life! These Keen Targhee II's are the perfect solution.
#4 Day Pack – Also for the hiking and sightseeing, a good daypack to carry water, snacks, camera, hat, gloves and other clothing layers is key in Peru! This one from Osprey is my pick.
#5 Travel Scarf – And finally, I've just discovered the amazing travel wraps from Sholdit and am so happy I took mine to Peru. Acting both as a scarf to keep you warm and a place to store your valuables while you're out and about, this great invention is perfect for travel in South America.
To learn more about what to pack for a Peru trip in general, check out my ultimate Peru packing list.
1 Month Peru Itinerary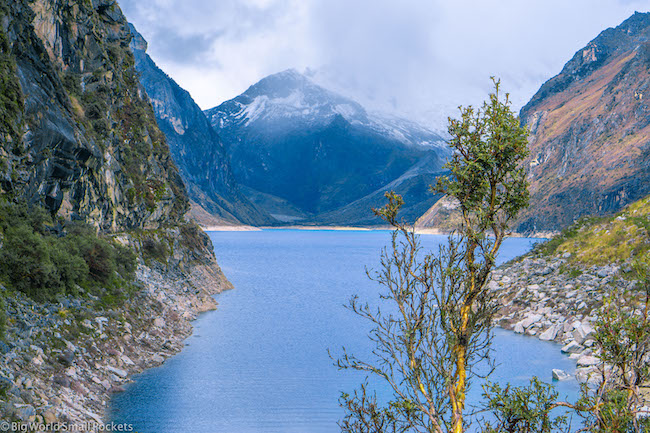 Merging both the 2 and 3 week Peru itineraries I've given above, 1 month is enough time for you to cover a fairly decent swath of this vast and diverse nation.
Following the outline below, I also suggest you refer to the itineraries above, where more details about each destination are included.
And when it comes to 2 weeks in Cusco, just choose from some or all of the activities I've listed below under days 18-30!
Day 1 – 2: Lima
Day 3 – 8: Huaraz
Day 9: Return to Lima
Day 10: Paracas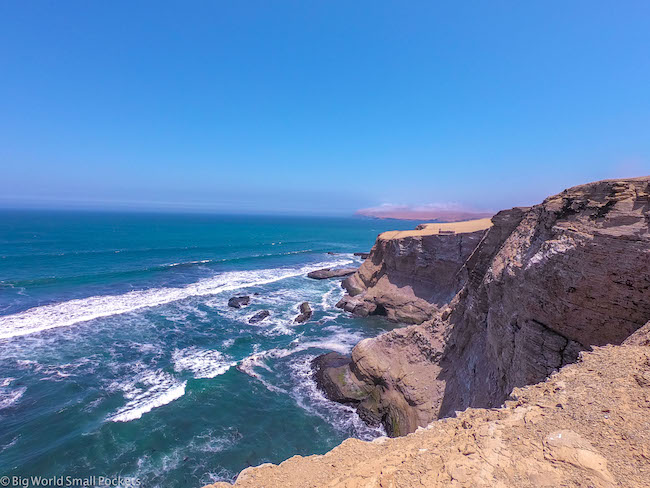 A lovely beach town that makes the perfect respite from smoggy Lima and the perfect chilled spot on the way to Huacachina, Paracas is worth a night of your time to enjoy the national reserve here and the Ballestas Islands, which are known as the poor (wo)man's Galapagos thanks to the amount of wildlife.
Day 11: Huacachina
Day 12 – 13: Arequipa
Day 14 – 16: Colca Canyon
Day 17 – 29: Cusco & Around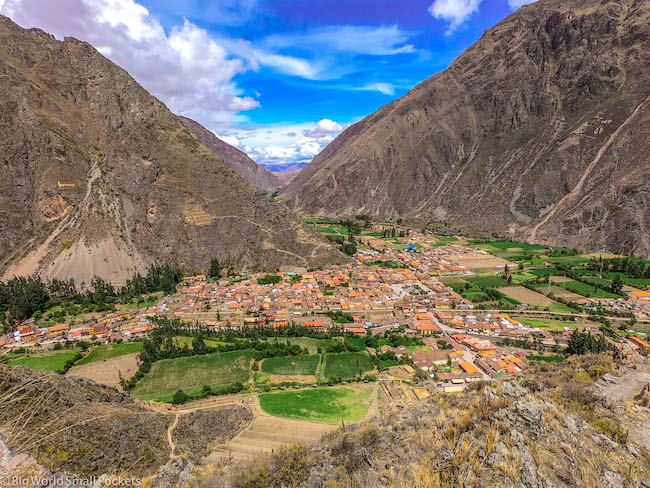 Stay: Milhouse Hostel, Cusco
With almost 2 weeks in Cusco, you're onto a winner of a Peru itinerary because you can really get your teeth into the number of things to do here.
Head to the kingpin Machu Picchu first (get your tickets cheapest here), either via
a trek (Inca Trek, Lares Trek, Salkantay Trek)
the train (expensive but most direct and comfortable)
or the bus option (cheapest route which still includes plenty of hiking and views)
If you take either the train or bus to Machu Picchu, but still want to do a good trek then I can highly recommend the hike to Choquequirao.
A 4 day excursion to a set of Inca ruins only currently accessible via your own 2 feet, I'm calling this trek the off the beaten track alternative to Machu Picchu. Fewer crowds, much cheaper, tough but amazing, learn all about my time enjoying this epic hike here.
And after all this trekking, it's probably time to put your feet up and chill for a few days… and the Sacred Valley provides the perfect solution!
The quaint town of Ollantaytambo has some lovely ruins and valley views and is well worth a night of your time, while the hot springs at Santa Theresa are also the perfect way to rest those aching legs.
But best of all, in my opinion, is the town of Pisac.
The amazing Wolf Totem Guesthouse here, with its in-house sauna, yoga deck and mountain views is the ideal spot to swing in a hammock for a few days and enjoy the peaceful nature.
Or, if you want to be more active, the Pisac ruins, relaxed day hikes, great restaurants and perfect souvenir market are also easy to explore.
After this, return to Cusco for a grand finale care of a day trip to Rainbow Mountain.
Day 30: Return to Lima and Depart or Continue onto Bolivia
PIN IT TO PINTEREST!
And there you have it, my ultimate Peru itinerary for backpackers!
Honestly, this country will blow your mind and fill your heart because you're going to have the best time… even on a budget.
Have you visited Peru recently?
What was your favourite spot?
Tell me all in the comments below…