My favourite country in South America (oooh it's a tight call and Argentina certainly comes close, but I think Peru just clinches it!), this country is a feast for travellers of every persuasion!
Whether you want to wildlife spot in the Amazon, hike in the Andes, surf the Pacific, learn Spanish, eat some of the best food on earth, wander colonial cities or see historic ruins, Peru offers it all.
In fact, the biggest problem you're likely to have here is that you can't see it all, not unless if you've got a lifetime… and even then it might be a push!
As such, a clear part of getting the best from your time in Peru is to plan your trip carefully, especially if you're on a short timeframe.
Using Bookaway – a super transport booking service – is a great resource in this area, as they compare flights, buses and train times across Peru so you can ensure your ideal plans match up with the reality of adventuring in a country as huge as this!
As well as mapping your route, checking out my list of the following 13 things to know before you travel Peru, will also help you plan the trip of a lifetime in this amazing country!
---
Related Posts
---
This page contains affiliate links meaning Big World Small Pockets may receive a small commission on any purchases at no extra cost to you.
---
#1 When to Visit?
The answer to when to visit Peru is not a straightforward one – spanning 3 major climate zones and several micro ones – Peru is a huge country that proves difficult to get right all at the same time.
I've written in detail about this in my post – the best time to visit Peru – but the short answer is that you need to decide whether you want to concentrate your time at the coast, in the Andes or amidst the Amazon.
Within these major climate areas, you'll also want to think about whether you want the best climate conditions, which will be accompanied by the largest crowds, or whether you're happy to compromise, certainly on the weather, in return for less people around you.
The choice, as they say, is yours… but checking out my specific post about when to visit Peru will likely help you decide!
Overall, I think the shoulder season is best which, if you're headed to do some hiking, is between mid September and early November.
#2 How Long to Spend in Peru?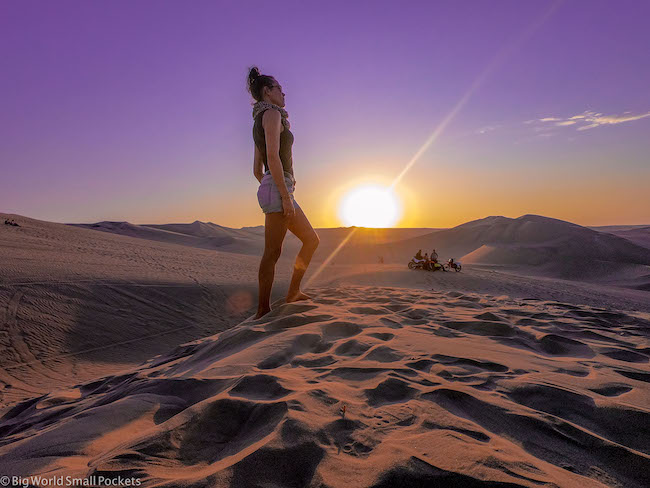 Well this is another wide open question!
Sorry I'm not being very helpful here am I?!
And that's because the correct answer here is… as long as you've got! Aha!
Personally, I spent almost 3 months in Peru and still didn't see everything I wanted to.
There's just so much to explore, over such a vast area, that you are really going to have to limit yourself if time is tight!
Check out my perfect Peru itinerary for more ideas about what areas of the country to visit if you only have a short amount of time.
If you have, say, a fortnight, then you would be wise to concentrate your exploring just on certain parts of the country to get the best experience.
After all, you can always return to explore more at a later date!
My recommendations here would be to base yourself in and around either Arequipa or Cusco predominantly, where you'll get to experience history, hiking, food and vibrant culture all in one go.
#3 What to Pack for Peru?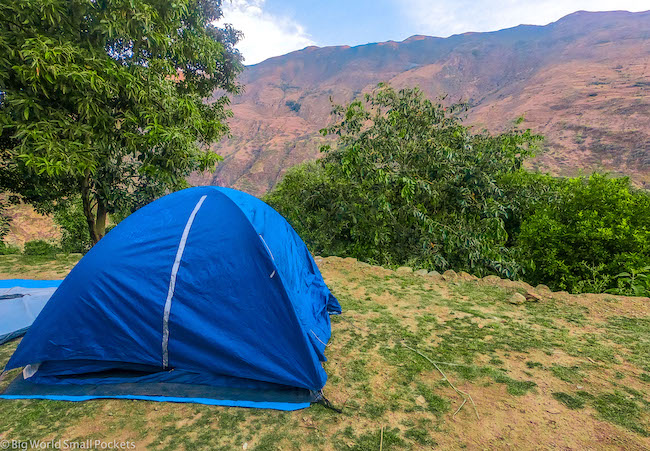 And of course, what to pack for Peru will depend on whereabouts in the county you are going and how long for!
Again not helpful, sorry!
In general however, you'll want warm layers and activewear for the mountains; thin, quick-dry layers for the jungle; and beach gear or some causal wear for the cities and the coast.
Learn more in the specific post I wrote about what to pack for Peru, which actually covers all these options and was put together after the months I spent backpacking there, so that I knew exactly what was and wasn't required!
Ideal for ensuring you have everything you need without overpacking, this checklist is chock full of top info which, in a country like Peru where you're probably hopping around, hiking and sightseeing a lot, is crucial.
#4 How to Travel to Peru?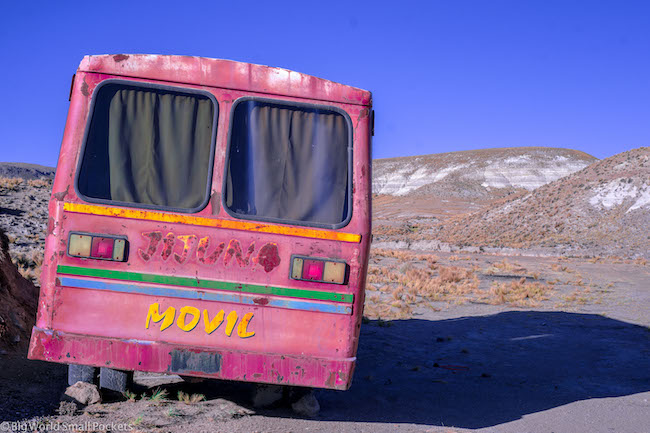 And once you've packed, it is, of course, time to get to Peru!
If you're travelling from elsewhere in South America – most notably Brazil, Ecuador or Bolivia – then it's easy and simple to cross overland into Peru by bus.
Otherwise, if you fly from any of these countries, or further afield, you're likely to arrive at the international airport in Peru's capital, Lima.
From there you can either start your travels in this city or fly to another city, such as Arequipa or Cusco, and begin from there.
As always, I use Skyscanner to find the best deals on flights, including domestic flights in Peru.
But no matter whether you're arriving by land or air into Peru, just make sure you have your visa paperwork in order.
Most citizens from North America, Europe, Australia and New Zealand don't require a visa and get a 90 day entry stamp on arrival in this country.
That said, always check your individual circumstances several weeks ahead of your travels to make sure.
#5 Where to Go in Peru?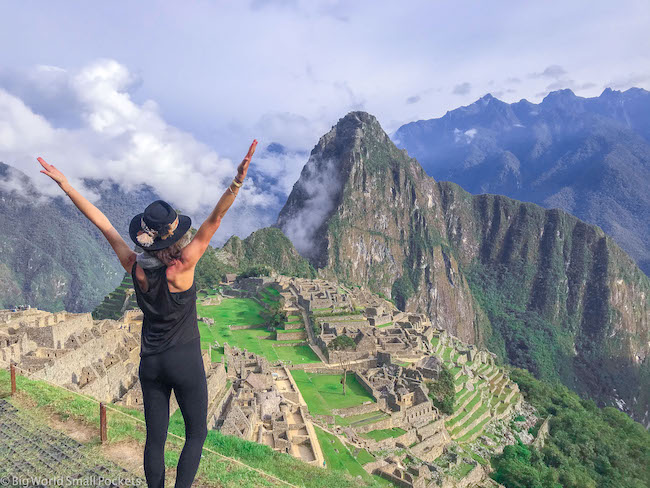 And now we come to the all-important decision about where to go in Peru.
Of course, as previously discussed, this is going to depend on how much time you have in the country but, in general, most travellers tend to hit the capital of Lima and work south from there to destinations such as Paracas, Huacachina, Arequipa, Lake Titicaca and Cusco.
These people tick off most of the big ticket items, including Machu Picchu, and some are able to fit in a jungle excursion too.
For those looking to get more off the beaten track however, I'd suggest heading north of Lima instead.
Huaraz and the nearby Huascaran National Park offer some of the best Andean hiking, and other destinations around such as Cajamarca, plus the Kuelap Ruins, have even fewer crowds.
The Pacific coast north of Lima is full of surfers, but usually it's only those that are die-hard fans or are travelling down from Ecuador.
All in all, the north of Peru provides a more lowkey vibe in terms of tourism if that's what you're after.
Learn more in my list of the 22 best things to do in Peru.
#6 How to Get Around Peru?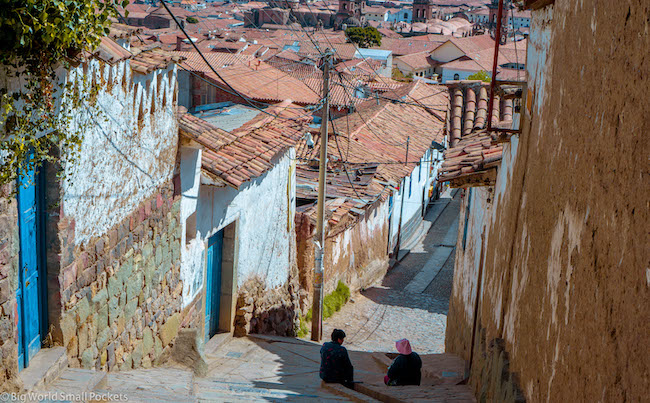 And now you've decided where you want to go in Peru, it's probably time to think about how you want to get around.
Flying domestically is an option, especially over long distances in this country.
Fast, convenient and sometimes cheap, what flying isn't however is good for your carbon footprint.
If you'd rather take the greener option therefore, buses are the way to go.
Long-distance coaches in Peru are very common, very affordable and very comfortable, making them the best option in my opinion.
On very long distances between major cities in Peru, these buses travel overnight, meaning you can try and get some rest and arrive fresh (ish) at your destination the following day.
A travel pillow and eye mask will be essential here!
When it comes to long distance buses, what you pay for is what you get in Peru, so don't skimp on the few extra dollars if you want a cosier and safer ride, especially on a night bus.
Cruz Del Sur are a superb company in this regard.
You can review them and compare their journeys and prices against other Peruvian bus companies using the top travel website Bookaway.
#7 Top Trips & Tours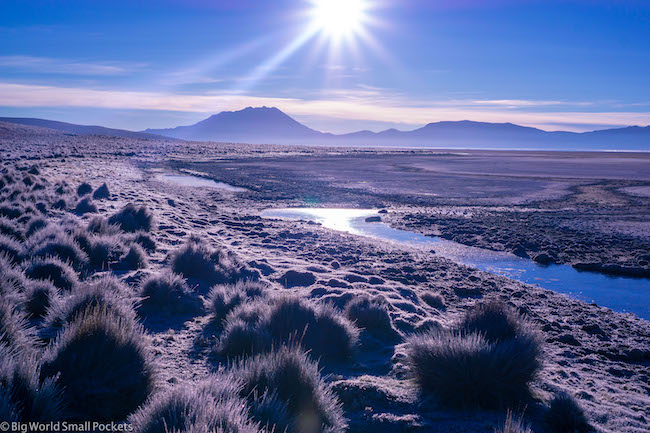 It's certainly true that you are going to want to take some trips and tours during your time in Peru, and you certainly should too!
The key is about knowing when and which tours to take so you don't overdo it.
It's also about knowing where you have to take tours, otherwise you won't get to see or visit certain amazing places.
Common tours in Peru include those to Machu Picchu and Rainbow Mountain, as well as other hikes around Cusco and Huaraz, such as the Choquequirao hike.
All of these involve guides that can give you a brilliant amount of local information, as well as a means of transport, which can really help when trying to get to remote places in the Andes.
Trips and tours that take you to the Colca Canyon are also popular, and many cities such as Cusco, Arequipa and Lima have brilliant free walking tours that are worthwhile too.
While you can take an overall tour of Peru, which will shuttle you quickly between major sights and cities, this isn't really necessary.
#8 Safety
And one of the major reasons you don't need to take a full tour of Peru, is because this country is very safe to travel in.
At least, in my experience, it was.
Yes even as a solo female independent traveller, I felt very safe in Peru the whole time, including taking night buses and wandering around towns or hitting the beach alone.
In major tourist cities, such as Cusco and Arequipa, I also felt safe walking by myself in the evening at dark.
Peru is used to tourists, so travelling here alone – whether that's eating out solo, joining a tour group, or sightseeing by yourself – is not a problem.
Solo travellers are everywhere, so you won't have problems making friends either!
Tourist police in major destinations further increase a sense of safety and do quite a lot to limit the amount of petty street crimes, which are likely to be the biggest threat in Peru.
Roads are good in this country and, amazingly, the driving is not as crazy as it is in other parts of the world.
Plus the elevation of the Andes limits many tropical diseases… just be careful of those strong UV rays and have your sunscreen at the ready.
Political unrest can be an issue in Peru, but is rarely targeted at tourists, and the most likely outcome for you is travel delay.
Natural disasters are probably one of the greatest risks when it comes to Peru travel, but again these are limited.
World Nomads offers simple and flexible travel insurance. Buy at home or while travelling and claim online from anywhere in the world.
Alternatively, if you're a long-term traveller, digital nomad or frequent remote worker seeking travel health cover, check out Safetywing's Nomad Insurance policies.
#9 Telecommunications
Another key way to feel safe when travelling in Peru is to get a local SIM card.
This will help you stay in touch with people at home, as well as track use map apps to help you find locations, bus stations and hiking trails.
Having a SIM card means you can also book hostels and stay up-to-date with any important news and information when you are on the road.
Claro and Movistar are the 2 largest providers in Peru and both offer tourist SIM cards, which are short-term, pre-paid options ideal for travellers.
These can be bought at any relevant store in just about any town or city in Peru and offer good 4G connection across the country for some really excellent rates.
Otherwise, you'll find all hotels and hostels, plus a lot of cafes and restaurants in Peru have wifi you can use too.
#10 Language
The national language in Peru is Spanish and it certainly pays to have a little of this under your belt if you want to enjoy travelling in this country to the max.
While many of those who work in the tourist industry in this country will speak English, other locals will not, and interacting with a broad cross-section of the Peruvian people you will greatly enrich your time here.
Therefore, I do advise trying to learn some Spanish before you come to Peru – Duolingo is a great app for this – but remember that you can also take language lessons once you are in the country too, with Spanish schools set up just about everywhere.
As well as the official language, there are also several indigenous languages spoken in Peru, with the most common being Quechua.
#11 Money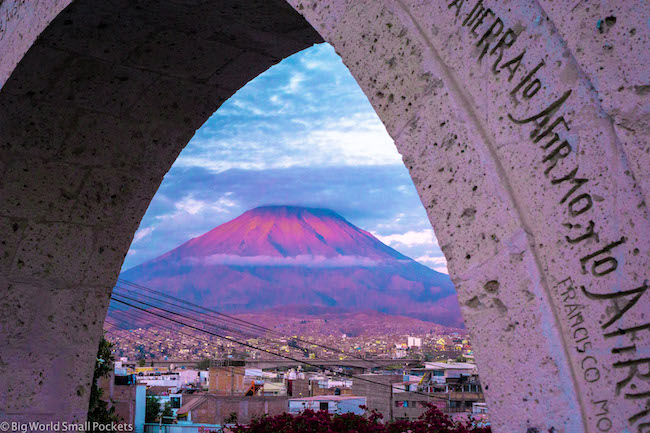 When you travel Peru you'll be buying things in Peruvian Sol – the national currency.
1 Sol is divided into 100 centimos and is worth around 30 US cents.
You can easily withdraw money from ATMs in Peru using your foreign Mastercard or Visa.
Most ATMs in Peru won't charge you, but your bank might, so always check this.
You can also pay via card in most major restaurants and accommodation providers in Peru, as well as supermarkets.
Just remember small shops, markets and guesthouses etc may only accept cash, so always carry some with you.
And when it comes to paying for things in Peru, you want to ensure you're not being charged overseas transaction fees or getting poor exchange rates when using your card abroad, which is why I always take my Wise card away with me wherever I travel.
The easy way to spend abroad with real exchange rates, no markups and no sneaky transaction fees, you can use your Wise card just like a debit card and it links easily with Google and Apple pay. Grab yours here.
#12 Food
Peru is a foodie paradise and a massive culinary destination.
Thanks to the diversity of their climate, the amount of fresh produce that grows here is outstanding and this richness certainly makes its way into their excellent food.
From street snacks and fresh juices blended in local markets, through to gourmet, top-rated restaurants, Peru boasts it all!
Try as much as you can!
#13 Drinks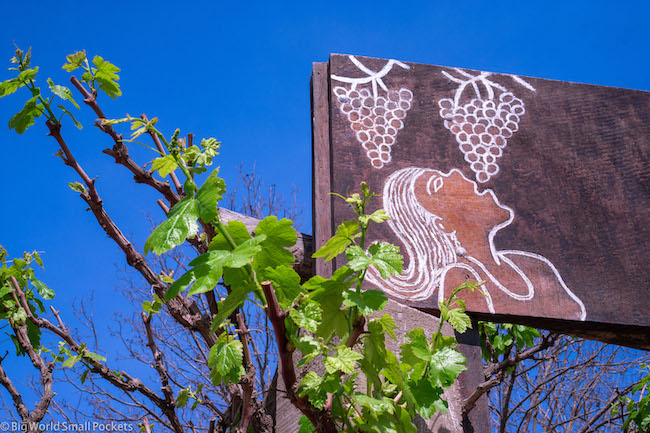 And while I just mentioned the fresh fruit and vegetable juices, it is of course certainly worth mentioning the coffee in Peru too, which is fabulous, as it's grown here as well.
Also grown here are the grapes used to make the famous Peruvian alcoholic drink, Pisco Sour.
Check out the vineyards near Ica on the Pacific Coast and then enjoy this beloved drink, which is served chilled and fresh, in bars around the country!
This is also, of course, a ton of local beers (with many craft varieties gaining popularity) as well as imported wine from Chile and Argentina.
Tap water is not safe to drink in Peru, so do ensure you have a Water To Go bottle, which will mean you won't have to constantly buy bottled mineral water. Instead, you can use it to drink the tap water, safe in the knowledge the powerful in-built filter in this device is keeping you safe. I have one and I love it.
Outside of water, coffee and alcohol, the Peruvians local Inca Cola – it's essentially a national drink.
Fizzy, sweet and a bright yellow colour, this one is best avoided in my opinion!
PIN IT TO PINTEREST!
So there you have it folks, my list of the 13 things you need to know when you travel Peru.
Have you visited this amazing country?
Have any more travel tips to add to my list?
Then please drop them into the comments box below…