There's so many things to do in Peru that I honestly had a hard job keeping this list to just 22!
And that's because I love Peru.
It's as simple as that!
The jewel in the South America travel crown for me (and that's a very high accolade as there's some seriously great contenders in this continent!), Peru is a land of such diversity, such beautiful scenery, such marvellous culture, such delicious food and such fascinating history, that it's pretty hard to beat in my book!
And here, to celebrate just how fabulous this country is, it's my list of the top picks – the 22 best things to do in Peru you should not miss!
---
Related Posts
---
This page contains affiliate links meaning Big World Small Pockets may receive a small commission on any purchases at no extra cost to you.
---
#1 Hike in Huaraz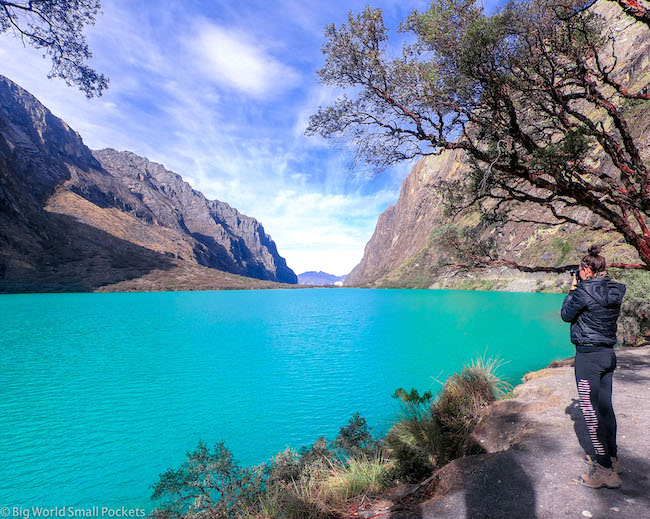 The hiking capital of Peru in my opinion, Huaraz is located north of Lima in the Cordillera Blanca and see's far fewer tourists than the hiking trails and routes around the more popular Cusco.
And, letting you in on a secret here, the hiking scenery in and around Huaraz is just as good, if not better than Cusco too!
The access town for the incredible Huascaran National Park – where most of the hiking trails are located – this is a breathtaking (literally) high elevation area full of glaciers, snow-capped peaks, incredible lakes and jaw-dropping Andean scenery.
Learn more in this complete travel guide to Huaraz I wrote.
#2 Surf
And from hiking in mountains to surfing the Pacific waves – I did tell you Peru was the land of diversity didn't I… and I'm not joking!
Yup, in just a day's travel, you can get from Huaraz to one of the surfing capitals in Peru on the magnificent Pacific coastline of this country.
The 2 main places surfers head for here are Trujillo and Mancora, both of which are located north of Lima.
Mancora – the busier spot – is closer to the Ecuadorian border, while Trujillo and it's nearby surfer towns are further south.
Both offer plenty of good waves and good times.
#3 Mission to Machu Picchu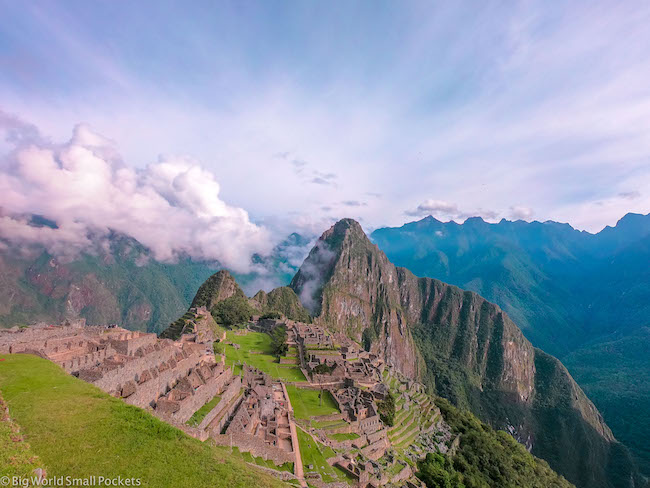 And from one extreme to the other now on this list of the best things to do in Peru!
Yes from off the beaten track in the north of the country, we now head to one of Peru's most popular and famous tourist destinations – Machu Picchu.
But don't be put off by the crowds as I almost was, this incredible Inca Citadel nestled in the Andean heights, is absolutely worth the journey and whether you hike, train or bus there, you'll certainly not be disappointed by what is one of the world's most famous structures.
Learn more about all the different ways to get to Machu Picchu (as well as which one is best for you) in this mega article I wrote all about visiting this place.
And don't forget to buy your ticket for the site in advance here.
#4 Visit the Kuelap Ruins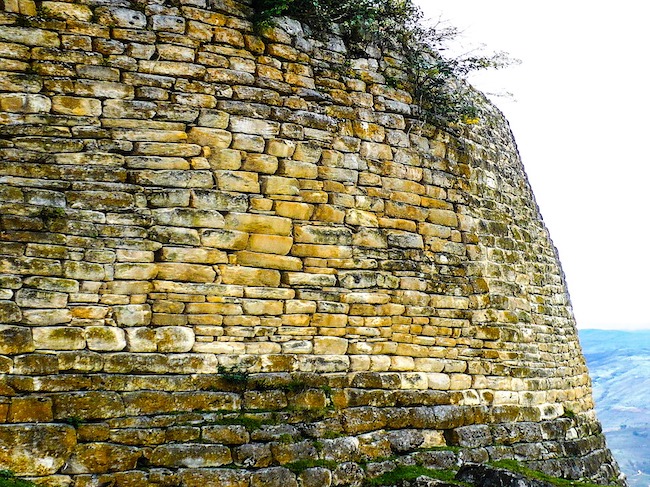 And now we move onto our next set of ruins in Peru.
Although we're back in off the beaten track territory here, as these ruins are far less well-known than Machu Picchu, visiting them is arguably every bit as amazing.
Set deep in the Andean jungle on the cusp between this mountain range and the Amazon, the closest major town you must get to if you want to visit Kuelap is Chachapoyas.
A serious journey north of Lima, there's no doubt only the most committed travellers make it here, but it's certain that those who do, absolutely get to enjoy something in Peru few other international tourists experience.
#5 Tackle the Choquequirao Hike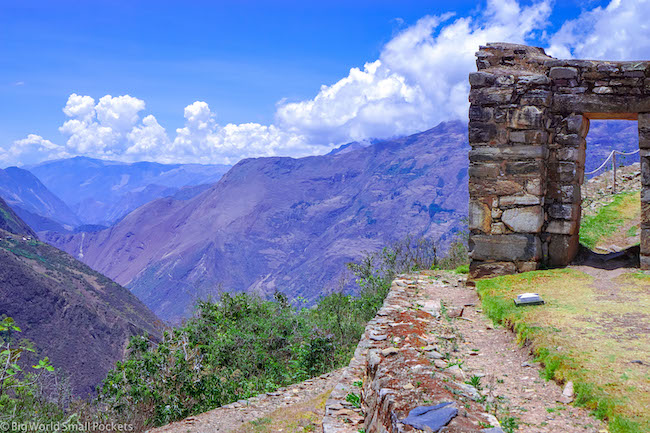 And talking of treats few other travellers get to experience, the Choquequirao Trek is definitely one of the best hikes in Peru that still isn't well known about – a fact even more amazing given this hike starts in Cusco, the epicentre for tourism in Peru.
However, while most people head off on the Inca Trail
or the Salkantay Trek to Machu Picchu instead, the Choquequirao trek takes you away to another amazing, ancient Inca Citadel that is currently only accessible on foot.
Buried deep in the Andes, not only is this place free from crowds, but it's clear that very little is still known about it.
Taking the 3-5 day trail here is an amazing experience and if you want, can be extended to a 7-9 hike that takes in Machu Picchu as well.
Learn more about my experience of the Choquequirao Trek in this detailed post I wrote.
#6 Let Your Hair Down
But it's not all just about hiking and ruin-spotting in Peru!
It's definitely fair to say Peruvians know how to let their hair down and have a good time… and tourists can certainly follow suit.
The party capital of Peru tends to be Lima or Cusco, but the beachside surf spots, as well as the desert oasis of Huacachina, are also known for their feelgood vibes, especially at the weekends.
#7 Dune Buggy in Huacachina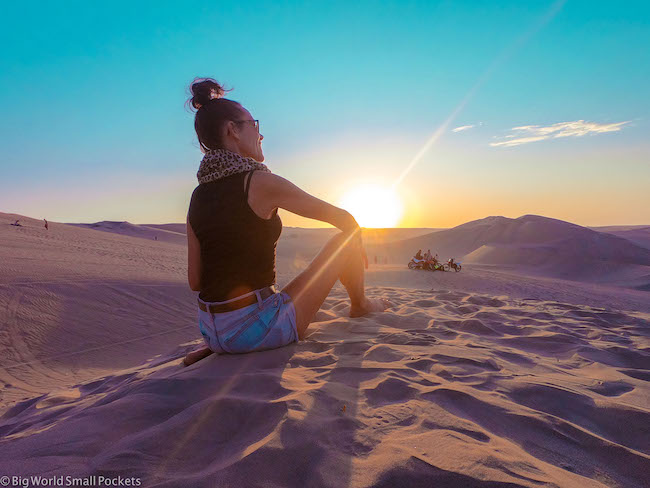 So now seems like the perfect time to introduce Huacachina, a small resort built around an oasis in the middle of the Arequipa desert.
Located south of Lima, there's no question that heading to this tiny enclave is absolutely one of the best things to do in Peru, even if only for a night.
And that's because there's not a huge amount to do here, although what is here is a lot of fun!
A one-street town set around the circular desert oasis, scrabbling up the dunes here at sunset, be it on foot or in a dune buggy, is something you won't forget.
Then after posing for your amazing sunset snaps, it's time to sandboard down these huge dunes in one heck of a fun adventure.
Discover more about Huacachina in this article I wrote.
#8 Head to the Amazon
And from deserts to jungles, Peru's diversity continues to show itself here on our list, as we hop across from the dry arid dunes to one of the most humid and ecologically dense places on the planet – the Amazon rainforest.
A must on many peoples' bucket lists, visiting the Amazon at some point during your travels in South America is a given and Peru is the perfect place to do just that.
From wildlife spotting to river cruising, tours in this incredible landscape offer all manner of amazing experiences and whether you depart from Puerto Maldonado in the south of Peru or Iquitos in the north, there's tons of options to choose from.
#9 Hang Out in Cusco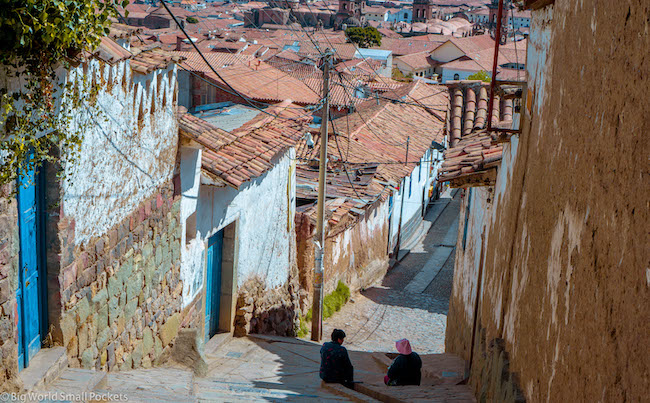 There's no denying it would appear on this list somewhere, so I guess now is the time!
Yes no trip to Peru can be complete without spending some time in the mighty Cusco – former capital of the Inca kingdom and now major tourism hub from where you can access both the Andes and the Amazon.
Most people only allow a few days to see Cusco, which is enough to see the major sights in this colonial city, but there's so much to do around the city, that I honestly wouldn't be surprised if you ended up spending closer to a month here – I did!
Read more in my list of the top 21 things to do in and around Cusco.
#10 Make it to Rainbow Mountain
And one of those great things to do around Cusco is to take a day trip to Rainbow Mountain.
Now made famous by Instagram (and sadly only revealed to the world a few years ago due to a climate change-driven ice melt) Rainbow Mountain is, nevertheless, one of Cusco's most popular day trips… after all, it's not every day you get up to over 5000m!
Book this best-selling day trip here and prepare to be amazed!
Otherwise, for a more accessible and less crowded Rainbow Mountain, then consider heading to the 14 coloured mountain in Northern Argentina instead
Located in the province of Salta, this place is just as mind-blowing – learn more about it here.
#11 Chill Out in Pisac
And once you're over the Rainbow Mountain thing, it's time to find a place outside of Cusco where you can escape the city madness and chill the heck out for a few days.
And that place, my friends, is Pisac in the Sacred Valley.
An epic town located in an Andean Valley, this place has its own set of ruins, but it's really for the beautiful landscapes and chilled local vibes that you head to this wonderful spot.
Plus Pisac is home to one of the best hostels in Peru – Wolf Totem!
A hostel with a yoga deck and a sauna?
Doesn't get much better in my opinion!
Check out the best rates here.
#12 Struggle on the Salkantay
And after you've refreshed with a chill in Pisac, it's time to strap on those hiking boots again and get back out into the Andes to take in one of the best things to do in Peru care of your own 2 feet.
The Salkantay Trek is one of the main hikes that starts in Cusco and finishes at Machu Picchu.
Taking you across passes and past high altitude lakes over 5 epic days, this is the best alternative to the Inca Trail
given it's lower price tag and the fact you don't have to book it months in advance.
Here's a well-priced Salkantay option that gives you more info about the hike's itinerary and what you need to bring.
#13 Marvel at Maras and Moray
Back out in the Sacred Valley, Moras and Moray are 2 wonderful sights you can either see as part of a day trip from Cusco or, better, as part of your slower journey between Ollantaytambo and Pisac.
Maras is a salt farm, where you can get some interesting photos of this unique process while Moray is a fascinating Inca ruin-site that shows the amazing technology and processes of this ancient civilisation.
Both are definitely worth checking out.
#14 Sail on Lake Titicaca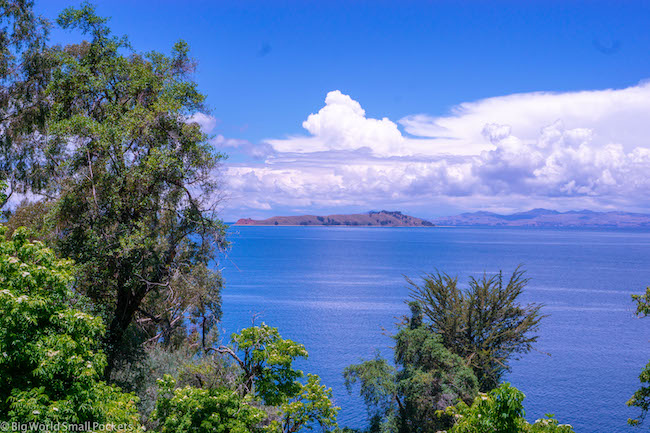 And now we move back to the water on this list of the best things to do in Peru, as we head to the south of the county, the border with Bolivia and the highest navigable lake in the world – Lake Titicaca.
Situated half in Peru, half in Bolivia, heading to this amazing body of water is definitely a worthy stop on your travels here, with the city of Puno being the place to take a trip to the amazing reed islands and communities that exist out on the lake.
Here's a top-rated lake day trip from Puno if you're looking for a good option.
#15 Wildlife Spot at Las Ballestas Islands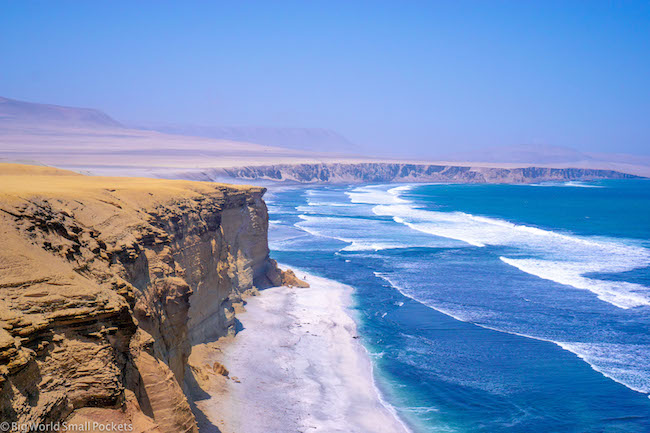 And some other islands that you must visit whilst in Peru are Las Ballestas Islands, which are located off the coast of Paracas just south of Lima.
Known as the "poor (wo)man's Galapagos" a boat trip out here from the nearby seaside town, can get you up close and personal with sea lions, crabs and a huge range of birds.
#16 Explore Ollantaytambo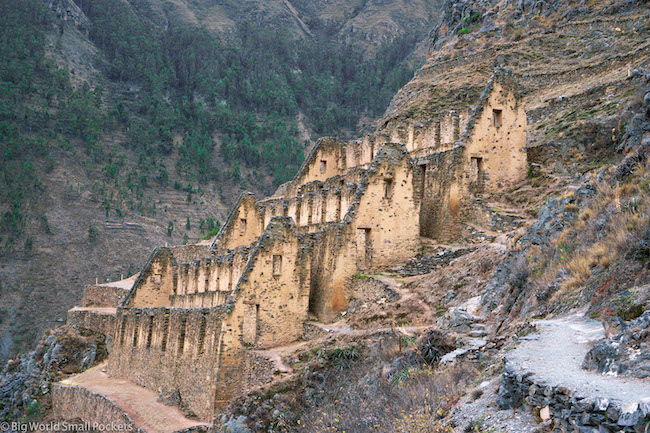 But back to the ruins, one of the best sets can be found in another Sacred Valley town outside Cusco and that is the wonderfully named Ollantaytambo!
A lovely, traditional town with some great ruins, beautiful places to stay and mega chilled vibe, this is the perfect place to spend a night as you explore the world beyond Cusco.
And, my top tip if you do want to visit these ruins, along with others outside of Cusco, is to invest in the Cusco Touristic Ticket – it's a much cheaper way to see the best Inca remains this part of Peru has to offer.
#17 Step Back in Time at Pachacamac and Caral
But if you want to step further back in time than the Incas, it's time to head back towards Lima to discover some of the oldest remaining structures in the Americas.
Both the Pachacamac and Caral sites are some of the best places to visit in Peru, especially if you're into history or archaeological.
Both are easy to visit on day trips from the city, so check out this article if you want to learn how to get to Pachacamac independently, or check out this great tour if you want to visit Caral.
#18 Hang Out in Arty Barranco
And while you're not day tripping around from Lima, it's time to enjoy the best Peru's capital city has to offer.
The historic centre here is a great place to enjoy a free walking tour, and many travellers like to base themselves in the coastal district of Miraflores, but it's the wonderful bohemian enclave of Barranco that I like best.
Head here for cute cafes, street art, coastal views and fun bars – it's definitely the best place to stay in Lima!
Learn more in my article about the best things to do in Lima.
#19 Drink Pisco Sour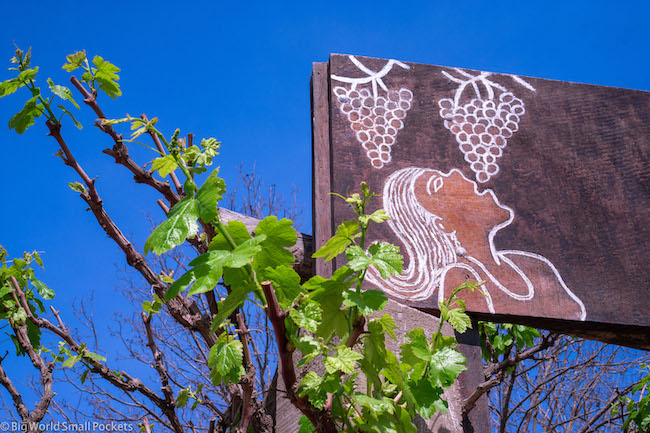 And talking of bars, there's no question that during your time in Peru you have to try at least one Pisco Sour.
The national drink that goes down way too quickly, the best place to sample the delights of the Pisco Sour are where the grapes for the drink are grown – that is predominantly around the city of Ica.
You can also take tours of the vineyards here too!
Otherwise, any decent bar in the country should be able to make a good one for you.
#20 Eat
But it's not just drinks that Peru makes well, no this country is now growing quite the reputation as a foodie hotspot thanks to the amazing of produce that is grown, cultivated, prepared and cooked here.
And it's all delicious.
From the local markets found in every small town to the fancy restaurants you can find across the major cities, Peru's food is enough of a reason to head to this country such are its flavours, colours, freshness and diversity.
#21 Meet Juanita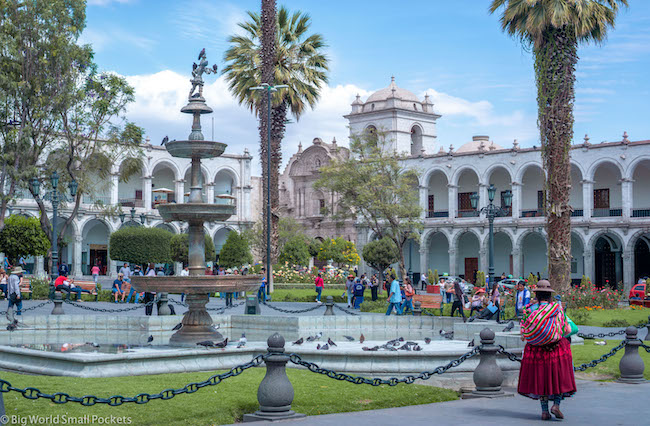 And perhaps top of the foodie hotspot list in Peru is the city of Arequipa, which is renowned for its amazing array of cuisines.
There's many dishes that are specific to this region and they tend to be among some of the country's best.
But that's not all Arequipa has to offer.
This beautiful colonial city is also oozing with photographic streets, rooftop cafes with volcano views and historic monasteries.
It's a real winner and probably my favourite city in the country – learn more about why here.
And who could forget the chance Arequipa offers you to meet and learn about Juanita – a mummified Inca girl found on the top of a nearby volcano, she gives a key insight into the lives, believes and practices of this fascinating ancient culture.
#22 Hike the Colca Canyon
And just outside of Arequipa is the amazing natural wonder of Colca Canyon.
A key hiking destination in Peru, this wonderful part of the country is littered with quaint, traditional villages, Inca ruins, hot springs, soaring condors, horse riding opportunities and world-class views.
There's no question that visiting the canyon, and spending a few days there to take in all it has to offer, is absolutely one of the best things to do in Peru.
Learn more in this Colca Canyon post I wrote about my experience of doing just that.
Mini Travel Guide to Peru
When to Visit Peru?
Travel seasons in Peru are often a little complicated, purely because of the diversity of this country's topography.
When it's summer on the coast, for example, it's rainy in the mountains and when it's cooler in the jungle, it's freezing along the Pacific.
As such, you're always going to be rolling the dice a little when you travel Peru, especially with global warming messing everything around too.
Generally speaking however, the months of November through February are known as summer here, which means very hot temperatures on the coast and wet weather in the highlands and jungle.
Conversely, the months of June through August are known loosely as winter in Peru. This is when it's cold on the coast, but dry in the mountains and jungle!
As such, the high season for travellers in Peru tends to be June through August – a) because this coincides with the northern hemisphere summer holidays and b) because most people come to Peru for the mountains.
That said, this time of year is also the coldest and the most crowded, so it's not all plain sailing!
As such, I'd suggest the shoulders seasons of April and May or September and October as the best times to visit Peru.
This is when the weather is good across most parts of the country and the crowds and prices lower!
Indeed, trying to combine the best of both worlds i.e. spring on the coast and dry season in the mountains, I visited Peru in September and October, and actually found it ideal in terms of tourist numbers, crowds and prices.
Get more details about when to visit Peru in this detailed post I wrote all about just that!
5 Packing Essentials for Peru
#1 Good Camera – I would never even think of travelling to Peru without a camera good enough to capture the amazing landscape and people of this country. Both my Sony A6000 and GoPro were perfect for the job!
#2 Waterproof / Windproof Jackets – With so much of this country situated high in the Andes, taking a waterproof and windproof jacket is essential if you're going to be hiking or sightseeing in the mountains. I highly recommend the North Face Arcadia 2 or the North Face Venture Jacket.
#3 Hiking Boots – You can't come to Peru and not do some trekking, so make sure you come prepared with some good, supportive hiking boots… I've never worn mine so much in my life! These Keen Targhee II's are the perfect solution.
#4 Day Pack – Also for the hiking and sightseeing, a good daypack to carry water, snacks, camera, hat, gloves and other clothing layers is key in Peru! This one from Osprey is my pick.
#5 Travel Scarf – And finally, I've just discovered the amazing travel wraps from Sholdit and am so happy I took mine to Peru. Acting both as a scarf to keep you warm and a place to store your valuables while you're out and about, this great invention is perfect for travel in South America.
Travel Insurance for Peru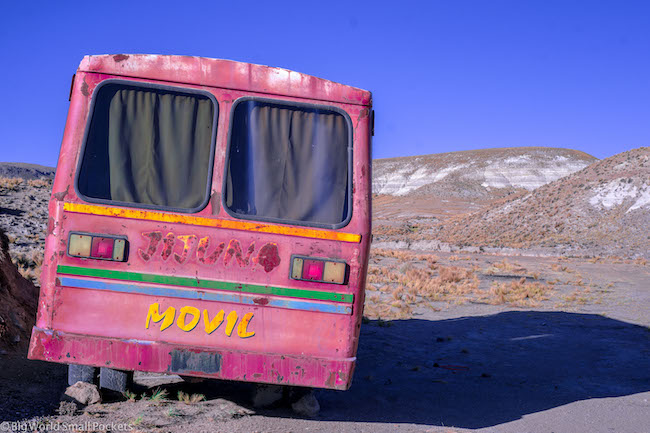 World Nomads offers simple and flexible travel insurance. Buy at home or while travelling and claim online from anywhere in the world.
Alternatively, if you're a long-term traveller, digital nomad or frequent remote worker seeking travel health cover, check out Safetywing's Nomad Insurance policies.
Travel Money in Peru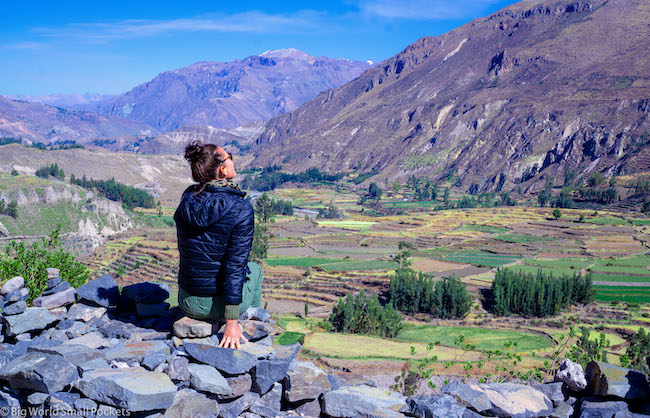 When it comes to paying for things in Peru, you want to ensure you're not being charged overseas transaction fees or getting poor exchange rates when using your card abroad, which is why I always take my Wise card away with me wherever I travel.
The easy way to spend abroad with real exchange rates, no markups and no sneaky transaction fees, you can use your Wise card just like a debit card here and it links easily with Google and Apple pay. Grab yours here.
PIN IT TO PINTEREST!
So there we have it folks, my list of the 22 best things to do in Peru!
Which is your favourite?
Or have I missed something off?
Let me know what your top thing to do in Peru is in the comments box below…